Democrats in Georgia, seeking stricter gun laws, must court Republican support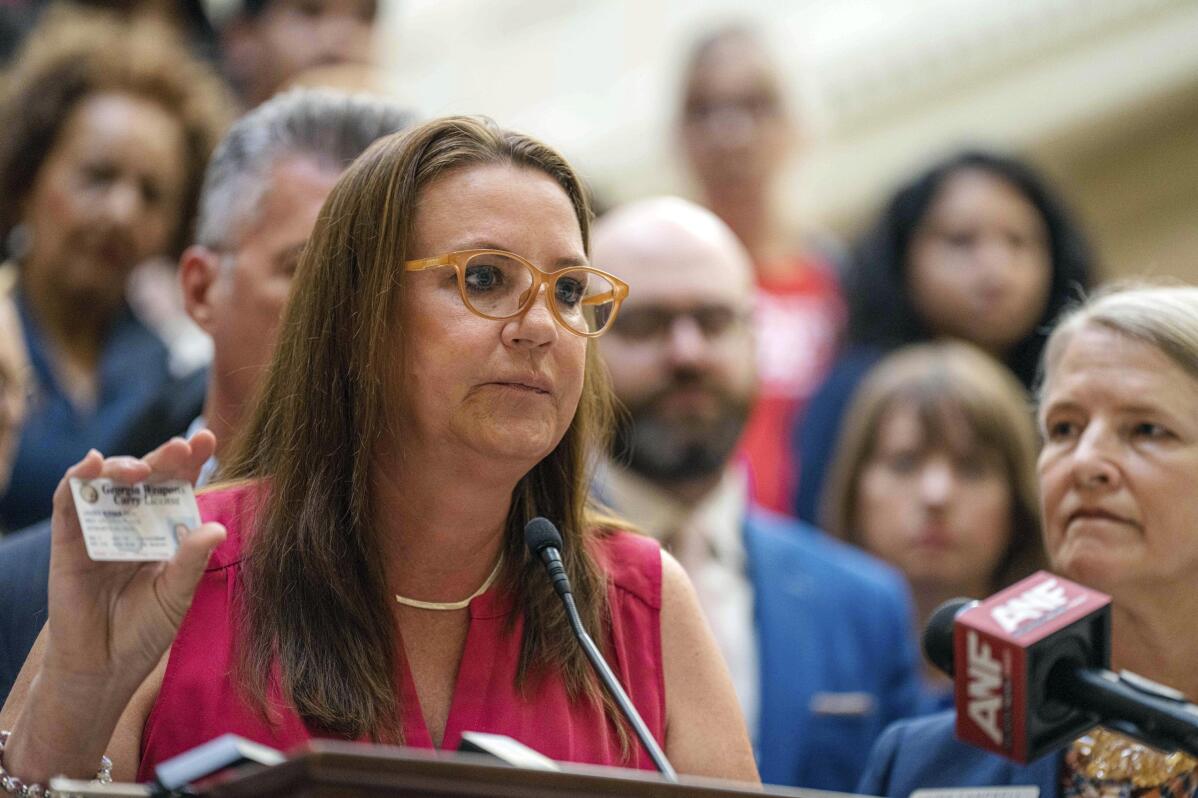 1 of 3

|
Janet Paulson holds up a concealed carry permit while sharing her story as a survivor of gun and domestic violence at a press conference hosted by Georgia Democrats calling for a special session to address gun violence, Wednesday, May 10, 2023 in Atlanta. (Matthew Pearson/WABE via AP)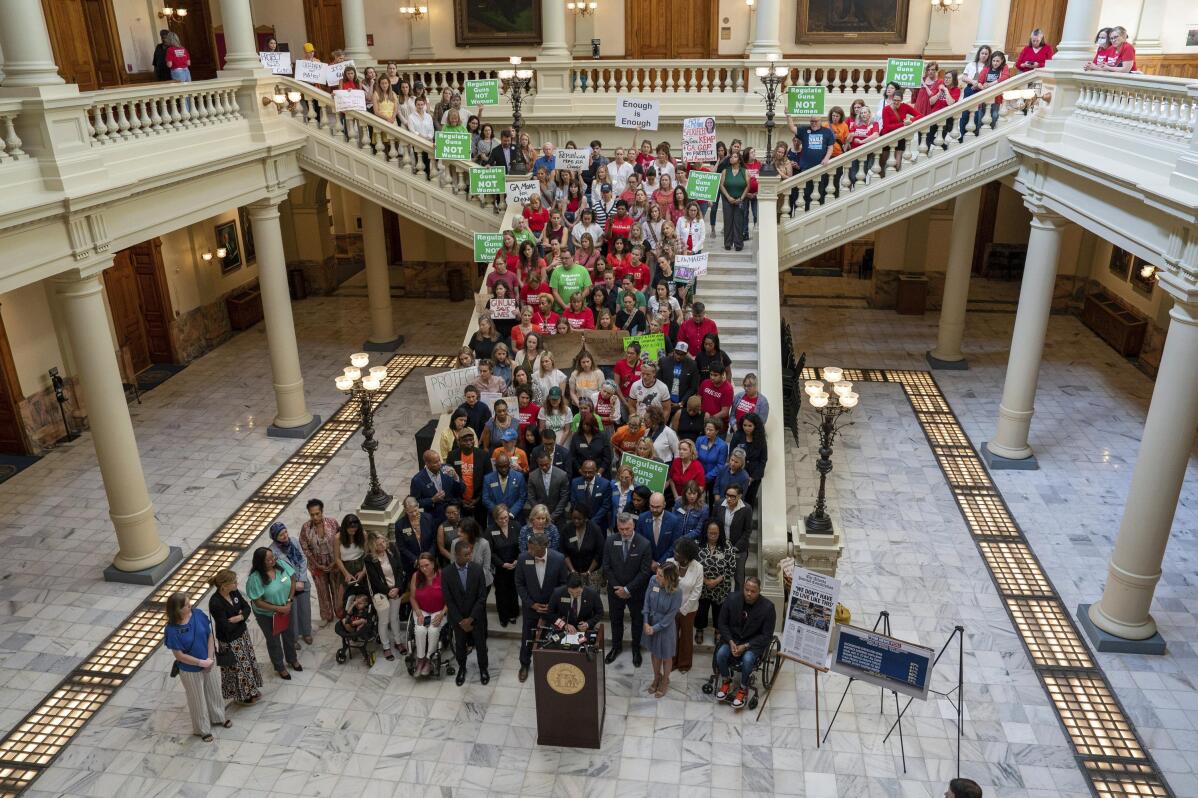 2 of 3

|
Georgia Democrats stand on the South Steps of the Capitol calling for a special session to address gun violence, Wednesday, May 10, 2023, in Atlanta. (Matthew Pearson/WABE via AP)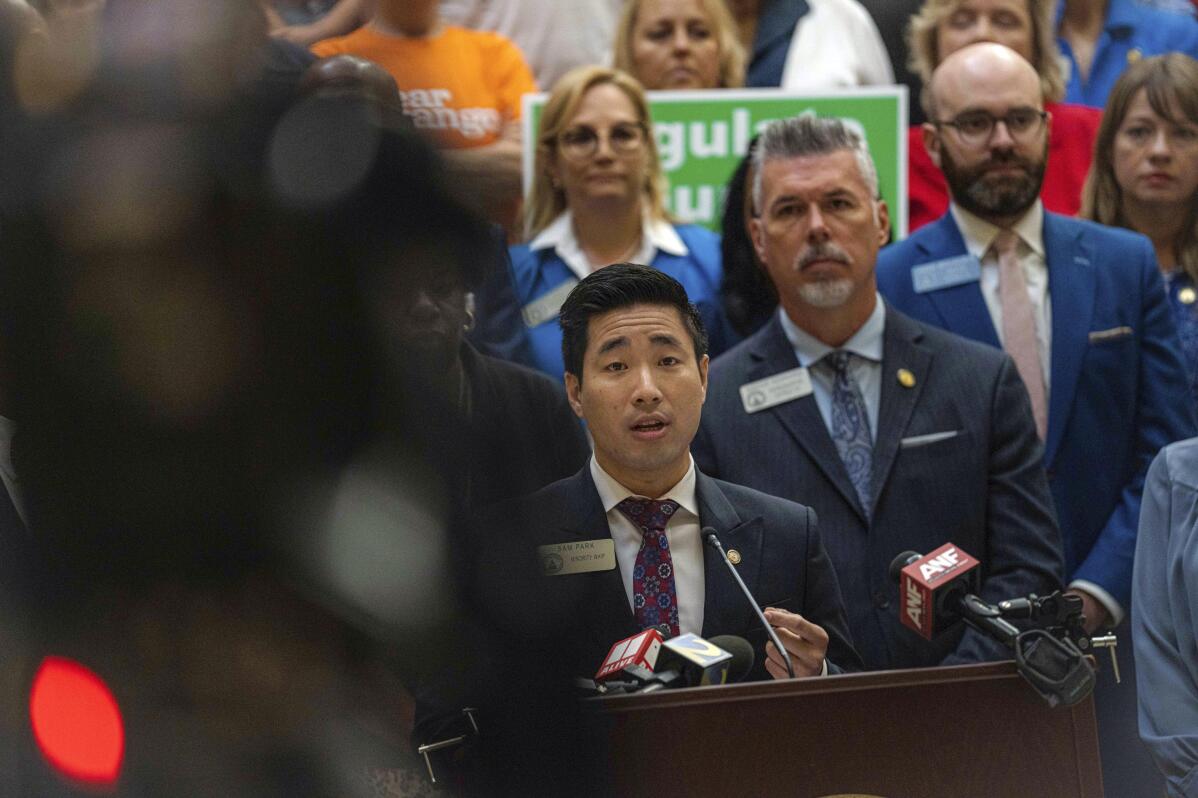 3 of 3

|
House Minority Whip Sam Park, D-Lawrenceville, speaks at a press conference hosted by Georgia Democrats calling for a special session to address gun violence, Wednesday, May 10, 2023, in Atlanta. (Matthew Pearson/WABE via AP)
Democrats in Georgia, seeking stricter gun laws, must court Republican support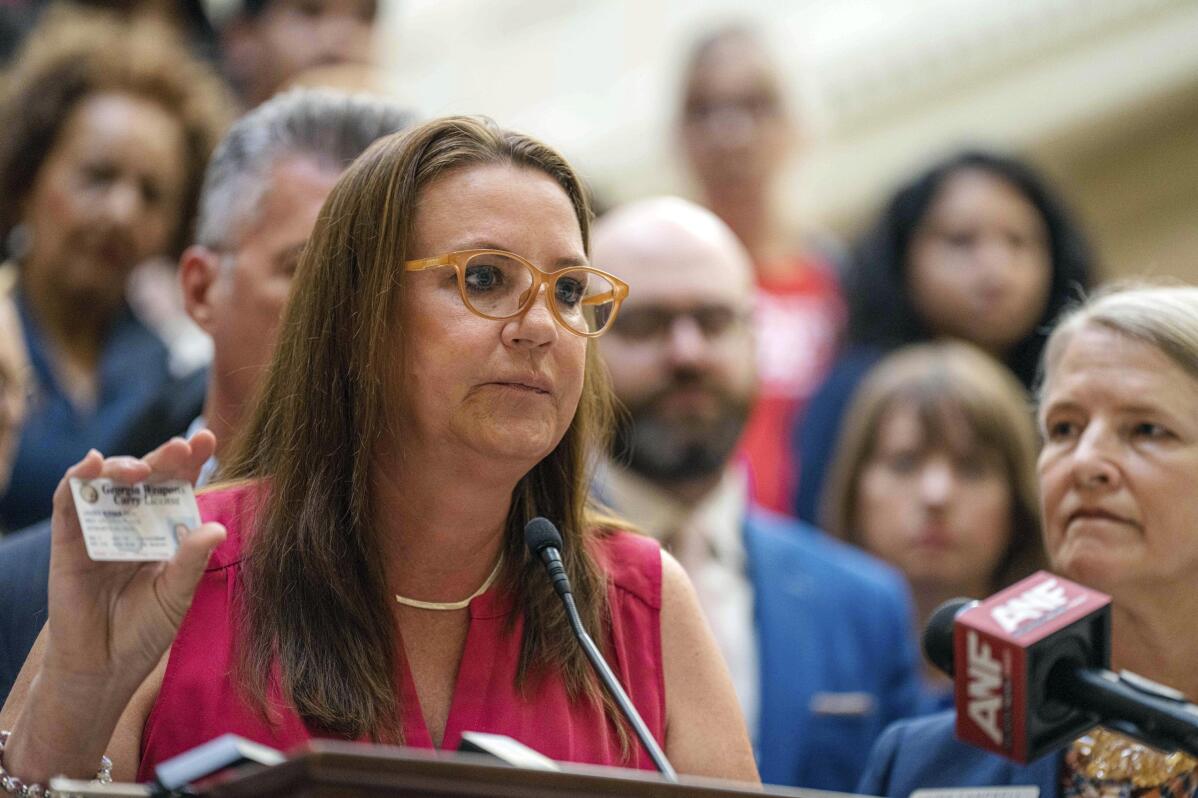 1 of 3

|
Janet Paulson holds up a concealed carry permit while sharing her story as a survivor of gun and domestic violence at a press conference hosted by Georgia Democrats calling for a special session to address gun violence, Wednesday, May 10, 2023 in Atlanta. (Matthew Pearson/WABE via AP)
1 of 3
Janet Paulson holds up a concealed carry permit while sharing her story as a survivor of gun and domestic violence at a press conference hosted by Georgia Democrats calling for a special session to address gun violence, Wednesday, May 10, 2023 in Atlanta. (Matthew Pearson/WABE via AP)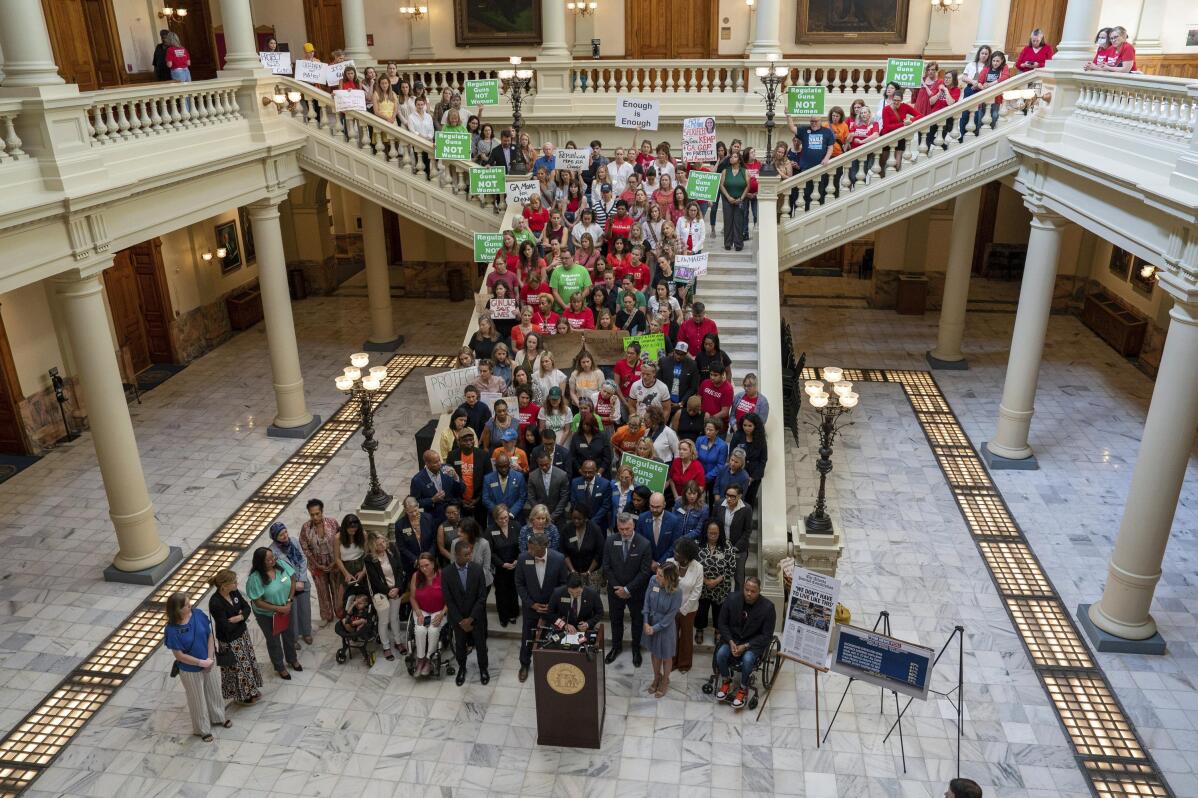 2 of 3

|
Georgia Democrats stand on the South Steps of the Capitol calling for a special session to address gun violence, Wednesday, May 10, 2023, in Atlanta. (Matthew Pearson/WABE via AP)
2 of 3
Georgia Democrats stand on the South Steps of the Capitol calling for a special session to address gun violence, Wednesday, May 10, 2023, in Atlanta. (Matthew Pearson/WABE via AP)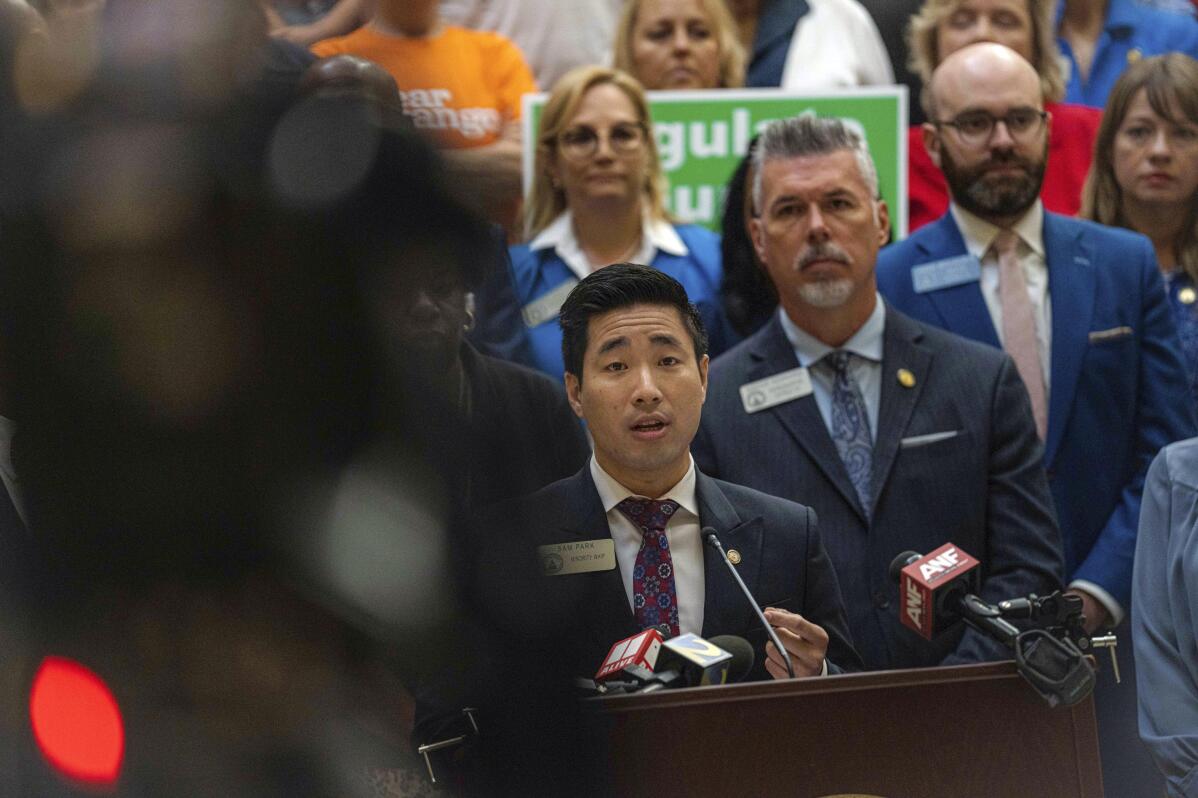 3 of 3

|
House Minority Whip Sam Park, D-Lawrenceville, speaks at a press conference hosted by Georgia Democrats calling for a special session to address gun violence, Wednesday, May 10, 2023, in Atlanta. (Matthew Pearson/WABE via AP)
3 of 3
House Minority Whip Sam Park, D-Lawrenceville, speaks at a press conference hosted by Georgia Democrats calling for a special session to address gun violence, Wednesday, May 10, 2023, in Atlanta. (Matthew Pearson/WABE via AP)
ATLANTA (AP) — For people seeking to tighten gun laws in Georgia, the task comes down to changing Republican minds or changing the Republican majority.
The magnitude of that challenge was clear Wednesday, as Democrats and more than 100 people who want to change state government's permissive attitude on guns rallied at the state Capitol. House Democrats released a letter signed by 71 of their members calling for a special session to consider legislation they say would reduce gun violence.
The crowd was angry, shouting "Now! Now! Now!" after a shooting last week in an Atlanta doctor's office that killed one woman and wounded four others, and a shooting in Moultrie where a man killed his mother, grandmother and workplace manager before killing himself.
"The urgency of Georgia's gun violence epidemic warrants an equally urgent response," said House Minority Leader James Beverly, a Macon Democrat. "Lives will be lost every day that Georgia leaders — Republicans — fail to lead. We say lead, don't hide. The time is now."
Democrats highlight three issues. They want background checks for all gun purchases, including private sales. They want to require gun owners to lock up their guns at home. And they want courts to be able to temporarily take away guns from people who are a danger to themselves or others.
But there's no sign that GOP Gov. Brian Kemp or the Republicans who head the party's majorities in the state House and Senate are preparing any legislative response ahead of 2024, when all state lawmakers will be up for reelection. Spokespersons for Kemp and House Speaker Jon Burns both declined comment Wednesday. A spokesperson for Lt. Gov. Burt Jones did not respond to questions.
Kemp won his party's primary in 2018 while brandishing a gun in televised ads. In 2022 as he faced a primary challenger, Kemp pushed through a law allowing Georgians to carry guns in public without a permit.
And while Democrats point to polling showing the public is on their side, Kemp won reelection handily, carrying along a statewide slate of GOP officials. Republicans entrenched their legislative majorities through redistricting, with few Republicans facing serious Democratic challenges.
All that points to Georgia's split political personality. It's a place where Democrats can win statewide, as shown by President Joe Biden's win in 2020 and three Democratic U.S. Senate victories in 2021 and 2022. But it's also place where Republicans remain firmly in control.
So for now, Democrats agree that they must persuade some Republicans to go against gun rights lobbyists. Sen. Elena Parent, an Atlanta Democrat, said she's trying to talk to and listen to Republicans "so we can find a path forward for some legislative solutions that will help."
"We do not need every Republican elected in this General Assembly to come to the table, but we need enough to penetrate the barrier of the majority," Parent said.
Leading gun rights supporters in Georgia aren't worried. Jerry Henry, executive director of gun rights group GA2A, predicted that if anything happens between now and the 2024 elections, it will be Republican lawmakers further loosening gun laws. His group wants to lift the bar on carrying guns on church property in Georgia, for example.
"I think your guys that are anti-gun are going to remain anti-gun and the ones who are pro-guns are going to remain pro-gun," Henry said.
Democrats point to Tennessee, where Republican Gov. Bill Lee says he will call a special session for lawmakers to consider legislation that would keep firearms away from people who could harm themselves or others. They also point to Texas, where some Republicans voted in a legislative committee for a bill to raise the purchase age for semiautomatic rifles from 18 to 21.
And at least some GOP voters are backing the push. Ashley Hill of Atlanta attended Thursday's rally as part of a nascent group called Republican Moms for Change. She said that she was spurred to action after a March shooting at a Nashville school killed six.
"I think that I had been praying, giving people my prayers and thoughts for so long, that it was time to do something more," Hill said. "It was time to act."
Hill said she wants to see assault weapons banned, but says that may be politically impossible in Georgia. She said Republican inaction is driving her toward Democrats, saying she may end up voting for candidates that she disagrees with 90% of issues on.
"I'm dying to vote for a Republican," Hill said. "Give me one, someone, that has some sort of response."