Scholz party paves way for new center-right mayor in Berlin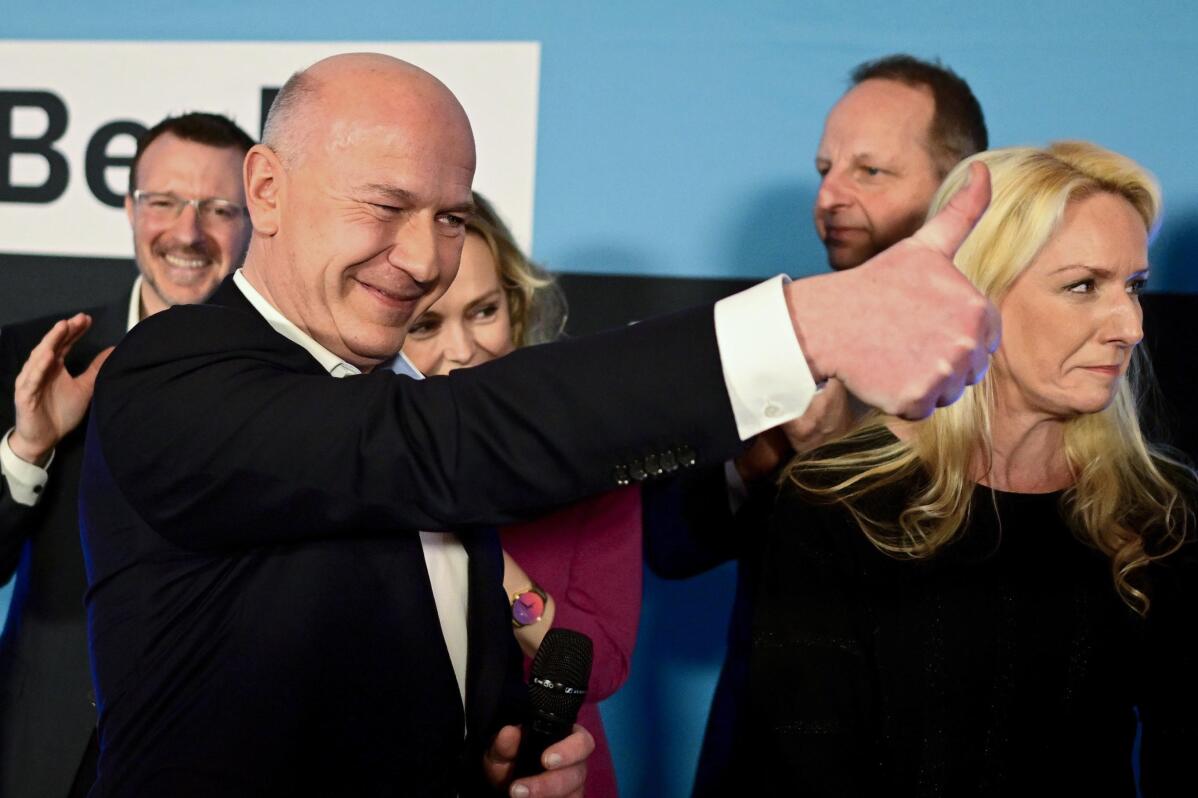 1 of 2

|
FILE - The top candidate of the Christian Democratic Union party (CDU), Kai Wegner, celebrates after the state elections in Berlin, Germany, on Feb. 12, 2023. Members of Chancellor Olaf Scholz's party have approved a local coalition deal in Berlin with Germany's main center-right opposition party, paving the way for the capital's first conservative mayor in more than two decades.The Social Democrats' Berlin branch said Sunday April 23, 2023 that 54.3% of members who voted in a ballot backed the agreement. A convention of the center-right Christian Democratic Union is expected to approve it on Monday, the last step before the state legislature can elect Wegner as mayor later in the week. (Fabian Sommer/dpa via AP, File)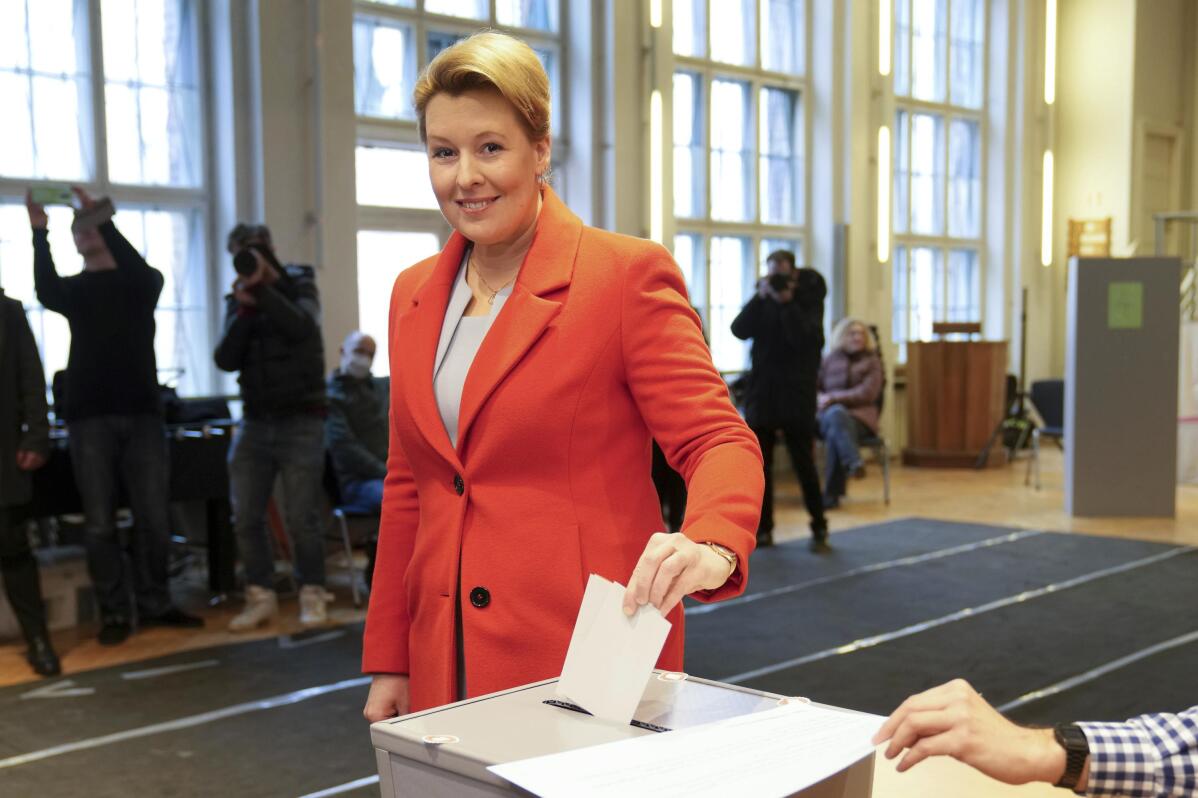 2 of 2

|
FILE - Berlin Mayor Franziska Giffey casts her vote at a polling station in Berlin, Germany, on Feb. 12, 2023. Members of Chancellor Olaf Scholz's party have approved a local coalition deal in Berlin with Germany's main center-right opposition party, paving the way for the capital's first conservative mayor in more than two decades. The Social Democrats' Berlin branch said Sunday April 23, 2023 that 54.3% of members who voted in a ballot backed the agreement. A convention of the center-right Christian Democratic Union is expected to approve it on Monday, the last step before the state legislature can elect Wegner as mayor later in the week. (AP Photo/Michael Sohn, File)
Scholz party paves way for new center-right mayor in Berlin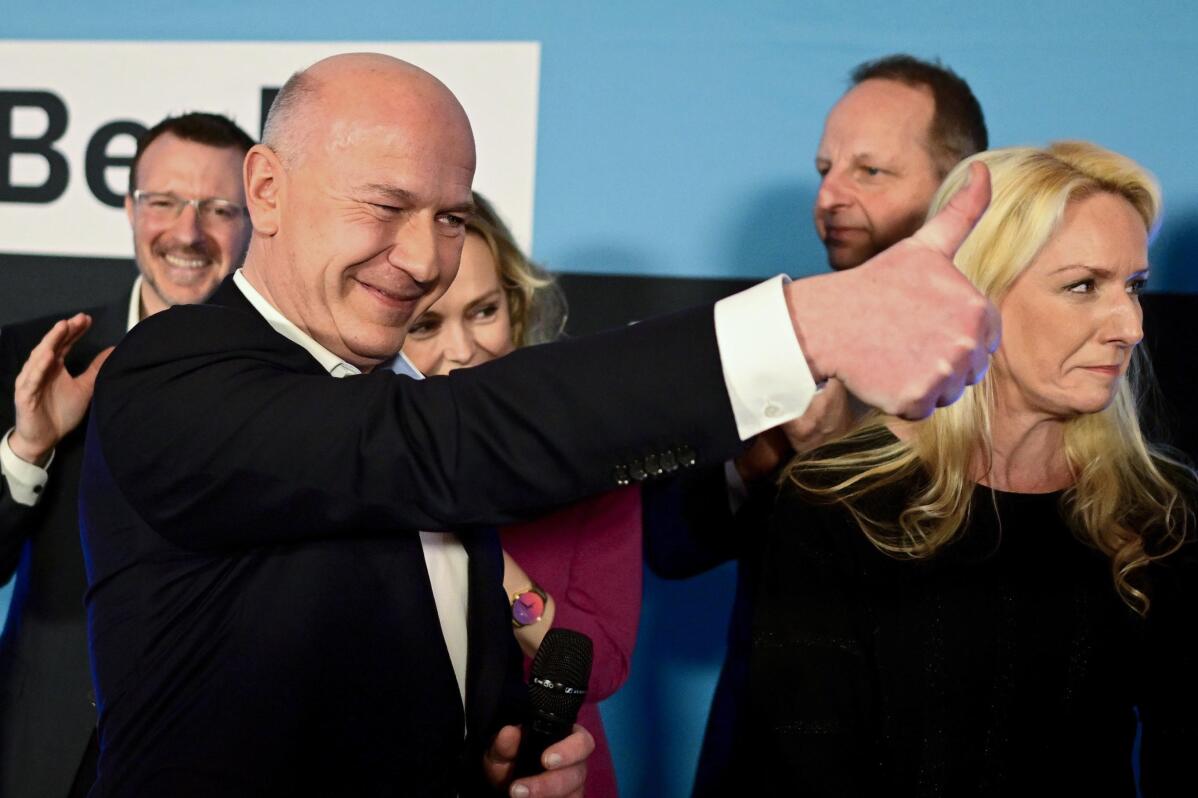 1 of 2

|
FILE - The top candidate of the Christian Democratic Union party (CDU), Kai Wegner, celebrates after the state elections in Berlin, Germany, on Feb. 12, 2023. Members of Chancellor Olaf Scholz's party have approved a local coalition deal in Berlin with Germany's main center-right opposition party, paving the way for the capital's first conservative mayor in more than two decades.The Social Democrats' Berlin branch said Sunday April 23, 2023 that 54.3% of members who voted in a ballot backed the agreement. A convention of the center-right Christian Democratic Union is expected to approve it on Monday, the last step before the state legislature can elect Wegner as mayor later in the week. (Fabian Sommer/dpa via AP, File)
1 of 2
FILE - The top candidate of the Christian Democratic Union party (CDU), Kai Wegner, celebrates after the state elections in Berlin, Germany, on Feb. 12, 2023. Members of Chancellor Olaf Scholz's party have approved a local coalition deal in Berlin with Germany's main center-right opposition party, paving the way for the capital's first conservative mayor in more than two decades.The Social Democrats' Berlin branch said Sunday April 23, 2023 that 54.3% of members who voted in a ballot backed the agreement. A convention of the center-right Christian Democratic Union is expected to approve it on Monday, the last step before the state legislature can elect Wegner as mayor later in the week. (Fabian Sommer/dpa via AP, File)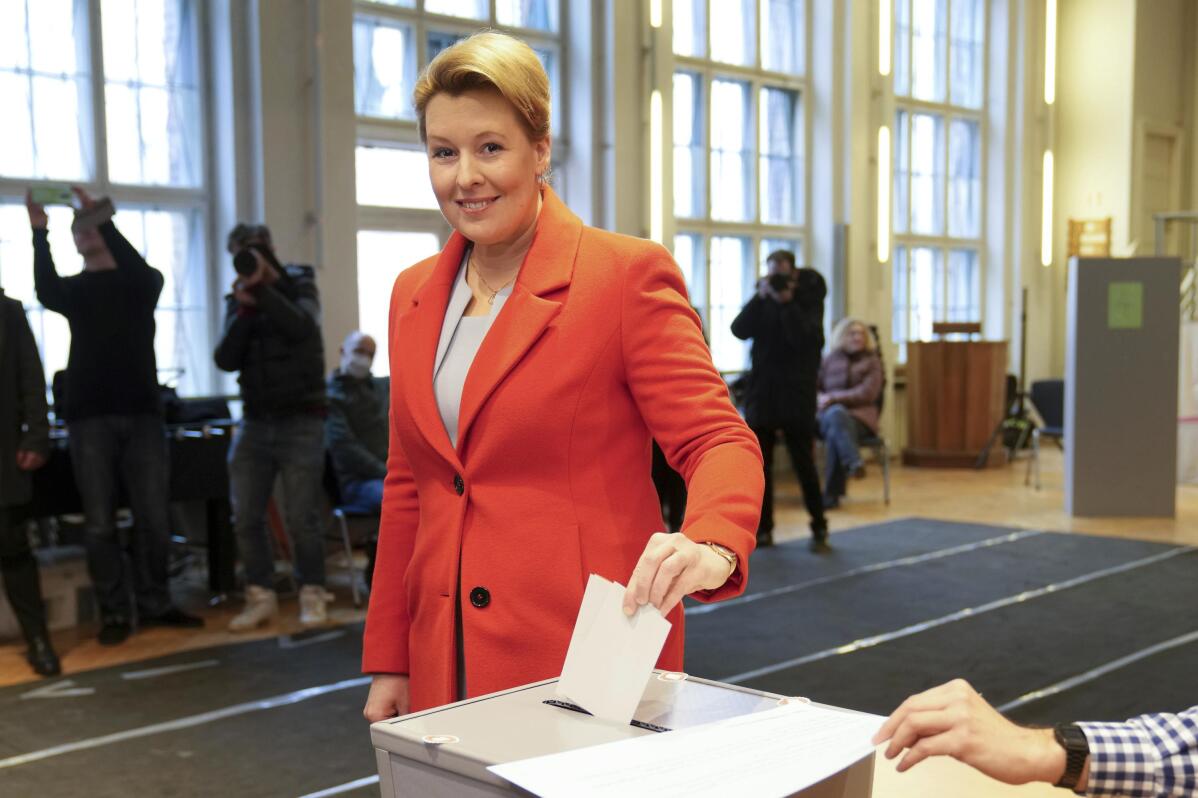 2 of 2

|
FILE - Berlin Mayor Franziska Giffey casts her vote at a polling station in Berlin, Germany, on Feb. 12, 2023. Members of Chancellor Olaf Scholz's party have approved a local coalition deal in Berlin with Germany's main center-right opposition party, paving the way for the capital's first conservative mayor in more than two decades. The Social Democrats' Berlin branch said Sunday April 23, 2023 that 54.3% of members who voted in a ballot backed the agreement. A convention of the center-right Christian Democratic Union is expected to approve it on Monday, the last step before the state legislature can elect Wegner as mayor later in the week. (AP Photo/Michael Sohn, File)
2 of 2
FILE - Berlin Mayor Franziska Giffey casts her vote at a polling station in Berlin, Germany, on Feb. 12, 2023. Members of Chancellor Olaf Scholz's party have approved a local coalition deal in Berlin with Germany's main center-right opposition party, paving the way for the capital's first conservative mayor in more than two decades. The Social Democrats' Berlin branch said Sunday April 23, 2023 that 54.3% of members who voted in a ballot backed the agreement. A convention of the center-right Christian Democratic Union is expected to approve it on Monday, the last step before the state legislature can elect Wegner as mayor later in the week. (AP Photo/Michael Sohn, File)
BERLIN (AP) — Members of Chancellor Olaf Scholz's party have narrowly approved a local coalition deal in Berlin with Germany's main center-right opposition party, a decision which should pave the way for the capital's first conservative mayor in more than two decades.
The Social Democrats' Berlin branch said Sunday that 54.3% of members who voted in a ballot backed the agreement. A convention of the center-right Christian Democratic Union is expected to approve it on Monday, the last step before Christian Democrat Kai Wegner can seek election as mayor by the state legislature.
The expected change of government follows a state election in February, a rerun made necessary by serious glitches in the previous vote in 2021. The CDU emerged as the biggest party, making big gains as the three parties in Berlin's left-wing government all lost supporters.
Outgoing Mayor Franziska Giffey's center-left Social Democrats have led Berlin since 2001. They took much of the blame for the 2021 election chaos. Many Berliners also are angry over rising housing costs and that the city in recent years has had a dysfunctional bureaucracy, by German standards, in which getting basic paperwork done often entails lengthy waits.
February's election did leave the outgoing government with a majority in the legislature — albeit one that raised the possibility of increasing rancor and gridlock, with the Social Democrats just 53 votes ahead of their biggest partner, the environmentalist Greens, in second place.
But Giffey, a former federal minister who became mayor in December 2021, said that the new beginning voters wanted wasn't possible with a rerun of the outgoing coalition and her party risked doing even worse at the next election if it carried on.
The decision to become the CDU's junior partner drew significant criticism in the party's ranks. Giffey said she was "very relieved" by the outcome of the ballot and promised to take dissenters' concerns seriously.
Giffey is expected to take a ministerial job under Wegner, whose government will face pressure to produce results quickly. It will only serve out the term that started with Berlin's September 2021 election. The next state vote is due in late 2026.
At national level, Scholz leads a three-party coalition of the Social Democrats, Greens and pro-business Free Democrats. The CDU leads the opposition. Germany's 16 states, which have significant powers in many policy areas, have governments of many different political complexions.