German soccer clubs reject selling stake in media rights to investors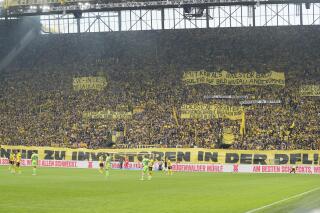 FRANKFURT, Germany (AP) — German soccer clubs rejected a proposal to sell a one-eighth share of future worldwide media rights to investors in a vote Wednesday, following anger from fans.
At a meeting of the 36 clubs from the Bundesliga and the second division, 20 voted in favor of the proposal, said Hans-Joachim Watzke, chairman of the supervisory board of the German Football League, known as the DFL, which oversees the top two leagues. There were 11 clubs against and five abstained, he added.
The plan needed 24 votes, a two-thirds majority, to allow the DFL to pursue a sales process with investors on behalf of the clubs.
"That is democracy," said Watzke, who is also CEO of league leader Borussia Dortmund. "There was a clear majority (in favor), but not the one we wanted to have. Therefore the topic is closed from today."
There has been widespread criticism from fans, who have displayed banners for weeks at games — including at Watzke's Dortmund — decrying the plan to sell a 12.5% share of domestic and international TV and media rights for the top two divisions over the next 20 years. A similar deal was approved in Spain in 2021.
Proponents of the deal said cash is needed now to modernize the Bundesliga's marketing and stop it falling further behind rival leagues, and to modernize clubs' infrastructure.
Opponents warned it could starve the clubs of income in the future and that any investor could demand a say in how the league is run. Teams below the top two divisions worried it would entrench existing inequalities.
Few leading clubs criticized the plans in public, though top-division Cologne was notable for speaking out against them.
Most German teams are controlled by club members under the so-called 50%+1 rule that ensures they retain majority voting rights even if investors buy into commercial activities. That has acted as a check on billionaire owners or investors taking control, as they do in England and other leagues.
The two interim joint chief executives of the DFL, Eintracht Frankfurt's Axel Hellmann and Freiburg's Oliver Leki, who both backed the investor plan, are due to leave their league posts at the end of next month.
___
More AP soccer: https://apnews.com/hub/Soccer and https://twitter.com/AP_Sports