Top publisher apologizes for slurs about 'East Germans'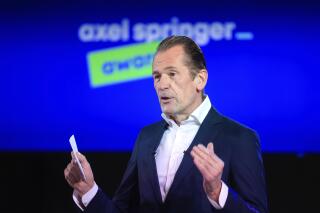 BERLIN (AP) — The chief executive and co-owner of media company Axel Springer apologized Sunday for making crude remarks about "East Germans" in text messages leaked to a rival newspaper.
German weekly Die Zeit quoted Mathias Doepfner as saying that "the Ossis (a derogatory term for East Germans) are either communists or fascists." The comments prompted sharp rebukes from officials in the east and calls for Doepfner to resign.
In a short article for tabloid Bild am Sonntag, Doepfner expressed regret "that I have offended, unsettled or hurt many with my words."
Doepfner said his remarks about East Germans were triggered by his anger at the large share of voters there who back the post-communist Left party or the far-right Alternative for Germany.
"When I'm angry or very happy, my cell phone becomes a lightning rod," he said, adding that he had sent the messages to people "whom I trust greatly," believing they would understand what he really meant.
Doepfner did not comment on other leaked messages suggesting that he had put pressure on journalists to promote a small pro-business party, the Free Democrats, ahead of the last election.
German media noted that several of the leaked comments were addressed to the former editor of daily Bild, Julian Reichelt, who was ousted two years ago over misconduct claims.
Shortly after Reichelt's departure Axel Springer, which is majority-owned by U.S. investment firm KKR, completed its acquisition of the political news outlet Politico.