German imports from Russia down over 90% in war's 1st year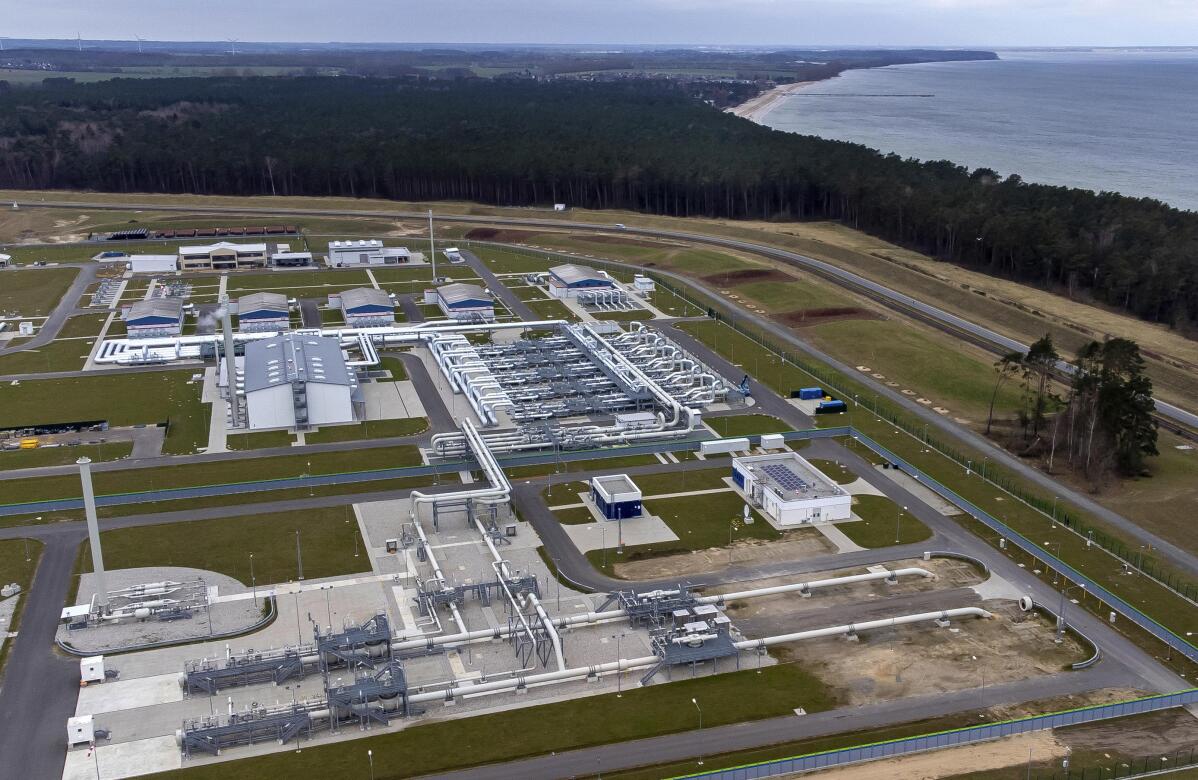 1 of 2

|
FILE - Pipes at the landfall facilities of the 'Nord Stream 2' gas pipline are pictured in Lubmin, northern Germany, on Feb. 15, 2022. Germany's imports from Russia fell by more than 90% in the first year of Moscow's war in Ukraine, largely as a result of the collapse of Russian energy deliveries to Europe's biggest economy, official figures showed Thursday. (AP Photo/Michael Sohn, File)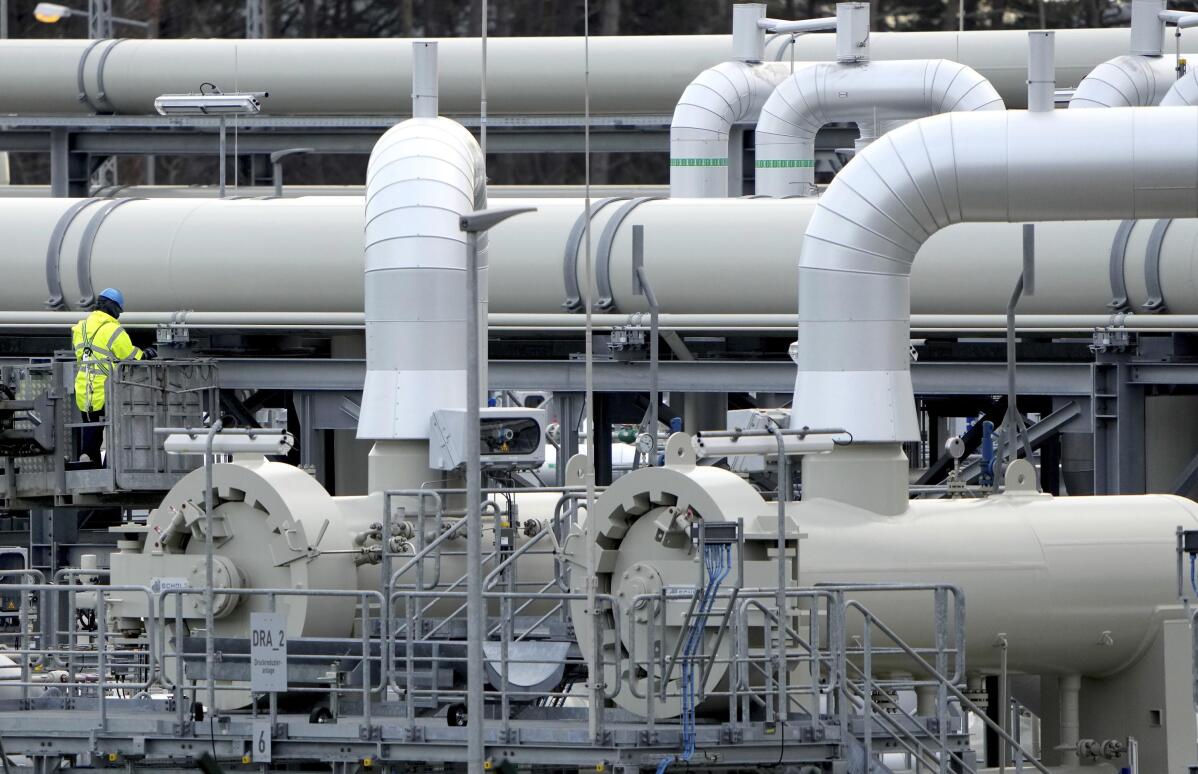 2 of 2

|
FILE - Pipes at the landfall facilities of the 'Nord Stream 2' gas pipline are pictured in Lubmin, northern Germany, on Feb. 15, 2022. Germany's imports from Russia fell by more than 90% in the first year of Moscow's war in Ukraine, largely as a result of the collapse of Russian energy deliveries to Europe's biggest economy, official figures showed Thursday. (AP Photo/Michael Sohn, File)
German imports from Russia down over 90% in war's 1st year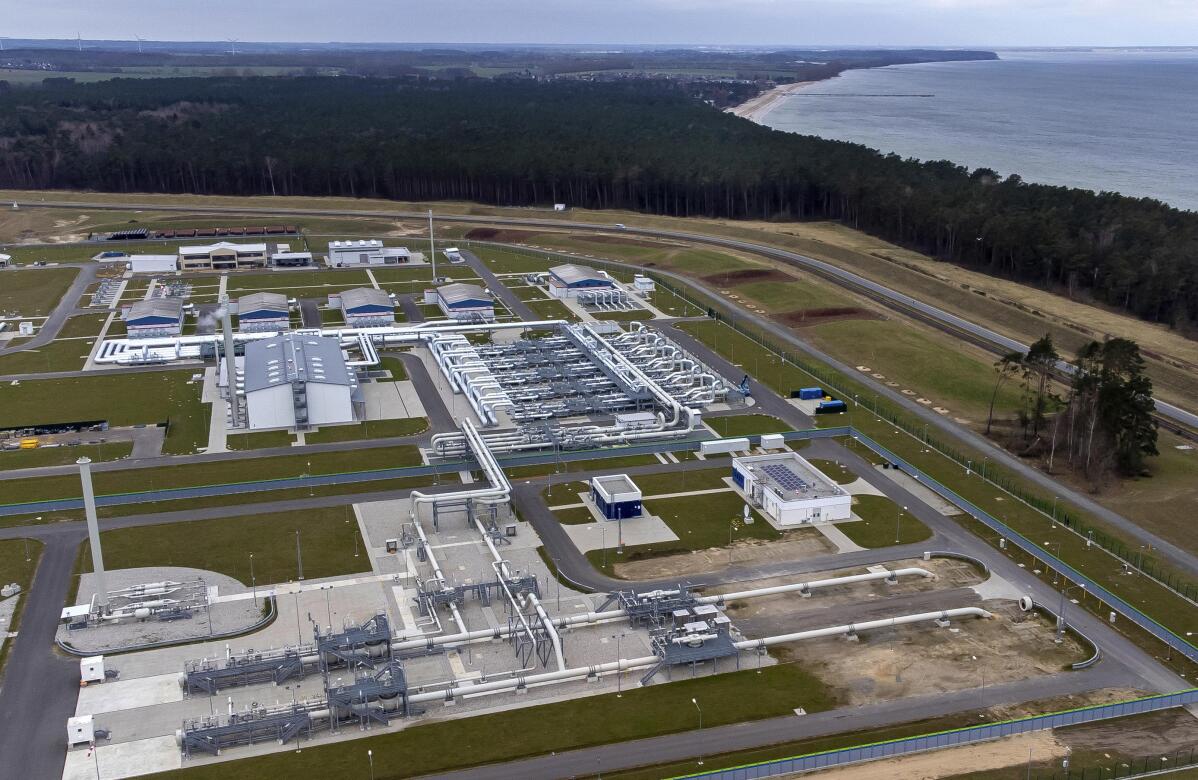 1 of 2

|
FILE - Pipes at the landfall facilities of the 'Nord Stream 2' gas pipline are pictured in Lubmin, northern Germany, on Feb. 15, 2022. Germany's imports from Russia fell by more than 90% in the first year of Moscow's war in Ukraine, largely as a result of the collapse of Russian energy deliveries to Europe's biggest economy, official figures showed Thursday. (AP Photo/Michael Sohn, File)
1 of 2
FILE - Pipes at the landfall facilities of the 'Nord Stream 2' gas pipline are pictured in Lubmin, northern Germany, on Feb. 15, 2022. Germany's imports from Russia fell by more than 90% in the first year of Moscow's war in Ukraine, largely as a result of the collapse of Russian energy deliveries to Europe's biggest economy, official figures showed Thursday. (AP Photo/Michael Sohn, File)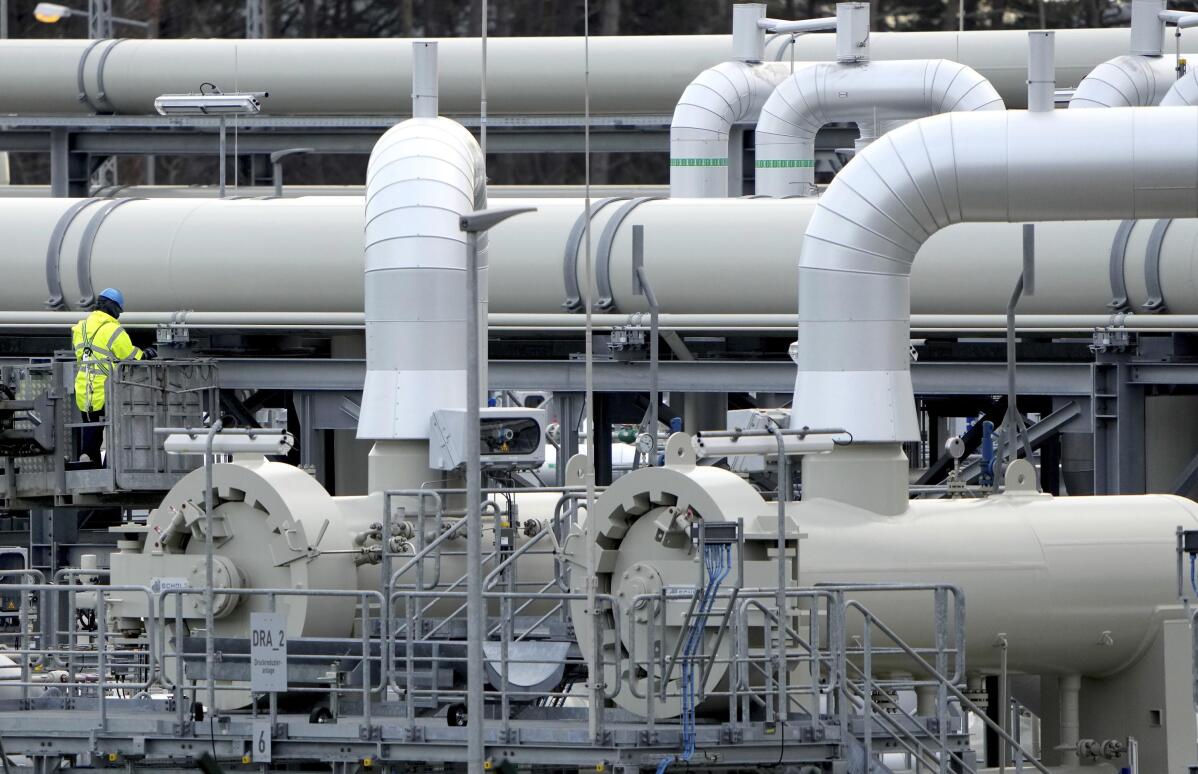 2 of 2

|
FILE - Pipes at the landfall facilities of the 'Nord Stream 2' gas pipline are pictured in Lubmin, northern Germany, on Feb. 15, 2022. Germany's imports from Russia fell by more than 90% in the first year of Moscow's war in Ukraine, largely as a result of the collapse of Russian energy deliveries to Europe's biggest economy, official figures showed Thursday. (AP Photo/Michael Sohn, File)
2 of 2
FILE - Pipes at the landfall facilities of the 'Nord Stream 2' gas pipline are pictured in Lubmin, northern Germany, on Feb. 15, 2022. Germany's imports from Russia fell by more than 90% in the first year of Moscow's war in Ukraine, largely as a result of the collapse of Russian energy deliveries to Europe's biggest economy, official figures showed Thursday. (AP Photo/Michael Sohn, File)
BERLIN (AP) — Germany's imports from Russia fell by more than 90% in the first year of Moscow's war in Ukraine, largely as a result of the collapse of Russian energy deliveries to Europe's biggest economy, official figures showed Thursday.
The Federal Statistical Office said Germany imported goods worth 300 million euros ($329 million) in February, down from 3.7 billion euros a year earlier. That was a 91% fall, and dropped Russia from the 11th-biggest source of imports to 46th place.
Russia's full-scale invasion of Ukraine on Feb. 24, 2022 triggered several rounds of Western sanctions.
Its relations with the West chilled even in areas that weren't directly subject to sanctions, such as natural gas. Moscow, which once supplied more than half of Germany's gas, reduced and then stopped gas deliveries to the country last summer.
The statistics office said imports of Russian oil and gas were down 99.8% in the year to February, falling to 4.2 million euros from 2.2 billion euros. Germany's overall imports of oil and gas this February totaled 6 billion euros.
Coal imports dropped 92.5%, to 26 million euros from 347 million euros.
Meanwhile, Germany exported goods to the tune of 800 million euros to Russia in February, down from 2.1 billion euros a year earlier. That was a 60.5% decline.
The statistics office didn't give details of what is still being imported and exported.
___
Follow AP's coverage of the war in Ukraine: https://apnews.com/hub/russia-ukraine-war