Cardinals allow big rally by Giants, blow chance for first win with coach Gannon, QB Dobbs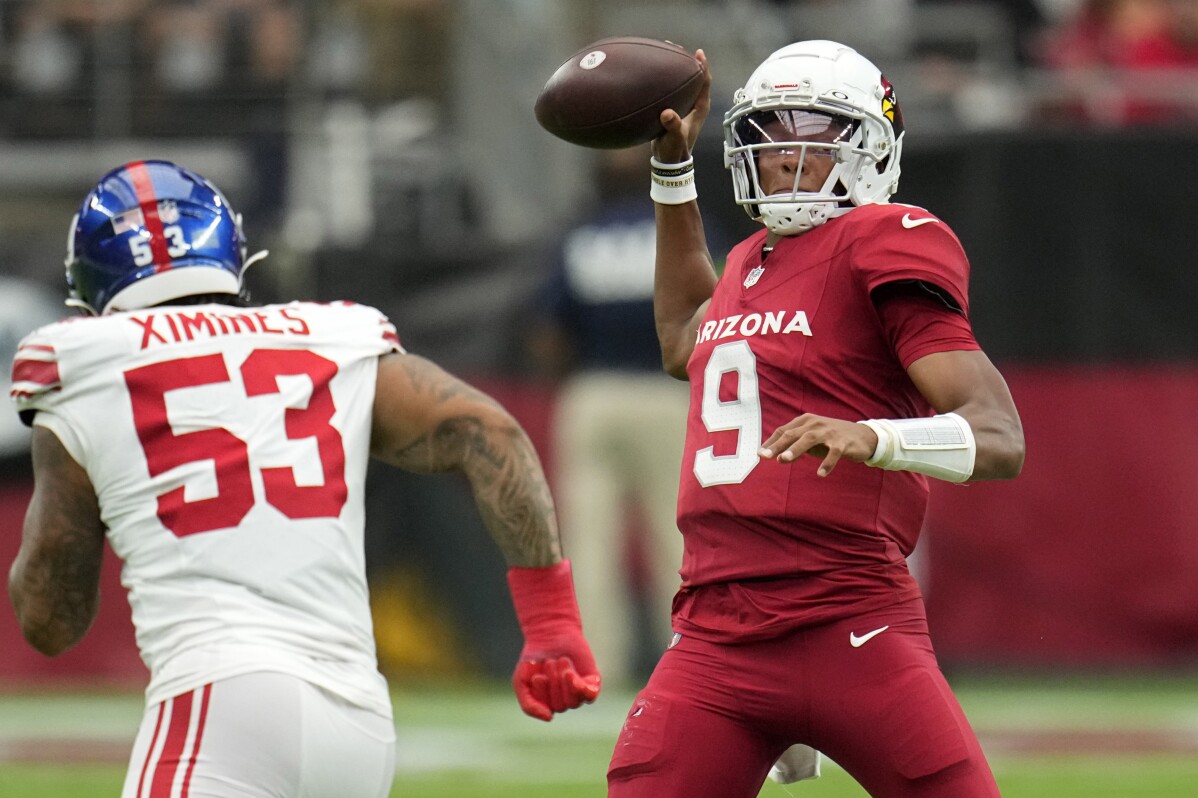 1 of 5

|
Arizona Cardinals quarterback Joshua Dobbs (9) throws against the New York Giants during the first half of an NFL football game, Sunday, Sept. 17, 2023, in Glendale, Ariz. (AP Photo/Ross D. Franklin)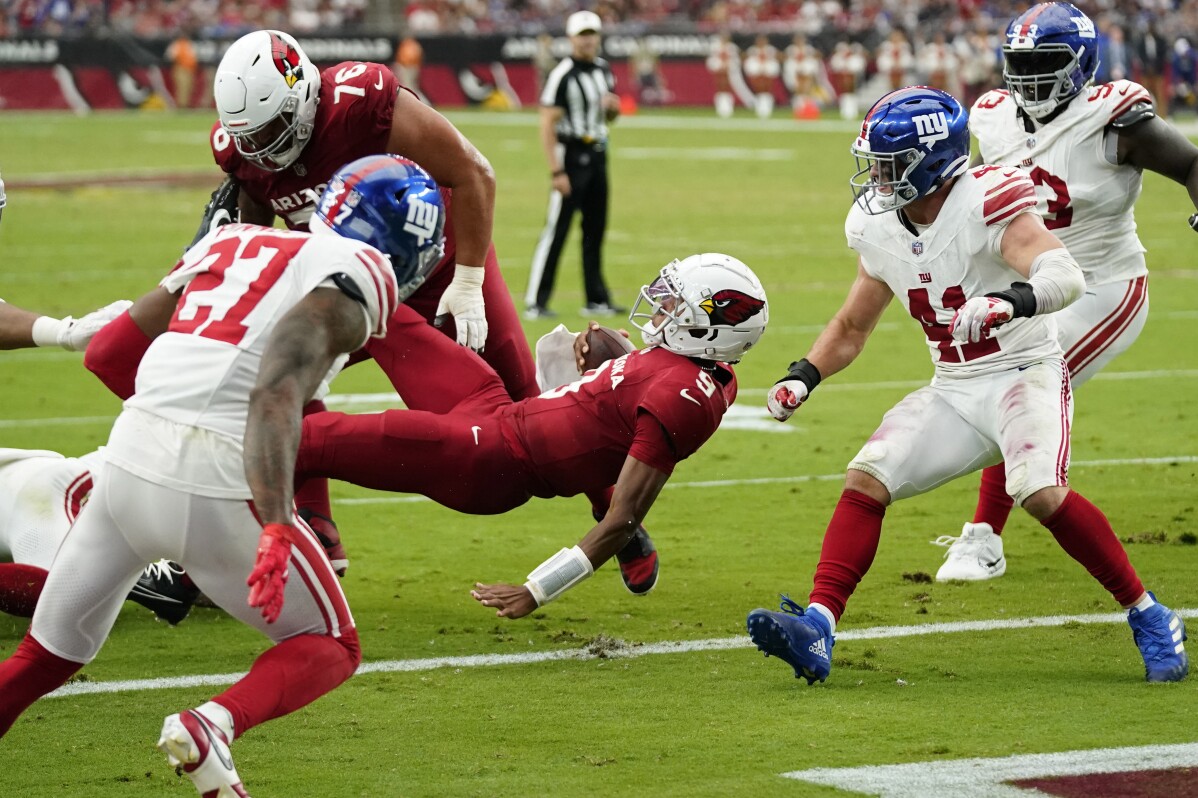 2 of 5

|
Arizona Cardinals quarterback Joshua Dobbs (9) scores a 2-point conversion against the New York Giants during the second half of an NFL football game, Sunday, Sept. 17, 2023, in Glendale, Ariz. (AP Photo/Ross D. Franklin)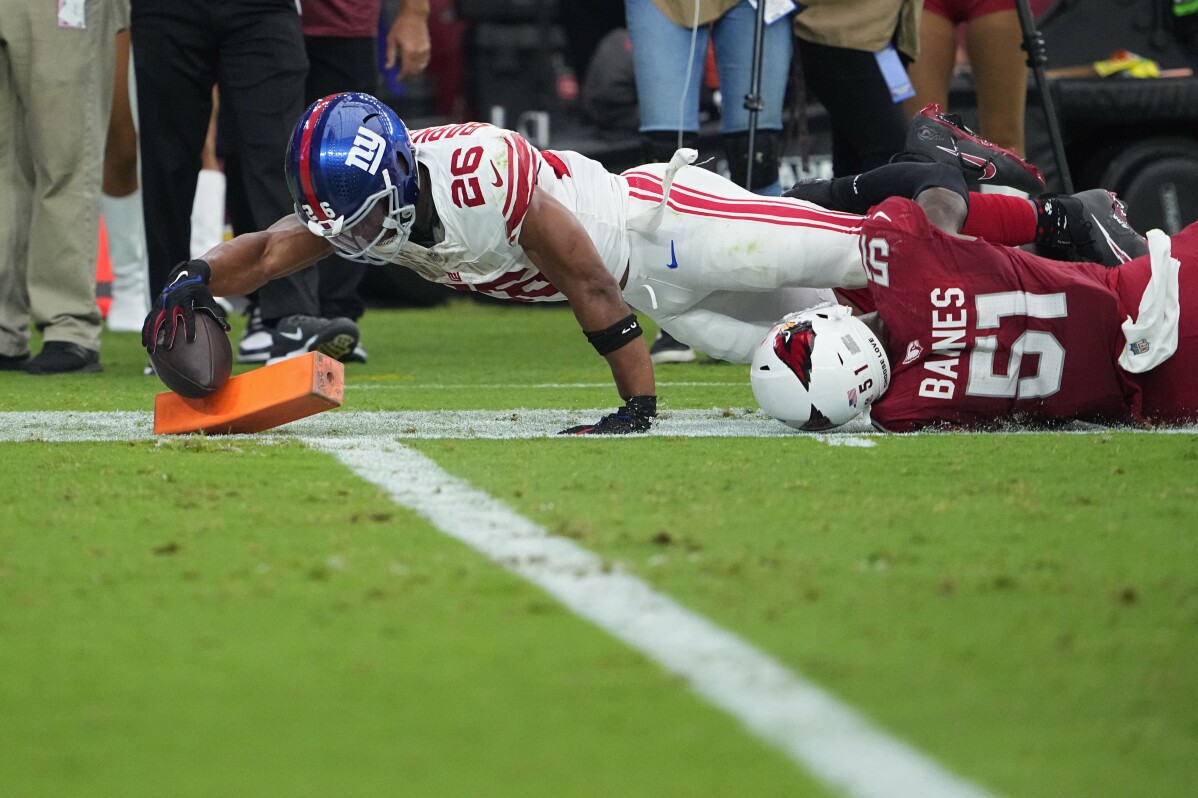 3 of 5

|
New York Giants running back Saquon Barkley (26) dives into the endzone for a touchdown against Arizona Cardinals linebacker Krys Barnes (51) during the second half of an NFL football game, Sunday, Sept. 17, 2023, in Glendale, Ariz. (AP Photo/Matt York)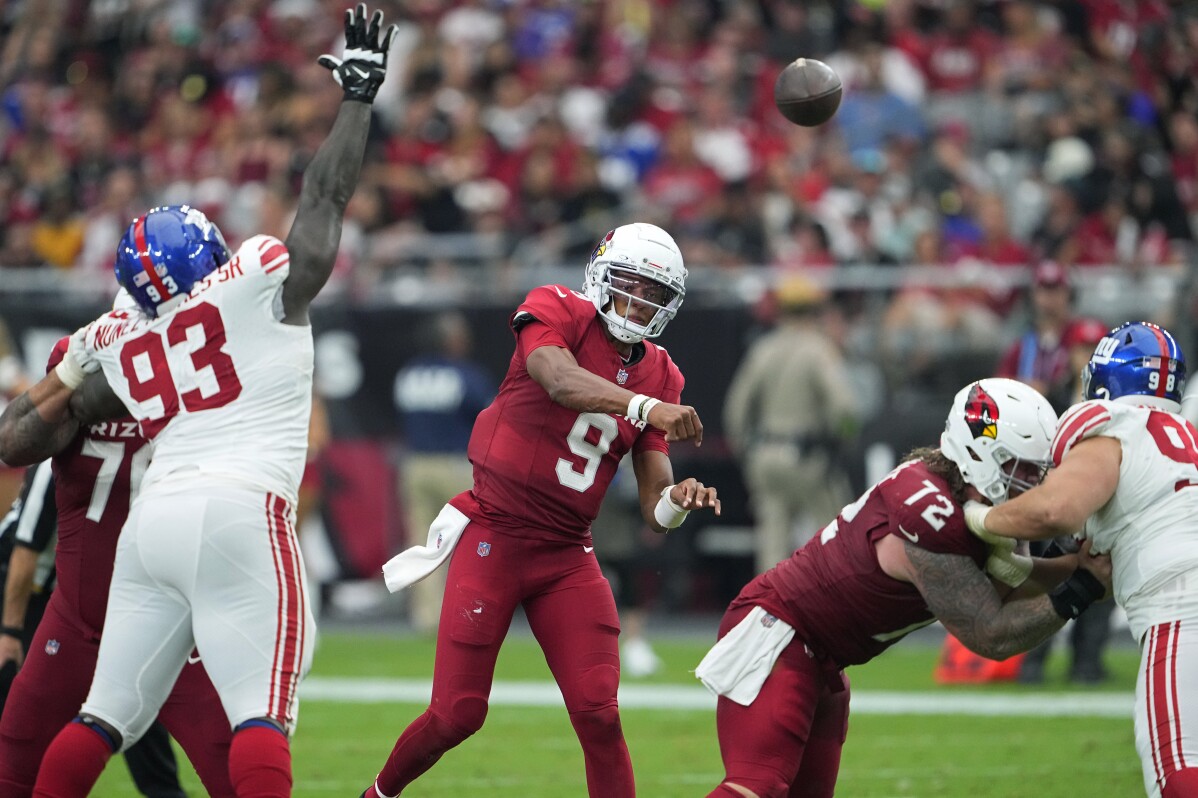 4 of 5

|
Arizona Cardinals quarterback Joshua Dobbs (9) throws against the New York Giants during the second half of an NFL football game, Sunday, Sept. 17, 2023, in Glendale, Ariz. (AP Photo/Matt York)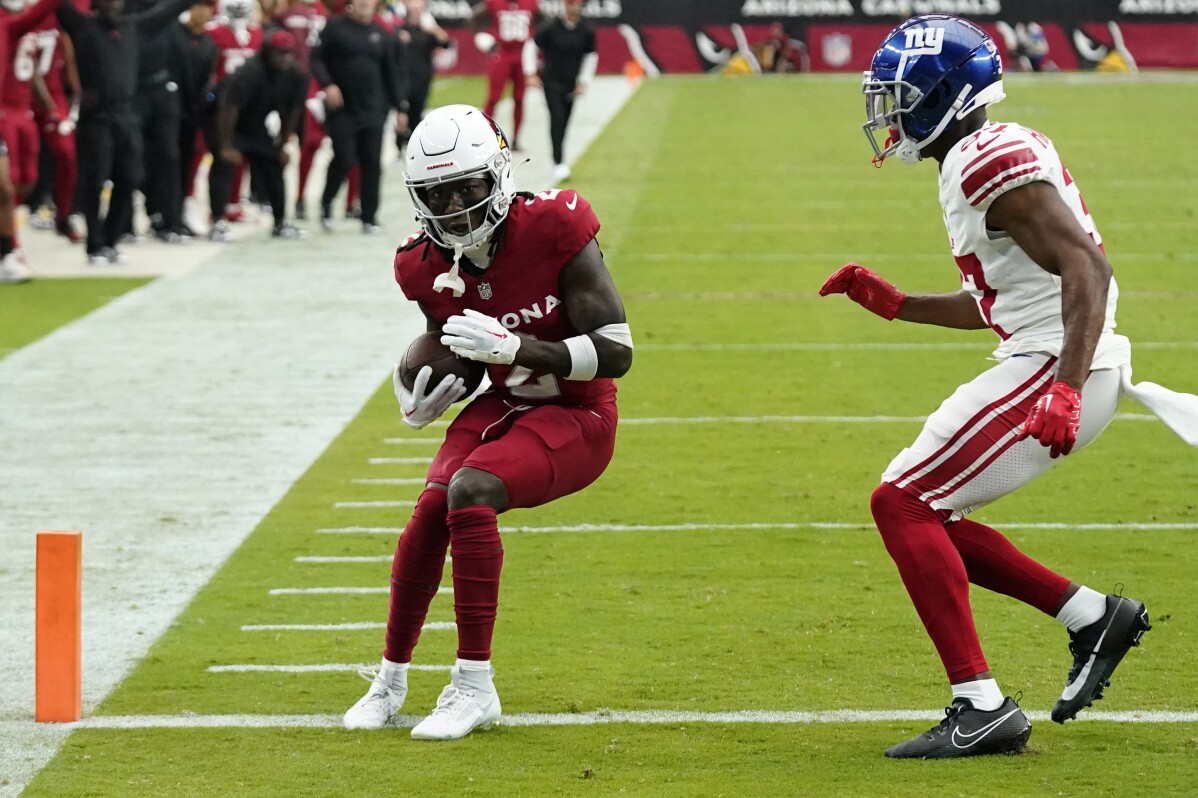 5 of 5

|
Arizona Cardinals wide receiver Marquise Brown (2) scores a touchdown after making a catch against the New York Giants during the second half of an NFL football game, Sunday, Sept. 17, 2023, in Glendale, Ariz. (AP Photo/Ross D. Franklin)
Cardinals allow big rally by Giants, blow chance for first win with coach Gannon, QB Dobbs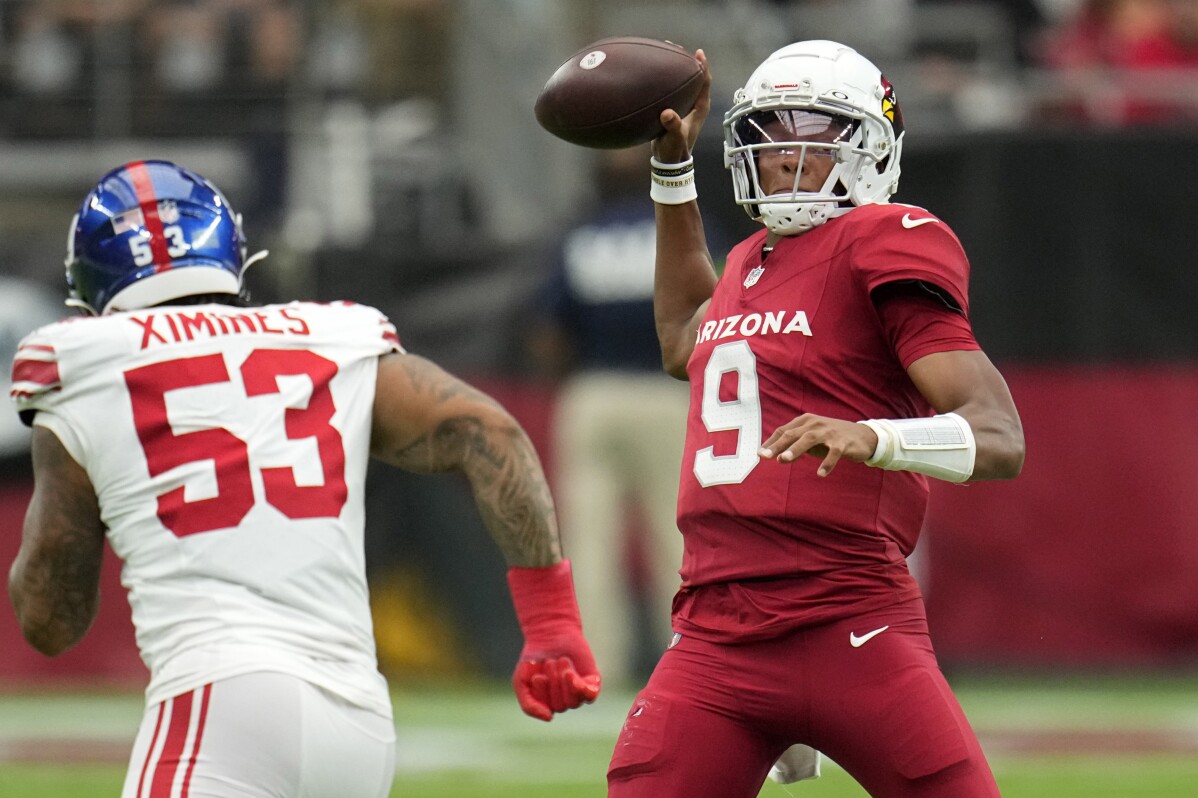 1 of 5

|
Arizona Cardinals quarterback Joshua Dobbs (9) throws against the New York Giants during the first half of an NFL football game, Sunday, Sept. 17, 2023, in Glendale, Ariz. (AP Photo/Ross D. Franklin)
1 of 5
Arizona Cardinals quarterback Joshua Dobbs (9) throws against the New York Giants during the first half of an NFL football game, Sunday, Sept. 17, 2023, in Glendale, Ariz. (AP Photo/Ross D. Franklin)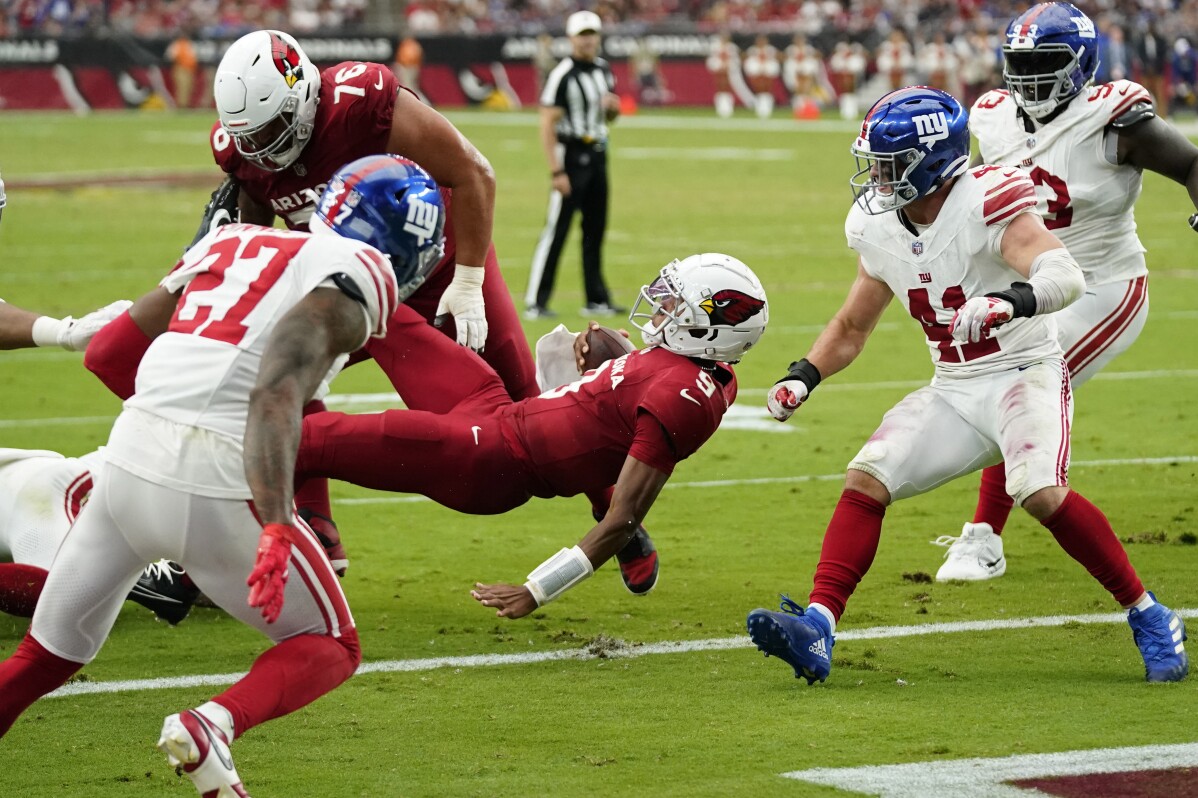 2 of 5

|
Arizona Cardinals quarterback Joshua Dobbs (9) scores a 2-point conversion against the New York Giants during the second half of an NFL football game, Sunday, Sept. 17, 2023, in Glendale, Ariz. (AP Photo/Ross D. Franklin)
2 of 5
Arizona Cardinals quarterback Joshua Dobbs (9) scores a 2-point conversion against the New York Giants during the second half of an NFL football game, Sunday, Sept. 17, 2023, in Glendale, Ariz. (AP Photo/Ross D. Franklin)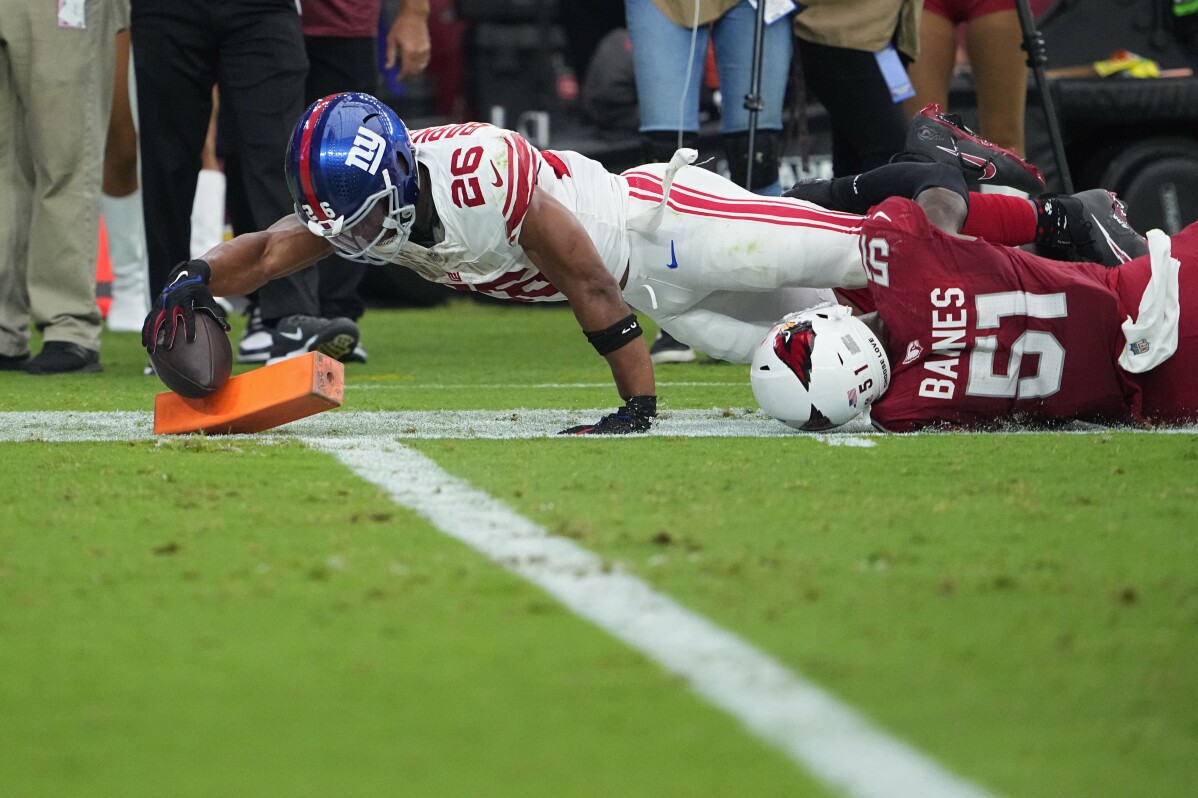 3 of 5

|
New York Giants running back Saquon Barkley (26) dives into the endzone for a touchdown against Arizona Cardinals linebacker Krys Barnes (51) during the second half of an NFL football game, Sunday, Sept. 17, 2023, in Glendale, Ariz. (AP Photo/Matt York)
3 of 5
New York Giants running back Saquon Barkley (26) dives into the endzone for a touchdown against Arizona Cardinals linebacker Krys Barnes (51) during the second half of an NFL football game, Sunday, Sept. 17, 2023, in Glendale, Ariz. (AP Photo/Matt York)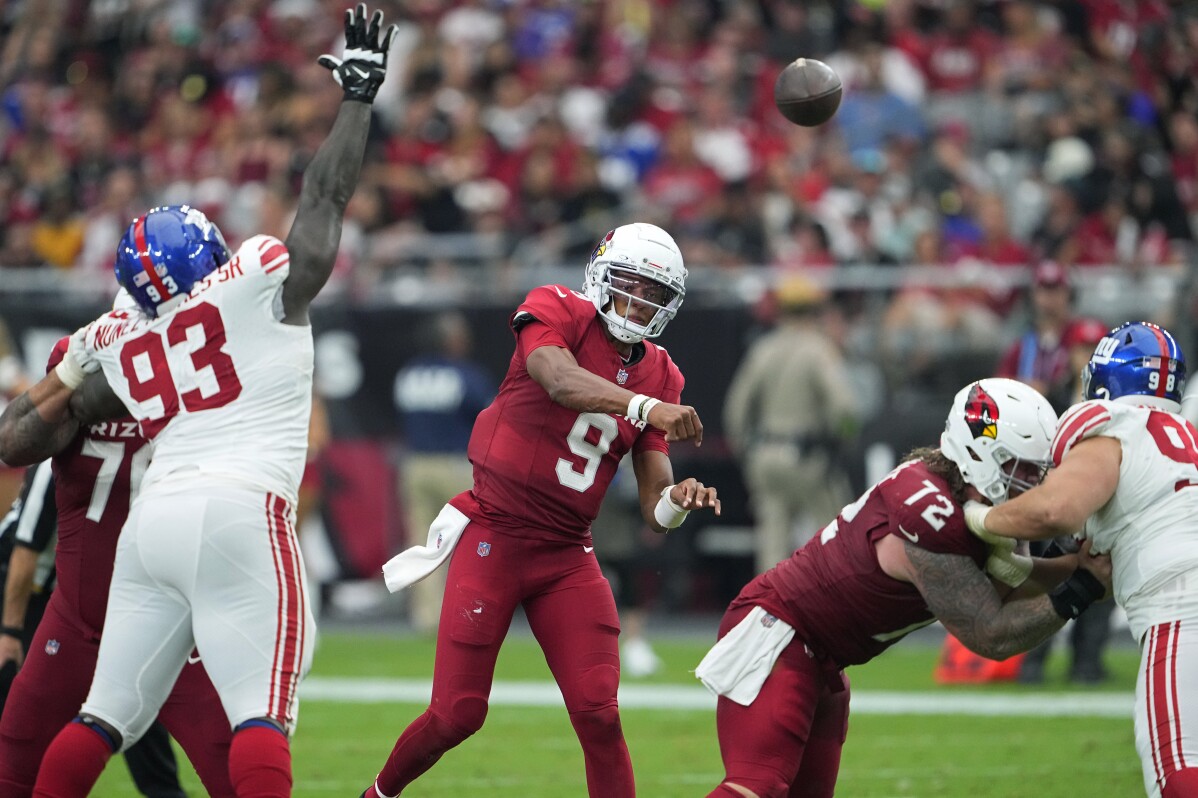 4 of 5

|
Arizona Cardinals quarterback Joshua Dobbs (9) throws against the New York Giants during the second half of an NFL football game, Sunday, Sept. 17, 2023, in Glendale, Ariz. (AP Photo/Matt York)
4 of 5
Arizona Cardinals quarterback Joshua Dobbs (9) throws against the New York Giants during the second half of an NFL football game, Sunday, Sept. 17, 2023, in Glendale, Ariz. (AP Photo/Matt York)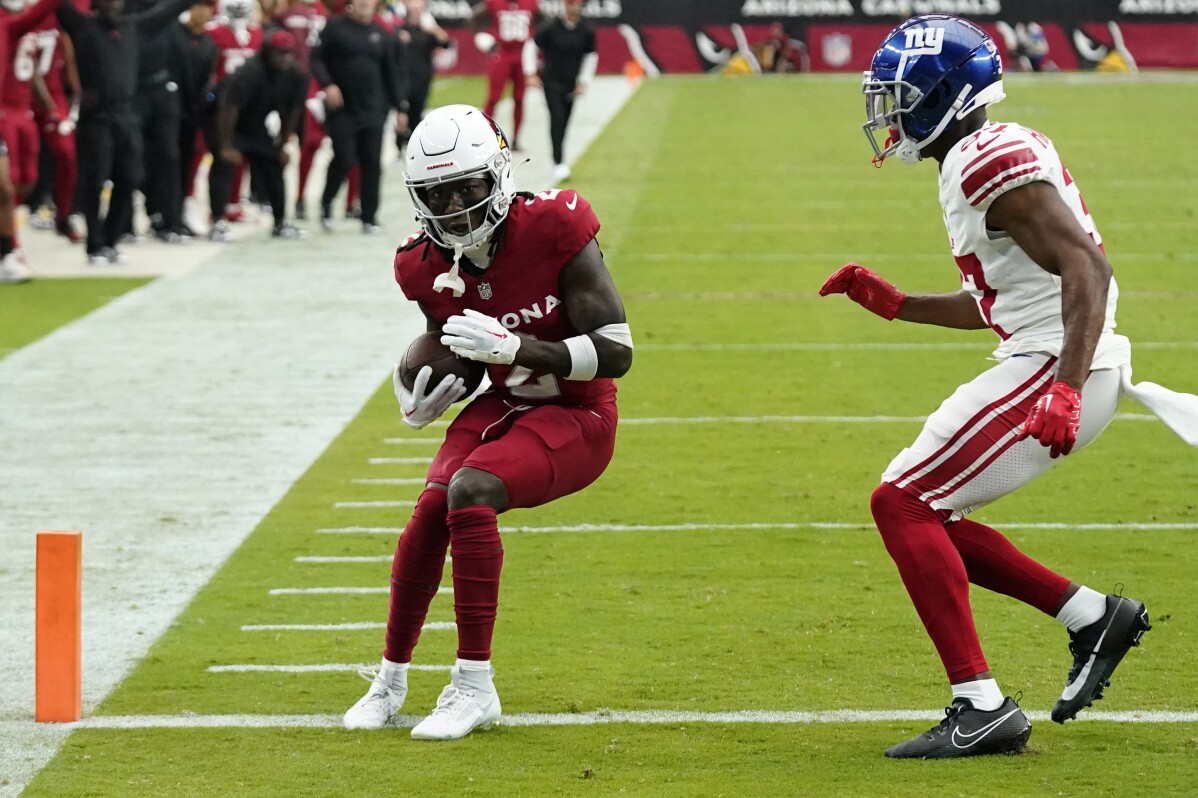 5 of 5

|
Arizona Cardinals wide receiver Marquise Brown (2) scores a touchdown after making a catch against the New York Giants during the second half of an NFL football game, Sunday, Sept. 17, 2023, in Glendale, Ariz. (AP Photo/Ross D. Franklin)
5 of 5
Arizona Cardinals wide receiver Marquise Brown (2) scores a touchdown after making a catch against the New York Giants during the second half of an NFL football game, Sunday, Sept. 17, 2023, in Glendale, Ariz. (AP Photo/Ross D. Franklin)
GLENDALE, Ariz. (AP) — The Arizona Cardinals were nearly flawless in the first half, moving the ball with ease, stuffing the New York Giants at just about every turn.
An easy home-opening win appeared to be in the cards.
The second half rolled around and Arizona's offense bogged down, the defense backpedaled.
A winning hand turned into an epic flop, and Arizona failed to get its first win under new coach Jonathan Gannon and stopgap quarterback Joshua Dobbs.
Dominating early, the Cardinals blew a 21-point third-quarter lead and left the field stunned after Graham Gano hit a 34-yard field goal with 19 seconds left to send the Giants a 31-28 win on Sunday.
"Exactly what we couldn't do, coming out of halftime we did," Gannon said.
Coming off a four-point road loss to Washington, the Cardinals (0-2) played a superb first half against the Giants (1-1).
Arizona's defense bottled up Daniel Jones and Saquon Barkley, holding New York to 71 first-half yards. Dobbs looked like a star in his second start for the injured Kyler Murray and James Conner repeatedly punished tacklers to give Arizona a 20-0 halftime lead.
It all fell apart in the second half.
Jones picked apart the Cardinals throughout the half and Barkley got back to playing his bruising style. Arizona's offense stagnated after an early touchdown in the third quarter, plagued by missed assignments and costly penalties.
The result: New York's biggest comeback win since 1949 and Arizona's largest blown lead since 2011.
"We were able to move the ball, execute at a high level, the first, second, third quarter," said Dobbs, who threw for 228 yards and accounted for two touchdowns. "And so now as an offense, as we all saw, you know it's about finishing. We've got to finish with the ball ball in our hands with a tight game."
The Giants entered the season oozing with hype after making the playoffs for the first time since 2016 in coach Brian Daboll's first season. They had playmakers on offense and were supposed to be solid on defense.
The bubble burst with the Giants' worst opening day loss in its history, a 40-0 stomping by Dallas — also their worst in any regular-season game since 1973.
A trip to the desert to face the rebuilding Cardinals was supposed to be a cure.
It appeared to be headed toward another nightmare.
Arizona moved into scoring position in each of its five first-half drives, the only empty possession a missed 55-yard field goal by Matt Prater. Conner scored on a 4-yard run, Dobbs bulled through Xavier McKinney at the goal line to complete a 23-yard touchdown run and Prater hit two field goals to put the Cardinals up 20-0 by halftime.
New York's offense was just as inept, stretching its scoreless streak to six quarters, longest to start a season since New England in 1992. The 60 points allowed without scoring was the NFL's third-longest stretch to open a season since 1950.
New York's offense finally clicked in the second half. After giving up an early score, so did its defense.
The Giants scored their first points of the season on a 14-yard scramble by Jones, two plays after he opened the second half with a 58-yard pass to Hyatt. Barkley followed a 3-yard TD catch by Arizona's Marquise Brown with a 1-yard touchdown run on the next drive.
Barkley then took a swing pass from Jones and reached for the pylon on a 9-yard touchdown. Jones tied it up a few minutes later, squeezing a pass between two defenders to Isaiah Hodges for an 11-yard touchdown.
Just like that, a team that needed six quarters to score in 2023 had reeled off 28 points to tie the game.
Arizona's offense continued to stumble, pushed back by the Giants and a series of penalties.
New York got the ball back at its 28-yard line with 2:31 left, marched down the field and Gano sent his kick through the uprights and Cardinals fans to the exits with it.
"It's difficult for sure," said Conner, who had 106 yards on 23 carries. "You feel like you've got a good thing going and they executed and we didn't. It's tough."
___
AP NFL: https://apnews.com/hub/nfl