Gillum trial: Official says PR firm was active in campaign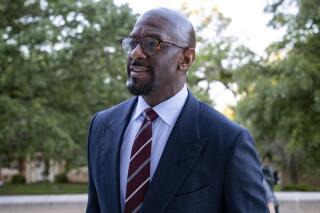 TALLAHASSEE, Fla. (AP) — A former campaign official for the Florida Democrat who nearly beat Republican Gov. Ron DeSantis in 2018 testified Thursday that a public relations agency owner charged alongside the former candidate was actively involved in the campaign's get-out-the-vote efforts.
Federal prosecutors rested their public corruption case around noon against former Tallahassee mayor and 2018 gubernatorial candidate Andrew Gillum and P&P Communications owner Sharon Lettman-Hicks, the Tallahassee Democrat reported. They are charged with illegally soliciting campaign donations and routing them to their own accounts.
Gillum's attorneys rested their case without calling any witnesses, but attorneys for Lettman-Hicks called three.
One of those witnesses was former state Rep. Alan Williams, who is now a deputy assistant secretary at the U.S. Department of Housing and Urban Development. He testified that he joined Gillum's gubernatorial campaign after the primary, though he worked through the state Democratic Party.
Williams testified that the campaign's get-out-the-vote campaign was very successful and that Lettman-Hicks was actively involved in it. The campaign spent $130,000 on get-out-the-vote efforts in Leon and Gadsden counties. Prosecutors allege $60,000 of it was illegally routed to P&P Communications and ultimately to Lettman-Hicks and Gillum. Williams testified that the campaign's get-out-the-vote budget was probably less than it should have been and that paying an experienced person $60,000 was reasonable.
Williams said during testimony that Lettman-Hicks had a reputation for being truthful and honest and indicated when questioned that he also believed Gillum was honest.
"I'd trust my children's lives with Andrew Gillum," Williams said.
Neither Gillum nor Lettman-Hicks have testified.
The trial against Gillum began last Monday, and jurors could hear closing arguments and jury instructions on Friday before starting their deliberations. The U.S. Attorney's Office has spent the past week and a half presenting its case that Gillum pocketed illegal campaign contributions because he was having a hard time paying for his lifestyle after quitting his job to run for governor.
Gillum had a large mortgage, was making payments on two expensive cars and was paying private school tuition for his children when he quit his $120,000-a-year job at People for the American Way to run for the Democratic nomination for governor, prosecutors said.
Gillum surprised many by winning the 2018 Democratic nomination with far less money than other candidates in the race. In the general election, he energized the party's base and nearly beat DeSantis. A recount was required before DeSantis was declared winner.
One of the men Gillum's team reached out to for campaign donations was an undercover FBI agent posing as a developer exploring projects in Florida's capital, prosecutors said, adding that Gillum used his brother Marcus as a go-between to arrange illegal contributions.
Gillum funneled those donations and others through P&P, which put him on the payroll even though he wasn't actually working for the six-figure salary, investigators said.
Defense attorney Margot Moss said during opening statements last week that Gillum's position at P&P was legitimate. Lettman-Hicks knew Gillum, who gave a prominent speech at the 2016 Democratic National Convention, was a rising political star and wanted him to help drive business to the firm, Moss said. She added that Marcus Gillum acted on his own in soliciting donations for Gillum's campaign for governor because he wanted to impress his older brother.
Andrew Gillum is also charged with lying to the FBI about a trip to New York, where undercover FBI agents met him, his brother and lobbyist friend Adam Corey, who earlier introduced Gillum to the agents. The FBI paid for hotel rooms, theater tickets to "Hamilton," meals and a boat tour around New York Harbor.
The agent who paid for the New York entertainment testified that Gillum wasn't the original target of the investigation. Rather, the agency was investigating developer J.T. Burnette and started looking at Gillum as they began to unpeel corruption that involved Burnette and then-City Commissioner Scott Maddox, another former Tallahassee mayor who ran for governor more than a decade earlier.
Last year, Maddox pleaded guilty to corruption charges, and a jury convicted Burnette of bribery, extortion and other charges.