Tao Geoghegan Hart crashes out of Giro d'Italia; Pascal Ackermann wins 11th stage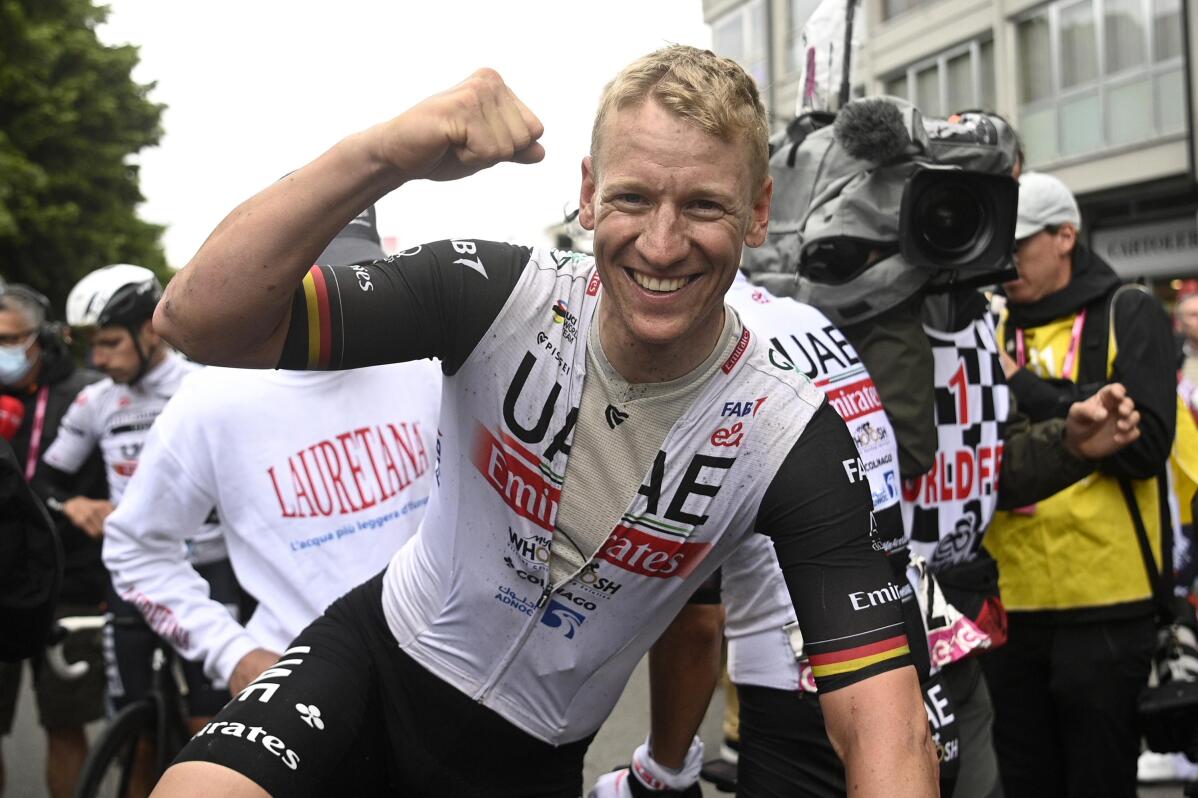 1 of 6

|
Germany's Pascal Ackermann celebrates winning the 11th stage of the Giro D'Italia, tour of Italy cycling race, from Camaiore to Tortona, Wednesday, May 17, 2023. (Fabio Ferrari/LaPresse via AP)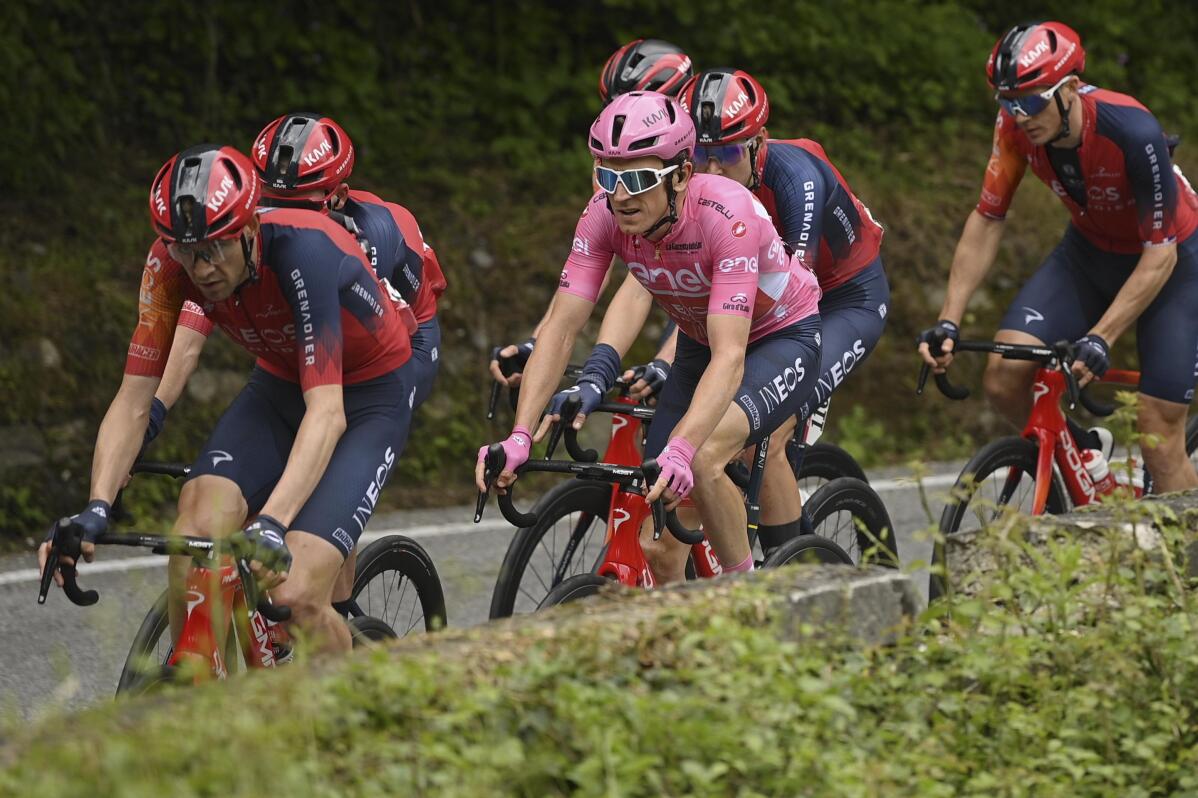 2 of 6

|
Geraint Thomas and teammates of Ineos Grenadiers pedal during the 11th stage of the Giro D'Italia, tour of Italy cycling race, from Camaiore to Tortona, Wednesday, May 17, 2023. (Fabio Ferrari/LaPresse via AP)
3 of 6

|
Cyclists make their way during the 11th stage of the Giro D'Italia, tour of Italy cycling race, from Camaiore to Tortona, Wednesday, May 17, 2023. (Fabio Ferrari/LaPresse via AP)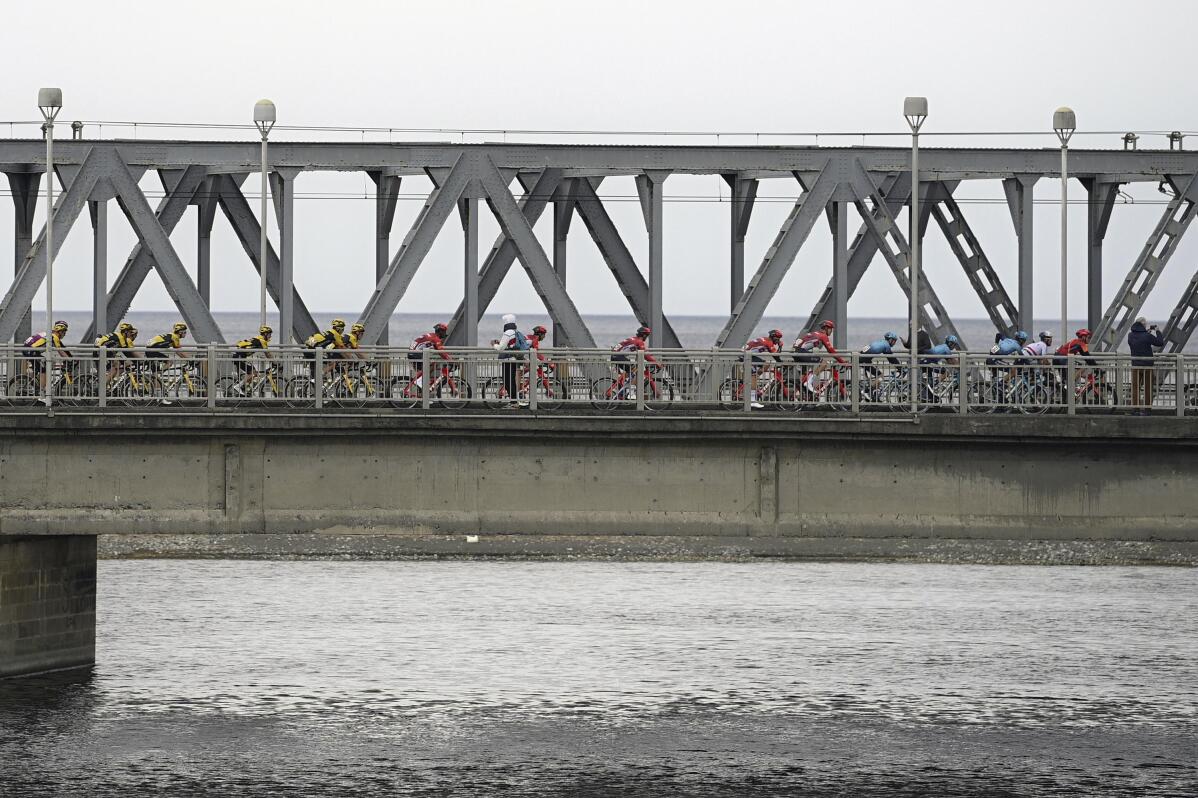 4 of 6

|
Cyclists crosses a bridge during the 11th stage of the Giro D'Italia, tour of Italy cycling race, from Camaiore to Tortona, Wednesday, May 17, 2023. (Fabio Ferrari/LaPresse via AP)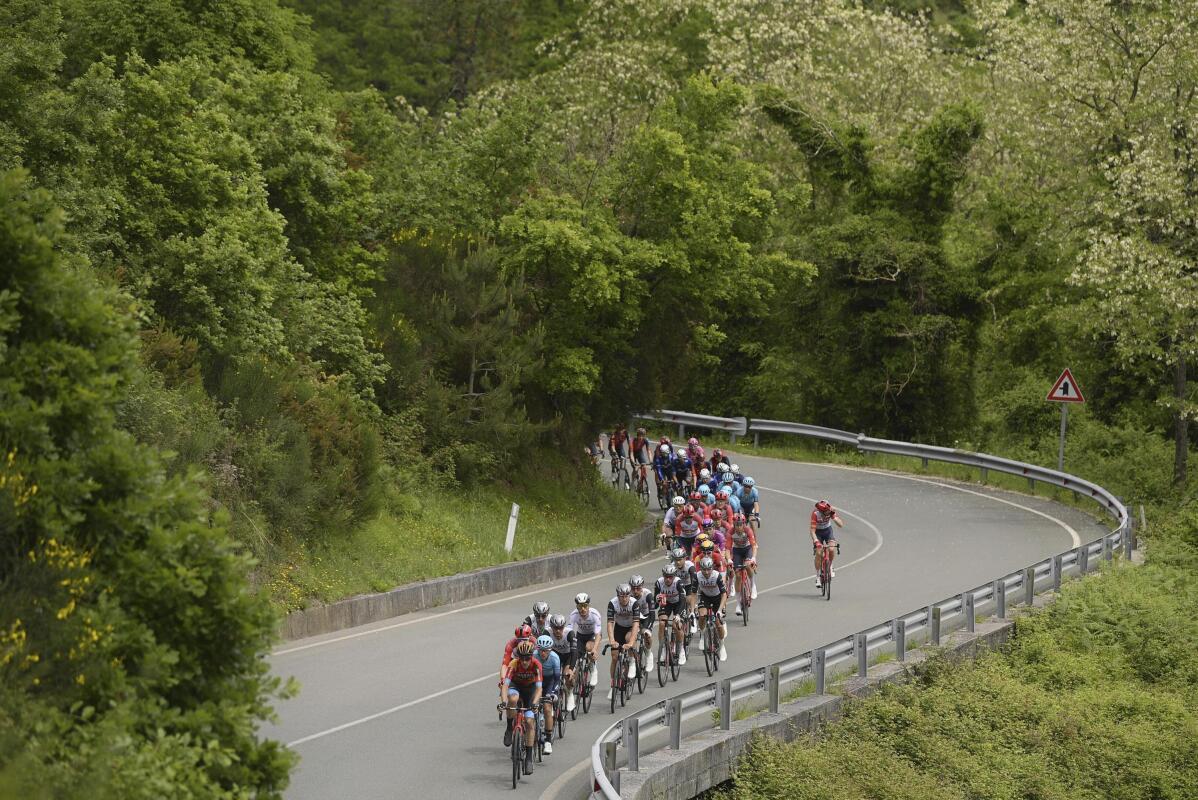 5 of 6

|
Cyclists make their way during the 11th stage of the Giro D'Italia, tour of Italy cycling race, from Camaiore to Tortona, Wednesday, May 17, 2023. (Fabio Ferrari/LaPresse via AP)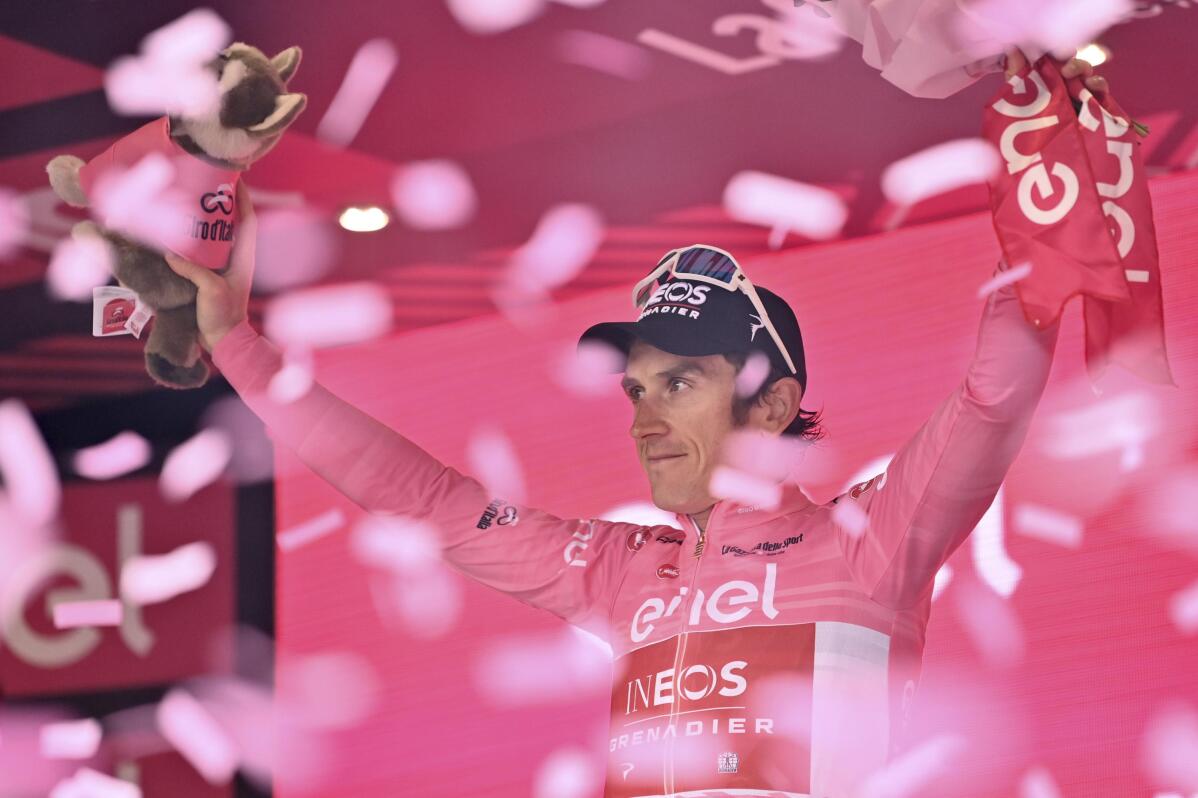 6 of 6

|
Geraint Thomas celebrates on podium after retaining the pink jersey of leader of the race during the 11th stage of the Giro D'Italia, tour of Italy cycling race, from Camaiore to Tortona, Wednesday, May 17, 2023. (Massimo Paolone/LaPresse via AP)
Tao Geoghegan Hart crashes out of Giro d'Italia; Pascal Ackermann wins 11th stage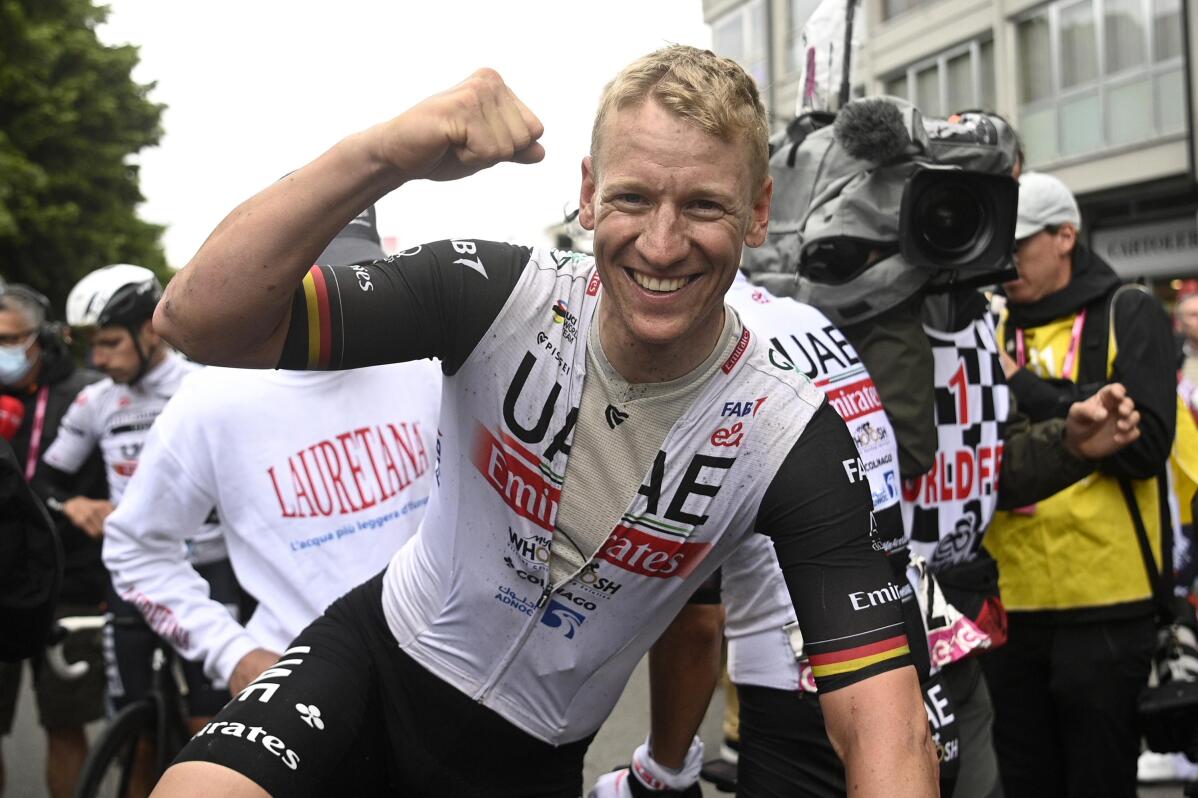 1 of 6

|
Germany's Pascal Ackermann celebrates winning the 11th stage of the Giro D'Italia, tour of Italy cycling race, from Camaiore to Tortona, Wednesday, May 17, 2023. (Fabio Ferrari/LaPresse via AP)
1 of 6
Germany's Pascal Ackermann celebrates winning the 11th stage of the Giro D'Italia, tour of Italy cycling race, from Camaiore to Tortona, Wednesday, May 17, 2023. (Fabio Ferrari/LaPresse via AP)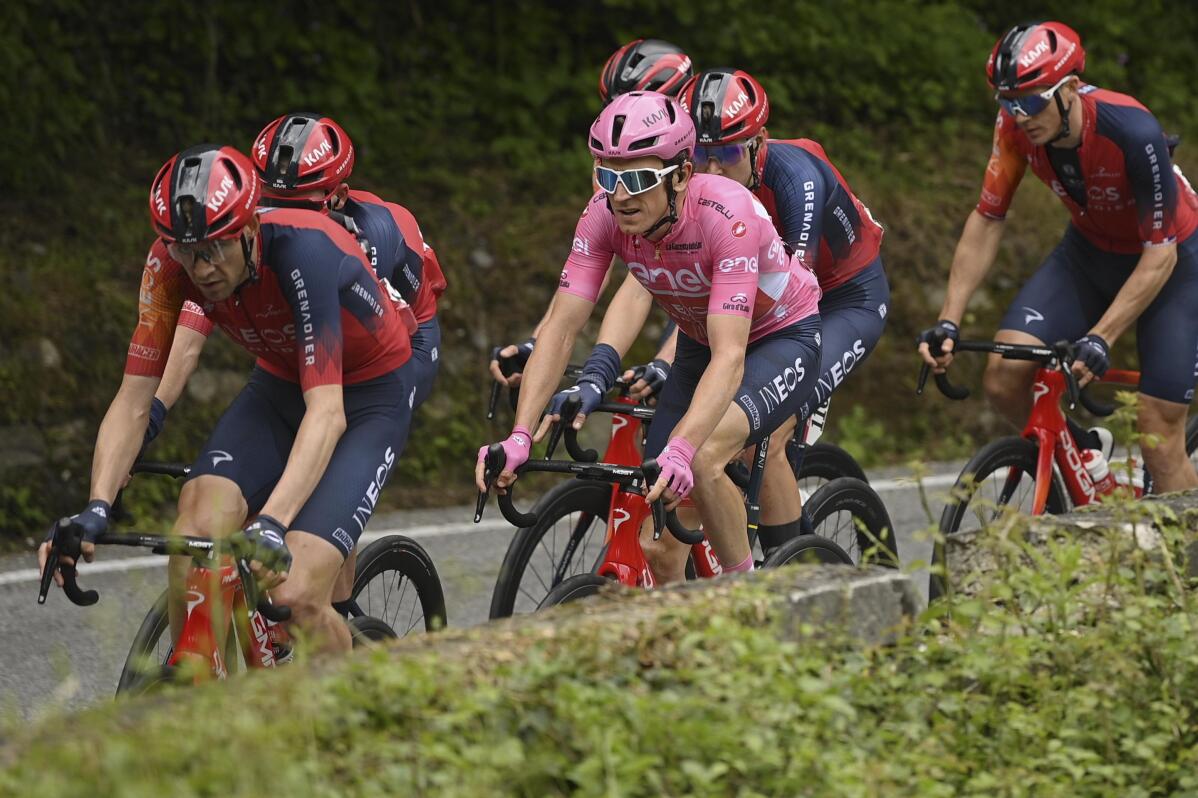 2 of 6

|
Geraint Thomas and teammates of Ineos Grenadiers pedal during the 11th stage of the Giro D'Italia, tour of Italy cycling race, from Camaiore to Tortona, Wednesday, May 17, 2023. (Fabio Ferrari/LaPresse via AP)
2 of 6
Geraint Thomas and teammates of Ineos Grenadiers pedal during the 11th stage of the Giro D'Italia, tour of Italy cycling race, from Camaiore to Tortona, Wednesday, May 17, 2023. (Fabio Ferrari/LaPresse via AP)
3 of 6

|
Cyclists make their way during the 11th stage of the Giro D'Italia, tour of Italy cycling race, from Camaiore to Tortona, Wednesday, May 17, 2023. (Fabio Ferrari/LaPresse via AP)
3 of 6
Cyclists make their way during the 11th stage of the Giro D'Italia, tour of Italy cycling race, from Camaiore to Tortona, Wednesday, May 17, 2023. (Fabio Ferrari/LaPresse via AP)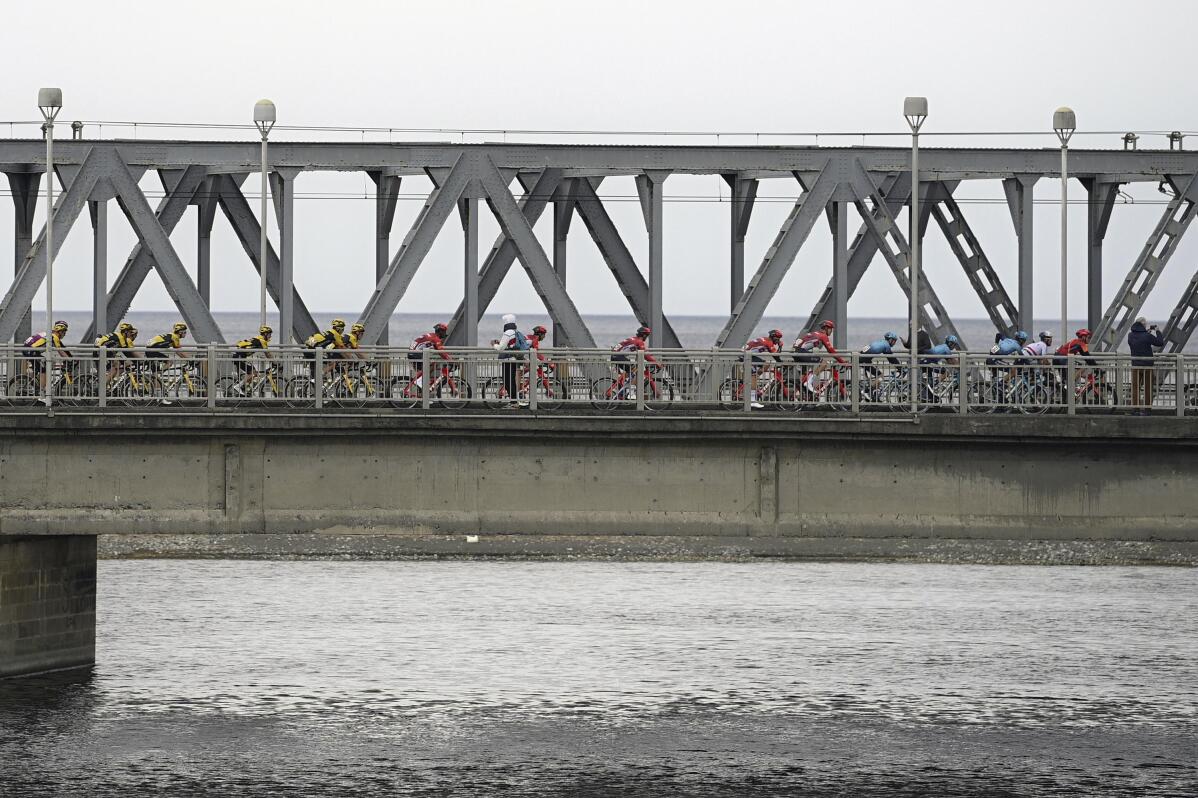 4 of 6

|
Cyclists crosses a bridge during the 11th stage of the Giro D'Italia, tour of Italy cycling race, from Camaiore to Tortona, Wednesday, May 17, 2023. (Fabio Ferrari/LaPresse via AP)
4 of 6
Cyclists crosses a bridge during the 11th stage of the Giro D'Italia, tour of Italy cycling race, from Camaiore to Tortona, Wednesday, May 17, 2023. (Fabio Ferrari/LaPresse via AP)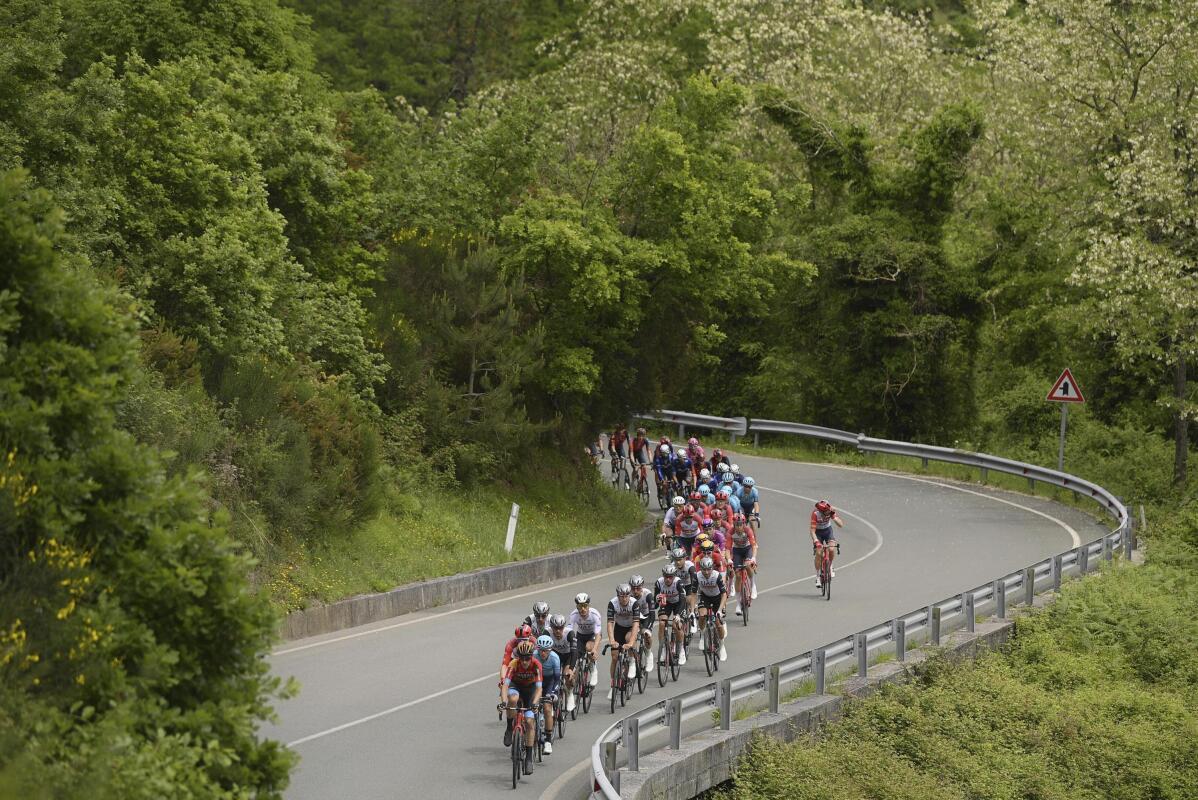 5 of 6

|
Cyclists make their way during the 11th stage of the Giro D'Italia, tour of Italy cycling race, from Camaiore to Tortona, Wednesday, May 17, 2023. (Fabio Ferrari/LaPresse via AP)
5 of 6
Cyclists make their way during the 11th stage of the Giro D'Italia, tour of Italy cycling race, from Camaiore to Tortona, Wednesday, May 17, 2023. (Fabio Ferrari/LaPresse via AP)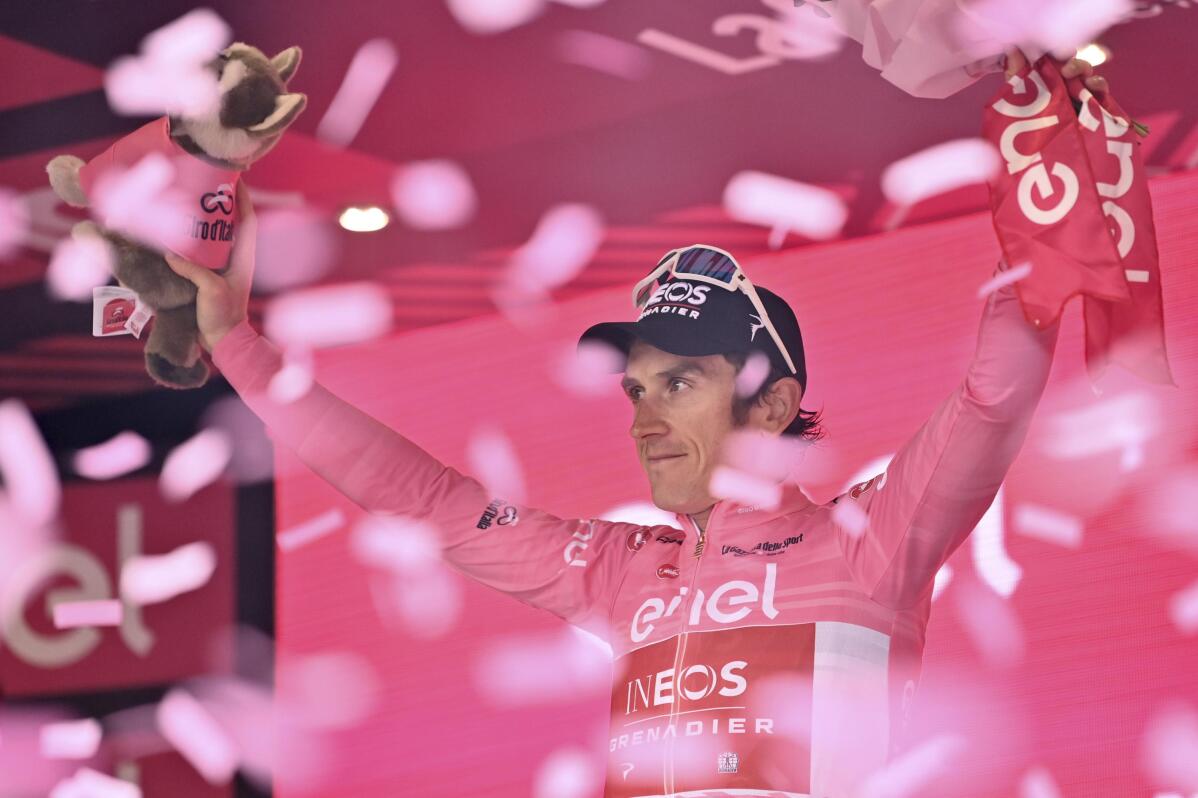 6 of 6

|
Geraint Thomas celebrates on podium after retaining the pink jersey of leader of the race during the 11th stage of the Giro D'Italia, tour of Italy cycling race, from Camaiore to Tortona, Wednesday, May 17, 2023. (Massimo Paolone/LaPresse via AP)
6 of 6
Geraint Thomas celebrates on podium after retaining the pink jersey of leader of the race during the 11th stage of the Giro D'Italia, tour of Italy cycling race, from Camaiore to Tortona, Wednesday, May 17, 2023. (Massimo Paolone/LaPresse via AP)
TORTONA, Italy (AP) — Tao Geoghegan Hart crashed on a rain-soaked road and left the Giro d'Italia on a stretcher during the 11th stage Wednesday, depriving the race of another overall contender three days after Remco Evenepoel tested positive for the coronavirus after reclaiming the pink jersey.
Geoghegan Hart, who won the race in 2020, stood third overall entering the stage, five seconds behind overall leader and Ineos Grenadiers teammate Geraint Thomas.
The entire Ineos team, plus Primoz Roglic, were involved in a crash with 70 kilometers (43.5 miles) to go.
While Thomas and Roglic quickly got up and got going again, Geoghegan Hart was loaded into an ambulance. He was diagnosed with a fractured his left hip, which will require surgery.
German rider Pascal Ackermann won the stage in a sprint finish ahead of Jonathan Milan and Mark Cavendish.
Thomas remained two seconds ahead of Roglic, while Joao Almeida moved up to third overall, 22 seconds behind.
"It's a bit of a shock to lose Tao," Thomas said. "It was a big blow when he heard that he abandoned and Pavel (Sivakov) is a bit banged up. The Giro is never straightforward. Yesterday, I was saying how many strong guys we were in the team and a lot has changed today. It's cycling. We have to adapt, stay positive and move forward."
The stage followed a lengthy 219-kilometer (136-mile) route from Camaiore to Tortona, with three lower-classification climbs. Before the stage started, four teammates of Evenepoel tested positive for COVID-19 and also pulled out.
Stage 12 on Thursday is a 179-kilometer (111-mile) hill leg from Bra to Rivoli in the Piedmont region that features a second-category climb 30 kilometers (20 miles) before the finish.
The Giro ends in Rome on May 28th.
___
AP sports coverage from Europe: https://apnews.com/hub/sports-europe and https://twitter.com/AP_Sports