Greece's opposition vows to legalize same-sex marriage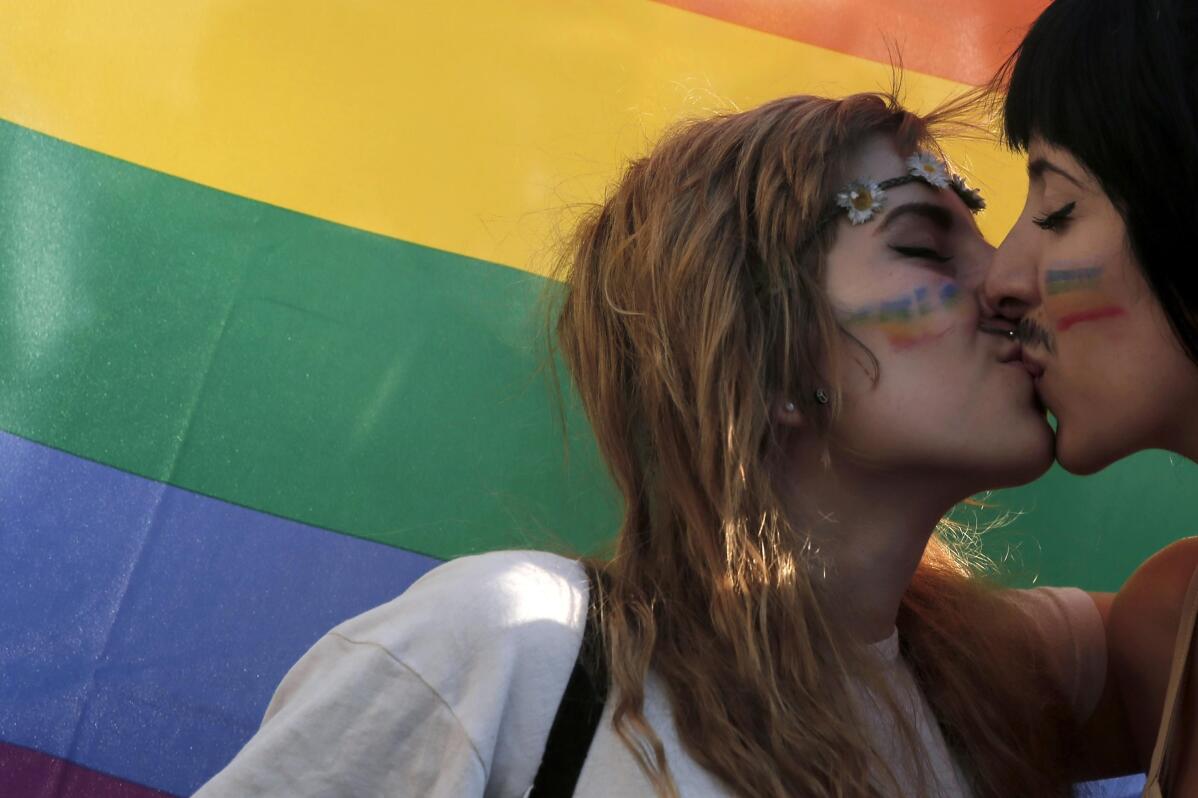 1 of 2

|
FILE - In this Saturday, June 14, 2014 file photo, two women kiss in front of a rainbow flag, the symbol of the gay rights movement, during the Gay Pride parade in central Athens, Greece. Ahead of May 21, general elections, Alexis Tsipras, head of the main left-wing opposition party, Syriza, promised on Tuesday, April 4, 2023 to legalize same-sex marriage if he becomes the next prime minister. (AP Photo/Petros Giannakouris, File)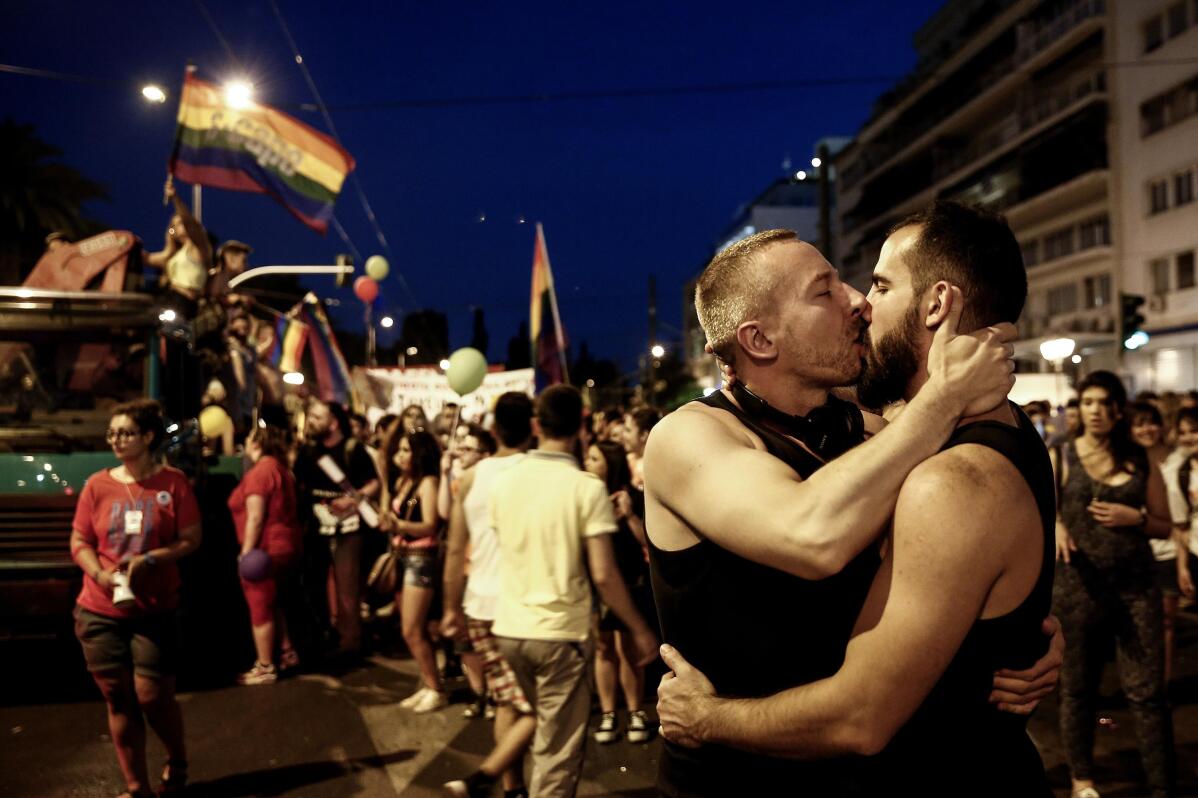 2 of 2

|
FILE - Two men kiss during an annual Gay Pride rally in Athens, Greece, Saturday, June 13, 2015. Ahead of May 21 general elections, Alexis Tsipras, head of the main left-wing opposition party, Syriza, promised on Tuesday, April 4, 2023 to legalize same-sex marriage if he becomes the next prime minister. (AP Photo/Yorgos Karahalis, File)
Greece's opposition vows to legalize same-sex marriage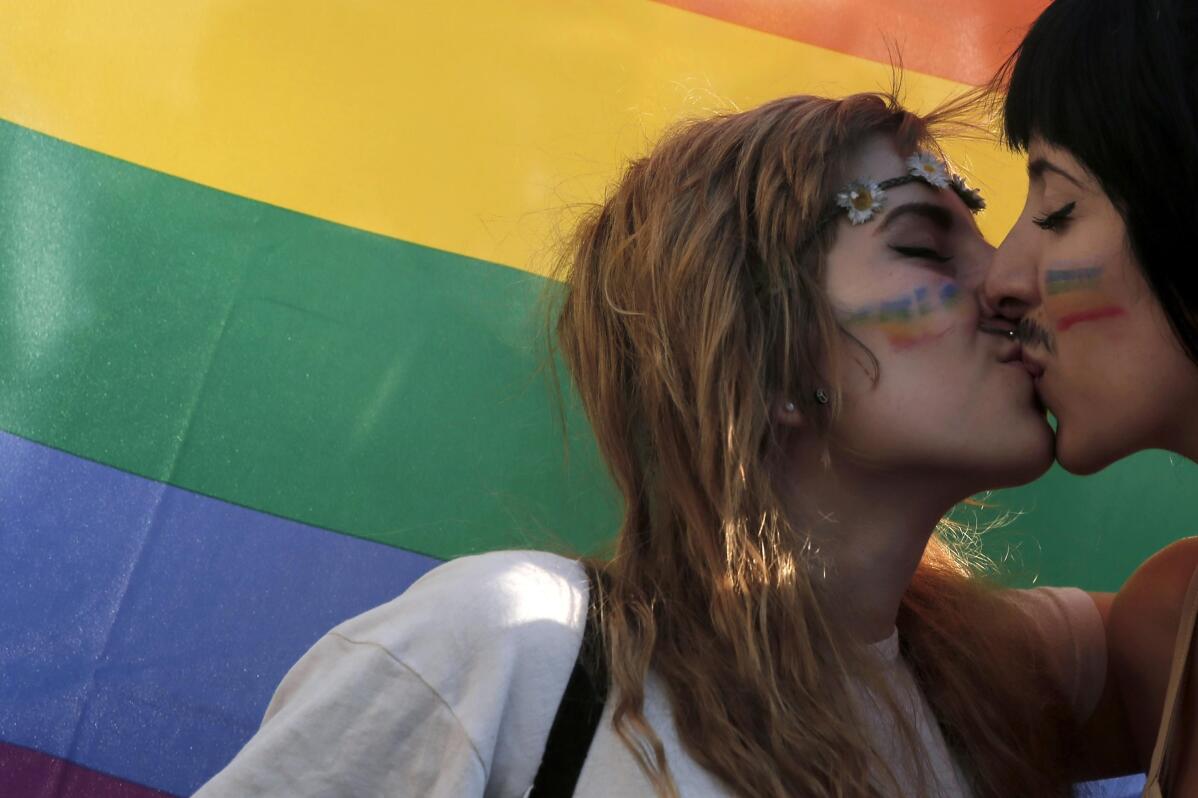 1 of 2

|
FILE - In this Saturday, June 14, 2014 file photo, two women kiss in front of a rainbow flag, the symbol of the gay rights movement, during the Gay Pride parade in central Athens, Greece. Ahead of May 21, general elections, Alexis Tsipras, head of the main left-wing opposition party, Syriza, promised on Tuesday, April 4, 2023 to legalize same-sex marriage if he becomes the next prime minister. (AP Photo/Petros Giannakouris, File)
1 of 2
FILE - In this Saturday, June 14, 2014 file photo, two women kiss in front of a rainbow flag, the symbol of the gay rights movement, during the Gay Pride parade in central Athens, Greece. Ahead of May 21, general elections, Alexis Tsipras, head of the main left-wing opposition party, Syriza, promised on Tuesday, April 4, 2023 to legalize same-sex marriage if he becomes the next prime minister. (AP Photo/Petros Giannakouris, File)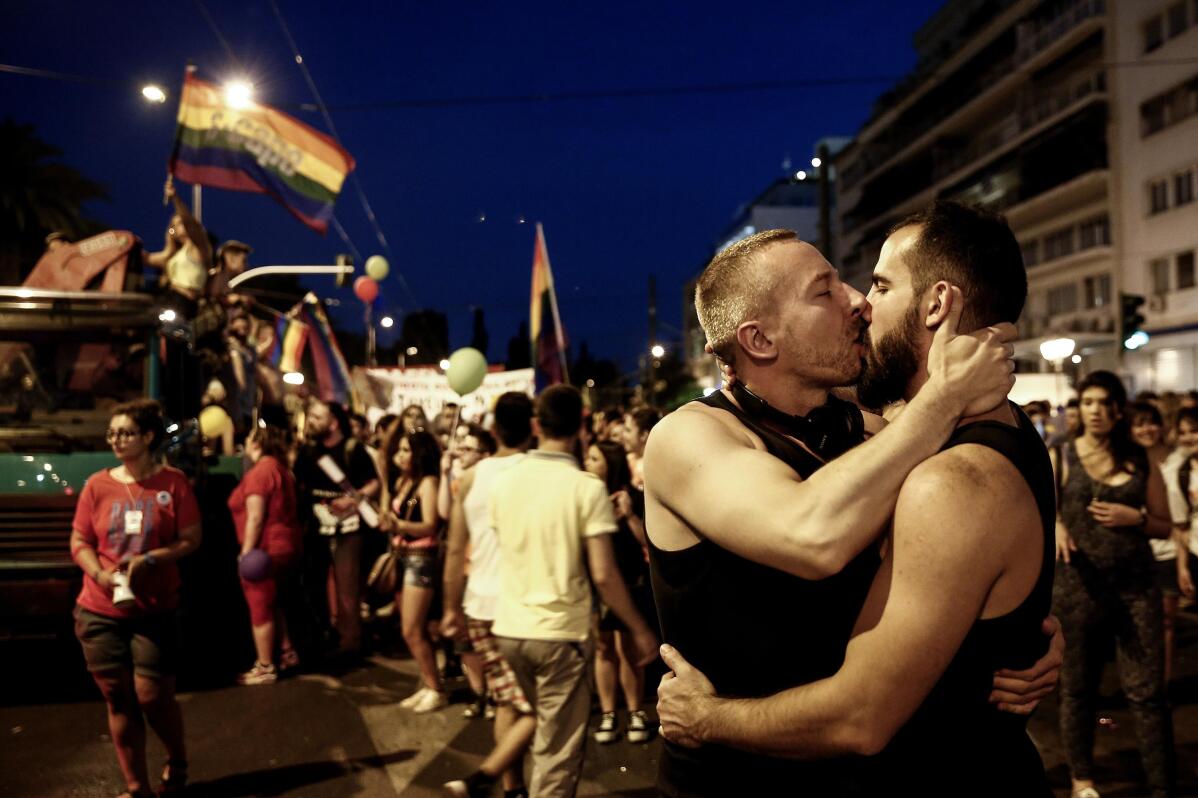 2 of 2

|
FILE - Two men kiss during an annual Gay Pride rally in Athens, Greece, Saturday, June 13, 2015. Ahead of May 21 general elections, Alexis Tsipras, head of the main left-wing opposition party, Syriza, promised on Tuesday, April 4, 2023 to legalize same-sex marriage if he becomes the next prime minister. (AP Photo/Yorgos Karahalis, File)
2 of 2
FILE - Two men kiss during an annual Gay Pride rally in Athens, Greece, Saturday, June 13, 2015. Ahead of May 21 general elections, Alexis Tsipras, head of the main left-wing opposition party, Syriza, promised on Tuesday, April 4, 2023 to legalize same-sex marriage if he becomes the next prime minister. (AP Photo/Yorgos Karahalis, File)
ATHENS, Greece (AP) — The leader of Greece's opposition has promised to legalize same-sex marriage with full parental rights if he wins a general election next month, in a move that would make it the first predominantly Orthodox Christian country to do so.
Alexis Tsipras, who heads the main left-wing opposition party, Syriza, said his government would grant same-sex couples the legal right to marry.
"The time has finally come, victory for our party will ... mean full rights for couples regardless of their gender," Tsipras said in a recorded video message at an event organized by the youth wing of his party Monday and posted on the Internet Tuesday.
Tsipras said Greece should adopt recommendations made in a resolution passed by the European Parliament in 2021, urging EU member states to fully harmonize rights for same-sex couples with those granted more broadly.
Same-sex marriage is recognized across most of western Europe, but not in Italy and Greece where civil partnerships exist, along with most other EU members in eastern Europe.
The 48-year-old Tsipras is challenging center-right Prime Minister Kyriakos Mitsotakis in the May 21 election. He is trailing in opinion polls despite a narrowing lead for the conservatives in recent weeks following a deadly rail disaster.
Strict financial controls on European Union bailout lenders ended last year, and the election battle so far has focused largely on social issues, that include a pledge last week by the prime minister to extend a wall on the Greek-Turkish border to keep out migrants.
Against opposition from the Greek Orthodox Church and political conservatives, same-sex civil unions were legalized in 2015 under a previous government led by Tsipras.
LGBT groups in Greece have long campaigned for members of their communities to have full family rights and sought the tougher enforcement of anti-discrimination laws.
A annual report on human rights by the U.S. State Department praised efforts by authorities to address violence and discrimination but added that attacks against LGBT individuals have persisted.