Greek PM seeks 'innovative' solution to decades-old Parthenon Sculpture dispute with British Museum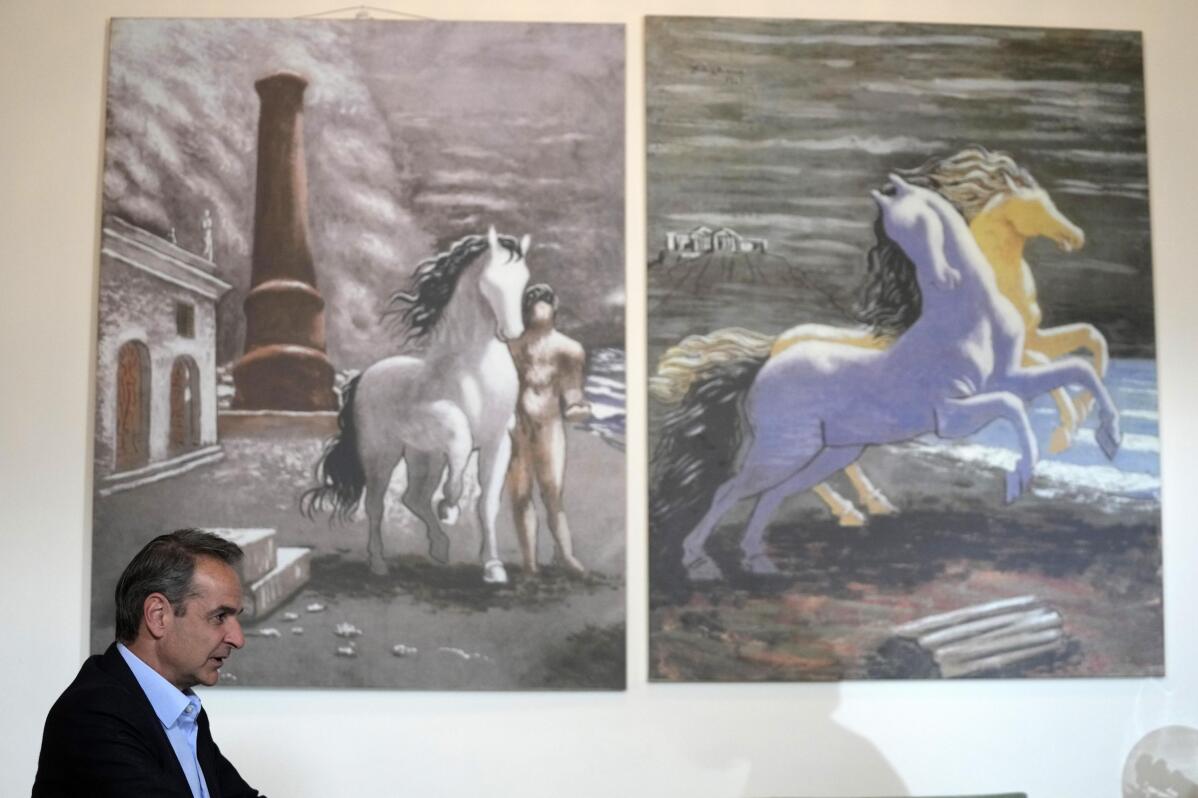 1 of 5

|
Greece's Prime Minister and New Democracy leader Kyriakos Mitsotakis speaks during an interview with The Associated Press in Volos, central Greece, Thursday, May 11, 2023. Greece's prime minister says his government is exploring a "win-win" solution to one of the world's most intractable cultural heritage disputes: The fate of the Parthenon Sculptures currently in the British Museum. (AP Photo/Thanassis Stavrakis)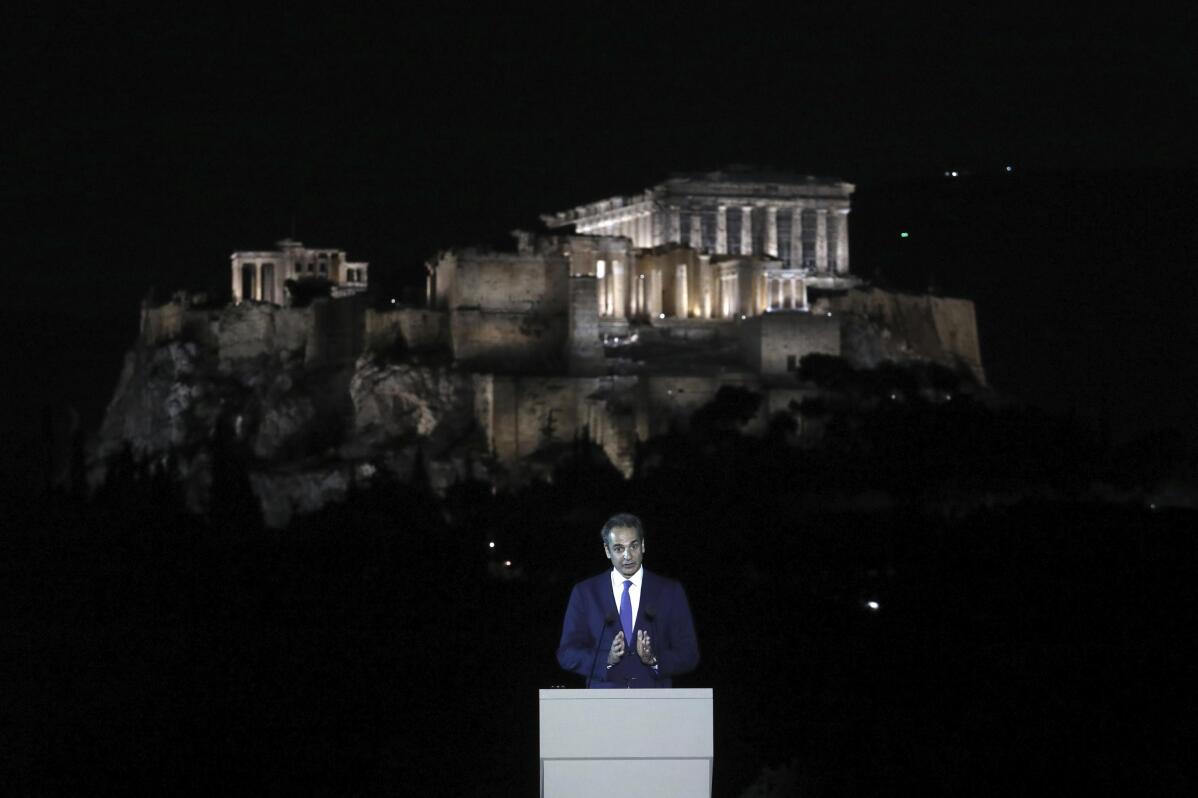 2 of 5

|
FILE - Greece's Prime Minister Kyriakos Mitsotakis speaks during a ceremony for the new lighting system of the Acropolis in Athens, on Sept. 30, 2020. Greece's prime minister says Thursday, May 11, 2023 his government is exploring a "win-win" solution to one of the world's most intractable cultural heritage disputes: The fate of the Parthenon Sculptures currently in the British Museum. But he rules out any deal that would include the word "loan." (AP Photo/Yorgos Karahalis, File)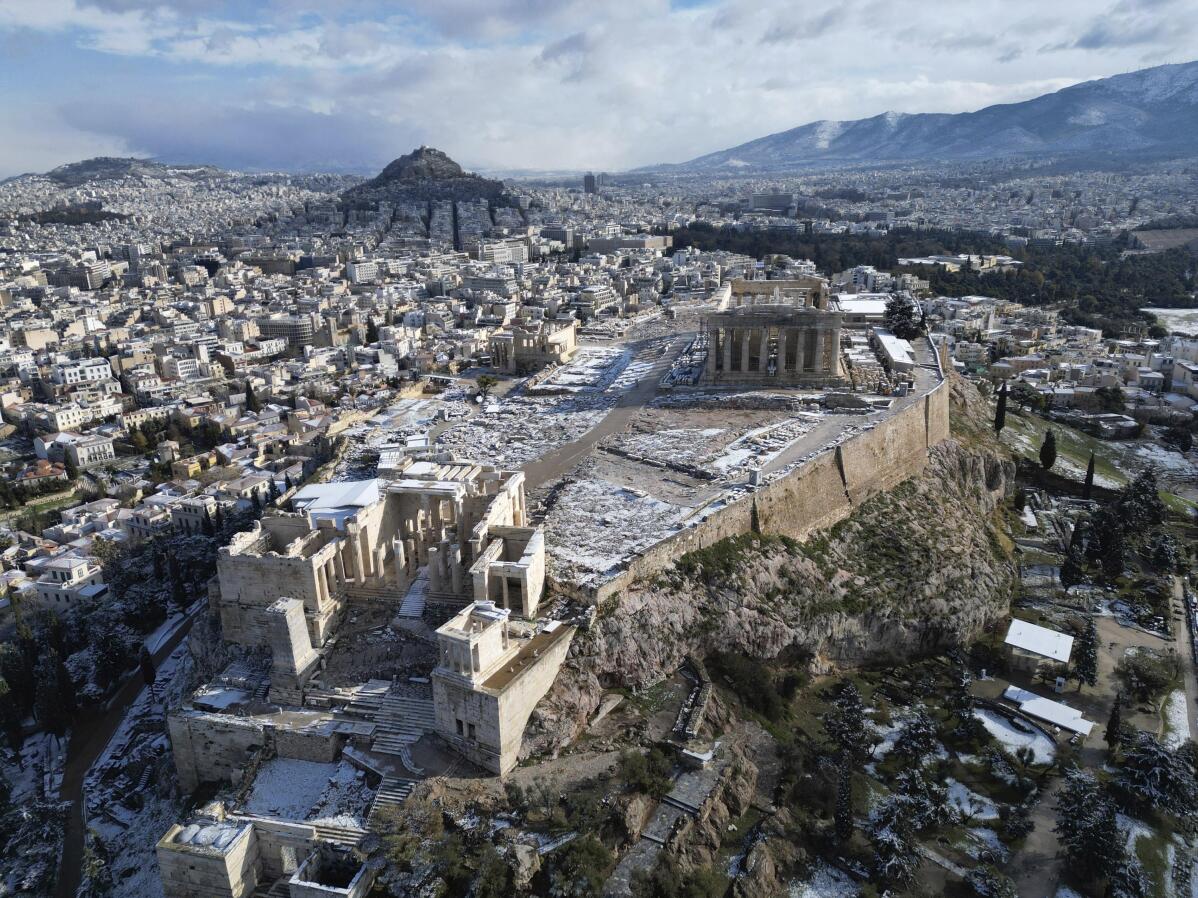 3 of 5

|
FILE - Parts of the Acropolis are covered in snow as the Parthenon temple stands atop of the ancient hill after a snowfall in Athens, Greece, on Feb. 6, 2023. Greece's prime minister said Thursday May 11, 2023 his government is exploring a "win-win" solution to one of the world's most intractable cultural heritage disputes: The fate of the Parthenon Sculptures currently in the British Museum. But he rules out any deal that would include the word "loan." (AP Photo/Thanassis Stavrakis, File)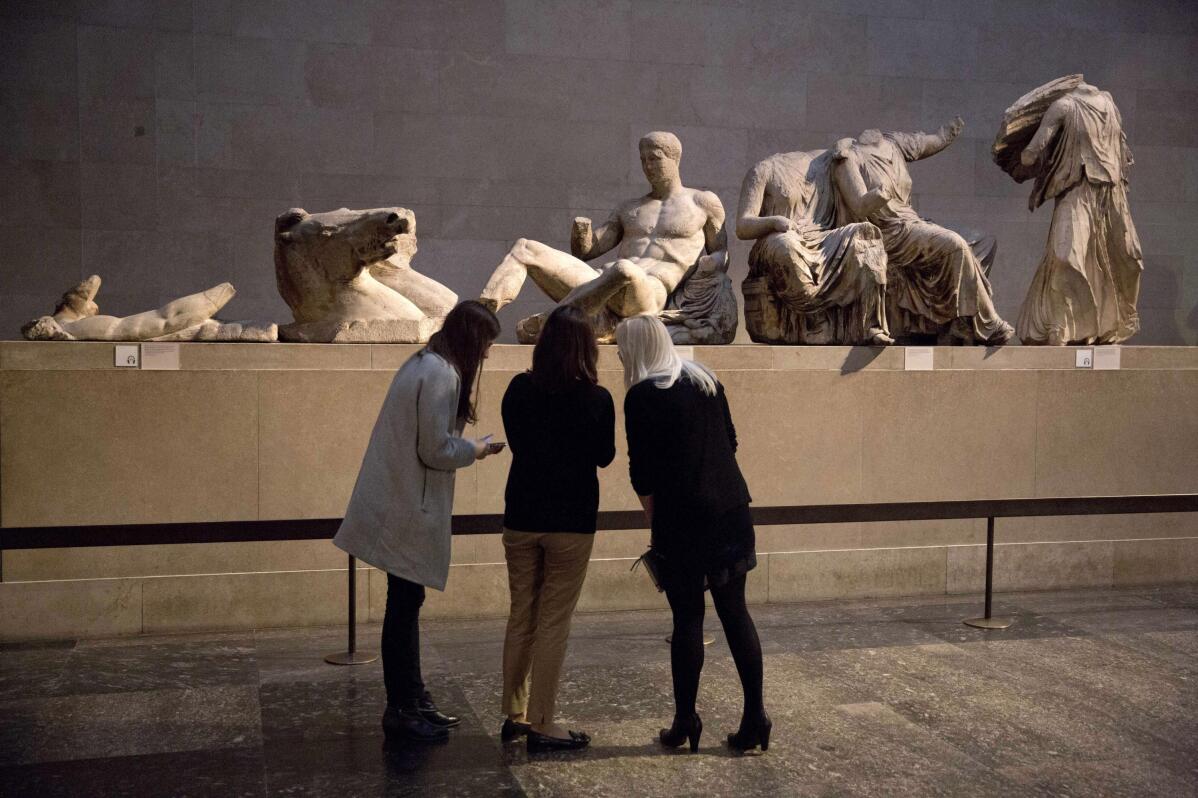 4 of 5

|
FILE - Women stand by a marble statue of a naked youth thought to represent Greek god Dionysos, center, from the east pediment of the Parthenon, on display during a media photo opportunity to promote a forthcoming exhibition on the human body in ancient Greek art at the British Museum in London on Jan. 8, 2015. Greece's prime minister said Thursday May 11, 2023 his government is exploring a "win-win" solution to one of the world's most intractable cultural heritage disputes: The fate of the Parthenon Sculptures currently in the British Museum. (AP Photo/Matt Dunham, File)
5 of 5

|
FILE - A man takes a picture of the four-horse chariot of Selene at the Acropolis Museum with the ancient Parthenon temple in background during a ceremony for the repatriation of three sculpture fragments in Athens, on March 24, 2023. Greece's prime minister said Thursday May 11, 2023 his government is exploring a "win-win" solution to one of the world's most intractable cultural heritage disputes: The fate of the Parthenon Sculptures currently in the British Museum. (AP Photo/Petros Giannakouris, File)
Greek PM seeks 'innovative' solution to decades-old Parthenon Sculpture dispute with British Museum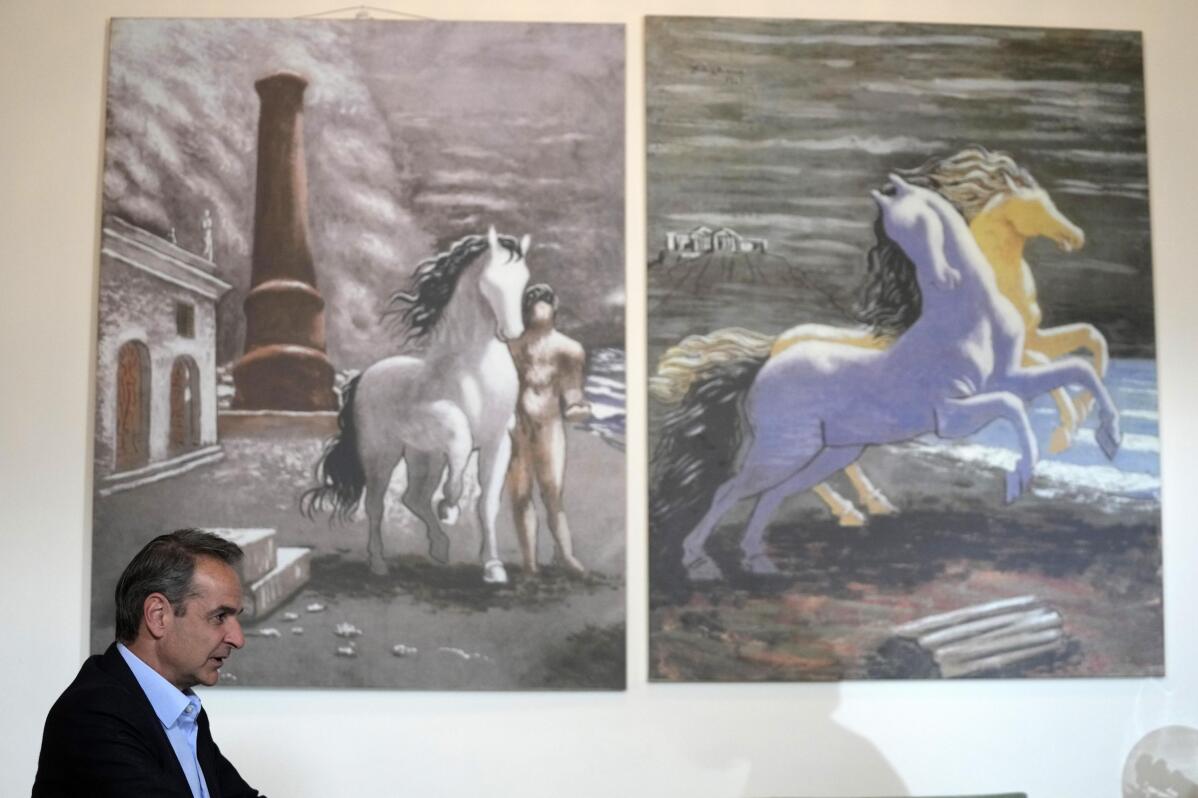 1 of 5

|
Greece's Prime Minister and New Democracy leader Kyriakos Mitsotakis speaks during an interview with The Associated Press in Volos, central Greece, Thursday, May 11, 2023. Greece's prime minister says his government is exploring a "win-win" solution to one of the world's most intractable cultural heritage disputes: The fate of the Parthenon Sculptures currently in the British Museum. (AP Photo/Thanassis Stavrakis)
1 of 5
Greece's Prime Minister and New Democracy leader Kyriakos Mitsotakis speaks during an interview with The Associated Press in Volos, central Greece, Thursday, May 11, 2023. Greece's prime minister says his government is exploring a "win-win" solution to one of the world's most intractable cultural heritage disputes: The fate of the Parthenon Sculptures currently in the British Museum. (AP Photo/Thanassis Stavrakis)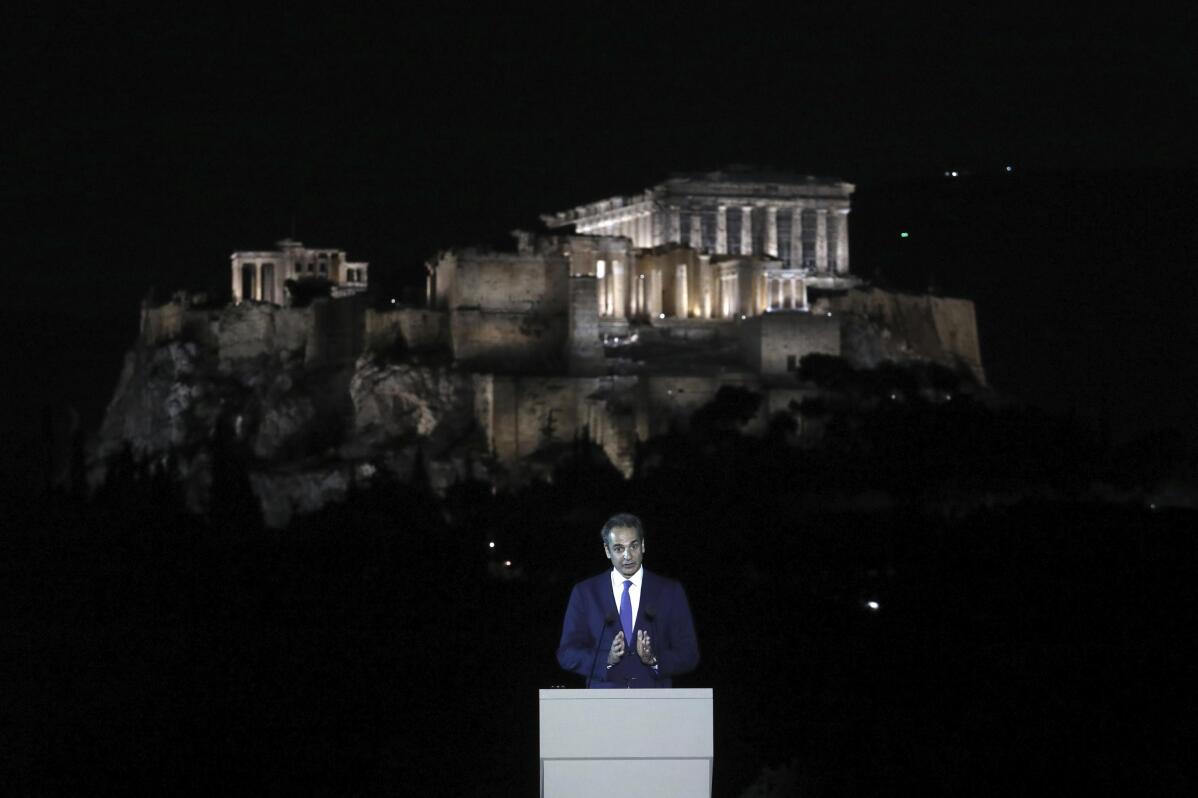 2 of 5

|
FILE - Greece's Prime Minister Kyriakos Mitsotakis speaks during a ceremony for the new lighting system of the Acropolis in Athens, on Sept. 30, 2020. Greece's prime minister says Thursday, May 11, 2023 his government is exploring a "win-win" solution to one of the world's most intractable cultural heritage disputes: The fate of the Parthenon Sculptures currently in the British Museum. But he rules out any deal that would include the word "loan." (AP Photo/Yorgos Karahalis, File)
2 of 5
FILE - Greece's Prime Minister Kyriakos Mitsotakis speaks during a ceremony for the new lighting system of the Acropolis in Athens, on Sept. 30, 2020. Greece's prime minister says Thursday, May 11, 2023 his government is exploring a "win-win" solution to one of the world's most intractable cultural heritage disputes: The fate of the Parthenon Sculptures currently in the British Museum. But he rules out any deal that would include the word "loan." (AP Photo/Yorgos Karahalis, File)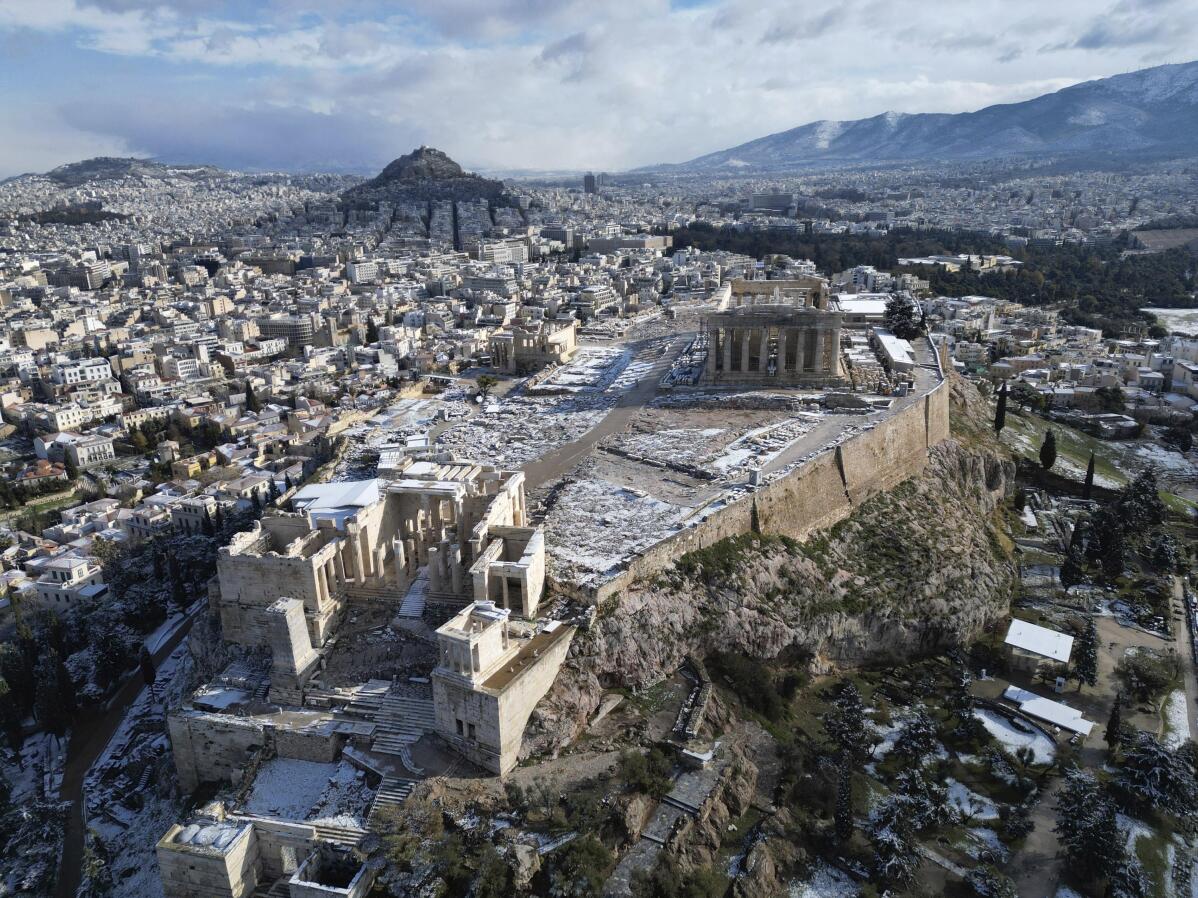 3 of 5

|
FILE - Parts of the Acropolis are covered in snow as the Parthenon temple stands atop of the ancient hill after a snowfall in Athens, Greece, on Feb. 6, 2023. Greece's prime minister said Thursday May 11, 2023 his government is exploring a "win-win" solution to one of the world's most intractable cultural heritage disputes: The fate of the Parthenon Sculptures currently in the British Museum. But he rules out any deal that would include the word "loan." (AP Photo/Thanassis Stavrakis, File)
3 of 5
FILE - Parts of the Acropolis are covered in snow as the Parthenon temple stands atop of the ancient hill after a snowfall in Athens, Greece, on Feb. 6, 2023. Greece's prime minister said Thursday May 11, 2023 his government is exploring a "win-win" solution to one of the world's most intractable cultural heritage disputes: The fate of the Parthenon Sculptures currently in the British Museum. But he rules out any deal that would include the word "loan." (AP Photo/Thanassis Stavrakis, File)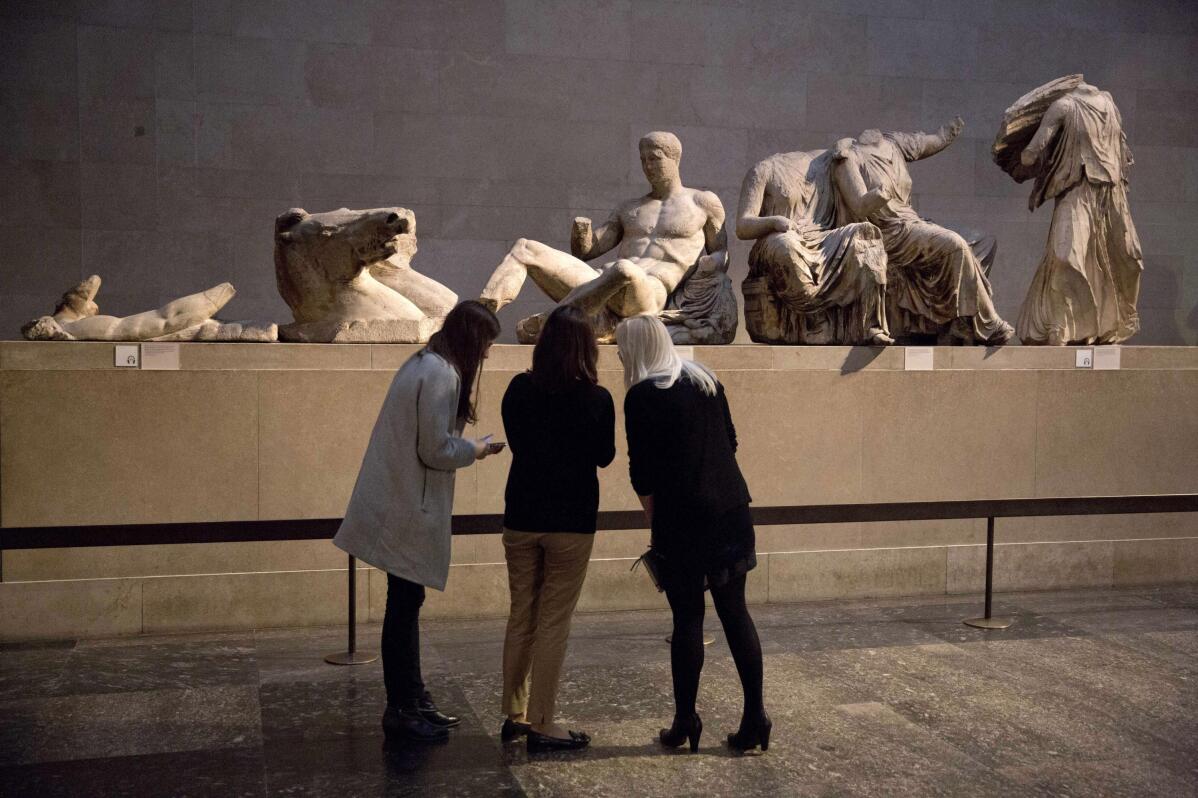 4 of 5

|
FILE - Women stand by a marble statue of a naked youth thought to represent Greek god Dionysos, center, from the east pediment of the Parthenon, on display during a media photo opportunity to promote a forthcoming exhibition on the human body in ancient Greek art at the British Museum in London on Jan. 8, 2015. Greece's prime minister said Thursday May 11, 2023 his government is exploring a "win-win" solution to one of the world's most intractable cultural heritage disputes: The fate of the Parthenon Sculptures currently in the British Museum. (AP Photo/Matt Dunham, File)
4 of 5
FILE - Women stand by a marble statue of a naked youth thought to represent Greek god Dionysos, center, from the east pediment of the Parthenon, on display during a media photo opportunity to promote a forthcoming exhibition on the human body in ancient Greek art at the British Museum in London on Jan. 8, 2015. Greece's prime minister said Thursday May 11, 2023 his government is exploring a "win-win" solution to one of the world's most intractable cultural heritage disputes: The fate of the Parthenon Sculptures currently in the British Museum. (AP Photo/Matt Dunham, File)
5 of 5

|
FILE - A man takes a picture of the four-horse chariot of Selene at the Acropolis Museum with the ancient Parthenon temple in background during a ceremony for the repatriation of three sculpture fragments in Athens, on March 24, 2023. Greece's prime minister said Thursday May 11, 2023 his government is exploring a "win-win" solution to one of the world's most intractable cultural heritage disputes: The fate of the Parthenon Sculptures currently in the British Museum. (AP Photo/Petros Giannakouris, File)
5 of 5
FILE - A man takes a picture of the four-horse chariot of Selene at the Acropolis Museum with the ancient Parthenon temple in background during a ceremony for the repatriation of three sculpture fragments in Athens, on March 24, 2023. Greece's prime minister said Thursday May 11, 2023 his government is exploring a "win-win" solution to one of the world's most intractable cultural heritage disputes: The fate of the Parthenon Sculptures currently in the British Museum. (AP Photo/Petros Giannakouris, File)
VOLOS, Greece (AP) — Greece's prime minister says his government is exploring a "win-win" solution to one of the world's most intractable cultural heritage disputes: The fate of the Parthenon Sculptures in the British Museum. But he rules out any deal that would include the word "loan."
"We will never recognize that these sculptures are owned, legally owned by the British Museum," Prime Minister Kyriakos Mitsotakis told The Associated Press in an interview during an election campaign stop in the central Greek city of Volos on Thursday evening. "But again, we have to be constructive and we have to be innovative if a solution is to be found."
Mitsotakis' government has been in talks over the ancient sculptures, which form a key part of the British Museum's collections. In February, the museum's chair said the talks had been "constructive" and that the U.K. and Greece were working on a deal that would have the sculptures displayed in both London and Athens.
"I wouldn't like to comment publicly on the discussions that we've had. I would just say that we are, without changing ... our fundamental position about the ownership of the sculptures, we're trying to explore a possible win-win proposition that would work for both sides," Mitsotakis said.
Asked whether Greece might consider seeing the sculptures returned as a loan, Mitsotakis was categorical.
"No, no," he said. "That word 'loan' is not part of ... what I consider a win-win solution."
Greece has been campaigning for decades for the return of the Parthenon Sculptures, which once adorned the Parthenon atop the Acropolis in Athens. The 160-meter-long (520-foot) frieze ran around the outer walls of the Parthenon, dedicated to Athena, goddess of wisdom.
Carved between 447-432 BC, the frieze and other sculptures remained largely intact until the temple, which was being used by a Turkish garrison as a gunpowder store, was blown up during a siege in 1687.
Much was lost in the explosion, and about half the surviving works were removed by British diplomat Lord Elgin in the early 19th century, while Athens was still under the rule of the Ottoman Empire. They have been in the British Museum since 1816.
Greece claims they were illegally acquired during a period of foreign occupation. British officials have rebuffed repeated demands for their return.
Mitsotakis said that although the issue has been "parked" during the campaign leading up to Greece's May 21 elections, "should we get reelected, I'm looking to pick up again the momentum and build upon the progress that we have made."
Amidst the global debate on the restitution of cultural artefacts, Greece has already reached two deals that have seen some 2,500-year-old marble fragments of the Parthenon Sculptures returned to Athens from European museums.
In January, the Vatican Museums returned three small parts of the sculptures in a "donation" from Pope Francis, while another arrived in Athens on loan from a museum in Palermo, Sicily. Vienna's Kunsthistorisches Museum is in talks about returning another two fragments.
The Acropolis Museum in Athens contains a gallery dedicated to the marble sculptures, where the missing parts have been replaced by plaster casts.
Other fragments are in Paris, Copenhagen, Munich and Wuerzburg in Germany, and Vienna.
Mitsotakis met last November with King Charles III, but said he didn't broach the subject.
"I would never put His Majesty in a difficult position. I fully respect his role," he said.
___
Theodora Tongas contributed to this report.