No vote after Uvalde parents plead for tougher gun laws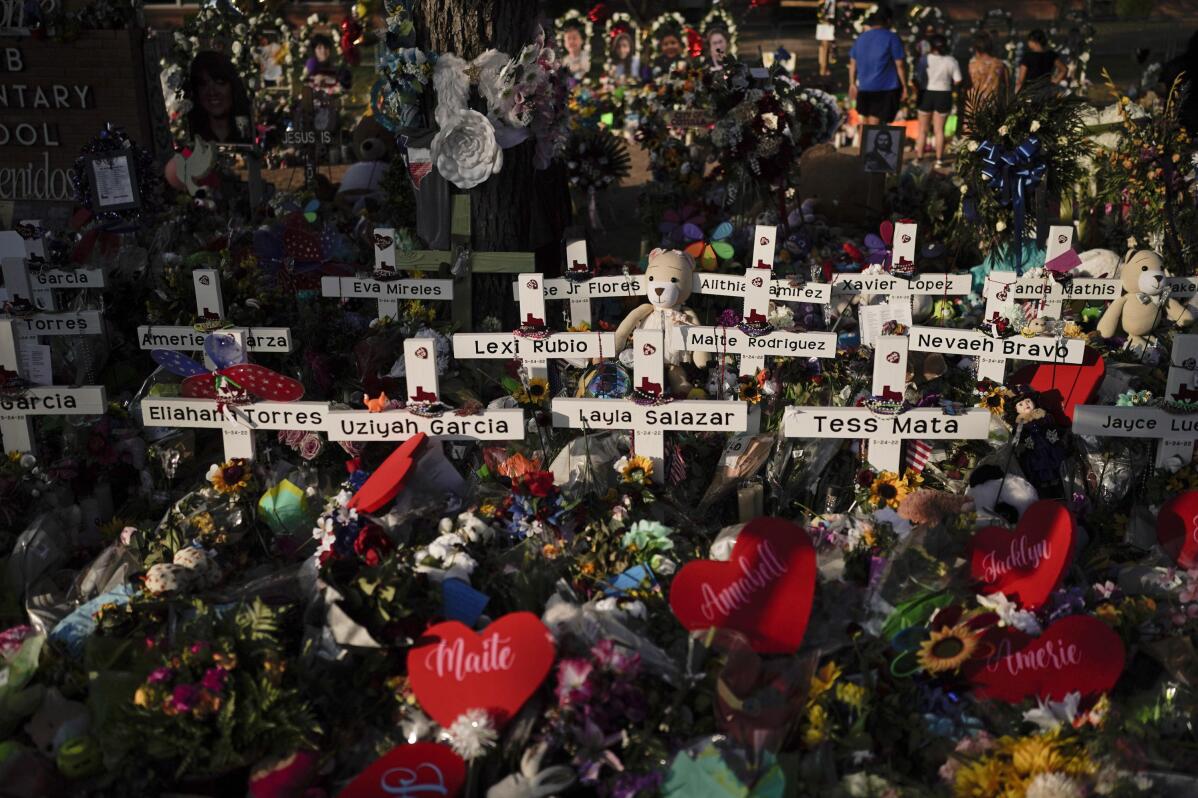 1 of 2

|
FILE - Flowers are piled around crosses with the names of the victims killed in a school shooting as people visit a memorial at Robb Elementary School to pay their respects May 31, 2022, in Uvalde, Texas. For the first time since the Uvalde school massacre, Texas Republican lawmakers on Tuesday, April 18, 2023, allowed proposals for stricter gun laws to get a hearing in the state Capitol — even though new restrictions have almost no chance of passing. (AP Photo/Jae C. Hong, File)
2 of 2

|
FILE - Felicia Martinez, mother of Xavier Lopez who was killed by a gunman at Robb Elementary School in Uvalde, Texas, center tries to hold back tears as she and other surviving family members attend a news conference at the Texas Capitol with Texas State Sen. Roland Gutierrez, in Austin, Texas, on Jan. 24, 2023. For the first time since the Uvalde school massacre, Texas Republican lawmakers on Tuesday, April 18, allowed proposals for stricter gun laws to get a hearing in the state Capitol — even though new restrictions have almost no chance of passing. (AP Photo/Eric Gay, File)
No vote after Uvalde parents plead for tougher gun laws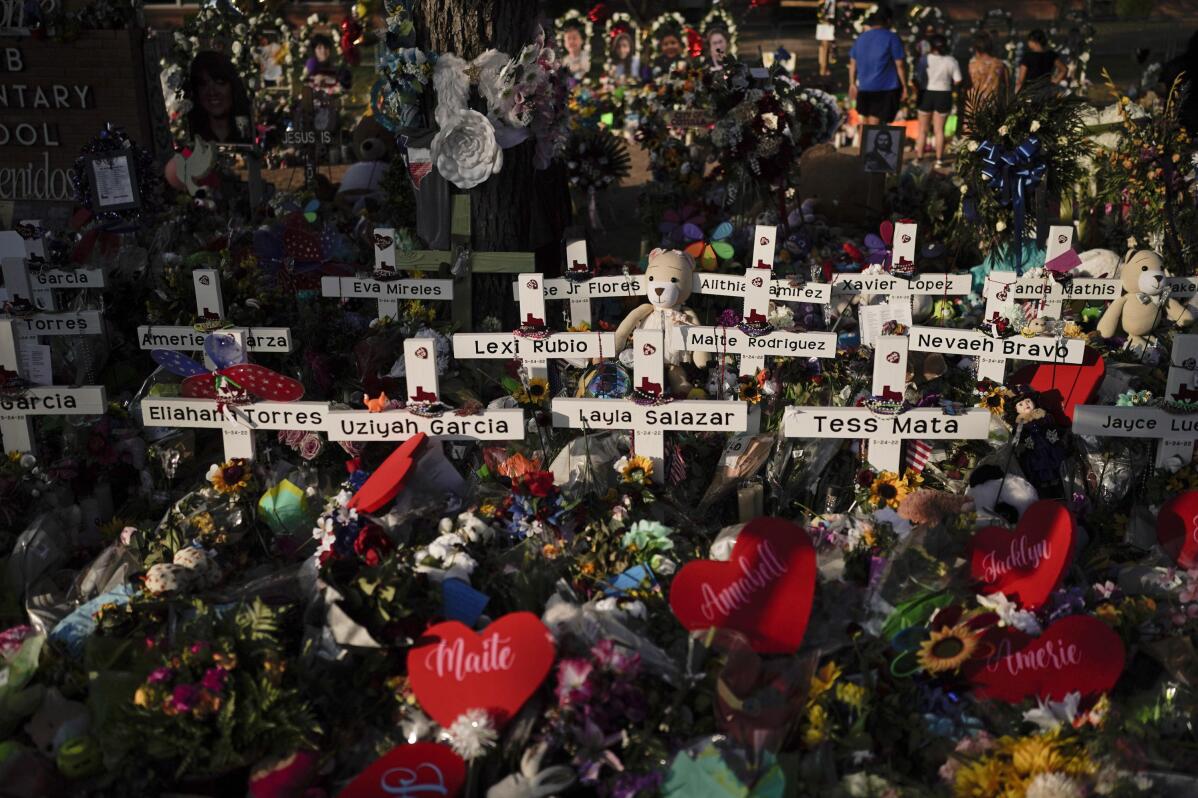 1 of 2

|
FILE - Flowers are piled around crosses with the names of the victims killed in a school shooting as people visit a memorial at Robb Elementary School to pay their respects May 31, 2022, in Uvalde, Texas. For the first time since the Uvalde school massacre, Texas Republican lawmakers on Tuesday, April 18, 2023, allowed proposals for stricter gun laws to get a hearing in the state Capitol — even though new restrictions have almost no chance of passing. (AP Photo/Jae C. Hong, File)
1 of 2
FILE - Flowers are piled around crosses with the names of the victims killed in a school shooting as people visit a memorial at Robb Elementary School to pay their respects May 31, 2022, in Uvalde, Texas. For the first time since the Uvalde school massacre, Texas Republican lawmakers on Tuesday, April 18, 2023, allowed proposals for stricter gun laws to get a hearing in the state Capitol — even though new restrictions have almost no chance of passing. (AP Photo/Jae C. Hong, File)
2 of 2

|
FILE - Felicia Martinez, mother of Xavier Lopez who was killed by a gunman at Robb Elementary School in Uvalde, Texas, center tries to hold back tears as she and other surviving family members attend a news conference at the Texas Capitol with Texas State Sen. Roland Gutierrez, in Austin, Texas, on Jan. 24, 2023. For the first time since the Uvalde school massacre, Texas Republican lawmakers on Tuesday, April 18, allowed proposals for stricter gun laws to get a hearing in the state Capitol — even though new restrictions have almost no chance of passing. (AP Photo/Eric Gay, File)
2 of 2
FILE - Felicia Martinez, mother of Xavier Lopez who was killed by a gunman at Robb Elementary School in Uvalde, Texas, center tries to hold back tears as she and other surviving family members attend a news conference at the Texas Capitol with Texas State Sen. Roland Gutierrez, in Austin, Texas, on Jan. 24, 2023. For the first time since the Uvalde school massacre, Texas Republican lawmakers on Tuesday, April 18, allowed proposals for stricter gun laws to get a hearing in the state Capitol — even though new restrictions have almost no chance of passing. (AP Photo/Eric Gay, File)
AUSTIN, Texas (AP) — It was getting close to midnight Tuesday when Kimberly Mata-Rubio finally got her first chance since the Robb Elementary School massacre in Uvalde — nearly one year ago — to ask Texas lawmakers to their faces to pass proposed restrictions on guns that had finally gotten a hearing.
Sobbing, she pleaded for them to raise the purchase age for semiautomatic rifles like the one an 18-year-old gunman used to kill her daughter Lexi.
"Did you look at images of children running for their lives, and think, 'What if we had enacted stricter gun laws?''" Mata-Rubio asked a state House committee, wiping away tears.
The hearing adjourned — shortly after 3 a.m. Wednesday — without a vote, and with no certainty that one will happen later.
The result was the end, in the middle of the night, of what may wind up as the only debate in the Texas Capitol this year over a raft of stricter gun proposals filed following the deaths of 19 children and two teachers in Uvalde last May.
Other than the late-night hearing, Republican leaders in Texas have not announced any other intention to consider or vote on proposed gun measures before the session ends next month.
As the drumbeat of mass shootings marches on in the U.S., the emotional hearing underlined mounting frustration over gun violence. Gun supporters also stayed late, including a National Rifle Association lobbyist and a man who legally wore a holstered handgun, as well as others who offered sympathies to Uvalde families before urging lawmakers to reject what they called an infringement of their rights.
The hearing went over the grim scene investigators found in the fourth-grade classroom at Robb Elementary after police finally confronted the gunman after 77 minutes, including descriptions that Uvalde families had not previously heard. Many in the room cried.
The string of recent mass shootings has reenergized gun control advocates nationwide, but in Texas, their prospects remain bleak. Republican Gov. Greg Abbott has waved aside talk of raising the age to purchase AR-15-like rifles as unconstitutional and earlier this year made no mention of Uvalde while laying out the priorities of his third term.
The office of Republican state Rep. Ryan Guillen, chairman of the House Select Community Safety Committee, did not immediately respond to a message Wednesday about whether he intends to hold a vote on the gun control bills.
Time is running out: The anniversary of the Uvalde shooting is May 24, just days before the Texas Legislature is scheduled to adjourn until 2025.
"This is not an issue of maturity. This is an issue of mental health," said Stephen Willeford, who in 2017 ran off the gunman in the Sutherland Springs church shooting by confronting him with his own AR-15 rifle. "If you think that he couldn't have found a gun other ways, or waited simply until he was 21 to do his murder spree, you're wrong."
A shooting that killed four young people at a Sweet Sixteen birthday party in Alabama last weekend was the 16th mass killing of the year in the United States. A 17th took place in Maine on Tuesday. A total of 88 people have died in the killings so far in 2023.
A mass killing is defined as when four or more people were slain, other than the perpetrator, according to a database maintained by The Associated Press and USA Today in partnership with Northeastern University.
Before the Kentucky shooting, a gunman in Nashville, Tennessee, last month killed three children and three adults at a private elementary school. Republican Gov. Bill Lee responded by signing an executive order strengthening background checks for gun purchases.
On Wednesday, Washington state's Democratic-controlled Legislature passed a bill to ban dozens of types of semiautomatic rifles, with Gov. Jay Inslee expected to sign it into law. In Colorado, lawmakers debated a slew of aggressive gun control bills, though a sweeping ban on semiautomatic firearms faced much stiffer odds.
Mata-Rubio is among a group of several Uvalde parents who have been outspoken in their demands for tougher gun laws since the shooting. Before urging the committee to vote to raise the purchase age, she shared the alternative scenarios she still asks herself: What if Lexi had stayed home that week with a stomach bug? What if she had picked her up from school early that day?
She scolded lawmakers for making her wait more than 12 hours at the Capitol to testify. "Did you think we would go home?" she said.
For years in Texas, Republicans have waved aside efforts to tighten gun laws after mass shootings, and even expanded gun rights after the 2019 racist attack on a Walmart in El Paso. Rather than have debates on gun bills this session, Republicans have instead pushed forward proposals to increase mental health services and increase school security.
"Tess didn't have a choice in life and death," said Veronica Mata, referring to her 10-year-old daughter who was killed in the Uvalde classroom. "But you as lawmakers have a choice in what her life will be remembered for."