Teen performer at inaugural events fatally shot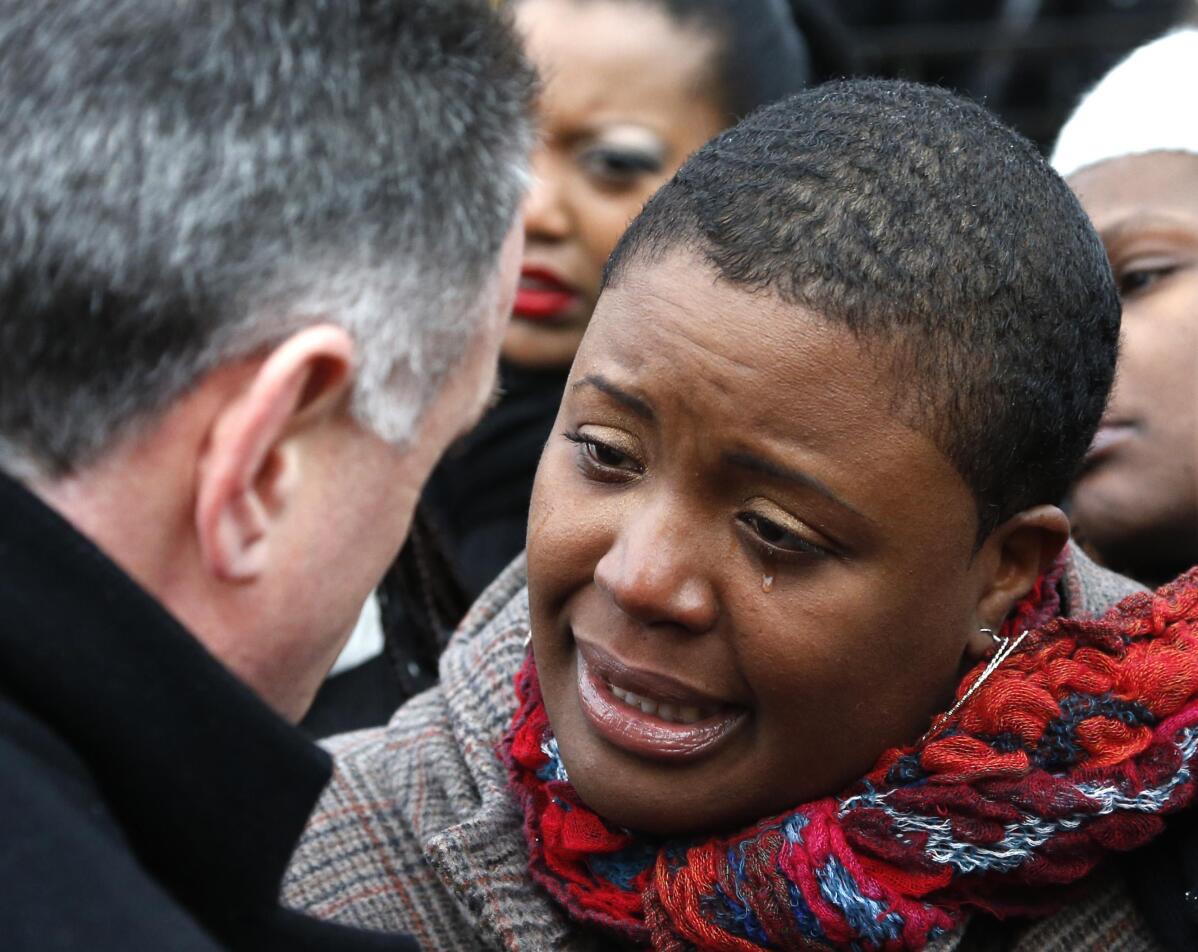 1 of 7

|
Cleopatra Pendleton cries as she talks with Chicago Police Superintendent Garry McCarthy before a news conference seeking help from the public in solving the murder of Pendleton's daughter Hadiya Wednesday, Jan. 30, 2013, in Chicago. Hadiya, 15, who had performed in President Barack Obama's inauguration festivities, was killed in a Chicago park as she talked with friends by a gunman who apparently was not even aiming at her. The city's 42nd slaying is part of Chicago's bloodiest January in more than a decade, following on the heels of 2012, which ended with more than 500 homicides for the first time since 2008. It also comes at a time when Obama, spurred by the Connecticut elementary school massacre in December, is actively pushing for tougher gun laws. (AP Photo/Charles Rex Arbogast)
2 of 7

|
Cleopatra Pendleton, center with red scarf, is escorted under the shelter where Pendleton's daughter Hadiya was shot and killed, during a news conference seeking the public's assistance in finding the gunman Wednesday, Jan. 30, 2013, in Chicago. Hadiya, 15, who had performed in President Barack Obama's inauguration festivities, was killed in a Chicago park as she talked with friends by a gunman who apparently was not even aiming at her. The city's 42nd slaying is part of Chicago's bloodiest January in more than a decade, following on the heels of 2012, which ended with more than 500 homicides for the first time since 2008. It also comes at a time when Obama, spurred by the Connecticut elementary school massacre in December, is actively pushing for tougher gun laws. (AP Photo/Charles Rex Arbogast)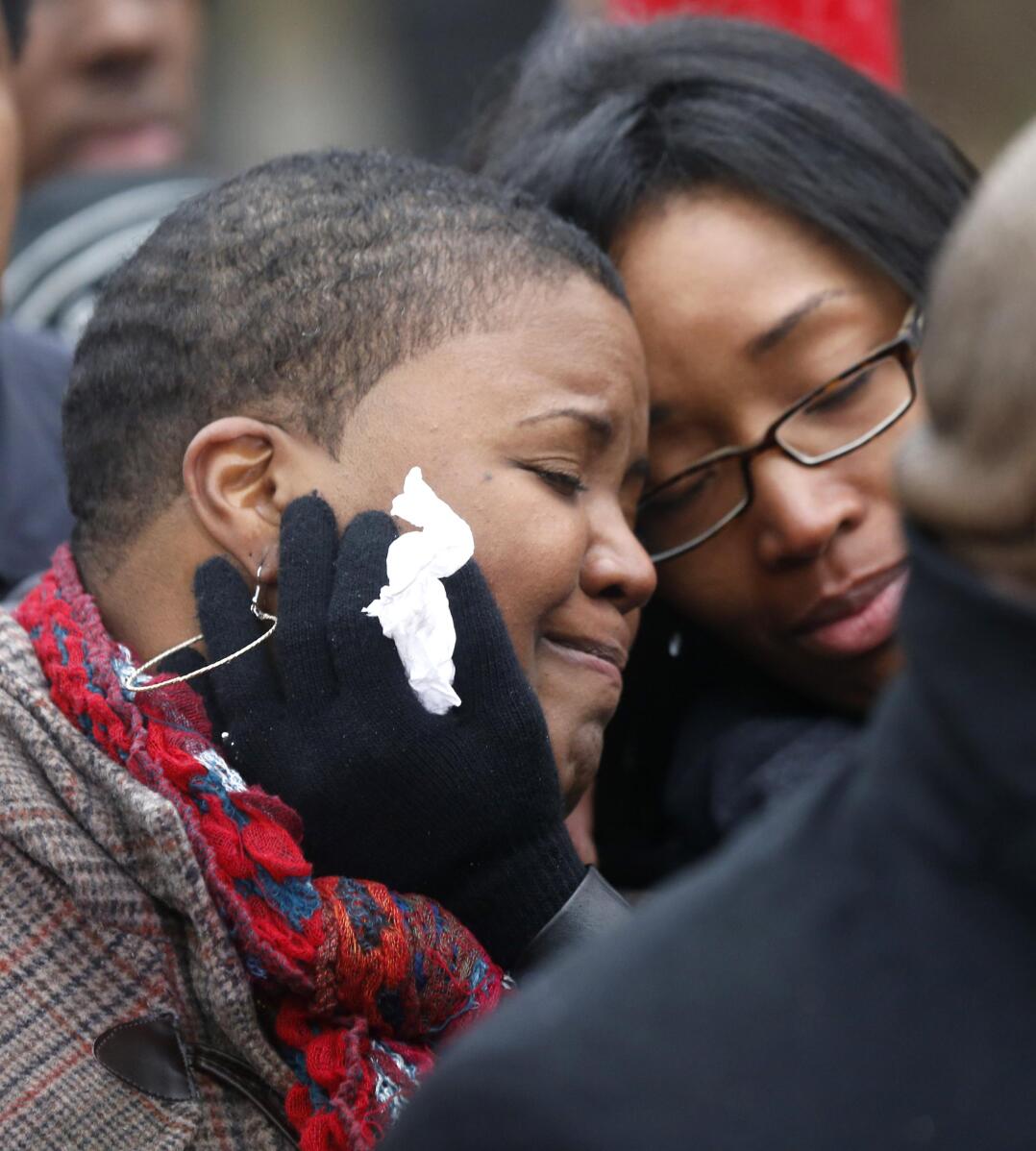 3 of 7

|
Cleopatra Pendleton, left, is consoled by her sister Kimiko Pettis, during a news conference with Chicago Police Superintendent Garry McCarthy seeking help from the public in solving the murder of Pendleton's daughter Hadiya Wednesday, Jan. 30, 2013, in Chicago. Hadiya, 15, who had performed in President Barack Obama's inauguration festivities, was killed in a Chicago park as she talked with friends by a gunman who apparently was not even aiming at her. The city's 42nd slaying is part of Chicago's bloodiest January in more than a decade, following on the heels of 2012, which ended with more than 500 homicides for the first time since 2008. It also comes at a time when Obama, spurred by the Connecticut elementary school massacre in December, is actively pushing for tougher gun laws. (AP Photo/Charles Rex Arbogast)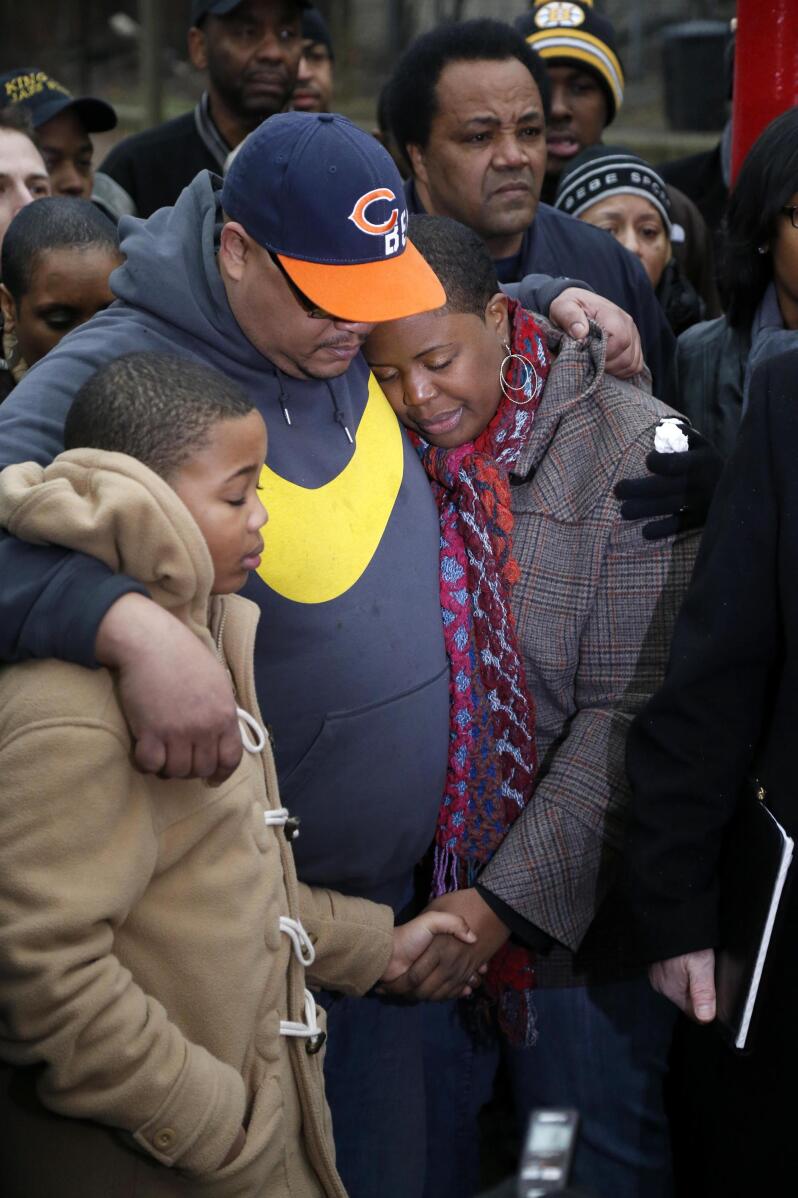 4 of 7

|
Nathaniel Pendleton, center, hugs his son Nathaniel Jr. and his wife Cleopatra during a news conference with Chicago Police Superintendent Garry McCarthy seeking help from the public in solving the murder of Pendleton's daughter Hadiya Wednesday, Jan. 30, 2013, in Chicago. Hadiya, 15, who had performed in President Barack Obama's inauguration festivities, was killed in a Chicago park as she talked with friends by a gunman who apparently was not even aiming at her. The city's 42nd slaying is part of Chicago's bloodiest January in more than a decade, following on the heels of 2012, which ended with more than 500 homicides for the first time since 2008. It also comes at a time when Obama, spurred by the Connecticut elementary school massacre in December, is actively pushing for tougher gun laws. (AP Photo/Charles Rex Arbogast)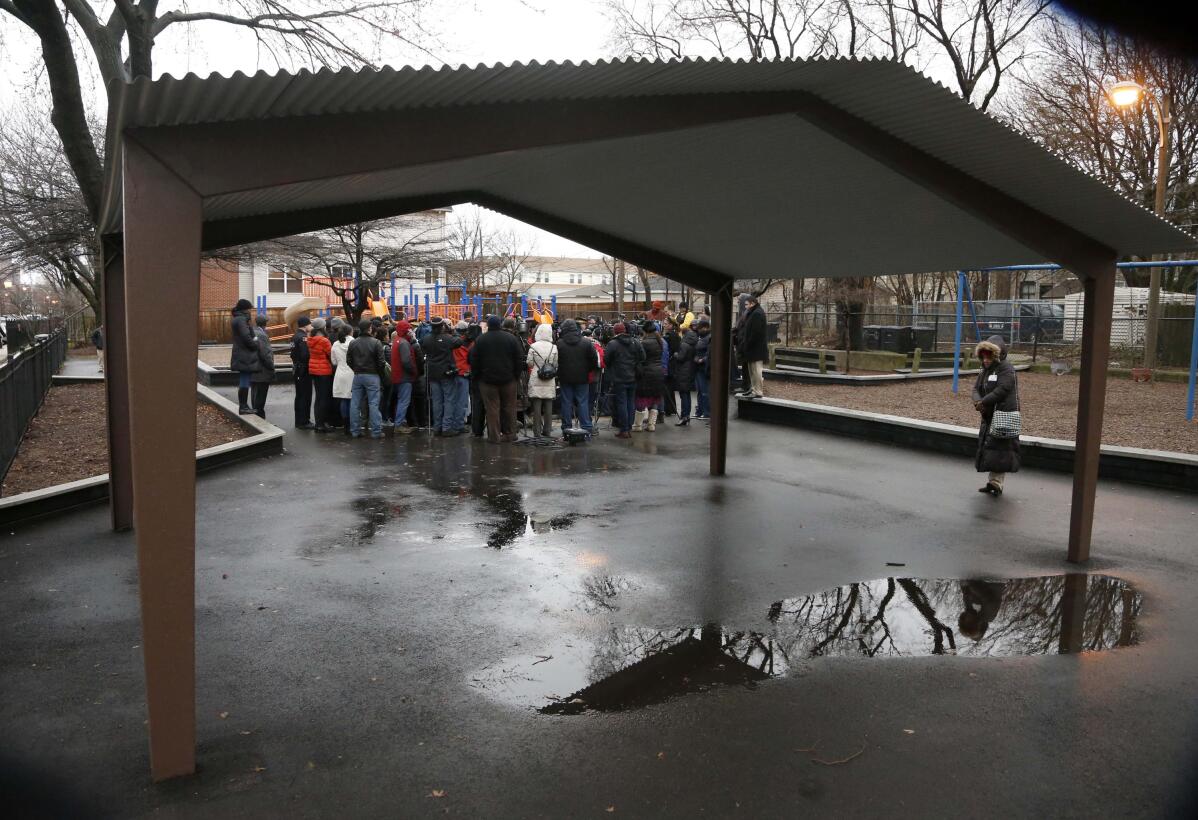 5 of 7

|
A news conference seeking the public's assistance in finding the gunman who killed Hadiya Pendleton is staged just a few feet away from the shelter where Pendleton was shot and killed, Wednesday, Jan. 30, 2013, in Chicago. Hadiya, 15, who had performed in President Barack Obama's inauguration festivities, was killed in a Chicago park as she talked with friends by a gunman who apparently was not even aiming at her. The city's 42nd slaying is part of Chicago's bloodiest January in more than a decade, following on the heels of 2012, which ended with more than 500 homicides for the first time since 2008. It also comes at a time when Obama, spurred by the Connecticut elementary school massacre in December, is actively pushing for tougher gun laws. (AP Photo/Charles Rex Arbogast)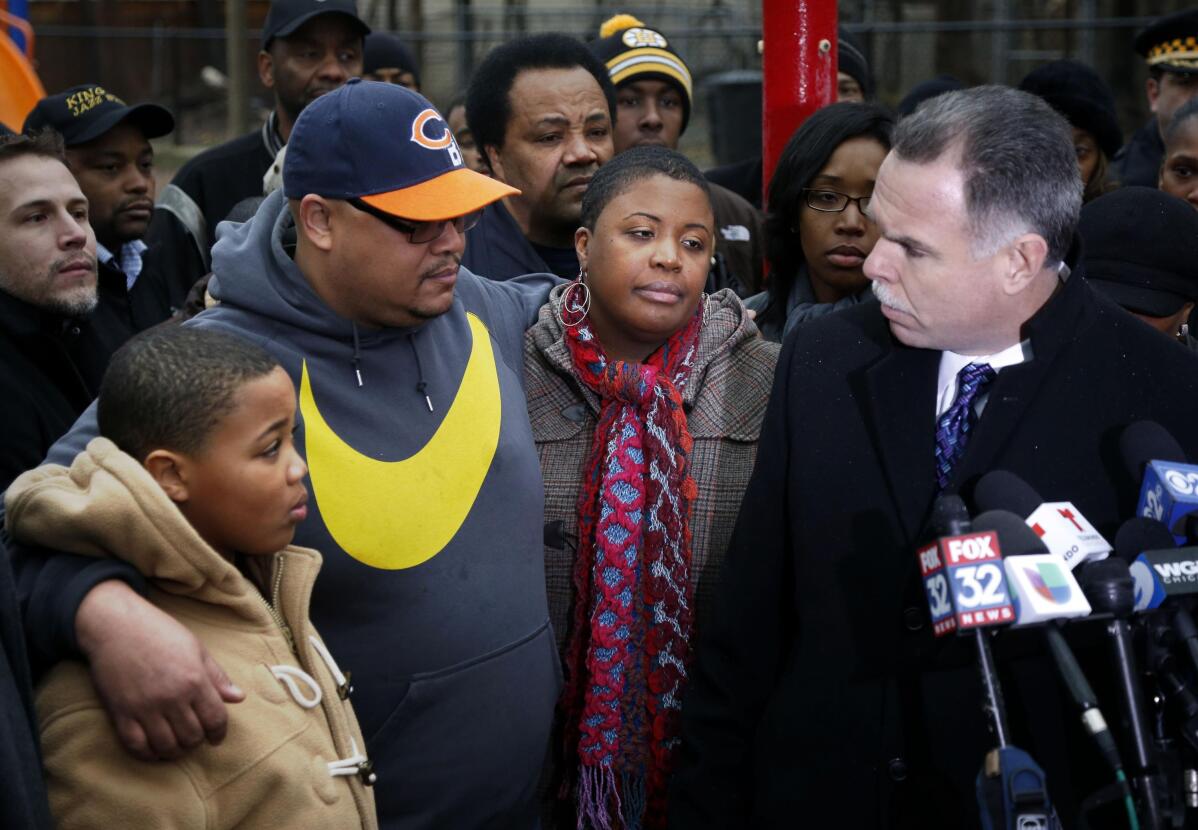 6 of 7

|
Chicago Police Superintendent Garry McCarthy, right, offers the city's condolences to the Pendleton family, from left, Nathaniel Jr., Nathaniel Sr., and Cleopatra during a news conference seeking help from the public in solving the murder of Pendleton's daughter Hadiya Wednesday, Jan. 30, 2013, in Chicago. Hadiya, 15, who had performed in President Barack Obama's inauguration festivities, was killed in a Chicago park as she talked with friends by a gunman who apparently was not even aiming at her. The city's 42nd slaying is part of Chicago's bloodiest January in more than a decade, following on the heels of 2012, which ended with more than 500 homicides for the first time since 2008. It also comes at a time when Obama, spurred by the Connecticut elementary school massacre in December, is actively pushing for tougher gun laws. (AP Photo/Charles Rex Arbogast)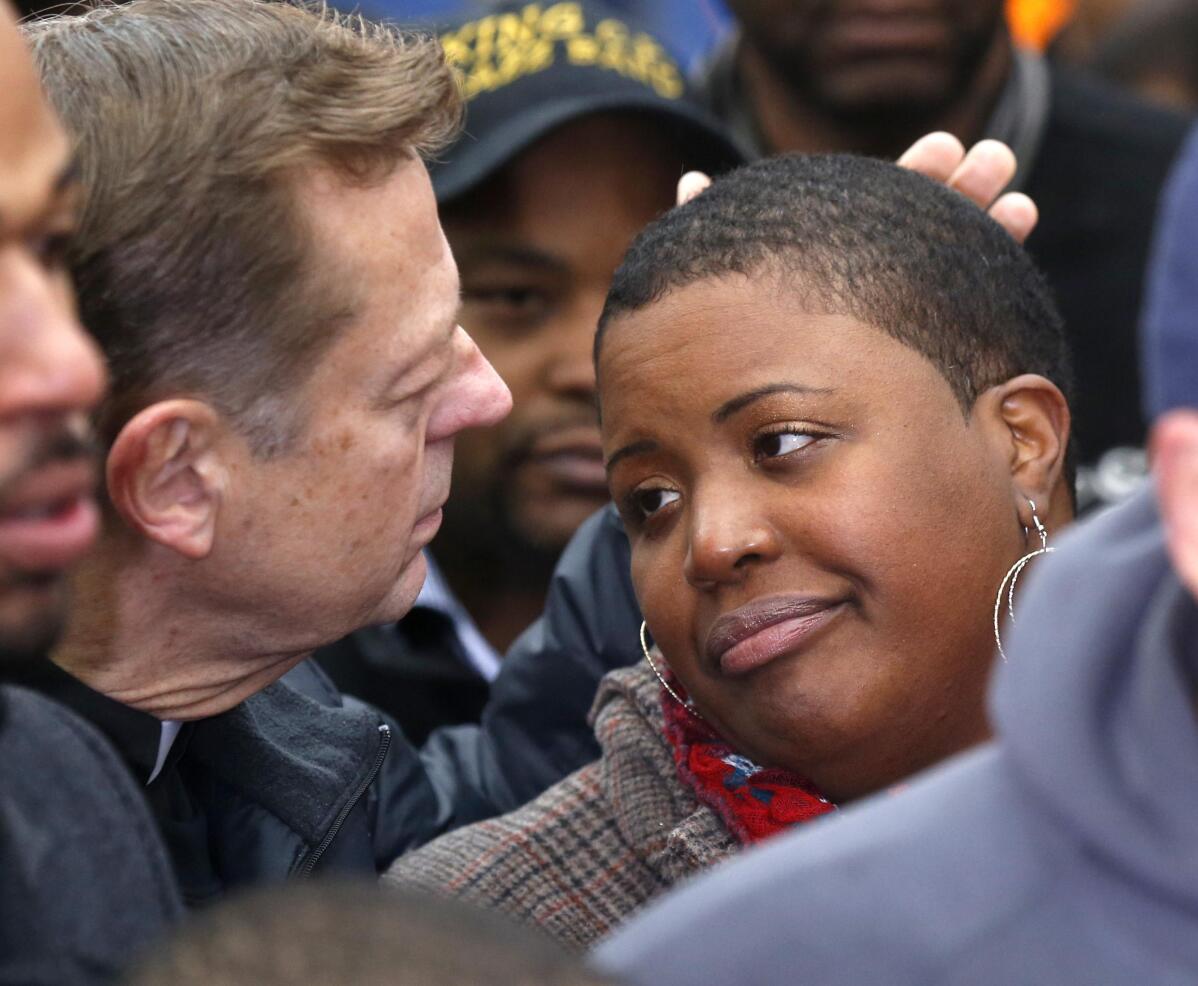 7 of 7

|
Father Michael Pfleger , left, consoles Cleopatra Pendleton during a news conference with Chicago Police Superintendent Garry McCarthy seeking help from the public in solving the murder of Pendleton's daughter Hadiya Wednesday, Jan. 30, 2013, in Chicago. Hadiya, 15, who had performed in President Barack Obama's inauguration festivities, was killed in a Chicago park as she talked with friends by a gunman who apparently was not even aiming at her. The city's 42nd slaying is part of Chicago's bloodiest January in more than a decade, following on the heels of 2012, which ended with more than 500 homicides for the first time since 2008. It also comes at a time when Obama, spurred by the Connecticut elementary school massacre in December, is actively pushing for tougher gun laws. (AP Photo/Charles Rex Arbogast)
Teen performer at inaugural events fatally shot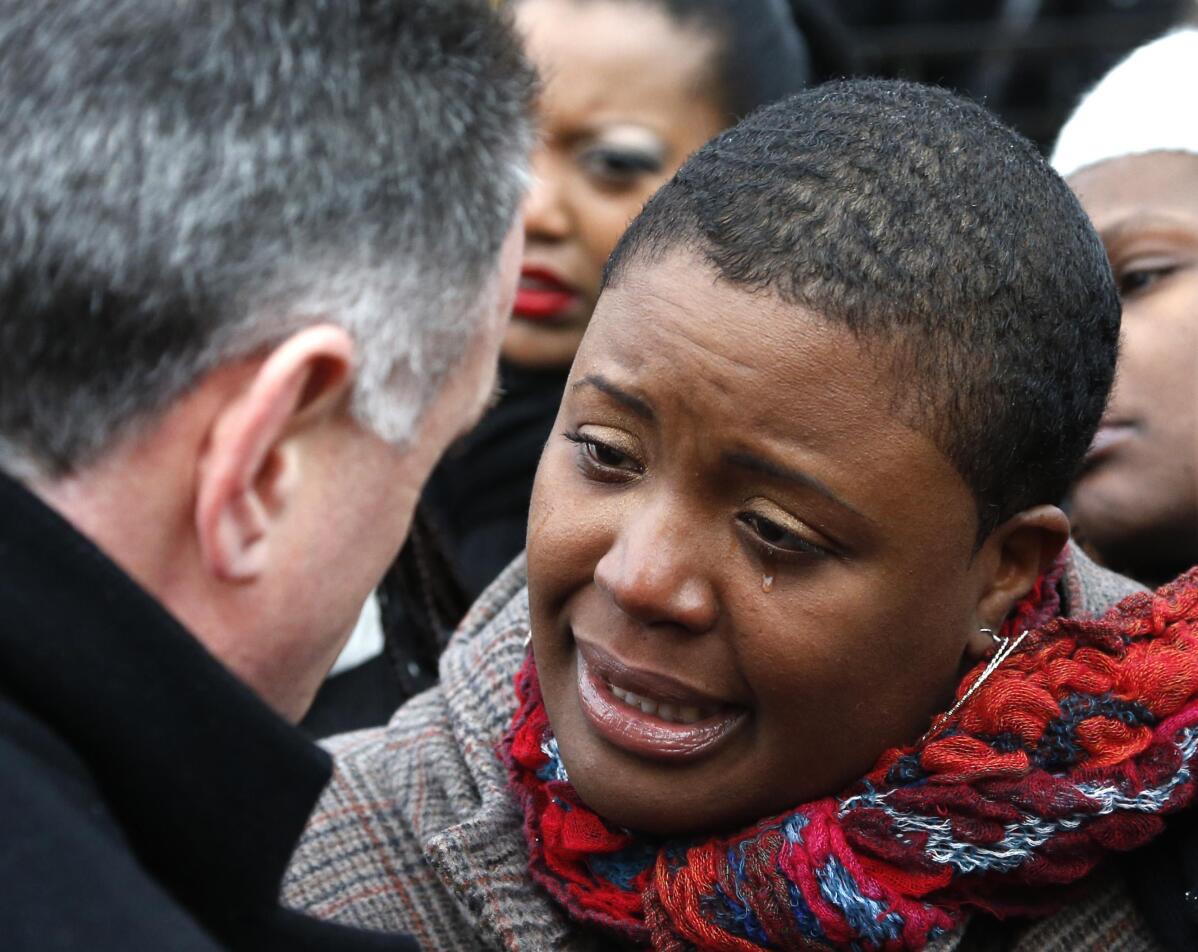 1 of 7

|
Cleopatra Pendleton cries as she talks with Chicago Police Superintendent Garry McCarthy before a news conference seeking help from the public in solving the murder of Pendleton's daughter Hadiya Wednesday, Jan. 30, 2013, in Chicago. Hadiya, 15, who had performed in President Barack Obama's inauguration festivities, was killed in a Chicago park as she talked with friends by a gunman who apparently was not even aiming at her. The city's 42nd slaying is part of Chicago's bloodiest January in more than a decade, following on the heels of 2012, which ended with more than 500 homicides for the first time since 2008. It also comes at a time when Obama, spurred by the Connecticut elementary school massacre in December, is actively pushing for tougher gun laws. (AP Photo/Charles Rex Arbogast)
1 of 7
Cleopatra Pendleton cries as she talks with Chicago Police Superintendent Garry McCarthy before a news conference seeking help from the public in solving the murder of Pendleton's daughter Hadiya Wednesday, Jan. 30, 2013, in Chicago. Hadiya, 15, who had performed in President Barack Obama's inauguration festivities, was killed in a Chicago park as she talked with friends by a gunman who apparently was not even aiming at her. The city's 42nd slaying is part of Chicago's bloodiest January in more than a decade, following on the heels of 2012, which ended with more than 500 homicides for the first time since 2008. It also comes at a time when Obama, spurred by the Connecticut elementary school massacre in December, is actively pushing for tougher gun laws. (AP Photo/Charles Rex Arbogast)
2 of 7

|
Cleopatra Pendleton, center with red scarf, is escorted under the shelter where Pendleton's daughter Hadiya was shot and killed, during a news conference seeking the public's assistance in finding the gunman Wednesday, Jan. 30, 2013, in Chicago. Hadiya, 15, who had performed in President Barack Obama's inauguration festivities, was killed in a Chicago park as she talked with friends by a gunman who apparently was not even aiming at her. The city's 42nd slaying is part of Chicago's bloodiest January in more than a decade, following on the heels of 2012, which ended with more than 500 homicides for the first time since 2008. It also comes at a time when Obama, spurred by the Connecticut elementary school massacre in December, is actively pushing for tougher gun laws. (AP Photo/Charles Rex Arbogast)
2 of 7
Cleopatra Pendleton, center with red scarf, is escorted under the shelter where Pendleton's daughter Hadiya was shot and killed, during a news conference seeking the public's assistance in finding the gunman Wednesday, Jan. 30, 2013, in Chicago. Hadiya, 15, who had performed in President Barack Obama's inauguration festivities, was killed in a Chicago park as she talked with friends by a gunman who apparently was not even aiming at her. The city's 42nd slaying is part of Chicago's bloodiest January in more than a decade, following on the heels of 2012, which ended with more than 500 homicides for the first time since 2008. It also comes at a time when Obama, spurred by the Connecticut elementary school massacre in December, is actively pushing for tougher gun laws. (AP Photo/Charles Rex Arbogast)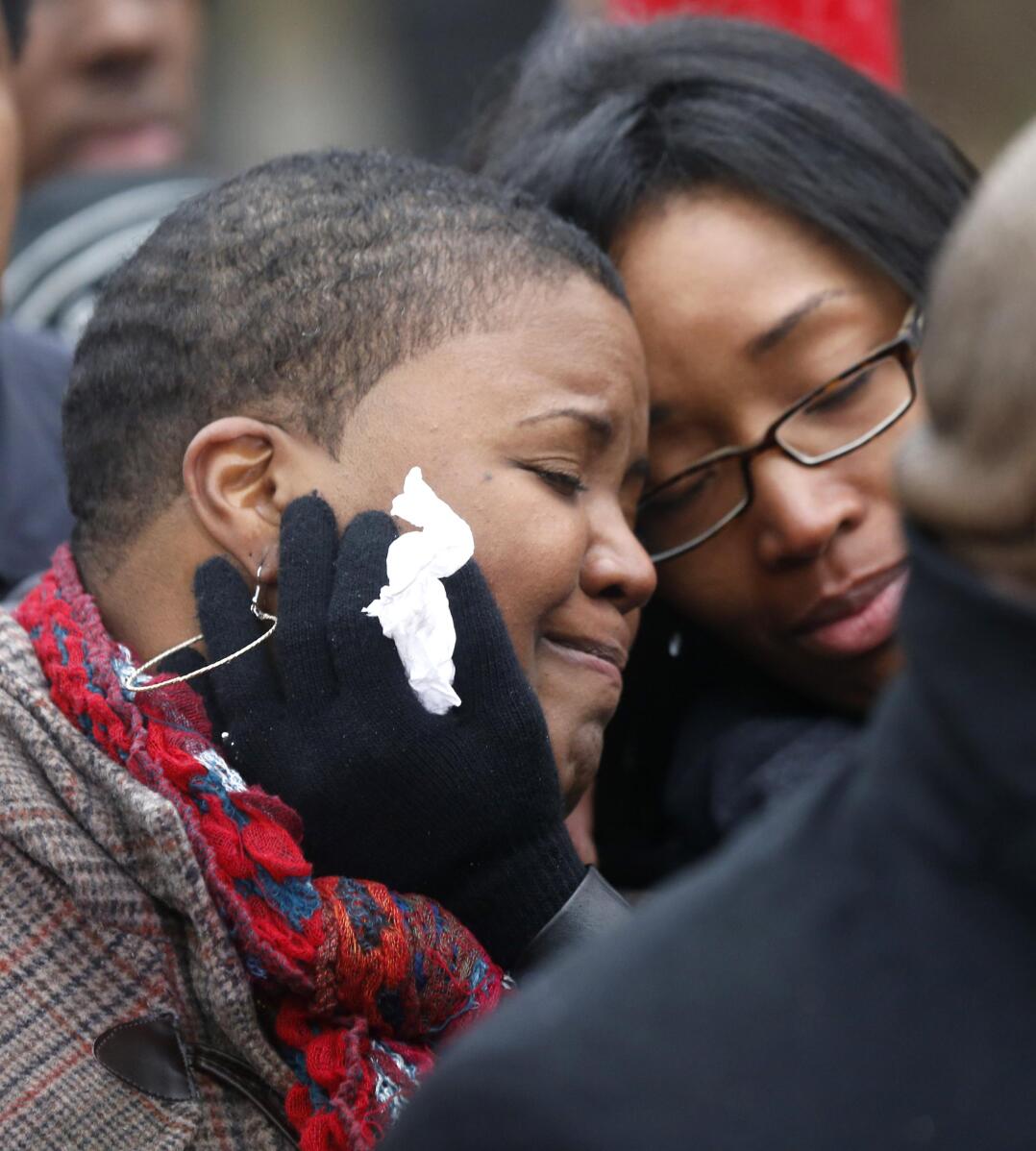 3 of 7

|
Cleopatra Pendleton, left, is consoled by her sister Kimiko Pettis, during a news conference with Chicago Police Superintendent Garry McCarthy seeking help from the public in solving the murder of Pendleton's daughter Hadiya Wednesday, Jan. 30, 2013, in Chicago. Hadiya, 15, who had performed in President Barack Obama's inauguration festivities, was killed in a Chicago park as she talked with friends by a gunman who apparently was not even aiming at her. The city's 42nd slaying is part of Chicago's bloodiest January in more than a decade, following on the heels of 2012, which ended with more than 500 homicides for the first time since 2008. It also comes at a time when Obama, spurred by the Connecticut elementary school massacre in December, is actively pushing for tougher gun laws. (AP Photo/Charles Rex Arbogast)
3 of 7
Cleopatra Pendleton, left, is consoled by her sister Kimiko Pettis, during a news conference with Chicago Police Superintendent Garry McCarthy seeking help from the public in solving the murder of Pendleton's daughter Hadiya Wednesday, Jan. 30, 2013, in Chicago. Hadiya, 15, who had performed in President Barack Obama's inauguration festivities, was killed in a Chicago park as she talked with friends by a gunman who apparently was not even aiming at her. The city's 42nd slaying is part of Chicago's bloodiest January in more than a decade, following on the heels of 2012, which ended with more than 500 homicides for the first time since 2008. It also comes at a time when Obama, spurred by the Connecticut elementary school massacre in December, is actively pushing for tougher gun laws. (AP Photo/Charles Rex Arbogast)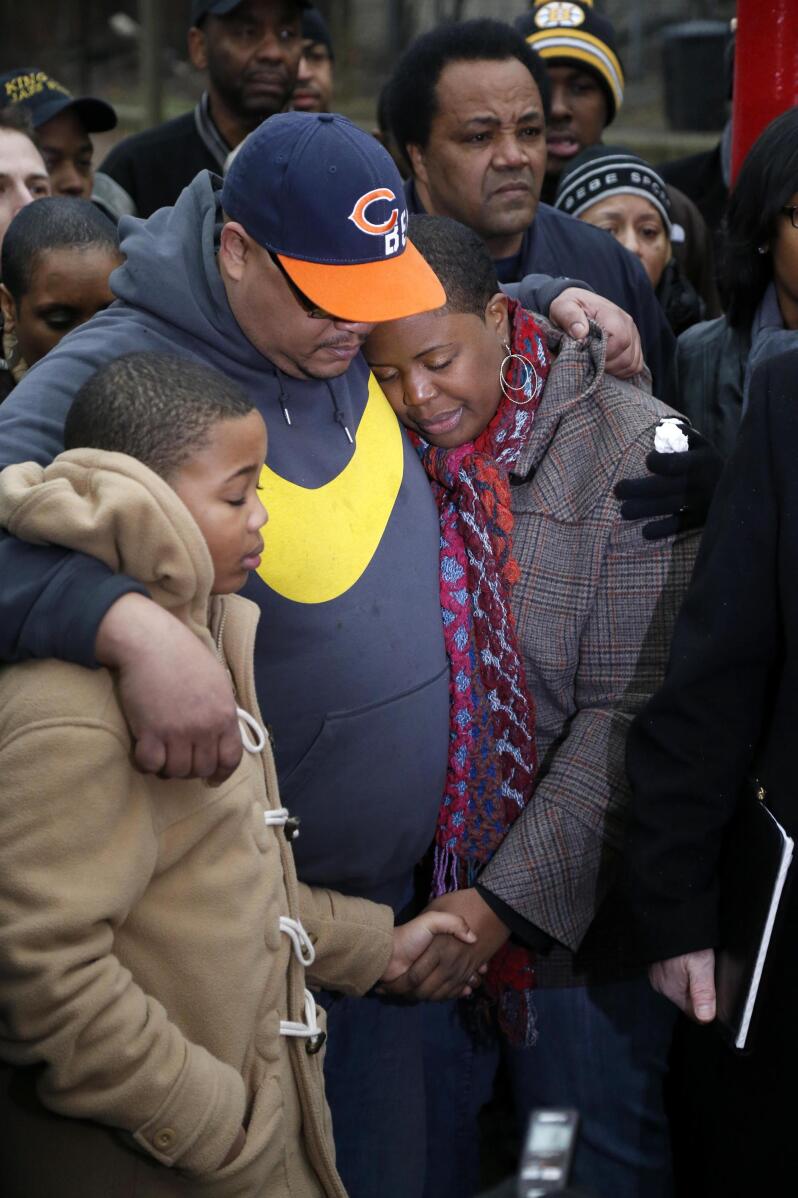 4 of 7

|
Nathaniel Pendleton, center, hugs his son Nathaniel Jr. and his wife Cleopatra during a news conference with Chicago Police Superintendent Garry McCarthy seeking help from the public in solving the murder of Pendleton's daughter Hadiya Wednesday, Jan. 30, 2013, in Chicago. Hadiya, 15, who had performed in President Barack Obama's inauguration festivities, was killed in a Chicago park as she talked with friends by a gunman who apparently was not even aiming at her. The city's 42nd slaying is part of Chicago's bloodiest January in more than a decade, following on the heels of 2012, which ended with more than 500 homicides for the first time since 2008. It also comes at a time when Obama, spurred by the Connecticut elementary school massacre in December, is actively pushing for tougher gun laws. (AP Photo/Charles Rex Arbogast)
4 of 7
Nathaniel Pendleton, center, hugs his son Nathaniel Jr. and his wife Cleopatra during a news conference with Chicago Police Superintendent Garry McCarthy seeking help from the public in solving the murder of Pendleton's daughter Hadiya Wednesday, Jan. 30, 2013, in Chicago. Hadiya, 15, who had performed in President Barack Obama's inauguration festivities, was killed in a Chicago park as she talked with friends by a gunman who apparently was not even aiming at her. The city's 42nd slaying is part of Chicago's bloodiest January in more than a decade, following on the heels of 2012, which ended with more than 500 homicides for the first time since 2008. It also comes at a time when Obama, spurred by the Connecticut elementary school massacre in December, is actively pushing for tougher gun laws. (AP Photo/Charles Rex Arbogast)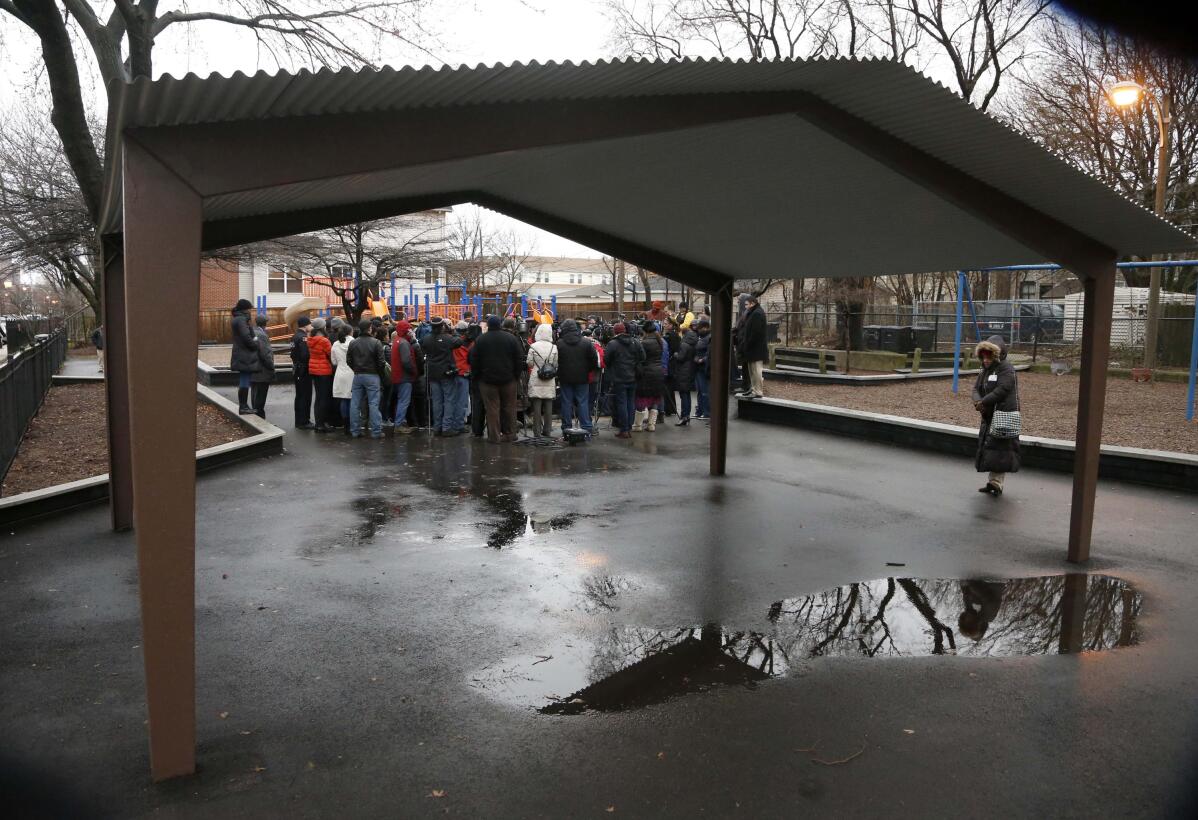 5 of 7

|
A news conference seeking the public's assistance in finding the gunman who killed Hadiya Pendleton is staged just a few feet away from the shelter where Pendleton was shot and killed, Wednesday, Jan. 30, 2013, in Chicago. Hadiya, 15, who had performed in President Barack Obama's inauguration festivities, was killed in a Chicago park as she talked with friends by a gunman who apparently was not even aiming at her. The city's 42nd slaying is part of Chicago's bloodiest January in more than a decade, following on the heels of 2012, which ended with more than 500 homicides for the first time since 2008. It also comes at a time when Obama, spurred by the Connecticut elementary school massacre in December, is actively pushing for tougher gun laws. (AP Photo/Charles Rex Arbogast)
5 of 7
A news conference seeking the public's assistance in finding the gunman who killed Hadiya Pendleton is staged just a few feet away from the shelter where Pendleton was shot and killed, Wednesday, Jan. 30, 2013, in Chicago. Hadiya, 15, who had performed in President Barack Obama's inauguration festivities, was killed in a Chicago park as she talked with friends by a gunman who apparently was not even aiming at her. The city's 42nd slaying is part of Chicago's bloodiest January in more than a decade, following on the heels of 2012, which ended with more than 500 homicides for the first time since 2008. It also comes at a time when Obama, spurred by the Connecticut elementary school massacre in December, is actively pushing for tougher gun laws. (AP Photo/Charles Rex Arbogast)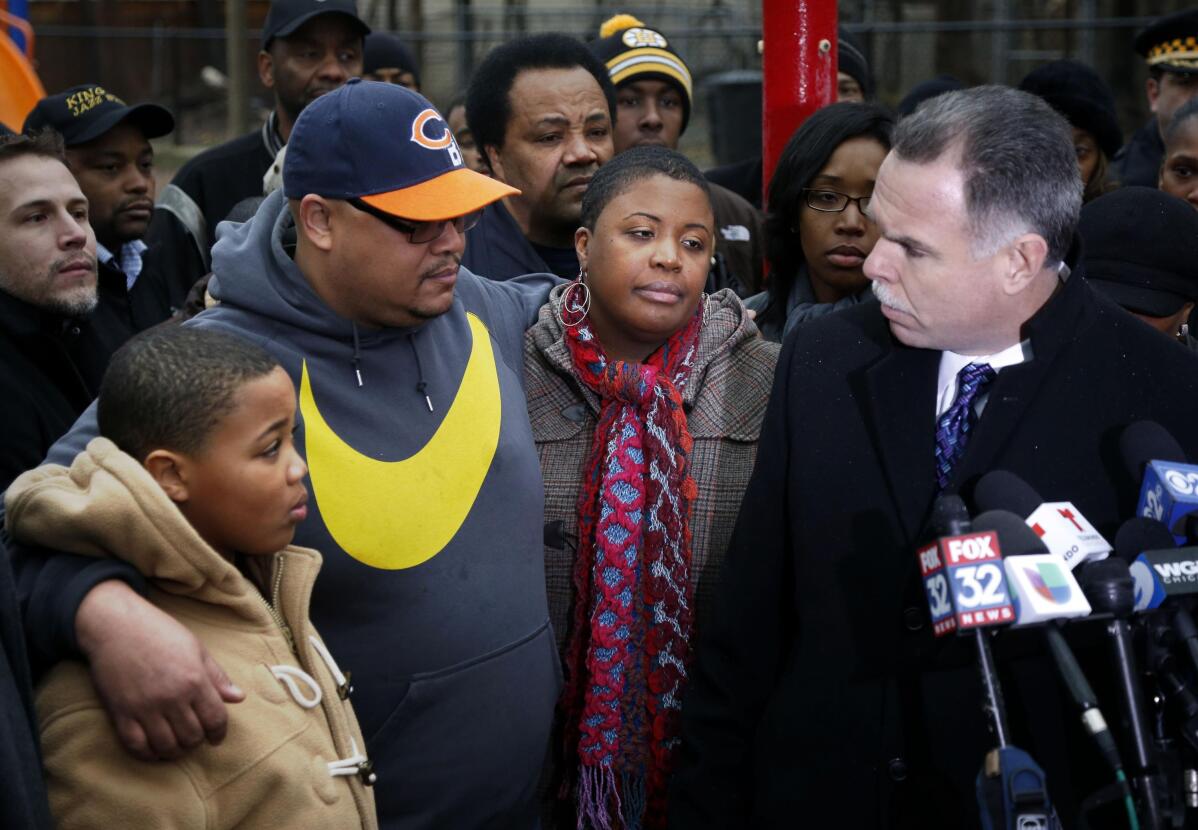 6 of 7

|
Chicago Police Superintendent Garry McCarthy, right, offers the city's condolences to the Pendleton family, from left, Nathaniel Jr., Nathaniel Sr., and Cleopatra during a news conference seeking help from the public in solving the murder of Pendleton's daughter Hadiya Wednesday, Jan. 30, 2013, in Chicago. Hadiya, 15, who had performed in President Barack Obama's inauguration festivities, was killed in a Chicago park as she talked with friends by a gunman who apparently was not even aiming at her. The city's 42nd slaying is part of Chicago's bloodiest January in more than a decade, following on the heels of 2012, which ended with more than 500 homicides for the first time since 2008. It also comes at a time when Obama, spurred by the Connecticut elementary school massacre in December, is actively pushing for tougher gun laws. (AP Photo/Charles Rex Arbogast)
6 of 7
Chicago Police Superintendent Garry McCarthy, right, offers the city's condolences to the Pendleton family, from left, Nathaniel Jr., Nathaniel Sr., and Cleopatra during a news conference seeking help from the public in solving the murder of Pendleton's daughter Hadiya Wednesday, Jan. 30, 2013, in Chicago. Hadiya, 15, who had performed in President Barack Obama's inauguration festivities, was killed in a Chicago park as she talked with friends by a gunman who apparently was not even aiming at her. The city's 42nd slaying is part of Chicago's bloodiest January in more than a decade, following on the heels of 2012, which ended with more than 500 homicides for the first time since 2008. It also comes at a time when Obama, spurred by the Connecticut elementary school massacre in December, is actively pushing for tougher gun laws. (AP Photo/Charles Rex Arbogast)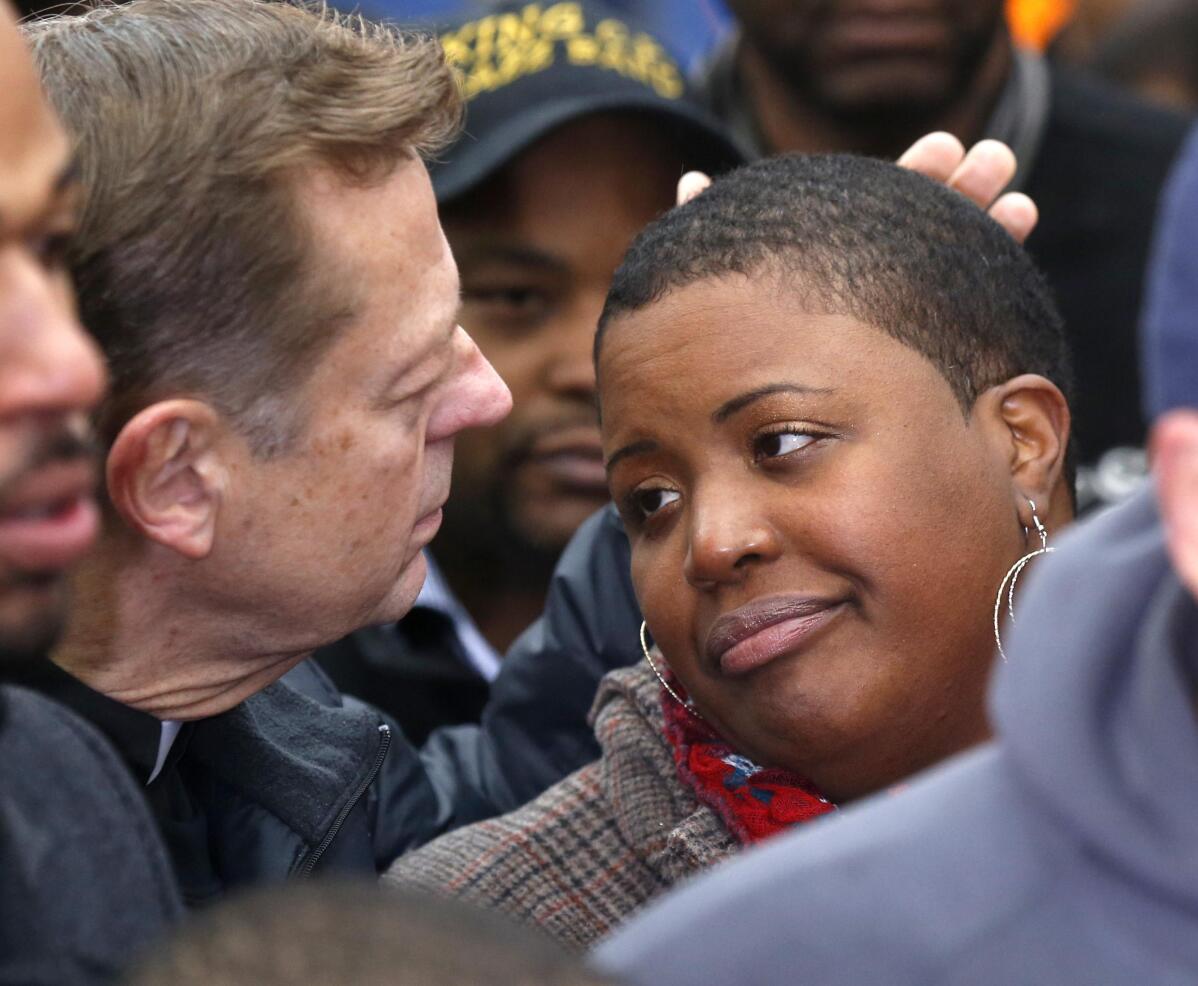 7 of 7

|
Father Michael Pfleger , left, consoles Cleopatra Pendleton during a news conference with Chicago Police Superintendent Garry McCarthy seeking help from the public in solving the murder of Pendleton's daughter Hadiya Wednesday, Jan. 30, 2013, in Chicago. Hadiya, 15, who had performed in President Barack Obama's inauguration festivities, was killed in a Chicago park as she talked with friends by a gunman who apparently was not even aiming at her. The city's 42nd slaying is part of Chicago's bloodiest January in more than a decade, following on the heels of 2012, which ended with more than 500 homicides for the first time since 2008. It also comes at a time when Obama, spurred by the Connecticut elementary school massacre in December, is actively pushing for tougher gun laws. (AP Photo/Charles Rex Arbogast)
7 of 7
Father Michael Pfleger , left, consoles Cleopatra Pendleton during a news conference with Chicago Police Superintendent Garry McCarthy seeking help from the public in solving the murder of Pendleton's daughter Hadiya Wednesday, Jan. 30, 2013, in Chicago. Hadiya, 15, who had performed in President Barack Obama's inauguration festivities, was killed in a Chicago park as she talked with friends by a gunman who apparently was not even aiming at her. The city's 42nd slaying is part of Chicago's bloodiest January in more than a decade, following on the heels of 2012, which ended with more than 500 homicides for the first time since 2008. It also comes at a time when Obama, spurred by the Connecticut elementary school massacre in December, is actively pushing for tougher gun laws. (AP Photo/Charles Rex Arbogast)
CHICAGO (AP) — A 15-year-old girl who had performed in President Barack Obama's inauguration festivities is the latest face on the ever-increasing homicide toll in the president's hometown, killed in a Chicago park as she talked with friends by a gunman who apparently was not even aiming at her.
Chicago police said Hadiya Pendleton was in a park about a mile from Obama's home in a South Side neighborhood Tuesday afternoon when a man opened fire on the group. Hadiya was shot in the back as she tried to escape.
The city's 42nd slaying is part of Chicago's bloodiest January in more than a decade, following on the heels of 2012, which ended with more than 500 homicides for the first time since 2008. It also comes at a time when Obama, spurred by the Connecticut elementary school massacre in December, is actively pushing for tougher gun laws.
Hadiya's father, Nathaniel Pendleton, spoke Wednesday at a Chicago police news conference, which was held in the same park where his daughter died.
"He took the light of my life," Pendleton said. He then spoke directly to the killer: "Look at yourself, just know that you took a bright person, an innocent person, a nonviolent person." Chicago Police Superintendent Garry McCarthy consoled him, the girl's mother and 10-year-old brother.
Hadiya was a bright kid who was killed just as she was "wondering about which lofty goal she wanted to achieve," her godfather, Damon Stewart, told The Associated Press. Hadiya had been a majorette with the King College Prep band.
"She was a very active kid, doing dance, cheerleading, who felt like she could accomplish just about anything, a very good student who had big dreams about what she wanted to be, a doctor, an attorney," said Stewart, a Chicago police officer and attorney. "She was constantly getting good grades."
Obama was asked about Hadiya's death in an interview with Telemundo, which led to a discussion about gun control. Also Wednesday, White House press secretary Jay Carney said Wednesday that the president and the first lady's "thoughts and prayers are with" the teen's family, adding: "And as the president has said, we will never be able to eradicate every act of evil in this country, but if we can save any one child's life, we have an obligation to try when it comes to the scourge of gun violence."
In Chicago, gangs routinely and often indiscriminately open fire. Mayor Rahm Emanuel and McCarthy are pushing for tougher local, state and national gun laws and longer prison sentences for offenders.
About three blocks from Hadiya's school, she and a group of 10-12 young people, including members of her volleyball team, had taken refuge under a canopy at a park to avoid the rain Tuesday afternoon. A man climbed a fence behind the park, ran at the group and started shooting, and then jumped back over the fence and into a white Nissan. The group scattered, but Hadiya was shot once in the back and a teenage boy was shot in the leg.
Police said Hadiya had no arrest record and there was no indication she was a member of a gang or was the gunman's target. In fact, McCarthy said there are no indications that anyone in the group was gang-affiliated. He said the police suspect that the gunman may be a member of a gang that considers the park its turf and that he mistook somebody in the group as someone from an encroaching rival gang.
McCarthy vowed to put a police officer at the park "24 hours a day, seven days a week, 365 days a year" if that is what it takes to show the gang that the park belongs to no one but the community.
Comments by both Stewart and the girl's father echo the message that city officials have long said: Gun violence is not confined to street corners in dangerous neighborhoods. Obama's neighborhood, Kenwood, is just north of the University of Chicago and the Museum of Science and Industry.
"Her parents had done everything right and she was doing everything right," he said. Stewart, who was 12 when his own brother was shot and killed, said his family and Pendleton's family were so close that his own children saw the 15-year-old as an older sister.
"The worst thing in the world was when yesterday I had to sit there and tell my children that their sister is gone," he said.
___
AP reporter Nedra Pickler contributed to this report from Washington.