Police search Massachusetts marsh for missing child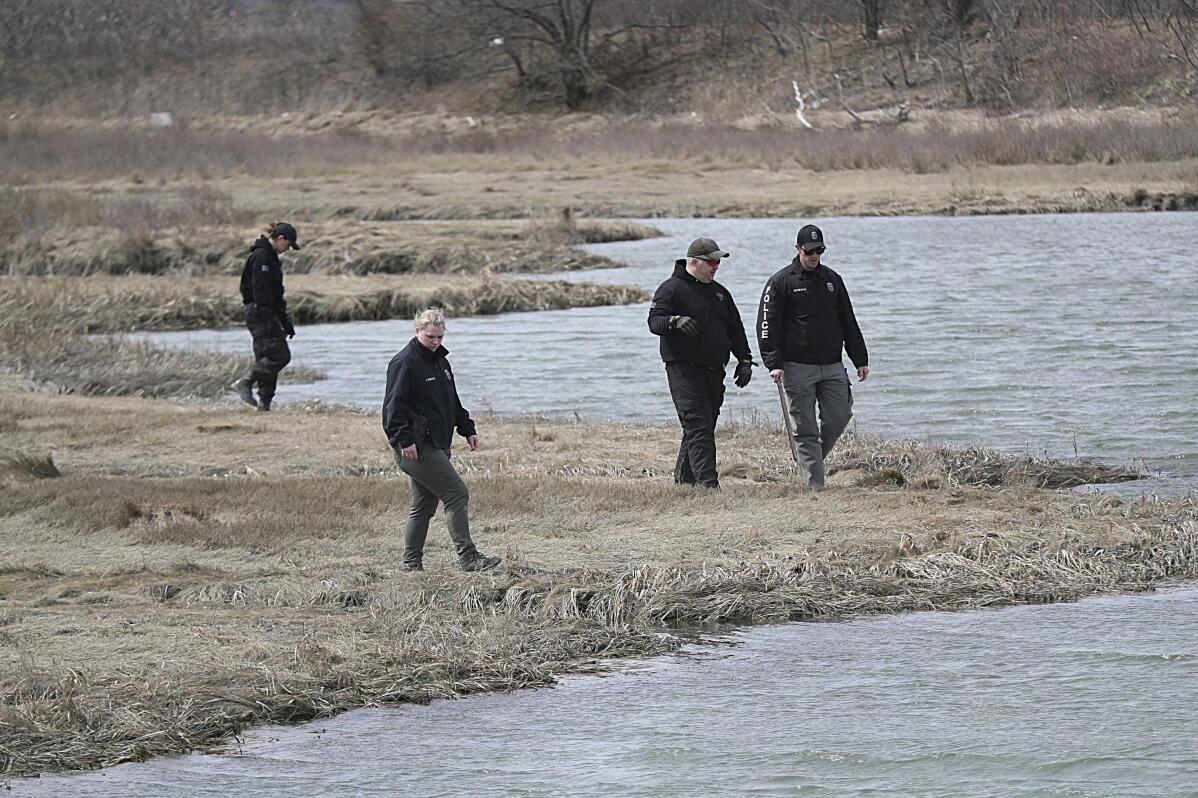 1 of 2

|
Law enforcement officials search areas off Rte 107 as part of the investigation into the disappearance of 5-year-old Harmony Montgomery, Friday, April 7, 2023 in Revere, Mass. (Suzanne Kreiter/The Boston Globe via AP)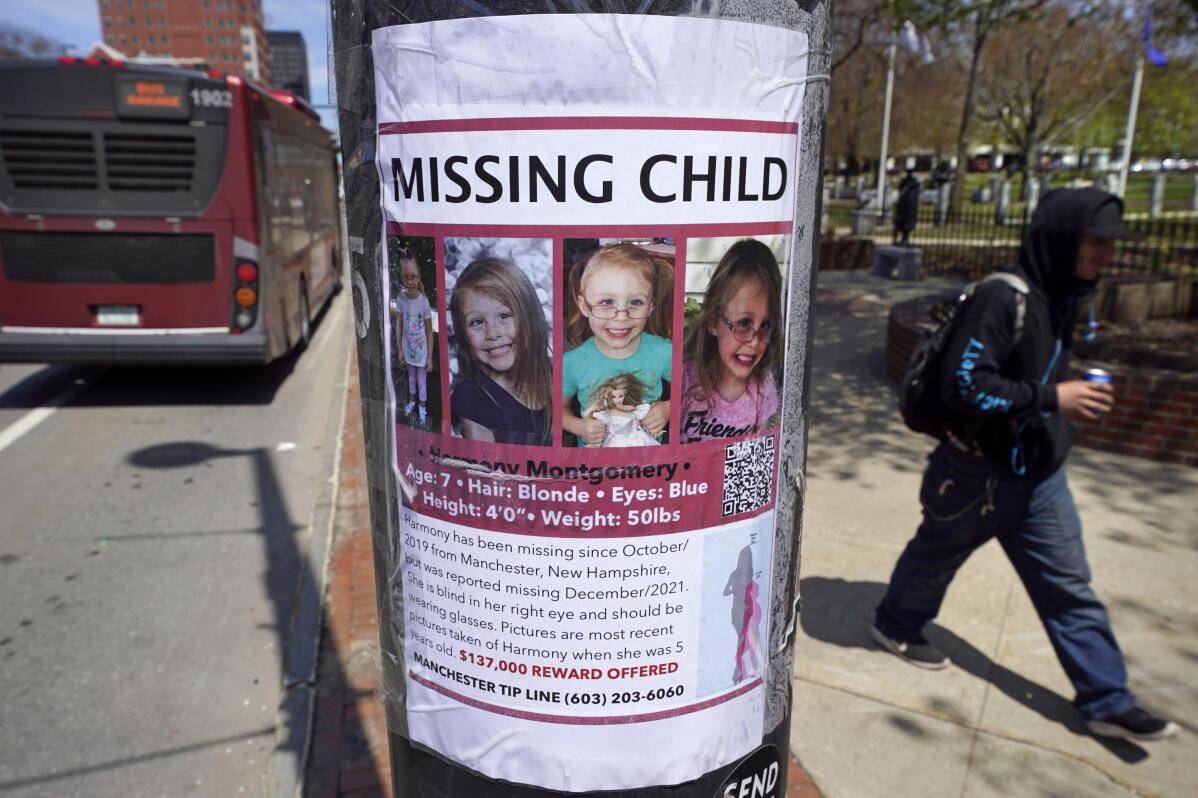 2 of 2

|
FILE - A man walks past the "missing child" poster for Harmony Montgomery on Thursday, May 5, 2022, in Manchester, N.H. Police were searching a marshy area in Massachusetts on Friday, April 7, 2023, as part of their investigation in the case of the New Hampshire girl who disappeared in 2019 at age 5 and is presumed dead. (AP Photo/Charles Krupa, File)
Police search Massachusetts marsh for missing child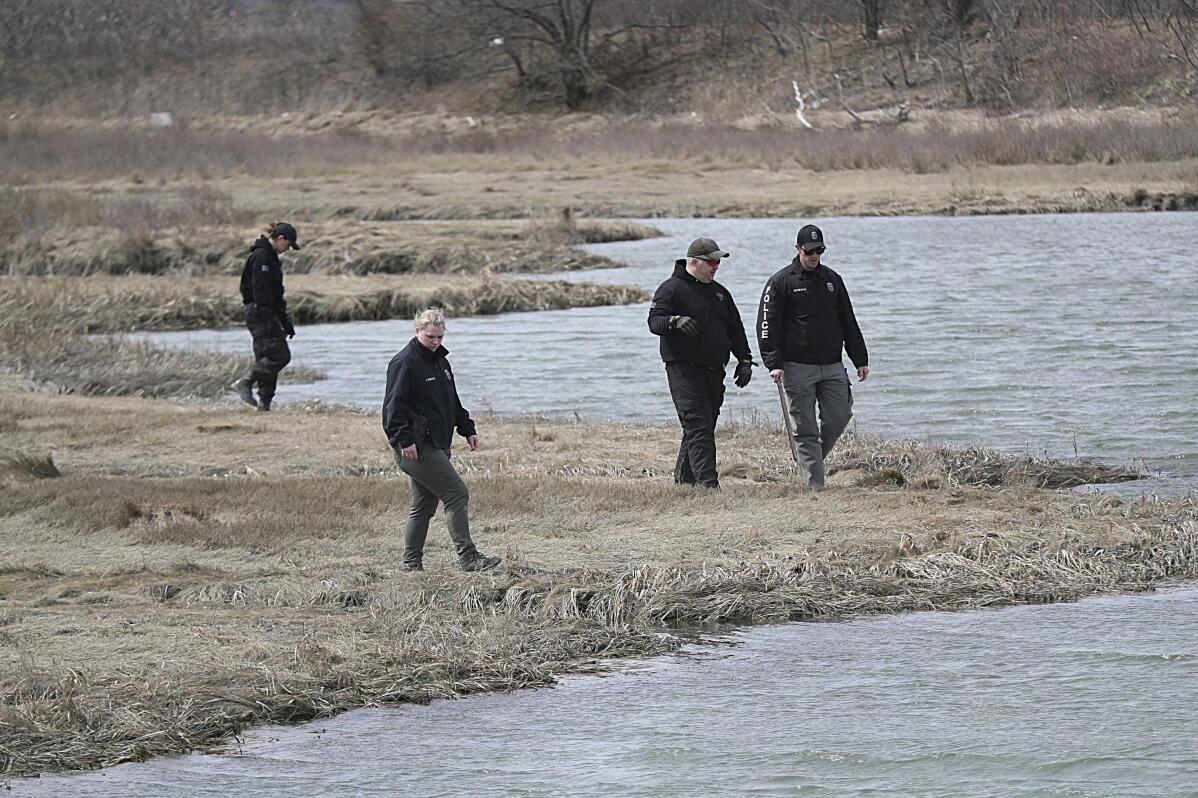 1 of 2

|
Law enforcement officials search areas off Rte 107 as part of the investigation into the disappearance of 5-year-old Harmony Montgomery, Friday, April 7, 2023 in Revere, Mass. (Suzanne Kreiter/The Boston Globe via AP)
1 of 2
Law enforcement officials search areas off Rte 107 as part of the investigation into the disappearance of 5-year-old Harmony Montgomery, Friday, April 7, 2023 in Revere, Mass. (Suzanne Kreiter/The Boston Globe via AP)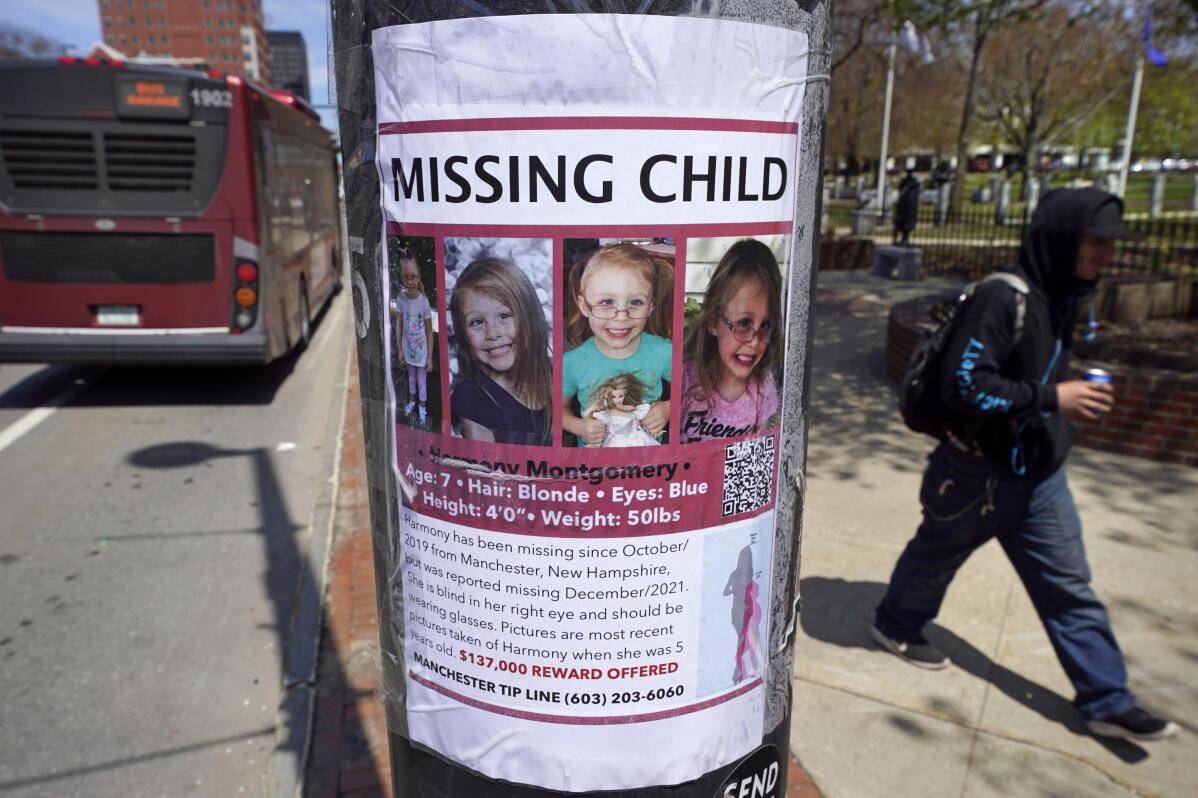 2 of 2

|
FILE - A man walks past the "missing child" poster for Harmony Montgomery on Thursday, May 5, 2022, in Manchester, N.H. Police were searching a marshy area in Massachusetts on Friday, April 7, 2023, as part of their investigation in the case of the New Hampshire girl who disappeared in 2019 at age 5 and is presumed dead. (AP Photo/Charles Krupa, File)
2 of 2
FILE - A man walks past the "missing child" poster for Harmony Montgomery on Thursday, May 5, 2022, in Manchester, N.H. Police were searching a marshy area in Massachusetts on Friday, April 7, 2023, as part of their investigation in the case of the New Hampshire girl who disappeared in 2019 at age 5 and is presumed dead. (AP Photo/Charles Krupa, File)
REVERE, Mass. (AP) — Police searched a marshy area in Massachusetts on Friday as part of their investigation into the 2019 disappearance of a 5-year-old New Hampshire girl who is presumed dead.
The search was in Revere, Massachusetts, as part of the investigation in the Harmony Montgomery case, according to New Hampshire Attorney General John Formella and Manchester Police Chief Allen Aldenberg. They declined to give any further information.
Massachusetts State Police said 18 troopers, along with K-9 and drone units, were used to search wetlands along Route 107 in Revere, just north of Boston. The search started shortly after 9 a.m. and concluded about 4 p.m., state police said.
Harmony's father, Adam Montgomery, has been charged with second-degree murder in connection with her presumed death, as well as falsifying physical evidence and abuse of a corpse. He has pleaded not guilty.
"Officials caution against any speculation related to the potential results of this search," the New Hampshire news release said.
Authorities didn't know Harmony was missing until November 2021. In August 2022, police announced that they believed she was killed in Manchester in early December 2019.
Adam Montgomery was arrested in October 2022.