Former Maui official gets 10 years for taking $2M in bribes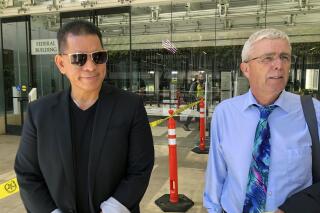 HONOLULU (AP) — A former Maui County official was sentenced Wednesday to 10 years in prison for accepting $2 million in bribes from a Honolulu businessman in one of the biggest bribery cases in Hawaii history.
Stewart Olani Stant, who was a wastewater manager and the director of Maui's Department of Environmental Management, was also ordered to pay $1.9 million in restitution, the Honolulu Star-Advertiser reported.
Stant, dressed in a black shirt and grey coat, apologized for his actions during a sentencing hearing at U.S. District Court in Honolulu.
"I regret what I did, and I am truly sorry for what happened," he said. "What has happened does not define who I am. I am not the person that did this, yet I will take all responsibility … and will make restitution for this for the rest of my life."
Stant pleaded guilty Sept. 19 to a single count of conspiracy to deprive the public of the right to honest services.
Prosecutors said businessman Milton Choy deposited money into bank accounts owned by Stant during a six-year period starting in 2012. They said Choy gave Stant gambling chips during trips to Las Vegas — and paid for Stant's Las Vegas airfare and hotel rooms.
In exchange, prosecutors said Stant directed at least 56 sole-source contracts worth $19.3 million to Choy and the wastewater company he owned, H2O Process Systems LLC.
U.S. District Court Judge Derrick K. Watson ordered Stant to report to prison on April 6 and indicated he would recommend that Stant be assigned to the Federal Correctional Institution in Sheridan, Oregon.
Choy is scheduled to be sentenced for his role in the scheme on May 17.
Assistant U.S. Attorney Ken Sorenson, chief of the Criminal Division at the U.S. attorney's office in Honolulu, called the case "the largest single known case of bribery prosecuted" in the district of Hawaii.
Last year, former state Senate Majority Leader J. Kalani English was sentenced to three years and four months in prison for taking bribes from Choy. Former state Rep. Ty Cullen, who served as vice chairperson of the House Finance Committee, is scheduled to be sentenced on April 6, also for taking bribes from Choy.