Lawyer defends North Carolina's transgender care exclusions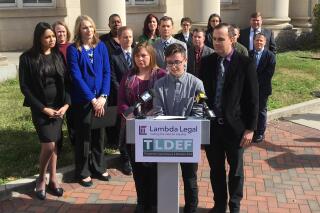 RALEIGH, N.C. (AP) — A lawyer representing the leaders of North Carolina's state employee health plan defended its exclusion of gender-affirming treatments on Wednesday before a federal appeals court, facing a barrage of criticisms from its chief judge.
State Treasurer Dale Folwell and the State Health Plan's executive administrator are seeking to overturn a trial court order demanding that the plan pay for "medically necessary services," including hormone therapy and some surgeries, for transgender employees and their children. The judge had ruled in favor of the employees and their dependents, who said in a 2019 lawsuit that they were denied coverage for gender-affirming care under the plan.
Attorney John Knepper told a three-judge panel of the 4th U.S. Circuit Court of Appeals in Richmond, Virginia, that the plan routinely excludes some medically necessary procedures based on cost, but does not make any of those determinations based on sex or gender.
"The plan is broke," Knepper said. "In this case, again, the State Health Plan provides full coverage for all health risks. There are just some health risks it doesn't cover."
Overseen by Folwell's office, the plan provides medical coverage for more than 750,000 teachers, state employees, retirees, lawmakers and their dependents. While it provides counseling for gender dysphoria and other diagnosed mental health conditions, it does not cover treatment "in connection with sex changes or modifications and related care."
Chief Circuit Judge Roger Gregory said the exclusions unnecessarily single out a protected class, despite Knepper's repeated assertions that gender identity is not a factor.
"Why pick on transgender dysphoria" to balance the books, asked Gregory, a recess appointment of President Bill Clinton who was later renominated to the court by President George W. Bush in 2001.
"The plan is picking on everybody," Knepper responded, noting that its third-party administrators are not informed of a person's gender identity or transgender status.
Also on the panel was Circuit Judge Albert Diaz, the choice of President Barack Obama, and Circuit Judge G. Steven Agee, who was nominated to the court by President George W. Bush. There's no indication of when they will rule.
Complying with a June federal court ruling that declared the refusal of coverage unconstitutional, Folwell and the State Health Plan Board of Trustees were required last July to reinstate coverage of trans health procedures, which the plan once provided for a single year in 2017.
U.S. District Judge Loretta Biggs had ruled that the plan unlawfully discriminated against transgender people, violating both the equal protection clause of the Constitution and Title VII of the Civil Rights Act on the basis of sex. Folwell called the ruling "legally incorrect" and appealed in August.
Asking the court to affirm the lower court ruling, Lambda Legal Senior Counsel Tara Borelli argued on behalf of state employees Wednesday that these exclusions are targeted discrimination. Lambda Legal and the Transgender Legal Defense & Education Fund had filed the original lawsuit on behalf of trans employees in March 2019.
Seventeen other states and Washington, D.C., all of which cover gender-affirming treatments under their state employee health plans, filed an amicus brief in support of North Carolina employees.
"What they're asking this court to do is to pick up its judicial pen and rescue this exclusion by rewriting it because the one they've adopted, and the one that they actually have to defend, is so indefensible," Borelli said. "It so plainly and clearly discriminates based on sex and transgender status."
___
Hannah Schoenbaum is a corps member for the Associated Press/Report for America Statehouse News Initiative. Report for America is a nonprofit national service program that places journalists in local newsrooms to report on undercovered issues.