What you need to know today about the virus outbreak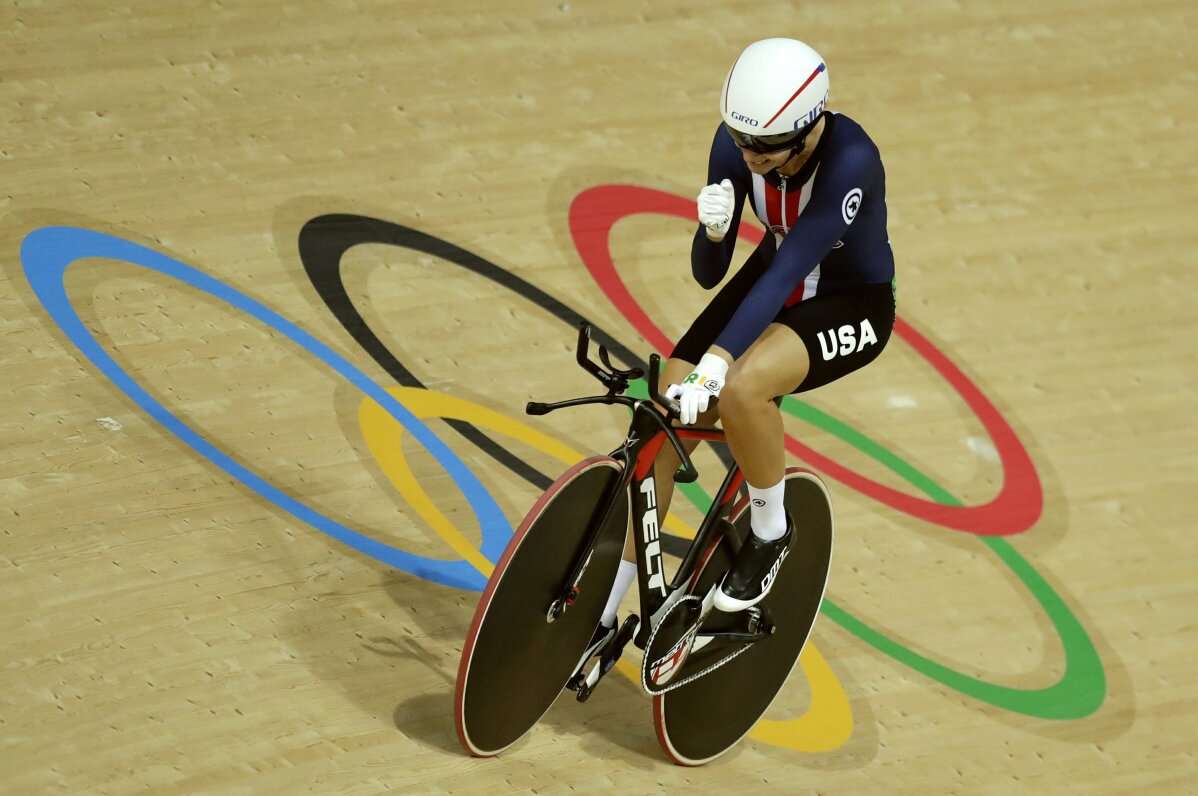 1 of 14

|
FILE - In this April 16, 2016, file photo, Sarah Hammer of the United States celebrates after the women's omnium cycling time trial at the Rio Olympic Velodrome during the 2016 Summer Olympics in Rio de Janeiro, Brazil. At least 70% of U.S. Olympic sports organizations have applied for government loans in the wake of the coronavirus pandemic, a chilling figure that underscores the frailties embedded within the world's most dominant Olympic sports system. (AP Photo/Pavel Golovkin, File)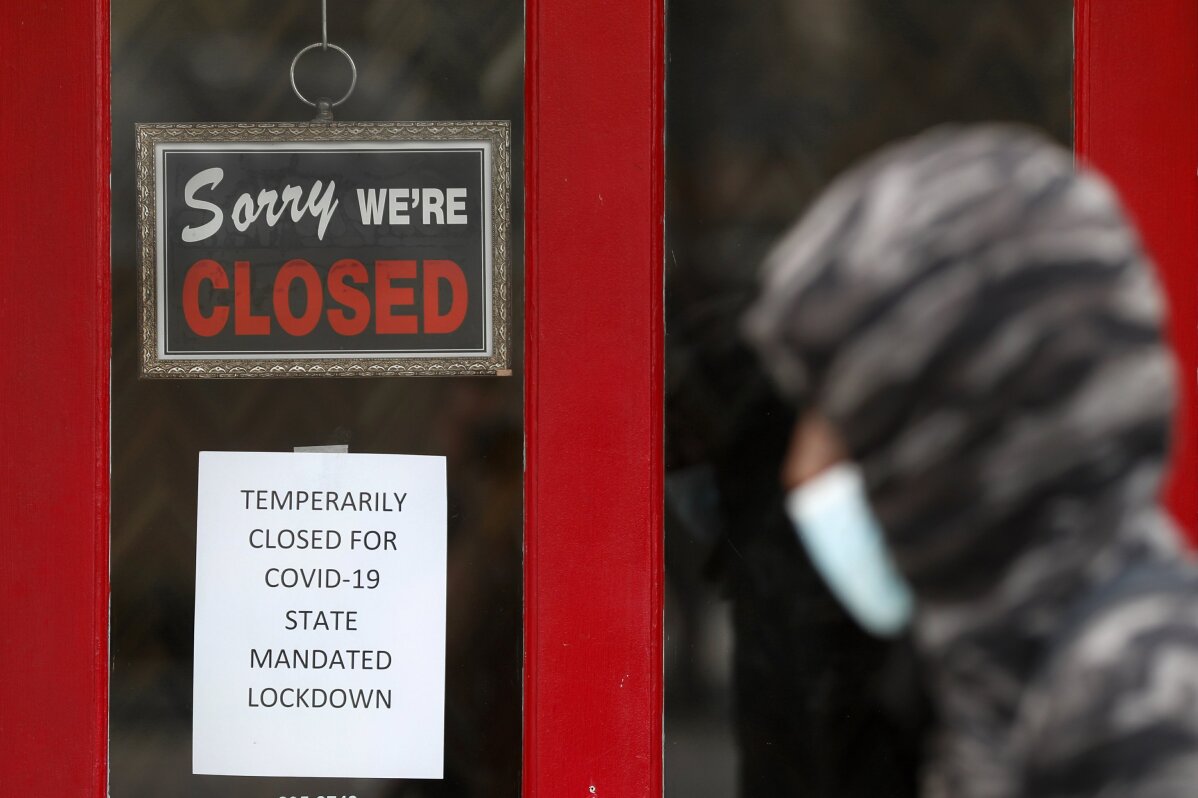 2 of 14

|
FILE - In this May 7, 2020, file photo, a pedestrian walks by The Framing Gallery, closed due to the COVID-19 pandemic, in Grosse Pointe, Mich. The U.S. unemployment rate hit 14.7% in April, the highest rate since the Great Depression, as 20.5 million jobs vanished in the worst monthly loss on record. The figures are stark evidence of the damage the coronavirus has done to a now-shattered economy. (AP Photo/Paul Sancya, File)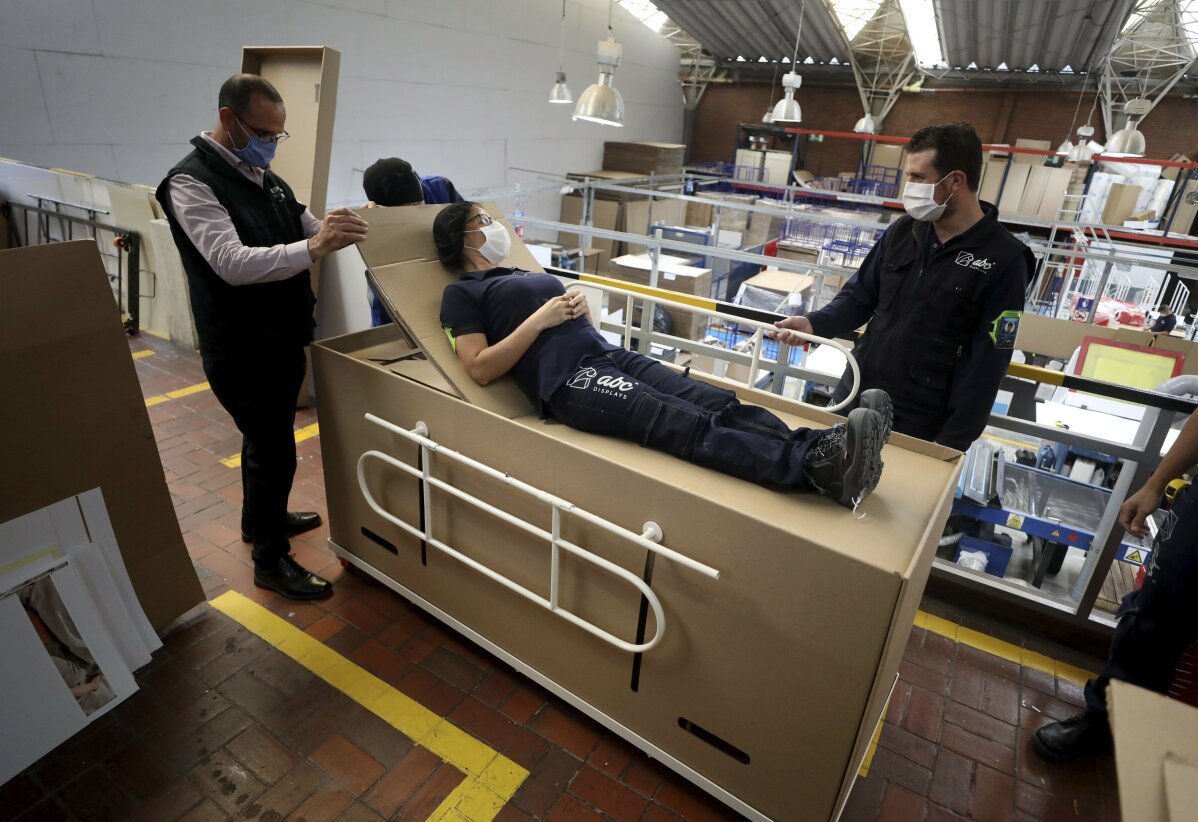 3 of 14

|
Rodolfo Gomez, left, and his employees demonstrate how their design of a cardboard box can serve as both a hospital bed and a coffin, designed for COVID-19 patients, in Bogota, Colombia, Friday, May 8, 2020. Gomez said he plans to donate the first units to Colombia's Amazonas state, and that he will sell others to small hospitals for 87 dollars. (AP Photo/Fernando Vergara)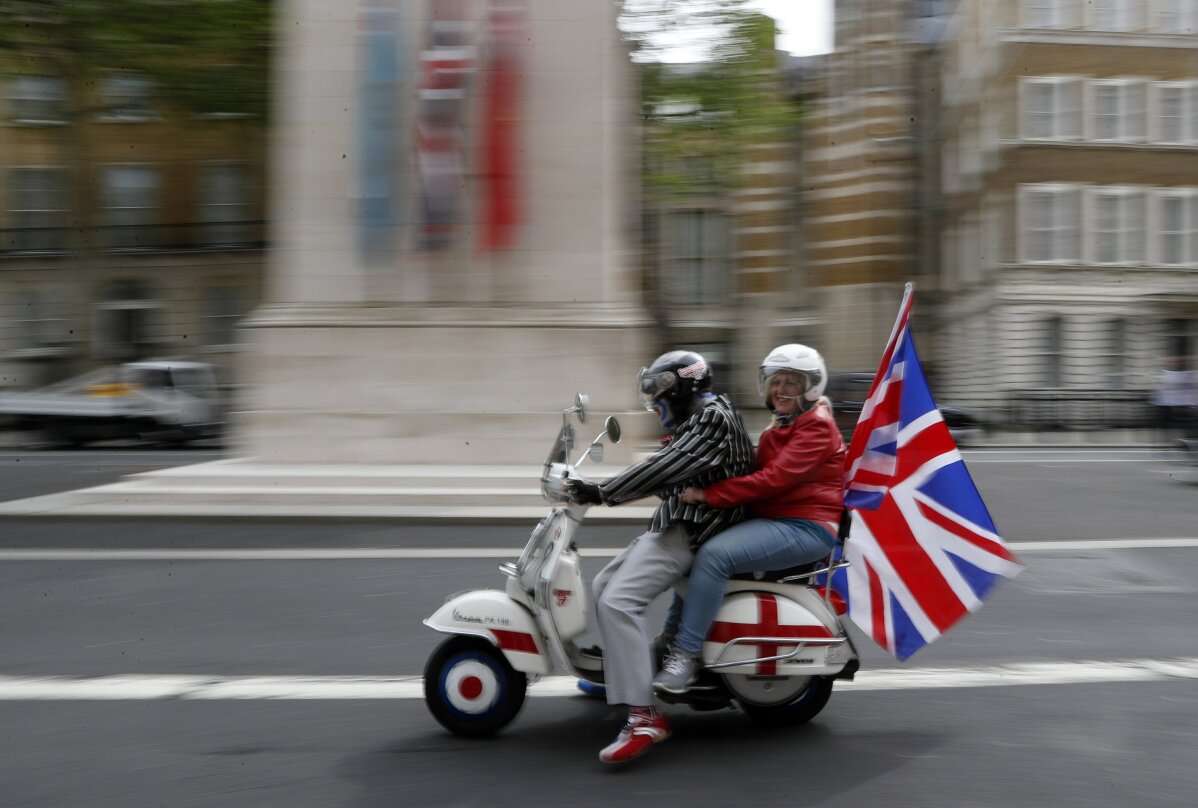 4 of 14

|
People on a Vespa adorned with a Union Flag ride past the Centotaph in Whitehall in London, Friday, May 8, 2020 on the 75th anniversary of the end of World War II in Europe. The 75th anniversary of the end of World War II in Europe should be all about parades, remembrances, and one last great hurrah for veteran soldiers who are mostly in their nineties. Instead, it is a time of coronavirus lockdown and loneliness spent in search of memories both bitter and sweet. (AP Photo/Frank Augstein)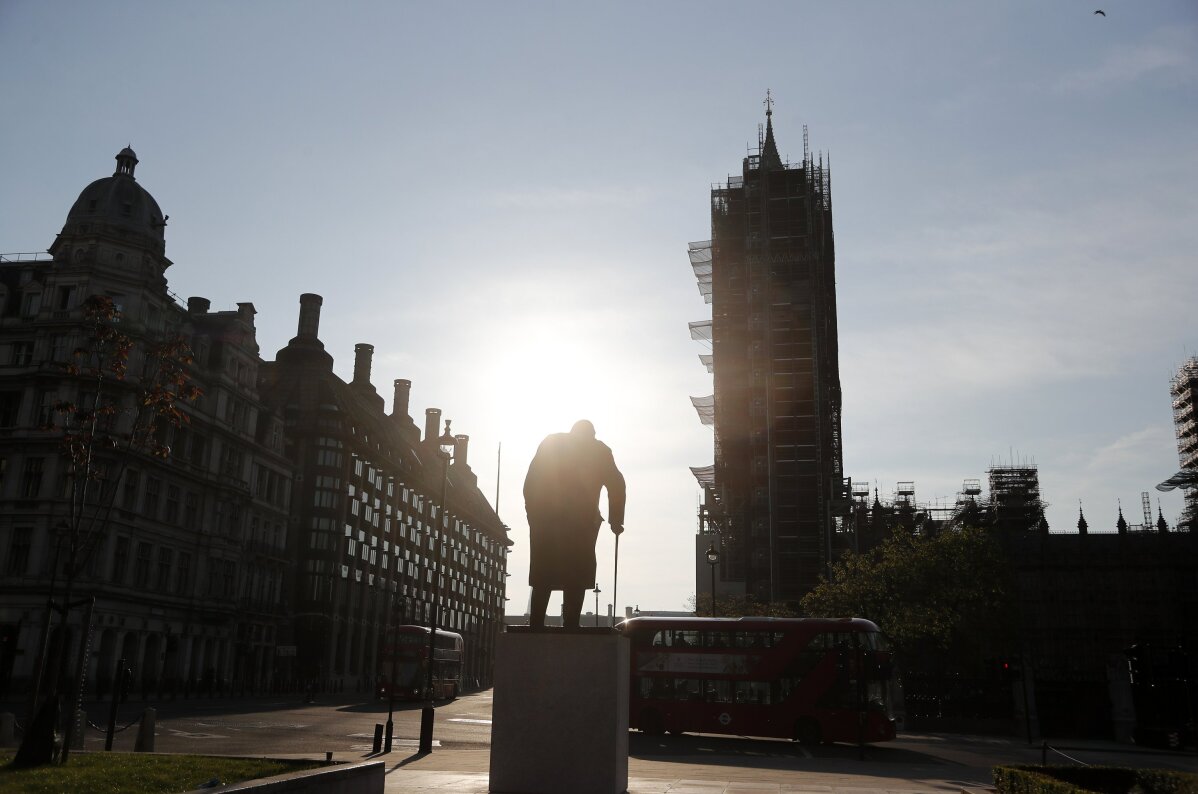 5 of 14

|
The statue of Britain's wartime Prime Minister Winston Churchill stands in an almost empty Parliament Square in London, Friday, May 8, 2020 on the 75th anniversary of the end of World War II in Europe. The 75th anniversary of the end of World War II in Europe should be all about parades, remembrances, and one last great hurrah for veteran soldiers who are mostly in their nineties. Instead, it is a time of coronavirus lockdown and loneliness spent in search of memories both bitter and sweet. (AP Photo/Frank Augstein)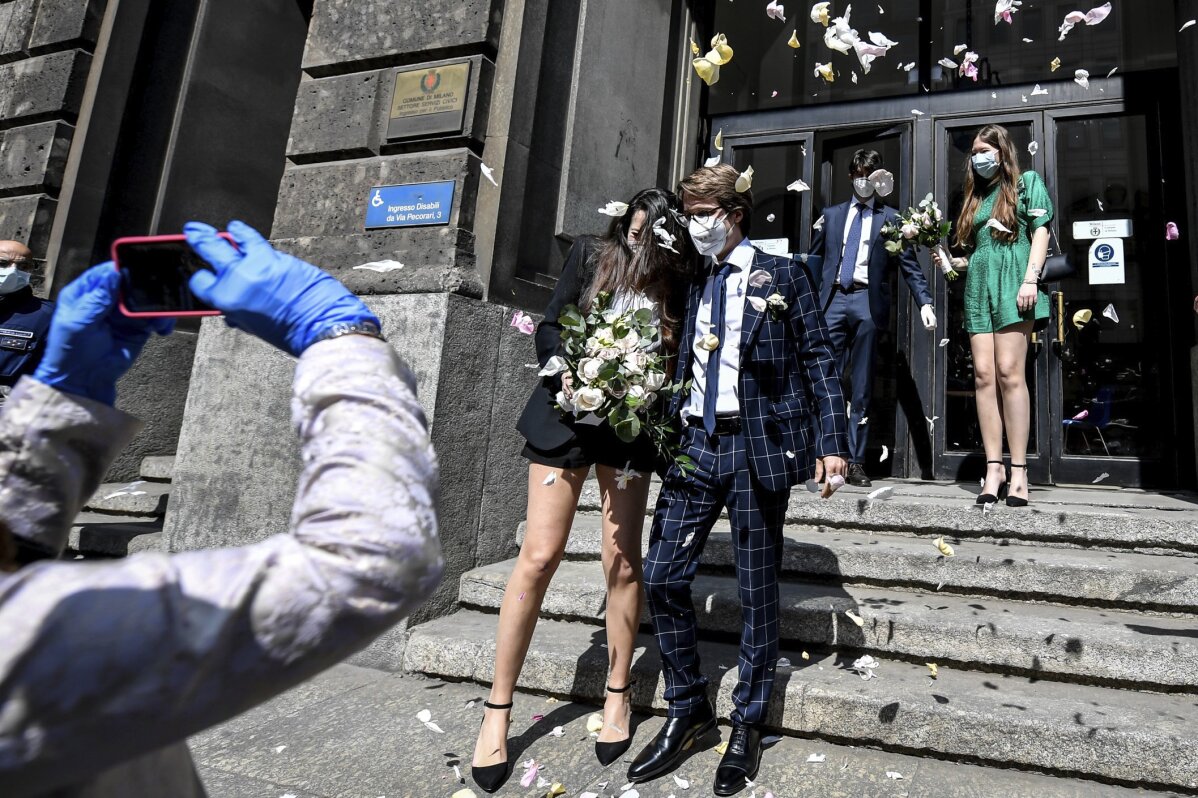 6 of 14

|
A just married couple is celebrated by friends as they leave the registry offices after the civil ceremony in Milan, Italy, Friday, May 8, 2020. The municipality of Milan restarted celebrating civil marriages Thursday, as the city is slowly returning to life after the long shutdown due to the coronavirus outbreak. Access to the ceremony is only allowed for best men. (Claudio Furlan/LaPresse via AP)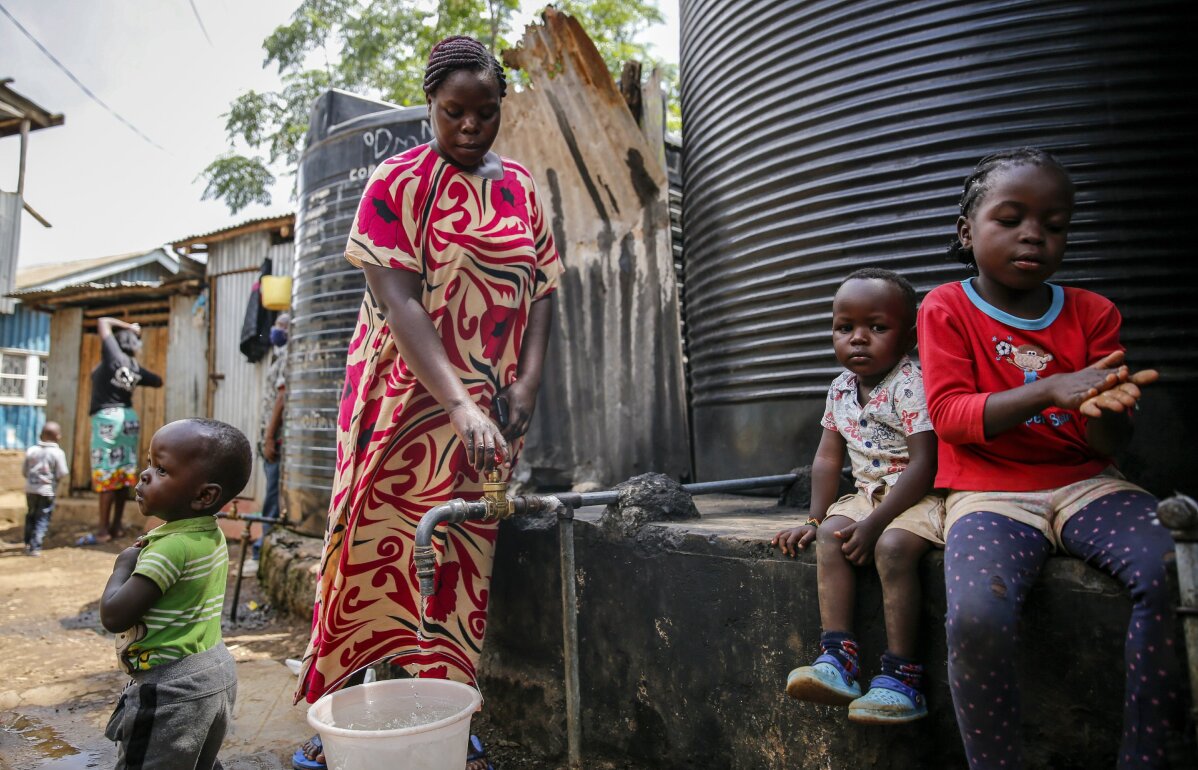 7 of 14

|
In this April 10, 2020, photo, Judith Andeka a widow and mother of five, fetches water with a bucket in the Kibera slum, or informal settlement, of Nairobi, Kenya. Andeka used to earn $2.50 to $4 a day washing clothes in Nairobi's Kibera, one of the world's biggest slums. With people not going to work because of restrictions on movement, neighbors can't afford her services. (AP Photo/Brian Inganga)
8 of 14

|
World War II veterans salute as Taps is played during a ceremony at the World War II Memorial to commemorate the 75th anniversary of Victory in Europe Day with President Donald Trump and first lady Melania Trump, Friday, May 8, 2020, in Washington. (AP Photo/Evan Vucci)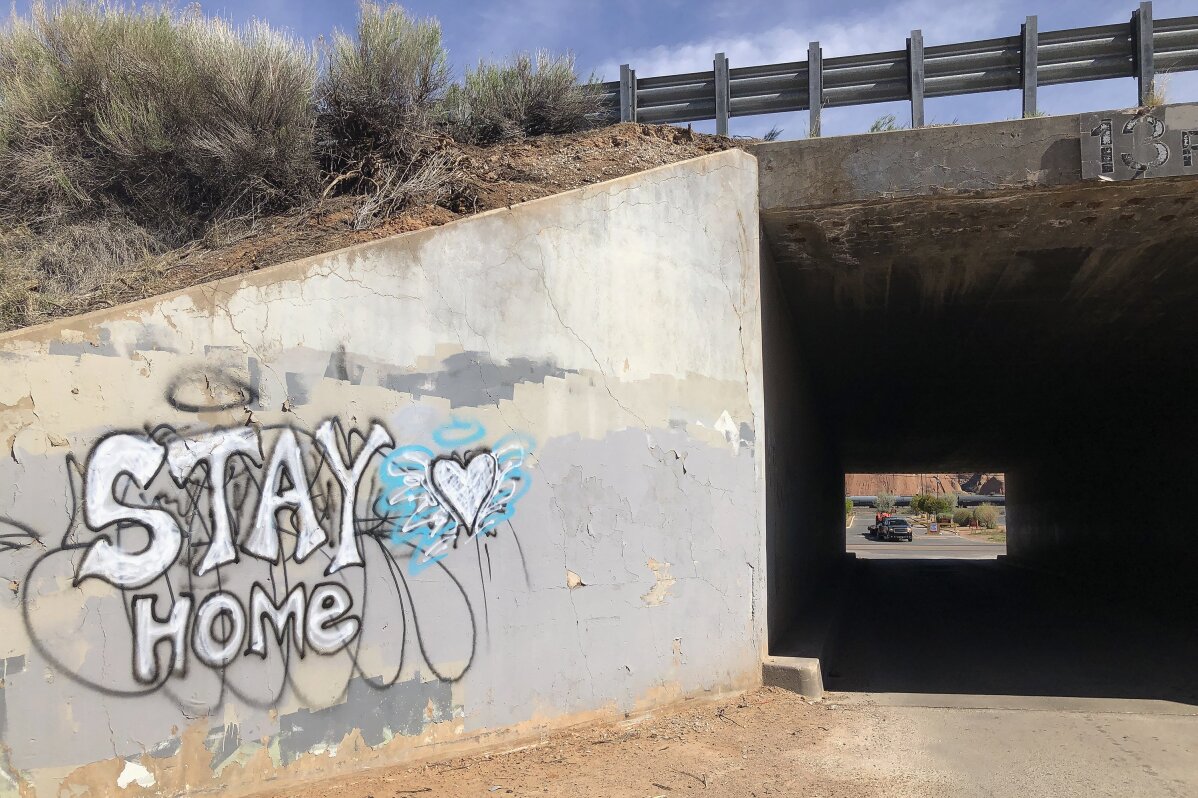 9 of 14

|
Graffiti urging people to stay home amid the coronavirus outbreak in the region is shown on a wall in Gallup, N.M., Thursday, May 7, 2020. The original lockdown came as a suprise to many Navajo Nation residents who depend on Gallup for supplies they can't access. New Mexico Gov. Michelle Lujan Grisham renewed the lockdown order amid concerns about the rapid transmission of COVID-19 in the area. Gallup and surrounding McKinley County are one of the worst rural hot spots for coronavirus infections in the U.S. (AP Photo/Morgan Lee)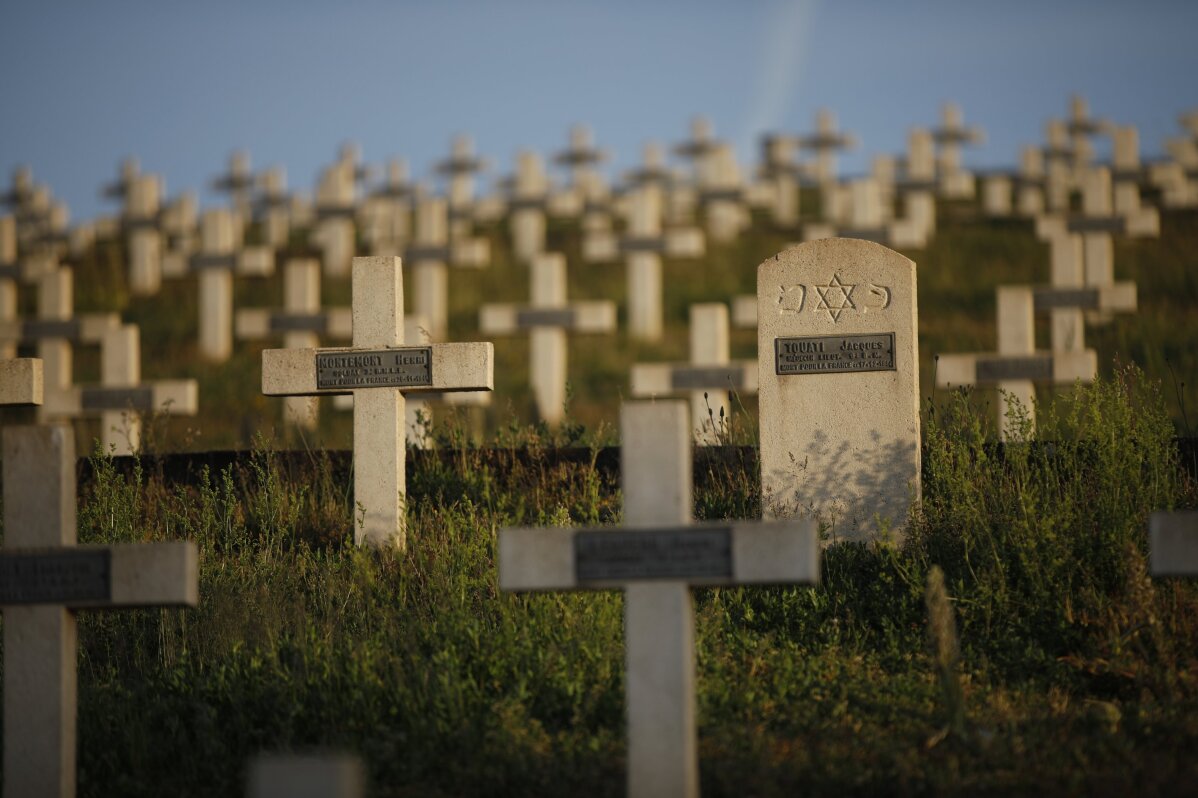 10 of 14

|
Graves of French soldiers killed during World War II are picture at the military cemetery in Sigolsheim , eastern France, Friday May 8, 2020. Ceremonies to commemorate the 75th anniversary of Victory in Europe Day, the formal end of World War II in Europe, happen in a time of lockdown and loneliness. (AP Photo/Jean-Francois Badias)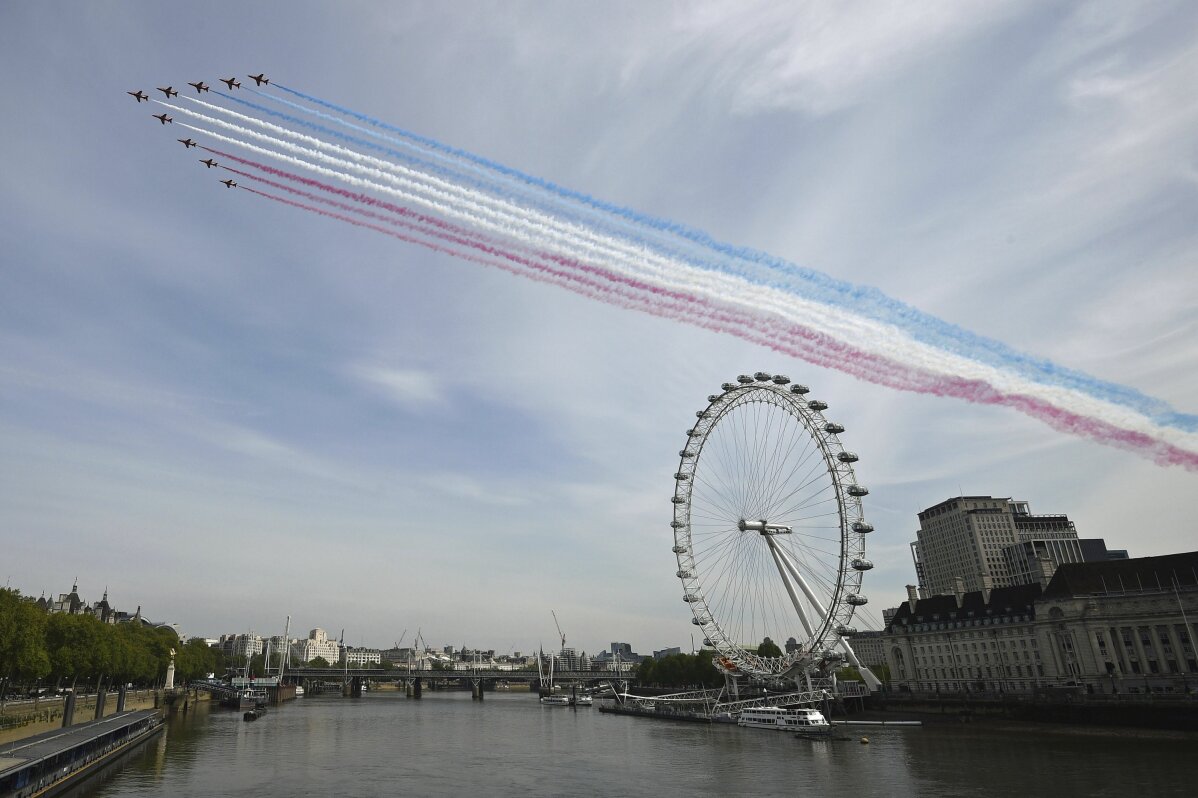 11 of 14

|
The Red Arrows, officially known as the Royal Air Force Aerobatic Team flies over the London Eye in London on Friday, May 8, 2020 on the 75th anniversary of the end of World War II in Europe. The 75th anniversary of the end of World War II in Europe should be all about parades, remembrances, and one last great hurrah for veteran soldiers who are mostly in their nineties. Instead, it is a time of coronavirus lockdown and loneliness spent in search of memories both bitter and sweet. (Marc Ward/PA via AP)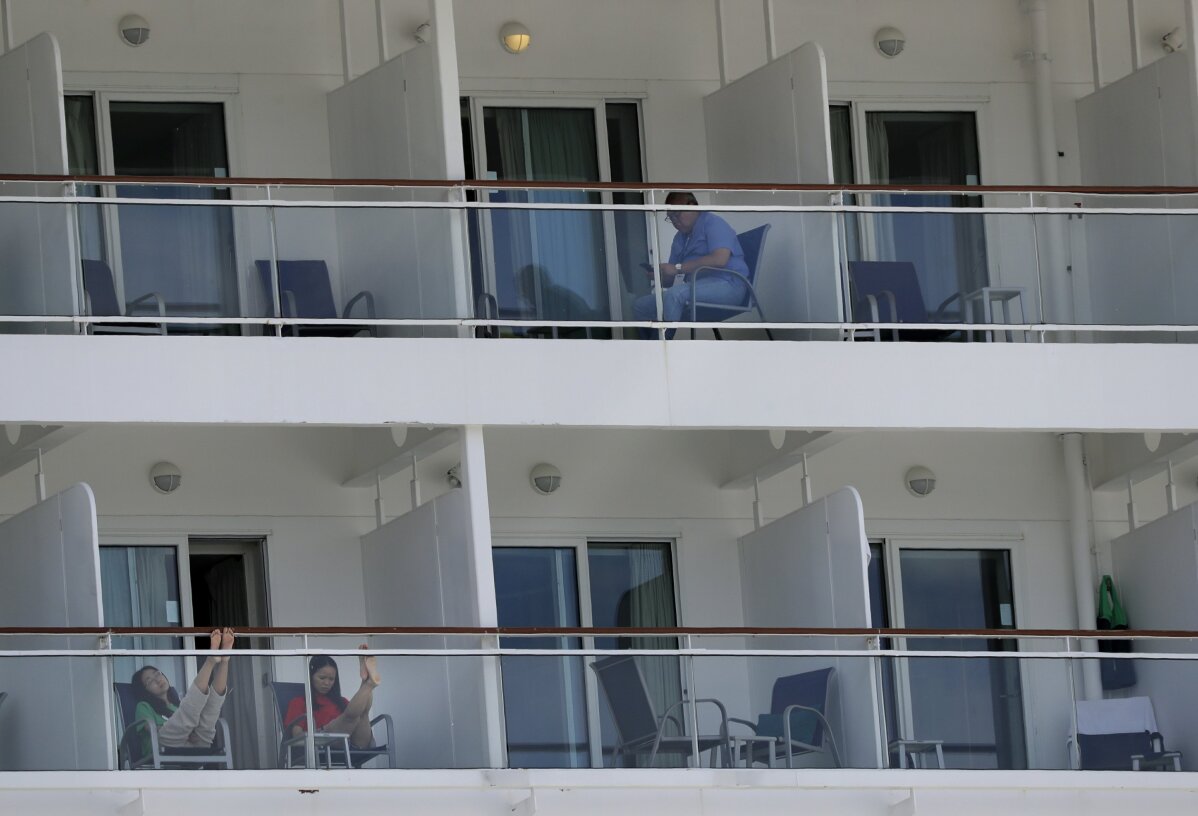 12 of 14

|
In this May 8, 2020 photo, people aboard the Norwegian Epic cruise ship docked at PortMiami in Miami, sit on their balconies. Tens of thousands of crew members, including U.S. citizens, remain confined to cabins aboard cruise ships, weeks after governments and companies negotiated disembarkation for passengers in the midst of the coronavirus pandemic. Most crew members are stuck in ships with no confirmed cases but are rejected by governments because of new rules to avoid importing more virus cases. (AP Photo/Wilfredo Lee)
13 of 14

|
In this April 28, 2020 photo provided by Melinda Mann, she shows the empty deck on board the Koningsdam, a Holland America cruise ship off the coast of Ensenada, Mexico. Mann, a youth program manager for the cruise line, has been stuck on board for 50 days as the CDC and the cruise ship companies negotiate terms to disembark crew and passengers in the midst of the coronavirus pandemic. (Melinda Mann via AP)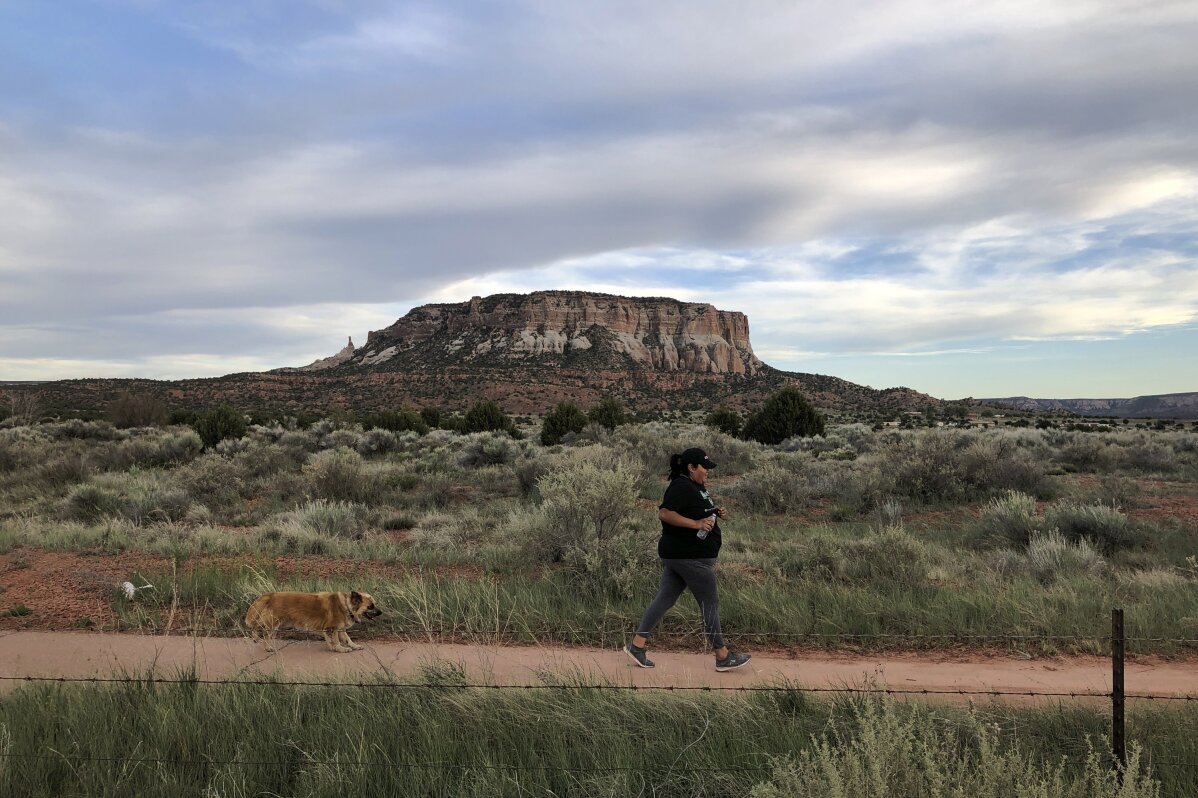 14 of 14

|
Krita Stead jogs past an iconic mesa as an evening coronavirus curfew approaches at Zuni Pueblo, N.M., Thursday, May 7, 2020. Pueblo leaders have been supportive of a lockdown order in nearby Gallup with police roadblocks by New Mexico Gov. Michelle Lujan Grisham, in efforts to stem the rapid transmission of COVID-19 in the area. Gallup and surrounding McKinley County are one of the worst rural hot spots for the coronavirus infections in the U.S. (AP Photo/Morgan Lee)
What you need to know today about the virus outbreak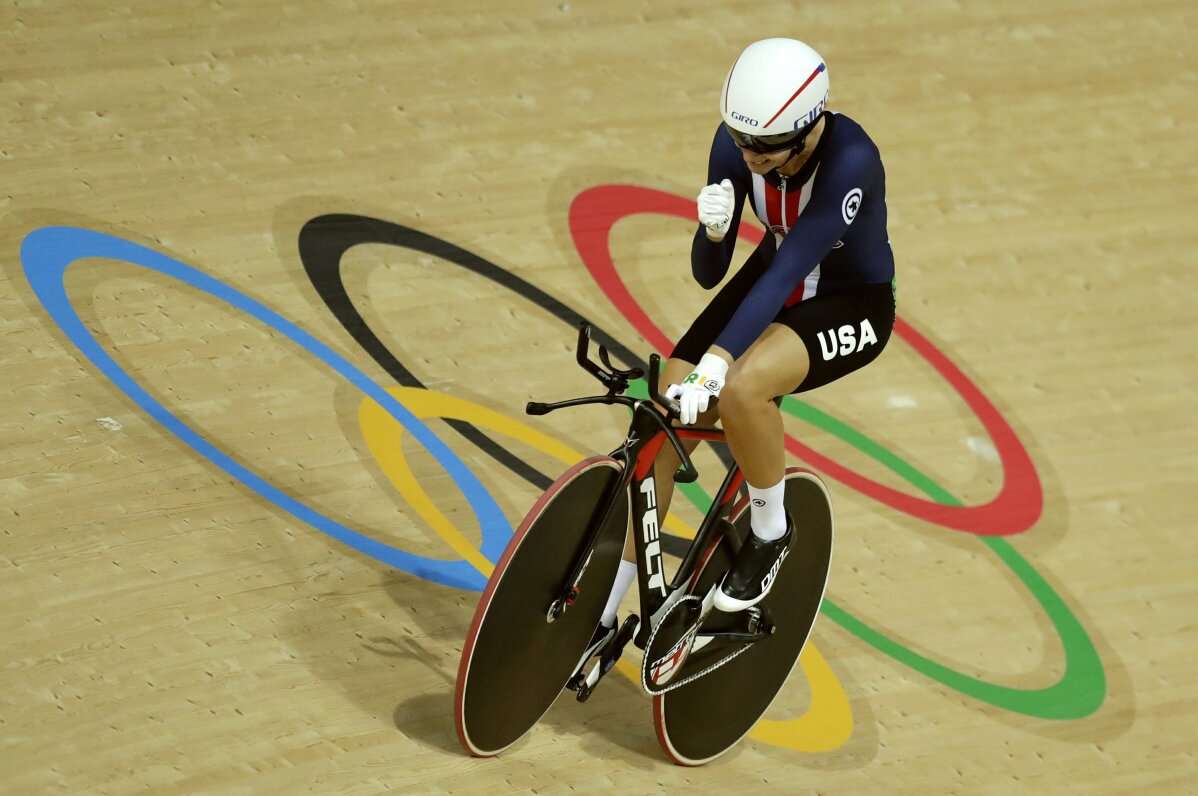 1 of 14

|
FILE - In this April 16, 2016, file photo, Sarah Hammer of the United States celebrates after the women's omnium cycling time trial at the Rio Olympic Velodrome during the 2016 Summer Olympics in Rio de Janeiro, Brazil. At least 70% of U.S. Olympic sports organizations have applied for government loans in the wake of the coronavirus pandemic, a chilling figure that underscores the frailties embedded within the world's most dominant Olympic sports system. (AP Photo/Pavel Golovkin, File)
1 of 14
FILE - In this April 16, 2016, file photo, Sarah Hammer of the United States celebrates after the women's omnium cycling time trial at the Rio Olympic Velodrome during the 2016 Summer Olympics in Rio de Janeiro, Brazil. At least 70% of U.S. Olympic sports organizations have applied for government loans in the wake of the coronavirus pandemic, a chilling figure that underscores the frailties embedded within the world's most dominant Olympic sports system. (AP Photo/Pavel Golovkin, File)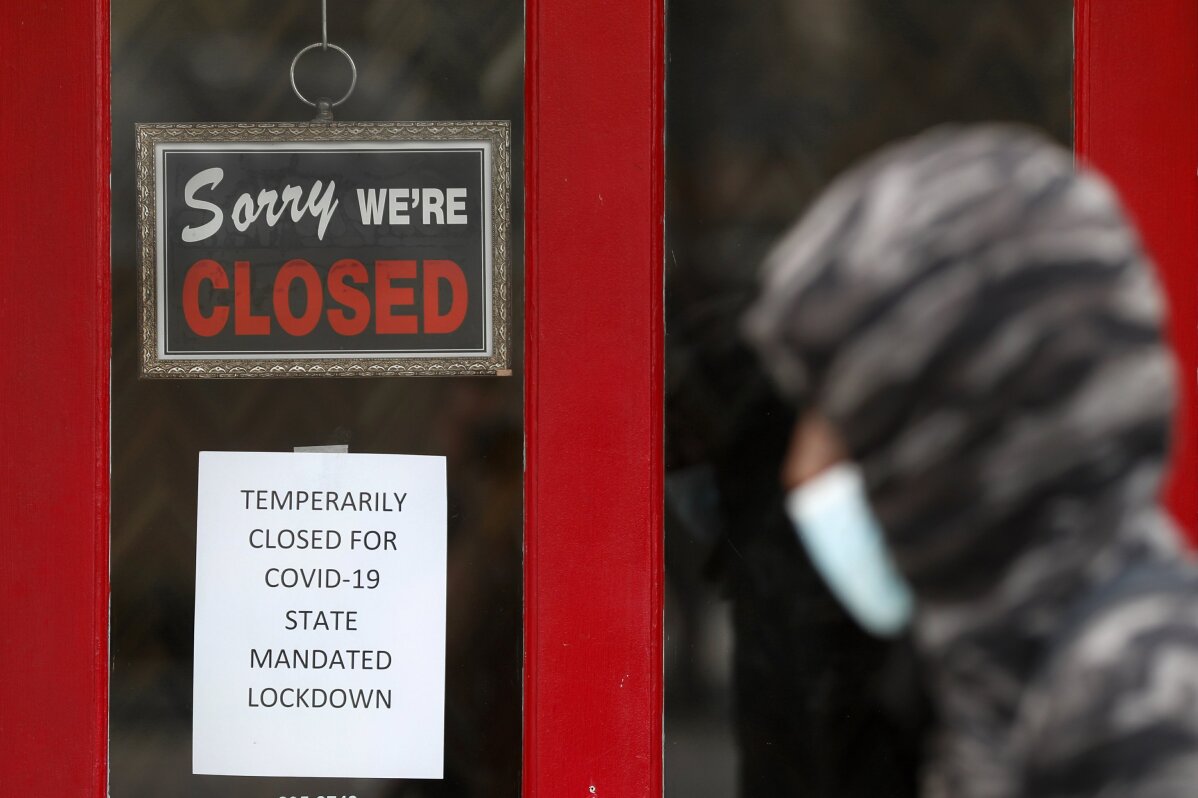 2 of 14

|
FILE - In this May 7, 2020, file photo, a pedestrian walks by The Framing Gallery, closed due to the COVID-19 pandemic, in Grosse Pointe, Mich. The U.S. unemployment rate hit 14.7% in April, the highest rate since the Great Depression, as 20.5 million jobs vanished in the worst monthly loss on record. The figures are stark evidence of the damage the coronavirus has done to a now-shattered economy. (AP Photo/Paul Sancya, File)
2 of 14
FILE - In this May 7, 2020, file photo, a pedestrian walks by The Framing Gallery, closed due to the COVID-19 pandemic, in Grosse Pointe, Mich. The U.S. unemployment rate hit 14.7% in April, the highest rate since the Great Depression, as 20.5 million jobs vanished in the worst monthly loss on record. The figures are stark evidence of the damage the coronavirus has done to a now-shattered economy. (AP Photo/Paul Sancya, File)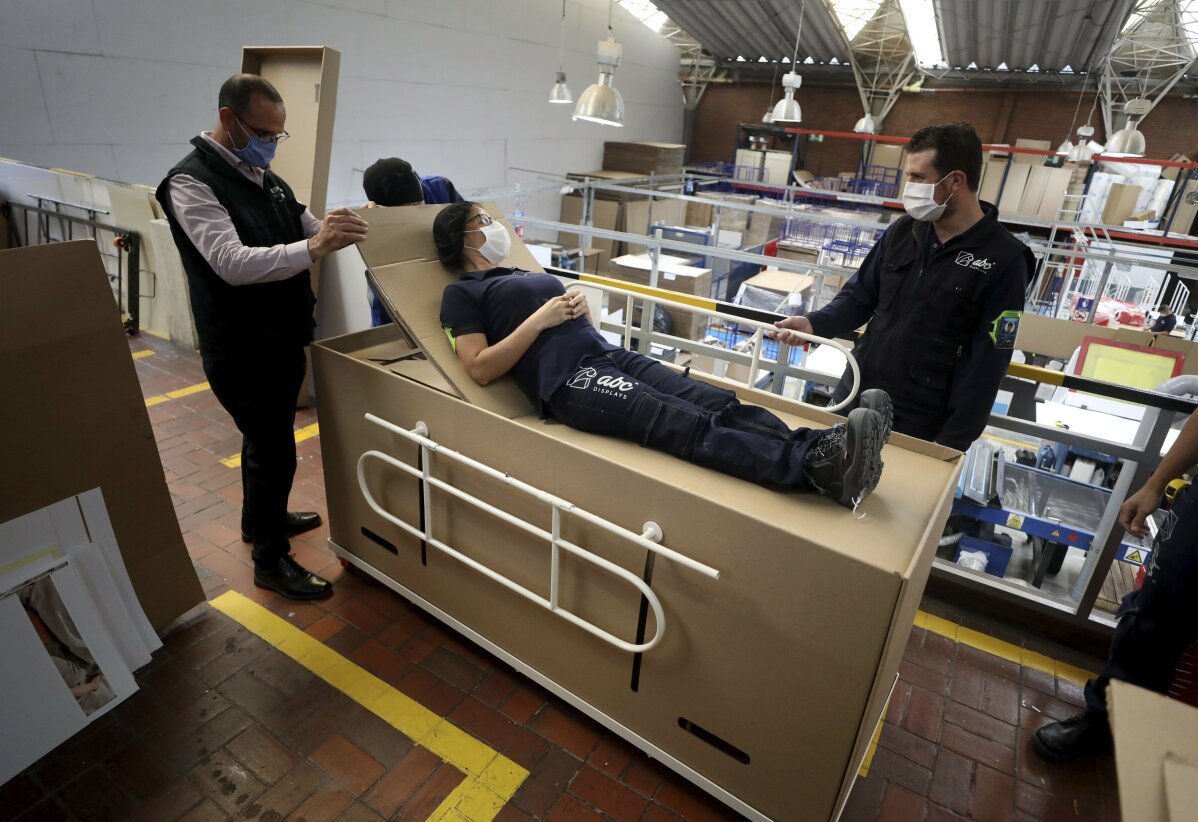 3 of 14

|
Rodolfo Gomez, left, and his employees demonstrate how their design of a cardboard box can serve as both a hospital bed and a coffin, designed for COVID-19 patients, in Bogota, Colombia, Friday, May 8, 2020. Gomez said he plans to donate the first units to Colombia's Amazonas state, and that he will sell others to small hospitals for 87 dollars. (AP Photo/Fernando Vergara)
3 of 14
Rodolfo Gomez, left, and his employees demonstrate how their design of a cardboard box can serve as both a hospital bed and a coffin, designed for COVID-19 patients, in Bogota, Colombia, Friday, May 8, 2020. Gomez said he plans to donate the first units to Colombia's Amazonas state, and that he will sell others to small hospitals for 87 dollars. (AP Photo/Fernando Vergara)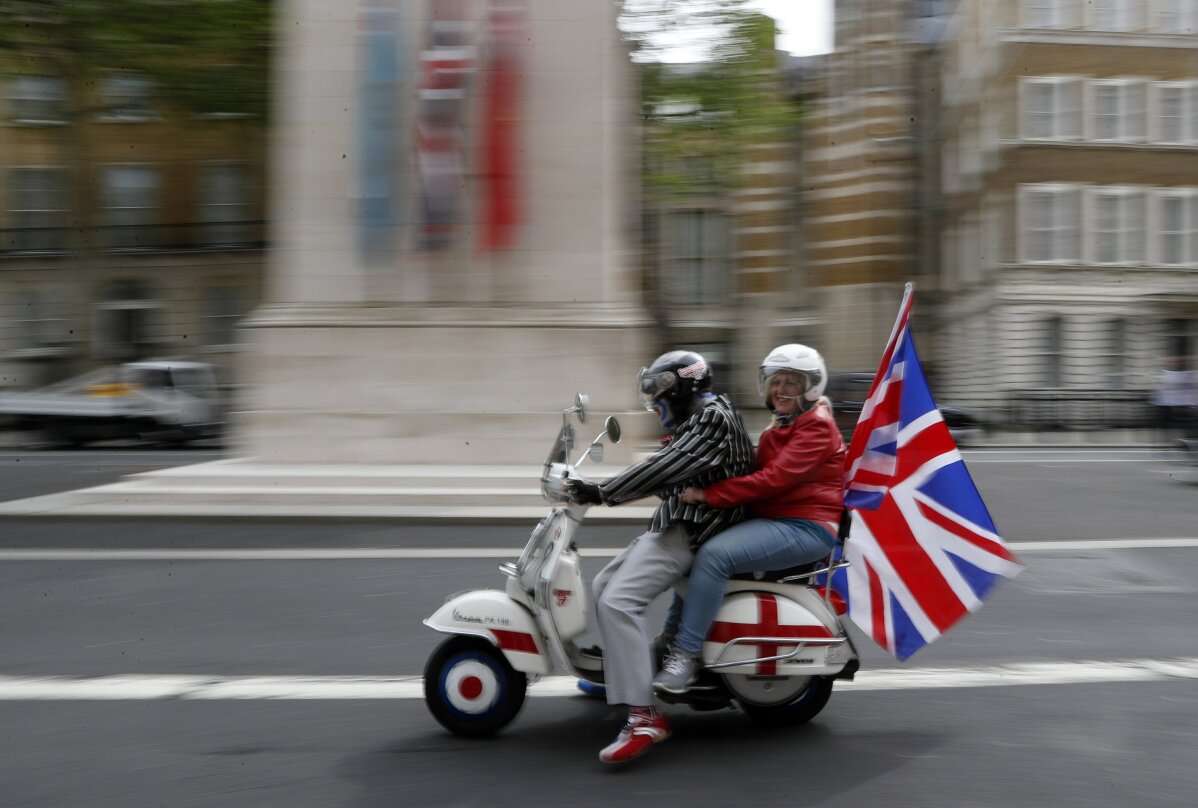 4 of 14

|
People on a Vespa adorned with a Union Flag ride past the Centotaph in Whitehall in London, Friday, May 8, 2020 on the 75th anniversary of the end of World War II in Europe. The 75th anniversary of the end of World War II in Europe should be all about parades, remembrances, and one last great hurrah for veteran soldiers who are mostly in their nineties. Instead, it is a time of coronavirus lockdown and loneliness spent in search of memories both bitter and sweet. (AP Photo/Frank Augstein)
4 of 14
People on a Vespa adorned with a Union Flag ride past the Centotaph in Whitehall in London, Friday, May 8, 2020 on the 75th anniversary of the end of World War II in Europe. The 75th anniversary of the end of World War II in Europe should be all about parades, remembrances, and one last great hurrah for veteran soldiers who are mostly in their nineties. Instead, it is a time of coronavirus lockdown and loneliness spent in search of memories both bitter and sweet. (AP Photo/Frank Augstein)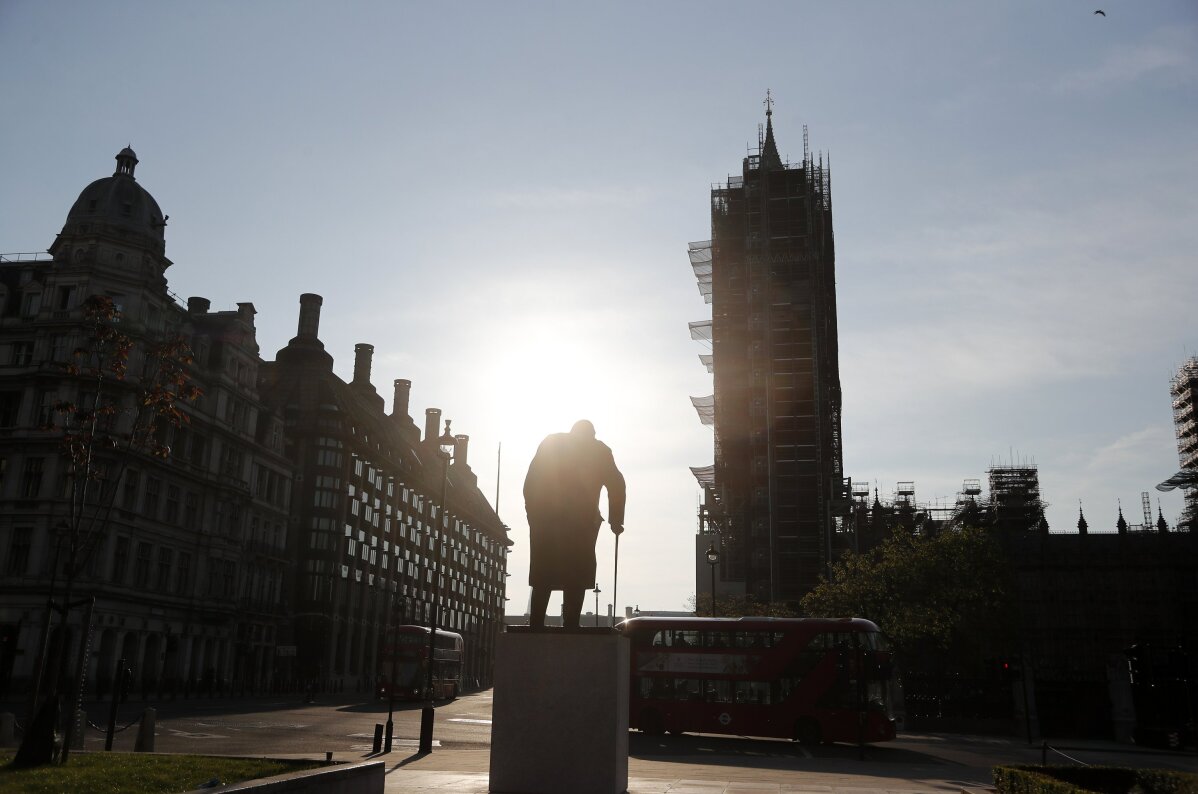 5 of 14

|
The statue of Britain's wartime Prime Minister Winston Churchill stands in an almost empty Parliament Square in London, Friday, May 8, 2020 on the 75th anniversary of the end of World War II in Europe. The 75th anniversary of the end of World War II in Europe should be all about parades, remembrances, and one last great hurrah for veteran soldiers who are mostly in their nineties. Instead, it is a time of coronavirus lockdown and loneliness spent in search of memories both bitter and sweet. (AP Photo/Frank Augstein)
5 of 14
The statue of Britain's wartime Prime Minister Winston Churchill stands in an almost empty Parliament Square in London, Friday, May 8, 2020 on the 75th anniversary of the end of World War II in Europe. The 75th anniversary of the end of World War II in Europe should be all about parades, remembrances, and one last great hurrah for veteran soldiers who are mostly in their nineties. Instead, it is a time of coronavirus lockdown and loneliness spent in search of memories both bitter and sweet. (AP Photo/Frank Augstein)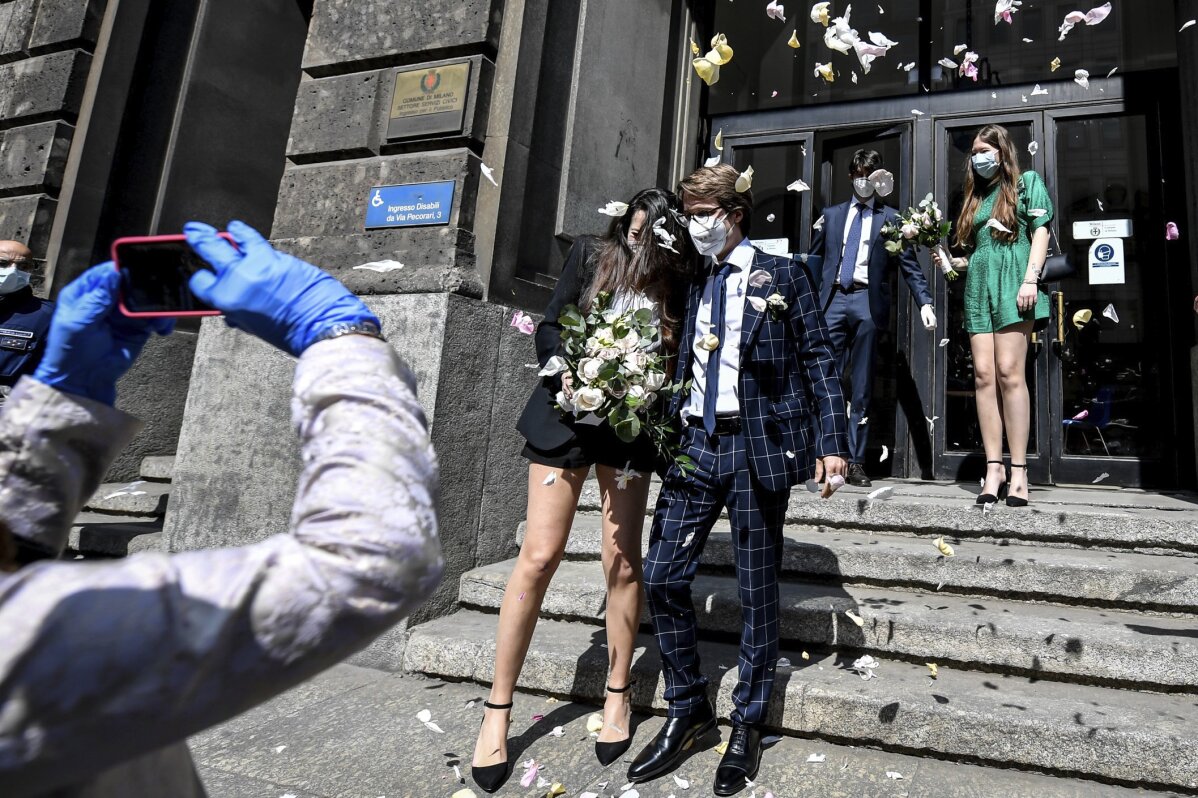 6 of 14

|
A just married couple is celebrated by friends as they leave the registry offices after the civil ceremony in Milan, Italy, Friday, May 8, 2020. The municipality of Milan restarted celebrating civil marriages Thursday, as the city is slowly returning to life after the long shutdown due to the coronavirus outbreak. Access to the ceremony is only allowed for best men. (Claudio Furlan/LaPresse via AP)
6 of 14
A just married couple is celebrated by friends as they leave the registry offices after the civil ceremony in Milan, Italy, Friday, May 8, 2020. The municipality of Milan restarted celebrating civil marriages Thursday, as the city is slowly returning to life after the long shutdown due to the coronavirus outbreak. Access to the ceremony is only allowed for best men. (Claudio Furlan/LaPresse via AP)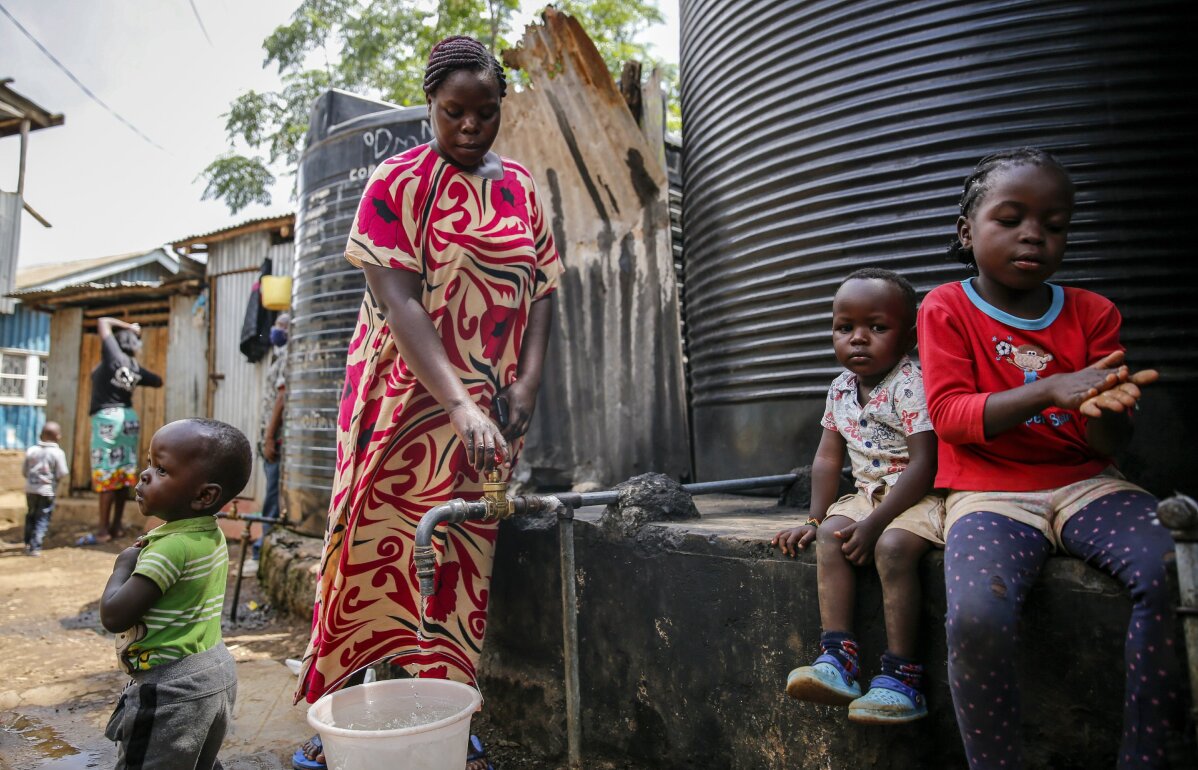 7 of 14

|
In this April 10, 2020, photo, Judith Andeka a widow and mother of five, fetches water with a bucket in the Kibera slum, or informal settlement, of Nairobi, Kenya. Andeka used to earn $2.50 to $4 a day washing clothes in Nairobi's Kibera, one of the world's biggest slums. With people not going to work because of restrictions on movement, neighbors can't afford her services. (AP Photo/Brian Inganga)
7 of 14
In this April 10, 2020, photo, Judith Andeka a widow and mother of five, fetches water with a bucket in the Kibera slum, or informal settlement, of Nairobi, Kenya. Andeka used to earn $2.50 to $4 a day washing clothes in Nairobi's Kibera, one of the world's biggest slums. With people not going to work because of restrictions on movement, neighbors can't afford her services. (AP Photo/Brian Inganga)
8 of 14

|
World War II veterans salute as Taps is played during a ceremony at the World War II Memorial to commemorate the 75th anniversary of Victory in Europe Day with President Donald Trump and first lady Melania Trump, Friday, May 8, 2020, in Washington. (AP Photo/Evan Vucci)
8 of 14
World War II veterans salute as Taps is played during a ceremony at the World War II Memorial to commemorate the 75th anniversary of Victory in Europe Day with President Donald Trump and first lady Melania Trump, Friday, May 8, 2020, in Washington. (AP Photo/Evan Vucci)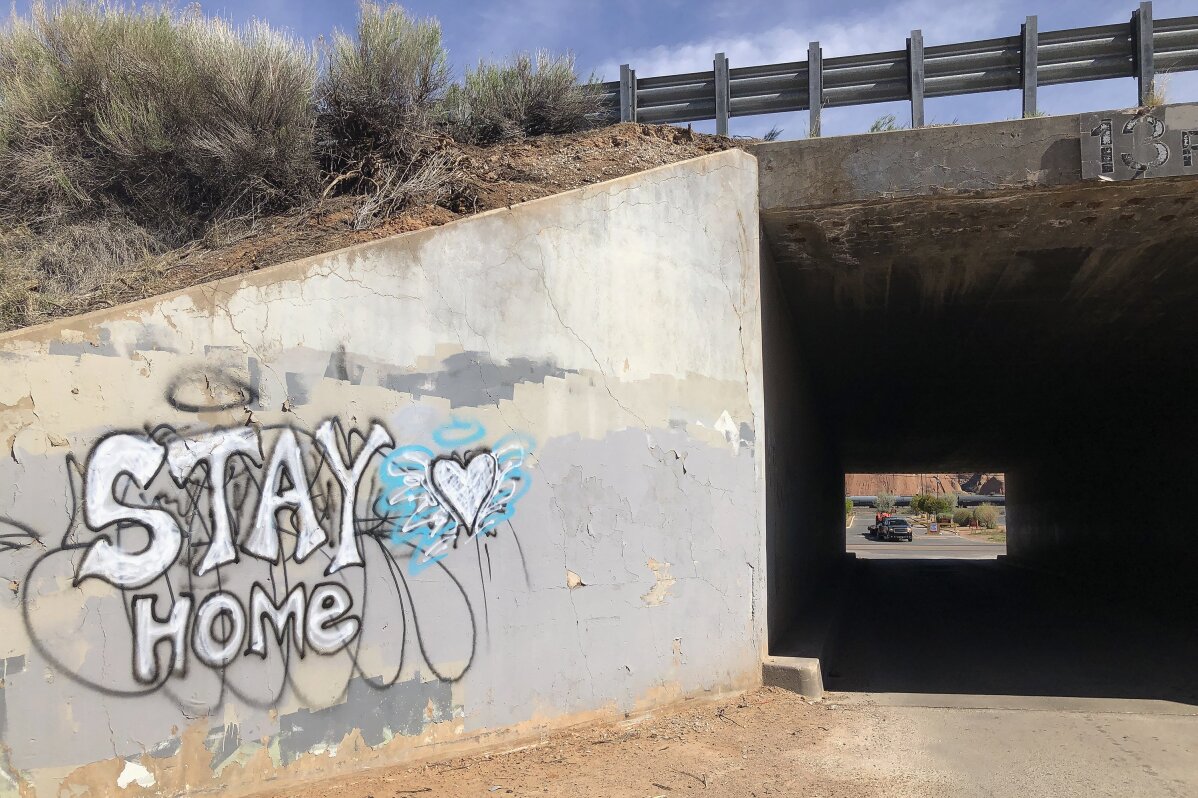 9 of 14

|
Graffiti urging people to stay home amid the coronavirus outbreak in the region is shown on a wall in Gallup, N.M., Thursday, May 7, 2020. The original lockdown came as a suprise to many Navajo Nation residents who depend on Gallup for supplies they can't access. New Mexico Gov. Michelle Lujan Grisham renewed the lockdown order amid concerns about the rapid transmission of COVID-19 in the area. Gallup and surrounding McKinley County are one of the worst rural hot spots for coronavirus infections in the U.S. (AP Photo/Morgan Lee)
9 of 14
Graffiti urging people to stay home amid the coronavirus outbreak in the region is shown on a wall in Gallup, N.M., Thursday, May 7, 2020. The original lockdown came as a suprise to many Navajo Nation residents who depend on Gallup for supplies they can't access. New Mexico Gov. Michelle Lujan Grisham renewed the lockdown order amid concerns about the rapid transmission of COVID-19 in the area. Gallup and surrounding McKinley County are one of the worst rural hot spots for coronavirus infections in the U.S. (AP Photo/Morgan Lee)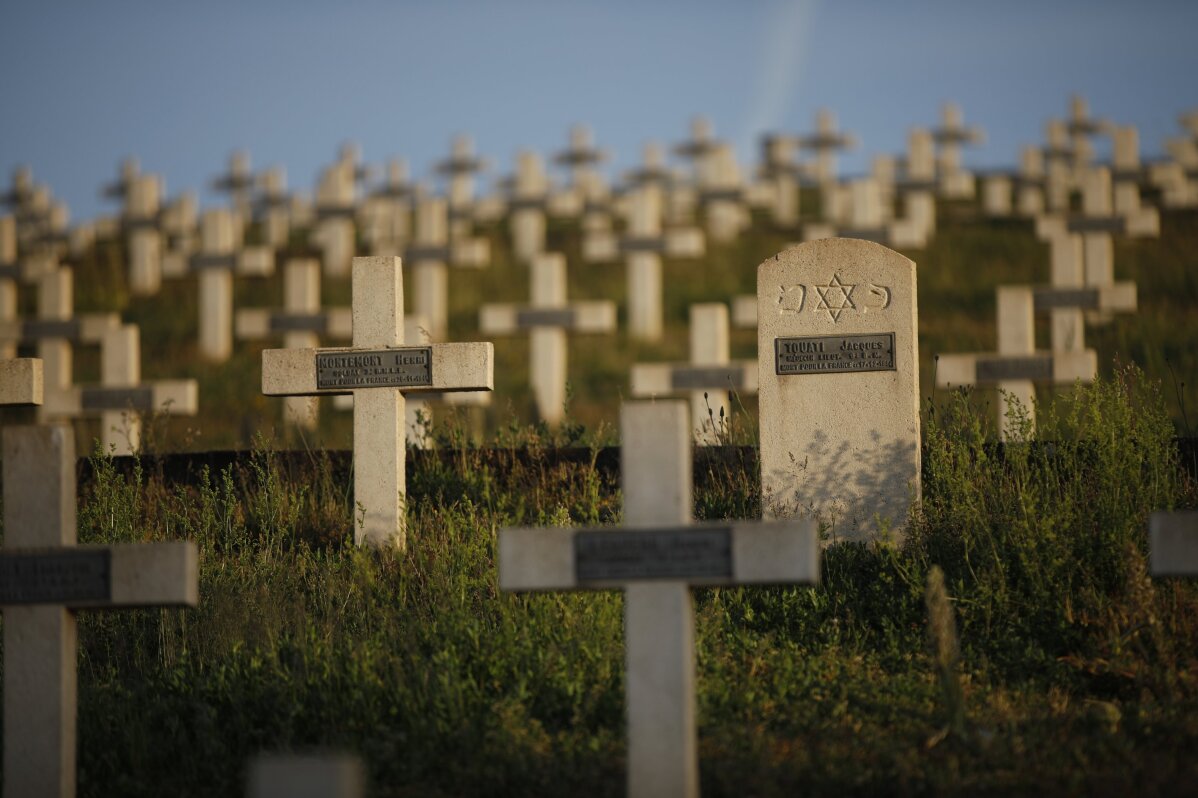 10 of 14

|
Graves of French soldiers killed during World War II are picture at the military cemetery in Sigolsheim , eastern France, Friday May 8, 2020. Ceremonies to commemorate the 75th anniversary of Victory in Europe Day, the formal end of World War II in Europe, happen in a time of lockdown and loneliness. (AP Photo/Jean-Francois Badias)
10 of 14
Graves of French soldiers killed during World War II are picture at the military cemetery in Sigolsheim , eastern France, Friday May 8, 2020. Ceremonies to commemorate the 75th anniversary of Victory in Europe Day, the formal end of World War II in Europe, happen in a time of lockdown and loneliness. (AP Photo/Jean-Francois Badias)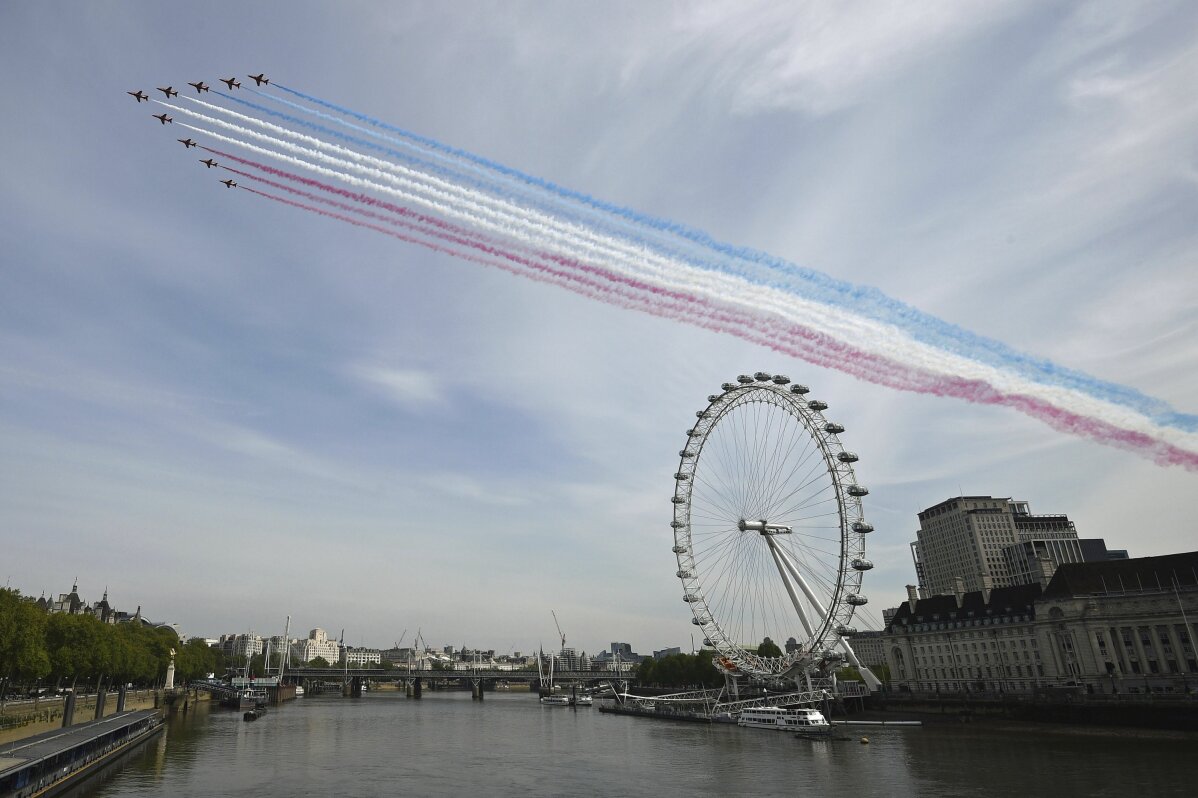 11 of 14

|
The Red Arrows, officially known as the Royal Air Force Aerobatic Team flies over the London Eye in London on Friday, May 8, 2020 on the 75th anniversary of the end of World War II in Europe. The 75th anniversary of the end of World War II in Europe should be all about parades, remembrances, and one last great hurrah for veteran soldiers who are mostly in their nineties. Instead, it is a time of coronavirus lockdown and loneliness spent in search of memories both bitter and sweet. (Marc Ward/PA via AP)
11 of 14
The Red Arrows, officially known as the Royal Air Force Aerobatic Team flies over the London Eye in London on Friday, May 8, 2020 on the 75th anniversary of the end of World War II in Europe. The 75th anniversary of the end of World War II in Europe should be all about parades, remembrances, and one last great hurrah for veteran soldiers who are mostly in their nineties. Instead, it is a time of coronavirus lockdown and loneliness spent in search of memories both bitter and sweet. (Marc Ward/PA via AP)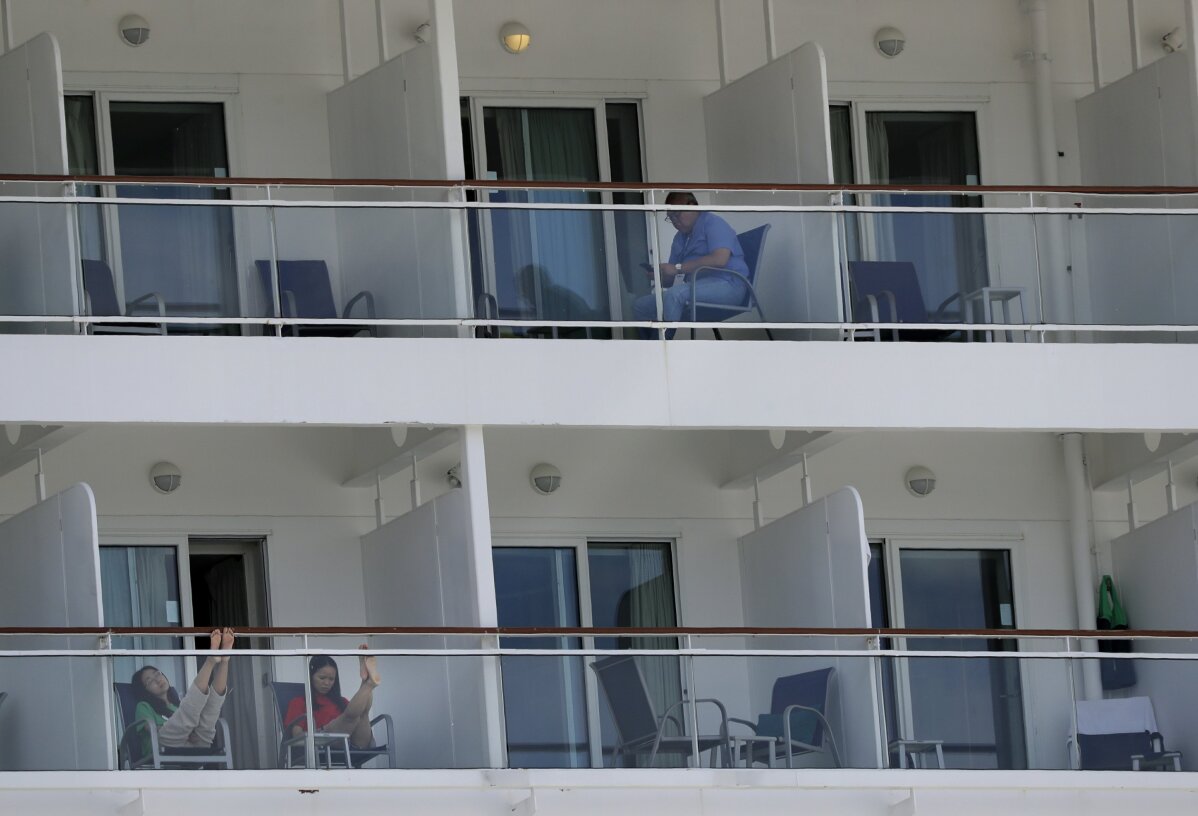 12 of 14

|
In this May 8, 2020 photo, people aboard the Norwegian Epic cruise ship docked at PortMiami in Miami, sit on their balconies. Tens of thousands of crew members, including U.S. citizens, remain confined to cabins aboard cruise ships, weeks after governments and companies negotiated disembarkation for passengers in the midst of the coronavirus pandemic. Most crew members are stuck in ships with no confirmed cases but are rejected by governments because of new rules to avoid importing more virus cases. (AP Photo/Wilfredo Lee)
12 of 14
In this May 8, 2020 photo, people aboard the Norwegian Epic cruise ship docked at PortMiami in Miami, sit on their balconies. Tens of thousands of crew members, including U.S. citizens, remain confined to cabins aboard cruise ships, weeks after governments and companies negotiated disembarkation for passengers in the midst of the coronavirus pandemic. Most crew members are stuck in ships with no confirmed cases but are rejected by governments because of new rules to avoid importing more virus cases. (AP Photo/Wilfredo Lee)
13 of 14

|
In this April 28, 2020 photo provided by Melinda Mann, she shows the empty deck on board the Koningsdam, a Holland America cruise ship off the coast of Ensenada, Mexico. Mann, a youth program manager for the cruise line, has been stuck on board for 50 days as the CDC and the cruise ship companies negotiate terms to disembark crew and passengers in the midst of the coronavirus pandemic. (Melinda Mann via AP)
13 of 14
In this April 28, 2020 photo provided by Melinda Mann, she shows the empty deck on board the Koningsdam, a Holland America cruise ship off the coast of Ensenada, Mexico. Mann, a youth program manager for the cruise line, has been stuck on board for 50 days as the CDC and the cruise ship companies negotiate terms to disembark crew and passengers in the midst of the coronavirus pandemic. (Melinda Mann via AP)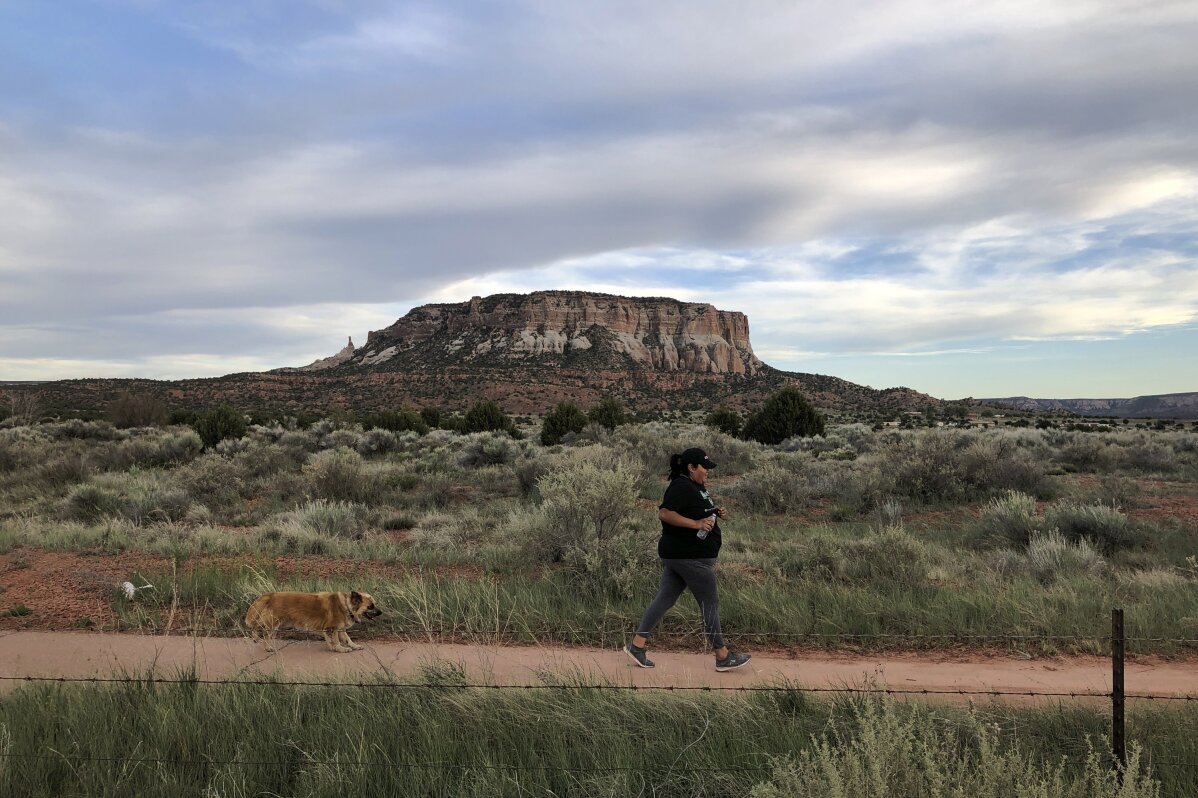 14 of 14

|
Krita Stead jogs past an iconic mesa as an evening coronavirus curfew approaches at Zuni Pueblo, N.M., Thursday, May 7, 2020. Pueblo leaders have been supportive of a lockdown order in nearby Gallup with police roadblocks by New Mexico Gov. Michelle Lujan Grisham, in efforts to stem the rapid transmission of COVID-19 in the area. Gallup and surrounding McKinley County are one of the worst rural hot spots for the coronavirus infections in the U.S. (AP Photo/Morgan Lee)
14 of 14
Krita Stead jogs past an iconic mesa as an evening coronavirus curfew approaches at Zuni Pueblo, N.M., Thursday, May 7, 2020. Pueblo leaders have been supportive of a lockdown order in nearby Gallup with police roadblocks by New Mexico Gov. Michelle Lujan Grisham, in efforts to stem the rapid transmission of COVID-19 in the area. Gallup and surrounding McKinley County are one of the worst rural hot spots for the coronavirus infections in the U.S. (AP Photo/Morgan Lee)
The U.S. unemployment rate rocketed to 14.7% in April, a level last seen during the Great Depression, as 20.5 million jobs vanished in the worst monthly loss on record. It's stark evidence of how the coronavirus has brought the economy to its knees.
"It's going to take a long time before the labor market recovers to its pre-recession state," said Gregory Daco, chief U.S. economist at Oxford Economics.
The financial pain is reverberating from India to Argentina, where untold millions already struggling to get by have had their lives made harder by lockdowns and layoffs. How the world's poor get through this pandemic will help determine how quickly the global economy recovers and how much aid is needed to keep countries afloat.
Here are some of AP's top stories Friday on the world's coronavirus pandemic. Follow APNews.com/VirusOutbreak for updates through the day and APNews.com/UnderstandingtheOutbreak for stories explaining some of its complexities.
WHAT'S HAPPENING TODAY:
— On the 75th anniversary of the end of World War II in Europe, instead of parades, remembrances and one last great hurrah for veterans now mostly in their 90s, it's a time of coronavirus lockdown and loneliness.
— President Donald Trump says he's in "no rush" to negotiate another financial rescue bill despite the government's latest report showing unemployment reaching heights not seen since 1939.
— Tens of thousands of other crew members have been trapped for weeks aboard dozens of cruise ships around the world — long after governments and cruise lines negotiated their passengers' disembarkation. Some have gotten ill and died; others have survived but are no longer getting paid.
— As coronavirus hotspots erupted at major U.S. meatpacking plants, experts criticized extremely tight working conditions that made the factories natural high risk contagion locations. But some Midwestern politicians have pointed the finger at the workers' living conditions, suggesting crowded homes bear some blame.
— A Colombian company is pitching a novel if morbid solution to shortages of hospital beds and coffins during the coronavirus pandemic: combine them.
___
WHAT YOU NEED TO KNOW:
For most people, the coronavirus causes mild or moderate symptoms, such as fever and cough that clear up in two to three weeks. For some, especially older adults and people with existing health problems, it can cause more severe illness, including pneumonia and death. The vast majority of people recover.
Here are the symptoms of the virus compared with the common flu.
One of the best ways to prevent spread of the virus is washing your hands with soap and water. The U.S. Centers for Disease Control and Prevention recommends first washing with warm or cold water and then lathering soap for 20 seconds to get it on the backs of hands, between fingers and under fingernails before rinsing off.
You should wash your phone, too. Here's how.
TRACKING THE VIRUS: Drill down and zoom in at the individual county level, and you can access numbers that will show you the situation where you are, and where loved ones or people you're worried about live.
___
ONE NUMBER:
— 1,031: The number of workers infected at a Tyson Foods pork plant in Waterloo, Iowa, a far greater figure than the state or company has acknowledged, local health officials said. The workers — nearly 40% of the plant — have tested positive for the coronavirus or for antibodies that show they had been infected.
IN OTHER NEWS:
— STEP BACK: The coronavirus has turned retail employees into store sheriffs. They confront shoppers who aren't wearing masks and enforce social distancing measures such as limits on the number of people allowed inside. "Everybody is on edge," says Sandy Jensen at a Sam's Club in California. Her frustration is shared by store workers across the country.
— NOT JUST LUNCH: He sold food with a side of humor at his family's bright green taco truck in Seattle. "Hello, my friend!" Tomas Lopez said. "No yoga today? You must be hungry!" Lopez, 44, died of COVID-19 on April 2. He is being mourned by many who considered their quick encounters with Lopez a bright spot in their day.
___
Follow AP coverage of the virus outbreak at https://apnews.com/VirusOutbreak and https://apnews.com/UnderstandingtheOutbreak