What you need to know today about the virus outbreak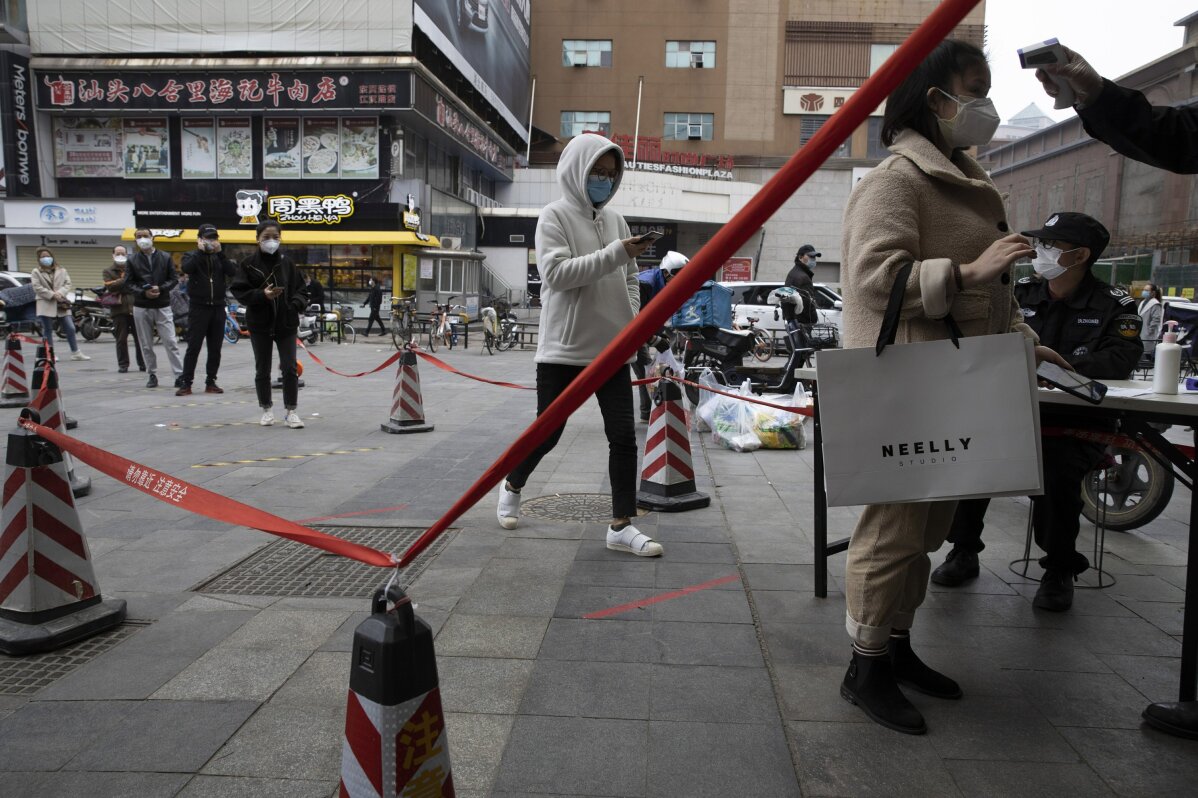 1 of 6

|
Residents wearing masks to protect against the spread of the coronavirus line up to enter a supermarket in Wuhan in central China's Hubei province on Friday, April 3, 2020. Chinese leaders are trying to revive the economy, but local officials under orders to prevent new infections are enforcing disease checks and other controls that add to financial losses and aggravation for millions of workers. (AP Photo/Ng Han Guan)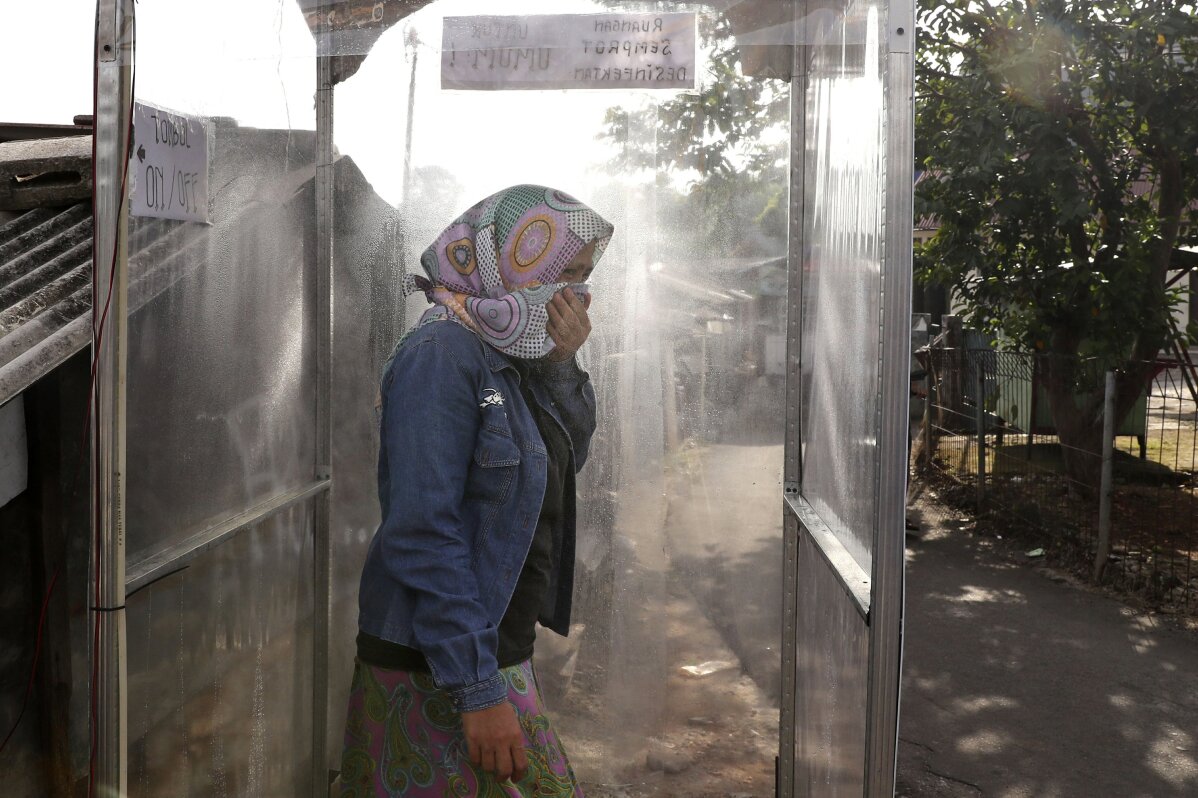 2 of 6

|
A woman covers her mouth as she is sprayed with disinfectant inside a makeshift sterilization booth set up outside a neighborhood during the coronavirus outbreak on the outskirts of Jakarta, Indonesia, Friday, April 3, 2020. The new coronavirus causes mild or moderate symptoms for most people, but for some, especially older adults and people with existing health problems, it can cause more severe illness or death. (AP Photo/Tatan Syuflana)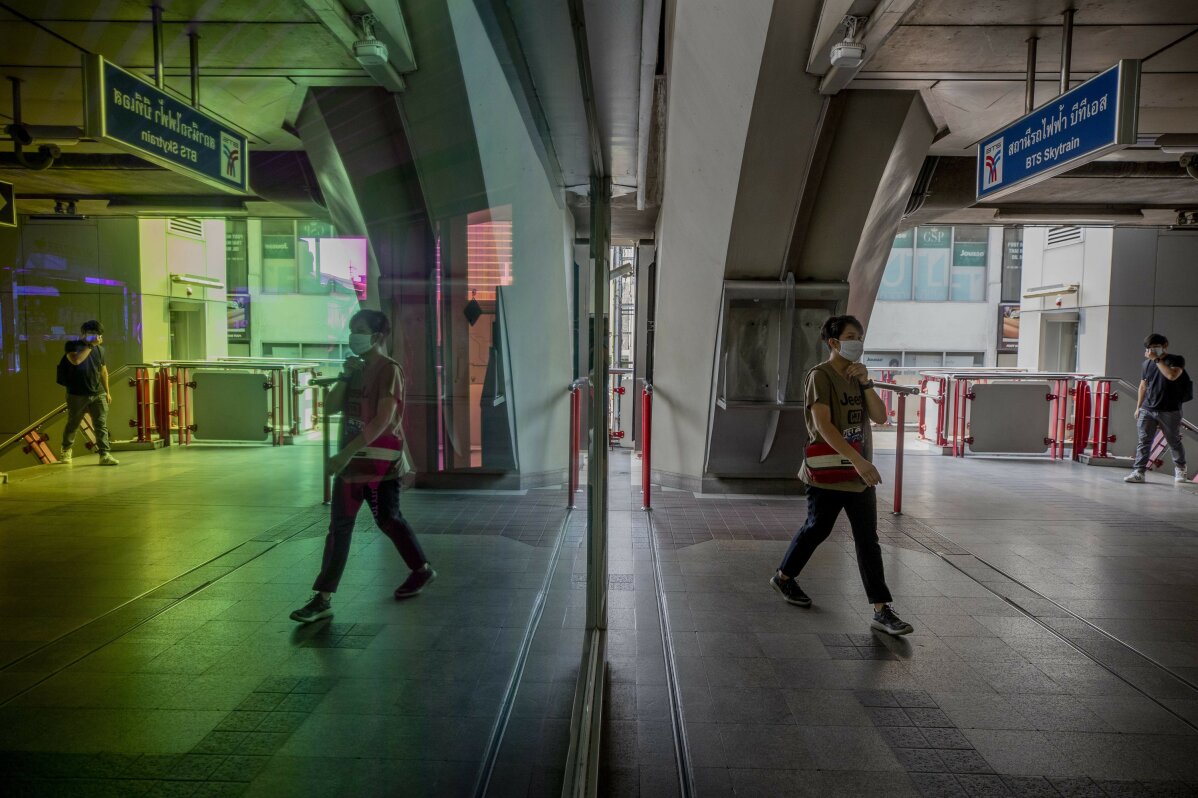 3 of 6

|
Commuters wearing face masks to protect themselves from the new coronavirus are reflected in a mirror at a skytrain station in Bangkok, Thailand, Friday, April 3, 2020. Thailand's prime minister announced a nationwide 10 p.m.-to-4 a.m curfew starting Friday to combat the spread of the coronavirus. The new coronavirus causes mild or moderate symptoms for most people, but for some, especially older adults and people with existing health problems, it can cause more severe illness or death. (AP Photo/Sakchai Lalit)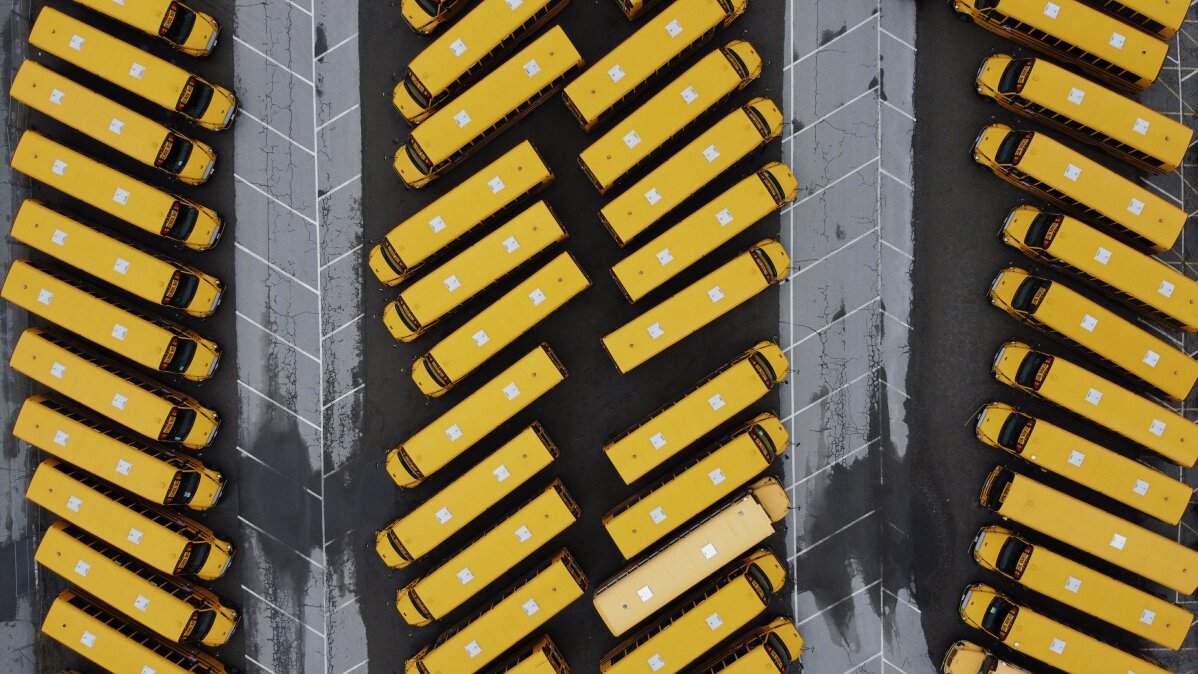 4 of 6

|
School buses sit parked in a lot as schools remain closed due to the coronavirus Monday, March 30, 2020, in Providence, R.I. From above, life on earth looks different. The patterns of our daily routines are now replaced by the patterns of school buses sitting idle. (AP Photo/David Goldman)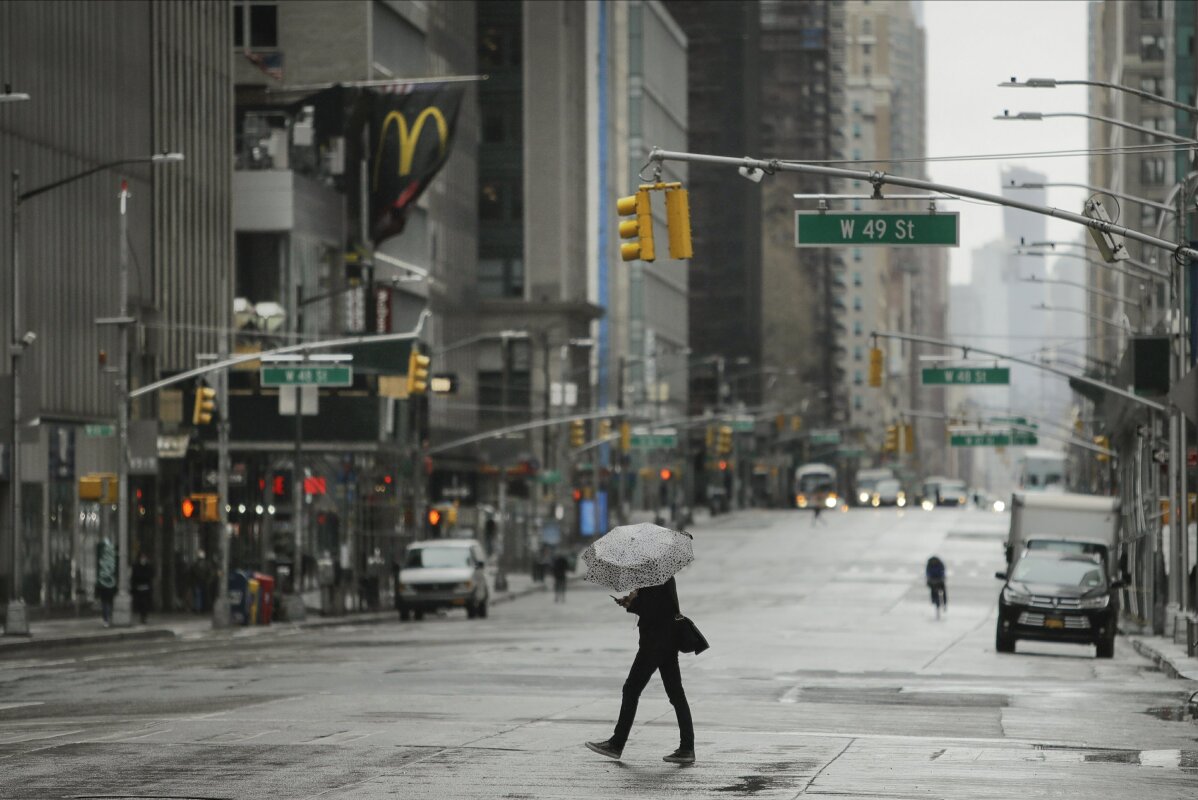 5 of 6

|
A pedestrians crosses a mostly empty Sixth Avenue during the coronavirus outbreak, Friday, April 3, 2020, in New York. The new coronavirus causes mild or moderate symptoms for most people, but for some, especially older adults and people with existing health problems, it can cause more severe illness or death. (AP Photo/Frank Franklin II)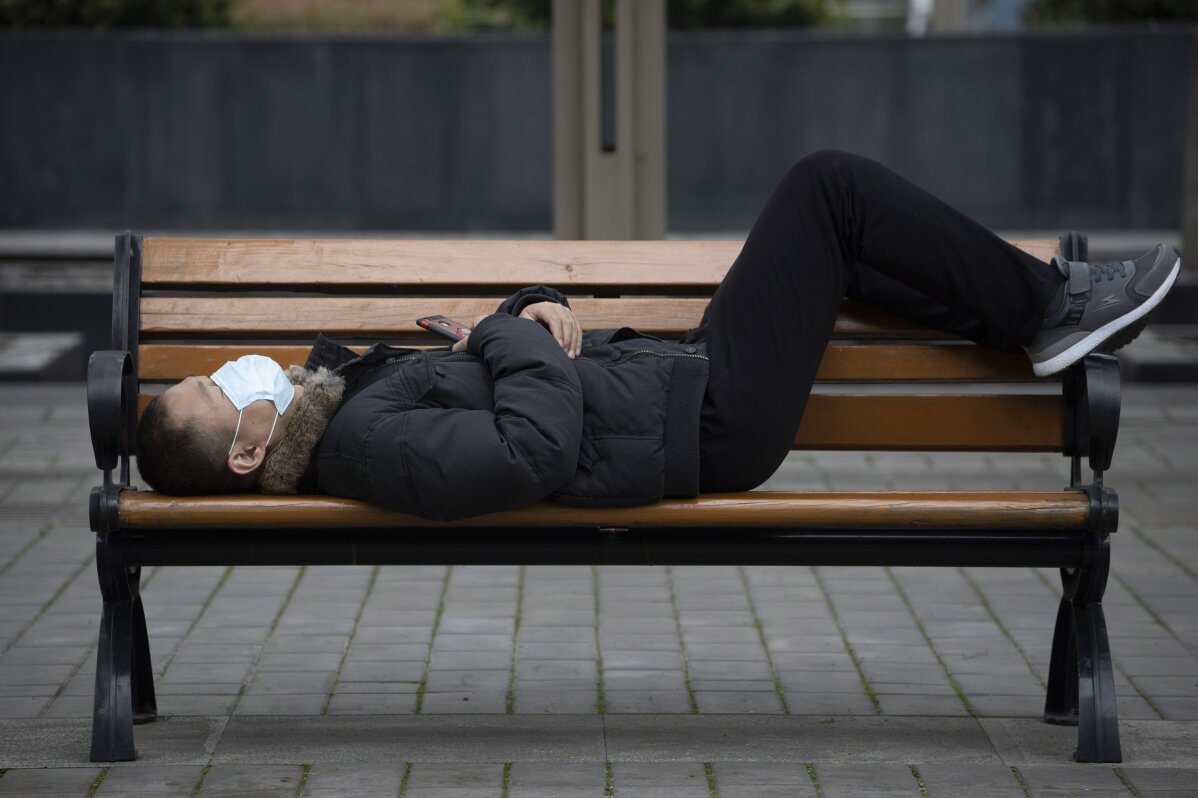 6 of 6

|
A man wearing a mask to help protect against the spread against the coronavirus naps on a bench at a park in Wuhan in central China's Hubei province on Friday, April 3, 2020. Chinese leaders are trying to revive the economy, but local officials under orders to prevent new infections are enforcing disease checks and other controls that add to financial losses and aggravation for millions of workers. (AP Photo/Ng Han Guan)
What you need to know today about the virus outbreak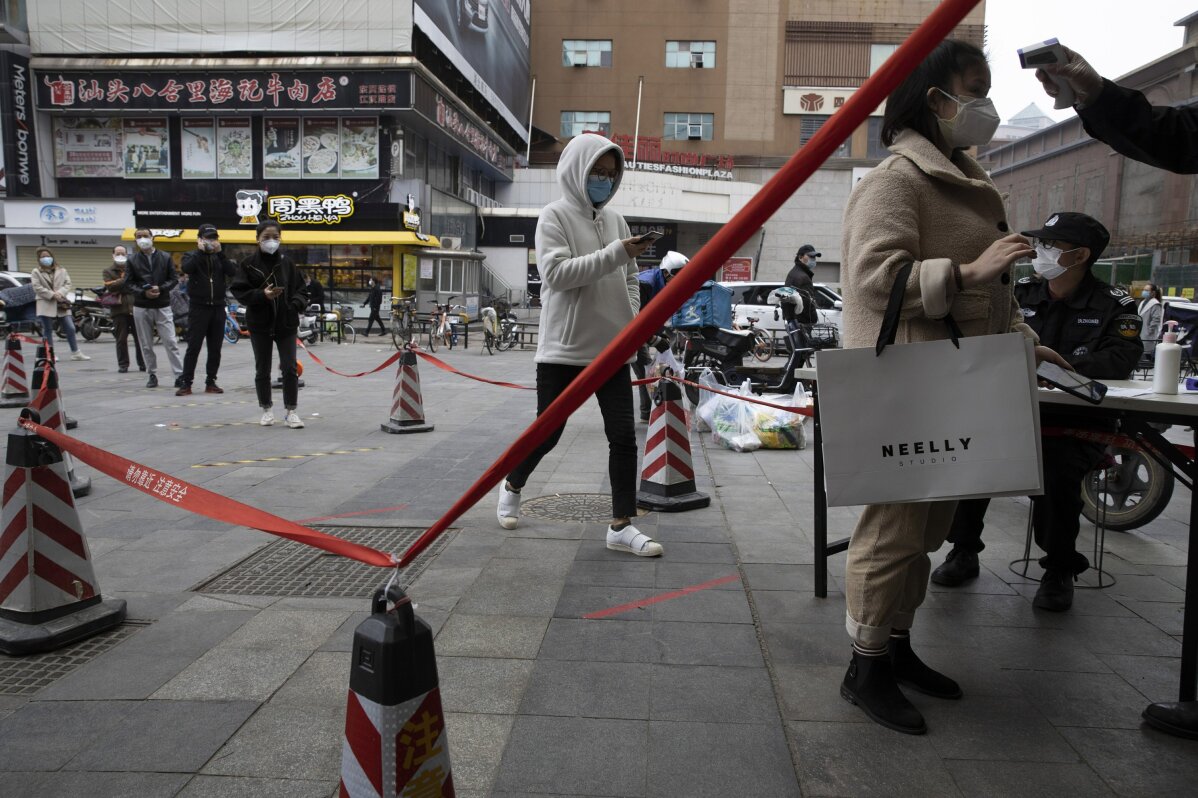 1 of 6

|
Residents wearing masks to protect against the spread of the coronavirus line up to enter a supermarket in Wuhan in central China's Hubei province on Friday, April 3, 2020. Chinese leaders are trying to revive the economy, but local officials under orders to prevent new infections are enforcing disease checks and other controls that add to financial losses and aggravation for millions of workers. (AP Photo/Ng Han Guan)
1 of 6
Residents wearing masks to protect against the spread of the coronavirus line up to enter a supermarket in Wuhan in central China's Hubei province on Friday, April 3, 2020. Chinese leaders are trying to revive the economy, but local officials under orders to prevent new infections are enforcing disease checks and other controls that add to financial losses and aggravation for millions of workers. (AP Photo/Ng Han Guan)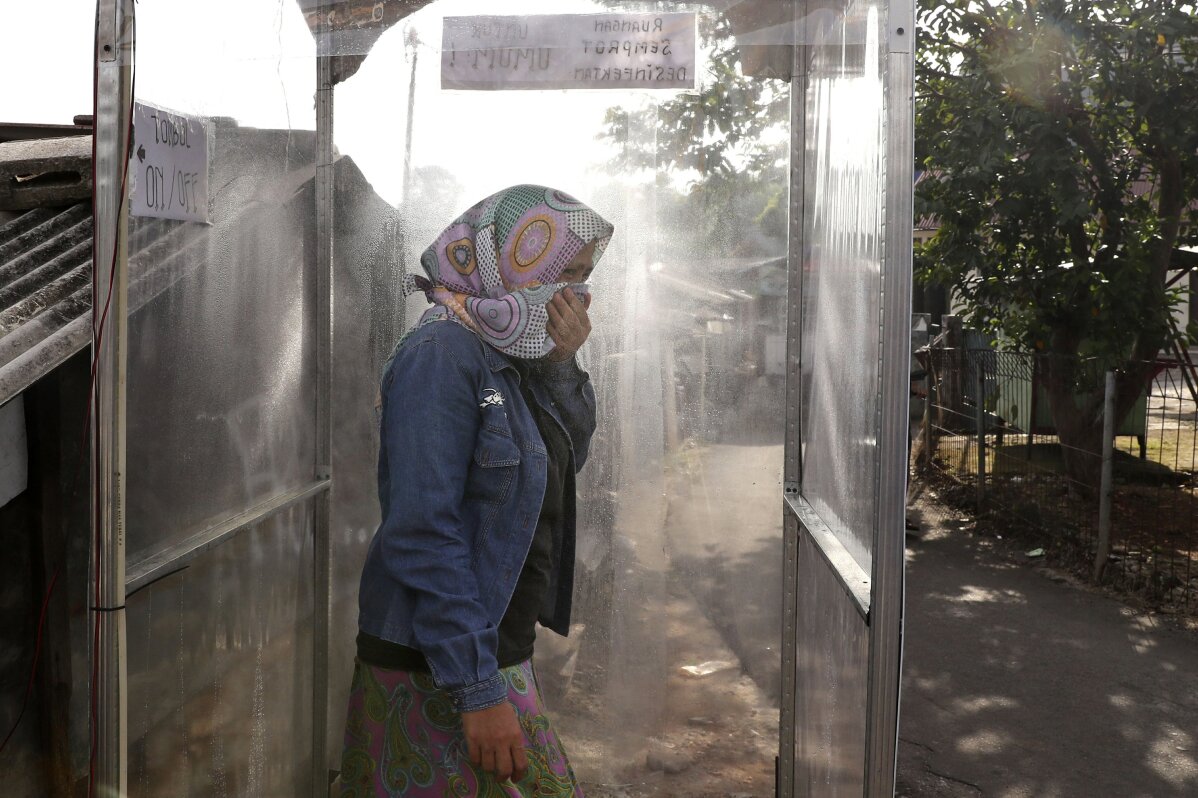 2 of 6

|
A woman covers her mouth as she is sprayed with disinfectant inside a makeshift sterilization booth set up outside a neighborhood during the coronavirus outbreak on the outskirts of Jakarta, Indonesia, Friday, April 3, 2020. The new coronavirus causes mild or moderate symptoms for most people, but for some, especially older adults and people with existing health problems, it can cause more severe illness or death. (AP Photo/Tatan Syuflana)
2 of 6
A woman covers her mouth as she is sprayed with disinfectant inside a makeshift sterilization booth set up outside a neighborhood during the coronavirus outbreak on the outskirts of Jakarta, Indonesia, Friday, April 3, 2020. The new coronavirus causes mild or moderate symptoms for most people, but for some, especially older adults and people with existing health problems, it can cause more severe illness or death. (AP Photo/Tatan Syuflana)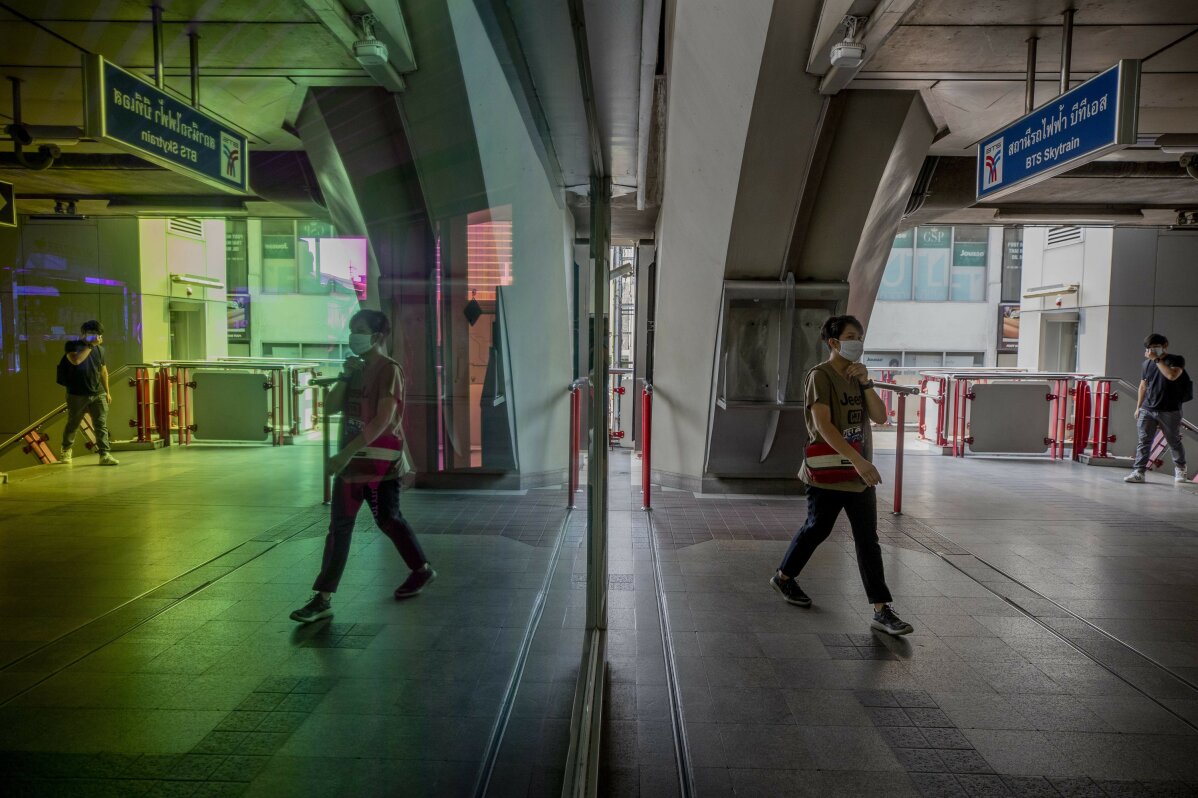 3 of 6

|
Commuters wearing face masks to protect themselves from the new coronavirus are reflected in a mirror at a skytrain station in Bangkok, Thailand, Friday, April 3, 2020. Thailand's prime minister announced a nationwide 10 p.m.-to-4 a.m curfew starting Friday to combat the spread of the coronavirus. The new coronavirus causes mild or moderate symptoms for most people, but for some, especially older adults and people with existing health problems, it can cause more severe illness or death. (AP Photo/Sakchai Lalit)
3 of 6
Commuters wearing face masks to protect themselves from the new coronavirus are reflected in a mirror at a skytrain station in Bangkok, Thailand, Friday, April 3, 2020. Thailand's prime minister announced a nationwide 10 p.m.-to-4 a.m curfew starting Friday to combat the spread of the coronavirus. The new coronavirus causes mild or moderate symptoms for most people, but for some, especially older adults and people with existing health problems, it can cause more severe illness or death. (AP Photo/Sakchai Lalit)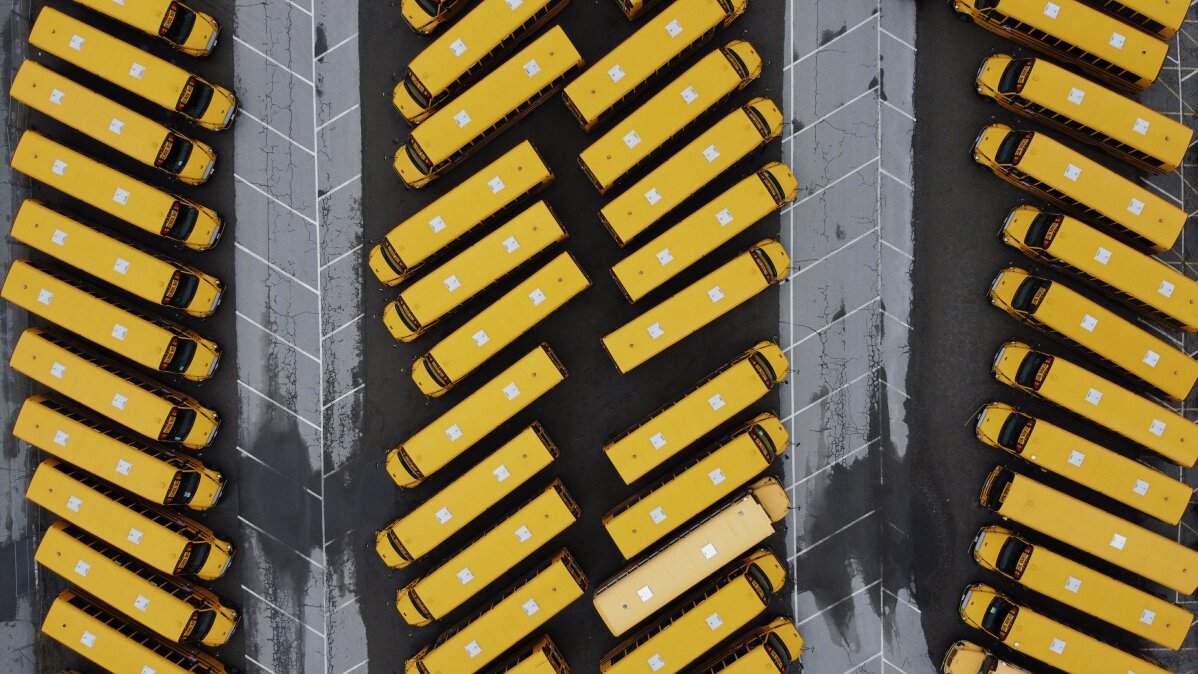 4 of 6

|
School buses sit parked in a lot as schools remain closed due to the coronavirus Monday, March 30, 2020, in Providence, R.I. From above, life on earth looks different. The patterns of our daily routines are now replaced by the patterns of school buses sitting idle. (AP Photo/David Goldman)
4 of 6
School buses sit parked in a lot as schools remain closed due to the coronavirus Monday, March 30, 2020, in Providence, R.I. From above, life on earth looks different. The patterns of our daily routines are now replaced by the patterns of school buses sitting idle. (AP Photo/David Goldman)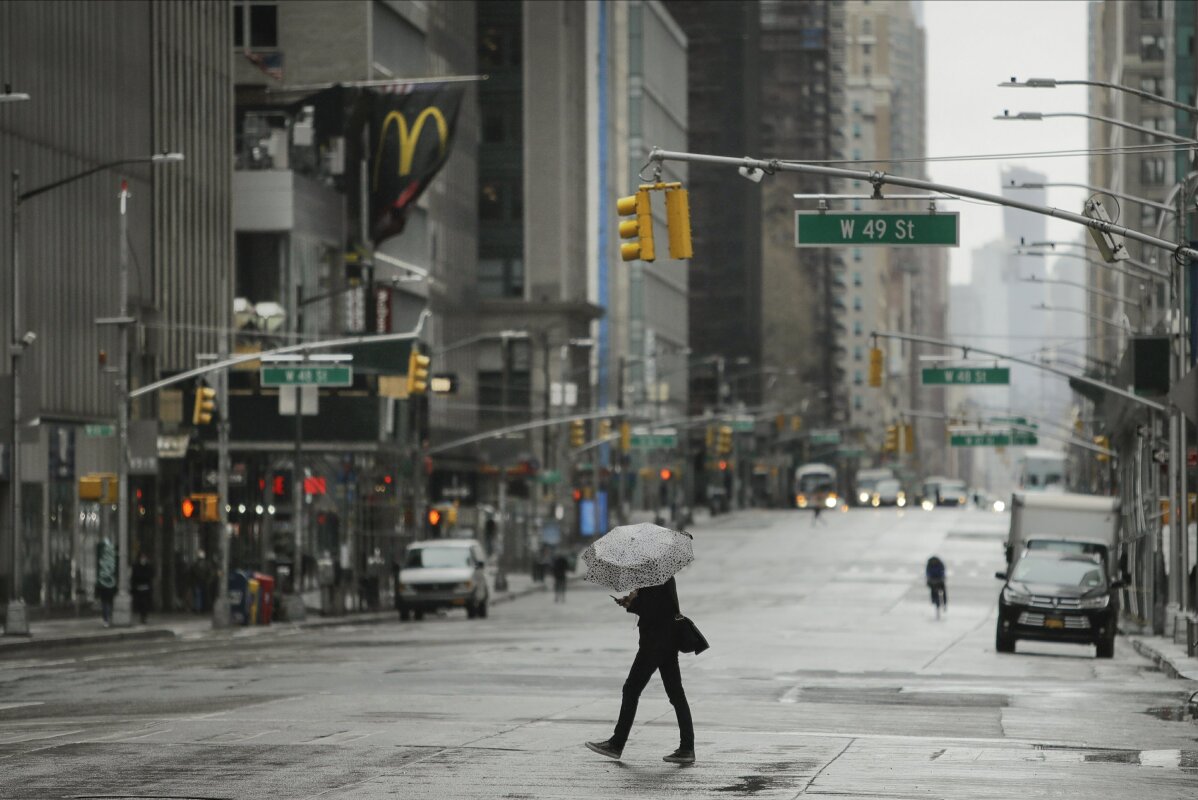 5 of 6

|
A pedestrians crosses a mostly empty Sixth Avenue during the coronavirus outbreak, Friday, April 3, 2020, in New York. The new coronavirus causes mild or moderate symptoms for most people, but for some, especially older adults and people with existing health problems, it can cause more severe illness or death. (AP Photo/Frank Franklin II)
5 of 6
A pedestrians crosses a mostly empty Sixth Avenue during the coronavirus outbreak, Friday, April 3, 2020, in New York. The new coronavirus causes mild or moderate symptoms for most people, but for some, especially older adults and people with existing health problems, it can cause more severe illness or death. (AP Photo/Frank Franklin II)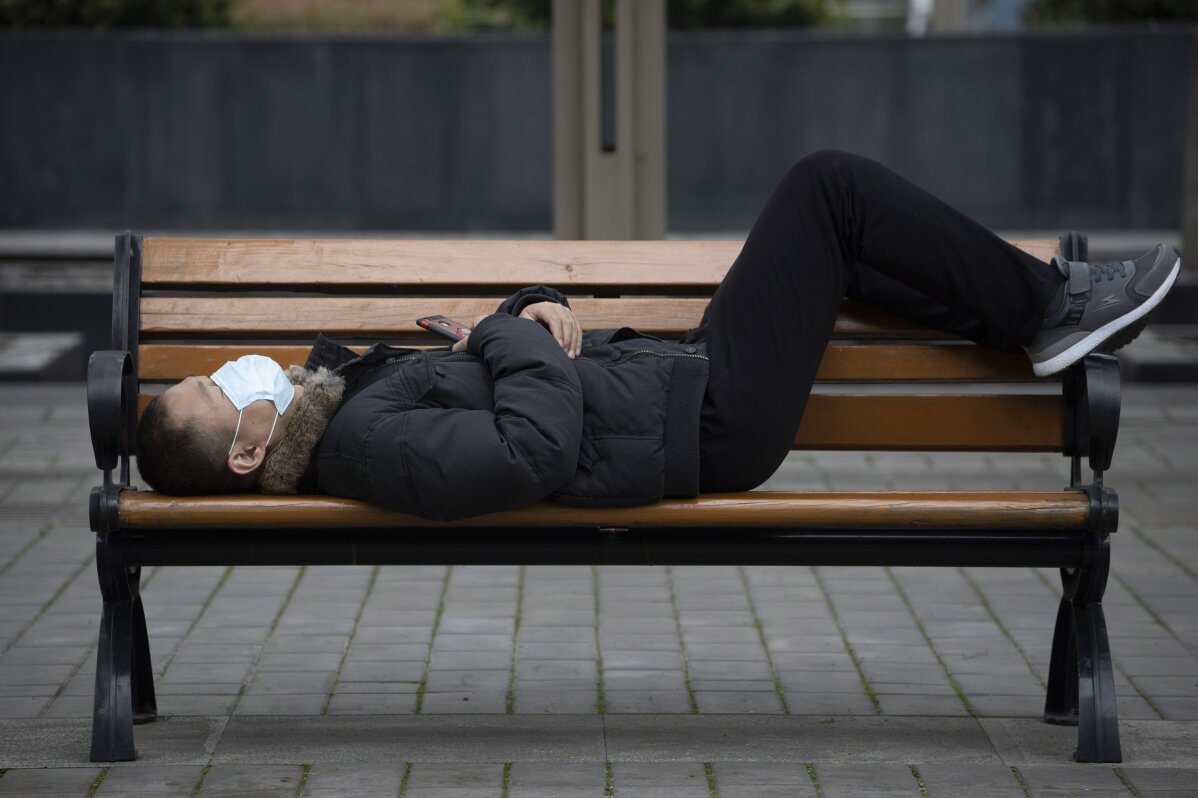 6 of 6

|
A man wearing a mask to help protect against the spread against the coronavirus naps on a bench at a park in Wuhan in central China's Hubei province on Friday, April 3, 2020. Chinese leaders are trying to revive the economy, but local officials under orders to prevent new infections are enforcing disease checks and other controls that add to financial losses and aggravation for millions of workers. (AP Photo/Ng Han Guan)
6 of 6
A man wearing a mask to help protect against the spread against the coronavirus naps on a bench at a park in Wuhan in central China's Hubei province on Friday, April 3, 2020. Chinese leaders are trying to revive the economy, but local officials under orders to prevent new infections are enforcing disease checks and other controls that add to financial losses and aggravation for millions of workers. (AP Photo/Ng Han Guan)
The Trump administration urged Americans to wear face coverings in public and limited exports of medical supplies Friday as New York's governor took his own dramatic step to fight the coronavirus by vowing to seize unused ventilators from private hospitals and companies. The new federal guidelines call for Americans, especially in hard-hit areas, to wear makeshift masks like bandanas or T-shirts over their faces.
After Trump announced the face coverings recommendation from the Centers for Disease Control, he said he's not going to wear one.
Gov. Andrew Cuomo's dramatic move came as New York state tallied its biggest daily jump yet in deaths— up 562 to 2,935
Stocks fell again on Wall Street following the latest grim reading on the toll the coronavirus is taking on jobs as the economy grinds to a halt. The government reported earlier Friday that more than 700,000 jobs were lost last month because of the pandemic, and investors and economists expect that far worse data is on the way. The unemployment rate jumped to 4.4% from a 50-year low of 3.5%.
Meanwhile, U.S. and European medical workers struggling to save ailing patients watched supplies of medicine, protective equipment and breathing machines dwindle by the hour.
Here are some of AP's top stories Friday on the pandemic. Follow APNews.com/VirusOutbreak for updates through the day and APNews.com/UnderstandingtheOutbreak for stories explaining some of its complexities.
WHAT'S HAPPENING TODAY:
—Does another 2008 Great Recession or even a 1930s-like Great Depression loom in the U.S.? It seems almost certain after nearly 10 million Americans lost their jobs and applied for unemployment benefits in the past two weeks — a record high that reflects the near-complete shutdown of the U.S. economy. Here's what you need to know if you've just lost your job.
—A makeshift intensive-care unit in northeastern Spain looks nothing like the hospital library it once was. Inside, the tension is palpable. Medical workers are under-equipped and wearing improvised protective gear as they treat the critically sick.
— The Trump administration has hastily altered its description of the Strategic National Stockpile, the federal government's repository of life-saving medicines and supplies, to conform with President Donald Trump's insistence that the stockpile is only a short-term backup for states, not a commitment to quickly supply those who need it most during an emergency.q
— One population is particularly vulnerable to contracting and spreading the coronavirus: the homeless. Yet, relatively few of California's 150,000 homeless population have been moved into individual quarters, and it's unclear how many may have coronavirus. It's a problem playing out nationwide. Homeless advocates say they are terrified of the illness taking off on the streets.
—A U.S. newspaper industry already under stress is facing an unprecedented new challenge. Readers desperate for information are more reliant than ever on local media as the coronavirus spreads across the U.S. But newspapers and other publications are under pressure as advertising craters. They are cutting jobs, staff hours and pay, dropping print editions — and in some cases shutting down entirely.
___
WHAT YOU NEED TO KNOW:
For most people, the coronavirus causes mild or moderate symptoms, such as a fever and cough that clear up in two to three weeks. For some, especially older adults and people with existing health problems, it can cause more severe illness, including pneumonia and death. The vast majority of people recover.
Here are the symptoms of the virus compared with the common flu.
One of the best ways to prevent spread of the virus is washing your hands with soap and water. The U.S. Centers for Disease Control and Prevention recommends first washing with warm or cold water and then lathering soap for 20 seconds to get it on the backs of hands, between fingers and under fingernails before rinsing off.
You should wash your phone, too. Here's how.
TRACKING THE VIRUS:
Drill down and zoom in at the individual county level, and you can access numbers that will show you the situation where you are, and where loved ones or people you're worried about live.
___
ONE NUMBER:
— 1975: The nearly full point increase in the U.S. unemployment rate from February to March was the sharpest monthly rise since 1975.
___
— LIFE INTERRUPTED: The patterns of our daily routines are now replaced by the patterns of empty parking lots, rows of school buses sitting idle and the long shadows of solitary figures in the early spring sunshine.
— FEEDING THE FRONT LINES: A group of tech-savvy, entrepreneurial San Francisco friends wanted to help two groups devastated by the coronavirus pandemic. They came up with a plan that involved soliciting donations, tapping friends in the restaurant world and getting San Francisco hospitals to accept free food cooked up by some of the city's top chefs.
— HOPE IN BLOOD: Doctors around the world are dusting off a century-old treatment for infections: Infusions of blood plasma teeming with immune molecules that helped survivors beat the new coronavirus. There's no proof it will work, but former patients in Houston and New York were early donors, and now hospitals and blood centers are getting ready for potentially hundreds.
___
Follow AP coverage of the virus outbreak at https://apnews.com/VirusOutbreak and https://apnews.com/UnderstandingtheOutbreak