Rules, appeals and penalties talk of NASCAR at Bristol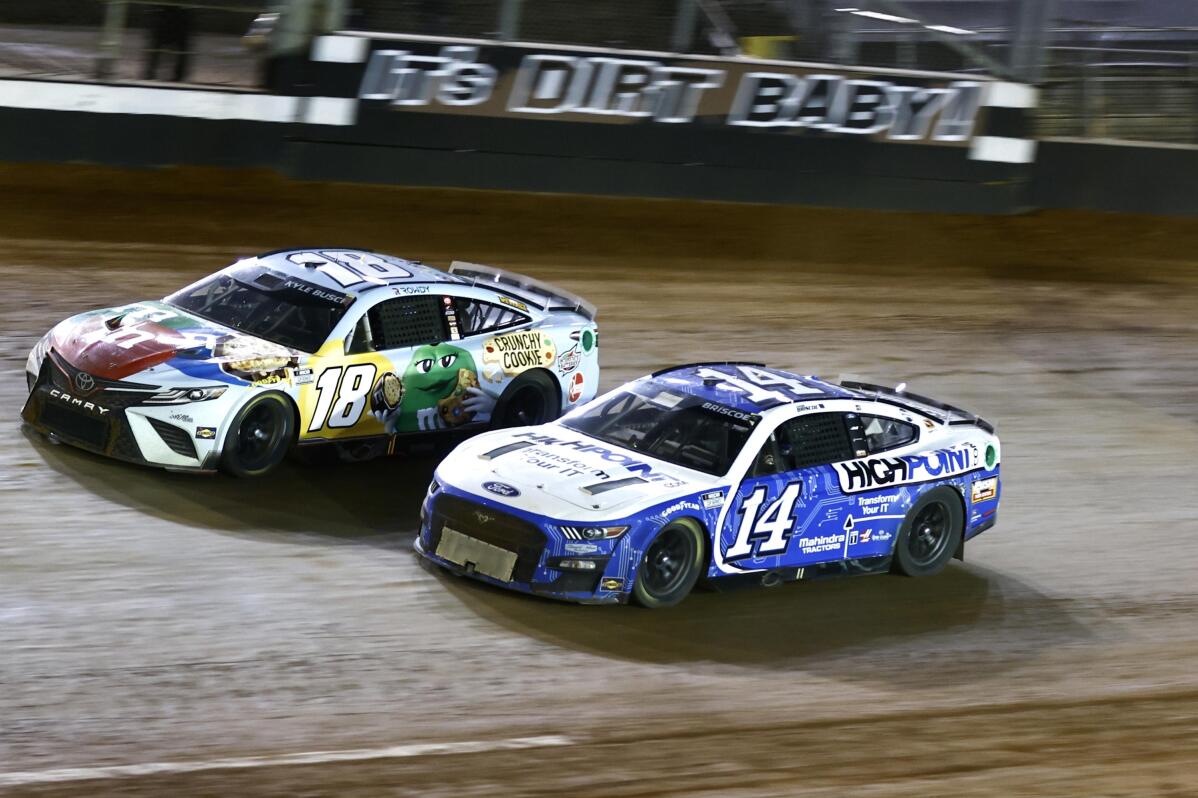 1 of 4

|
FILE - Driver Kyle Busch (18) races with Chase Briscoe (14) during a NASCAR Cup Series auto race, Sunday, April 17, 2022, in Bristol, Tenn. You might think it would help being a NASCAR driver who grew up dirt racing when it comes to Bristol Motor Speedway's relatively new dirt layout this Sunday night, April 9, 2023. (AP Photo/Wade Payne, File)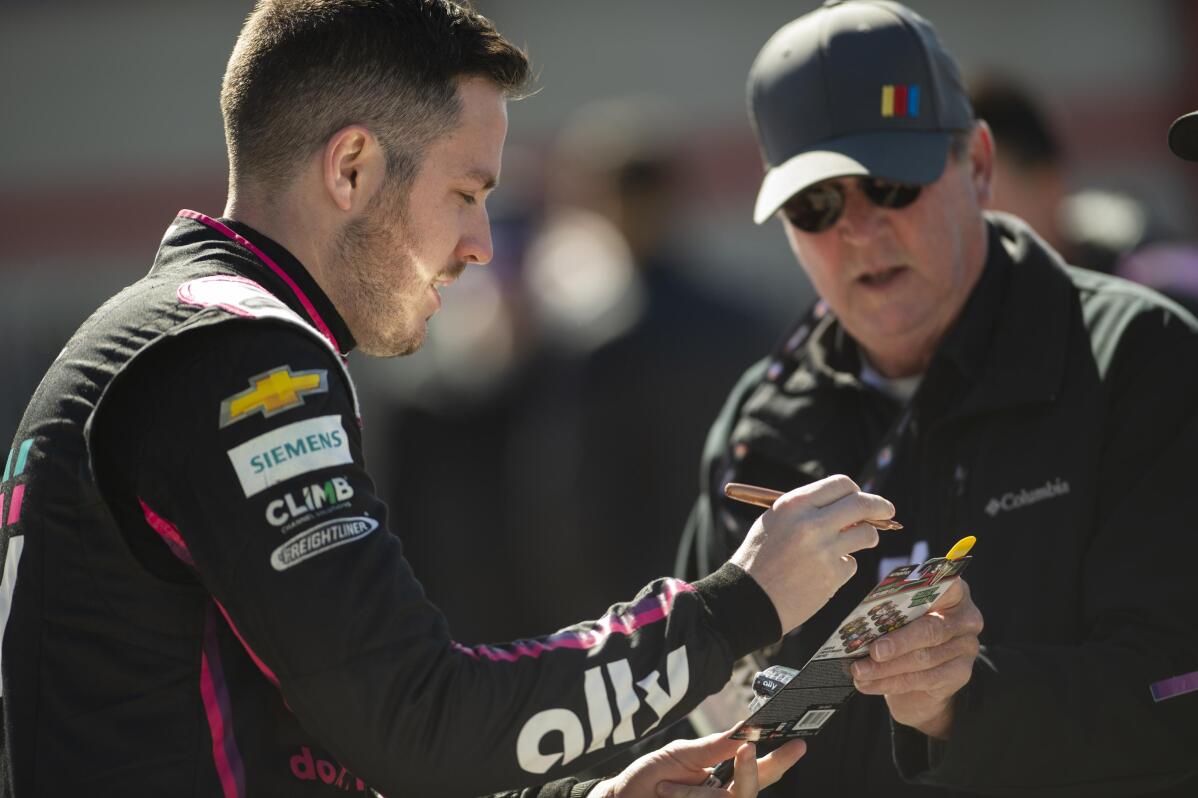 2 of 4

|
Driver Alex Bowman, left, signs autograph before qualifying for the NASCAR Cup Series auto race at Atlanta Motor Speedway on Saturday, March 18, 2023, in Hampton, Ga. (AP Photo/Hakim Wright Sr.)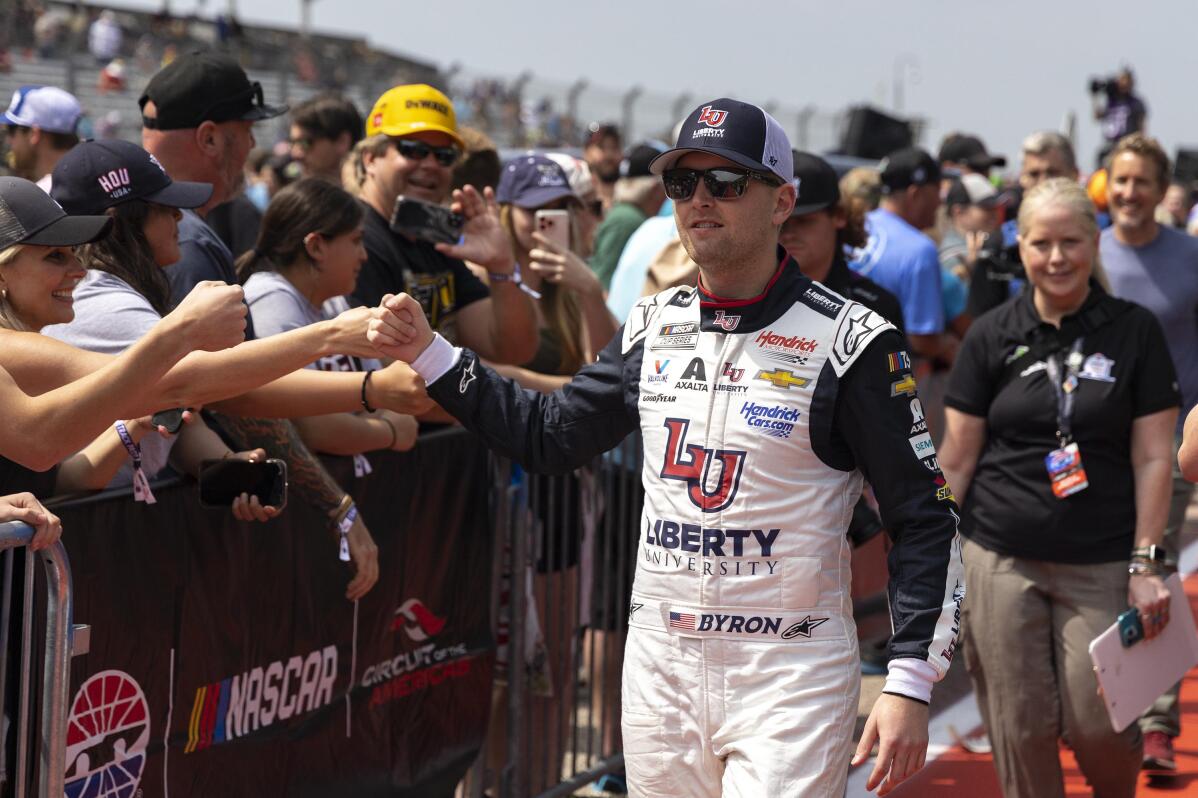 3 of 4

|
William Byron greets fans before a NASCAR Cup Series auto race at Circuit of the Americas, Sunday, March 26, 2023, in Austin, Texas. (AP Photo/Stephen Spillman)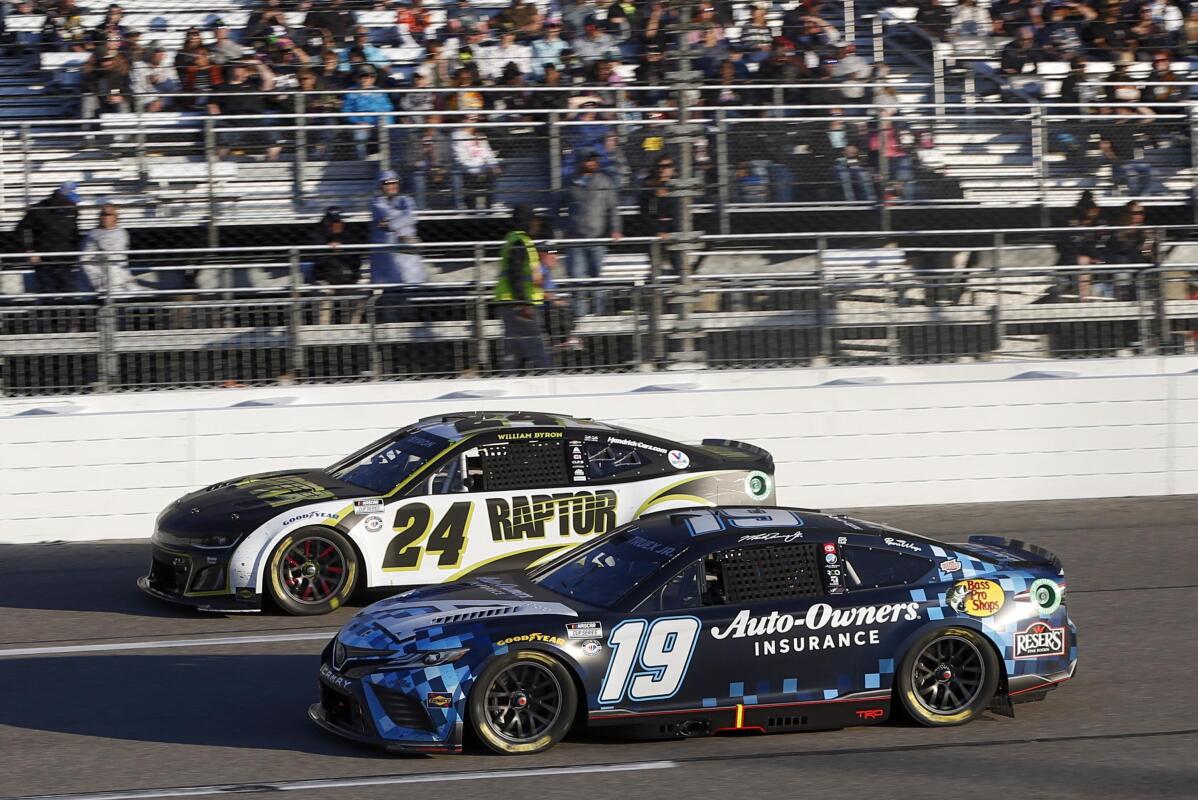 4 of 4

|
William Byron (24) and Martin Truex Jr (19) compete in a NASCAR Cup Series auto race at Richmond Raceway on Sunday, April 2, 2023, in Richmond, Va. (Eva Russo/Richmond Times-Dispatch via AP)
Rules, appeals and penalties talk of NASCAR at Bristol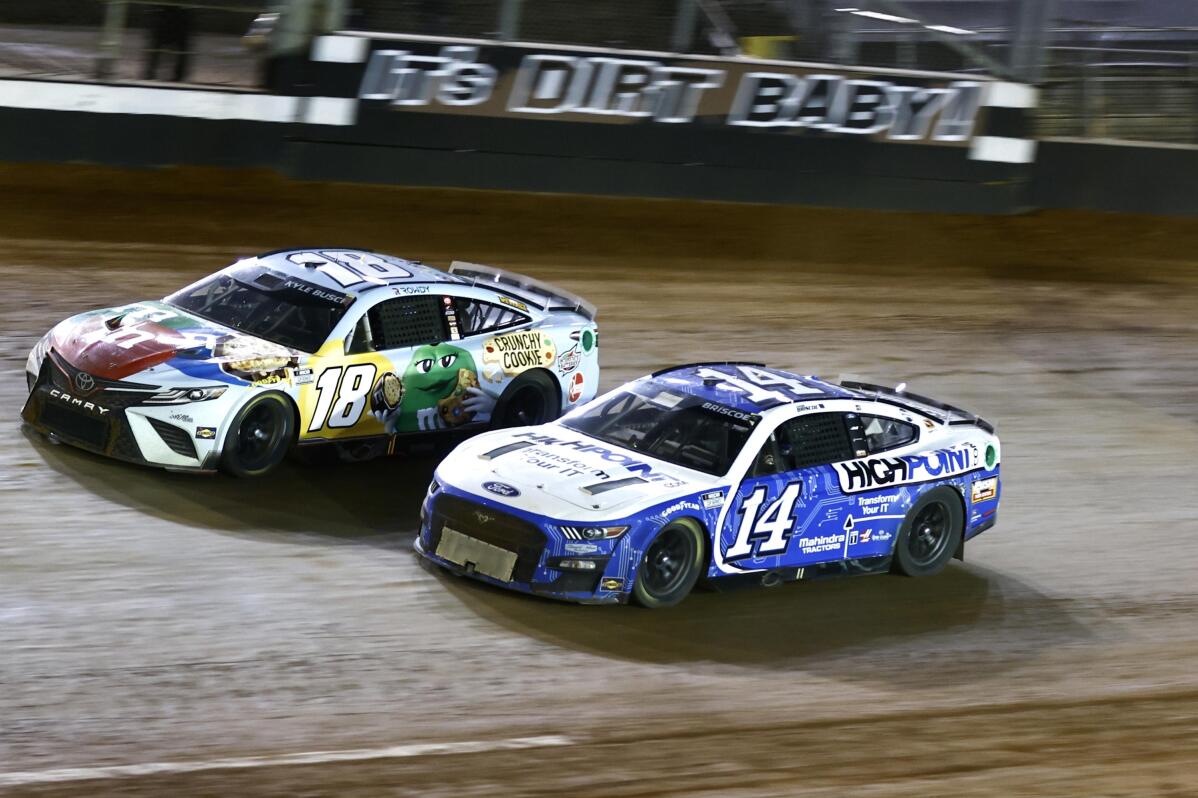 1 of 4

|
FILE - Driver Kyle Busch (18) races with Chase Briscoe (14) during a NASCAR Cup Series auto race, Sunday, April 17, 2022, in Bristol, Tenn. You might think it would help being a NASCAR driver who grew up dirt racing when it comes to Bristol Motor Speedway's relatively new dirt layout this Sunday night, April 9, 2023. (AP Photo/Wade Payne, File)
1 of 4
FILE - Driver Kyle Busch (18) races with Chase Briscoe (14) during a NASCAR Cup Series auto race, Sunday, April 17, 2022, in Bristol, Tenn. You might think it would help being a NASCAR driver who grew up dirt racing when it comes to Bristol Motor Speedway's relatively new dirt layout this Sunday night, April 9, 2023. (AP Photo/Wade Payne, File)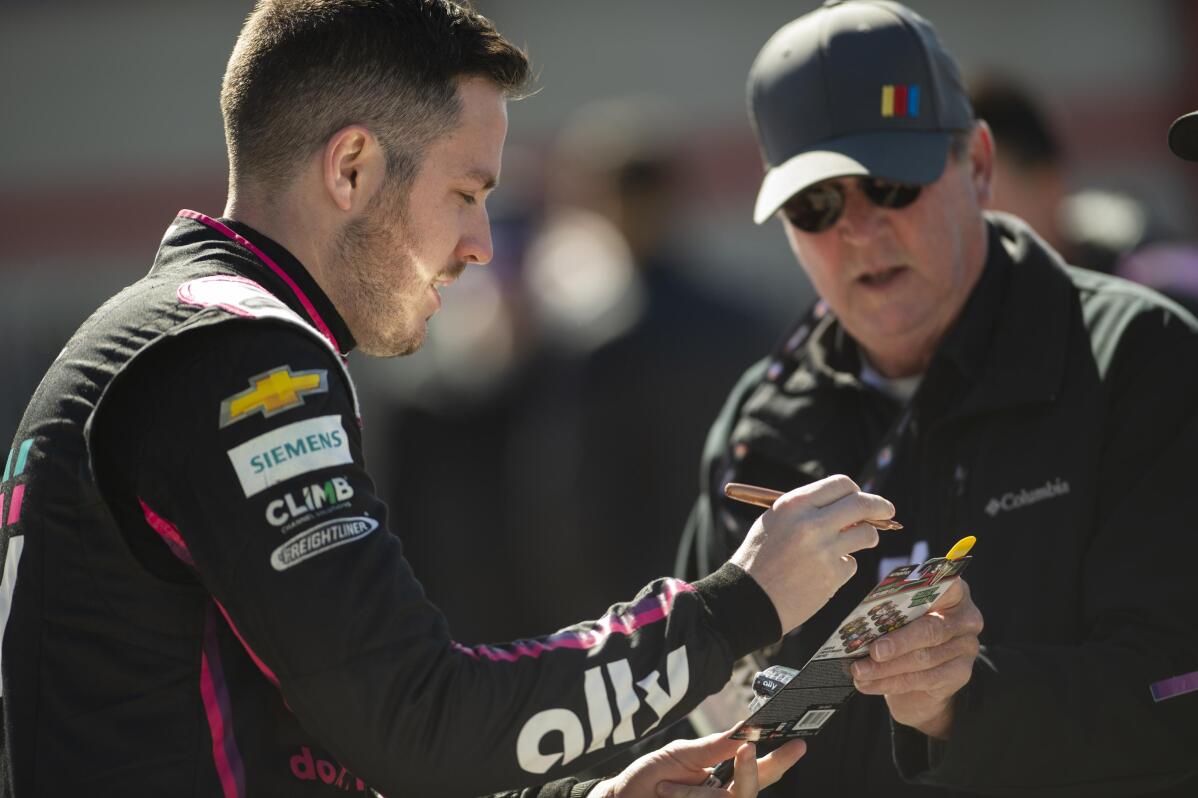 2 of 4

|
Driver Alex Bowman, left, signs autograph before qualifying for the NASCAR Cup Series auto race at Atlanta Motor Speedway on Saturday, March 18, 2023, in Hampton, Ga. (AP Photo/Hakim Wright Sr.)
2 of 4
Driver Alex Bowman, left, signs autograph before qualifying for the NASCAR Cup Series auto race at Atlanta Motor Speedway on Saturday, March 18, 2023, in Hampton, Ga. (AP Photo/Hakim Wright Sr.)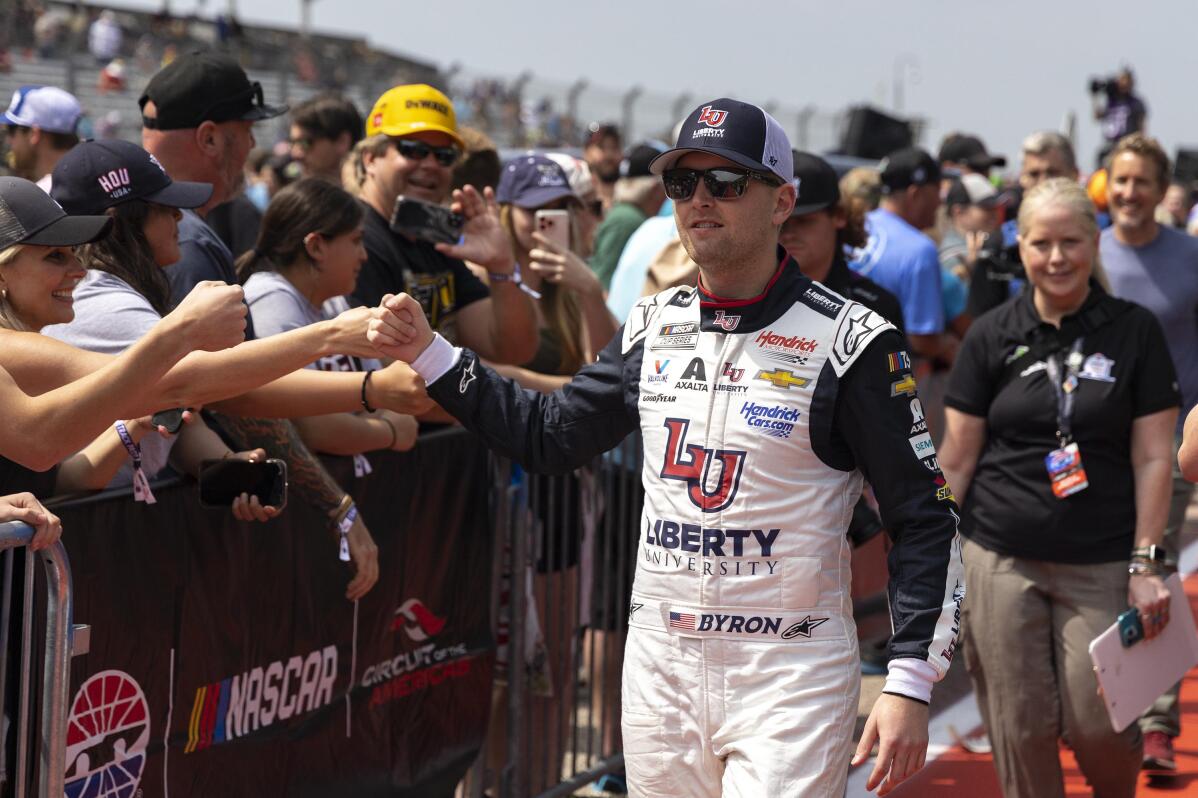 3 of 4

|
William Byron greets fans before a NASCAR Cup Series auto race at Circuit of the Americas, Sunday, March 26, 2023, in Austin, Texas. (AP Photo/Stephen Spillman)
3 of 4
William Byron greets fans before a NASCAR Cup Series auto race at Circuit of the Americas, Sunday, March 26, 2023, in Austin, Texas. (AP Photo/Stephen Spillman)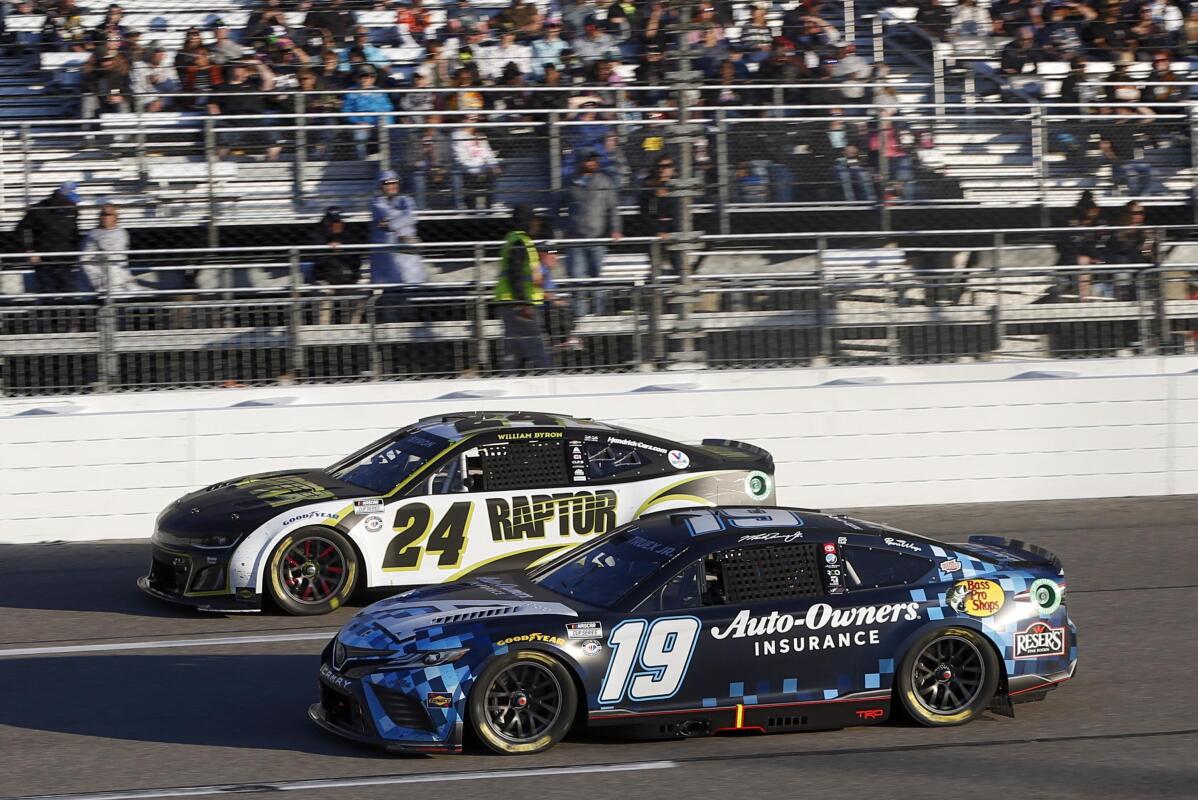 4 of 4

|
William Byron (24) and Martin Truex Jr (19) compete in a NASCAR Cup Series auto race at Richmond Raceway on Sunday, April 2, 2023, in Richmond, Va. (Eva Russo/Richmond Times-Dispatch via AP)
4 of 4
William Byron (24) and Martin Truex Jr (19) compete in a NASCAR Cup Series auto race at Richmond Raceway on Sunday, April 2, 2023, in Richmond, Va. (Eva Russo/Richmond Times-Dispatch via AP)
Defending Bristol dirt race champion Kyle Busch wonders if NASCAR drivers need a refresher course on the rules.
Busch, who'll try and make it two in a row on the dirt at Bristol Motor Speedway on Sunday, acknowledged that NASCAR's rules process is front-and-center these days of punishment and appeals.
Last week, it was Hendrick Motorsports getting its points penalties on all four drivers rescinded by an appeals panel. This week, its Denny Hamlin's appeal for his actions at Phoenix last month upheld by a three-person panel.
And Hendrick teams are on the clock again after NASCAR docked the teams of Alex Bowman and William Byron 60 points apiece Thursday for illegal modifications in the greenhouse, or center area, of the car after Richmond last week.
Hamlin detailed his strategy, ultimately unsuccessful, on his podcast after the hearing. He compiled nearly three dozen examples of past NASCAR incidents like he had with Ross Chastain at Phoenix.
"He had 35 examples," Busch said Saturday. "I wonder how many of them were me?"
Probably a few. The bigger issue for Busch and all competitors is staying on the right side of NASCAR's complex rule book.
"If we're supposed to be self-policing, how are we supposed to do that?" Busch said. "Tell me what is and isn't OK."
Bowman was the points leader leaving Richmond and slid to seventh after the NASCAR penalties. He's off to the best start of his Cup Series career and is not frustrated with the scrutiny. "I feel like my team, we did a really good job of overcoming the first one and staying plugged in and not letting it get to us," he said at Bristol. "I'm confident we can do that throughout the second one as well."
Hendrick Motorsports said it would decide on a possible appeal after Bristol.
Right now, the job for all competitors is figuring out how to best handle NASCAR's lone dirt layout on the schedule.
That was evident a year ago when Busch was likely out of the mix on the final lap as leaders Tyler Reddick and Chase Briscoe closed in on the finish line. But both slid from contention on the slippery surface and Busch cruised into the winner's circle.
Kyle Larson, the winner last week at Richmond and the 2021 NASCAR champion, took the pole at Bristol with the most points in the four heat races. Austin Dillon is second followed by J.J. Yeley, Christopher Bell, Busch and Reddick.
Austin Cindric, Ryan Preece, Ryan Blaney and Byron round out the top 10.
Larson, who won a Late Model dirt race this week, would love his chances if he drove a standard dirt cart sliding through the corners of the half-mile track. Instead, the Next Gen cars are heavier and harder to maneuver with confidence.
"I maybe can read a (dirt) track better than (most) people, but now this is our third year on it, so I think everybody has kind of got a good idea of what to look for," Larson said.
ODDS AND ENDS
Tyler Reddick, an experienced dirt racer, is favored to close the deal this year and win at Bristol, according to FanDuel Sportsbook.
Reddick is a 5-1 favorite to take the race, followed by Kyle Larson (5.5-1), Christopher Bell (7.5-1), Chase Briscoe (8.5-1), Joey Logano (10-1). Defending champion Kyle Busch and two-time season winner William Byron were at 13-1.
IT'S A BIRD, IT'S A PLANE
It's a drone and it will hover over Bristol sending an LED marker on the track for drivers to signify the choose area ahead of restarts in the NASCAR Cup Series on Sunday.
It's the first time drivers can pick a lane on a dirt restart, darting to the left of the marker to choose the inside lane or right for the outside lane. The drone will fly to the frontstretch just past the start/finish line, with the box lighting up to signify the choose zone.
"I think it's neat. It's a unique way of doing it, right?" reigning NASCAR champ Joey Logano said.
ABSENT WARE
Rick Ware Racing announced its driver, Cody Ware, would not drive the No. 51 car at Bristol this weekend due to a personal matter and asked for privacy going forward. The organization, owned by Cody's father, did not detail anything else about the driver's reason for stepping away. It said veteran Matt Crafton would pilot the car on the half-mile dirt layout.
___
AP auto racing: https://apnews.com/hub/auto-racing and https://twitter.com/AP_Sports