Hong Kong plans electoral overhaul for district councils
1 of 4

|
Election workers empty a ballot box to count votes for a district council election at a polling station in Hong Kong, Nov. 24, 2019. Hong Kong is planning to overhaul its last major political representative body that is mostly comprised of popularly elected seats, its leader said on Tuesday, April 25, 2023. The move ensures the municipal-level organization will be run by Beijing loyalists, quashing any future challenges. (AP Photo/Ng Han Guan, File)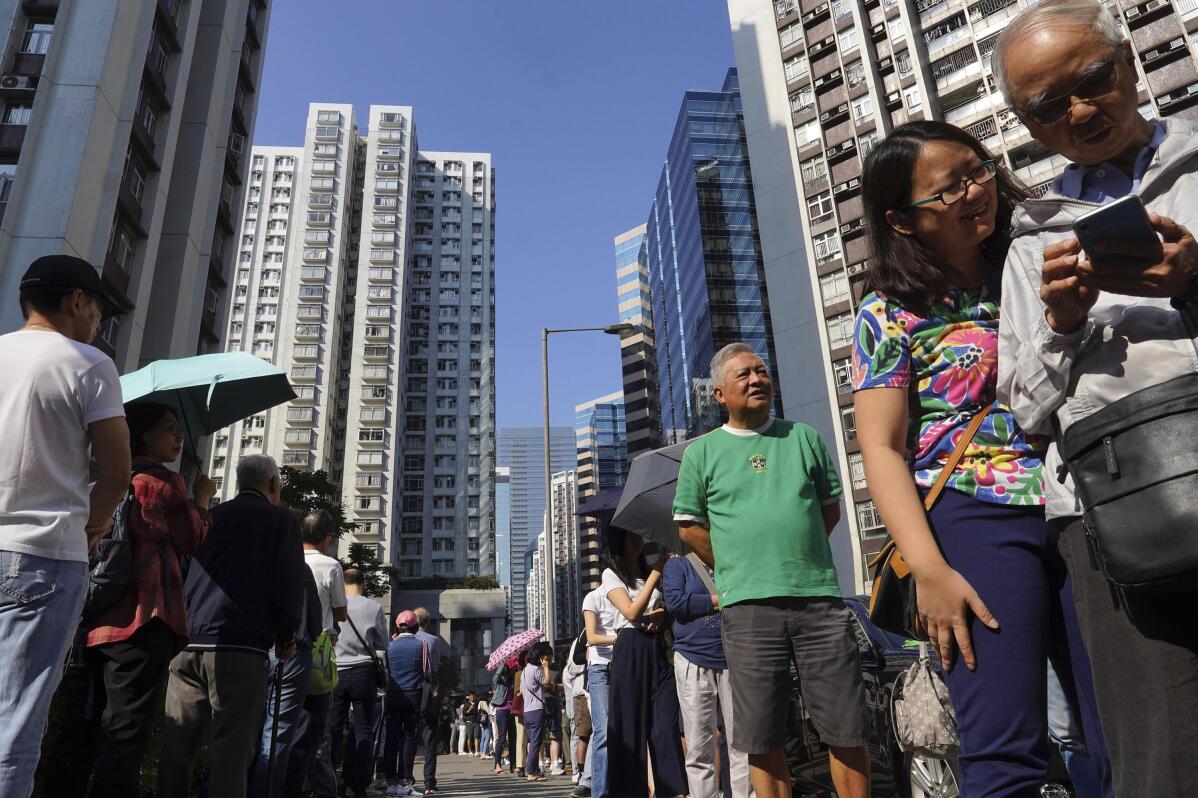 2 of 4

|
FILE - People line up to vote outside of a polling place in Hong Kong on Nov. 24, 2019. Hong Kong is planning to overhaul its last major political representative body that is mostly comprised of popularly elected seats, its leader said on Tuesday, April 25, 2023. The move ensures the municipal-level organization will be run by Beijing loyalists, quashing any future challenges. (AP Photo/Vincent Yu, File)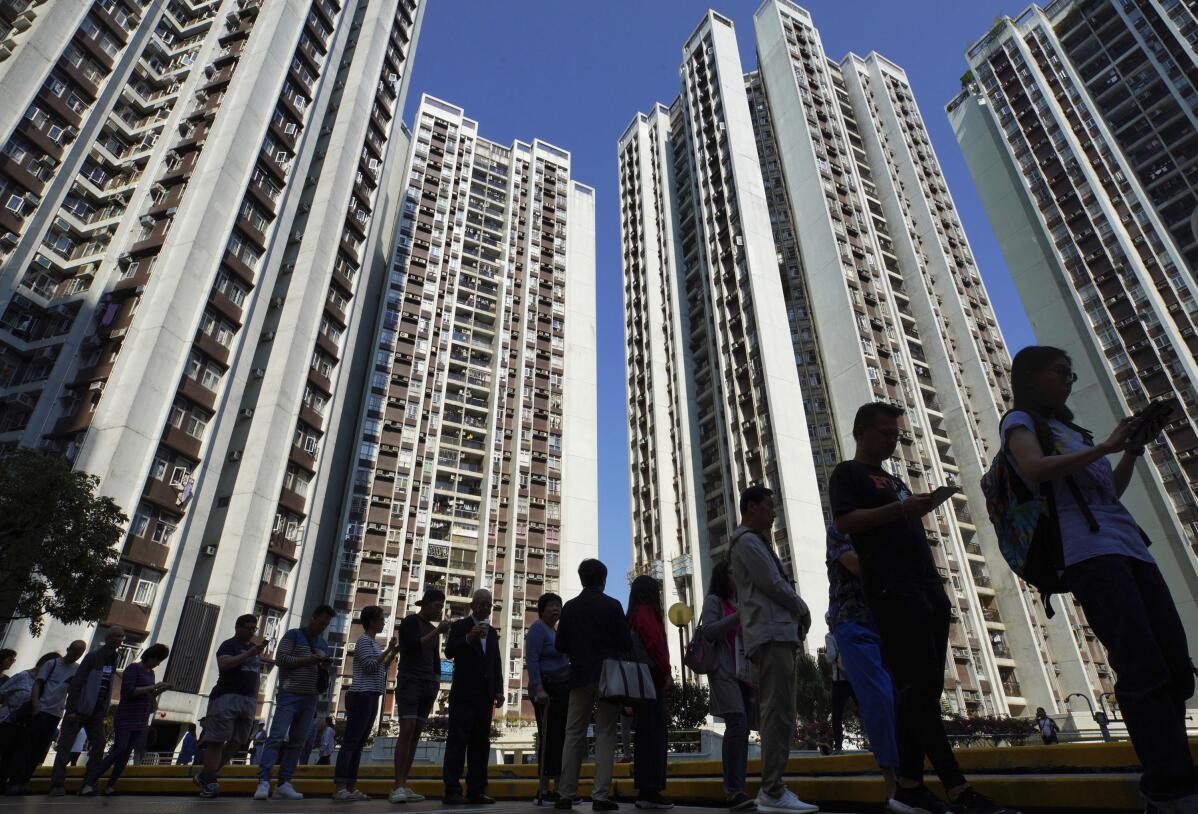 3 of 4

|
FILE - People line up to vote outside of a polling place in Hong Kong on Nov. 24, 2019. Hong Kong is planning to overhaul its last major political representative body that is mostly comprised of popularly elected seats, its leader said on Tuesday, April 25, 2023. The move ensures the municipal-level organization will be run by Beijing loyalists, quashing any future challenges. (AP Photo/Vincent Yu, File)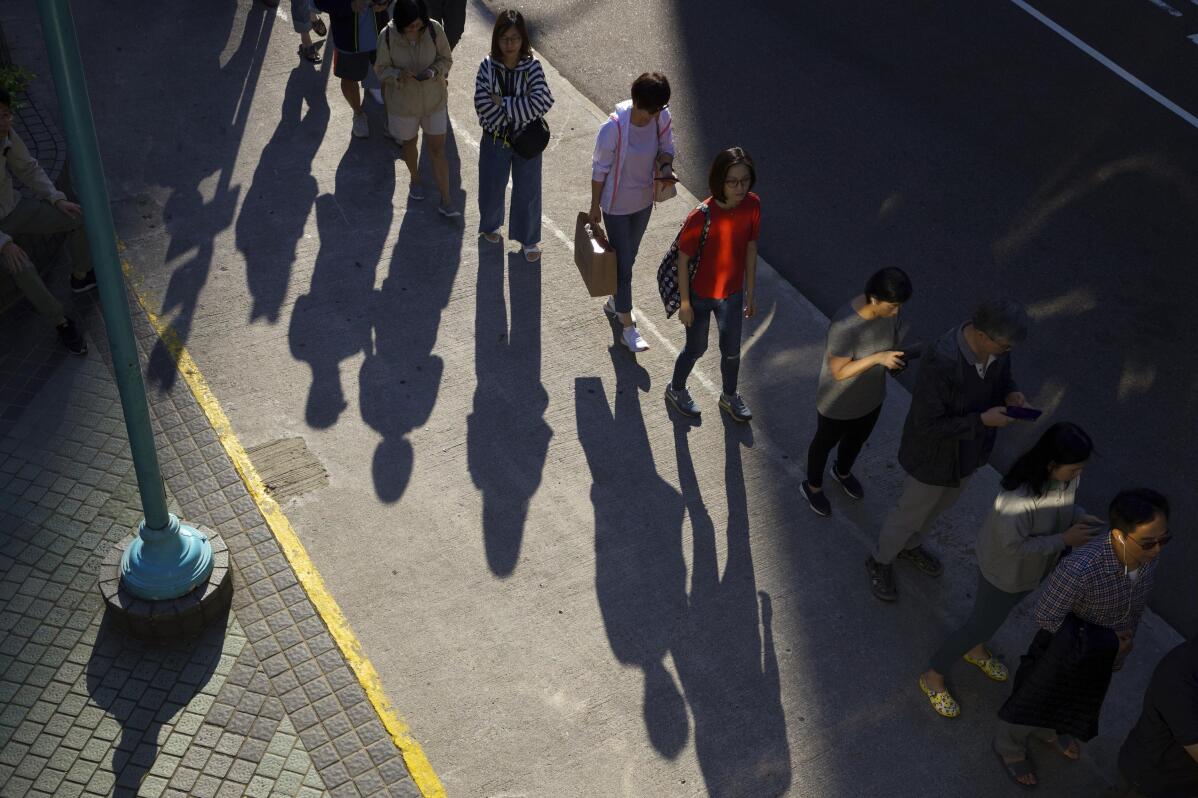 4 of 4

|
FILE - People line up to vote outside of a polling place in Hong Kong, Nov. 24, 2019. Hong Kong is planning to overhaul its last major political representative body that is mostly comprised of popularly elected seats, its leader said on Tuesday, April 25, 2023. The move ensures the municipal-level organization will be run by Beijing loyalists, quashing any future challenges. (AP Photo/Ng Han Guan, File)
Hong Kong plans electoral overhaul for district councils
1 of 4

|
Election workers empty a ballot box to count votes for a district council election at a polling station in Hong Kong, Nov. 24, 2019. Hong Kong is planning to overhaul its last major political representative body that is mostly comprised of popularly elected seats, its leader said on Tuesday, April 25, 2023. The move ensures the municipal-level organization will be run by Beijing loyalists, quashing any future challenges. (AP Photo/Ng Han Guan, File)
1 of 4
Election workers empty a ballot box to count votes for a district council election at a polling station in Hong Kong, Nov. 24, 2019. Hong Kong is planning to overhaul its last major political representative body that is mostly comprised of popularly elected seats, its leader said on Tuesday, April 25, 2023. The move ensures the municipal-level organization will be run by Beijing loyalists, quashing any future challenges. (AP Photo/Ng Han Guan, File)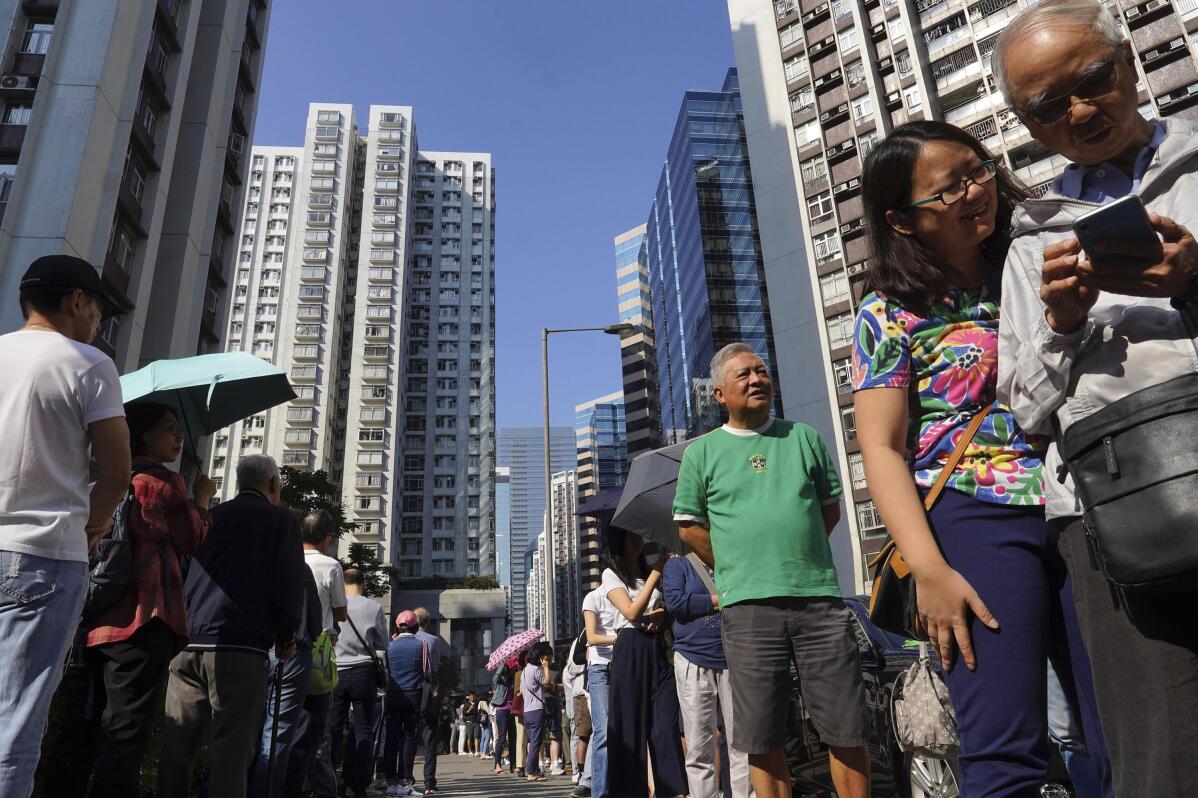 2 of 4

|
FILE - People line up to vote outside of a polling place in Hong Kong on Nov. 24, 2019. Hong Kong is planning to overhaul its last major political representative body that is mostly comprised of popularly elected seats, its leader said on Tuesday, April 25, 2023. The move ensures the municipal-level organization will be run by Beijing loyalists, quashing any future challenges. (AP Photo/Vincent Yu, File)
2 of 4
FILE - People line up to vote outside of a polling place in Hong Kong on Nov. 24, 2019. Hong Kong is planning to overhaul its last major political representative body that is mostly comprised of popularly elected seats, its leader said on Tuesday, April 25, 2023. The move ensures the municipal-level organization will be run by Beijing loyalists, quashing any future challenges. (AP Photo/Vincent Yu, File)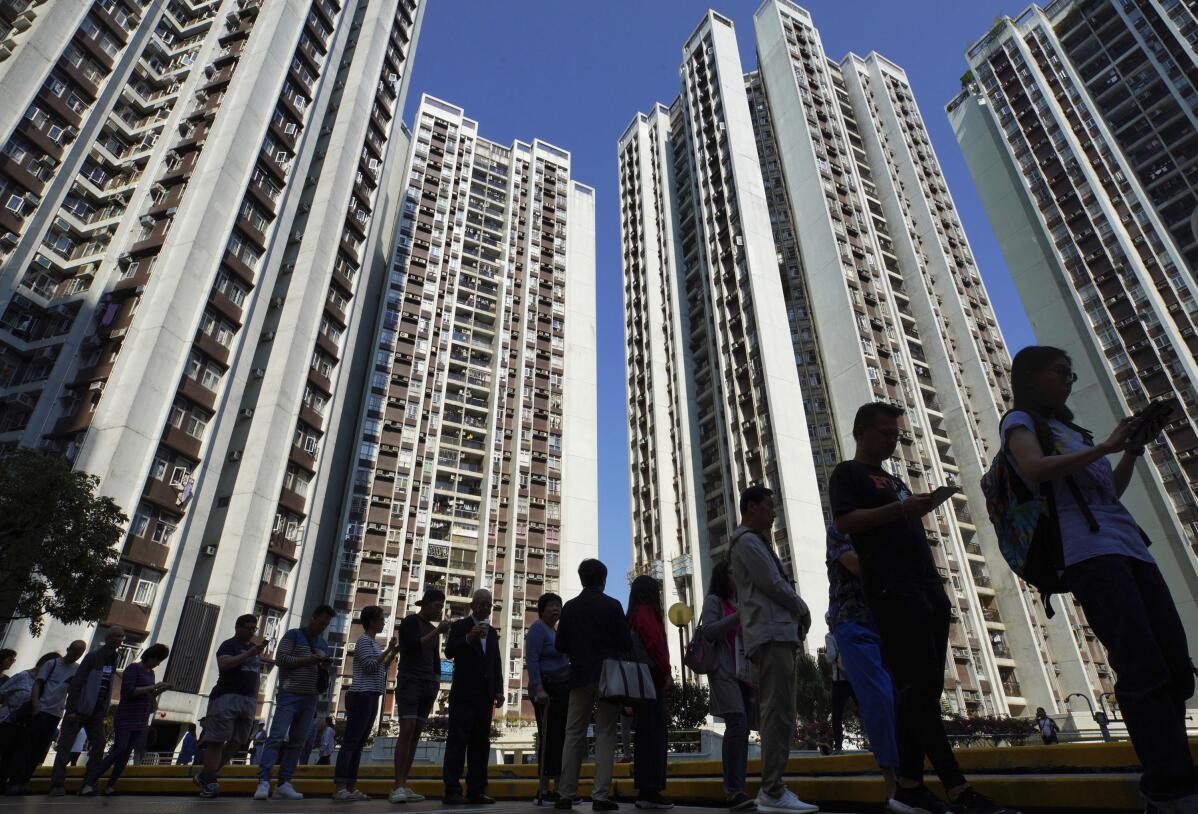 3 of 4

|
FILE - People line up to vote outside of a polling place in Hong Kong on Nov. 24, 2019. Hong Kong is planning to overhaul its last major political representative body that is mostly comprised of popularly elected seats, its leader said on Tuesday, April 25, 2023. The move ensures the municipal-level organization will be run by Beijing loyalists, quashing any future challenges. (AP Photo/Vincent Yu, File)
3 of 4
FILE - People line up to vote outside of a polling place in Hong Kong on Nov. 24, 2019. Hong Kong is planning to overhaul its last major political representative body that is mostly comprised of popularly elected seats, its leader said on Tuesday, April 25, 2023. The move ensures the municipal-level organization will be run by Beijing loyalists, quashing any future challenges. (AP Photo/Vincent Yu, File)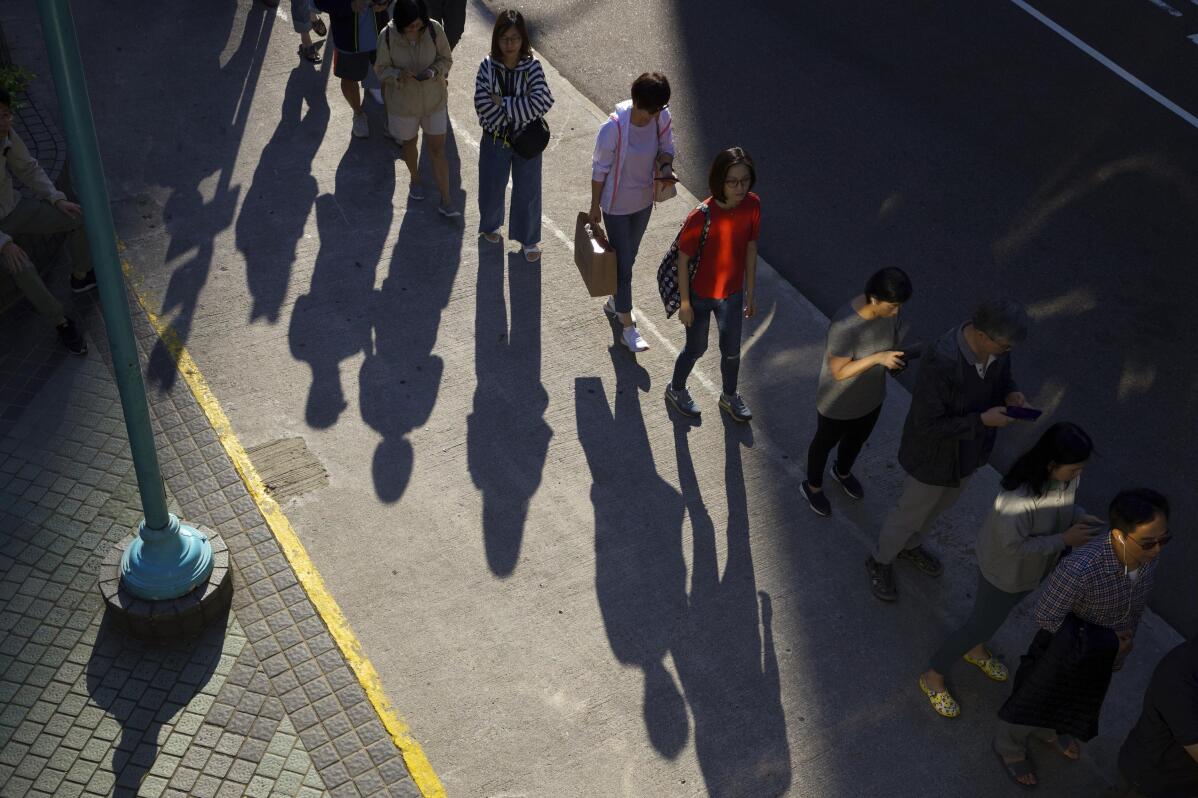 4 of 4

|
FILE - People line up to vote outside of a polling place in Hong Kong, Nov. 24, 2019. Hong Kong is planning to overhaul its last major political representative body that is mostly comprised of popularly elected seats, its leader said on Tuesday, April 25, 2023. The move ensures the municipal-level organization will be run by Beijing loyalists, quashing any future challenges. (AP Photo/Ng Han Guan, File)
4 of 4
FILE - People line up to vote outside of a polling place in Hong Kong, Nov. 24, 2019. Hong Kong is planning to overhaul its last major political representative body that is mostly comprised of popularly elected seats, its leader said on Tuesday, April 25, 2023. The move ensures the municipal-level organization will be run by Beijing loyalists, quashing any future challenges. (AP Photo/Ng Han Guan, File)
HONG KONG (AP) — Hong Kong is planning to overhaul its last major political representative body that is mostly comprised of popularly elected seats, its leader said Tuesday. The move ensures the municipal-level organization will be run by Beijing loyalists, quashing any future challenges.
Chief Executive John Lee said at a press briefing that the government will not allow the district councils to become a platform for advocating Hong Kong independence or intervening in its administration.
The race for the seats of the city's district representatives usually gets little international attention as the councilors mainly handle municipal matters. But their election took on symbolic importance after the city's pro-democracy camp won a landslide victory in the last poll at the height of the anti-government protests in 2019. In 2021, Hong Kong amended its electoral laws for its legislature, drastically reducing the public's ability to vote and increasing the number of pro-Beijing lawmakers making decisions for the city.
Under the current electoral rules, most of the council's seats are directly elected by voters. Lee said an ongoing review will help depoliticize the bodies.
"There will be multiple ways of entry and certain elements of election will be reserved," Lee said. "This will allow patriots who have the ambition to serve in their districts to take part through multiple channels." He did not further elaborate.
Many pro-democracy district councilors who were elected four years ago resigned in 2021 after the authorities introduced an oath-taking requirement to ask them to pledge allegiance to the city. Their mass resignations followed media reports that councilors may have to repay their wages if they are later disqualified from office, which the government had not confirmed or denied at the time.
The requirement was widely seen as part of a broader crackdown on the pro-democracy movement in the former British colony, which has seen an erosion of the freedoms it was promised it could maintain after being handed to Chinese control in 1997.