Texas officials worry about dangers from winter storm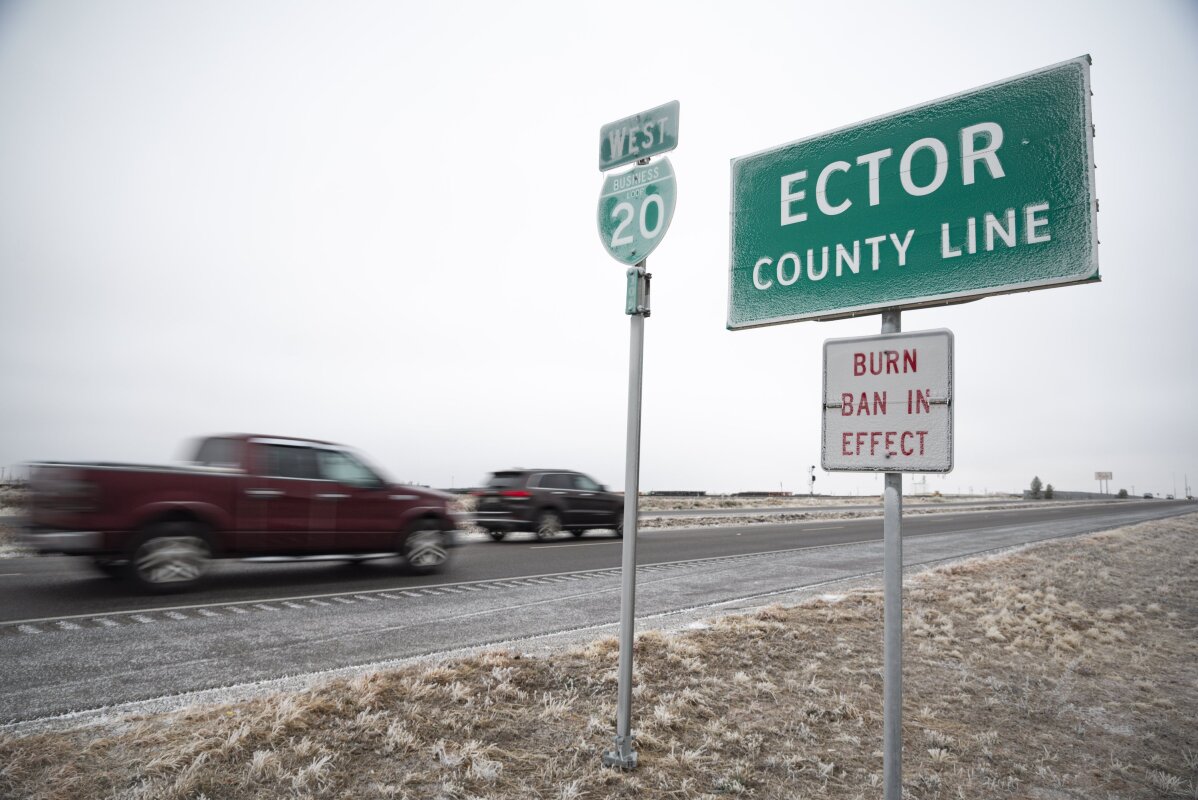 1 of 6

|
Traffic drives past the Ector County Line along Business Interstate 20 Friday, Feb. 12, 2021, in Odessa, Texas. Friday is the second day the Permian Basin has seen freezing weather as a Winter Weather Advisory issued by the National Weather Service for the region remains in effect until 11 a.m. Saturday. The NWS forecasts that the cold temperatures will remain in the Basin throughout the weekend with Sunday night seeing a 70% chance of snow. (Eli Hartman/Odessa American via AP)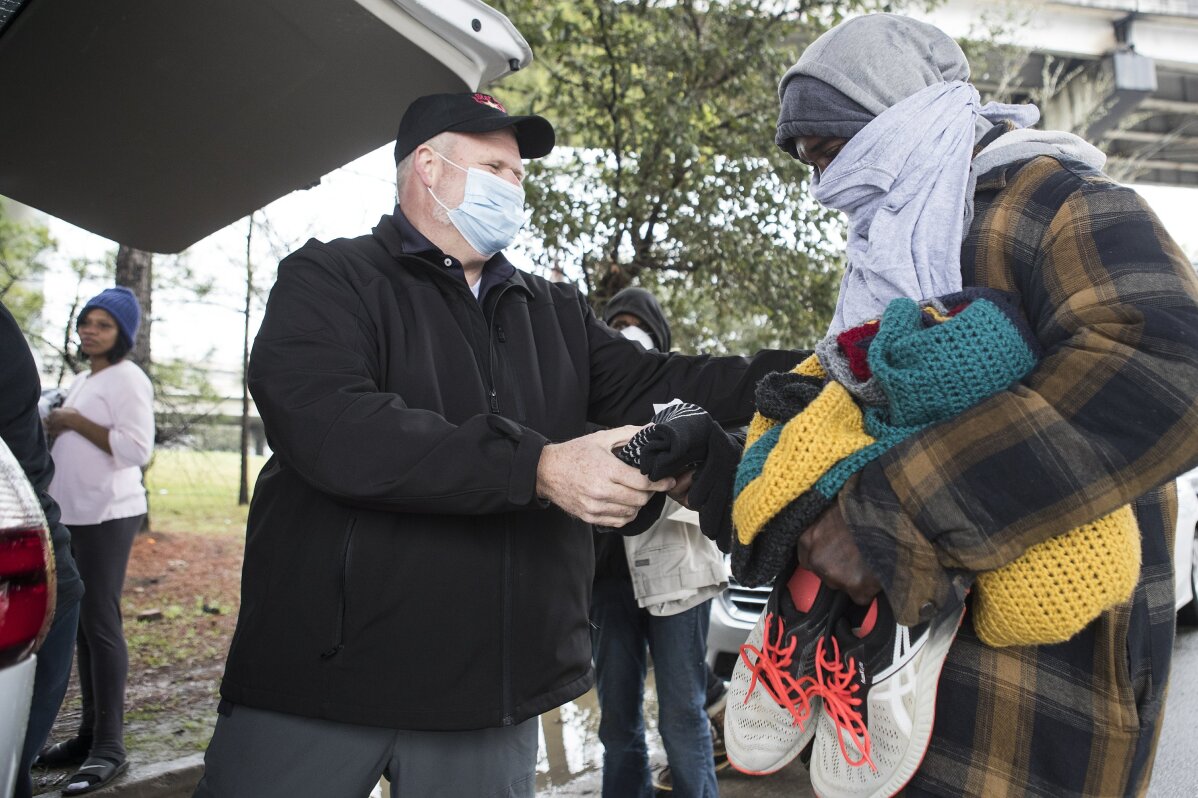 2 of 6

|
Ray Walker, left, of the Star of Hope, hands out blankets and cold-weather essentials to Larry Promise Friday, Feb. 12, 2021, in Houston. The Star of Hope Love In Action van makes periodic trips out into the city's street homeless population to give out blankets, coats, and other cold-weather essentials during frigid weather. (Brett Coomer/Houston Chronicle via AP)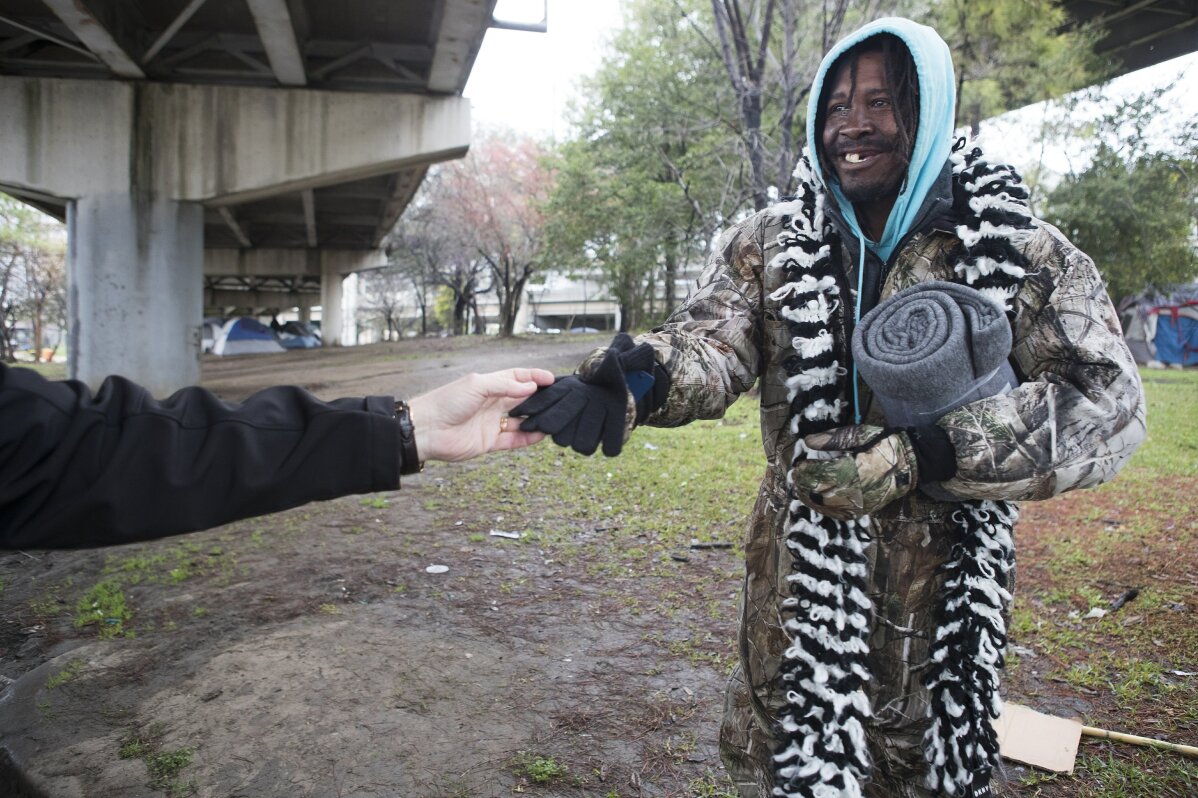 3 of 6

|
Ray Walker, left, of the Star of Hope, hands out blankets and cold-weather essentials to Edwin Ford Friday, Feb. 12, 2021, in Houston. The Star of Hope Love In Action van makes periodic trips out into the city's street homeless population to give out blankets, coats, and other cold-weather essentials during frigid weather. (Brett Coomer/Houston Chronicle via AP)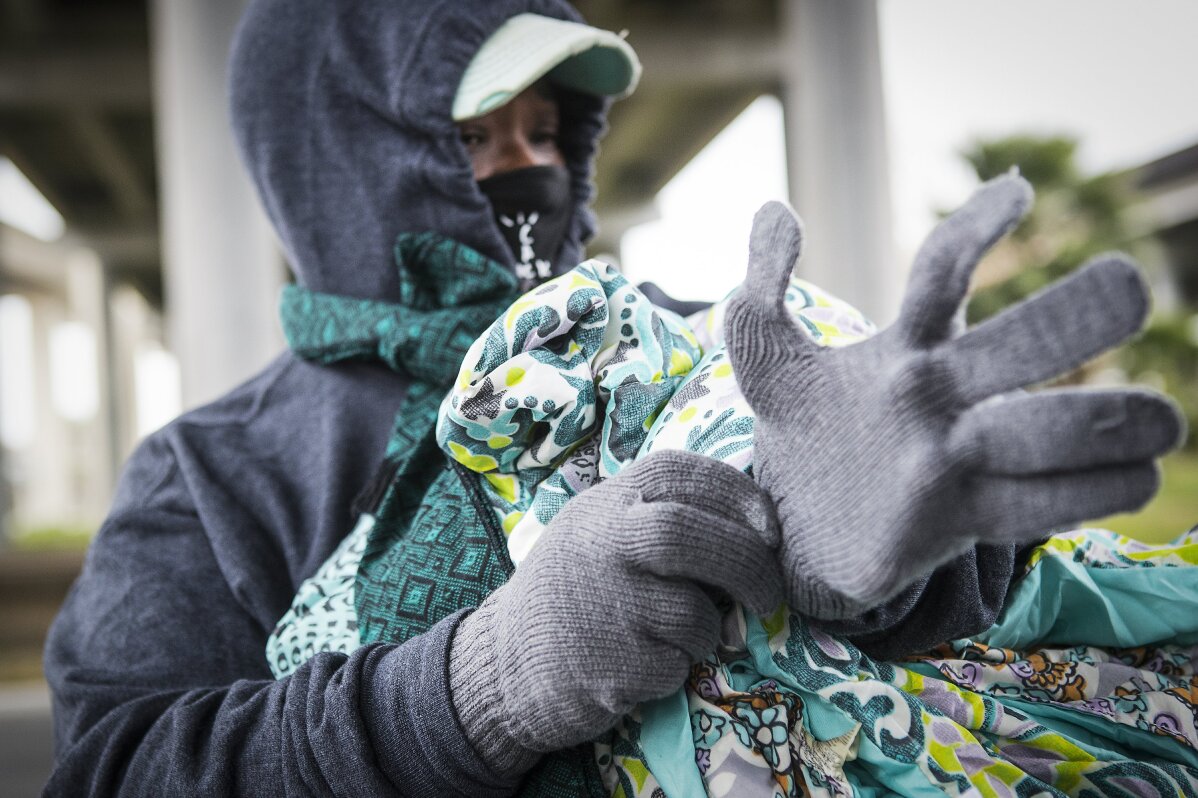 4 of 6

|
Nancy Holloway puts on a new pair of gloves given to her by the Star of Hope Love In Action van Friday, Feb. 12, 2021, in Houston. The Star of Hope Love In Action van makes periodic trips out into the city's street homeless population to give out blankets, coats, and other cold-weather essentials during frigid weather. (Brett Coomer/Houston Chronicle via AP)
5 of 6

|
TxDOT crews work to pre-treat portions of IH-69 near the Sam Houston Parkway on Friday, Feb. 12, 2021, ahead of an expected winter storm in Houston. (Jon Shapley/Houston Chronicle via AP)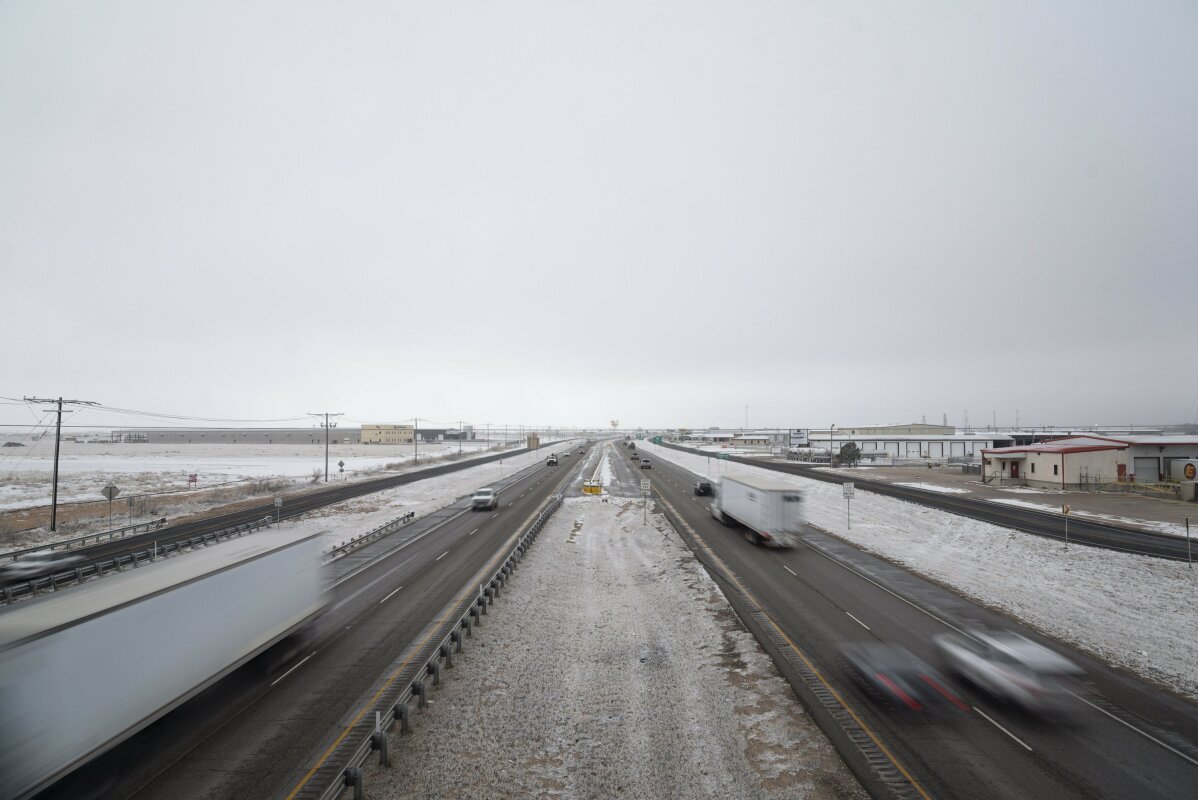 6 of 6

|
Traffic drives along Interstate 20 through a frozen West Texas landscape Friday, Feb. 12, 2021, in Odessa, Texas. Friday is the second day the Permian Basin has seen freezing weather as a Winter Weather Advisory issued by the National Weather Service for the region remains in effect until 11 a.m. Saturday. The NWS forecasts that the cold temperatures will remain in the Basin throughout the weekend with Sunday night seeing a 70% chance of snow. (Eli Hartman/Odessa American via AP)
Texas officials worry about dangers from winter storm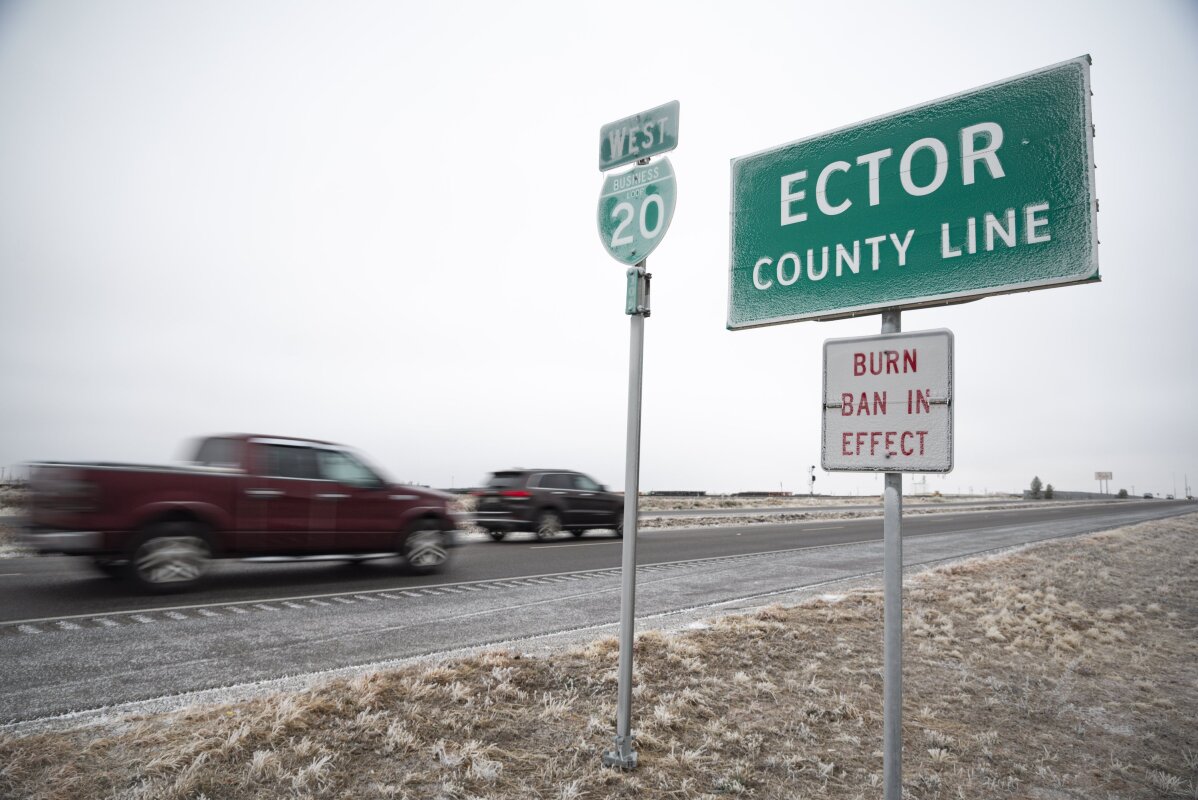 1 of 6

|
Traffic drives past the Ector County Line along Business Interstate 20 Friday, Feb. 12, 2021, in Odessa, Texas. Friday is the second day the Permian Basin has seen freezing weather as a Winter Weather Advisory issued by the National Weather Service for the region remains in effect until 11 a.m. Saturday. The NWS forecasts that the cold temperatures will remain in the Basin throughout the weekend with Sunday night seeing a 70% chance of snow. (Eli Hartman/Odessa American via AP)
1 of 6
Traffic drives past the Ector County Line along Business Interstate 20 Friday, Feb. 12, 2021, in Odessa, Texas. Friday is the second day the Permian Basin has seen freezing weather as a Winter Weather Advisory issued by the National Weather Service for the region remains in effect until 11 a.m. Saturday. The NWS forecasts that the cold temperatures will remain in the Basin throughout the weekend with Sunday night seeing a 70% chance of snow. (Eli Hartman/Odessa American via AP)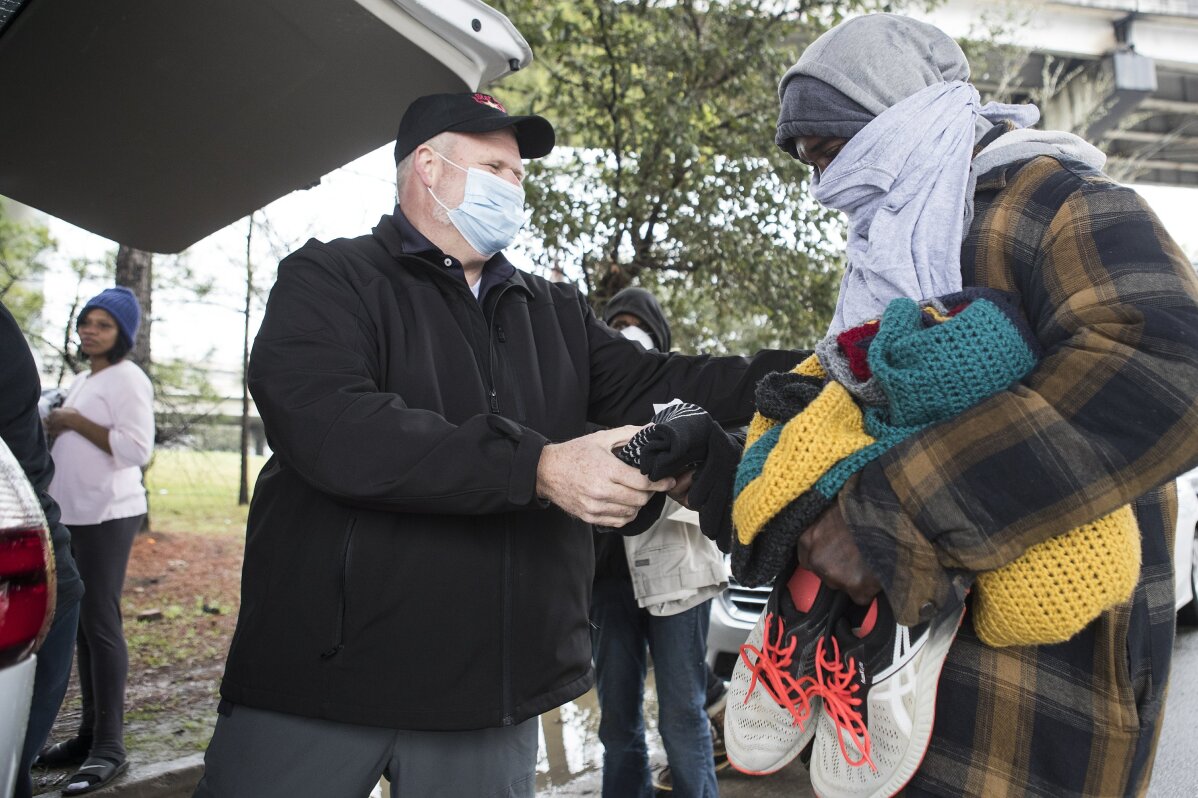 2 of 6

|
Ray Walker, left, of the Star of Hope, hands out blankets and cold-weather essentials to Larry Promise Friday, Feb. 12, 2021, in Houston. The Star of Hope Love In Action van makes periodic trips out into the city's street homeless population to give out blankets, coats, and other cold-weather essentials during frigid weather. (Brett Coomer/Houston Chronicle via AP)
2 of 6
Ray Walker, left, of the Star of Hope, hands out blankets and cold-weather essentials to Larry Promise Friday, Feb. 12, 2021, in Houston. The Star of Hope Love In Action van makes periodic trips out into the city's street homeless population to give out blankets, coats, and other cold-weather essentials during frigid weather. (Brett Coomer/Houston Chronicle via AP)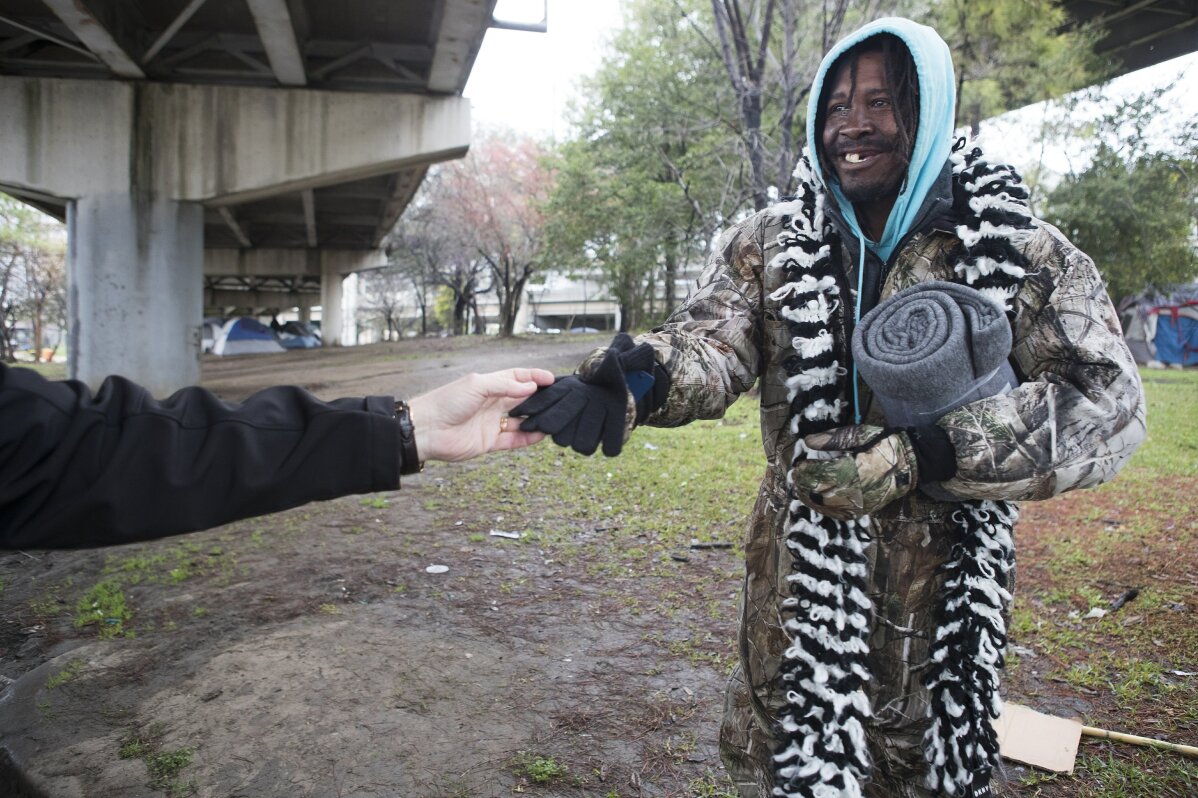 3 of 6

|
Ray Walker, left, of the Star of Hope, hands out blankets and cold-weather essentials to Edwin Ford Friday, Feb. 12, 2021, in Houston. The Star of Hope Love In Action van makes periodic trips out into the city's street homeless population to give out blankets, coats, and other cold-weather essentials during frigid weather. (Brett Coomer/Houston Chronicle via AP)
3 of 6
Ray Walker, left, of the Star of Hope, hands out blankets and cold-weather essentials to Edwin Ford Friday, Feb. 12, 2021, in Houston. The Star of Hope Love In Action van makes periodic trips out into the city's street homeless population to give out blankets, coats, and other cold-weather essentials during frigid weather. (Brett Coomer/Houston Chronicle via AP)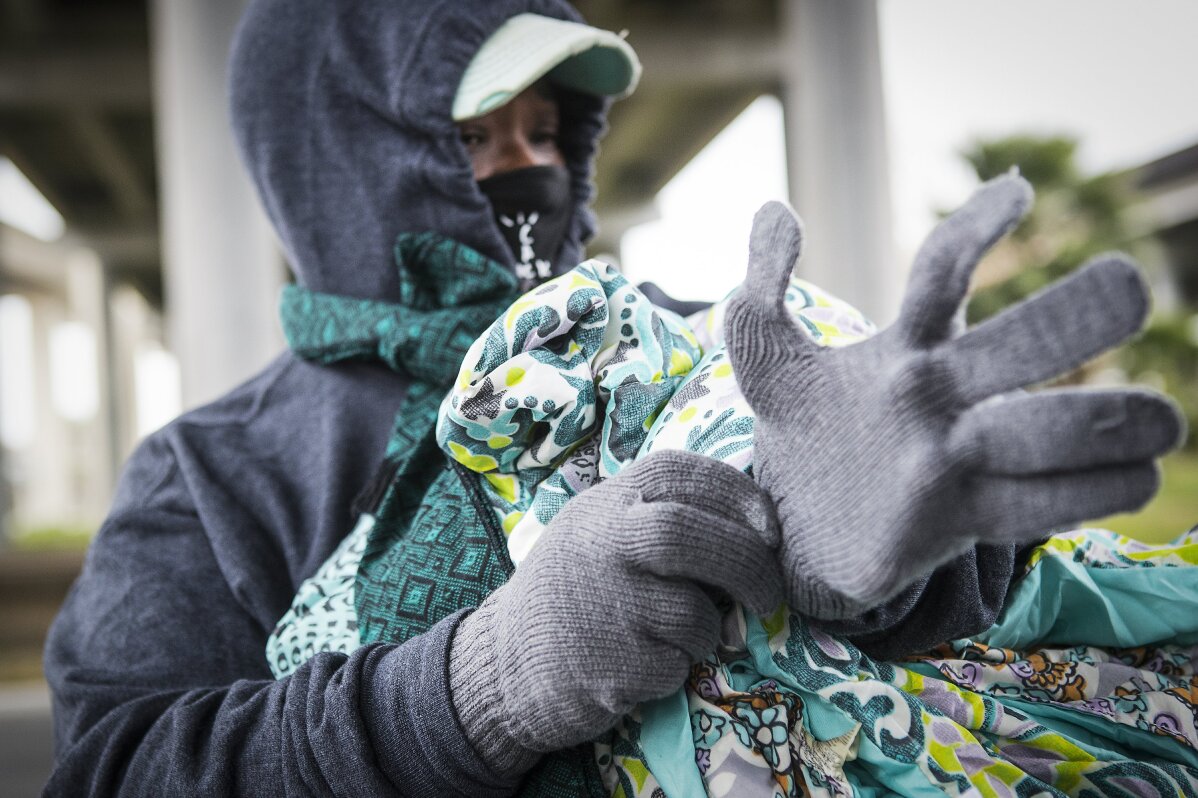 4 of 6

|
Nancy Holloway puts on a new pair of gloves given to her by the Star of Hope Love In Action van Friday, Feb. 12, 2021, in Houston. The Star of Hope Love In Action van makes periodic trips out into the city's street homeless population to give out blankets, coats, and other cold-weather essentials during frigid weather. (Brett Coomer/Houston Chronicle via AP)
4 of 6
Nancy Holloway puts on a new pair of gloves given to her by the Star of Hope Love In Action van Friday, Feb. 12, 2021, in Houston. The Star of Hope Love In Action van makes periodic trips out into the city's street homeless population to give out blankets, coats, and other cold-weather essentials during frigid weather. (Brett Coomer/Houston Chronicle via AP)
5 of 6

|
TxDOT crews work to pre-treat portions of IH-69 near the Sam Houston Parkway on Friday, Feb. 12, 2021, ahead of an expected winter storm in Houston. (Jon Shapley/Houston Chronicle via AP)
5 of 6
TxDOT crews work to pre-treat portions of IH-69 near the Sam Houston Parkway on Friday, Feb. 12, 2021, ahead of an expected winter storm in Houston. (Jon Shapley/Houston Chronicle via AP)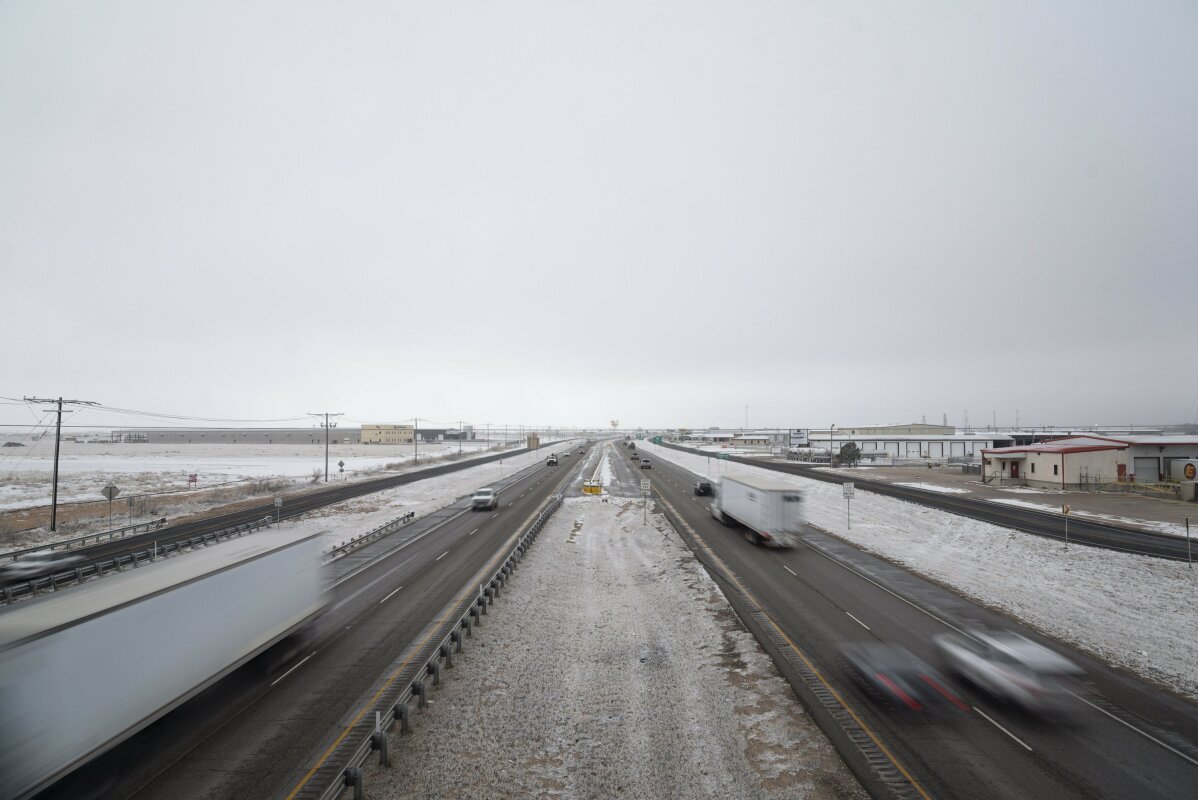 6 of 6

|
Traffic drives along Interstate 20 through a frozen West Texas landscape Friday, Feb. 12, 2021, in Odessa, Texas. Friday is the second day the Permian Basin has seen freezing weather as a Winter Weather Advisory issued by the National Weather Service for the region remains in effect until 11 a.m. Saturday. The NWS forecasts that the cold temperatures will remain in the Basin throughout the weekend with Sunday night seeing a 70% chance of snow. (Eli Hartman/Odessa American via AP)
6 of 6
Traffic drives along Interstate 20 through a frozen West Texas landscape Friday, Feb. 12, 2021, in Odessa, Texas. Friday is the second day the Permian Basin has seen freezing weather as a Winter Weather Advisory issued by the National Weather Service for the region remains in effect until 11 a.m. Saturday. The NWS forecasts that the cold temperatures will remain in the Basin throughout the weekend with Sunday night seeing a 70% chance of snow. (Eli Hartman/Odessa American via AP)
HOUSTON (AP) — A major winter storm was expected to dump freezing rain and snowfall with bitterly cold temperatures over many parts of Texas this weekend through early next week, prompting Houston officials to advise residents on Friday to prepare for power outages and hazardous roads that could be similar to those experienced in the wake of a Category 5 hurricane.
Houston, which earlier this week had high temperatures in the 70s Fahrenheit (20s Celsius) and usually has mild winters, was forecast to have its coldest temperatures in 30 years. Temperatures in Houston late Monday night into early Tuesday morning were expected to dip to 15 degrees Fahrenheit (9 below zero, Celsius).
"It's a serious event, and we want to treat it the same way we would if a hurricane were to (be) forecast and land here," said Harris County Judge Lina Hidalgo, the top elected official in the county where Houston is located.
Mayor Sylvester Turner said officials planned on Sunday to open a shelter at the city's convention center for Houston's homeless population.
Turner advised residents to stay off the roads as freezing rain, sleet and possibly even snow was forecast for Sunday and Monday. Snowfall is rare for the Houston area.
But no part of the state was expected to escape this blast of winter weather. On Friday, Gov. Greg Abbott issued a disaster declaration for all of the state's 254 counties ahead of the storm and said state resources, including equipment and personnel, would be deployed.
In the Dallas-Fort Worth area, heavy snowfall was forecast for late Sunday into Monday.
In the Texas Panhandle, the wind chill factor from Sunday through Tuesday could dip to 25 to 30 degrees below zero Fahrenheit (31 to 34 below zero, Celsius) in some locations, along with snowfall of up to 12 inches (30 centimeters).
Even in deep South Texas, which also typically has mild winters, temperatures early Tuesday morning were expected to be in the 20s Fahrenheit range (6 below zero Celsius and up).
"It's going to be a mess," said Lance Wood, a science operations officer with National Weather Service in the Houston area.
___
Follow Juan A. Lozano on Twitter: https://twitter.com/juanlozano70