Arkansas Gov. Sanders signs $124 million tax cut into law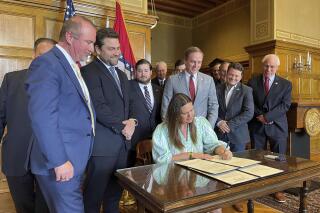 LITTLE ROCK, Ark. (AP) — Republican Gov. Sarah Huckabee Sanders on Monday signed into law a measure cutting individual and corporate income taxes in Arkansas by $124 million a year.
Sanders signed the bill she and legislative leaders backed that will cut the top individual income tax rate to 4.7% from 4.9%. The law also cuts the top corporate income tax rate to 5.1% from 5.3%.
State finance officials said that under the proposal, 1.1 million taxpayers who make more than $24,300 a year will receive a cut. Sanders, who took office in January, has called for phasing out the state's income tax. Over the past several years, Sanders' Republican predecessor, former Gov. Asa Hutchinson, and the majority-GOP Legislature enacted a series of cuts.
Lawmakers last week sent Sanders the tax cut legislation, one of the last remaining items before they wrapped up this year's legislative session on Friday. The tax cut is projected to cost $186 million in its first year because it will take effect this year, the Department of Finance and Administration said.
Sanders also signed another bill that will cut income taxes for multi-state corporations by phasing out over seven years the "throwback rule." That rule considers sales of tangible property as being within the state for tax purposes if they're sold to the federal government or to other states that don't collect the tax. The legislation will cost $10.6 million in the coming fiscal year and $74 million a year once fully implemented, according to the Department of Finance and Administration.