Hungary pressures EU by delaying Finland, Sweden NATO vote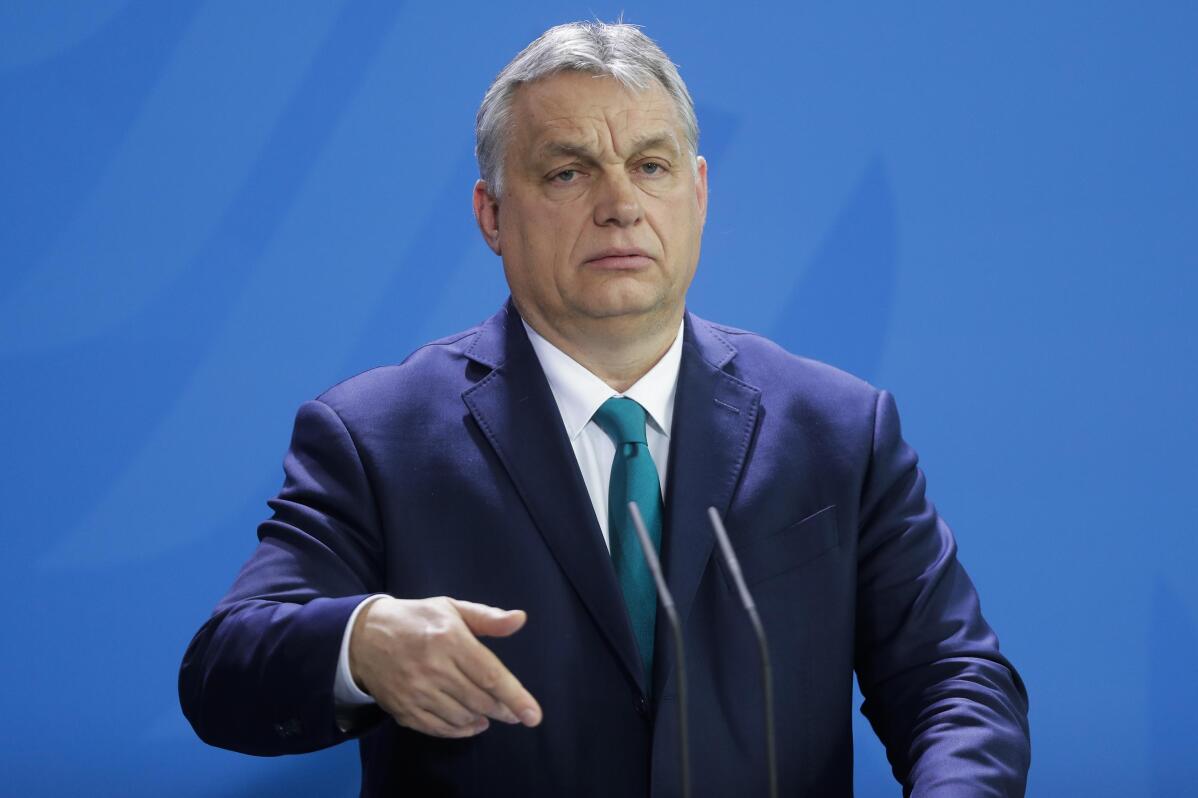 1 of 2

|
FILE - Hungary's Prime Minister Victor Orban briefs the media in Berlin, Germany, Monday, Feb. 10, 2020. After Russia launched its war against Ukraine in Feb. 2022, Sweden and Finland dropped their longstanding military neutrality and quickly signaled their intentions to join the NATO military alliance. While Turkish President Recep Tayyip Erdogan has repeatedly raised specific objections to the countries — especially Sweden — joining NATO, Hungary's populist Prime Minister Viktor Orban has long signaled that his country supports expanding the alliance, and has made repeated promises that the parliament in Budapest would soon vote to ratify. (AP Photo/Markus Schreiber, File )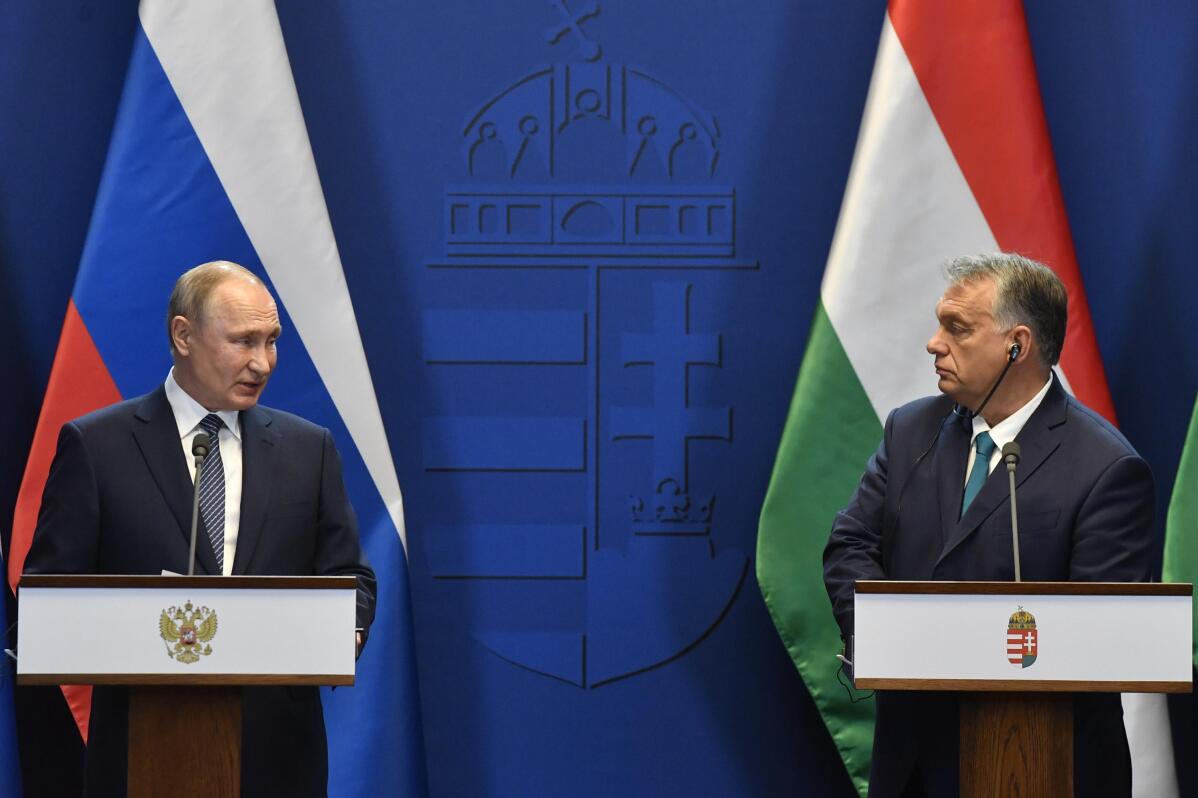 2 of 2

|
FILE - Hungarian Prime Minister Viktor Orban, right, and Russian President Vladimir Putin hold a joint press conference following their talks in Budapest, Hungary, Wednesday, Oct. 30, 2019. After Russia launched its war against Ukraine in Feb. 2022, Sweden and Finland dropped their longstanding military neutrality and quickly signaled their intentions to join the NATO military alliance. While Turkish President Recep Tayyip Erdogan has repeatedly raised specific objections to the countries — especially Sweden — joining NATO, Hungary's populist Prime Minister Viktor Orban has long signaled that his country supports expanding the alliance, and has made repeated promises that the parliament in Budapest would soon vote to ratify. (Zoltan Mathe/MTI via AP, File)
Hungary pressures EU by delaying Finland, Sweden NATO vote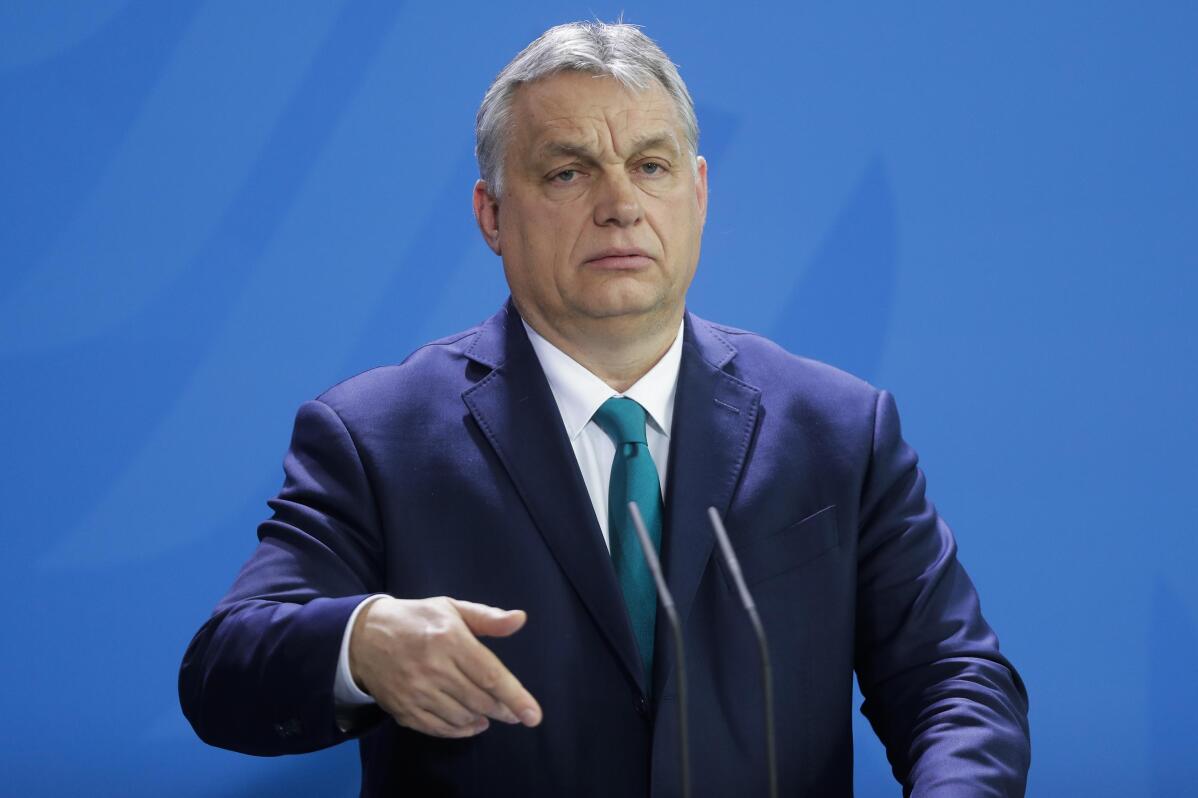 1 of 2

|
FILE - Hungary's Prime Minister Victor Orban briefs the media in Berlin, Germany, Monday, Feb. 10, 2020. After Russia launched its war against Ukraine in Feb. 2022, Sweden and Finland dropped their longstanding military neutrality and quickly signaled their intentions to join the NATO military alliance. While Turkish President Recep Tayyip Erdogan has repeatedly raised specific objections to the countries — especially Sweden — joining NATO, Hungary's populist Prime Minister Viktor Orban has long signaled that his country supports expanding the alliance, and has made repeated promises that the parliament in Budapest would soon vote to ratify. (AP Photo/Markus Schreiber, File )
1 of 2
FILE - Hungary's Prime Minister Victor Orban briefs the media in Berlin, Germany, Monday, Feb. 10, 2020. After Russia launched its war against Ukraine in Feb. 2022, Sweden and Finland dropped their longstanding military neutrality and quickly signaled their intentions to join the NATO military alliance. While Turkish President Recep Tayyip Erdogan has repeatedly raised specific objections to the countries — especially Sweden — joining NATO, Hungary's populist Prime Minister Viktor Orban has long signaled that his country supports expanding the alliance, and has made repeated promises that the parliament in Budapest would soon vote to ratify. (AP Photo/Markus Schreiber, File )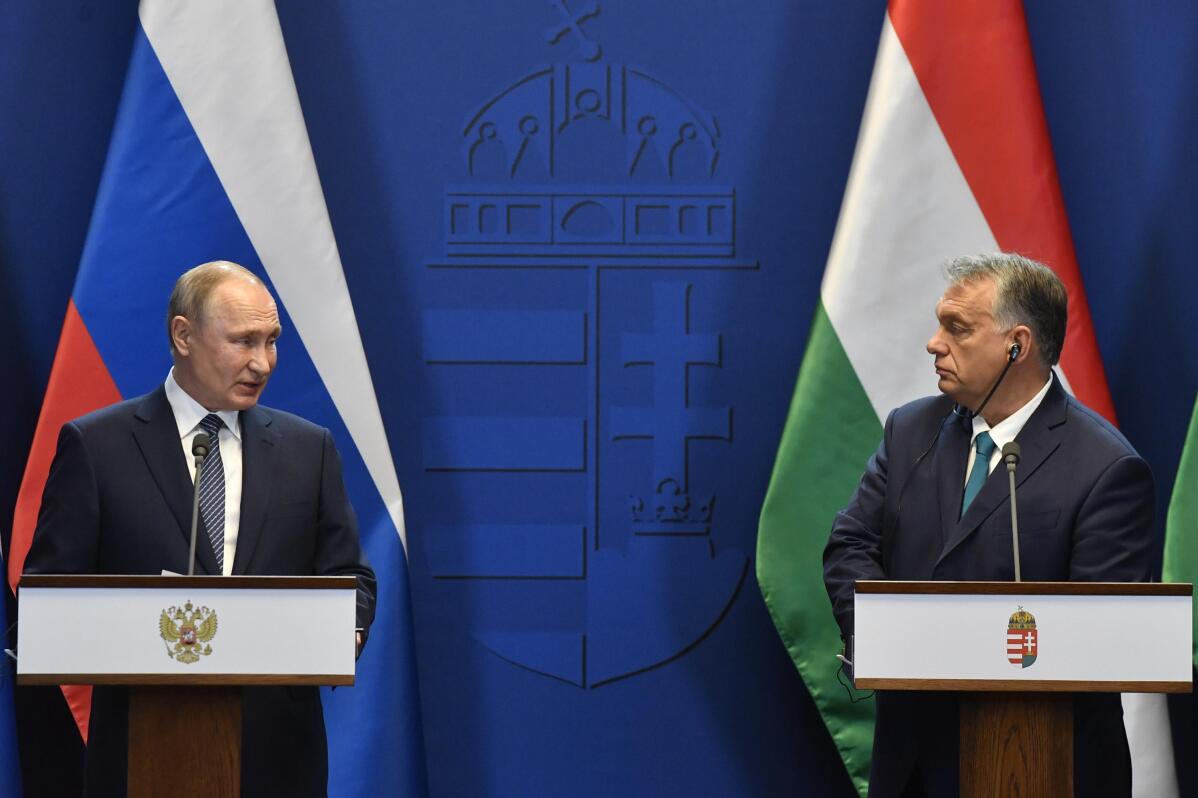 2 of 2

|
FILE - Hungarian Prime Minister Viktor Orban, right, and Russian President Vladimir Putin hold a joint press conference following their talks in Budapest, Hungary, Wednesday, Oct. 30, 2019. After Russia launched its war against Ukraine in Feb. 2022, Sweden and Finland dropped their longstanding military neutrality and quickly signaled their intentions to join the NATO military alliance. While Turkish President Recep Tayyip Erdogan has repeatedly raised specific objections to the countries — especially Sweden — joining NATO, Hungary's populist Prime Minister Viktor Orban has long signaled that his country supports expanding the alliance, and has made repeated promises that the parliament in Budapest would soon vote to ratify. (Zoltan Mathe/MTI via AP, File)
2 of 2
FILE - Hungarian Prime Minister Viktor Orban, right, and Russian President Vladimir Putin hold a joint press conference following their talks in Budapest, Hungary, Wednesday, Oct. 30, 2019. After Russia launched its war against Ukraine in Feb. 2022, Sweden and Finland dropped their longstanding military neutrality and quickly signaled their intentions to join the NATO military alliance. While Turkish President Recep Tayyip Erdogan has repeatedly raised specific objections to the countries — especially Sweden — joining NATO, Hungary's populist Prime Minister Viktor Orban has long signaled that his country supports expanding the alliance, and has made repeated promises that the parliament in Budapest would soon vote to ratify. (Zoltan Mathe/MTI via AP, File)
BUDAPEST, Hungary (AP) — After Russia invaded Ukraine in February 2022, Sweden and Finland dropped their longstanding military neutrality and quickly signaled their intentions to join NATO, in a striking sign of how powerful Europe's security fears had become in the shadow of Moscow's war.
But nearly a year after the Nordic countries officially applied to join the military alliance, their admission remains unresolved because two of the 30 NATO members — Turkey and Hungary — still haven't approved their bids.
Although Turkish President Recep Tayyip Erdogan has repeatedly raised specific objections to the countries — especially Sweden — joining NATO, Hungary's populist prime minister, Viktor Orban, has long signaled that his country's support for expansion and has repeatedly promised its parliament would soon vote to ratify.
"We have already confirmed to both Finland and Sweden that Hungary supports" their NATO bids, Orban said at a meeting of Central European prime ministers last November. "The Swedes and the Finns have not lost a single minute of membership because of Hungary, and Hungary will certainly give them the support they need to join."
But a succession of delays by Hungary's government — and its shifting justifications in explaining them — have caused frustration and worry in Sweden, Finland and beyond, and raised questions over what Hungary hopes to achieve through them.
Daniel Hegedus, an analyst and fellow for Central Europe at the German Marshall Fund, a think tank that seeks to promote cooperation between North America and the European Union, said that at the heart of Hungary's intransigence on NATO expansion is its desire to exert leverage on the EU, which has frozen billions in funds to Budapest over corruption and rule-of-law concerns.
Hungary's hope, Hegedus said, "is that by playing with this postponement of the voting, they can push the Swedes and the Finns to support a potential release of the Hungarian funds in April, or at least make these countries not vocally critical."
The EU, which includes 21 NATO countries, has for years accused Orban's government of cracking down on media freedom and LGBTQ rights, overseeing an entrenched culture of official corruption and co-opting state institutions to serve the interests of the governing Fidesz party.
Orban has also been accused of maintaining an unduly close relationship with Russian President Vladimir Putin and of failing to break with him even after Russia launched its invasion of Ukraine.
In a resolution in the European Parliament last year, EU lawmakers declared that Hungary had become "a hybrid regime of electoral autocracy" under Orban's nationalist government, and that its undermining of the bloc's democratic values had taken it out of the community of democracies.
Such persistent condemnation from both liberal and conservative European politicians, and the EU's insistence that Hungary carry out a lengthy raft of deep reforms in order to gain access to the billions in suspended funds, has led Orban's government to strike back by threatening to block parts of the EU's sanctions against Russia, vetoing an 18 billion euro ($ 19.1 billion) aid package to Ukraine and holding up the vote on NATO accession, Hegedus said.
"The one single reason that Hungary was sanctioned due to corruption and EU funds were suspended ... was Hungary's geopolitical positioning, its continuous blockade vis-a-vis support to Ukraine and especially the Hungarian position related to the Ukrainian aid package," he said. "And instead of coming to the conclusion that this geopolitical positioning and blockade policy was alienating even their closest allies, they just go further down this road."
In a further sign that frozen EU funds to Budapest played a role in Hungary withholding its NATO ratification vote, the Hungarian parliament sent a delegation of lawmakers to Stockholm and Helsinki early in March to resolve "political disputes" that Orban said had raised doubts among some Hungarian lawmakers about whether to support the Nordic nations' applications.
"It's not right for (Sweden and Finland) to ask us to take them on board while they're spreading blatant lies about Hungary, about the rule of law in Hungary, about democracy, about life here," Orban said in a radio interview last month. "Can anyone want to be our ally in a military system while they're shamelessly spreading lies about Hungary?"
While the Hungarian delegation later signaled it was supportive of the NATO accession bids, Hungary's parliament this month postponed a ratification vote twice in two weeks, and has not given a firm date on when the vote might take place.
Though Orban and his government may hope to win concessions from the EU by dragging out the NATO vote, they have likely "overplayed their hand," as the patience and trust of Hungary's allies begins to wear thin, Hegedus said.
"I think no one will ever trust this Hungarian government anymore," he said. "Hungary was treated as a NATO and EU ally whose government can be ultimately trusted because it's one of us. Now, I think this perception is gone. Hungary will be treated differently because all of the partners know that trust is the last thing they can afford vis-a-vis Orban."
Still, he said, Hungary's parliament is likely to finally vote to ratify Sweden's and Finland's NATO applications "in the next couple of weeks or months," especially if Turkey's government votes to ratify Finland's bid as it is expected to do.
"The Hungarian position is unsustainable if the Turkish position changes, and being the last country agreeing to the NATO accession of the ... duo would be very damaging for the Hungarian government," he said.
___
Follow Justin Spike on Twitter at https://twitter.com/jspikebudapest