Americans sharply divided over whether Biden acted wrongly in son's businesses, AP-NORC poll shows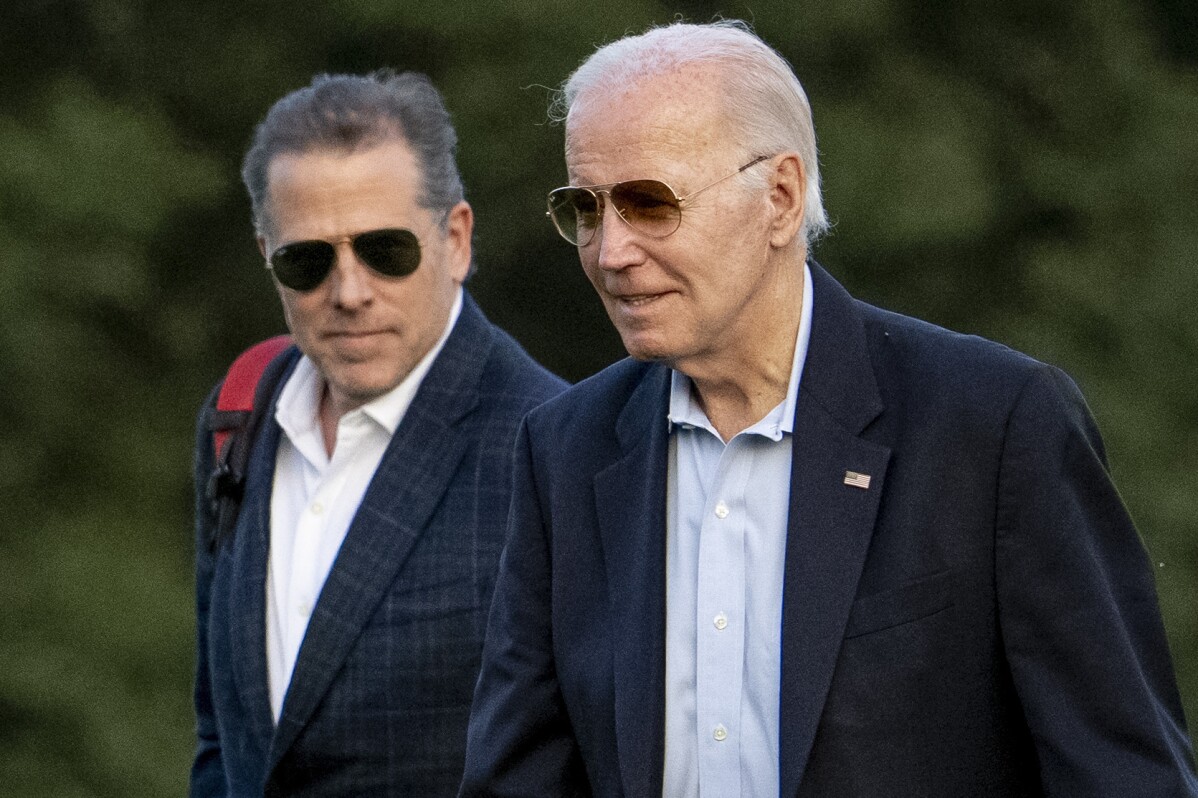 1 of 2

|
FILE - President Joe Biden, and his son Hunter Biden arrive at Fort McNair, Sunday, June 25, 2023, in Washington. Hunter Biden has been charged with felony gun possession. A federal indictment filed in Delaware says Biden lied about his drug use when he bought a firearm in 2018 while struggling with addiction to crack cocaine. (AP Photo/Andrew Harnik, File)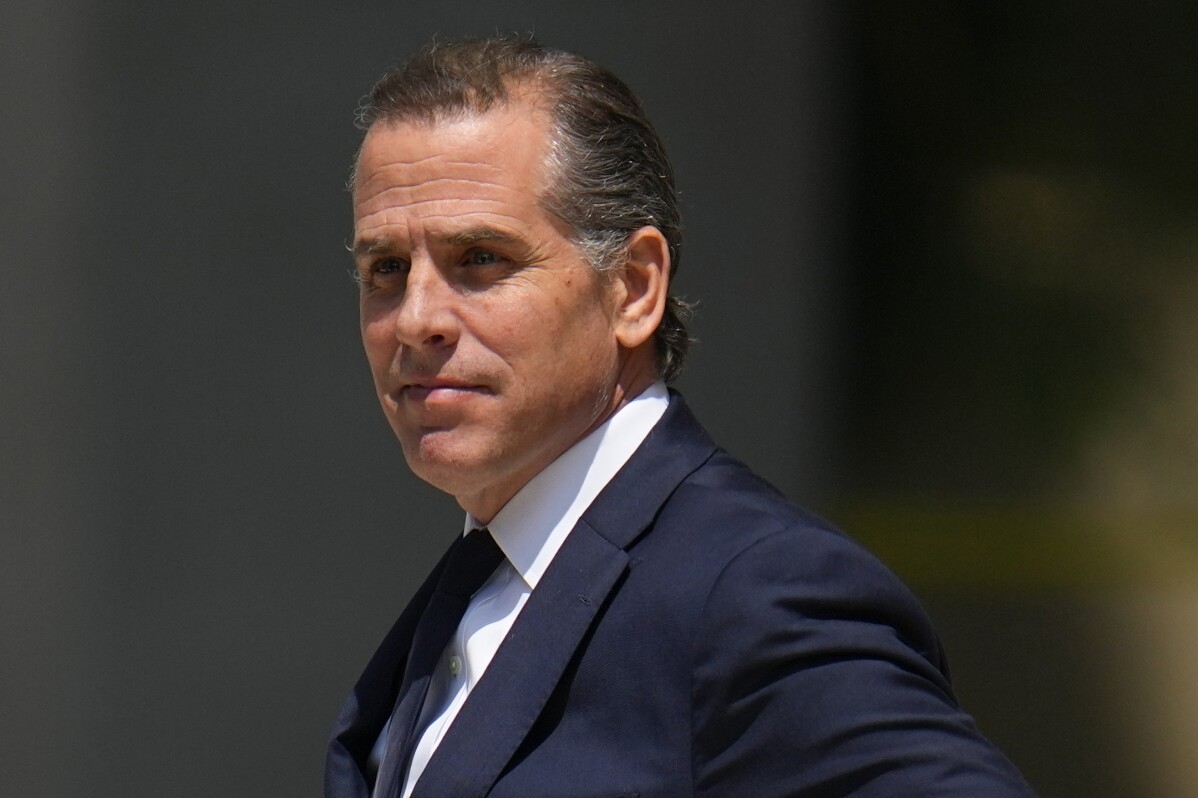 2 of 2

|
FILE - President Joe Biden's son Hunter Biden leaves after a court appearance, July 26, 2023, in Wilmington, Del. Hunter Biden has filed a lawsuit against the Internal Revenue Service, arguing that two agents violated his right to privacy when they publicly aired his tax information as they pressed claims that a federal investigation into him had been improperly handled. The lawsuit filed Monday says that his personal tax details shared during congressional hearings and interviews was not allowed by whistleblower protections. (AP Photo/Julio Cortez, File)
Americans sharply divided over whether Biden acted wrongly in son's businesses, AP-NORC poll shows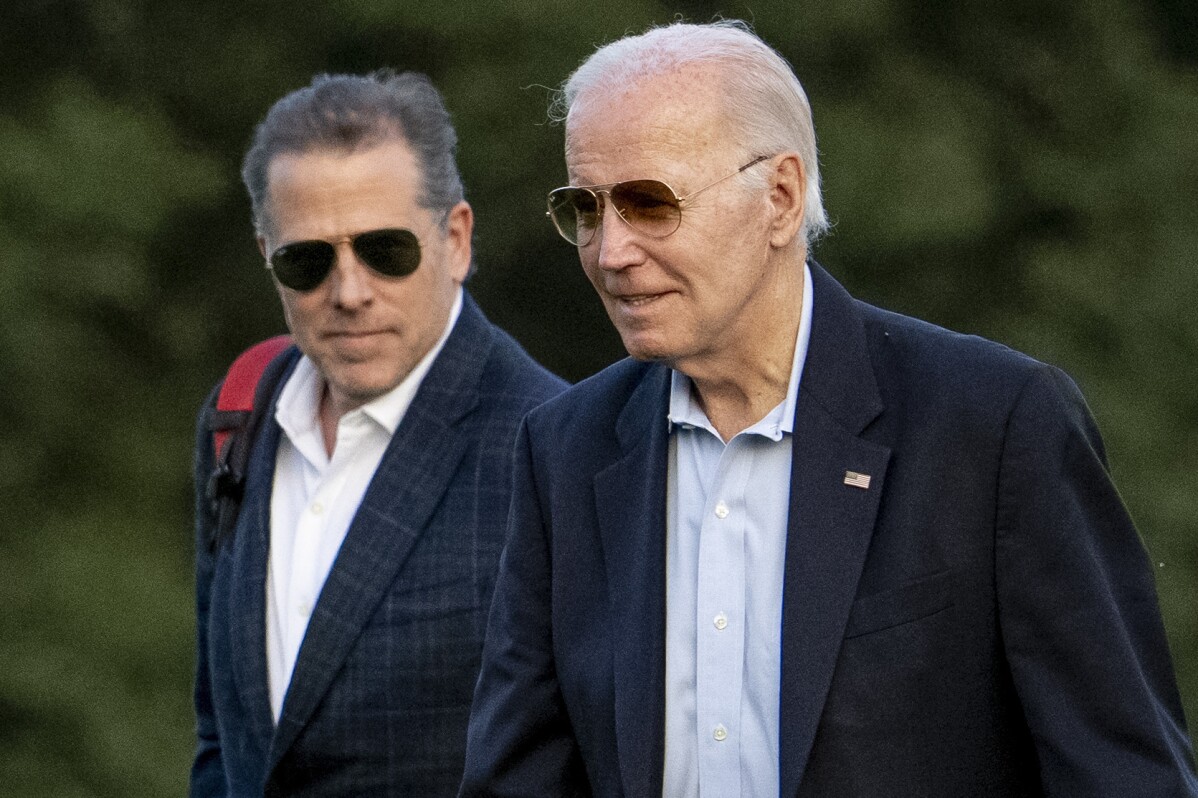 1 of 2

|
FILE - President Joe Biden, and his son Hunter Biden arrive at Fort McNair, Sunday, June 25, 2023, in Washington. Hunter Biden has been charged with felony gun possession. A federal indictment filed in Delaware says Biden lied about his drug use when he bought a firearm in 2018 while struggling with addiction to crack cocaine. (AP Photo/Andrew Harnik, File)
1 of 2
FILE - President Joe Biden, and his son Hunter Biden arrive at Fort McNair, Sunday, June 25, 2023, in Washington. Hunter Biden has been charged with felony gun possession. A federal indictment filed in Delaware says Biden lied about his drug use when he bought a firearm in 2018 while struggling with addiction to crack cocaine. (AP Photo/Andrew Harnik, File)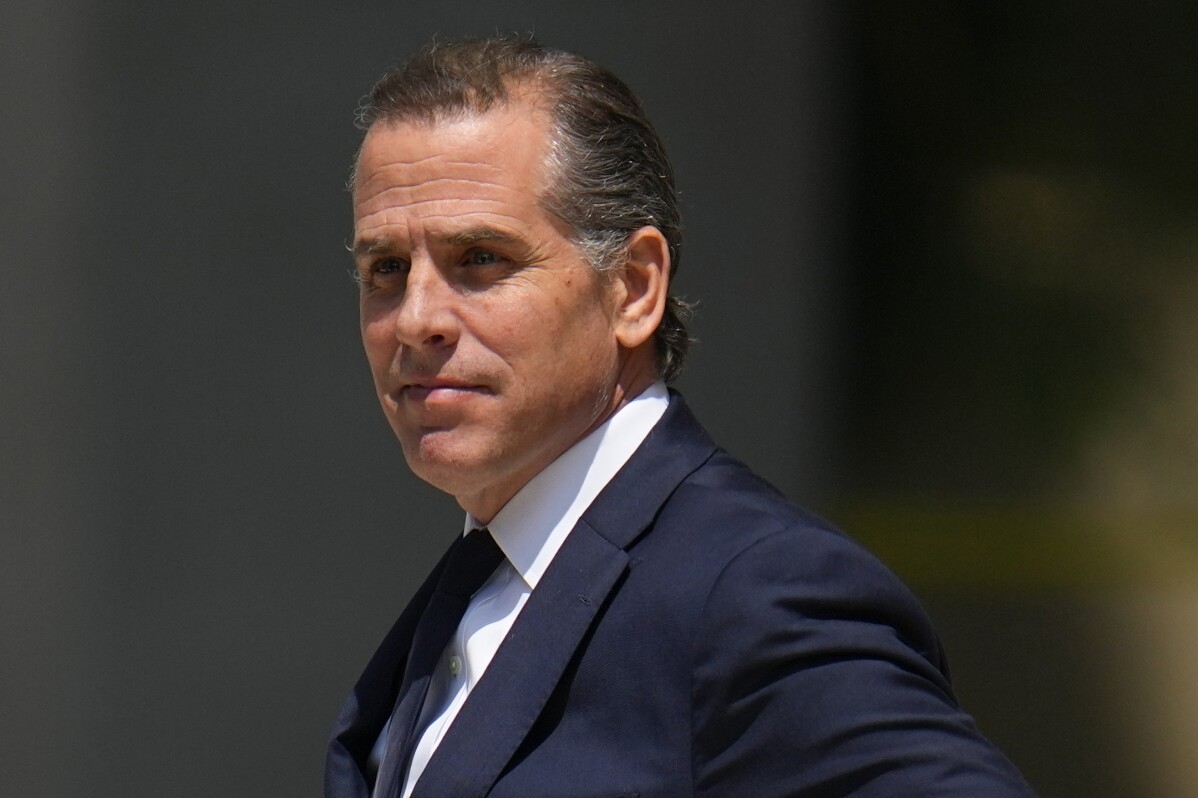 2 of 2

|
FILE - President Joe Biden's son Hunter Biden leaves after a court appearance, July 26, 2023, in Wilmington, Del. Hunter Biden has filed a lawsuit against the Internal Revenue Service, arguing that two agents violated his right to privacy when they publicly aired his tax information as they pressed claims that a federal investigation into him had been improperly handled. The lawsuit filed Monday says that his personal tax details shared during congressional hearings and interviews was not allowed by whistleblower protections. (AP Photo/Julio Cortez, File)
2 of 2
FILE - President Joe Biden's son Hunter Biden leaves after a court appearance, July 26, 2023, in Wilmington, Del. Hunter Biden has filed a lawsuit against the Internal Revenue Service, arguing that two agents violated his right to privacy when they publicly aired his tax information as they pressed claims that a federal investigation into him had been improperly handled. The lawsuit filed Monday says that his personal tax details shared during congressional hearings and interviews was not allowed by whistleblower protections. (AP Photo/Julio Cortez, File)
WASHINGTON (AP) — About half of Americans say they have little or no confidence that the Justice Department is handling its investigation into Hunter Biden in a fair and nonpartisan way, and 1 in 3 are highly concerned about whether President Joe Biden may have committed wrongdoing related to his son's business dealings, according to a new poll. But the political divide is stark.
Sixty-six percent of Republicans -- and just 7% of Democrats — are very or extremely concerned about whether Joe Biden committed wrongdoing when it comes to his son's business dealings, according to the poll from The Associated Press-NORC Center for Public Affa
irs Research.
Overall, Democrats are far more wary of faulting the president at all with regard to his son's business dealings.
"The way I look at it, if Biden did something wrong, then he should be held accountable," said Pilar DeAvila-Pinsley 60, a New York Democrat. "But there is no proof of this."
The poll was conducted just before House Speaker Kevin McCarthy launched an impeachment inquiry aiming to link the president to the business dealings of his son and deflect attention from Donald Trump's legal peril as the two men battle anew for the White House. The special counsel appointed by Attorney General Merrick Garland indicted Hunter Biden on gun purchase charges Thursday, an issue unearthed during the probe into his tax dealings. The investigation has continued after a plea deal fell apart this summer.
Over the yearslong probe, federal prosecutors have not indicated Joe Biden is connected. And so far, Republicans have unearthed no significant evidence of wrongdoing by the elder Biden, who spoke often to his son as vice president and did stop by a business dinner with his son's associates. The White House, for its part, maintains Joe Biden was not involved in his son's business affairs.
Those assurances haven't stopped Americans from worrying, and shifts in White House explanations — from earlier insisting Biden had never spoken to his son about his overseas business dealings to now saying Biden was not in business with his son — have caused concern.
Hunter Biden, son of President Joe Biden, was indicted Thursday on federal firearm related charges. (Sept. 14)
Derik Wieland, 47, a Republican who lives outside Raleigh, North Carolina, said Biden has already admitted to some of the issues. "I don't know any dad who doesn't know what his son is doing. I would be concerned about a dad who didn't know what his son was doing."
For Wieland, the allegations laid out by House Republicans are a sign of a larger problem in Washington, one he believes ensnares Biden, too.
"A guy who has been in higher levels of power for ages, and kind of plays fast and loose with what he does," he said. "He's been there too long. Too many of them have."
The White House messaging shift was also concerning to 40-year-old Nicholas Zumbusch, an independent who lives in a Minneapolis suburb. He isn't fully convinced that Biden profited off his son's business dealings but thinks "it's very clear that Joe Biden lied about knowing about his son's business."
"The narrative changed, and then that narrative changed again," Zumbusch said.
The poll also found that just 19% of Americans are very or extremely confident that the Justice Department is handling its investigation in a fair and nonpartisan way. An additional 30% are somewhat confident, and 50% say they are not too confident or not at all confident.
That view is especially common among Republicans: 79% say they have little to no confidence in the fairness of the investigation. Even Democrats express mediocre levels of confidence: 33% are highly confident, 36% are somewhat confident and 29% have little confidence.
The political polarization is reflective of the larger divide in the U.S., and bright political lines have also been drawn around the validity of the 2024 election, and Trump's first impeachment.
An August AP-NORC poll, for example, found that 85% of Democrats but just 16% of Republicans approved of the Justice Department's indictment of Trump in the federal case involving allegations that he worked illegally to overturn results of the 2020 presidential election. There was a similar partisan divide in beliefs that Trump did something illegal in the Florida classified documents case, his role in what happened at the Capitol on Jan. 6, 2021, and his alleged attempt to interfere in Georgia's 2020 presidential vote count.
Zumbusch said he has confidence in the rank-and-file Justice Department; it's the agency's leadership that troubles him.
"My big concern is the people who have connections with any administration that's in power," he said. "I feel like they tend to be influenced, whether it's Republicans in power, or Democrats in power. I think they feel their boss is the administration."
The poll shows a majority of Americans, 56%, say they've heard at least some about the investigations into Hunter Biden, although only 18% say they've heard a lot. Republicans are more likely than Democrats to say they've heard at least some about the investigations (68% to 51%) and that they've heard a lot (27% to 13%).
Among Republicans, those who say they've heard at least some about the investigations are more likely than those who have heard less to say they are highly concerned about whether Joe Biden committed wrongdoing (76% to 45%) and that they have little to no confidence that the Justice Department's investigation is fair (88% to 60%).
Among Democrats, those who are paying at least some attention to the investigations are no more or less likely than others to be concerned about Joe Biden's role, and are actually somewhat more likely than those paying less attention to say they're highly confident in the Justice Department's investigation being fair, 42% to 24%.
Ryan Laiche, 44, a Democrat from Wheaton, Illinois, said if you are paying attention to the news, it's obvious Garland is working independently and fairly. House Republicans, he says, are hellbent on making Biden look bad to distract from Trump's crimes.
"It's an investigation looking for a crime," he said. "We knew this was going to happen when Republicans took over the House. They're so predictable. But they can't answer any of the questions ... was Biden involved? If he was, prosecute him, impeach him. If there's legitimate evidence. But therein lies the rub - there's no evidence."
___
The poll of 1,146 adults was conducted Sept. 7-11, 2023, using a sample drawn from NORC's probability-based AmeriSpeak Panel, which is designed to be representative of the U.S. population. The margin of sampling error for all respondents is plus or minus 3.9 percentage points.