Illinois man charged in deadly bank holdup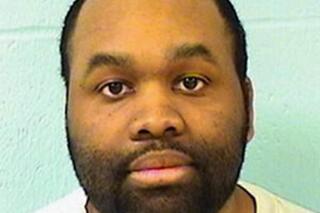 BENTON, Ill. (AP) — A southern Illinois man has been charged in federal court in a botched bank robbery last month in which two women were stabbed to death and a third injured.
James Watts, 29, of Cairo was indicted Tuesday on charges of attempted armed bank robbery resulting in death and being a felon in possession of a firearm. He was arrested after the May 15 holdup in Cairo on an Ohio River train trestle, after leading police on a chase in one victim's new sport utility vehicle.
Watts is jailed without bond. His court-appointed public defender, Melissa Day, did not immediately return a call seeking comment. He had been charged with being a felon in possession of a firearm the day after the holdup.
Anita Jo Grace, 52, of Olive Branch and Nita Jo Smith, 52, of Wickliffe, Kentucky, both were stabbed to death. A third worker was stabbed and survived.
The indictment said Watts tried to rob Cairo's First National Bank with "force, violence and intimidation" and committed the offense in "an especially heinous, cruel or depraved manner" that involved "torture or serious physical abuse to the victims."
Tuesday's grand jury indictment includes special findings that make Watts eligible for the death penalty if he is convicted of attempted armed robbery resulting in a death. Prosecutors say they will decide later if they will pursue the death penalty.