GOP leaders eye new bill on family separations at border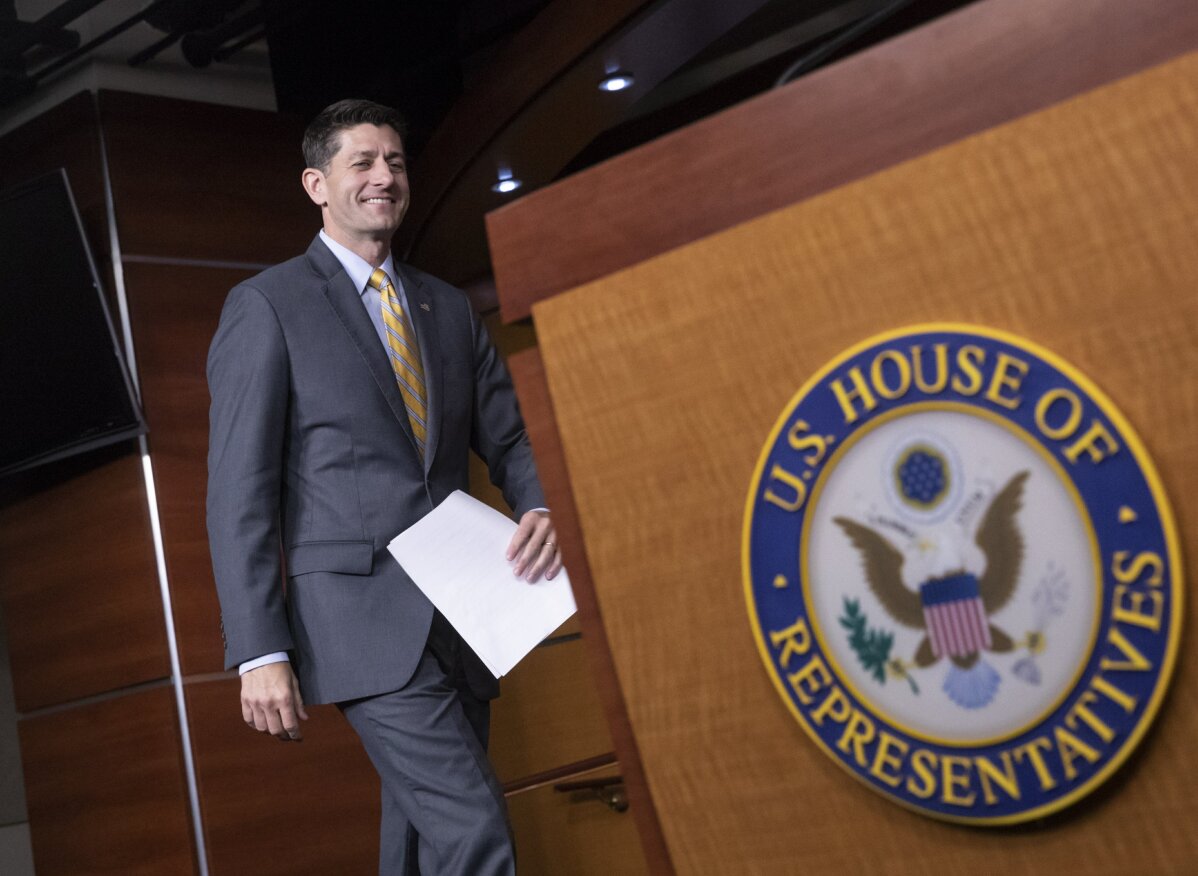 1 of 2

|
In this June 21, 2018, photo, Speaker of the House Paul Ryan, R-Wis., arrives for a news conference at the Capitol in Washington. House Republicans say they will make another run at immigration legislation in the coming week, but the effort appears all but doomed after President Donald Trump said the bill was a waste of time with no chance of becoming law. (AP Photo/J. Scott Applewhite)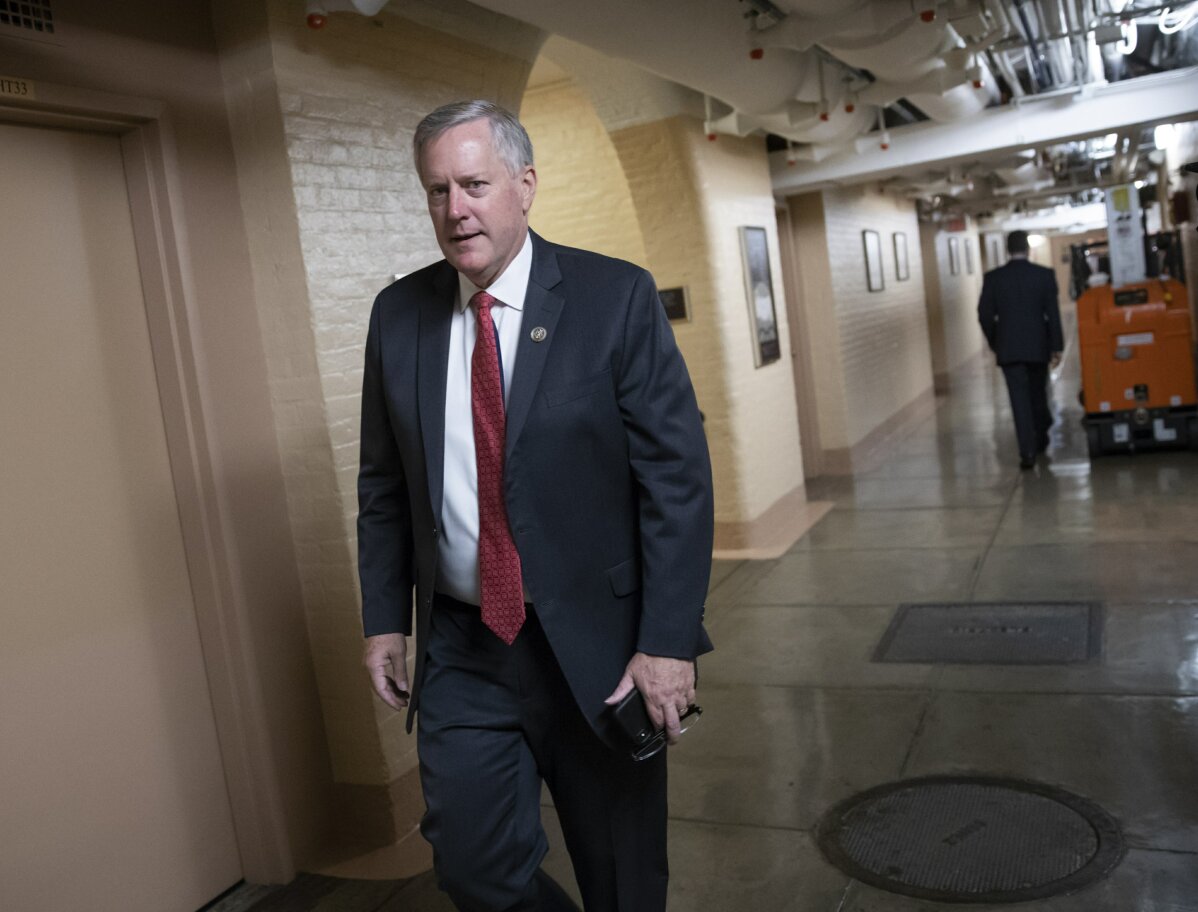 2 of 2

|
Rep. Mark Meadows, R-N.C., left, chairman of the conservative House Freedom Caucus, walks to a closed-door conference with fellow Republicans after they met last night with President Donald Trump to discuss a GOP immigration bill, at the Capitol in Washington, Wednesday, June 20, 2018. (AP Photo/J. Scott Applewhite)
GOP leaders eye new bill on family separations at border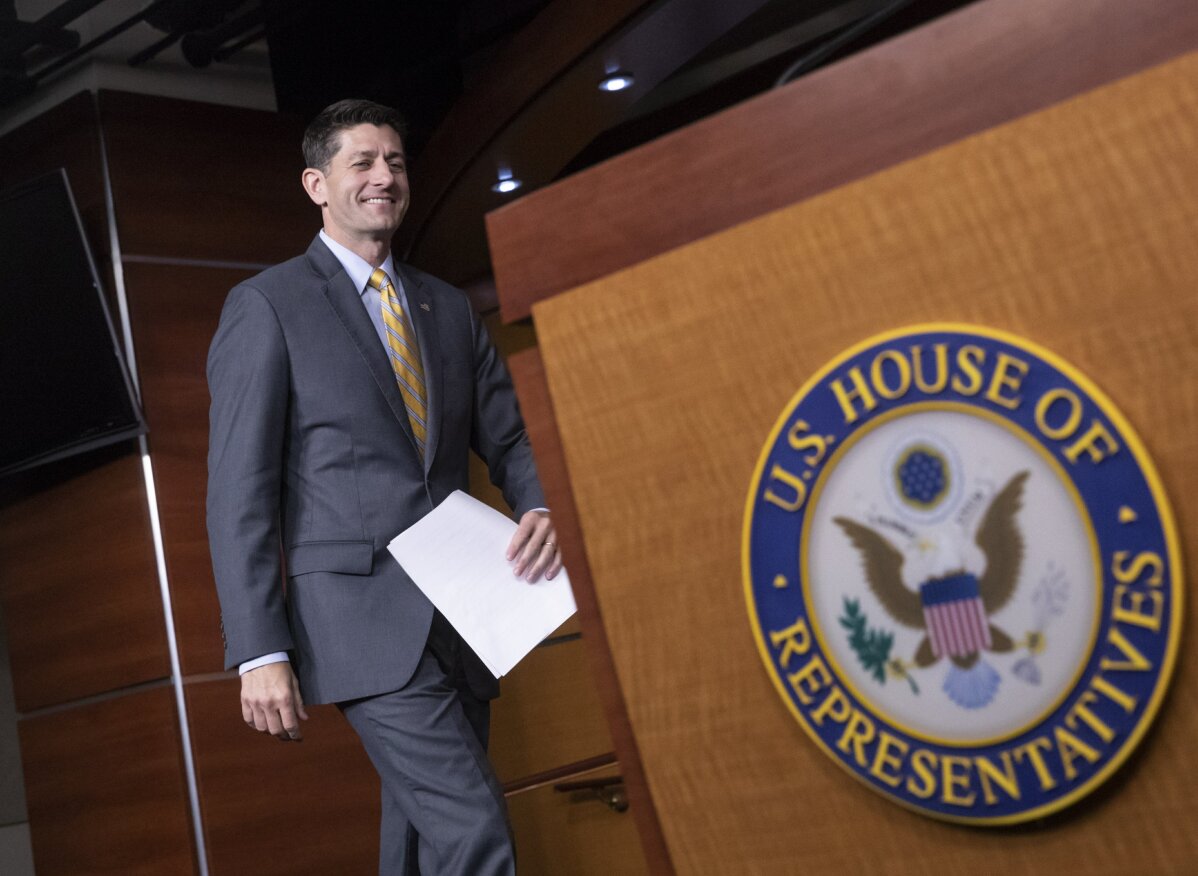 1 of 2

|
In this June 21, 2018, photo, Speaker of the House Paul Ryan, R-Wis., arrives for a news conference at the Capitol in Washington. House Republicans say they will make another run at immigration legislation in the coming week, but the effort appears all but doomed after President Donald Trump said the bill was a waste of time with no chance of becoming law. (AP Photo/J. Scott Applewhite)
1 of 2
In this June 21, 2018, photo, Speaker of the House Paul Ryan, R-Wis., arrives for a news conference at the Capitol in Washington. House Republicans say they will make another run at immigration legislation in the coming week, but the effort appears all but doomed after President Donald Trump said the bill was a waste of time with no chance of becoming law. (AP Photo/J. Scott Applewhite)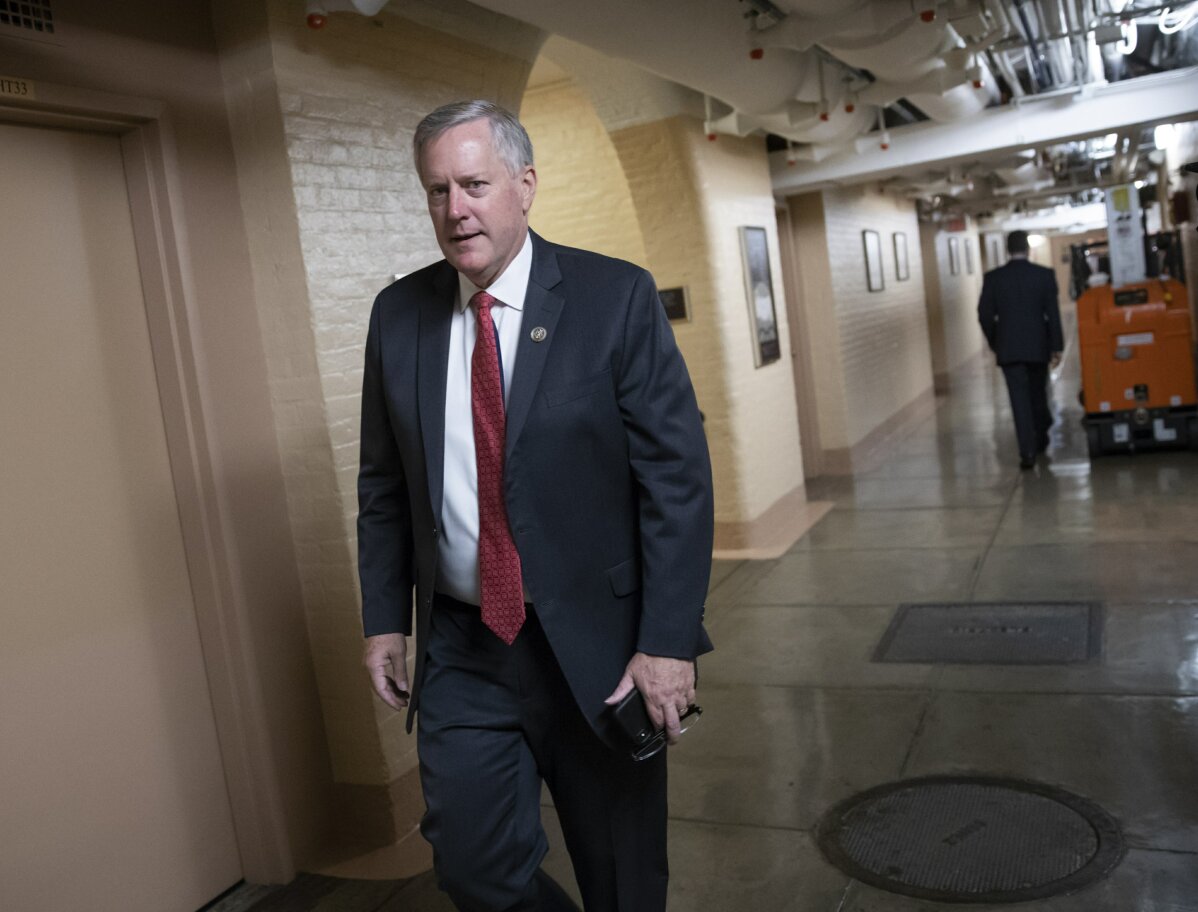 2 of 2

|
Rep. Mark Meadows, R-N.C., left, chairman of the conservative House Freedom Caucus, walks to a closed-door conference with fellow Republicans after they met last night with President Donald Trump to discuss a GOP immigration bill, at the Capitol in Washington, Wednesday, June 20, 2018. (AP Photo/J. Scott Applewhite)
2 of 2
Rep. Mark Meadows, R-N.C., left, chairman of the conservative House Freedom Caucus, walks to a closed-door conference with fellow Republicans after they met last night with President Donald Trump to discuss a GOP immigration bill, at the Capitol in Washington, Wednesday, June 20, 2018. (AP Photo/J. Scott Applewhite)
WASHINGTON (AP) — Struggling to find the votes to pass a sweeping immigration overhaul, House Republicans are narrowing on a slimmed down bill to stem the crisis of separating immigrant families at the border.
But even that more modest measure hit uncertainty Monday. President Donald Trump rejected one top idea — adding more immigration judges — insisting it would only lead to graft even though supporters say the step could help expedite the logjam of claims that can prolong detentions.
With Congress wavering on the next moves, it's uncertain if lawmakers will be able to swiftly act on any bills to address the border crisis despite an outpouring of public concern over reports of immigrant children being separated from their parents.
"We want a system where, when people come in illegally, they have to go out," Trump said Monday during an event at the White House. "A nice simple system that works."
House Republicans were set to meet Tuesday behind closed doors to map out their options for taking action before lawmakers leave town at the end of the week for the Fourth of July holiday recess. Votes may be scheduled for Wednesday. But with Trump's on-again, off-again support, the outlook for passage of the broader immigration overhaul was dimming.
"The president is the fuel that propels this rocket off the pad," said Rep. Mark Walker of North Carolina, chairman of the conservative Republican Study Committee. "If that's not there, no matter how good the framework is, it's going to be challenging."
Still, many Republicans are eager to address the border crisis and distance themselves from the Trump administration's policy that has resulted in more than 2,300 migrant children being separated from their parents.
Even though the president signed an executive order last week reversing the situation, lawmakers heading into a midterm election year want to be able to show constiuents back home they voted to end it. Some 500 minors have been reunited so far, officials said.
"I don't know why we wouldn't vote for a bill that keeps families together," said Sen. John Cornyn, R-Texas.
Senate Republicans have proposed legislation that would lift rules that prevent children from being held longer than 20 days in custody. It would add 200 immigration judges to more quickly process the claims.
But Trump has repeatedly dismissed the need for more judges, and did so again Monday.
"You know what it leads? It leads to graft," Trump said. "It leads to a lot of other things."
Meanwhile, senators soldiered on trying to broker a compromise. Late Monday, Republican Sen. Ted Cruz of Texas was meeting with a top Democrat on immigration issues, Sen. Dianne Feinstein, D-Calif., who has drafted an alternative approach.
With the Senate's narrow 51-seate GOP majority, a compromise with Democrats would likely be needed to reach the 60-vote threshold usually required to advance legislation. But resolution seemed difficult.
House Republicans were considering a similar approach to the family separations as the Senate, but it remained a work in progress Monday.
Meanwhile, a broad Republican immigration bill is also expected to be voted on in the House this week, though revisions are being made and timing is uncertain.
The legislation would provide $25 billion for Trump's proposed border wall with Mexico and give immigrants brought illegally to the U.S. as children a chance at eventually becoming citizens. It also would end the 20-day cap on custody so minors could be held with their parents without being separated, though critics say that would make for lengthy detentions.
Changes were being made to the bill to secure more support, including the addition of a provision that would require employees to verify the legal status of their workers and another that would address immigrants working in the agricultural industry.
Republicans were considering even more changes after a 75-minute conference call over the weekend. Among them, a provision to block the parents of "Dreamers," the young immigrants in the country illegally since childhood, from being allowed to gain eventual citizenship. It was unclear if it would be added to the emerging GOP bill.
The broad overhaul is the product of weeks of bargaining between party conservatives and moderates. Even so, the two GOP factions have been unable to resolve their final differences and vote-counters have yet to round up a majority. Republicans are getting no help from Democrats, who uniformly oppose the legislation.
And Trump has given mixed signals on the bill — first telling Republicans he was "1,000 percent" in favor of it, then suggesting they should quit wasting their time, since the legislation would be blocked by Senate Democrats.
Republicans, though, who control Congress, are worried about leaving town for the weeklong recess without addressing immigration issues, particularly the family separations at the border.
Rep. Mark Meadows, the leader of the hard-right House Freedom Caucus, told Fox on Monday that Rep. Cathy McMorris Rodgers, R-Wash., was working on legislation to "keep those families together." She is the fourth-ranking Republican in House GOP leadership and faces a potentially competitive re-election bid this fall.