Immigration raids in Nebraska, Minnesota target businesses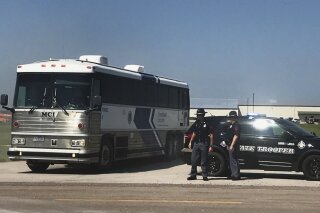 OMAHA, Neb. (AP) — A large federal law enforcement operation conducted Wednesday targeted businesses in Nebraska and Minnesota that officials say knowingly hired — and mistreated — immigrants who are in the U.S. illegally.
The investigative arm of U.S. Immigrations and Customs Enforcement — Homeland Security Investigations — led the operation that saw about a dozen businesses and plants raided and 17 business owners and managers indicted for fraud, wire fraud and money laundering.
Of those, 14 were taken into custody Wednesday and three were still being sought. Authorities also arrested more than 130 workers at various businesses, busing them to Grand Island, Nebraska, to be questioned and processed.
Most of the arrests occurred in northern Nebraska and southern Minnesota. Several of the businesses were in O'Neill, Nebraska, a town of about 3,000 about 160 miles (260 kilometers) northwest of Omaha. Officials said they were still looking to take three owners or managers into custody as part of the operation.
Special agent in charge Tracy Cormier described the operation as one of the largest in Homeland Security Investigations' 15-year history. Between 350 and 400 federal, state and local law enforcement officers worked together on the arrests, she said.
The focus of the operation is unusual in that it targeted business operators for arrest. Most immigration raids have targeted workers suspected of being in the country illegally.
"The whole investigation was initiated, basically, because we knew that these businesses were cheating these workers and cheating taxpayers and cheating their competition," Cormier said.
The businesses engaged in a scheme that used fraudulent names and Social Security numbers to employ people in the country illegally, she said. The businesses used "force, fraud, coercion, threat of arrest and/or deportation" to exploit the workers, Cormier said. The business that hired out the immigrants also forced the workers to cash their paychecks with that business for an exorbitant fee, officials said, and withheld taxes from workers' pay without paying those taxes to the government.
"It kind of reminds us of the revival of the old 'company store' policy, where it used to keep the coal miners indebted to the company for all kinds of services ... like check cashing," she said.
Also arrested were 133 workers suspected of being in the country illegally, according to ICE. Some will be issued notices to appear before an immigration judge and released, while those with criminal backgrounds will remain in ICE custody.
The raids come as President Donald Trump's administration has been carrying out high-profile immigration enforcement actions against employers.
Dozens of workers were arrested at a meatpacking plant in rural Tennessee in April, followed by agents rounding up more than 100 employees two months later at an Ohio gardening and landscaping company.
Immigration officials have also beefed up audits of companies to verify their employees are authorized to work in the country. Officials opened nearly 5,300 employer audits since January, many after audits at 100 7-Eleven franchises in 17 states in January.
On Wednesday, investigators served warrants at Elkhorn River Farms, hydroponic tomato grower O'Neill Ventures, La Herradura restaurant and grocery store El Mercadito, all in O'Neill. A private ranch outside O'Neill also was searched.
No phone number could be found for El Mercadito. Calls to the other businesses went unanswered or messages left were not returned.
Pork producing giant Christensen Farms saw search warrants served at its headquarters in Sleepy Eye, Minnesota, its truck wash facility in Appleton, Minnesota and a producer plant in Atkinson, Nebraska. Spokeswoman Amber Portner said the company was cooperating with agents. She said she knew of no arrests at any of the company's locations Wednesday.
Other businesses raided were in Stromsburg, Ainsworth, Bartlett and Royal, all in Nebraska.
Civil rights organizations in Nebraska were quick to denounce Wednesday's operation.
"The ACLU condemns this ongoing campaign of misery that targets immigrants, disrupts local businesses and separates families," Rose Godinez, an attorney with the American Civil Liberties Union of Nebraska, said in a written statement released Wednesday morning after news reports of the raid at O'Neill Ventures.
The effect of such operations are the same whether they target businesses or immigrants, said Jeff Sheldon, spokesman for advocacy group Nebraska Appleseed.
"This is going to leave widespread fear and damage in the community," he said. "You got businesses that are directly affected. You've got neighborhoods that are directly affected. You'll have kids tonight coming home to a house where one or more of their parents are gone. This is pain that can last for generations."