Australia tightens grip on world test final by leading India by 296 runs after 3 days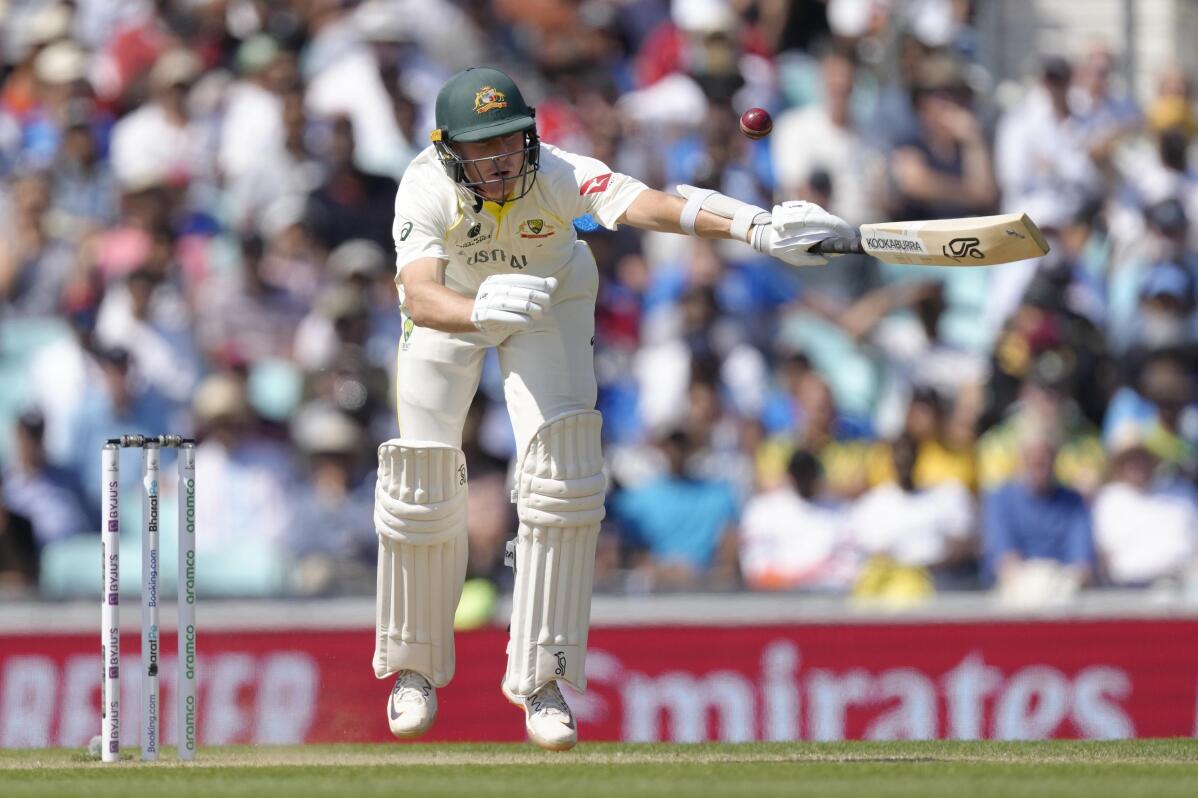 1 of 9

|
Australia's Marnus Labuschagne attempts plays a shot and falls to the ground on the third day of the ICC World Test Championship Final between India and Australia at The Oval cricket ground in London, Friday, June 9, 2023. (AP Photo/Kirsty Wigglesworth)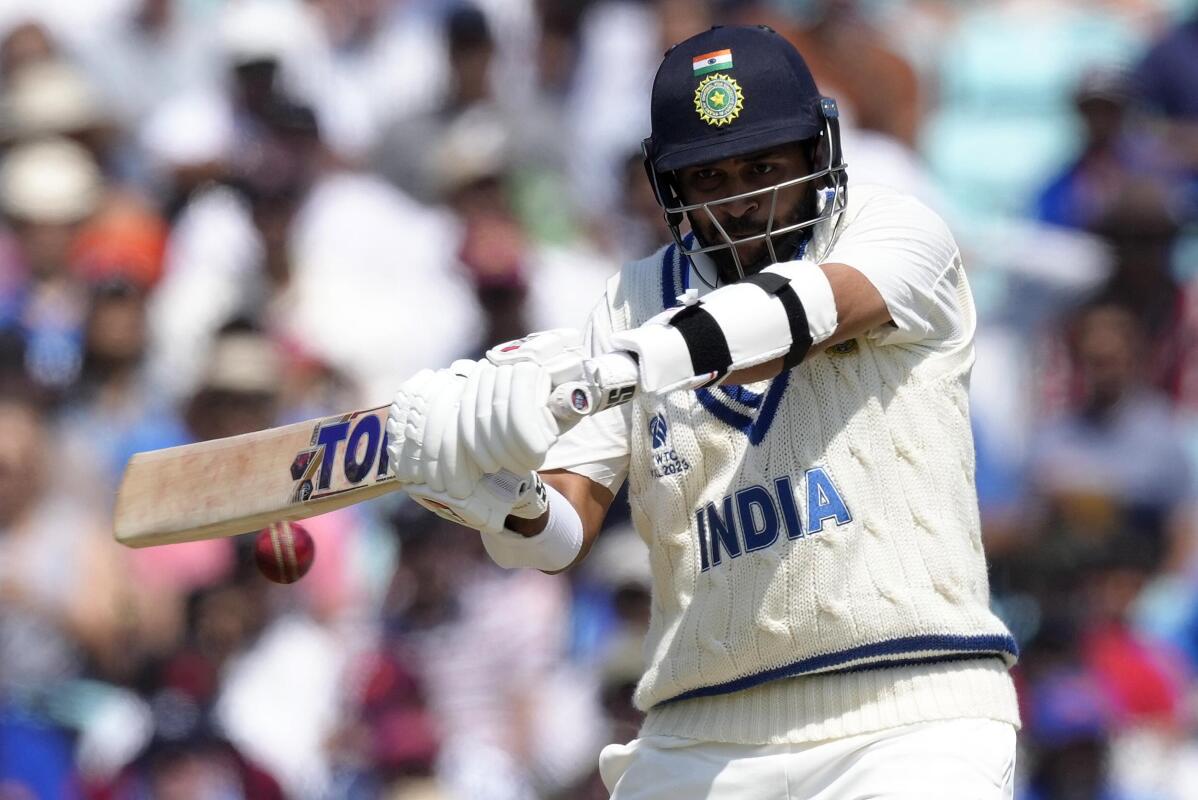 2 of 9

|
India's Ajinkya Rahane plays a shot on the third day of the ICC World Test Championship Final between India and Australia at The Oval cricket ground in London, Friday, June 9, 2023. (AP Photo/Kirsty Wigglesworth)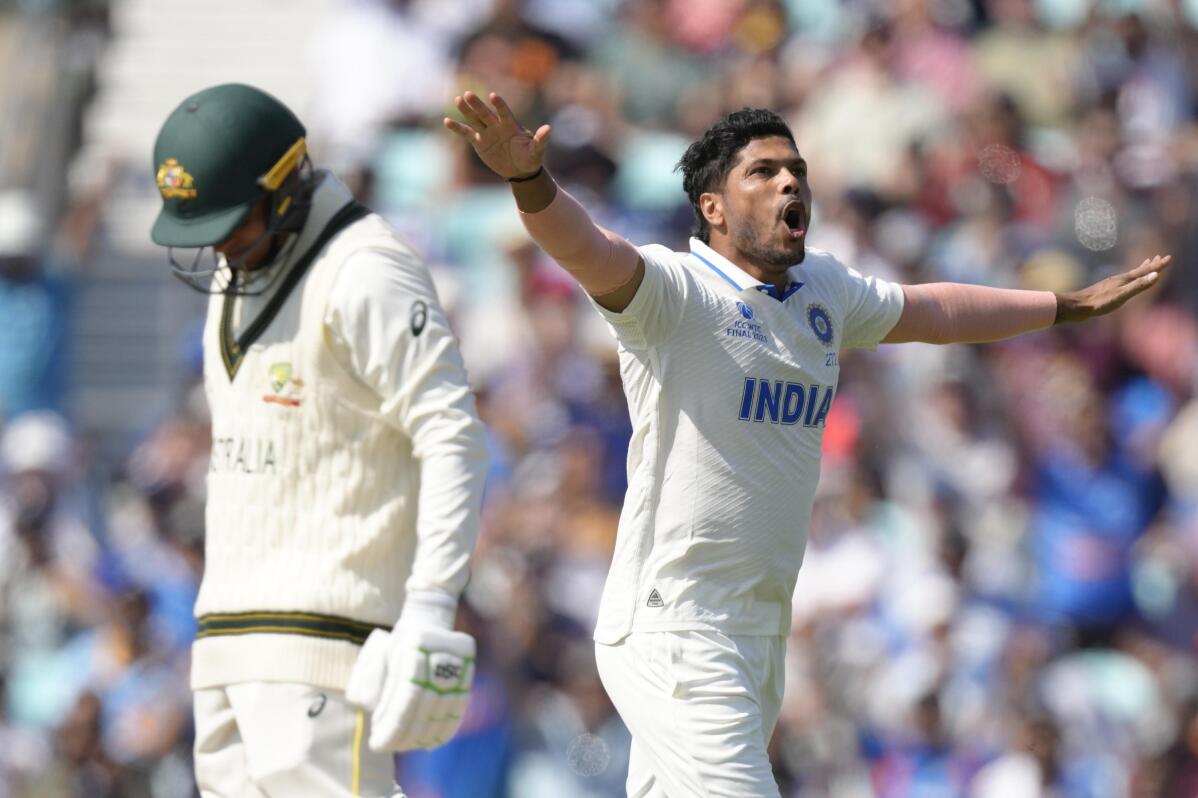 3 of 9

|
India's Umesh Yadav celebrates after taking the wicket of Australia's Usman Khawaja on the third day of the ICC World Test Championship Final between India and Australia at The Oval cricket ground in London, Friday, June 9, 2023. (AP Photo/Kirsty Wigglesworth)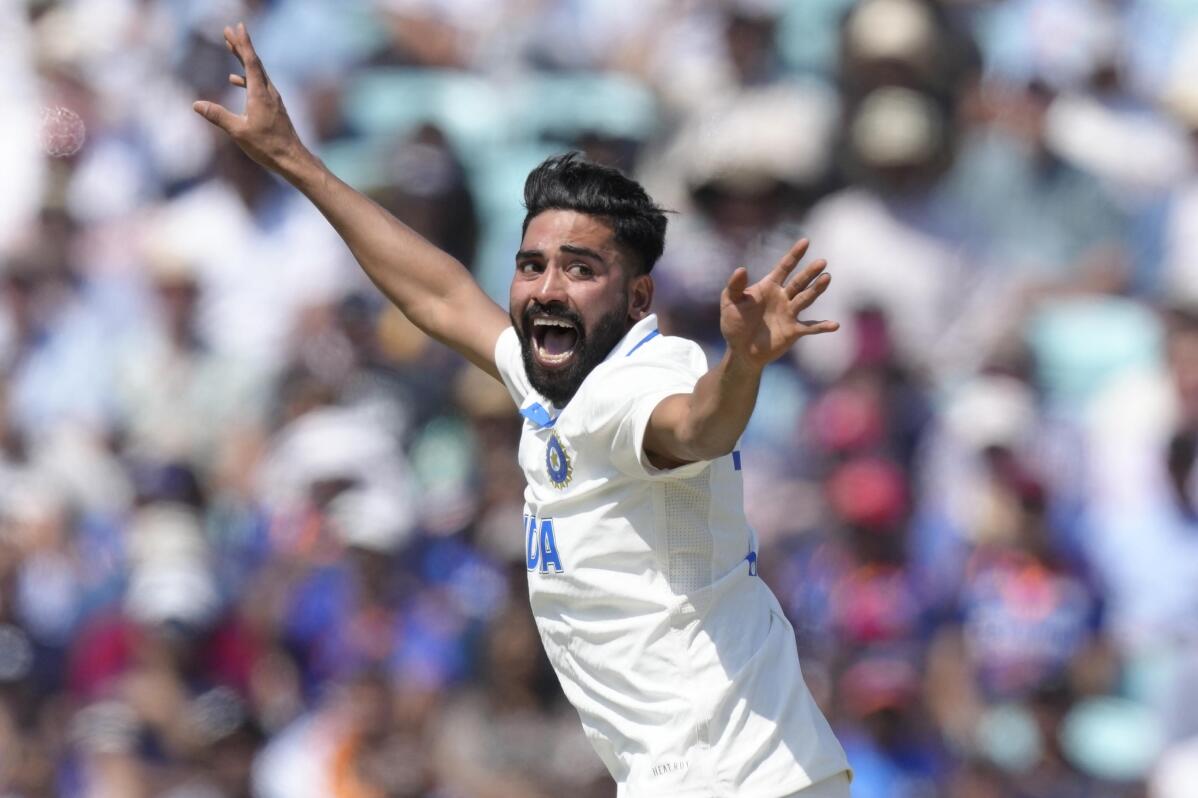 4 of 9

|
India's Mohammed Siraj appeals for lbw on Australia's Marnus Labuschagne but it was given not out on the third day of the ICC World Test Championship Final between India and Australia at The Oval cricket ground in London, Friday, June 9, 2023. (AP Photo/Kirsty Wigglesworth)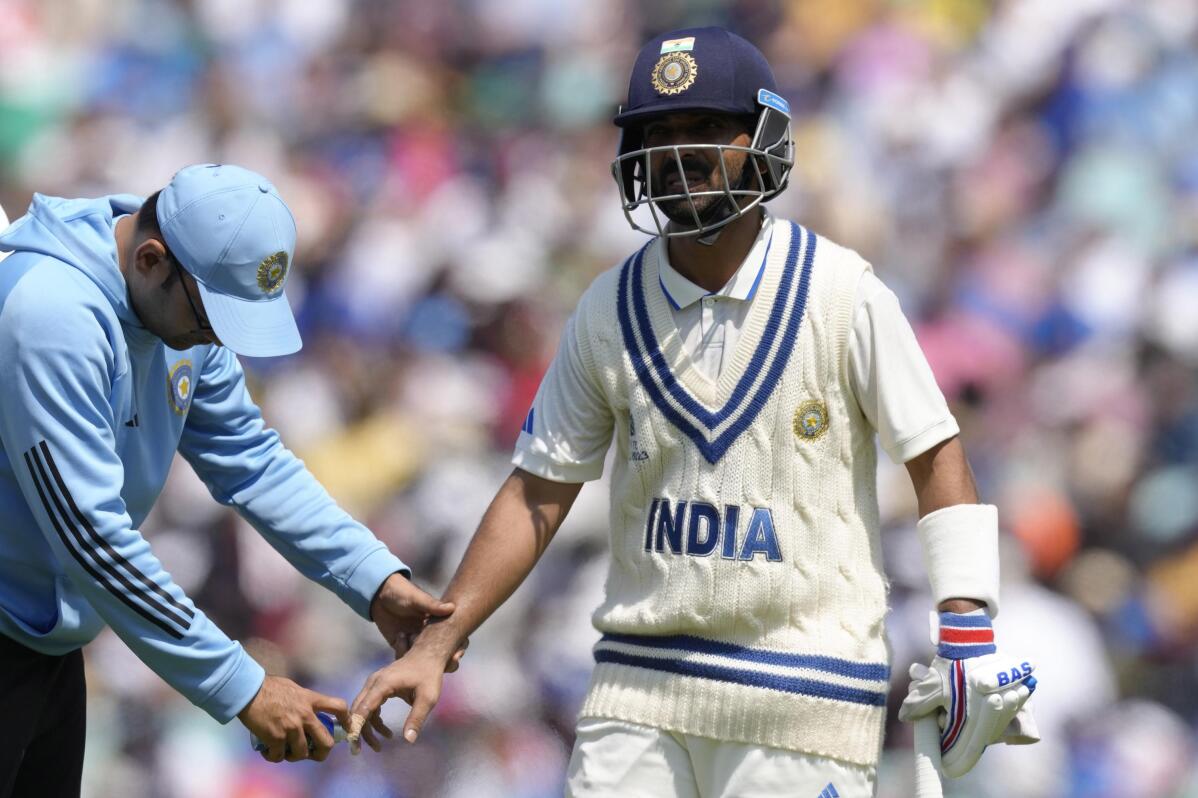 5 of 9

|
India's Ajinkya Rahane gets medical treatment on his finger during the third day of the ICC World Test Championship Final between India and Australia at The Oval cricket ground in London, Friday, June 9, 2023. (AP Photo/Kirsty Wigglesworth)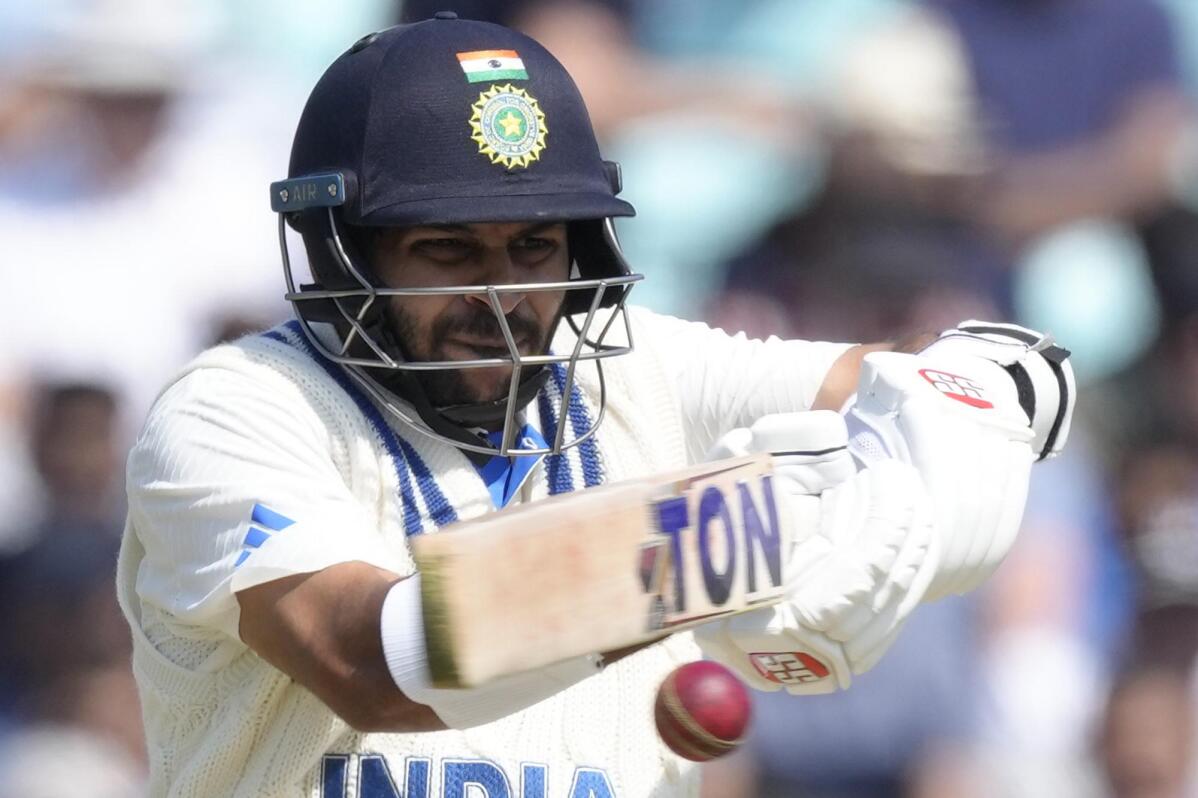 6 of 9

|
India's Shardul Thakur plays a shot during the third day of the ICC World Test Championship Final between India and Australia at The Oval cricket ground in London, Friday, June 9, 2023. (AP Photo/Kirsty Wigglesworth)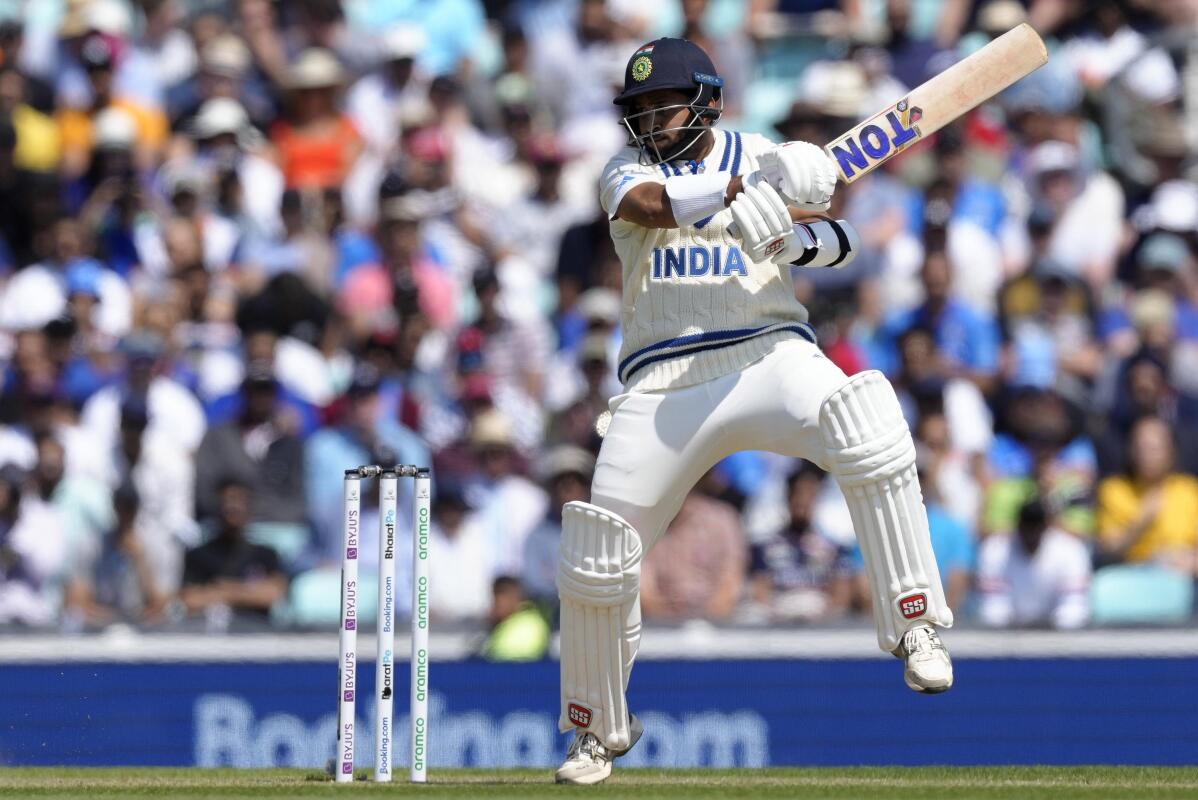 7 of 9

|
India's Shardul Thakur plays a shot on the third day of the ICC World Test Championship Final between India and Australia at The Oval cricket ground in London, Friday, June 9, 2023. (AP Photo/Kirsty Wigglesworth)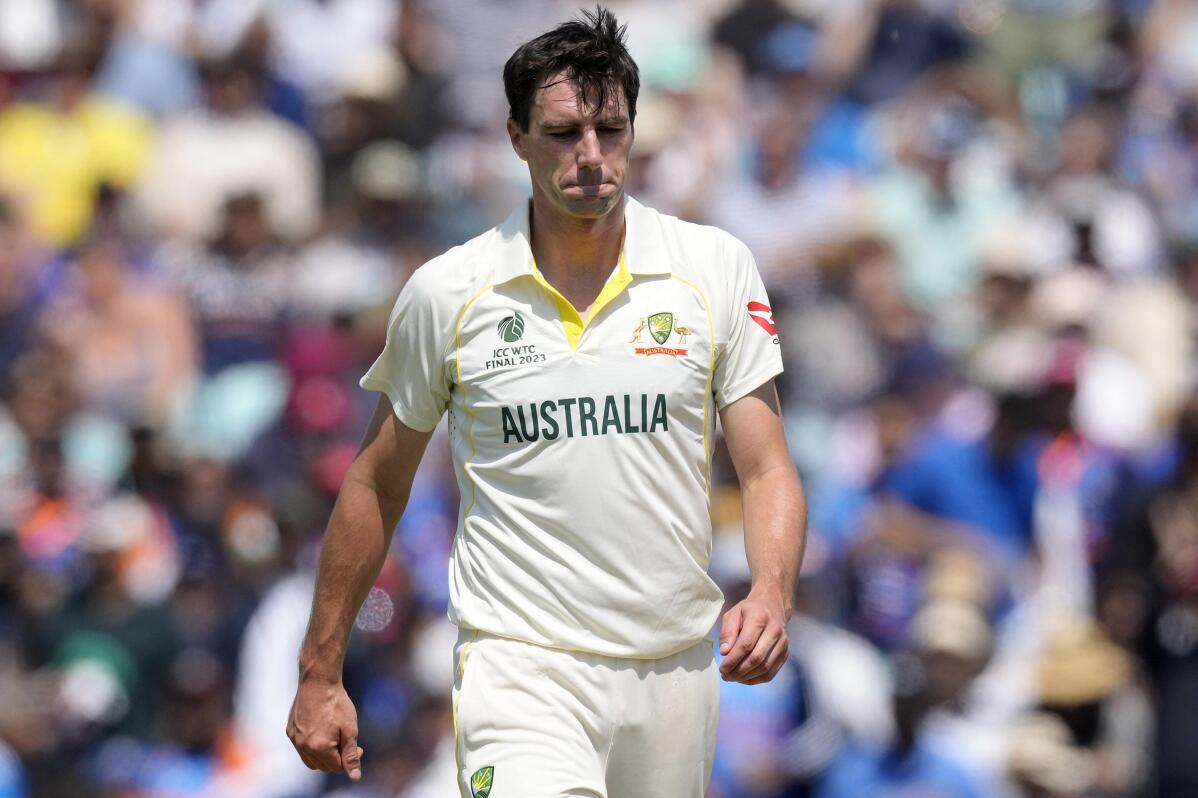 8 of 9

|
Australia's Pat Cummins reacts after bowling on the third day of the ICC World Test Championship Final between India and Australia at The Oval cricket ground in London, Friday, June 9, 2023. (AP Photo/Kirsty Wigglesworth)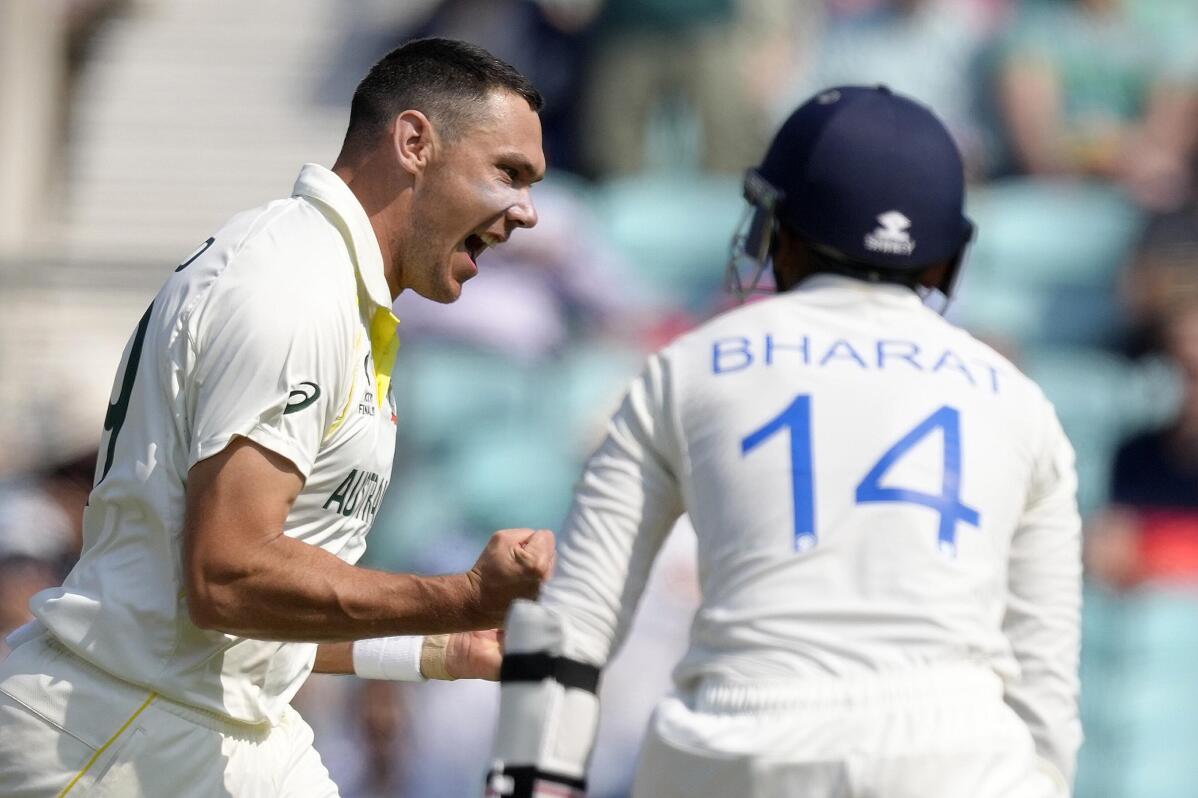 9 of 9

|
Australia's Scott Boland celebrates taking a wicket of India's Srikar Bharat on the third day of the ICC World Test Championship Final between India and Australia at The Oval cricket ground in London, Friday, June 9, 2023. (AP Photo/Kirsty Wigglesworth)
Australia tightens grip on world test final by leading India by 296 runs after 3 days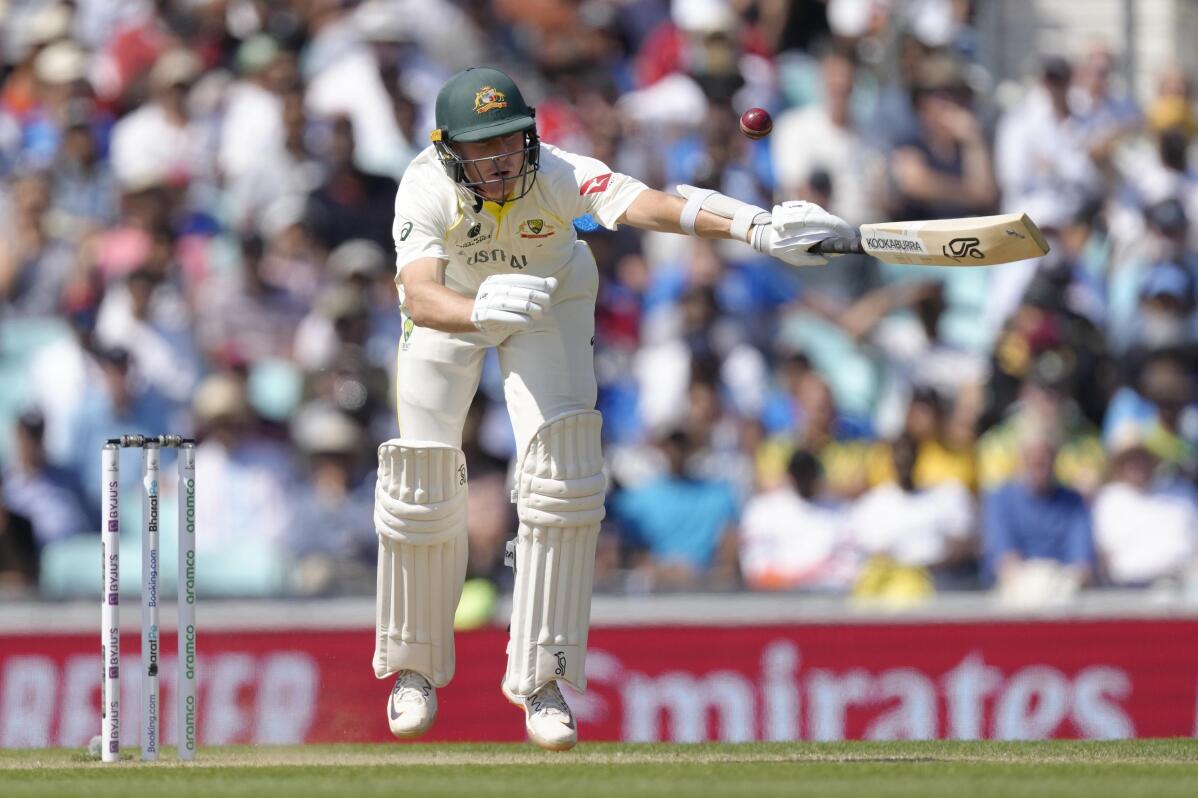 1 of 9

|
Australia's Marnus Labuschagne attempts plays a shot and falls to the ground on the third day of the ICC World Test Championship Final between India and Australia at The Oval cricket ground in London, Friday, June 9, 2023. (AP Photo/Kirsty Wigglesworth)
1 of 9
Australia's Marnus Labuschagne attempts plays a shot and falls to the ground on the third day of the ICC World Test Championship Final between India and Australia at The Oval cricket ground in London, Friday, June 9, 2023. (AP Photo/Kirsty Wigglesworth)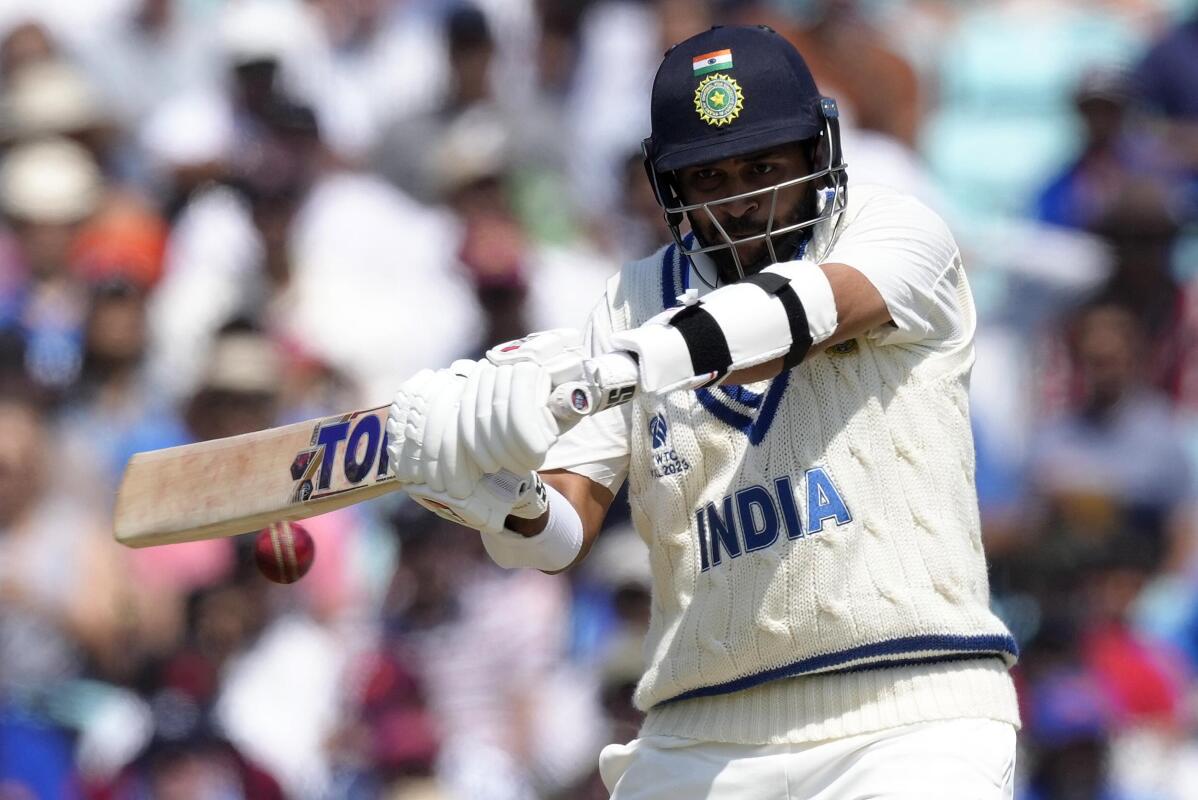 2 of 9

|
India's Ajinkya Rahane plays a shot on the third day of the ICC World Test Championship Final between India and Australia at The Oval cricket ground in London, Friday, June 9, 2023. (AP Photo/Kirsty Wigglesworth)
2 of 9
India's Ajinkya Rahane plays a shot on the third day of the ICC World Test Championship Final between India and Australia at The Oval cricket ground in London, Friday, June 9, 2023. (AP Photo/Kirsty Wigglesworth)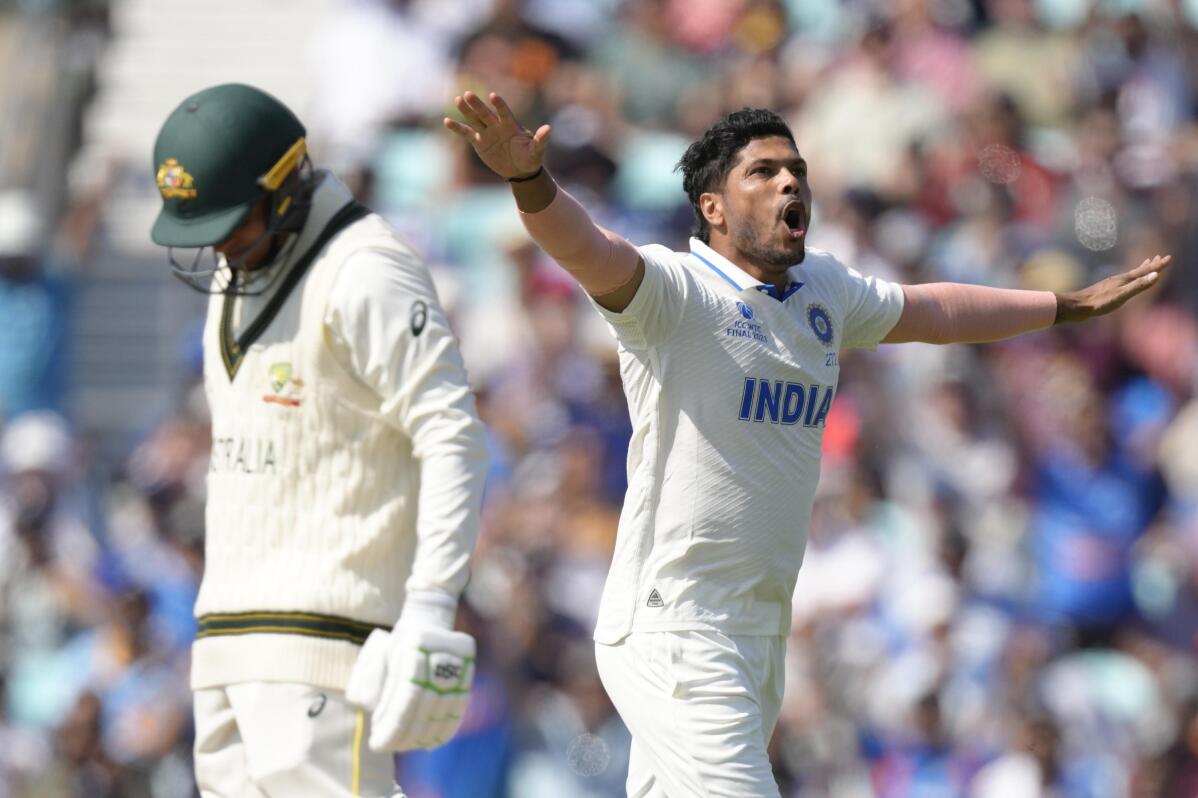 3 of 9

|
India's Umesh Yadav celebrates after taking the wicket of Australia's Usman Khawaja on the third day of the ICC World Test Championship Final between India and Australia at The Oval cricket ground in London, Friday, June 9, 2023. (AP Photo/Kirsty Wigglesworth)
3 of 9
India's Umesh Yadav celebrates after taking the wicket of Australia's Usman Khawaja on the third day of the ICC World Test Championship Final between India and Australia at The Oval cricket ground in London, Friday, June 9, 2023. (AP Photo/Kirsty Wigglesworth)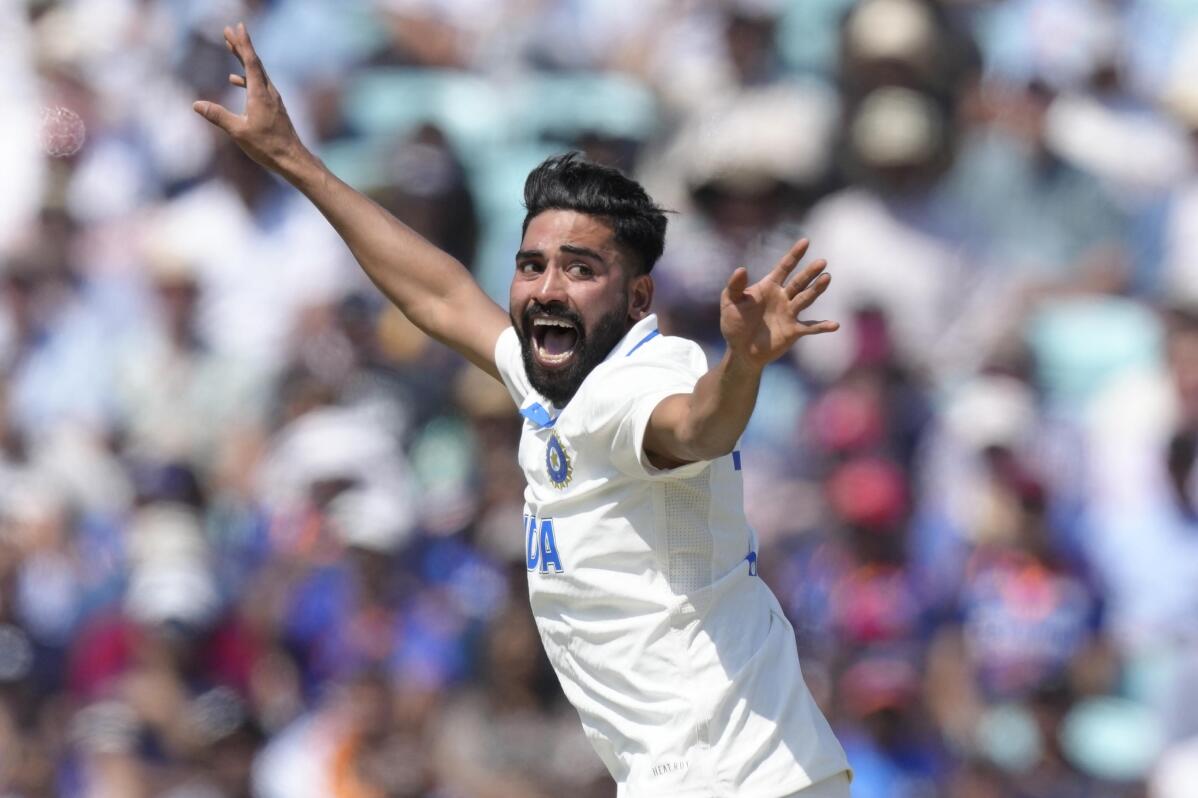 4 of 9

|
India's Mohammed Siraj appeals for lbw on Australia's Marnus Labuschagne but it was given not out on the third day of the ICC World Test Championship Final between India and Australia at The Oval cricket ground in London, Friday, June 9, 2023. (AP Photo/Kirsty Wigglesworth)
4 of 9
India's Mohammed Siraj appeals for lbw on Australia's Marnus Labuschagne but it was given not out on the third day of the ICC World Test Championship Final between India and Australia at The Oval cricket ground in London, Friday, June 9, 2023. (AP Photo/Kirsty Wigglesworth)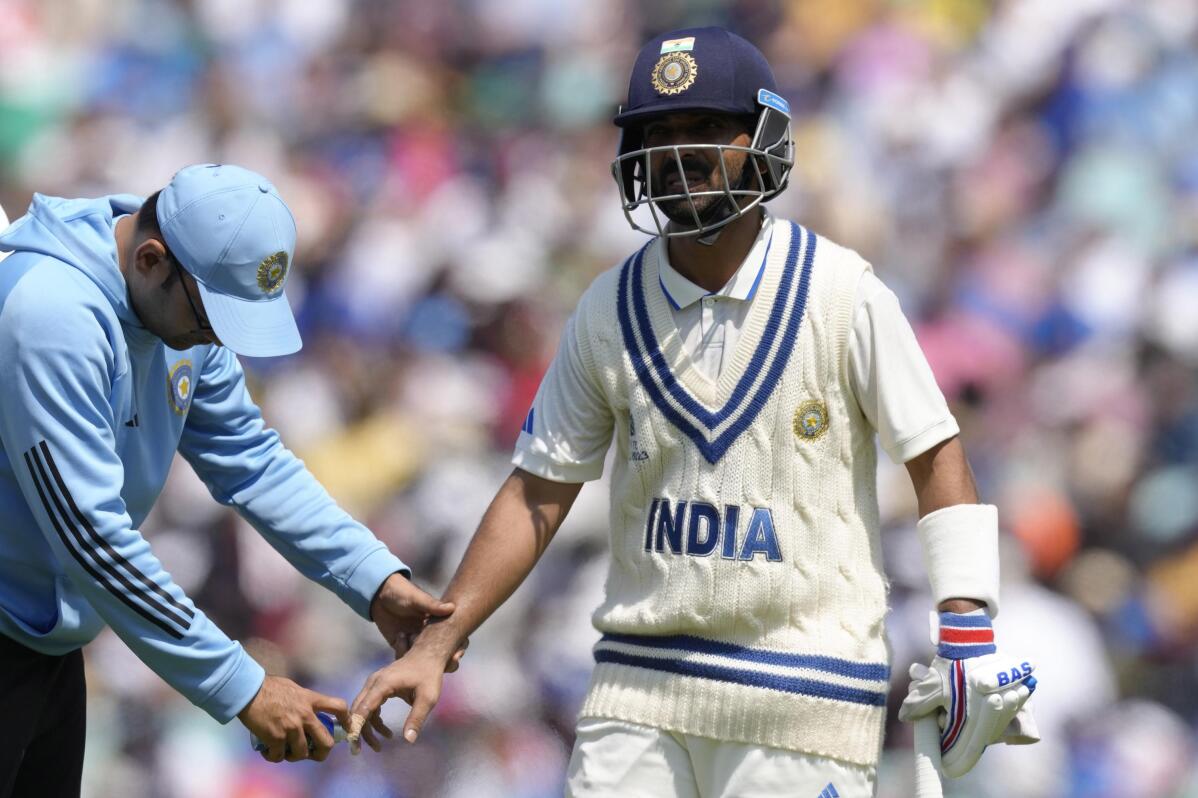 5 of 9

|
India's Ajinkya Rahane gets medical treatment on his finger during the third day of the ICC World Test Championship Final between India and Australia at The Oval cricket ground in London, Friday, June 9, 2023. (AP Photo/Kirsty Wigglesworth)
5 of 9
India's Ajinkya Rahane gets medical treatment on his finger during the third day of the ICC World Test Championship Final between India and Australia at The Oval cricket ground in London, Friday, June 9, 2023. (AP Photo/Kirsty Wigglesworth)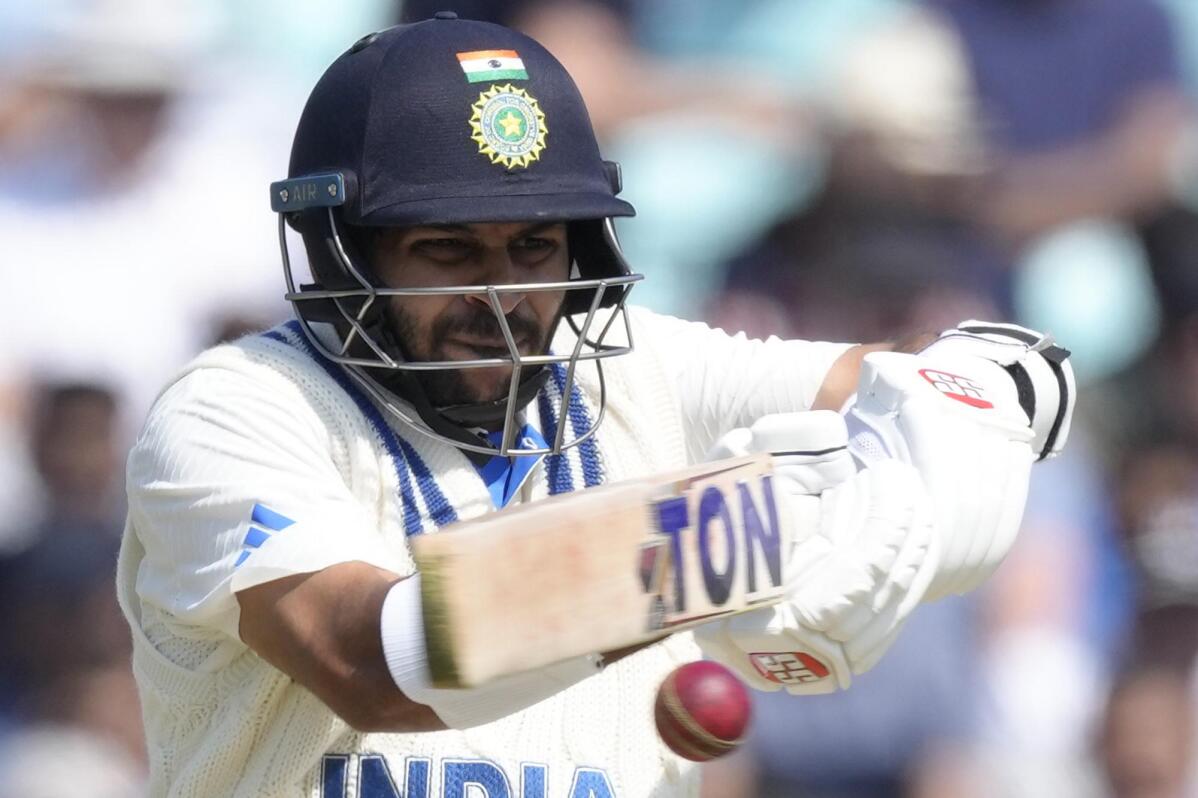 6 of 9

|
India's Shardul Thakur plays a shot during the third day of the ICC World Test Championship Final between India and Australia at The Oval cricket ground in London, Friday, June 9, 2023. (AP Photo/Kirsty Wigglesworth)
6 of 9
India's Shardul Thakur plays a shot during the third day of the ICC World Test Championship Final between India and Australia at The Oval cricket ground in London, Friday, June 9, 2023. (AP Photo/Kirsty Wigglesworth)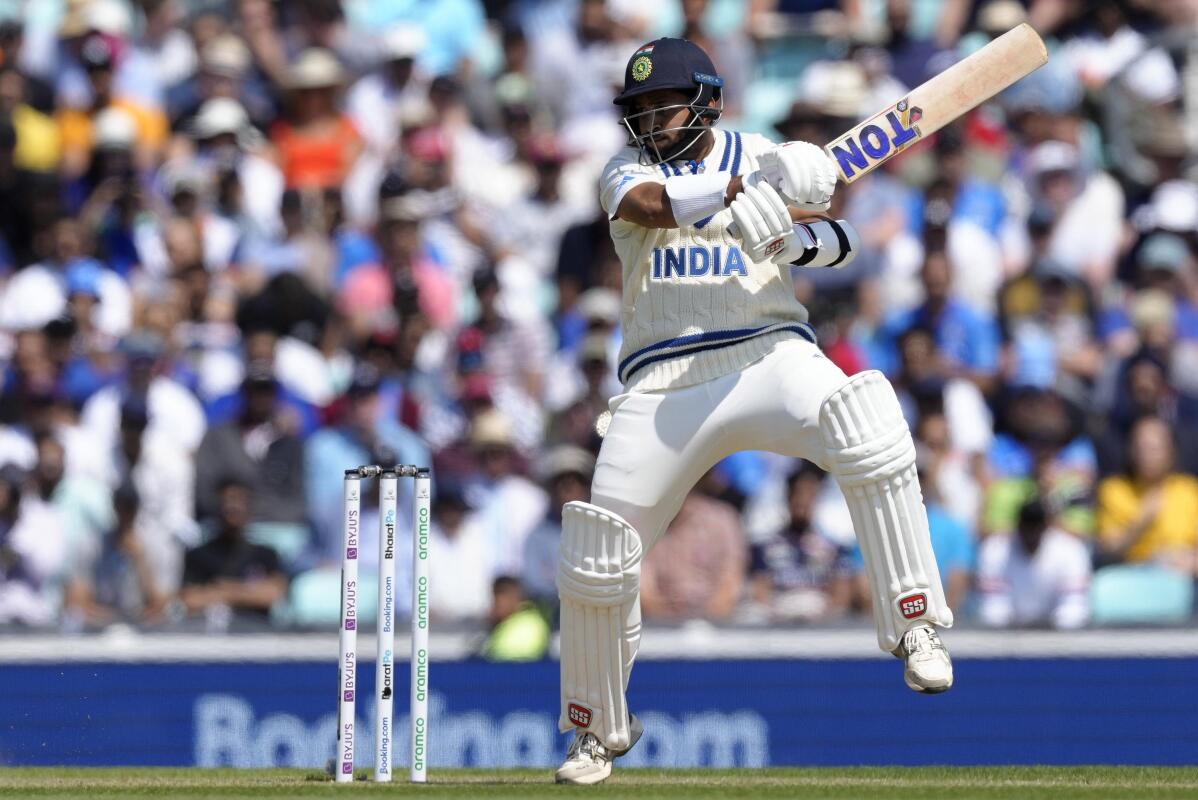 7 of 9

|
India's Shardul Thakur plays a shot on the third day of the ICC World Test Championship Final between India and Australia at The Oval cricket ground in London, Friday, June 9, 2023. (AP Photo/Kirsty Wigglesworth)
7 of 9
India's Shardul Thakur plays a shot on the third day of the ICC World Test Championship Final between India and Australia at The Oval cricket ground in London, Friday, June 9, 2023. (AP Photo/Kirsty Wigglesworth)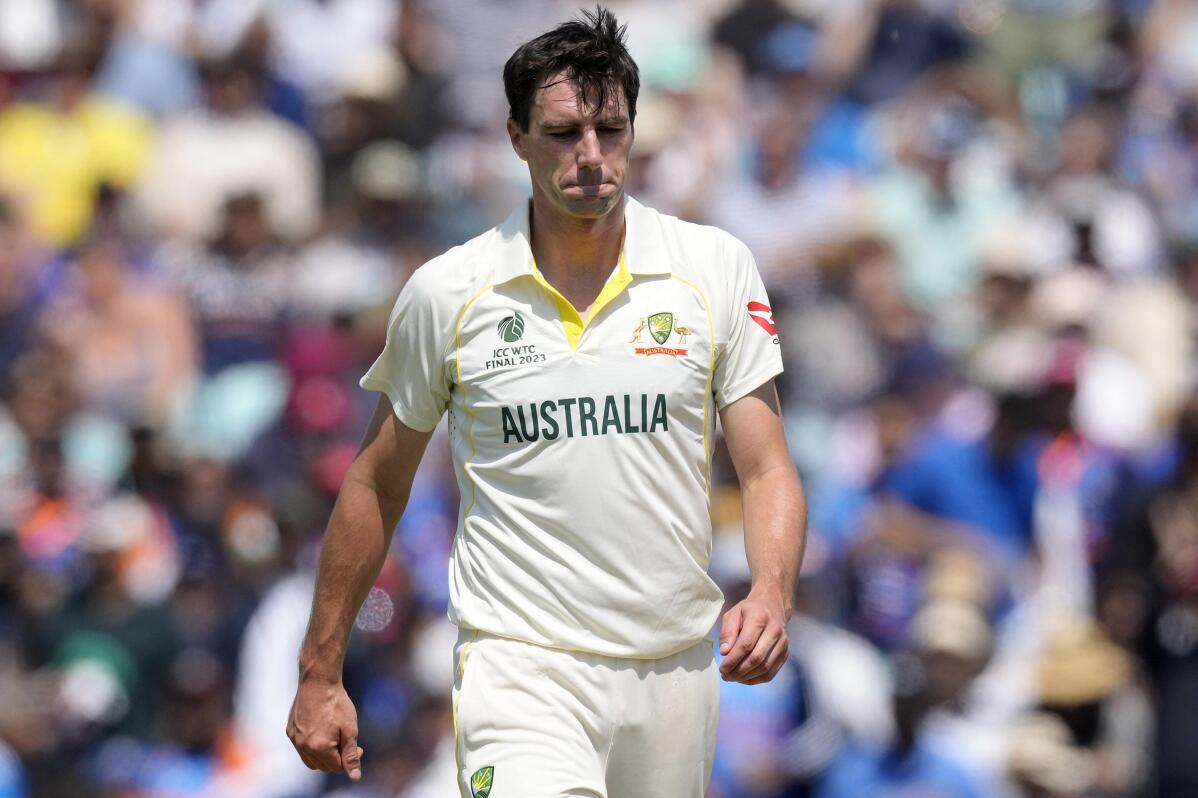 8 of 9

|
Australia's Pat Cummins reacts after bowling on the third day of the ICC World Test Championship Final between India and Australia at The Oval cricket ground in London, Friday, June 9, 2023. (AP Photo/Kirsty Wigglesworth)
8 of 9
Australia's Pat Cummins reacts after bowling on the third day of the ICC World Test Championship Final between India and Australia at The Oval cricket ground in London, Friday, June 9, 2023. (AP Photo/Kirsty Wigglesworth)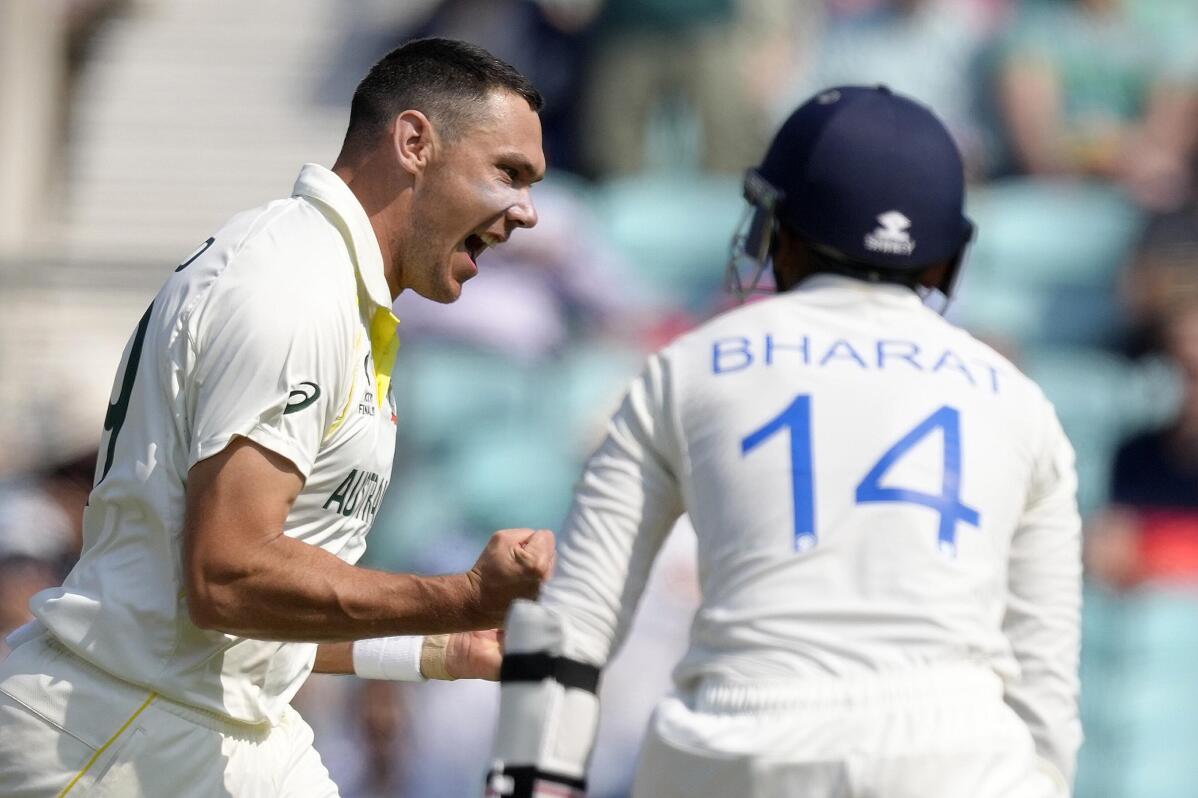 9 of 9

|
Australia's Scott Boland celebrates taking a wicket of India's Srikar Bharat on the third day of the ICC World Test Championship Final between India and Australia at The Oval cricket ground in London, Friday, June 9, 2023. (AP Photo/Kirsty Wigglesworth)
9 of 9
Australia's Scott Boland celebrates taking a wicket of India's Srikar Bharat on the third day of the ICC World Test Championship Final between India and Australia at The Oval cricket ground in London, Friday, June 9, 2023. (AP Photo/Kirsty Wigglesworth)
LONDON (AP) — Australia stretched its lead to 296 runs against India and tightened its grip on the World Test Championship final after three fascinating days at the Oval on Friday.
A streaky India was finally bowled out for 296 before tea and Australia padded its already huge lead of 173 runs on the first innings with 123 more by stumps.
It was another enthralling, bruising day in which the fast bowlers capitalized on a pitch with a nasty, erratic bounce to put the batters in extreme doubt. And yet the quality of the world's two best teams produced 268 runs from 75.4 overs at a cost of nine wickets.
India did well to take four wickets but the target was becoming ever more imposing on a misbehaving pitch.
"We were looking to get 320, 330, but overall we had a good day," India batter Ajinkya Rahane said. "123-4 is a good effort by our bowlers. Australia are slightly ahead. But we know funny things can happen."
David Warner was shuffled off for 1, caught behind, though his 48 in the first innings will give him an Ashes start.
That stirred a dozing Marnus Labuschagne off the team balcony. He was woken up by two hits on the knuckles by Mohammed Siraj and almost ran himself out twice in an electric 11 overs before tea. Labuschagne kept his head to be 41 not out at stumps. Cameron Green was on 7.
"My hands are just about hanging on. I've got good bone density," Labuschagne said. "It is lively out there."
Steve Smith and Labuschagne took all tension out of the air after tea and silenced the pro-India crowd of 25,170 by spreading the field in an easy stand of 62. That was until Smith seemed bored when he charged at Ravindra Jadeja and sliced to cover on 34.
Travis Head, a century-maker like Smith from the first innings, also seemed to say he'd batted enough when, after a couple of fluky sixes, he patted back to Jadeja for a caught and bowled on 18.
"We have quite a formidable score already but you just never know," Labuschagne said. "Any of their guys in Shubman (Gill), (Virat) Kohli, (Cheteshwar) Pujara, they can all be tough to dismiss. We have got to keep crawling along with our lead."
India's innings endured longer than even it would have expected. India resumed the day on 151-5 and was 152-6 after two balls, when Srikar Bharat was removed by Scott Boland.
Rahane, after 18 months out, led India's fightback across two days with a team-high score of 89, his best in 2 1/2 years.
The innings was a blessing for India and a triumph for Rahane in his comeback test.
Rahane was dropped after a mediocre tour of South Africa in January 2022, the back end of a year in which he'd scored only three fifties in 15 tests. He justified himself domestically. In the Indian Premier League he averaged 32 with a strike rate of 172 and made key contributions in the title run by Chennai Super Kings just 10 days ago.
Shreyas Iyer's back surgery reopened a spot for Rahane, who turned 35 on Tuesday, the day before the final. He featured in two big stands; 71 with Jadeja which settled down a reeling India; and a rousing 109 with Shardul Thakur that lifted their spirits.
Rahane and Thakur were willing to step inside the line and take painful body blows. Australia also gave them several lives.
Rahane was crunched on the fingers and right ear on Thursday, and hit on the fingers again on 71. Rahane was given out on 17 but Australia captain Pat Cummins overstepped, survived on an umpire's call on 53, and was dropped on 72 by Warner.
It took a brilliant one-handed catch by Green at gully to prise him out. Rahane thick-edged Cummins and Green somehow plucked the snorter out of the air behind him at full stretch.
Thakur was hit in the forearm twice in a row by Cummins, took a painkiller and resorted to arm guards. He also took shots to his thumb and ribs. Thakur was dropped on 0 and 8, and would have been out lbw for 36 but Cummins overstepped again.
Thakur's second driven four in a Cummins over got him to 51 from 109 balls and a standing ovation. A third half-century at the Oval earned Rishabh Pant's backup a standing ovation. He was ninth man out next ball, edging Green behind.
There was a comic ending when Siraj was given out leg before. He successfully challenged and forced four disrespectful Australians to return to the field. The innings lasted five more balls.
Cummins led Australia with three wickets and Boland had the cheapest pair, conceding below 3. But three drops and a wicket canceled by Cummins' sixth no ball prevented Australia from starting their second innings during the frenzied morning session. Thanks to Rahane and Thakur, they had to wait at least two more hours.
"I've played a handful of tests," Thakur said, "but that (first) hour felt like, 'Welcome to test cricket.'"
___
More AP cricket: https://apnews.com/hub/cricket and https://twitter.com/AP_Sports