Indiana lawmakers give approval to anti-ESG investing bill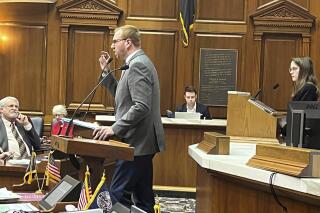 INDIANAPOLIS (AP) — Indiana Republicans pushed through a proposal Monday taking a stand against socially and environmentally conscious investing although disagreements within their legislative majorities narrowed it from what conservatives first sought.
House members voted 66-29 for final passage of the bill aimed at preventing leaders of the state's pension funds for teachers and other government workers from investing any of their some $45 billion with firms that consider environmental, social and governance principles in their investment decisions.
The bill now goes to Republican Gov. Eric Holcomb for his decision whether to sign it into law.
The Indiana pension fund board has said it hasn't followed so-called ESG investment strategies, which have become the target of Republican lawmakers across the country who argue they are focused more on pushing political agendas rather than earning the best returns.
Such a ban is needed in Indiana to ensure that "financial returns trump all," said Republican Rep. Ethan Manning of Logansport, the bill's sponsor.
"Our concern is when these large asset managers on Wall Street are using their outsized market power to force decisions on companies when it's not best for them," Manning said.
The Indiana Chamber of Commerce, the state's largest business group, and some other business organizations objected to earlier versions of the bill, calling proposed investment limitations "anti-free market." An analysis of the first version of Manning's proposal projected that the limitations would cost the state pension system $6.7 billion over 10 years.
Business groups dropped much of their opposition after the initial proposal was rewritten and the GOP-dominated Senate later removed provisions such as one that would have had the state treasurer's office compile and publish a list of companies it found had made ESG investment commitments.
Much of the public testimony before Indiana lawmakers in support of the ESG limitations had nothing to do with state pension investments. Legislative committees heard a litany of complaints from businesses, including those in coal mining and firearms production, about difficulties they blame on corporate ESG policies.
Kansas Republicans approved an anti-ESG law this month, while at least seven other states, including Oklahoma, Texas and West Virginia, have enacted similar laws in the past two years. GOP Govs. Ron DeSantis of Florida and Greg Gianforte of Montana also have moved to block their states' funds from being invested using ESG principles.
Democratic Rep. Carey Hamilton of Indianapolis argued the anti-ESG bill was "carving out protections for certain sectors for political reasons."
"We're creating bigger government to oversee a system that works today for our retirees," Hamilton said.
Supporters of ESG investing principles argue that it's financially prudent to consider issues such as whether a shift to green energy makes investing in fossil fuel companies riskier. Hundreds of investors, companies and institutions have signed on to a "Freedom to Invest" statement, arguing that ignoring "the robust economic benefits" of clean energy represented a failure to build a stronger economy.