Indianapolis 500 points change could keep series championship race tighter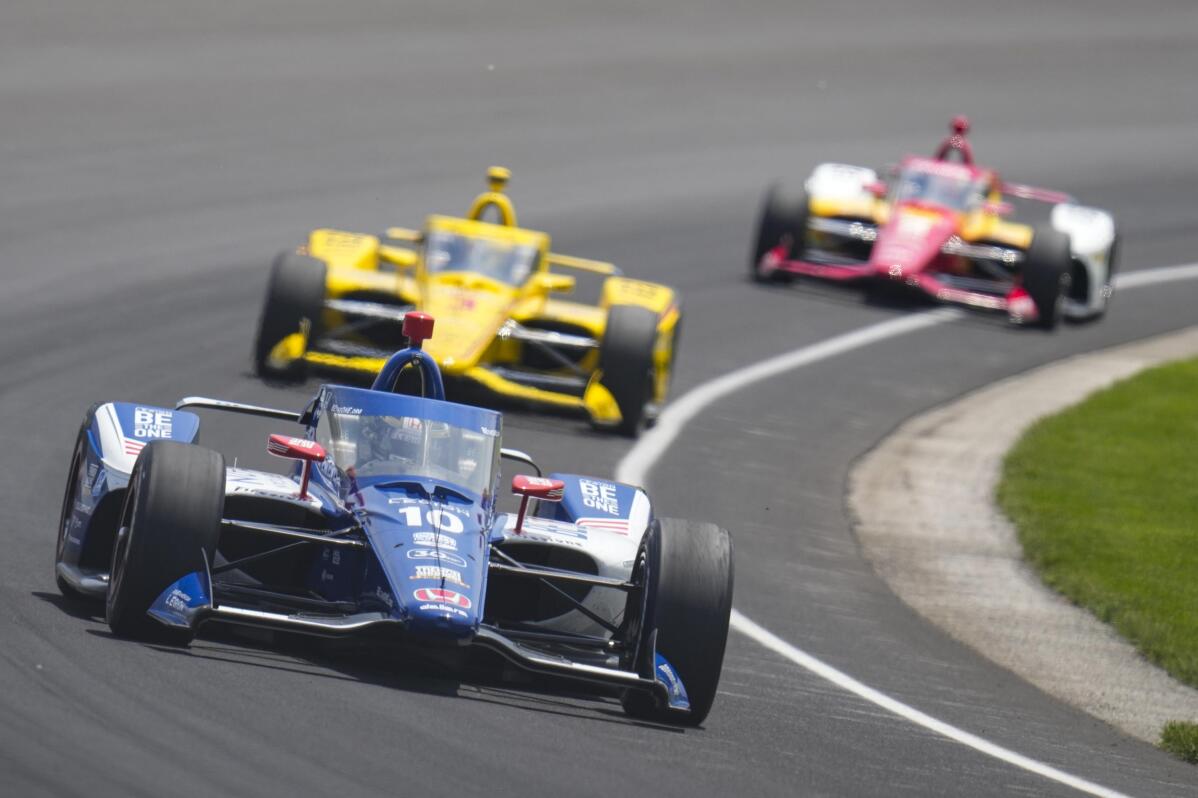 1 of 10

|
Alex Palou, of Spain, drives during practice for the Indianapolis 500 auto race at Indianapolis Motor Speedway in Indianapolis, Monday, May 22, 2023. (AP Photo/Michael Conroy)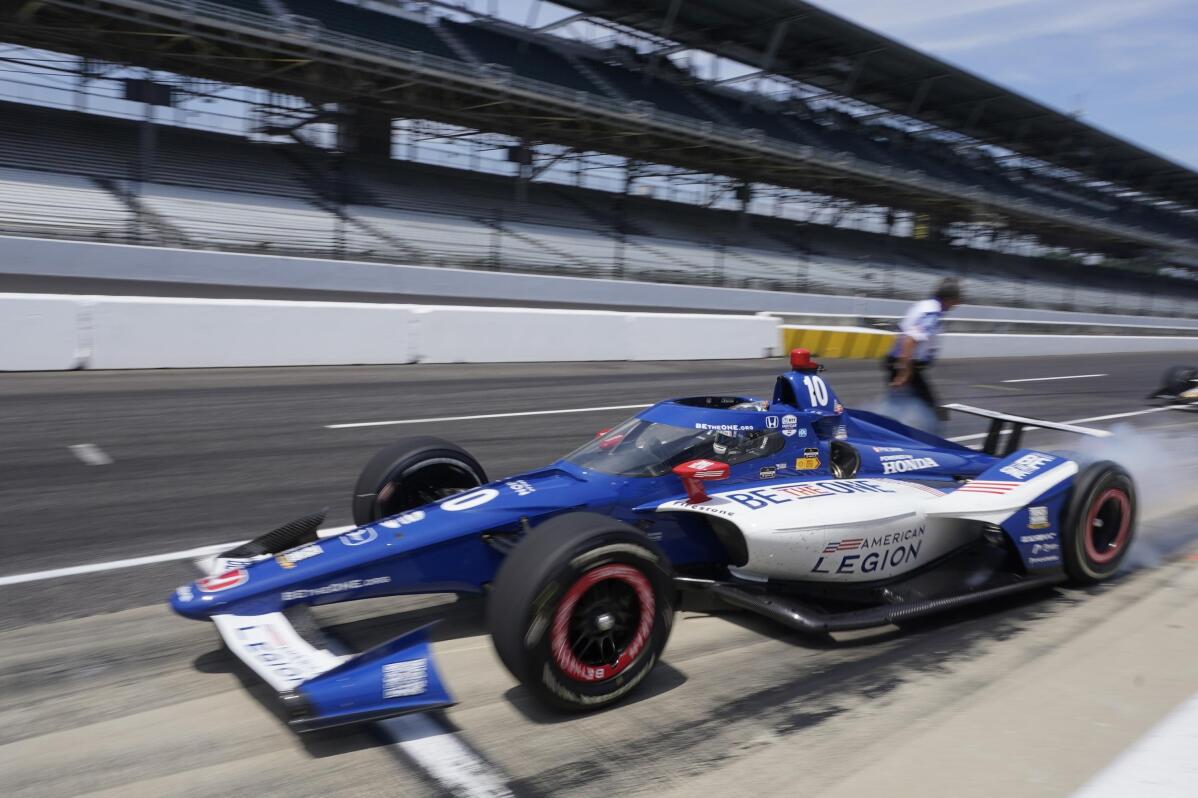 2 of 10

|
Alex Palou, of Spain, leaves the pits during practice for the Indianapolis 500 auto race at Indianapolis Motor Speedway, Monday, May 22, 2023, in Indianapolis. (AP Photo/Darron Cummings)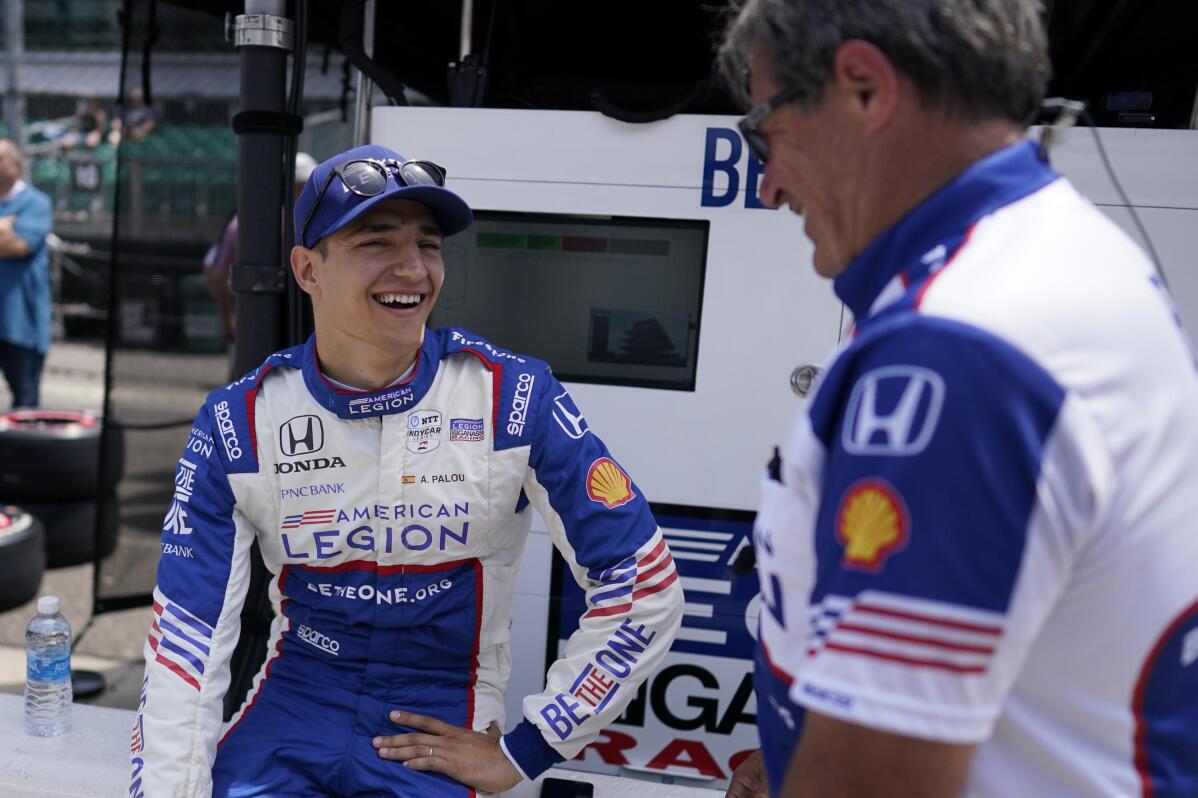 3 of 10

|
Alex Palou, of Spain, talks with a crew member before practice for the Indianapolis 500 auto race at Indianapolis Motor Speedway, Monday, May 22, 2023, in Indianapolis. (AP Photo/Darron Cummings)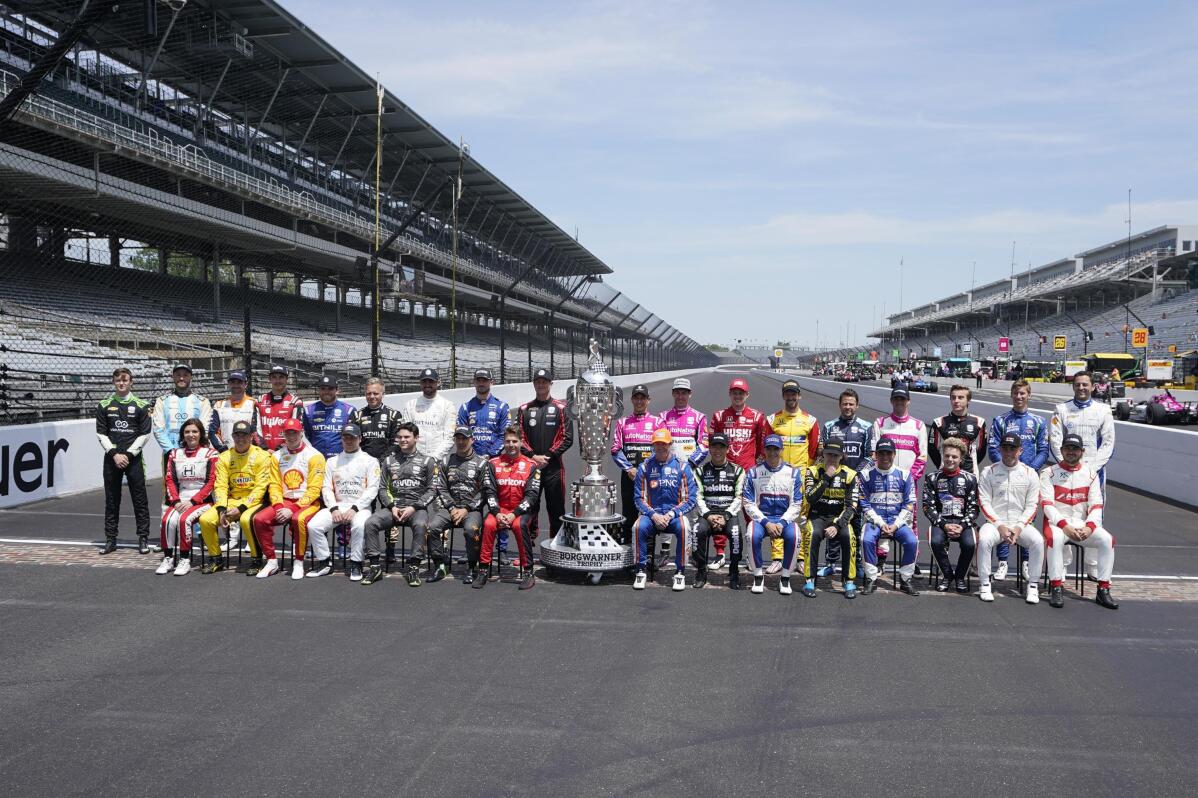 4 of 10

|
The field for the 107th running of the Indianapolis 500 auto race gather for a photo at Indianapolis Motor Speedway, Monday, May 22, 2023, in Indianapolis. The drivers are, front row from left, Katherine Legge, of England, Scott McLaughlin, of New Zealand, Josef Newgarden, Felix Rosenqvist, of Sweden, Pato O'Ward, of Mexico, Tony Kanaan, of Brazil, Will Power, of Australia, Scott Dixon, of New Zealand, Takuma Sato, of Japan, Alex Palou, of Spain, Colton Herta, Colton Herta, Devlin DeFrancesco, of Canada, Santino Ferrucci, Benjamin Pedersen, of Denmark, and RC Enerson. Second row from left, Callum Ilott, of England, Agustin Canapino, of Argentina, Jack Harvey, of England, Christian Lundgaard, of Denmark, Conor Daly, Ed Carpenter, Alexander Rossi, Ryan Hunter-Reay, Helio Castroneves, of Brazil, Simon Pagenaud, of France, Marcus Ericsson, of Sweden, Romain Grosjean, of Switzerland, Marco Andretti, Kyle Kirkwood, David Malukas, Sting Ray Robb and Stefan Wilson, of England. (AP Photo/Darron Cummings)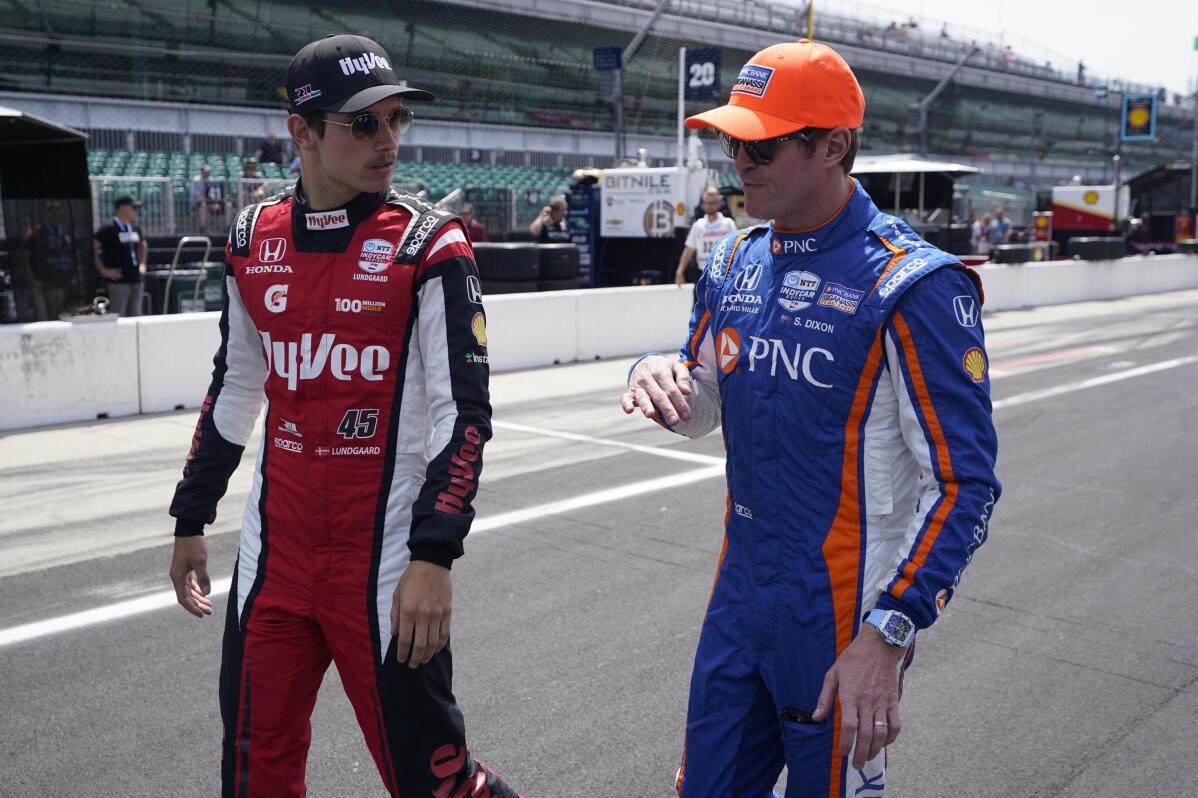 5 of 10

|
Christian Lundgaard, left, of Denmark, talks with Scott Dixon, of New Zealand, before practice for the Indianapolis 500 auto race at Indianapolis Motor Speedway, Monday, May 22, 2023, in Indianapolis. (AP Photo/Darron Cummings)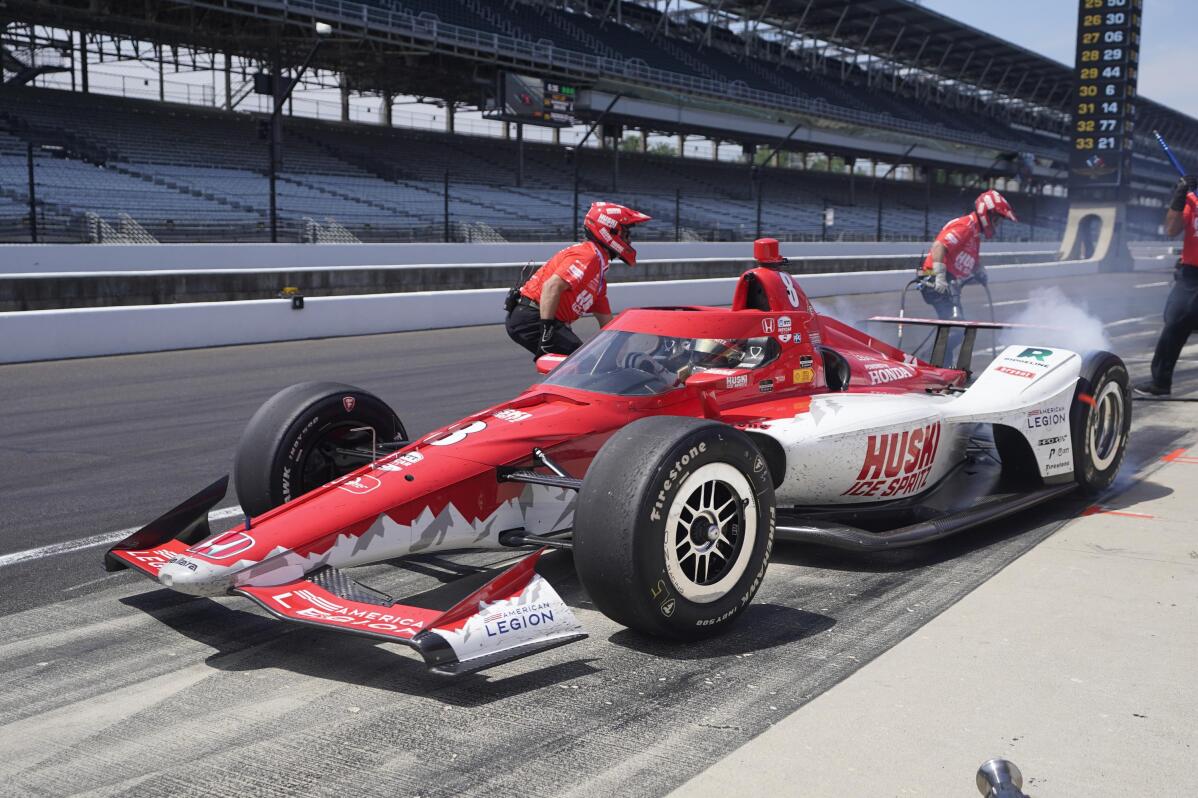 6 of 10

|
Marcus Ericsson, of Sweden, leaves the pits during practice for the Indianapolis 500 auto race at Indianapolis Motor Speedway, Monday, May 22, 2023, in Indianapolis. (AP Photo/Darron Cummings)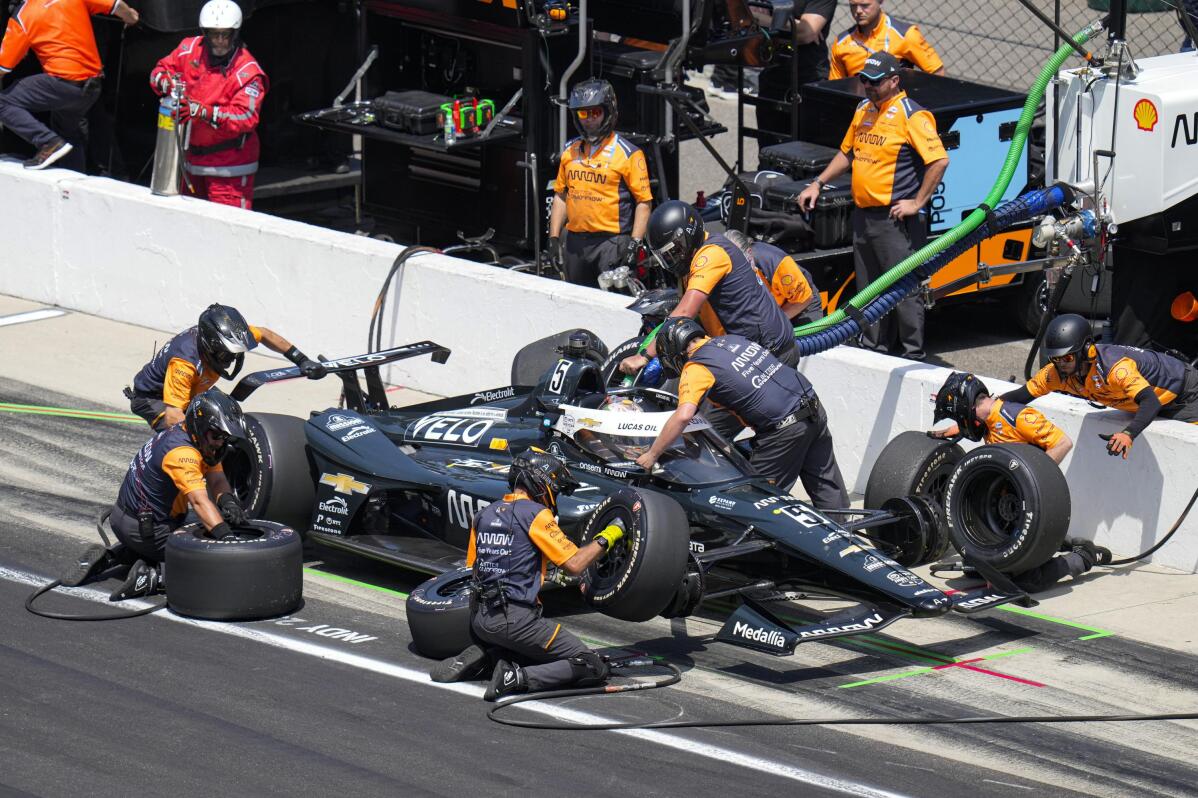 7 of 10

|
The team of Pato O'Ward, of Mexico, practices a pit stop during practice for the Indianapolis 500 auto race at Indianapolis Motor Speedway in Indianapolis, Monday, May 22, 2023. (AP Photo/Michael Conroy)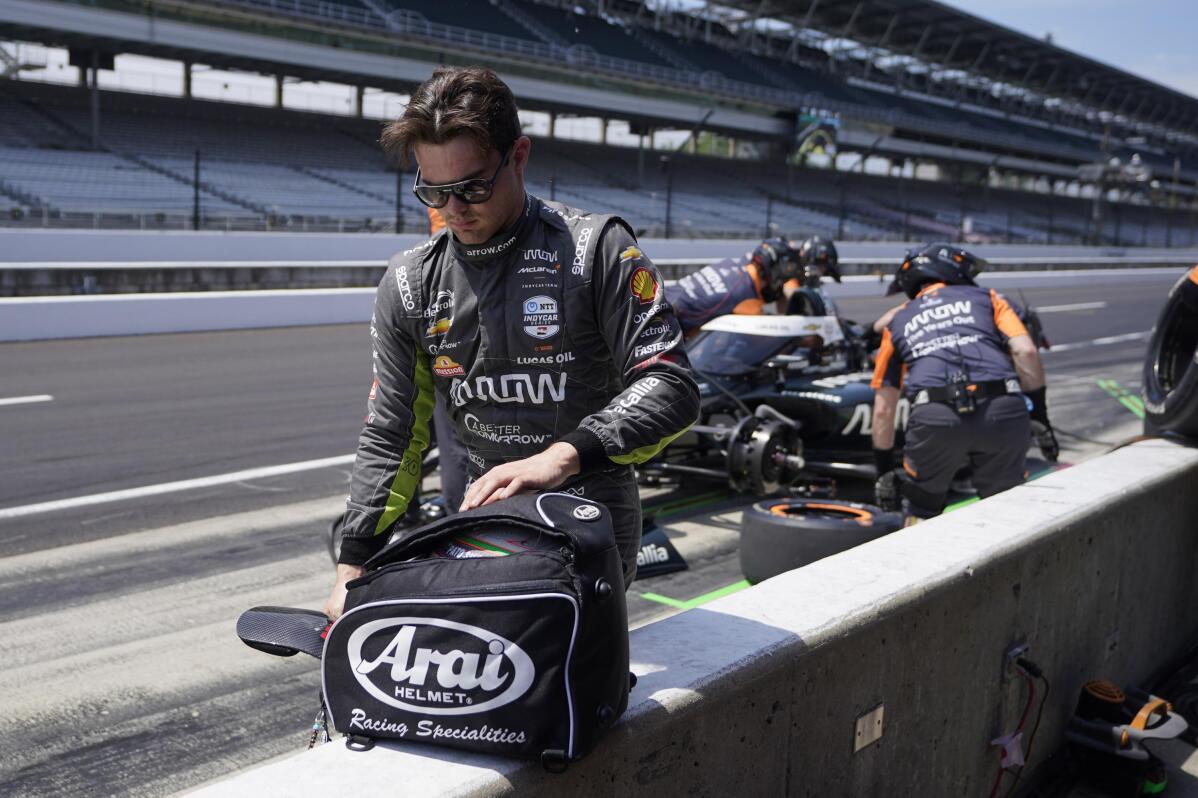 8 of 10

|
Pato O'Ward, of Mexico, puts away his helmet following practice for the Indianapolis 500 auto race at Indianapolis Motor Speedway, Monday, May 22, 2023, in Indianapolis. (AP Photo/Darron Cummings)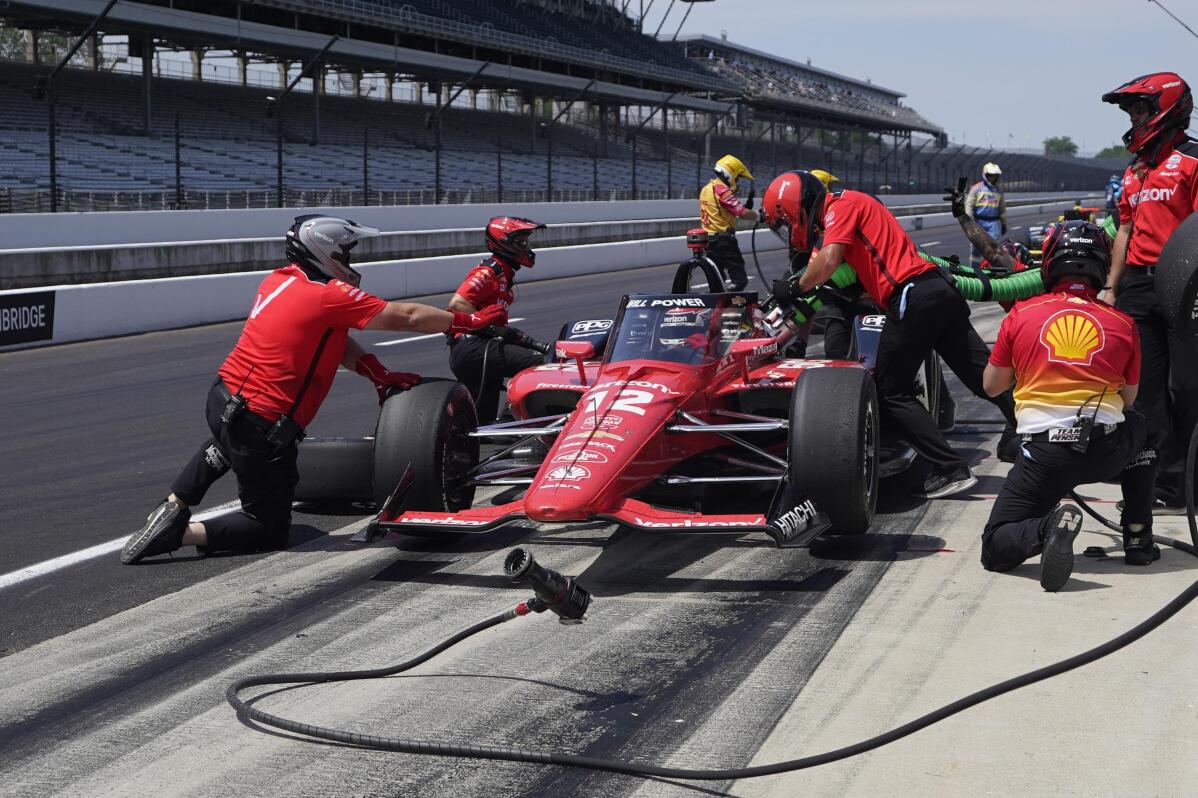 9 of 10

|
The crew for Will Power, of Australia, practice a pit stop during practice for the Indianapolis 500 auto race at Indianapolis Motor Speedway, Monday, May 22, 2023, in Indianapolis. (AP Photo/Darron Cummings)
10 of 10

|
Will Power, of Australia, talks with a crew member following practice for the Indianapolis 500 auto race at Indianapolis Motor Speedway, Monday, May 22, 2023, in Indianapolis. (AP Photo/Darron Cummings)
Indianapolis 500 points change could keep series championship race tighter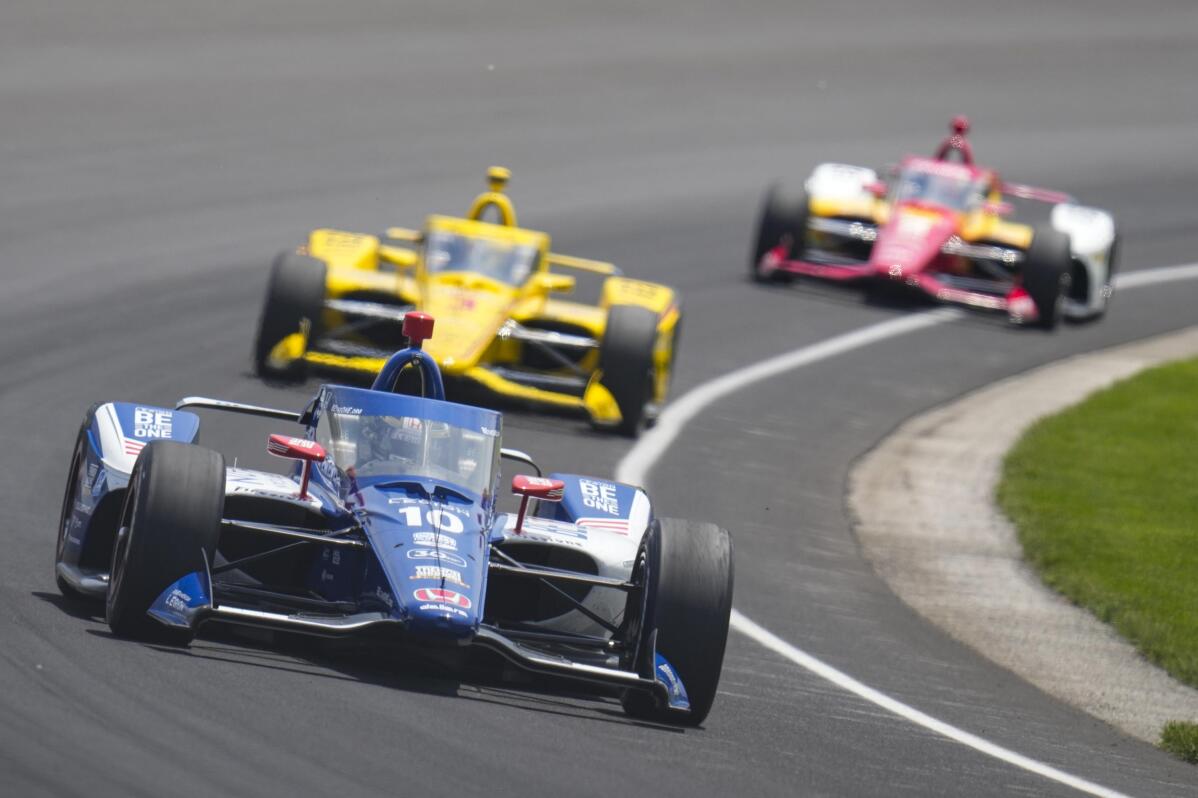 1 of 10

|
Alex Palou, of Spain, drives during practice for the Indianapolis 500 auto race at Indianapolis Motor Speedway in Indianapolis, Monday, May 22, 2023. (AP Photo/Michael Conroy)
1 of 10
Alex Palou, of Spain, drives during practice for the Indianapolis 500 auto race at Indianapolis Motor Speedway in Indianapolis, Monday, May 22, 2023. (AP Photo/Michael Conroy)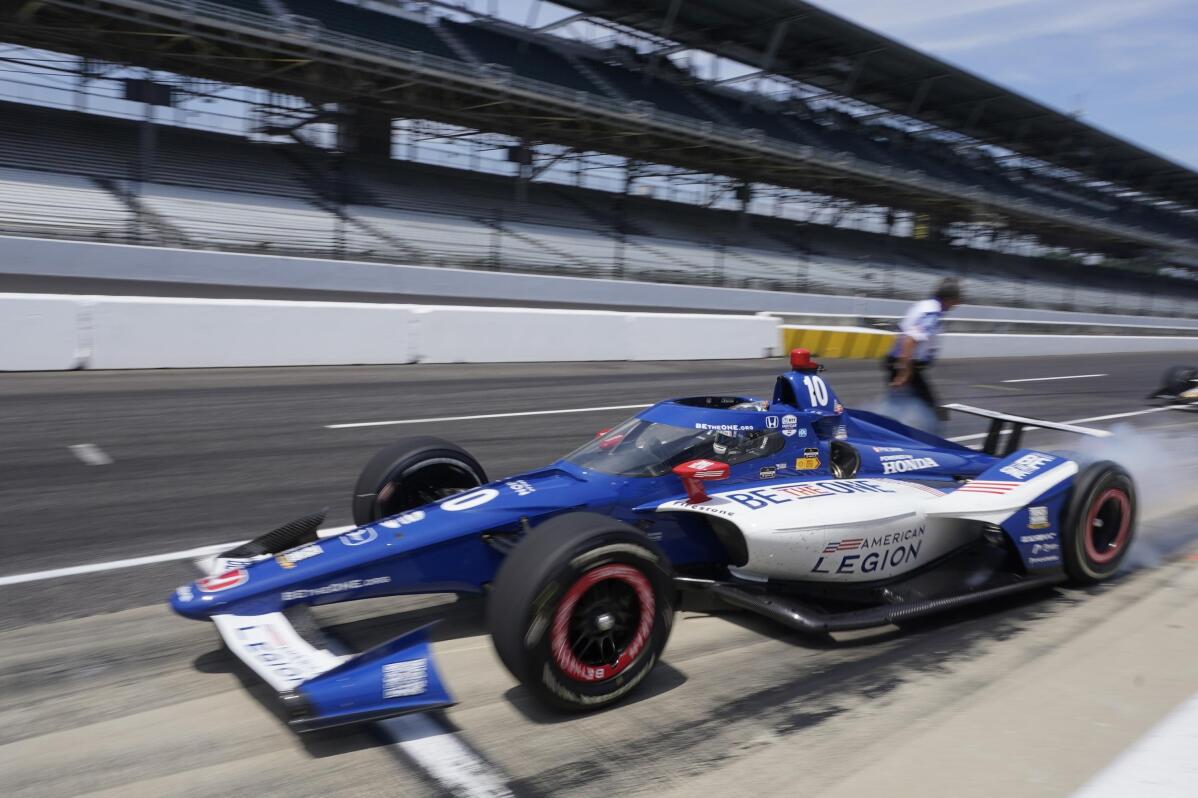 2 of 10

|
Alex Palou, of Spain, leaves the pits during practice for the Indianapolis 500 auto race at Indianapolis Motor Speedway, Monday, May 22, 2023, in Indianapolis. (AP Photo/Darron Cummings)
2 of 10
Alex Palou, of Spain, leaves the pits during practice for the Indianapolis 500 auto race at Indianapolis Motor Speedway, Monday, May 22, 2023, in Indianapolis. (AP Photo/Darron Cummings)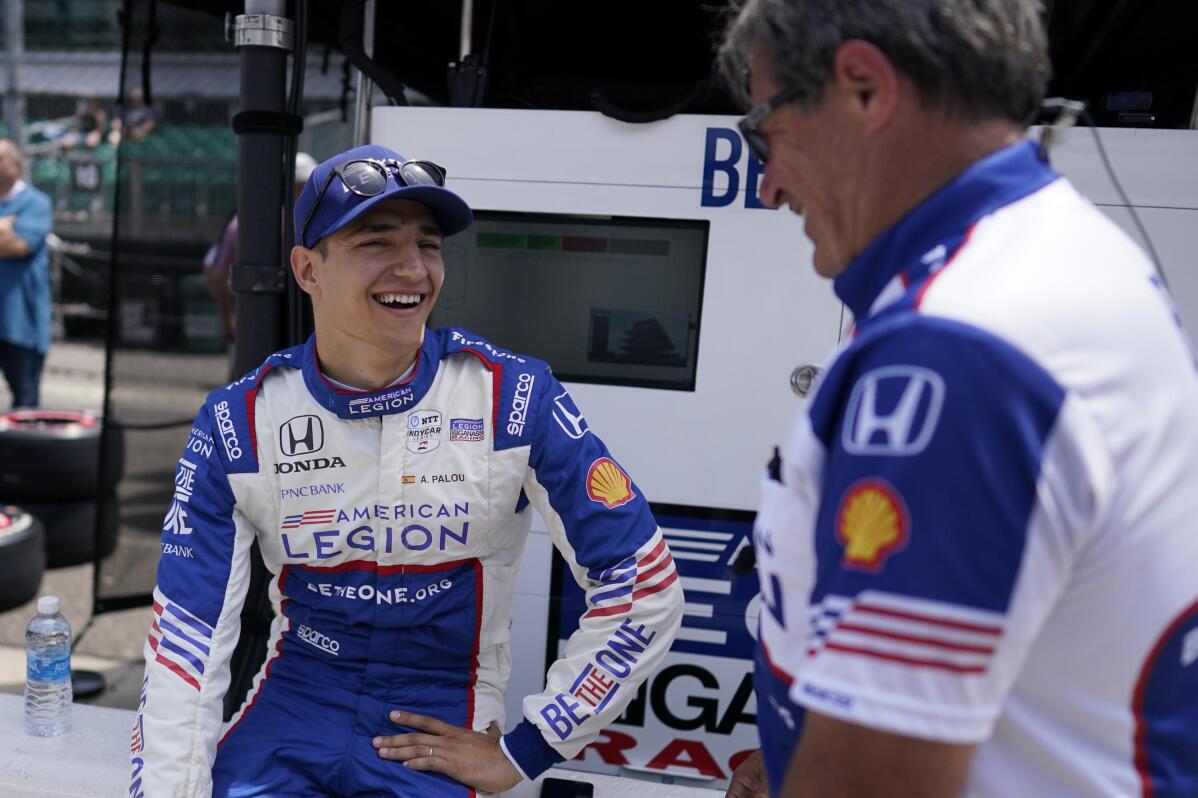 3 of 10

|
Alex Palou, of Spain, talks with a crew member before practice for the Indianapolis 500 auto race at Indianapolis Motor Speedway, Monday, May 22, 2023, in Indianapolis. (AP Photo/Darron Cummings)
3 of 10
Alex Palou, of Spain, talks with a crew member before practice for the Indianapolis 500 auto race at Indianapolis Motor Speedway, Monday, May 22, 2023, in Indianapolis. (AP Photo/Darron Cummings)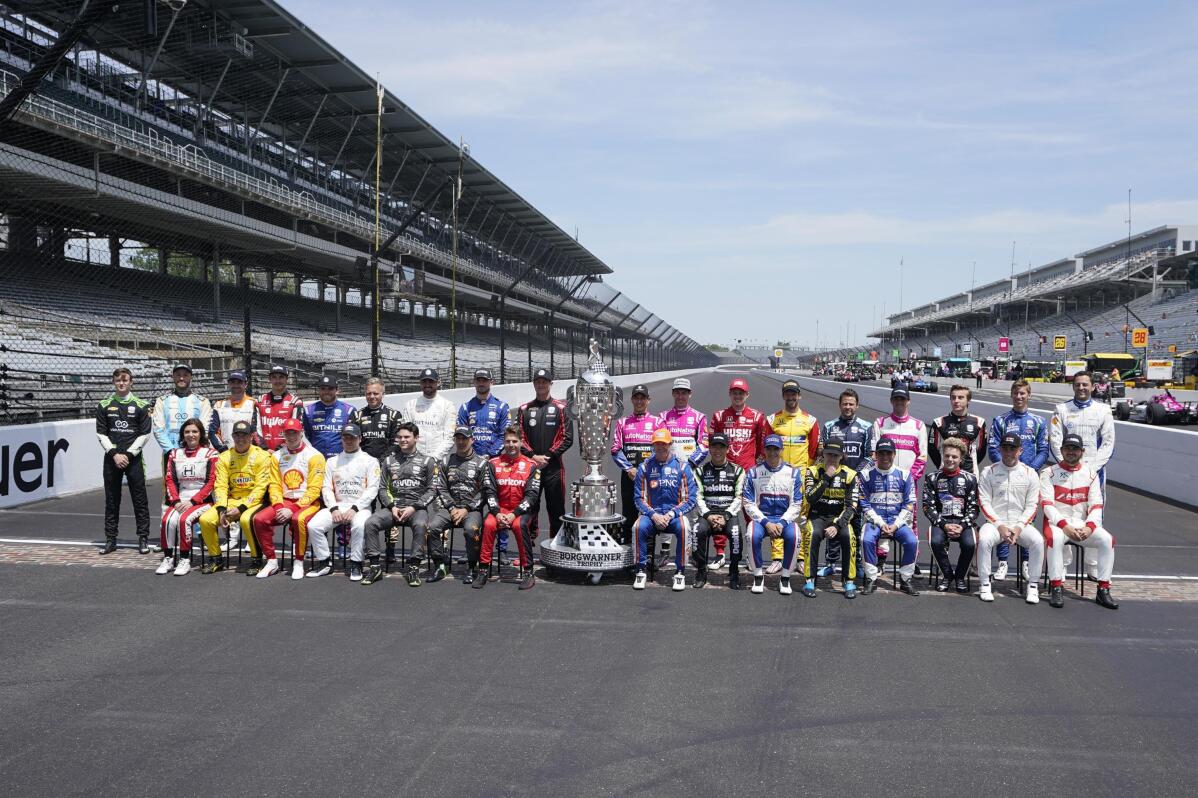 4 of 10

|
The field for the 107th running of the Indianapolis 500 auto race gather for a photo at Indianapolis Motor Speedway, Monday, May 22, 2023, in Indianapolis. The drivers are, front row from left, Katherine Legge, of England, Scott McLaughlin, of New Zealand, Josef Newgarden, Felix Rosenqvist, of Sweden, Pato O'Ward, of Mexico, Tony Kanaan, of Brazil, Will Power, of Australia, Scott Dixon, of New Zealand, Takuma Sato, of Japan, Alex Palou, of Spain, Colton Herta, Colton Herta, Devlin DeFrancesco, of Canada, Santino Ferrucci, Benjamin Pedersen, of Denmark, and RC Enerson. Second row from left, Callum Ilott, of England, Agustin Canapino, of Argentina, Jack Harvey, of England, Christian Lundgaard, of Denmark, Conor Daly, Ed Carpenter, Alexander Rossi, Ryan Hunter-Reay, Helio Castroneves, of Brazil, Simon Pagenaud, of France, Marcus Ericsson, of Sweden, Romain Grosjean, of Switzerland, Marco Andretti, Kyle Kirkwood, David Malukas, Sting Ray Robb and Stefan Wilson, of England. (AP Photo/Darron Cummings)
4 of 10
The field for the 107th running of the Indianapolis 500 auto race gather for a photo at Indianapolis Motor Speedway, Monday, May 22, 2023, in Indianapolis. The drivers are, front row from left, Katherine Legge, of England, Scott McLaughlin, of New Zealand, Josef Newgarden, Felix Rosenqvist, of Sweden, Pato O'Ward, of Mexico, Tony Kanaan, of Brazil, Will Power, of Australia, Scott Dixon, of New Zealand, Takuma Sato, of Japan, Alex Palou, of Spain, Colton Herta, Colton Herta, Devlin DeFrancesco, of Canada, Santino Ferrucci, Benjamin Pedersen, of Denmark, and RC Enerson. Second row from left, Callum Ilott, of England, Agustin Canapino, of Argentina, Jack Harvey, of England, Christian Lundgaard, of Denmark, Conor Daly, Ed Carpenter, Alexander Rossi, Ryan Hunter-Reay, Helio Castroneves, of Brazil, Simon Pagenaud, of France, Marcus Ericsson, of Sweden, Romain Grosjean, of Switzerland, Marco Andretti, Kyle Kirkwood, David Malukas, Sting Ray Robb and Stefan Wilson, of England. (AP Photo/Darron Cummings)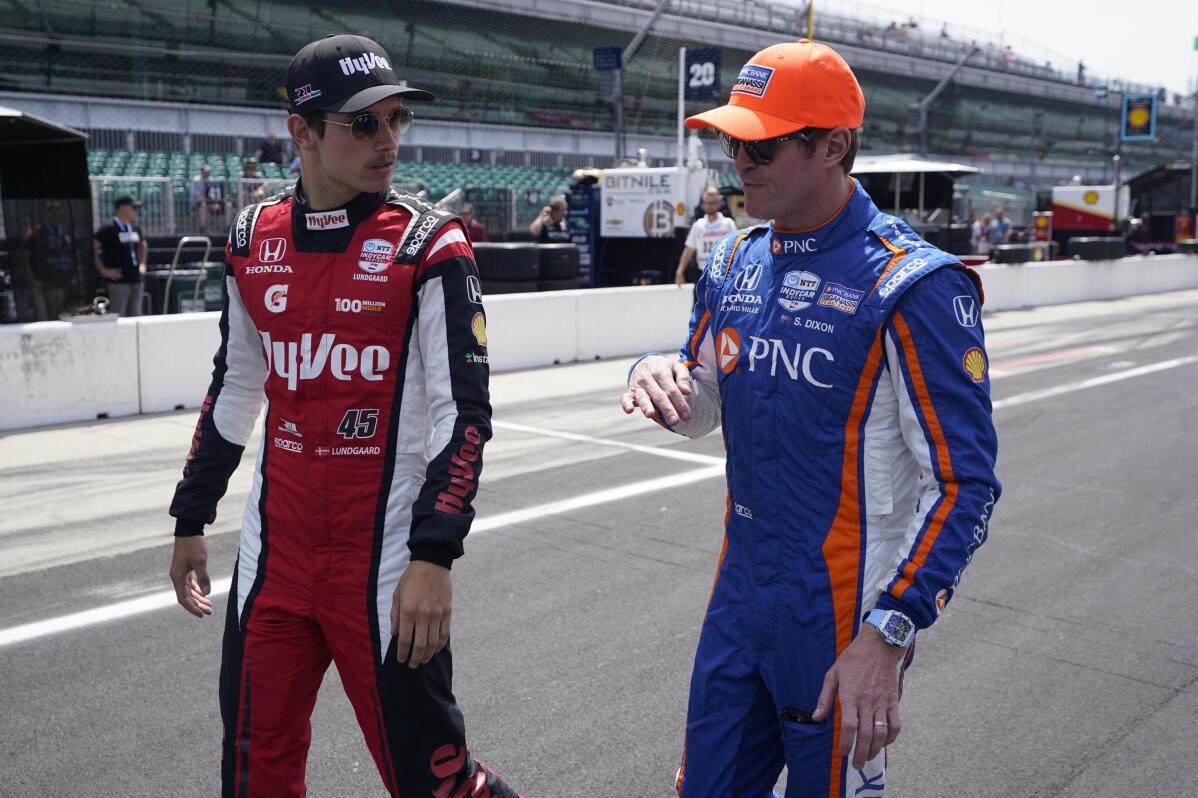 5 of 10

|
Christian Lundgaard, left, of Denmark, talks with Scott Dixon, of New Zealand, before practice for the Indianapolis 500 auto race at Indianapolis Motor Speedway, Monday, May 22, 2023, in Indianapolis. (AP Photo/Darron Cummings)
5 of 10
Christian Lundgaard, left, of Denmark, talks with Scott Dixon, of New Zealand, before practice for the Indianapolis 500 auto race at Indianapolis Motor Speedway, Monday, May 22, 2023, in Indianapolis. (AP Photo/Darron Cummings)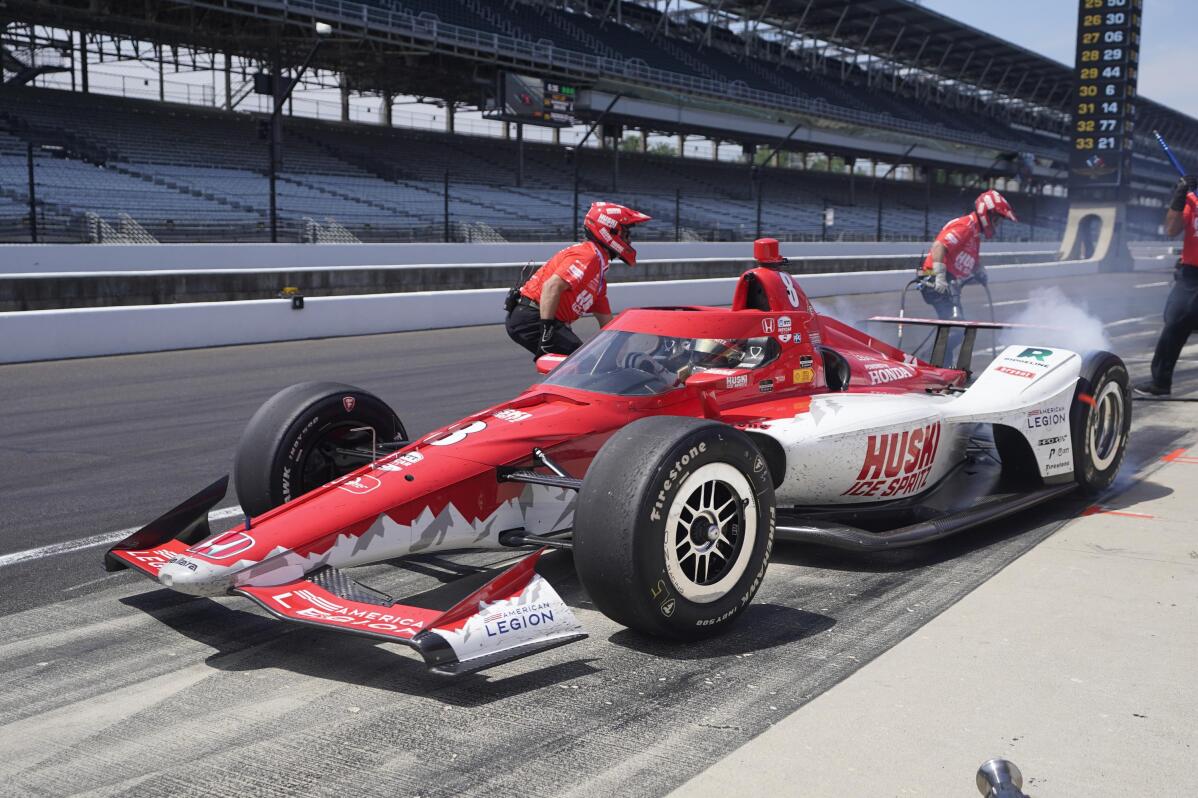 6 of 10

|
Marcus Ericsson, of Sweden, leaves the pits during practice for the Indianapolis 500 auto race at Indianapolis Motor Speedway, Monday, May 22, 2023, in Indianapolis. (AP Photo/Darron Cummings)
6 of 10
Marcus Ericsson, of Sweden, leaves the pits during practice for the Indianapolis 500 auto race at Indianapolis Motor Speedway, Monday, May 22, 2023, in Indianapolis. (AP Photo/Darron Cummings)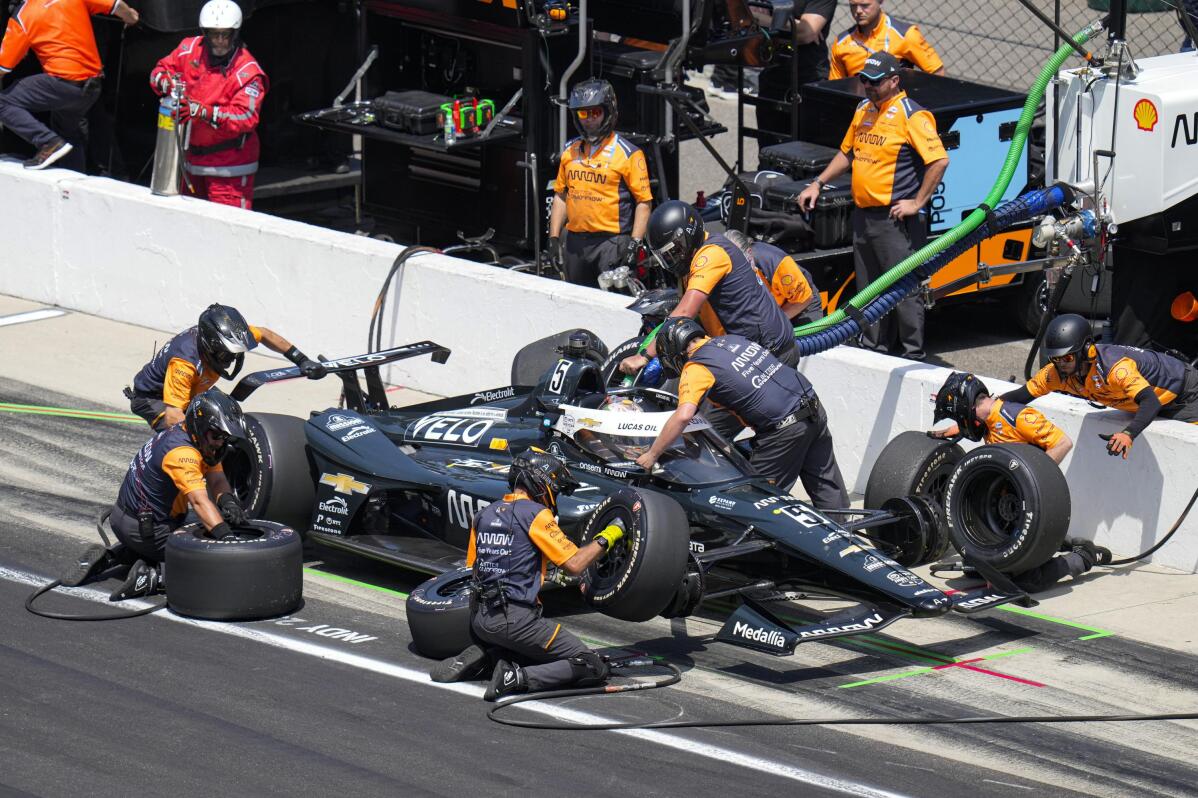 7 of 10

|
The team of Pato O'Ward, of Mexico, practices a pit stop during practice for the Indianapolis 500 auto race at Indianapolis Motor Speedway in Indianapolis, Monday, May 22, 2023. (AP Photo/Michael Conroy)
7 of 10
The team of Pato O'Ward, of Mexico, practices a pit stop during practice for the Indianapolis 500 auto race at Indianapolis Motor Speedway in Indianapolis, Monday, May 22, 2023. (AP Photo/Michael Conroy)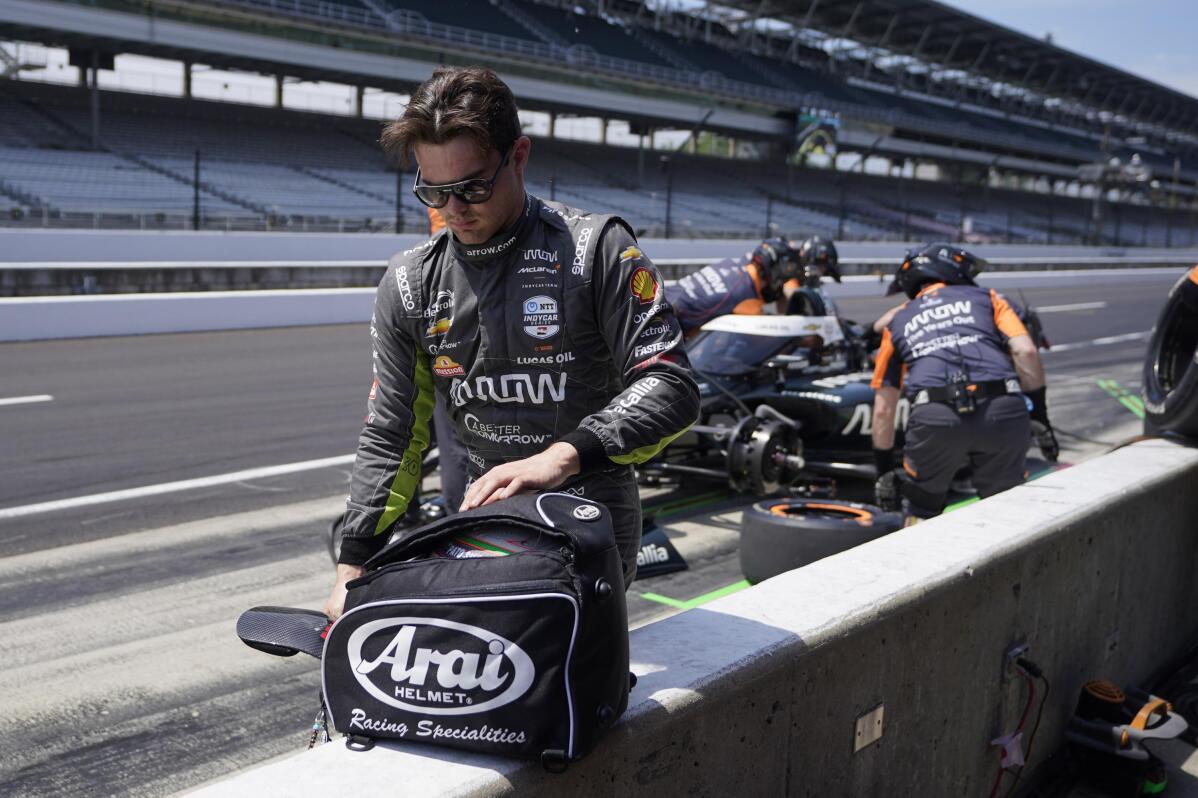 8 of 10

|
Pato O'Ward, of Mexico, puts away his helmet following practice for the Indianapolis 500 auto race at Indianapolis Motor Speedway, Monday, May 22, 2023, in Indianapolis. (AP Photo/Darron Cummings)
8 of 10
Pato O'Ward, of Mexico, puts away his helmet following practice for the Indianapolis 500 auto race at Indianapolis Motor Speedway, Monday, May 22, 2023, in Indianapolis. (AP Photo/Darron Cummings)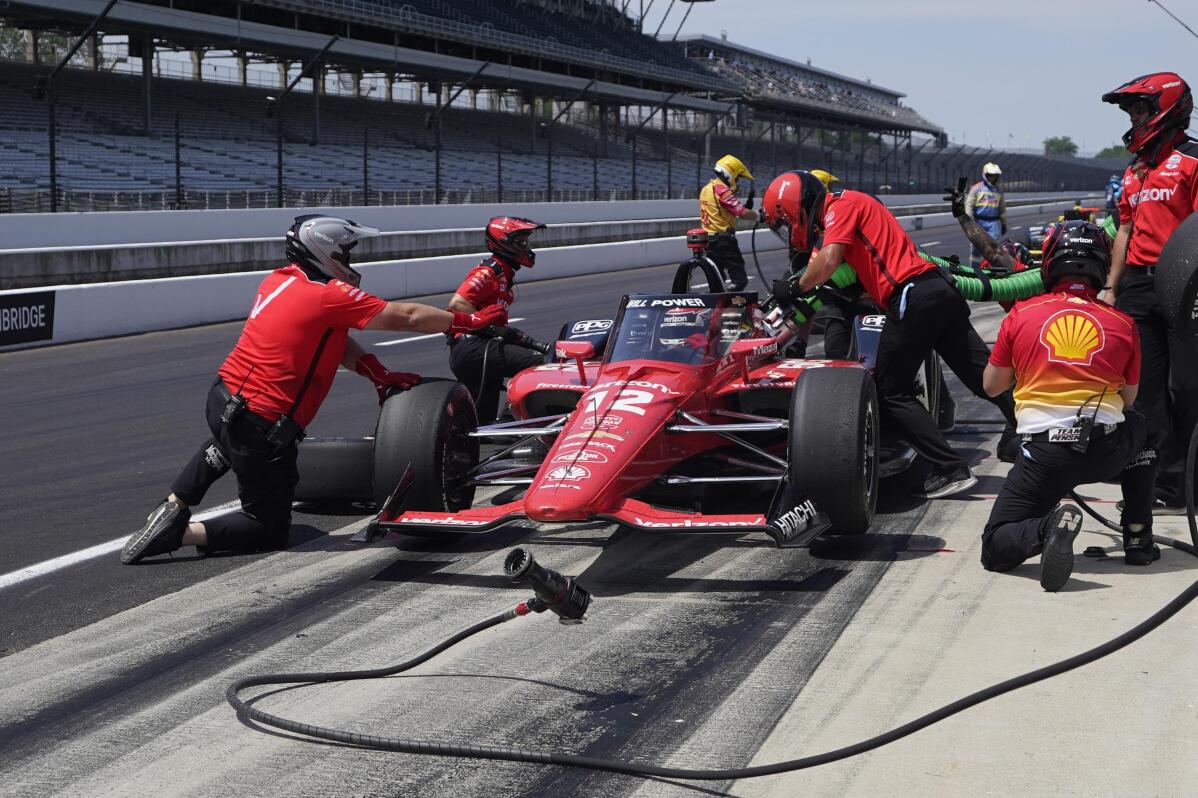 9 of 10

|
The crew for Will Power, of Australia, practice a pit stop during practice for the Indianapolis 500 auto race at Indianapolis Motor Speedway, Monday, May 22, 2023, in Indianapolis. (AP Photo/Darron Cummings)
9 of 10
The crew for Will Power, of Australia, practice a pit stop during practice for the Indianapolis 500 auto race at Indianapolis Motor Speedway, Monday, May 22, 2023, in Indianapolis. (AP Photo/Darron Cummings)
10 of 10

|
Will Power, of Australia, talks with a crew member following practice for the Indianapolis 500 auto race at Indianapolis Motor Speedway, Monday, May 22, 2023, in Indianapolis. (AP Photo/Darron Cummings)
10 of 10
Will Power, of Australia, talks with a crew member following practice for the Indianapolis 500 auto race at Indianapolis Motor Speedway, Monday, May 22, 2023, in Indianapolis. (AP Photo/Darron Cummings)
INDIANAPOLIS (AP) — Alex Palou took the IndyCar points lead with his first win of this season.
If the first Spaniard to win the Indianapolis 500 pole also collects his first career oval win Sunday, he'll extend his lead over his two nearest challengers, Pato O'Ward and Marcus Ericsson, though not by nearly as much as in recent years.
Series officials announced in February that after nine years of awarding double points in the series' marquee race, they'd revert to the standard single points format — a welcome change around Gasoline Alley.
"What we've always done a good job of is working on the priority of today," said Mike Hull, managing director at Chip Ganassi Racing, Palou's team. "If you were a little behind when you left here, you just had to work a little harder and we won some championships some of those years."
The extra points certainly can help.
Palou took advantage of his 2021 runner-up finish to become the youngest IndyCar championship winner since his teammate Scott Dixon won his first crown in 2003 at age 23. At Indy, Palou had a 49-point advantage over Josef Newgarden and wound up with a 38-point margin over Newgarden to win the crown. Newgarden has never won the 500.
Recent history has not been good for 500 winners, either.
During the 2014-22 double points era, not a single Indy champ won the series title. The last driver to win both in one season was Dario Franchitti in 2010. And each of the last 17 years, the overall champion has been decided in the season finale.
Finally, the series gave in to those lobbying for a change.
"While double points at the Indianapolis 500 has not altered who has won the season-long championship, occasionally it has had a negative effect on the final position of the full-time teams," IndyCar president of competition and operations Jay Frye said then. "As our entry list grows, this move will provide consistency for teams competing for championship positions."
The biggest impact might be keeping an already tight points race much tighter.
Palou's victory on May 13 allowed him to leapfrog Ericsson, the defending Indy winner, and O'Ward, the 2021 championship runner-up. Palou now holds a six-point edge over O'Ward and has a 19-point cushion over Ericsson.
Seven drivers including Dixon are within 50 points of the lead — the total awarded to each race winner. In years past, bad luck or a bad day could essentially end someone's title hopes as Dixon learned last year when he fell 21 points short of capturing a record-tying seventh series title.
Now the driver with more IndyCar wins (53) than anyone other than A.J. Foyt (67), more 500 poles (five) than anyone other than Rick Mears (six) and at least one victory in a series record 18 consecutive seasons could still be in contention no matter what happens Sunday.
But the 42-year-old Dixon, who qualified sixth, isn't racing for points. He wants to end his quest and join the list of multiple Indy winners on attempt No. 15.
"It's always about the win anyway," said Dixon, the 2008 Indy champ. "If you had a nice finish here, it was a nice bonus to have some good points. But it was doubly hard if you didn't. I know last year, I lost 76 points here (to Ericsson) and that took all year to try and regain."
Palou hopes to make it equally difficult on his teammates — and anyone else who could overtake him in the points chase with another strong performance this weekend.
He's had top-eight finishes in all five races this season, top-fives in four straight and has followed his first victory with the fastest pole-winning four-lap average in Indy history, 234.217 mph.
It's set him up for another good race day.
"This start of the season, especially the month of May, couldn't be better," he said. "It (the pole) doesn't mean more than a win or a win doesn't mean more than this. I think they're very separate, but this place is so special. We've been here more than two weeks, working on this race car for more than a year."
The difference this year is the driver who wins and tastes taste the milk will do it without doubling up on their points.
"If I win, I would be really mad that it was not double points," defending series champ and 2018 Indy winner Will Power of Team Penske said. "Otherwise I think the double points was a terrible idea."
___
AP auto racing: https://apnews.com/hub/auto-racing and https://twitter.com/AP_Sports