Washington creates missing Indigenous people cold case unit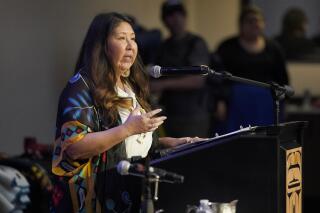 SEATTLE (AP) — A new unit aimed at solving cold cases of missing and murdered Indigenous people will be established in Washington state, a result of the latest law to address a decades-long crisis.
House Bill 1177 was recommended by a state task force, passed unanimously in the Legislature and was signed last week by Gov. Jay Inslee.
The unit will operate within the state Attorney General's Office and will assist federal, local and tribal law enforcement agencies in investigating unsolved cases involving Indigenous people, who are disproportionately targeted by violence. The unit will prioritize help for jurisdictions with limited resources, The Seattle Times reported.
"Victims are not alone. The cries of their loved ones are no longer unheard," said bill sponsor Rep. Debra Lekanoff, D-Bow, who was born in Alaska and is part Tlingit and part Aleut.
The unit will have investigators and a person to maintain communication with the families of victims and serve as a go-between for families and law enforcement.
The state's Missing and Murdered Indigenous Women & People Task Force, created to assess systemic causes behind the high rate of disappearances and murders of indigenous women and people, recommended the legislation.
"Thanks to the work of the task force, my office will be the first Attorney General's Office in the country with a cold case unit dedicated to seeking justice for missing and murdered Indigenous women and people," Attorney General Bob Ferguson said in a statement.
The task force has also successfully pushed for legislation to require coroners to take steps to identify and notify relatives of murdered Indigenous people and return their remains, and to create an emergency alert system for missing Indigenous people.
Since launching last July, the alert system has been activated more than 50 times, with 43 people found alive. In at least 11 cases, the alert helped law enforcement agencies find the missing person, according to the Washington State Patrol.
For decades, Native American advocates and experts have sounded the alarm on the disproportionate levels of violence, sexual assault, homicides and disappearances experienced by Indigenous people, particularly women.
"I can't say why it took so long for the rest of the country or our state to recognize we matter," Lekanoff said.
Washington has one of the highest number of cases of missing or murdered Native American women and girls in the country, according to a 2018 report by the Urban Indian Health Institute.
A 2021 report by the nonpartisan Government Accountability Office found the true number of missing and murdered Indigenous women in the U.S. is unknown because of reporting problems, distrust of law enforcement and jurisdictional conflicts.
But Native American women face murder rates almost three times those of white women overall — and up to 10 times the national average in certain locations, according to a 2021 summary of the existing research by the National Congress of American Indians. More than 80% have experienced violence.
As of April, 134 Native American people were missing in Washington, the majority from Central Washington's Yakima County, according to the State Patrol.
"It's a crisis, and we're finally able to take small, positive steps here in Washington state," Lekanoff said.