After years of struggling, AJ Foyt Racing has cars to contend in Indianapolis 500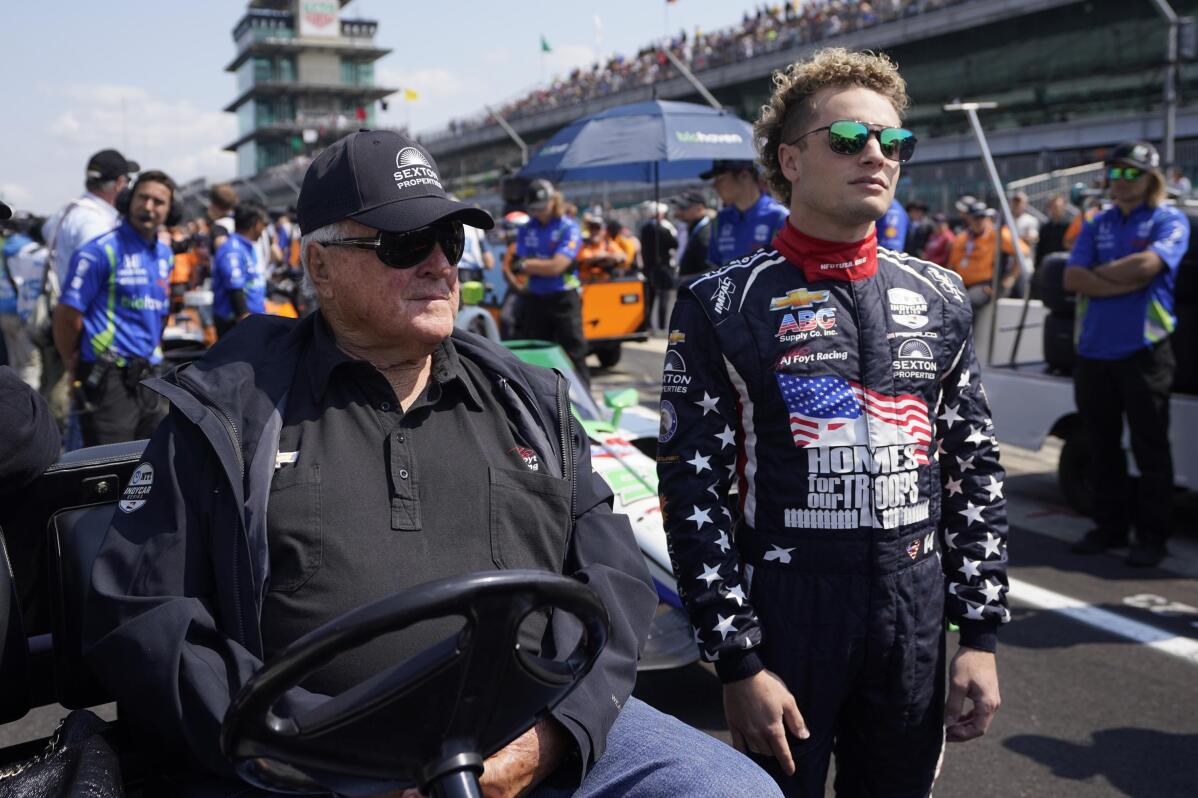 1 of 14

|
A.J. Foyt, left, talks with Santino Ferrucci during qualifications for the Indianapolis 500 auto race at Indianapolis Motor Speedway, Saturday, May 20, 2023, in Indianapolis. (AP Photo/Darron Cummings)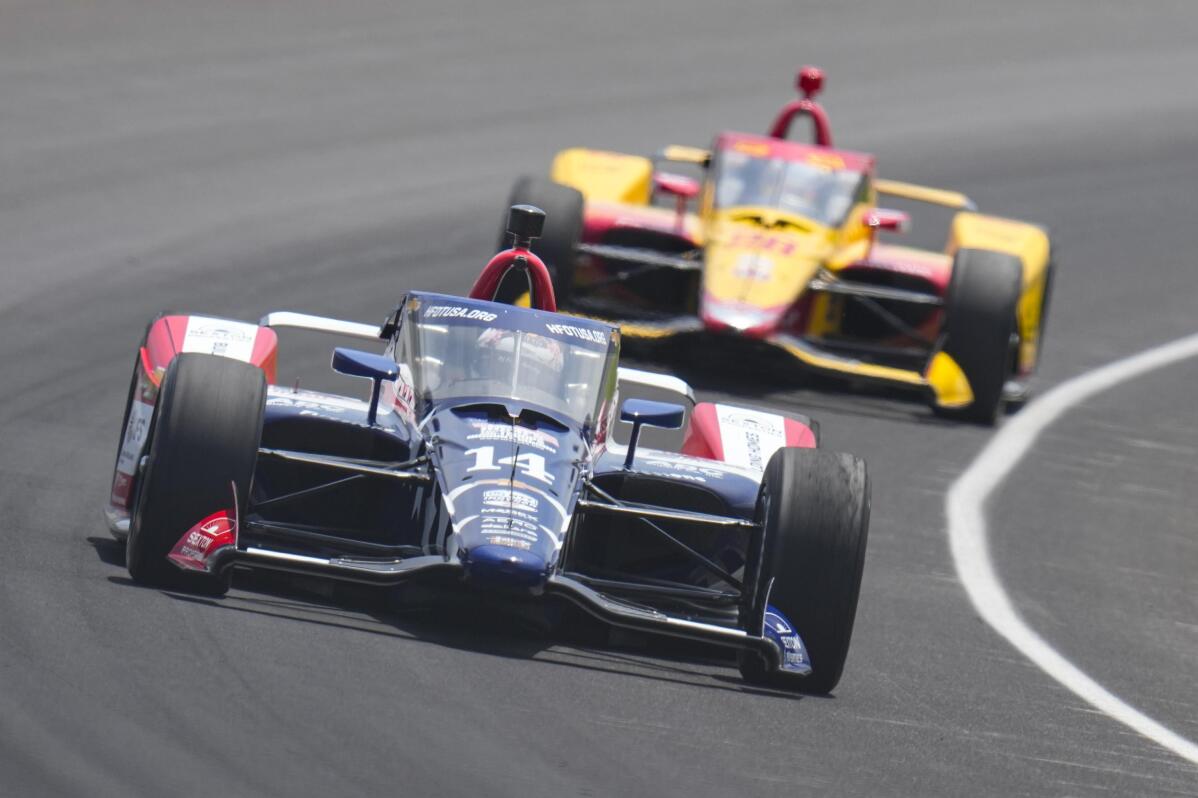 2 of 14

|
Santino Ferrucci drives through the third turn during practice for the Indianapolis 500 auto race at Indianapolis Motor Speedway in Indianapolis, Monday, May 22, 2023. (AP Photo/Michael Conroy)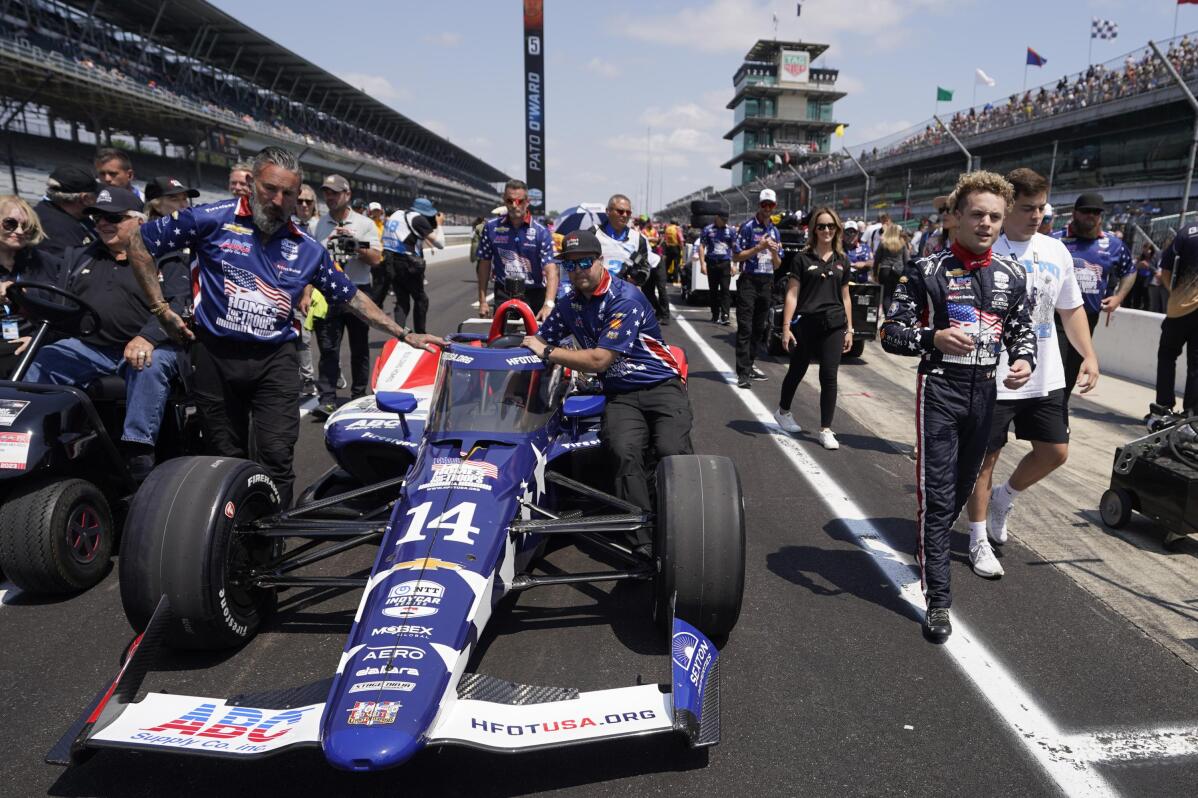 3 of 14

|
Santino Ferrucci walks beside his car during qualifications for the Indianapolis 500 auto race at Indianapolis Motor Speedway, Saturday, May 20, 2023, in Indianapolis. (AP Photo/Darron Cummings)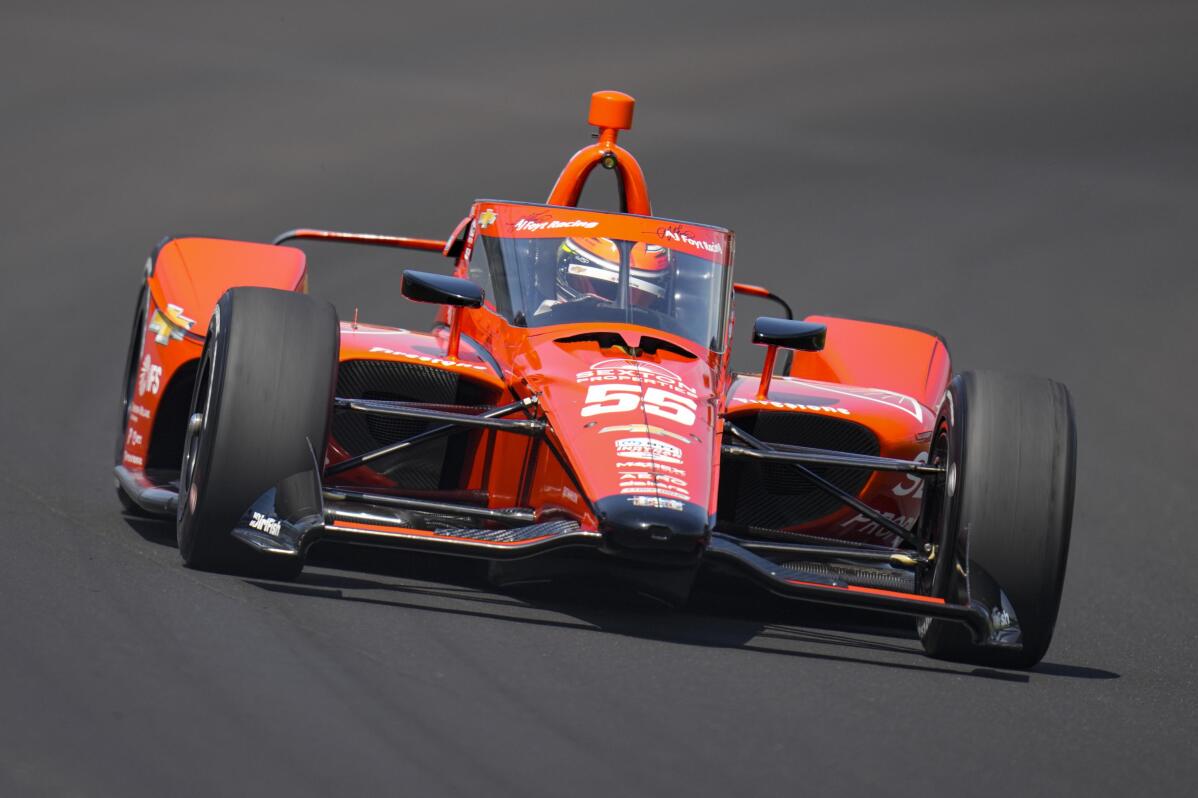 4 of 14

|
Benjamin Pedersen, of Denmark, drives through the first turn during qualifications for the Indianapolis 500 auto race at Indianapolis Motor Speedway in Indianapolis, Saturday, May 20, 2023. (AP Photo/Michael Conroy)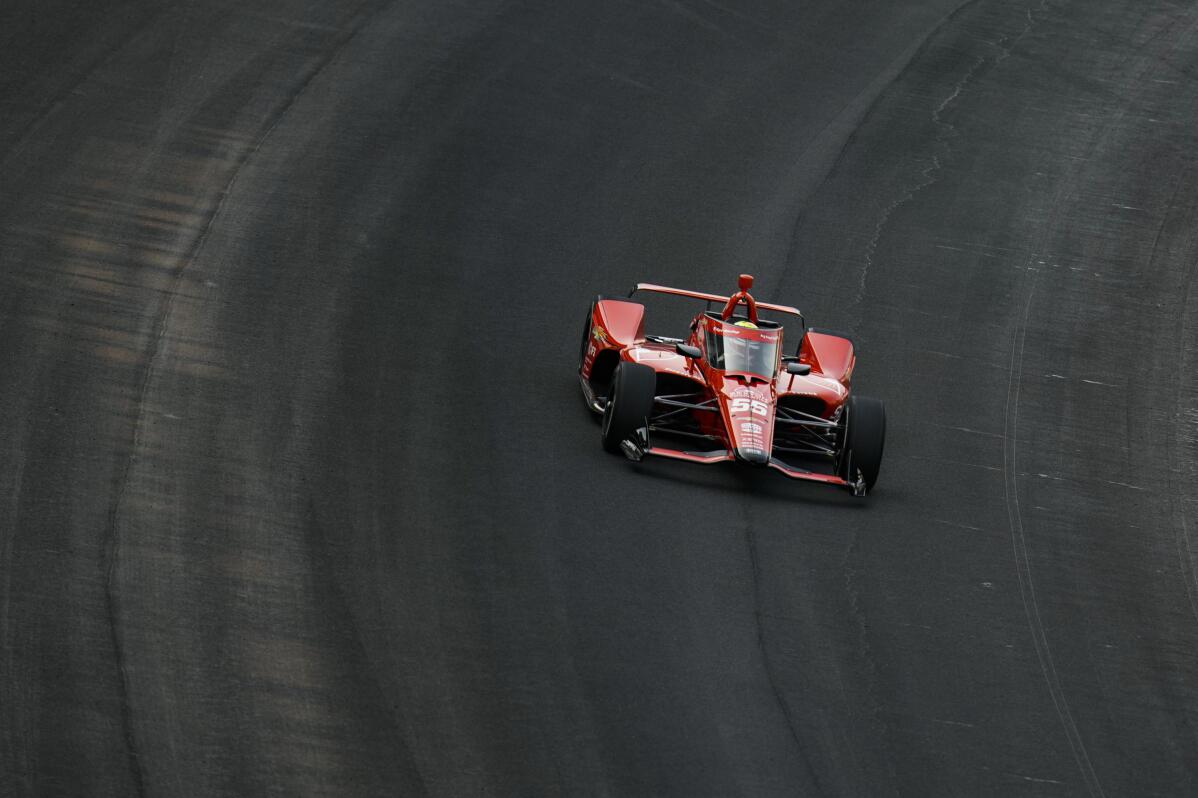 5 of 14

|
Benjamin Pedersen, of Denmark, heads into the first turn during practice for the Indianapolis 500 auto race at Indianapolis Motor Speedway in Indianapolis, Friday, May 18, 2023. (AP Photo/Michael Conroy)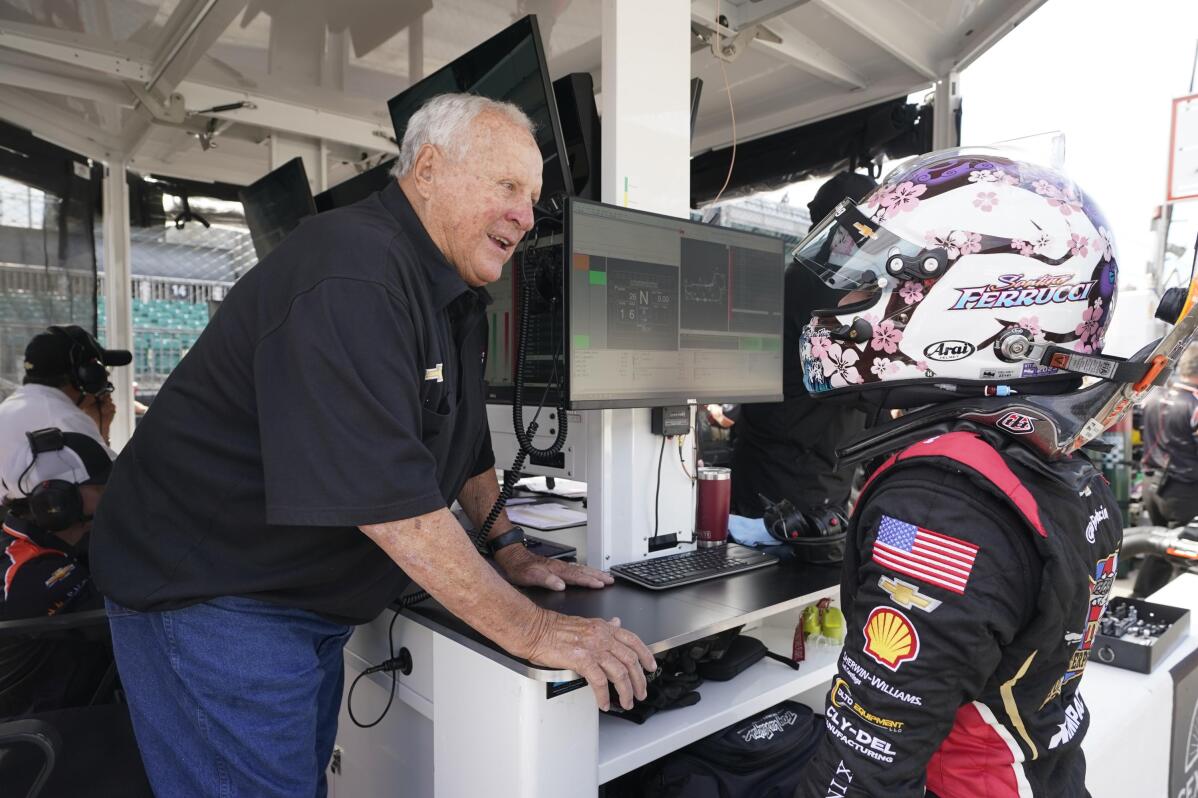 6 of 14

|
A. J. Foyt talks with Santino Ferrucci during practice for the IndyCar Grand Prix auto race at Indianapolis Motor Speedway, Friday, May 12, 2023, in Indianapolis. (AP Photo/Darron Cummings)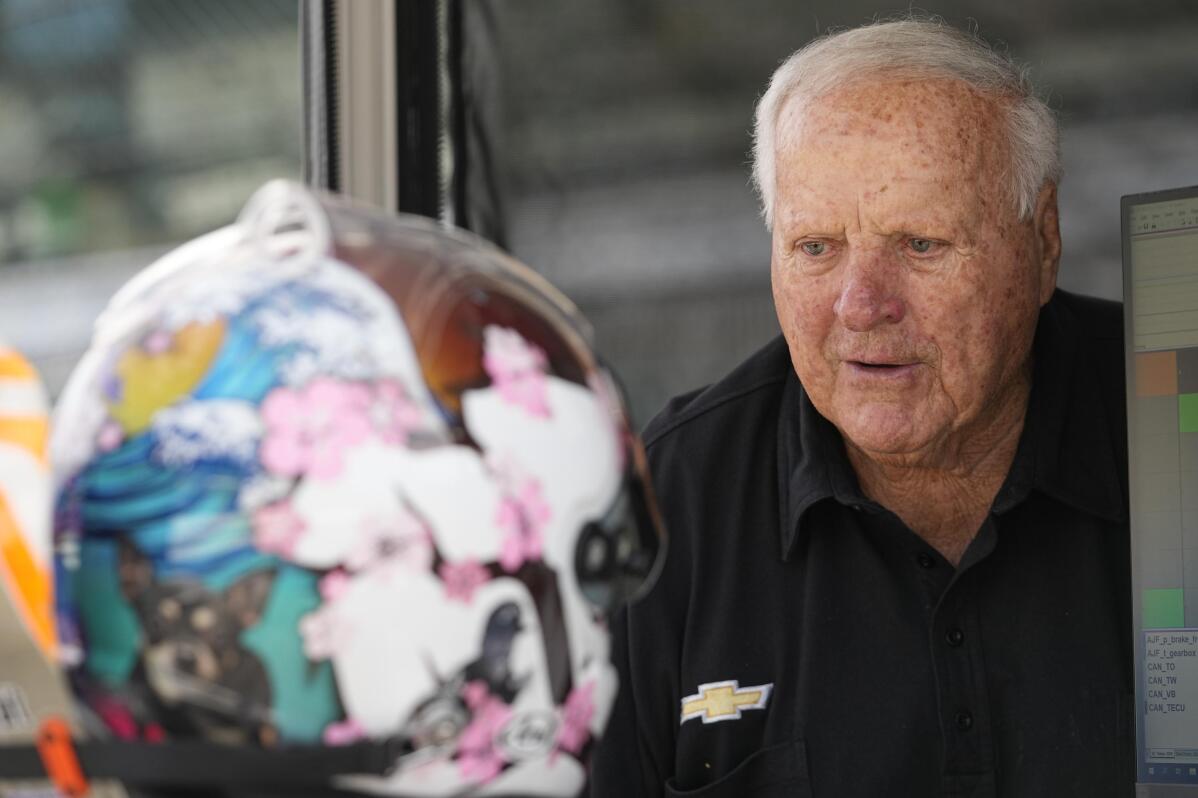 7 of 14

|
A. J. Foyt, right, talks with Santino Ferrucci during practice for the IndyCar Grand Prix auto race at Indianapolis Motor Speedway, Friday, May 12, 2023, in Indianapolis. (AP Photo/Darron Cummings)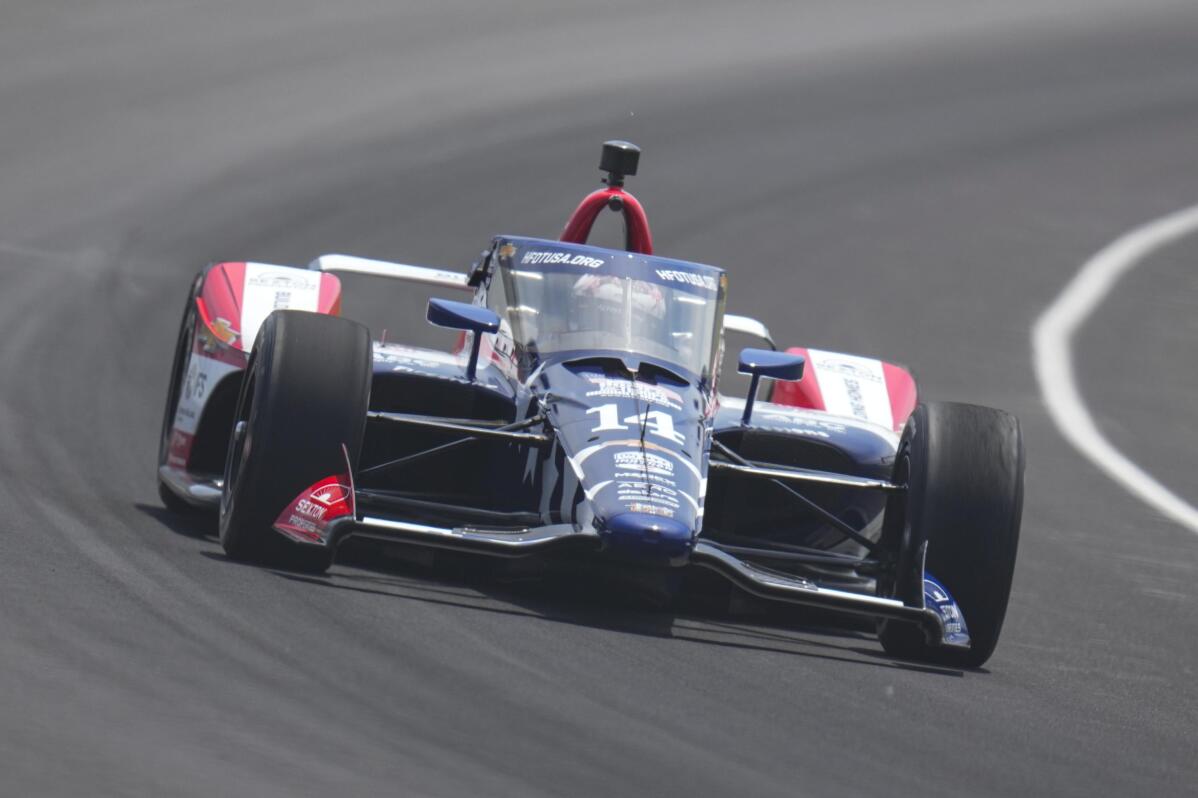 8 of 14

|
Santino Ferrucci drives through the third turn during practice for the Indianapolis 500 auto race at Indianapolis Motor Speedway in Indianapolis, Monday, May 22, 2023. (AP Photo/Michael Conroy)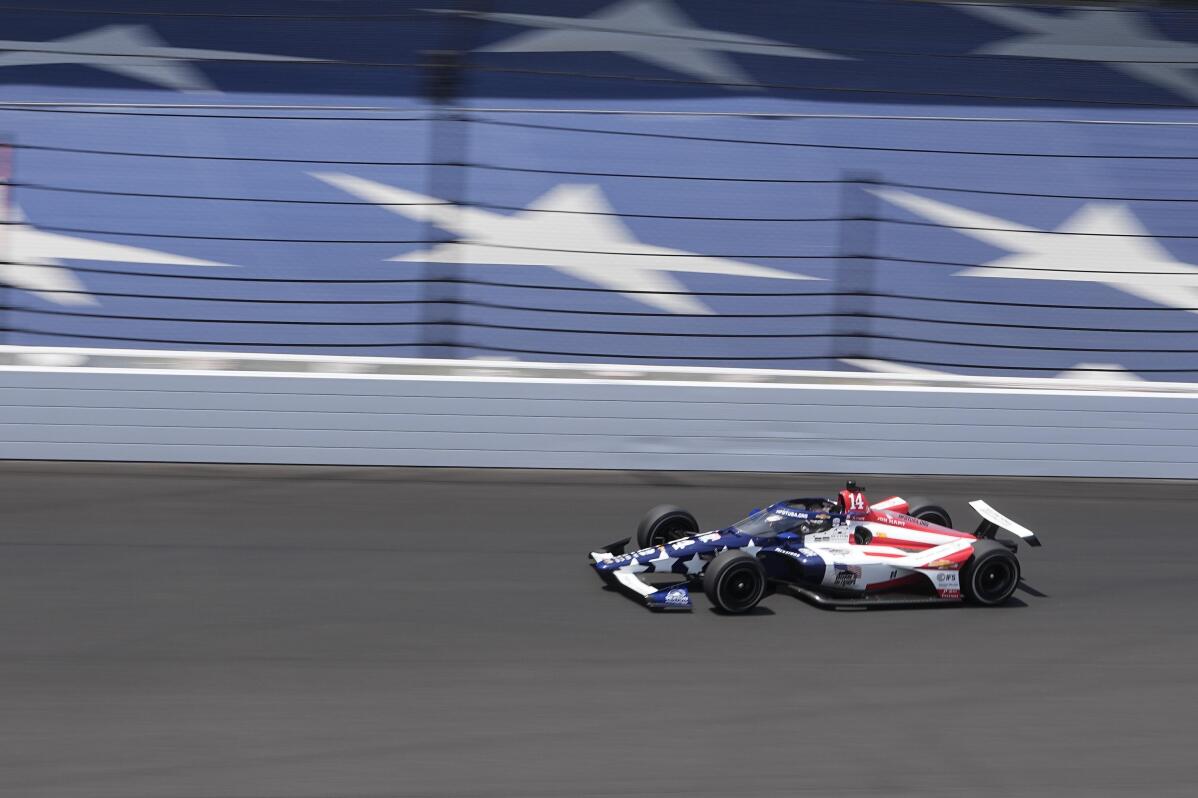 9 of 14

|
Santino Ferrucci during practice for the Indianapolis 500 auto race at Indianapolis Motor Speedway, Monday, May 22, 2023, in Indianapolis. (AP Photo/Darron Cummings)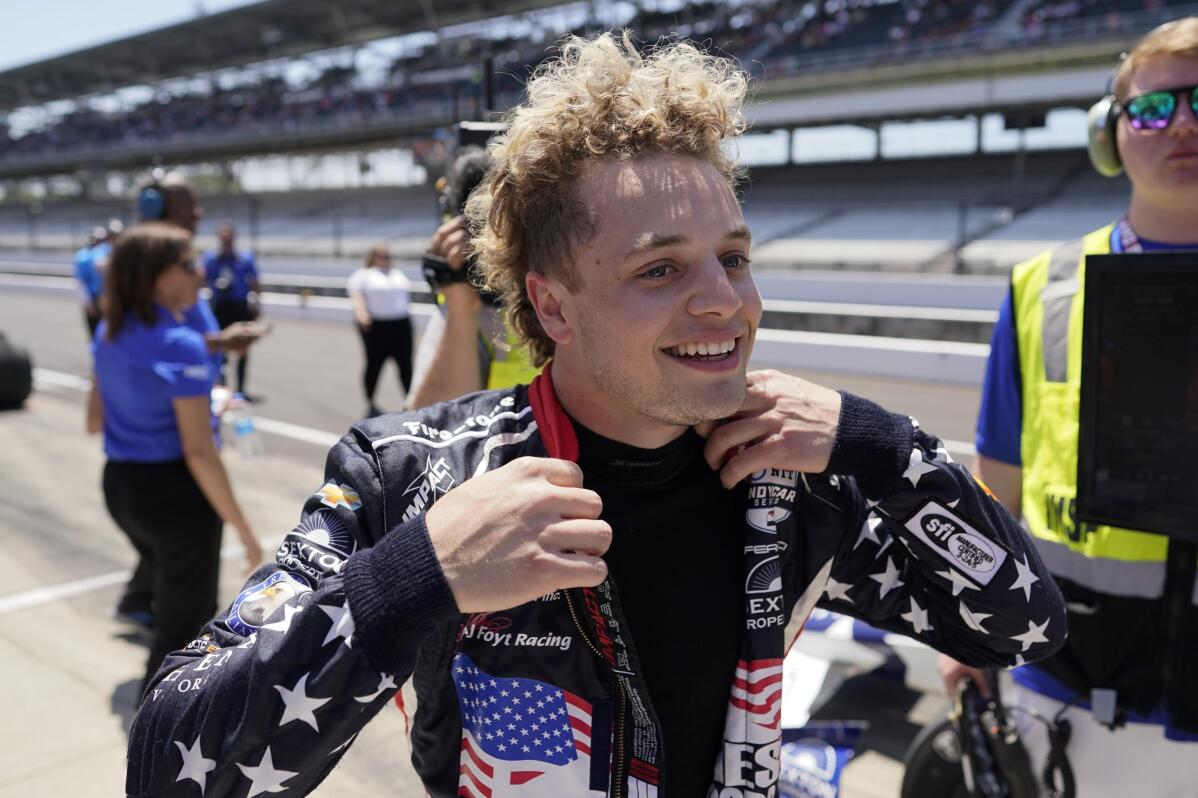 10 of 14

|
Santino Ferrucci smiles during qualifications for the Indianapolis 500 auto race at Indianapolis Motor Speedway, Sunday, May 21, 2023, in Indianapolis. (AP Photo/Darron Cummings)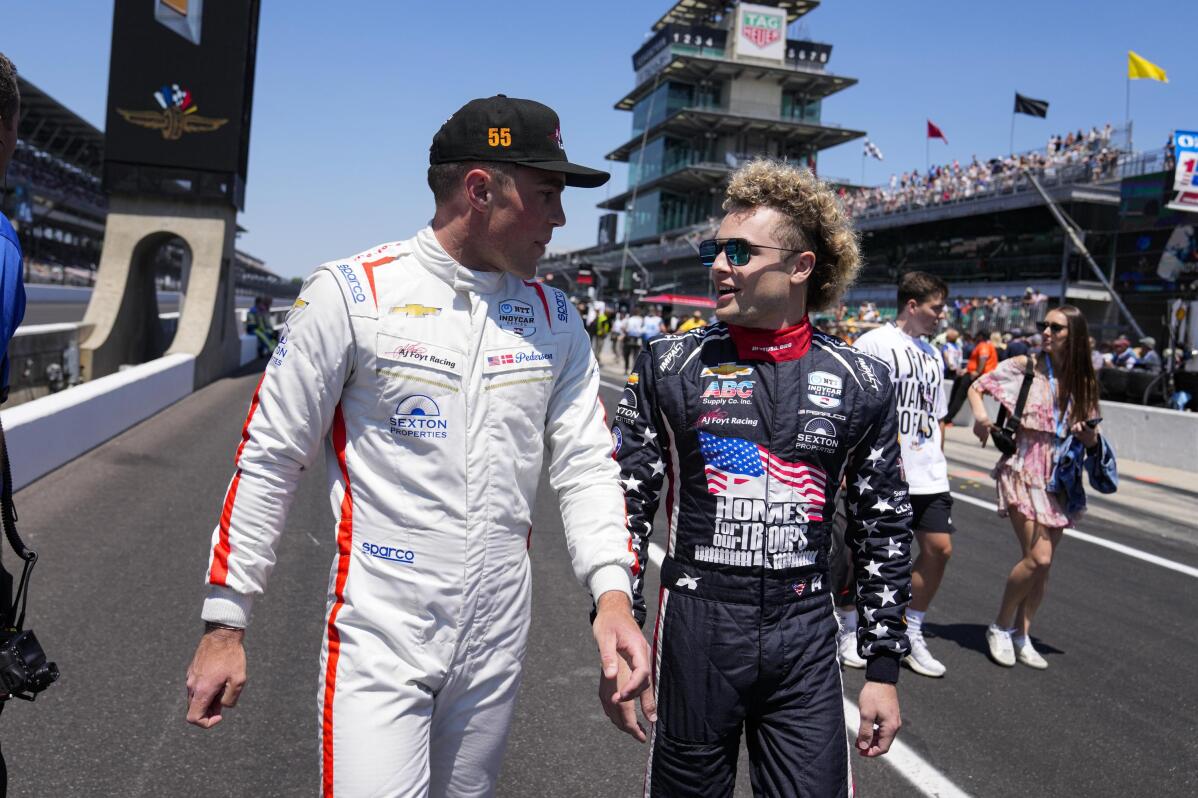 11 of 14

|
Benjamin Pedersen, of Denmark, left, walks with Santino Ferrucci before the start of qualifications for the Indianapolis 500 auto race at Indianapolis Motor Speedway in Indianapolis, Sunday, May 21, 2023. (AP Photo/Michael Conroy)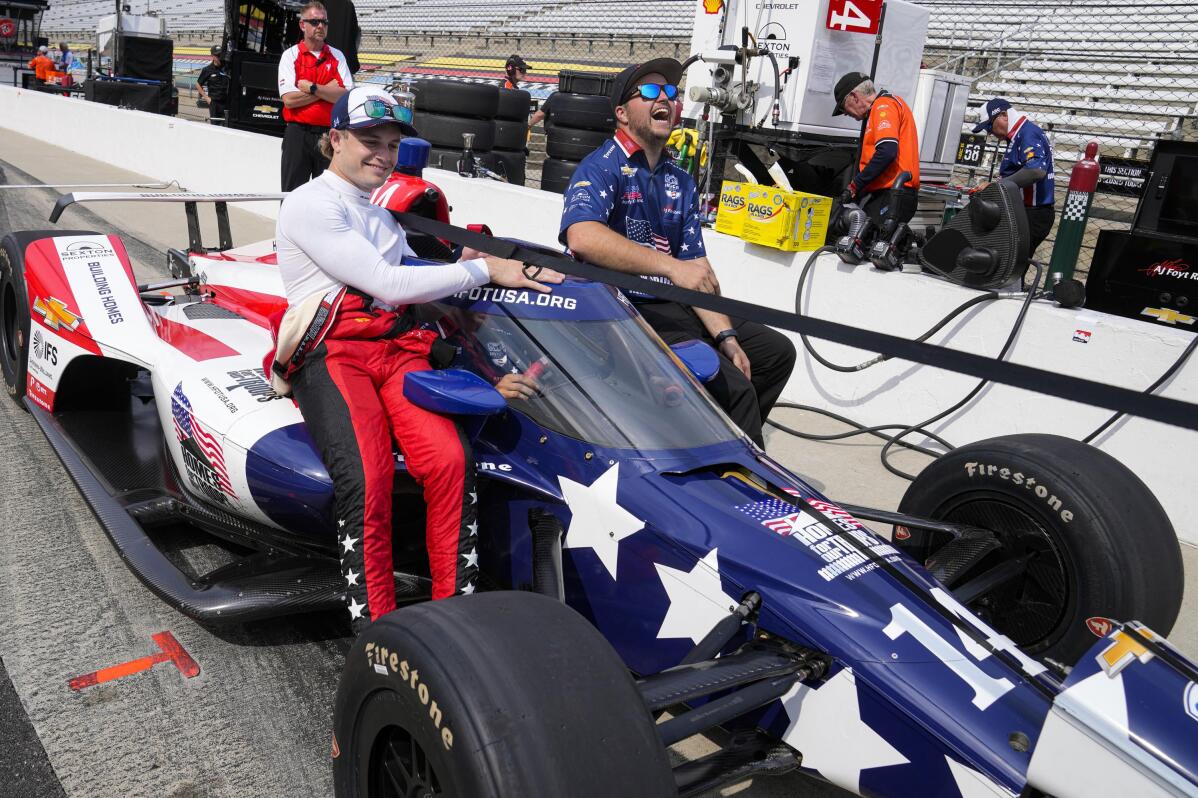 12 of 14

|
Santino Ferrucci, left, rides back to the garage area on top of his car during practice for the Indianapolis 500 auto race at Indianapolis Motor Speedway in Indianapolis, Friday, May 19, 2023. (AP Photo/Michael Conroy)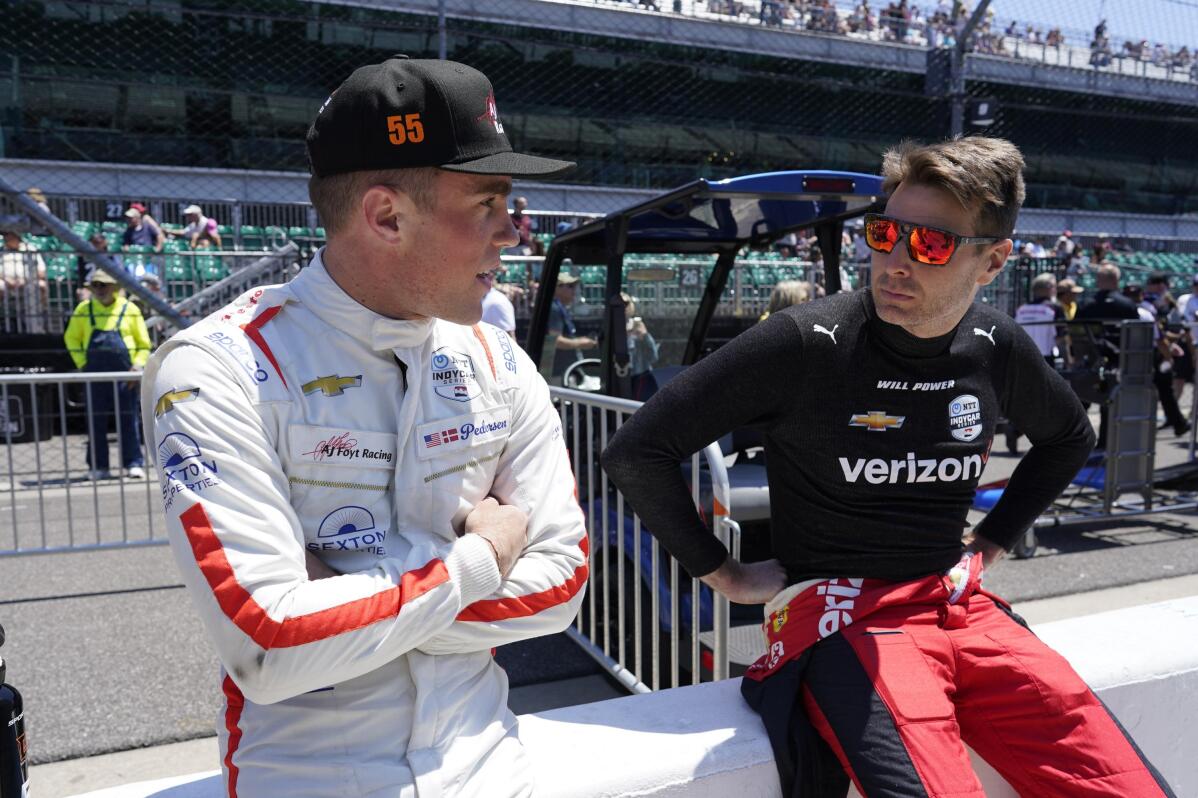 13 of 14

|
Benjamin Pedersen, left, of Denmark, talks with Will Power, of Australia, during qualifications for the Indianapolis 500 auto race at Indianapolis Motor Speedway, Sunday, May 21, 2023, in Indianapolis. (AP Photo/Darron Cummings)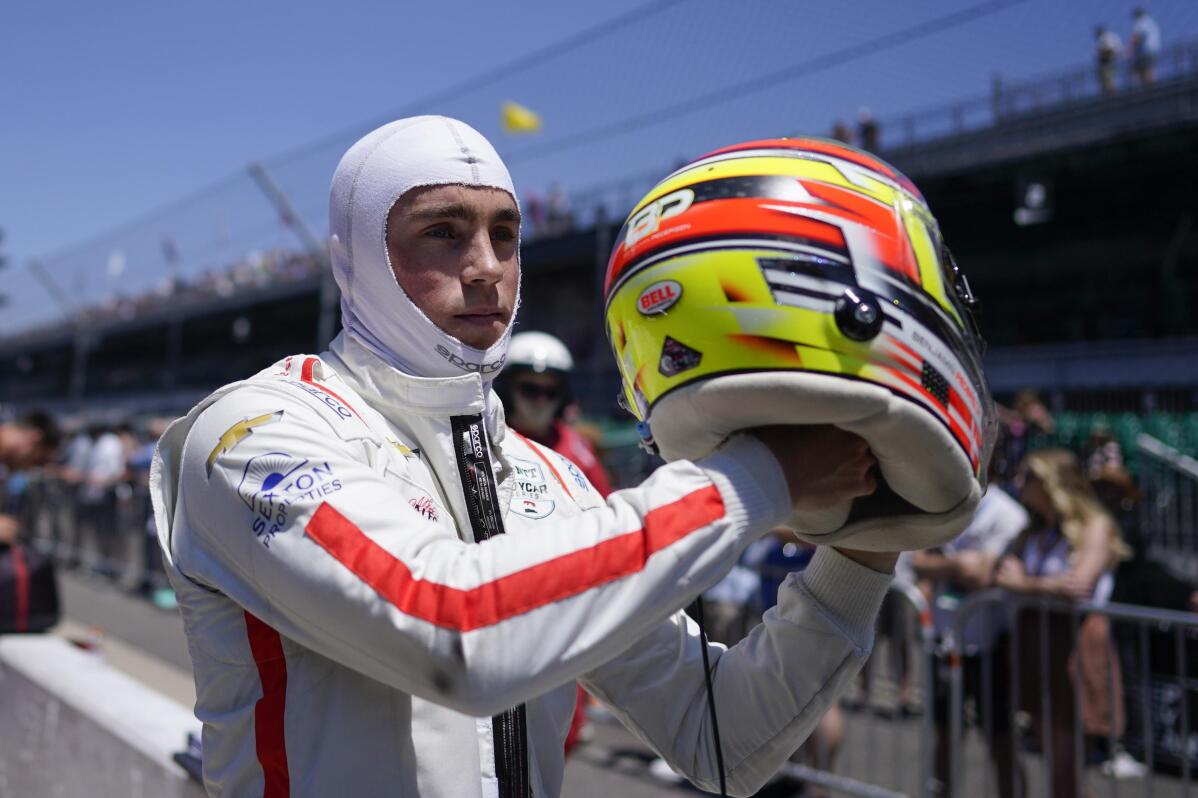 14 of 14

|
Benjamin Pedersen, of Denmark, prepares to drive during qualifications for the Indianapolis 500 auto race at Indianapolis Motor Speedway, Sunday, May 21, 2023, in Indianapolis. (AP Photo/Darron Cummings)
After years of struggling, AJ Foyt Racing has cars to contend in Indianapolis 500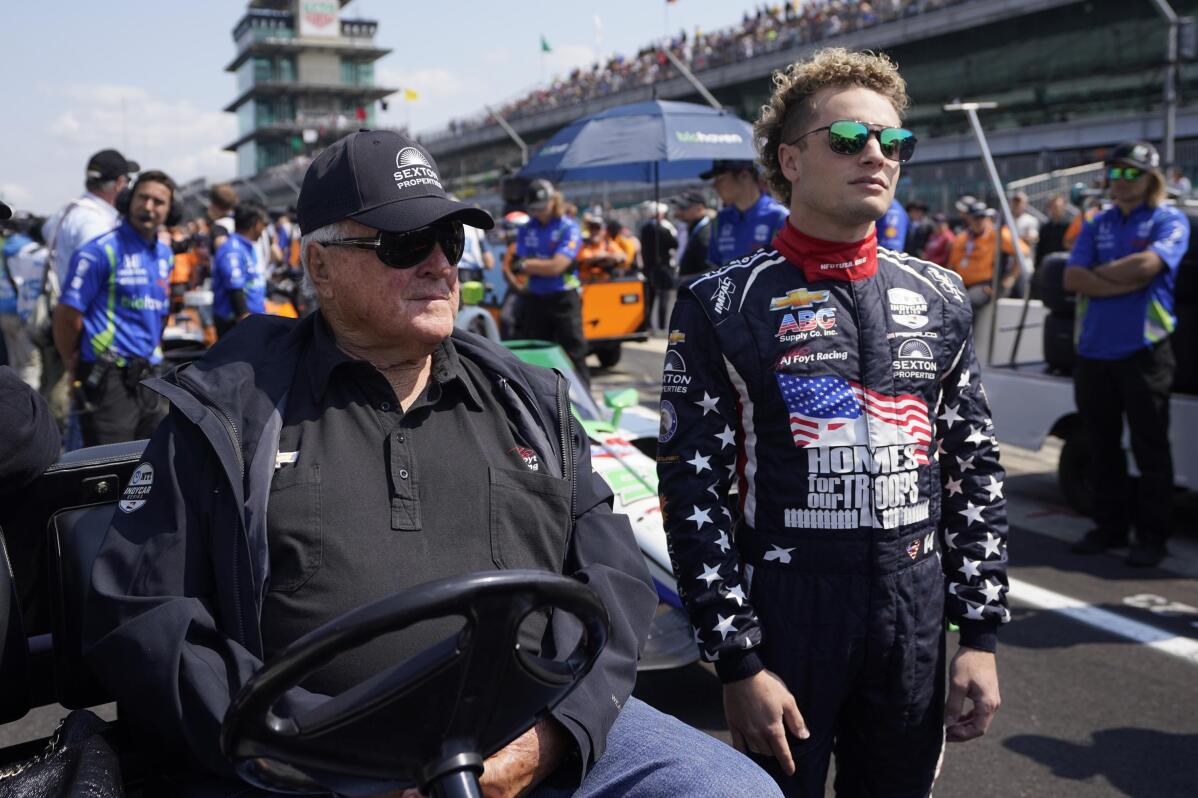 1 of 14

|
A.J. Foyt, left, talks with Santino Ferrucci during qualifications for the Indianapolis 500 auto race at Indianapolis Motor Speedway, Saturday, May 20, 2023, in Indianapolis. (AP Photo/Darron Cummings)
1 of 14
A.J. Foyt, left, talks with Santino Ferrucci during qualifications for the Indianapolis 500 auto race at Indianapolis Motor Speedway, Saturday, May 20, 2023, in Indianapolis. (AP Photo/Darron Cummings)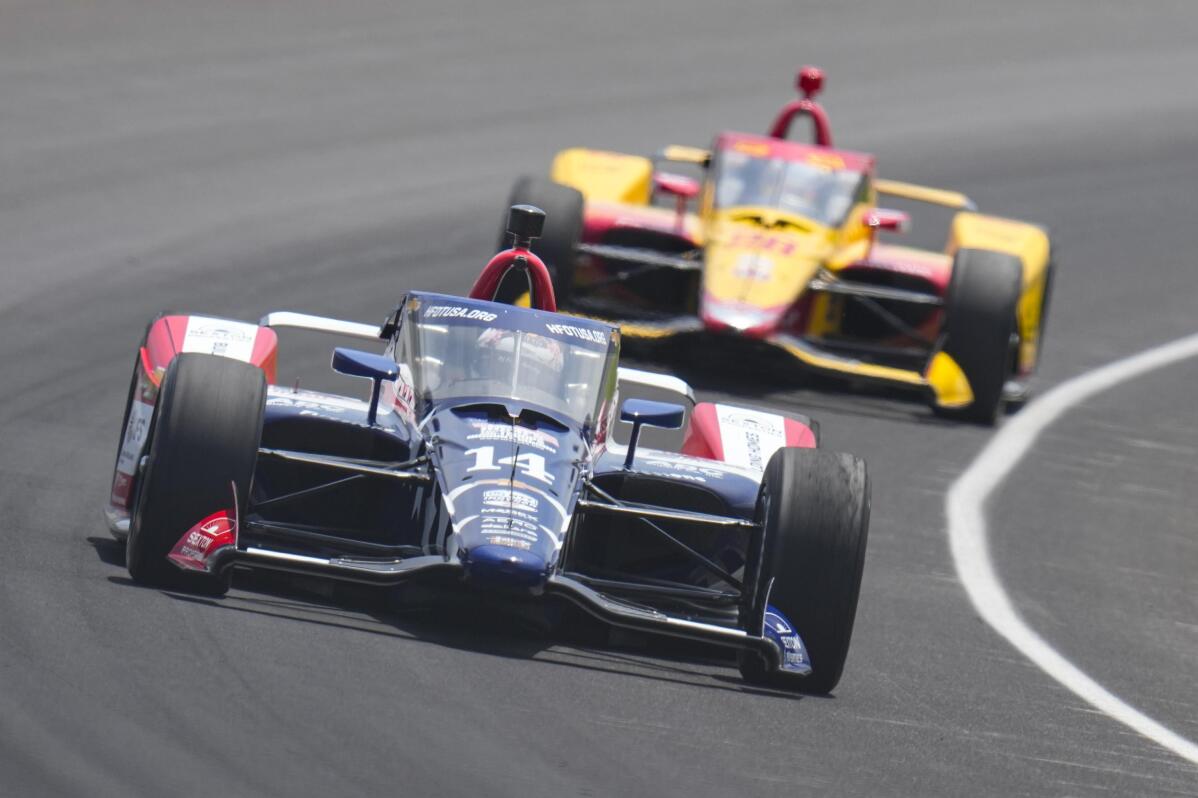 2 of 14

|
Santino Ferrucci drives through the third turn during practice for the Indianapolis 500 auto race at Indianapolis Motor Speedway in Indianapolis, Monday, May 22, 2023. (AP Photo/Michael Conroy)
2 of 14
Santino Ferrucci drives through the third turn during practice for the Indianapolis 500 auto race at Indianapolis Motor Speedway in Indianapolis, Monday, May 22, 2023. (AP Photo/Michael Conroy)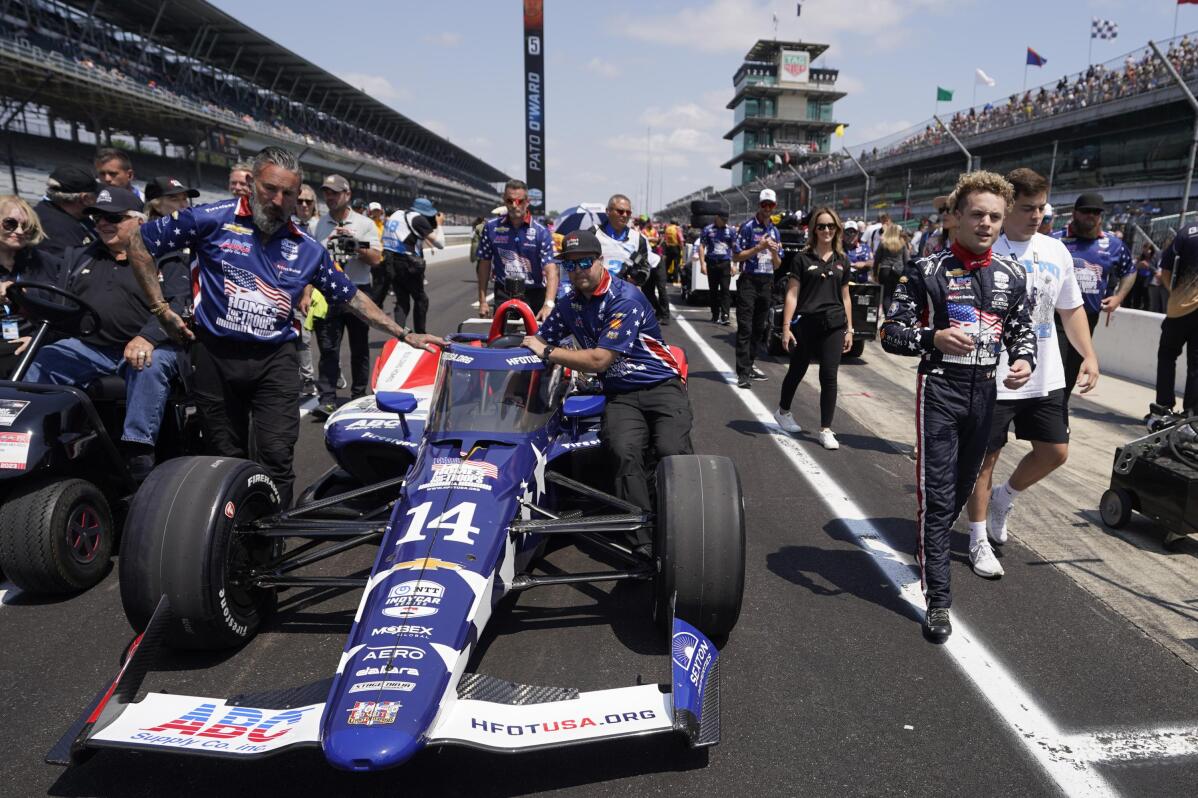 3 of 14

|
Santino Ferrucci walks beside his car during qualifications for the Indianapolis 500 auto race at Indianapolis Motor Speedway, Saturday, May 20, 2023, in Indianapolis. (AP Photo/Darron Cummings)
3 of 14
Santino Ferrucci walks beside his car during qualifications for the Indianapolis 500 auto race at Indianapolis Motor Speedway, Saturday, May 20, 2023, in Indianapolis. (AP Photo/Darron Cummings)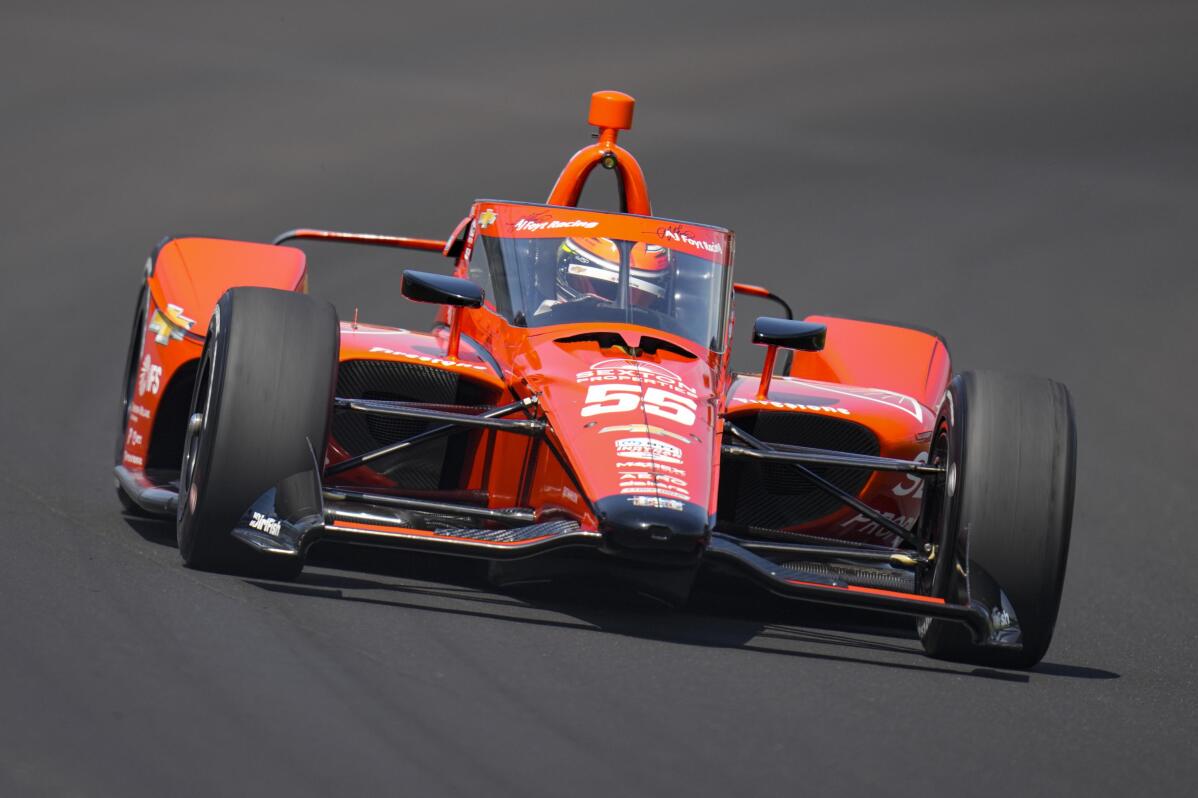 4 of 14

|
Benjamin Pedersen, of Denmark, drives through the first turn during qualifications for the Indianapolis 500 auto race at Indianapolis Motor Speedway in Indianapolis, Saturday, May 20, 2023. (AP Photo/Michael Conroy)
4 of 14
Benjamin Pedersen, of Denmark, drives through the first turn during qualifications for the Indianapolis 500 auto race at Indianapolis Motor Speedway in Indianapolis, Saturday, May 20, 2023. (AP Photo/Michael Conroy)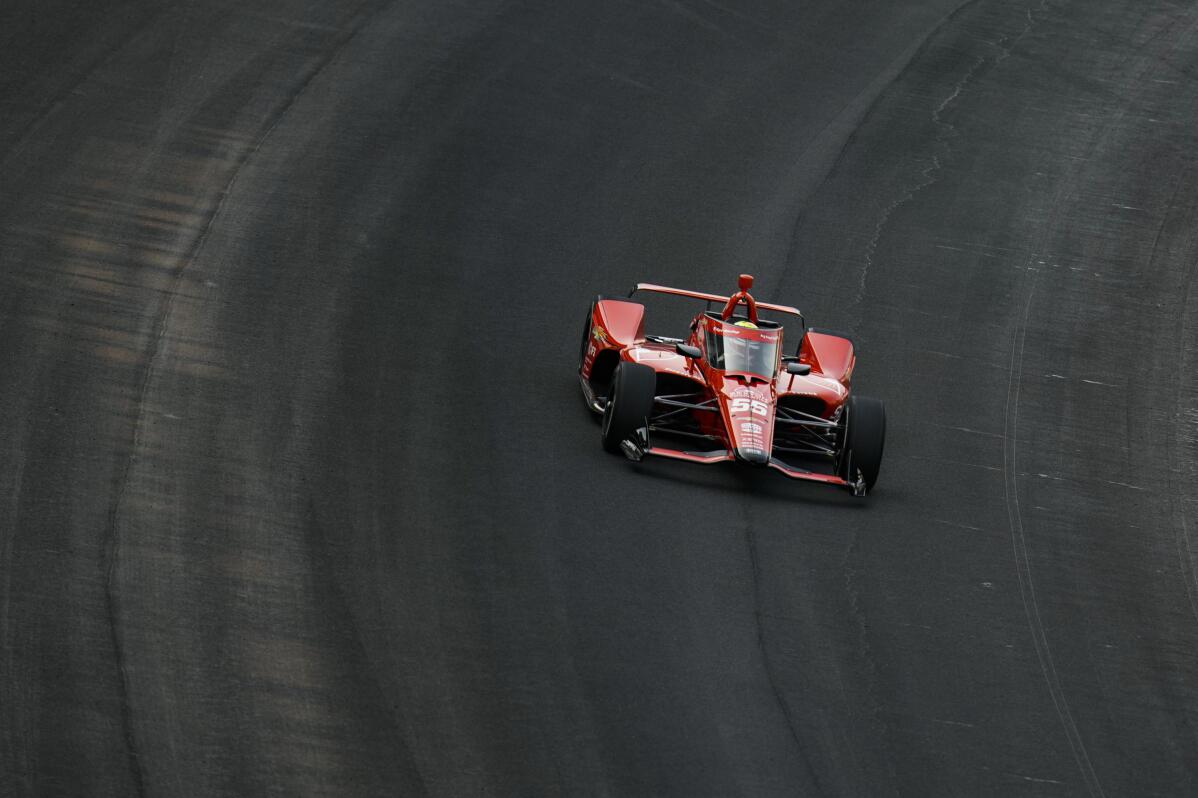 5 of 14

|
Benjamin Pedersen, of Denmark, heads into the first turn during practice for the Indianapolis 500 auto race at Indianapolis Motor Speedway in Indianapolis, Friday, May 18, 2023. (AP Photo/Michael Conroy)
5 of 14
Benjamin Pedersen, of Denmark, heads into the first turn during practice for the Indianapolis 500 auto race at Indianapolis Motor Speedway in Indianapolis, Friday, May 18, 2023. (AP Photo/Michael Conroy)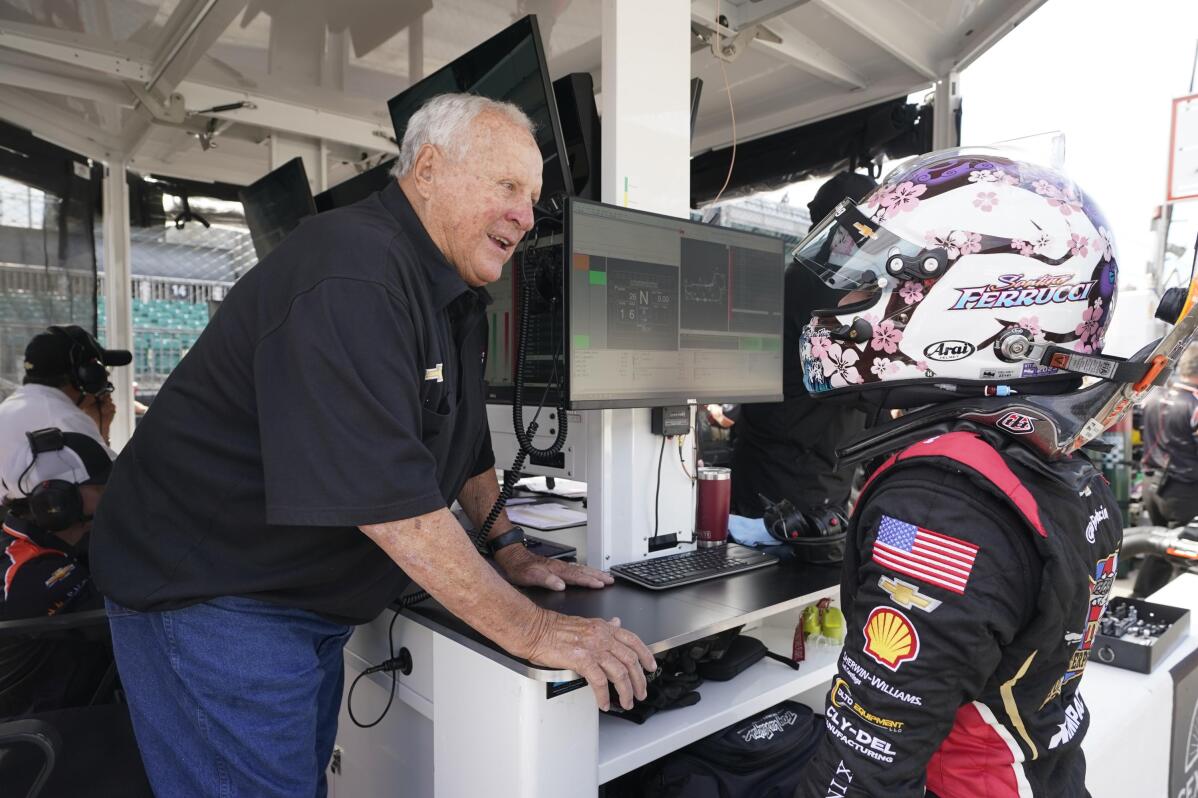 6 of 14

|
A. J. Foyt talks with Santino Ferrucci during practice for the IndyCar Grand Prix auto race at Indianapolis Motor Speedway, Friday, May 12, 2023, in Indianapolis. (AP Photo/Darron Cummings)
6 of 14
A. J. Foyt talks with Santino Ferrucci during practice for the IndyCar Grand Prix auto race at Indianapolis Motor Speedway, Friday, May 12, 2023, in Indianapolis. (AP Photo/Darron Cummings)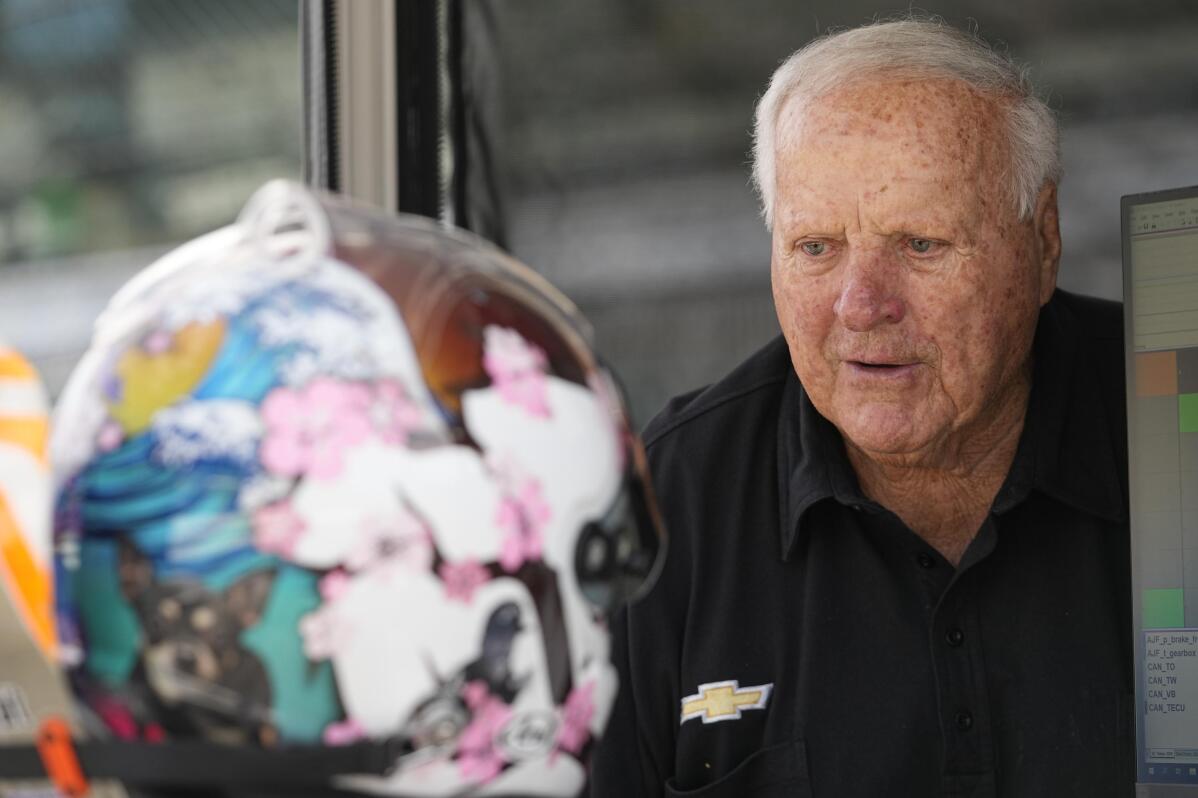 7 of 14

|
A. J. Foyt, right, talks with Santino Ferrucci during practice for the IndyCar Grand Prix auto race at Indianapolis Motor Speedway, Friday, May 12, 2023, in Indianapolis. (AP Photo/Darron Cummings)
7 of 14
A. J. Foyt, right, talks with Santino Ferrucci during practice for the IndyCar Grand Prix auto race at Indianapolis Motor Speedway, Friday, May 12, 2023, in Indianapolis. (AP Photo/Darron Cummings)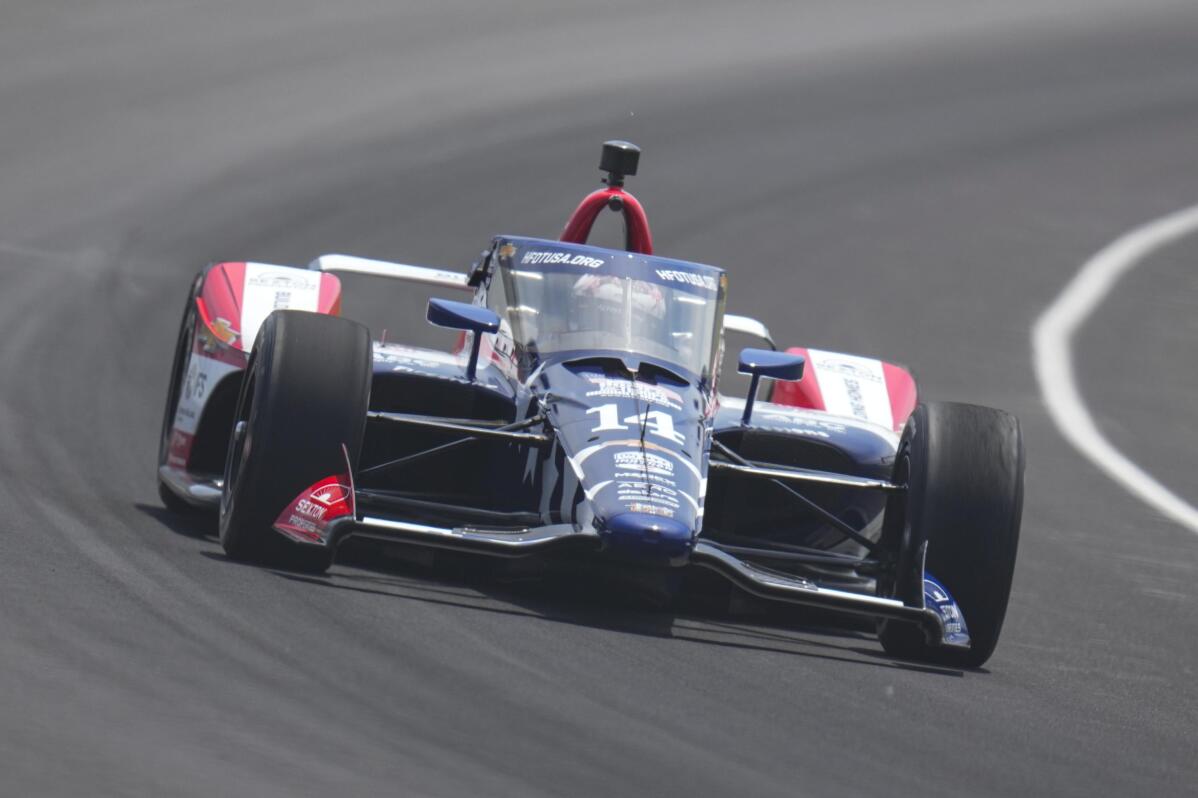 8 of 14

|
Santino Ferrucci drives through the third turn during practice for the Indianapolis 500 auto race at Indianapolis Motor Speedway in Indianapolis, Monday, May 22, 2023. (AP Photo/Michael Conroy)
8 of 14
Santino Ferrucci drives through the third turn during practice for the Indianapolis 500 auto race at Indianapolis Motor Speedway in Indianapolis, Monday, May 22, 2023. (AP Photo/Michael Conroy)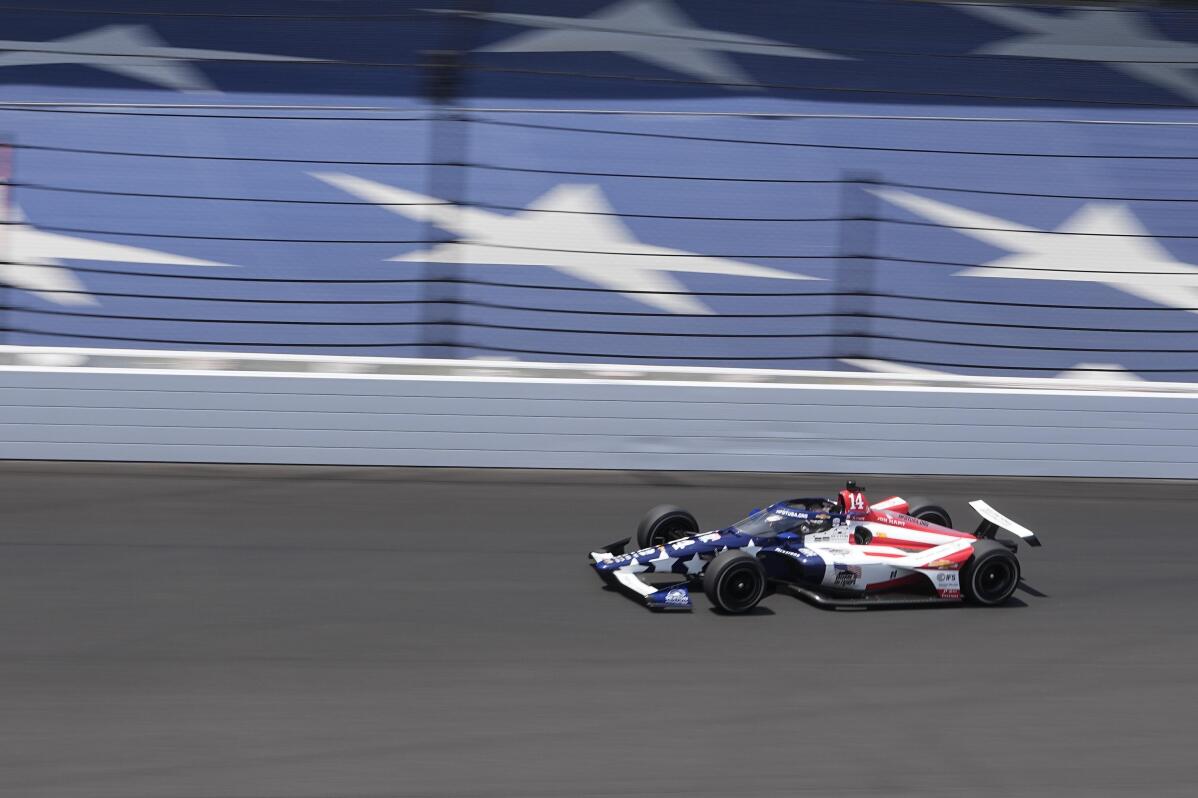 9 of 14

|
Santino Ferrucci during practice for the Indianapolis 500 auto race at Indianapolis Motor Speedway, Monday, May 22, 2023, in Indianapolis. (AP Photo/Darron Cummings)
9 of 14
Santino Ferrucci during practice for the Indianapolis 500 auto race at Indianapolis Motor Speedway, Monday, May 22, 2023, in Indianapolis. (AP Photo/Darron Cummings)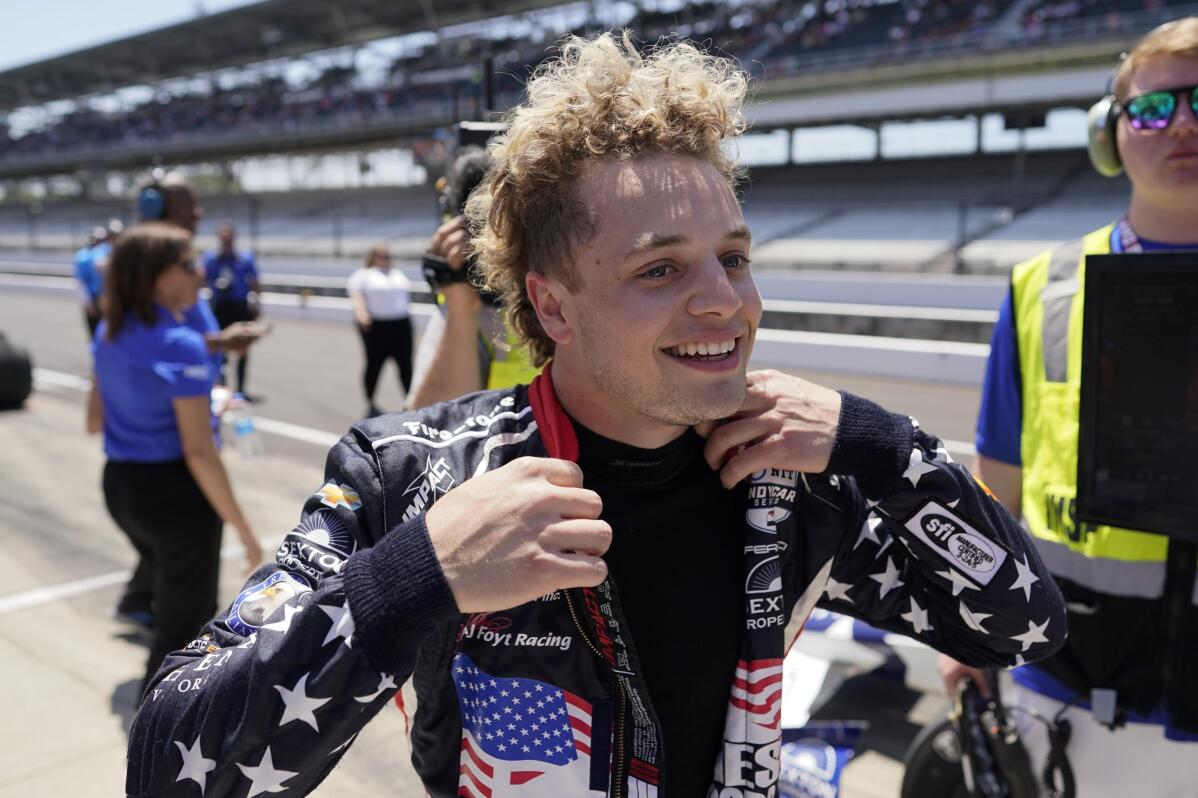 10 of 14

|
Santino Ferrucci smiles during qualifications for the Indianapolis 500 auto race at Indianapolis Motor Speedway, Sunday, May 21, 2023, in Indianapolis. (AP Photo/Darron Cummings)
10 of 14
Santino Ferrucci smiles during qualifications for the Indianapolis 500 auto race at Indianapolis Motor Speedway, Sunday, May 21, 2023, in Indianapolis. (AP Photo/Darron Cummings)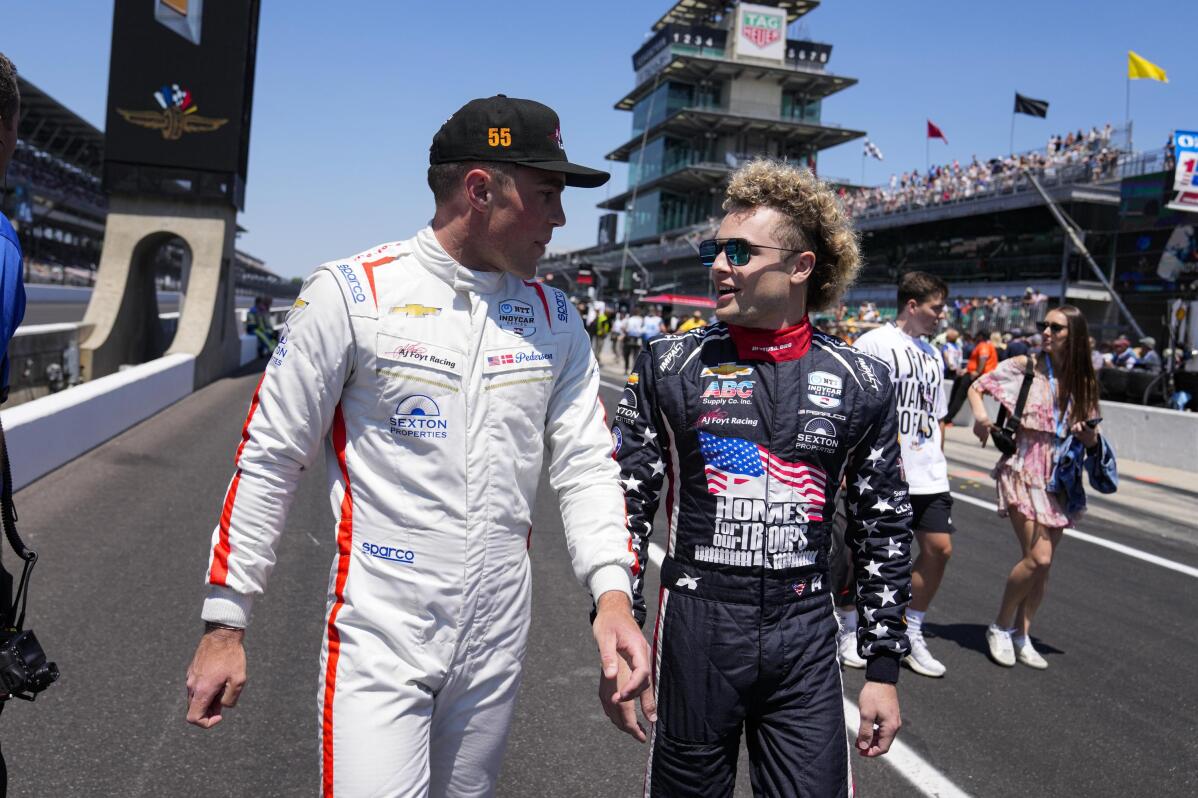 11 of 14

|
Benjamin Pedersen, of Denmark, left, walks with Santino Ferrucci before the start of qualifications for the Indianapolis 500 auto race at Indianapolis Motor Speedway in Indianapolis, Sunday, May 21, 2023. (AP Photo/Michael Conroy)
11 of 14
Benjamin Pedersen, of Denmark, left, walks with Santino Ferrucci before the start of qualifications for the Indianapolis 500 auto race at Indianapolis Motor Speedway in Indianapolis, Sunday, May 21, 2023. (AP Photo/Michael Conroy)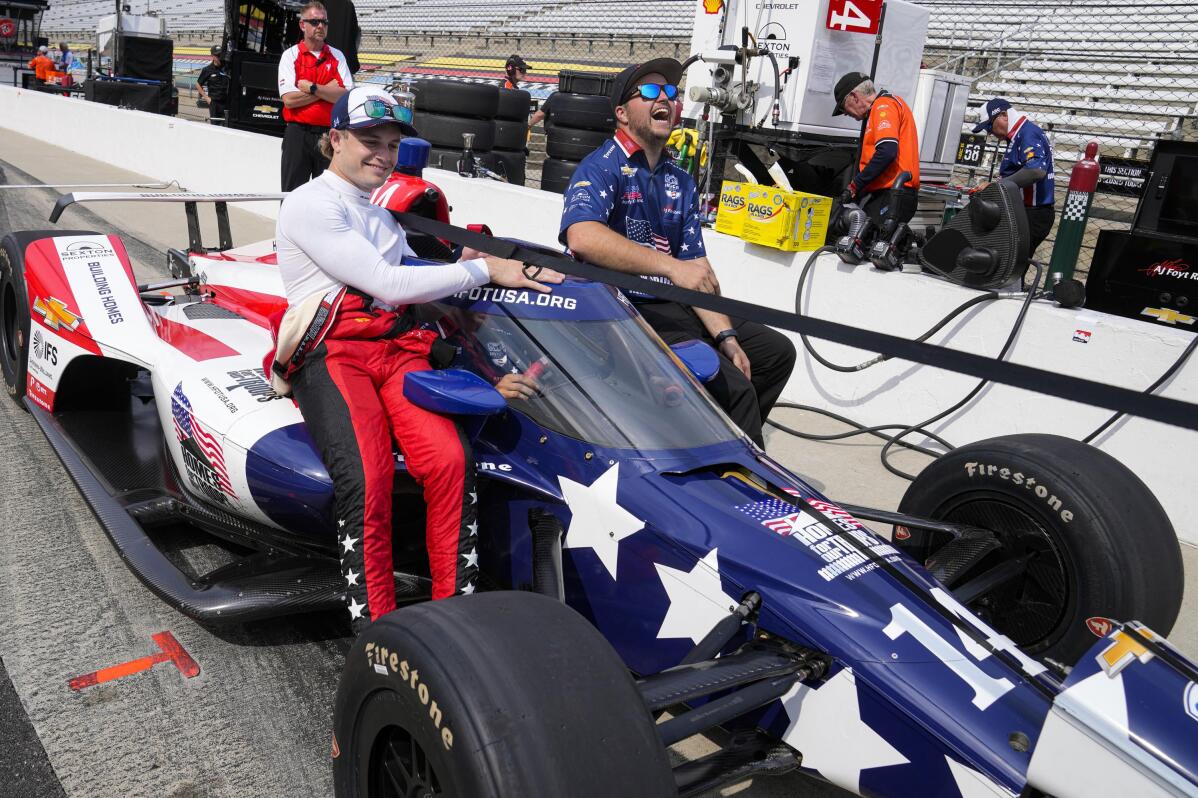 12 of 14

|
Santino Ferrucci, left, rides back to the garage area on top of his car during practice for the Indianapolis 500 auto race at Indianapolis Motor Speedway in Indianapolis, Friday, May 19, 2023. (AP Photo/Michael Conroy)
12 of 14
Santino Ferrucci, left, rides back to the garage area on top of his car during practice for the Indianapolis 500 auto race at Indianapolis Motor Speedway in Indianapolis, Friday, May 19, 2023. (AP Photo/Michael Conroy)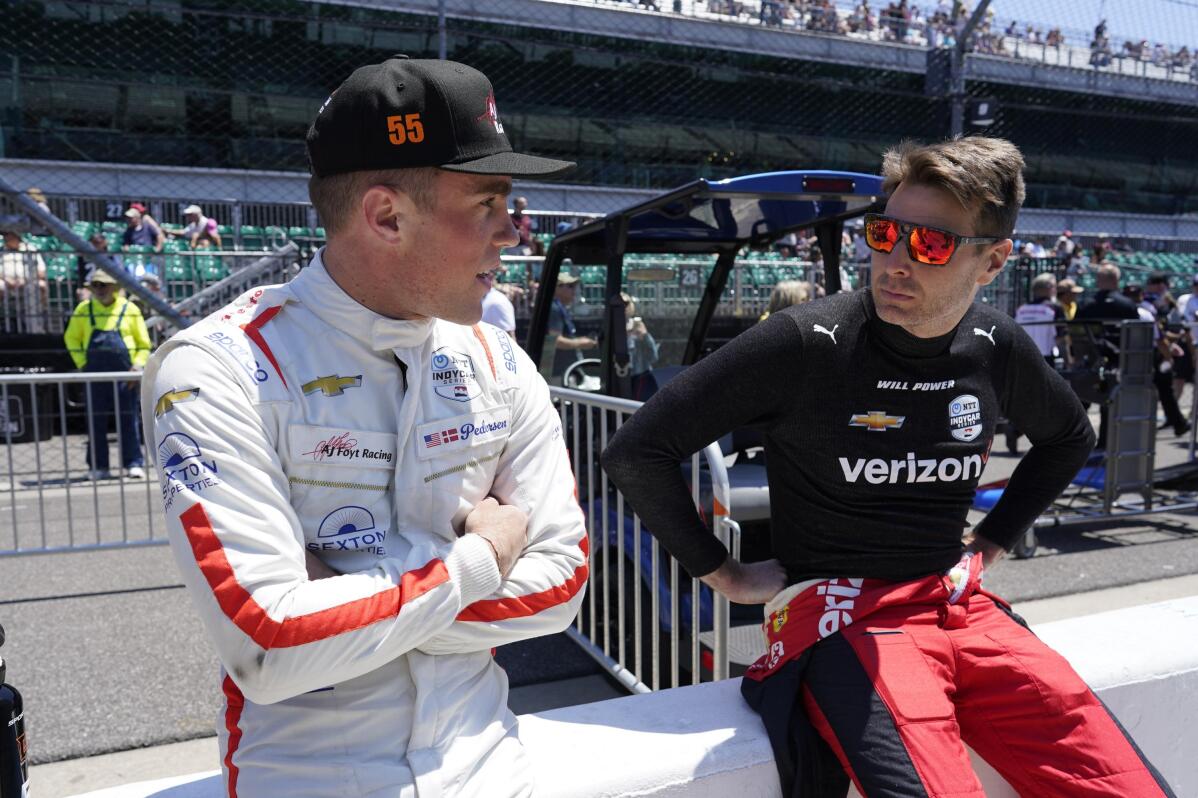 13 of 14

|
Benjamin Pedersen, left, of Denmark, talks with Will Power, of Australia, during qualifications for the Indianapolis 500 auto race at Indianapolis Motor Speedway, Sunday, May 21, 2023, in Indianapolis. (AP Photo/Darron Cummings)
13 of 14
Benjamin Pedersen, left, of Denmark, talks with Will Power, of Australia, during qualifications for the Indianapolis 500 auto race at Indianapolis Motor Speedway, Sunday, May 21, 2023, in Indianapolis. (AP Photo/Darron Cummings)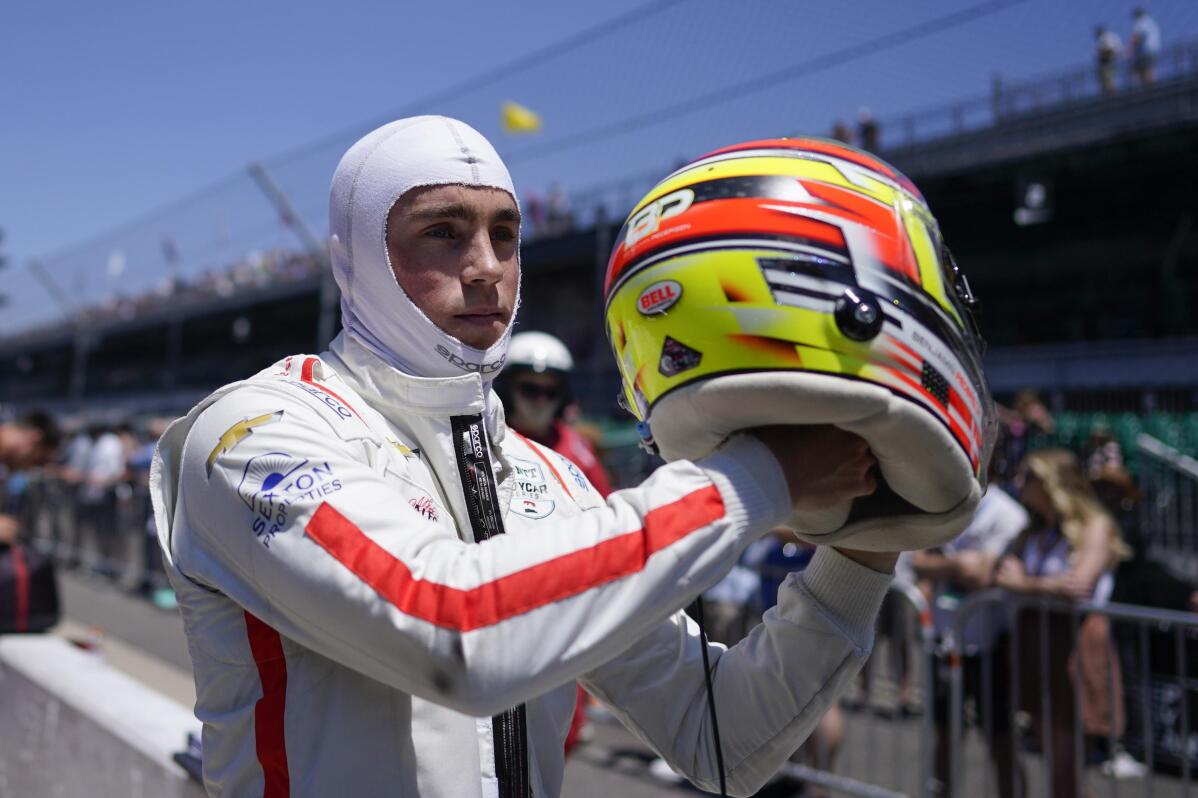 14 of 14

|
Benjamin Pedersen, of Denmark, prepares to drive during qualifications for the Indianapolis 500 auto race at Indianapolis Motor Speedway, Sunday, May 21, 2023, in Indianapolis. (AP Photo/Darron Cummings)
14 of 14
Benjamin Pedersen, of Denmark, prepares to drive during qualifications for the Indianapolis 500 auto race at Indianapolis Motor Speedway, Sunday, May 21, 2023, in Indianapolis. (AP Photo/Darron Cummings)
INDIANAPOLIS (AP) — A.J. Foyt Racing is one of the underdogs of Gasoline Alley, which seems odd to say given that its namesake won the Indianapolis 500 on four occasions and he remains one of the most accomplished drivers in the history of motorsports.
Yet Foyt's team, with its modest staff and shops split between Indiana and Texas, has struggled at the track for years.
Its two-car effort never finished in the top five last season. It hasn't had a car on the podium since 2019, when Tony Kanaan drove to a third-place finish at Gateway. Its last win came a decade ago at Long Beach, when Takuma Sato was in the car and Foyt, who is back at the Brickyard this year at the age of 88, happened to be at the speedway that day.
"It's been tough," admitted his son, Larry Foyt, who handles most of the day-to-day operations. "IndyCar just keeps getting tougher every year. Like, I feel like we make gains, but the whole paddock makes gains as well, and so that's the biggest thing right now is trying to get some consistency in our organization, and then the results will come."
They've seemingly come from nowhere for this Indy 500.
Santino Ferrucci and rookie teammate Benjamin Pedersen couldn't crack the top 10 the first five races on the schedule, yet they unloaded for the 500 with incredible speed. Both advanced to Fast 12 qualifying, Ferrucci reached the six-car pole shootout and he will roll off fourth and Pedersen 11th when the green flag drops Sunday.
It was success enough to draw the slightest of smiles from Foyt.
"I think he's really happy to see that car up on top," said Ferrucci, who drives the team's flagship No. 14. "I think he's more thrilled that both cars are equally competitive. I think he believes in what we're doing. He believes in the program. It's just one of those things where he's ready to see what we can do on race day."
In the offseason, the team hired race engineer Michael Cannon, who helped Scott Dixon win his sixth IndyCar title in 2020. He also has worked for Andretti Autosport, Dale Coyne Racing — where he worked with Ferrucci — and Ed Carpenter Racing along with Chip Ganassi Racing, so the Canadian was bringing vast experience to the Foyt engineering group.
Then the team hired Craig Brooks, who spent more than a decade as the technical director for Indy NXT, the top feeder series for IndyCar. He was joined by several new engineers and mechanics to complete the overhaul of the team's personnel.
The biggest change came behind the wheel: Kyle Kirkwood left for Andretti and Dalton Kellett did not return, and into their seats went the fearless Ferrucci and Pedersen, who has wowed just about everyone during Indy 500 practice.
"It's just very special to be part of," Pedersen said. "At first it was like, 'Holy cow. It's A.J., my boss.' Obviously I have so much respect for him. But he talks to me as just a completely regular person. He's super bright. He was spinning our hubs the other day to see how free our uprights were and everything, so he's super in tune with what's happening."
It has been a difficult year for Foyt, who lost his wife of 68 years, Lucy, just last month. He thought about skipping this month in Indianapolis, but he knew that being surrounded by family and friends was the best way to process his grief.
The speed his two cars have shown has no doubt helped.
"Going into the winter and when Cannon came on board, we knew this was kind of the priority, to get our 500 programs sorted, and more competitive," Larry Foyt said, "and we're still working on everything else. But we put a big effort into this, you know? So I'm just glad it's playing off. And it's important that you've seen it across both cars. It wasn't a one-car thing."
In other words, it wasn't a fluke. It was the payoff for some hard work and bold decisions.
"When you look at, you know, what we are as a team versus what we're up against," Larry Foyt said, "it's certainly some David and Goliath there, I think. So we've already achieve, I think, something pretty special."
___
AP auto racing: https://apnews.com/hub/auto-racing and https://twitter.com/AP_Sports