Palou balances plans with Ganassi vs. McLaren as Spaniard tries to win Indy 500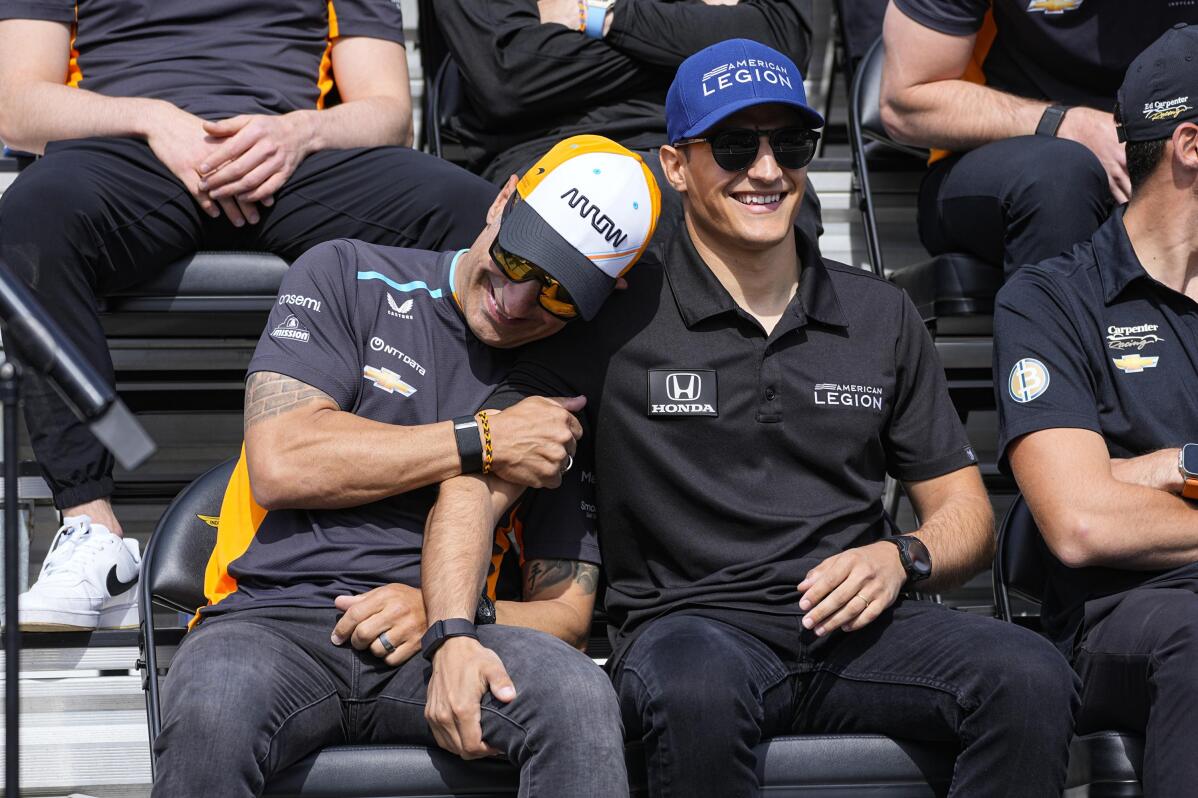 1 of 5

|
Tony Kanaan, of Brazil, left, jokes with Alex Palou, of Spain, during the drivers meeting for the Indianapolis 500 auto race at Indianapolis Motor Speedway in Indianapolis, Saturday, May 27, 2023. (AP Photo/Darron Cummings)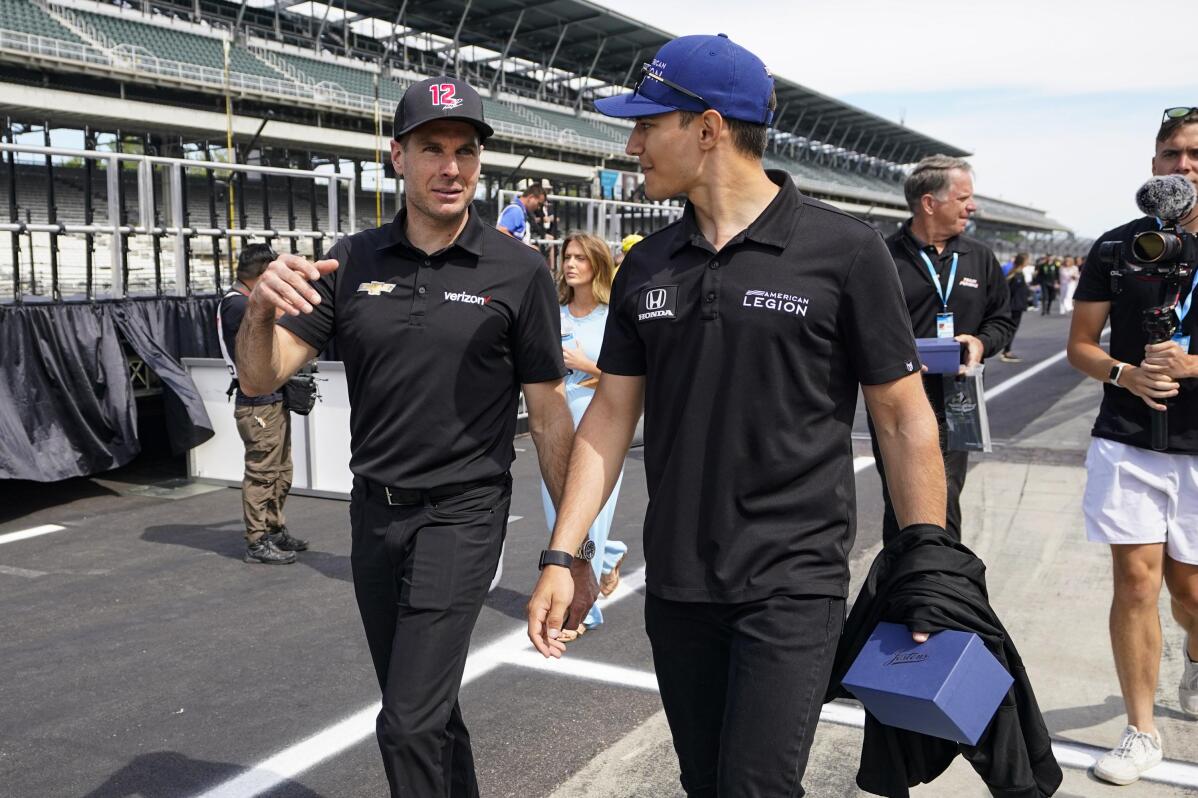 2 of 5

|
Will Power, of Australia, left, walks with Alex Palou, of Spain, as they leave the drivers meeting for the Indianapolis 500 auto race at Indianapolis Motor Speedway in Indianapolis, Saturday, May 27, 2023. (AP Photo/Darron Cummings)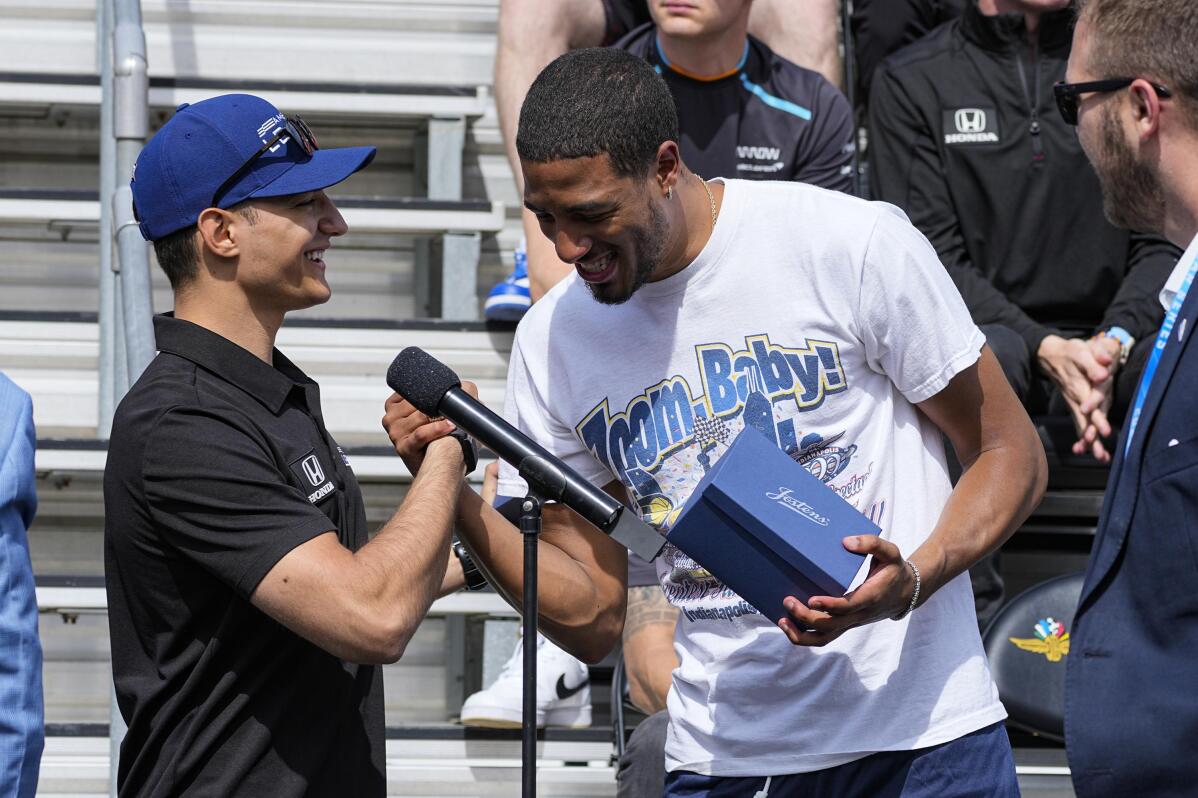 3 of 5

|
Indiana Pacers' Tyrese Haliburton is greeted by pole sitter Alex Palou, of Spain, during the driver meeting for the Indianapolis 500 auto race at Indianapolis Motor Speedway in Indianapolis, Saturday, May 27, 2023. Haliburton, will drive the pace car to start tomorrow's Indianapolis 500. (AP Photo/Darron Cummings)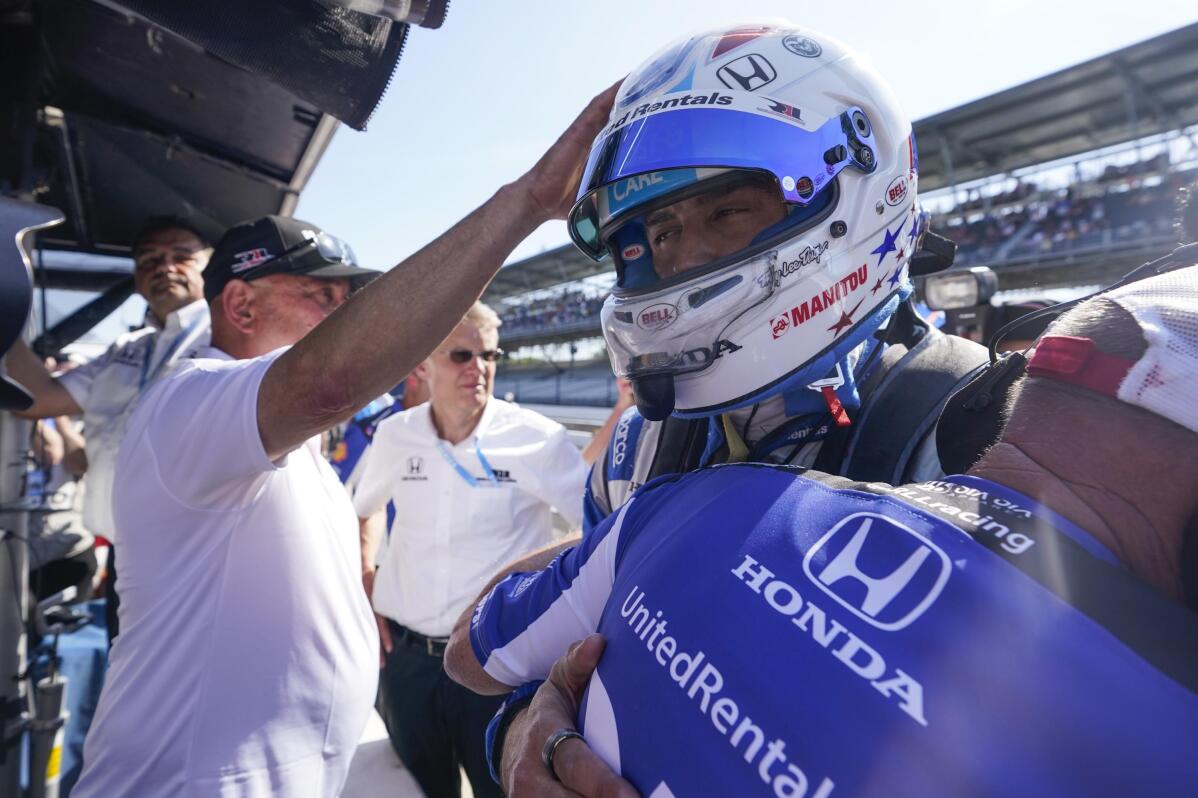 4 of 5

|
Graham Rahal is consoled by a crew member and his dad, Bobby Rahal, after Rahal was bumped from the Indianapolis 500 auto race at Indianapolis Motor Speedway, Sunday, May 21, 2023, in Indianapolis. (AP Photo/Darron Cummings)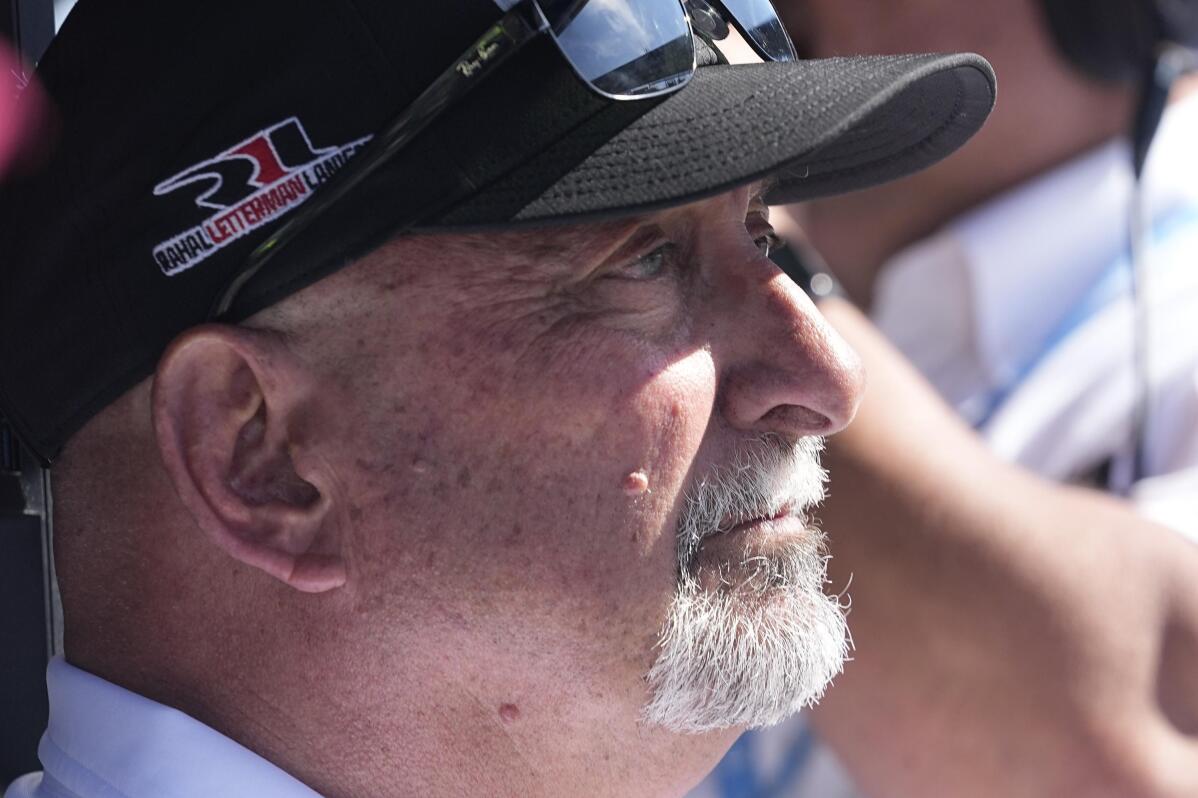 5 of 5

|
Bobby Rahal watches as Jack Harvey, of England, runs during qualifications for the Indianapolis 500 auto race at Indianapolis Motor Speedway, Sunday, May 21, 2023, in Indianapolis. Harvey bumped Graham Rahal out of the race. (AP Photo/Darron Cummings)
Palou balances plans with Ganassi vs. McLaren as Spaniard tries to win Indy 500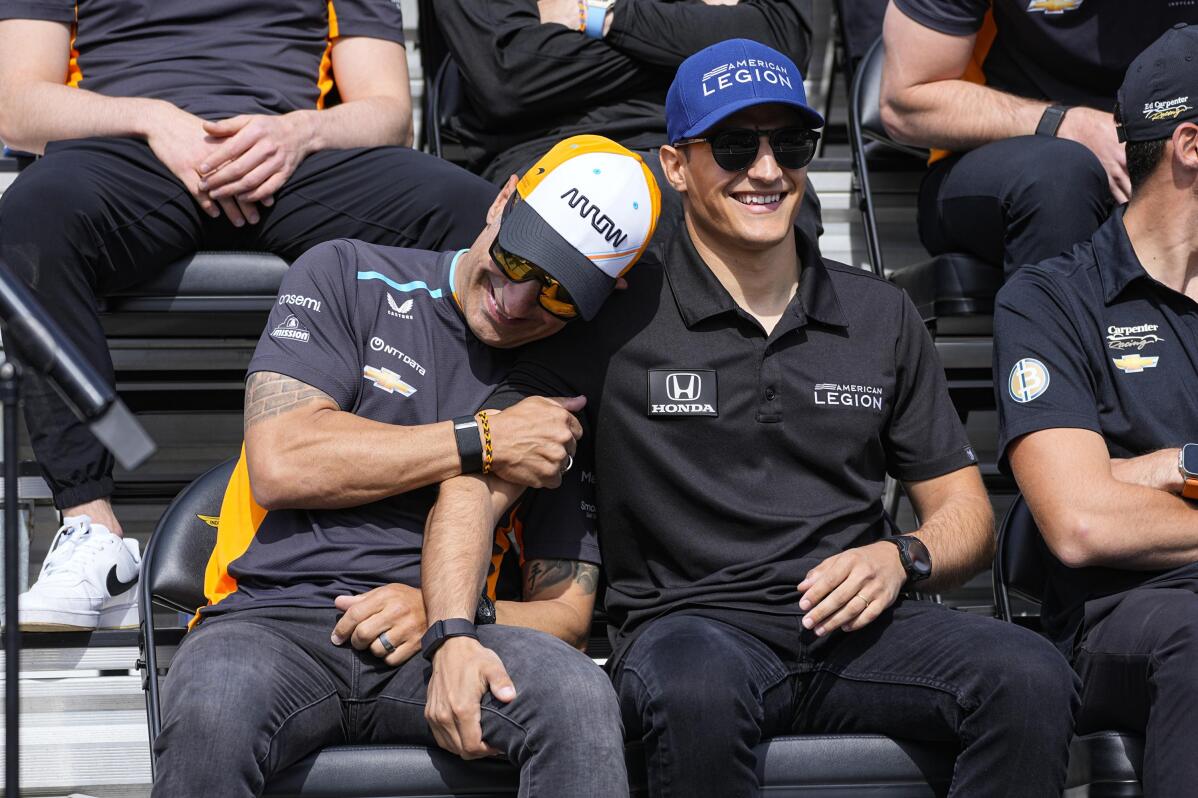 1 of 5

|
Tony Kanaan, of Brazil, left, jokes with Alex Palou, of Spain, during the drivers meeting for the Indianapolis 500 auto race at Indianapolis Motor Speedway in Indianapolis, Saturday, May 27, 2023. (AP Photo/Darron Cummings)
1 of 5
Tony Kanaan, of Brazil, left, jokes with Alex Palou, of Spain, during the drivers meeting for the Indianapolis 500 auto race at Indianapolis Motor Speedway in Indianapolis, Saturday, May 27, 2023. (AP Photo/Darron Cummings)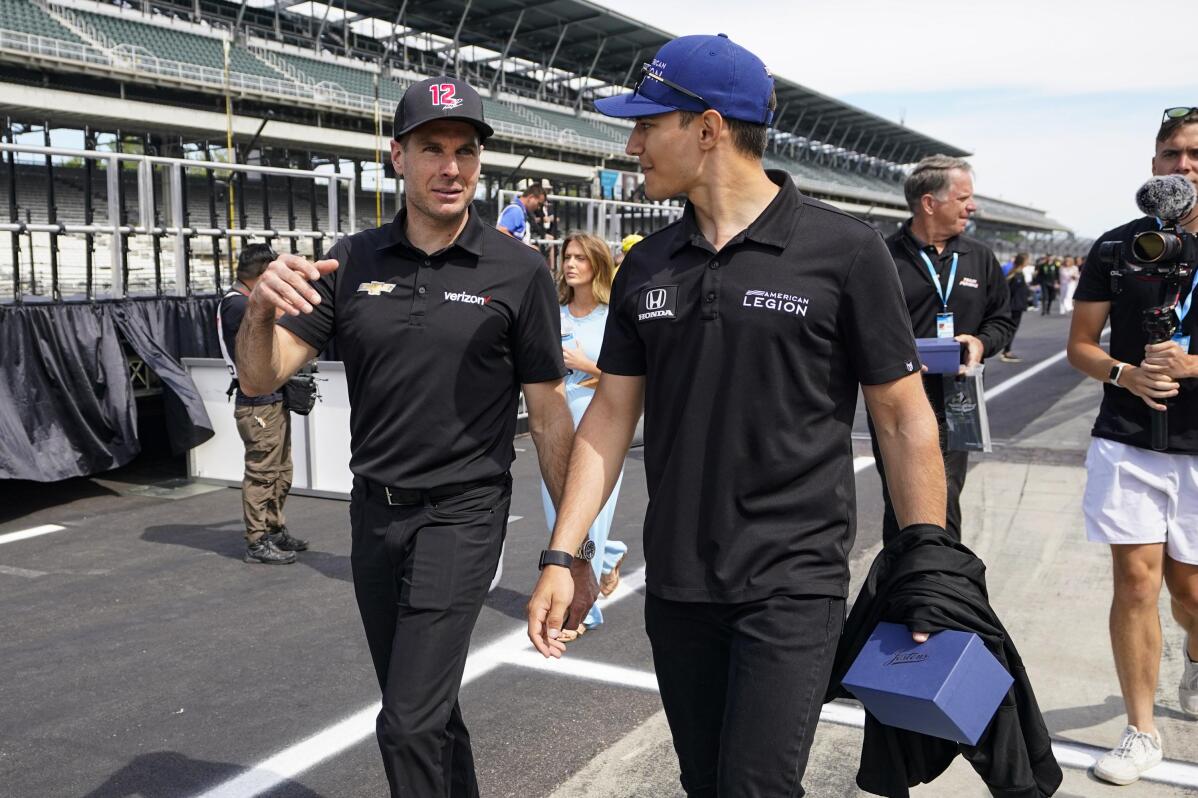 2 of 5

|
Will Power, of Australia, left, walks with Alex Palou, of Spain, as they leave the drivers meeting for the Indianapolis 500 auto race at Indianapolis Motor Speedway in Indianapolis, Saturday, May 27, 2023. (AP Photo/Darron Cummings)
2 of 5
Will Power, of Australia, left, walks with Alex Palou, of Spain, as they leave the drivers meeting for the Indianapolis 500 auto race at Indianapolis Motor Speedway in Indianapolis, Saturday, May 27, 2023. (AP Photo/Darron Cummings)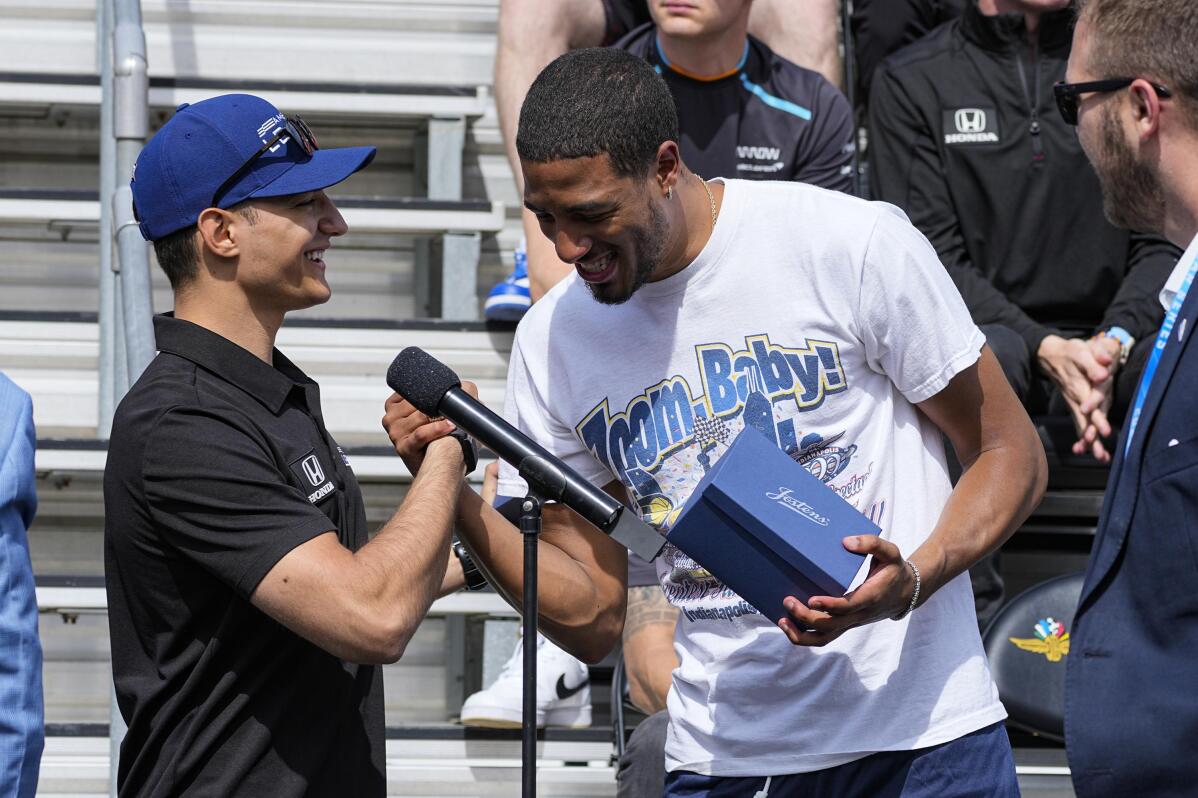 3 of 5

|
Indiana Pacers' Tyrese Haliburton is greeted by pole sitter Alex Palou, of Spain, during the driver meeting for the Indianapolis 500 auto race at Indianapolis Motor Speedway in Indianapolis, Saturday, May 27, 2023. Haliburton, will drive the pace car to start tomorrow's Indianapolis 500. (AP Photo/Darron Cummings)
3 of 5
Indiana Pacers' Tyrese Haliburton is greeted by pole sitter Alex Palou, of Spain, during the driver meeting for the Indianapolis 500 auto race at Indianapolis Motor Speedway in Indianapolis, Saturday, May 27, 2023. Haliburton, will drive the pace car to start tomorrow's Indianapolis 500. (AP Photo/Darron Cummings)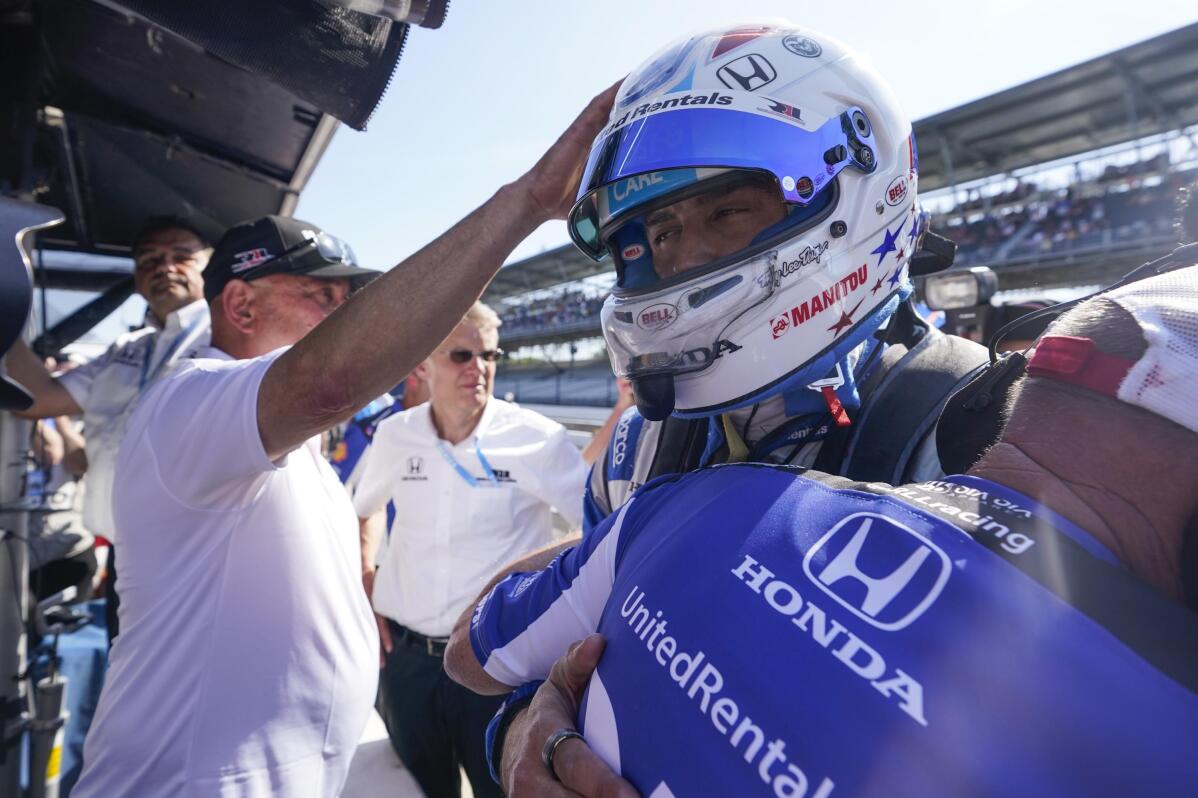 4 of 5

|
Graham Rahal is consoled by a crew member and his dad, Bobby Rahal, after Rahal was bumped from the Indianapolis 500 auto race at Indianapolis Motor Speedway, Sunday, May 21, 2023, in Indianapolis. (AP Photo/Darron Cummings)
4 of 5
Graham Rahal is consoled by a crew member and his dad, Bobby Rahal, after Rahal was bumped from the Indianapolis 500 auto race at Indianapolis Motor Speedway, Sunday, May 21, 2023, in Indianapolis. (AP Photo/Darron Cummings)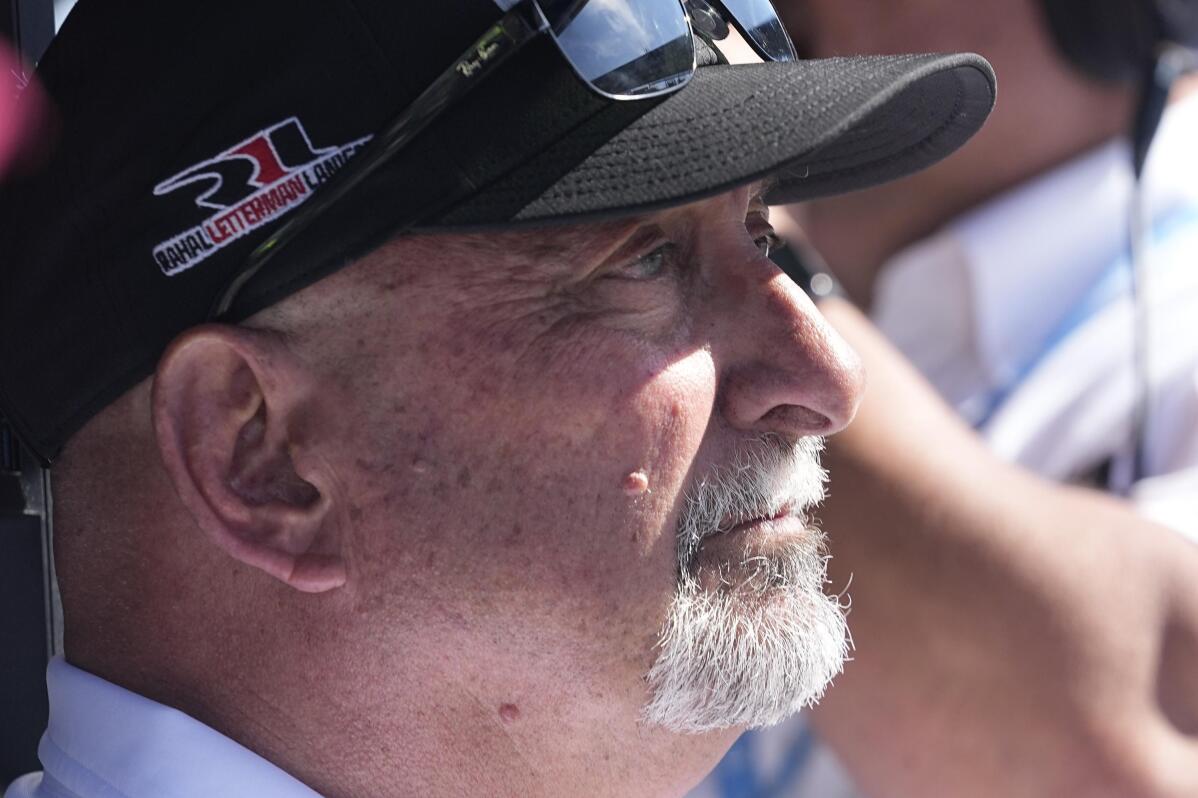 5 of 5

|
Bobby Rahal watches as Jack Harvey, of England, runs during qualifications for the Indianapolis 500 auto race at Indianapolis Motor Speedway, Sunday, May 21, 2023, in Indianapolis. Harvey bumped Graham Rahal out of the race. (AP Photo/Darron Cummings)
5 of 5
Bobby Rahal watches as Jack Harvey, of England, runs during qualifications for the Indianapolis 500 auto race at Indianapolis Motor Speedway, Sunday, May 21, 2023, in Indianapolis. Harvey bumped Graham Rahal out of the race. (AP Photo/Darron Cummings)
INDIANAPOLIS (AP) — Few had heard of Alex Palou when he arrived in IndyCar after several years of racing in Japan. It was 2020, during the pandemic and a season of no spectators, and the Spaniard drove for one of the smallest teams in the series.
But the next year he moved to Chip Ganassi Racing. And won the season-opening race. Then he finished second in the Indianapolis 500. He capped it by winning the IndyCar championship in just his second season in the series.
Now the 26-year-old starts on the pole Sunday for the Indy 500 seeking the biggest win of his life. He is the FanDuel Sportsbook favorite, and his steely demeanor and strong Ganassi car make him a solid bet.
Palou is unflappable, rarely makes mistakes and has an unbelievable ability to focus on his job and tune out all distractions.
Consider this: It was only 10 months ago when Palou found himself entangled in a nasty contract spat with Ganassi and McLaren Racing, and in the fallout, he was pretty much iced out by his teammates. But during qualifying this weekend, Scott Dixon stopped Palou as Palou headed out to qualifying to offer animated tips for his run.
All is well again in Palou's world, even as he straddles both the Ganassi and McLaren lines. Mediation determined that Palou was contractually bound to Ganassi through this season, but he will move to McLaren next season in IndyCar and already is one of McLaren's reserve F1 drivers.
Palou is permitted to participate in McLaren F1 duties — he was wearing its papaya orange color and was lent a special Richard Mille watch given only to McLaren drivers at the Miami Grand Prix earlier this month — when it doesn't conflict with his Ganassi obligations.
The drama didn't slow him last year — he won the season finale and finished fifth in the standings — and he has opened his final year with Ganassi with a bang. He won the road course race at Indianapolis Motor Speedway to open the month and take over the IndyCar series points lead, then won the pole for the 500.
Although he doesn't address his future with Ganassi or McLaren, he was adamant this week he will be in IndyCar next season, although F1 is his goal.
"Yes, yes, I will be in IndyCar next year," Palou said. "I always said that F1 was not my target. But once I won the championship, I saw that there could be a slight opportunity. I was like, 'I want to try and see if I can pursue that, because why not?' And I still want to have that chance. But if it doesn't come, I'm going to be completely happy in IndyCar."
RAHAL'S ROUGH WEEK
Bobby Rahal, the 1986 Indy 500 winner and part owner of Rahal Letterman Lanigan Racing, has had perhaps his worst trip to Indianapolis Motor Speedway since 1993, when he was bumped from the field in the last minutes of qualifying.
Three of the team's four cars were in the last-four shootout to make the field last weekend, and his son Graham Rahal was bumped by teammate Jack Harvey as time expired in qualifying. Then, the following day, a crash in practice by Stefan Wilson opened up a ride for the younger Rahal, putting him against his dad's team in the Dreyer & Reinbold entry on Sunday.
"It's been a tough week on him. It's a tough week on all of us," Graham Rahal said after final practice on Friday. "I don't think people realize how much Dad puts in all of this. He loves this. He doesn't need to do this. He wants to win it; he wants to win with me. I think it's been very disappointing for the cars not to be better."
WILSON GETS WALKING
IndyCar driver Stefan Wilson, who had surgery to stabilize a fractured vertebrae earlier this week, posted a video on social media Saturday that showed him gingerly standing up from his hospital bed and taking a few careful steps toward the door.
"I'm back," he said with a smile, pointing at his back, which was in a brace.
Wilson's car was struck from behind by Katherine Legge in practice on Monday, sending both cars careening into the outer wall in Turns 1 and 2. Legge walked away uninjured, but Wilson was transported to Methodist Hospital with a back injury.
Graham Rahal was hired to replace him in the No. 24 car. The driver change means Rahal will start last on Sunday.
___
AP Sports writer Dave Skretta contributed to this report.
___
AP auto racing: https://apnews.com/hub/auto-racing and https://twitter.com/AP_Sports