David Malukas lands unexpectedly open McLaren seat as IndyCar free agency falls into place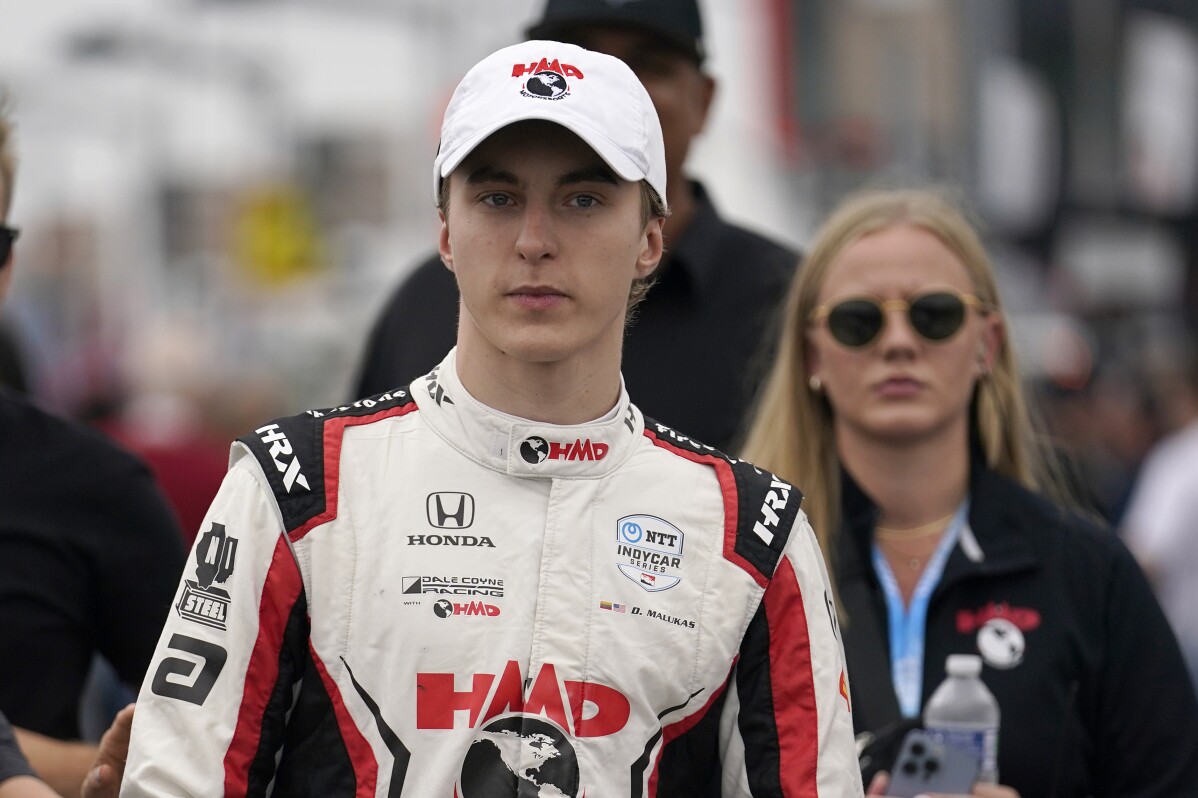 1 of 3

|
David Malukas prepares before the start of an IndyCar auto race at World Wide Technology Raceway, Sunday, Aug. 27, 2023, in Madison, Ill. (AP Photo/Jeff Roberson)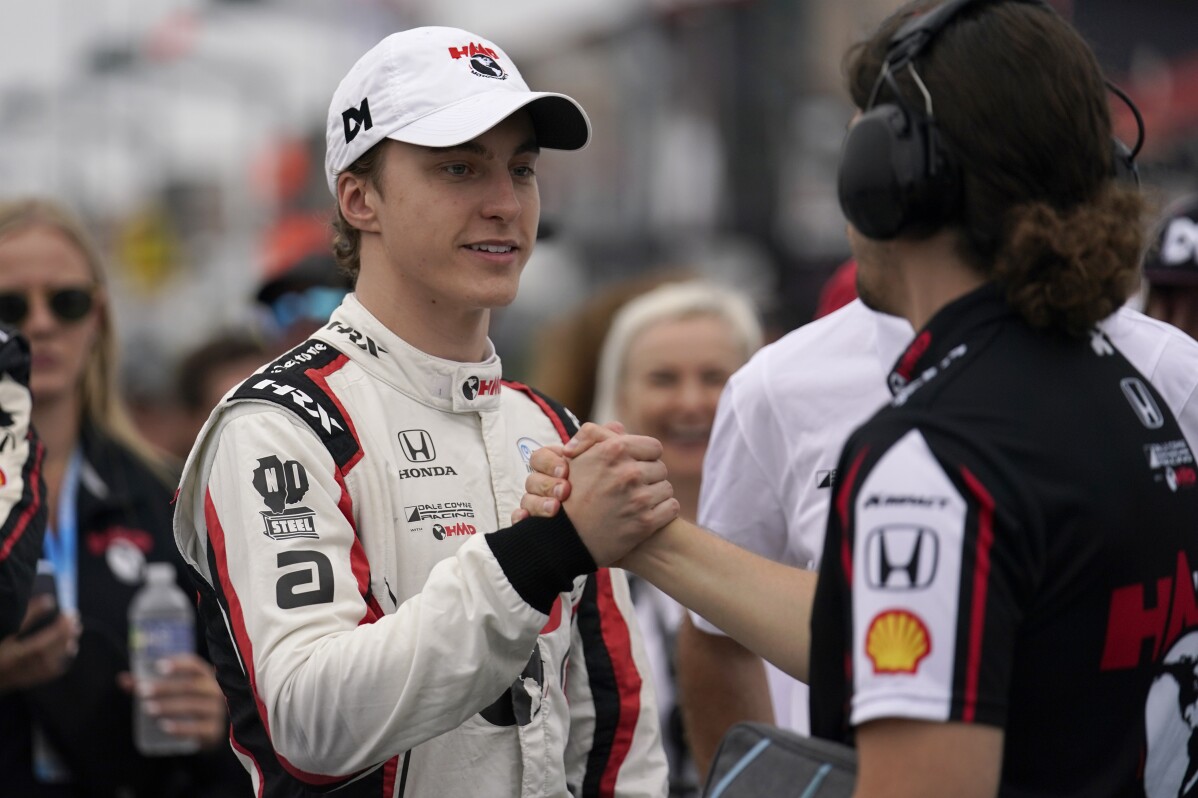 2 of 3

|
David Malukas prepares before the start of an IndyCar auto race at World Wide Technology Raceway, Sunday, Aug. 27, 2023, in Madison, Ill. (AP Photo/Jeff Roberson)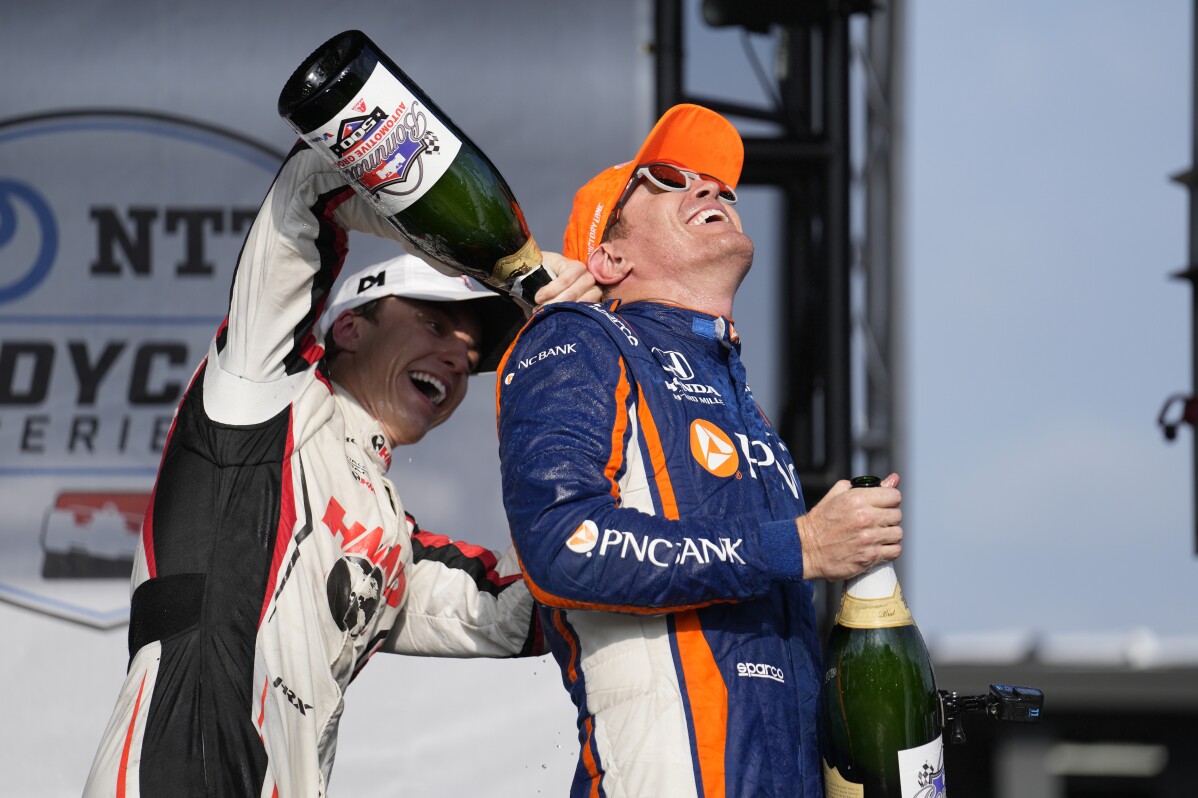 3 of 3

|
Scott Dixon, right, is congratulated by third place finisher David Malukas after winning an IndyCar auto race at World Wide Technology Raceway, Sunday, Aug. 27, 2023, in Madison, Ill. (AP Photo/Jeff Roberson)
David Malukas lands unexpectedly open McLaren seat as IndyCar free agency falls into place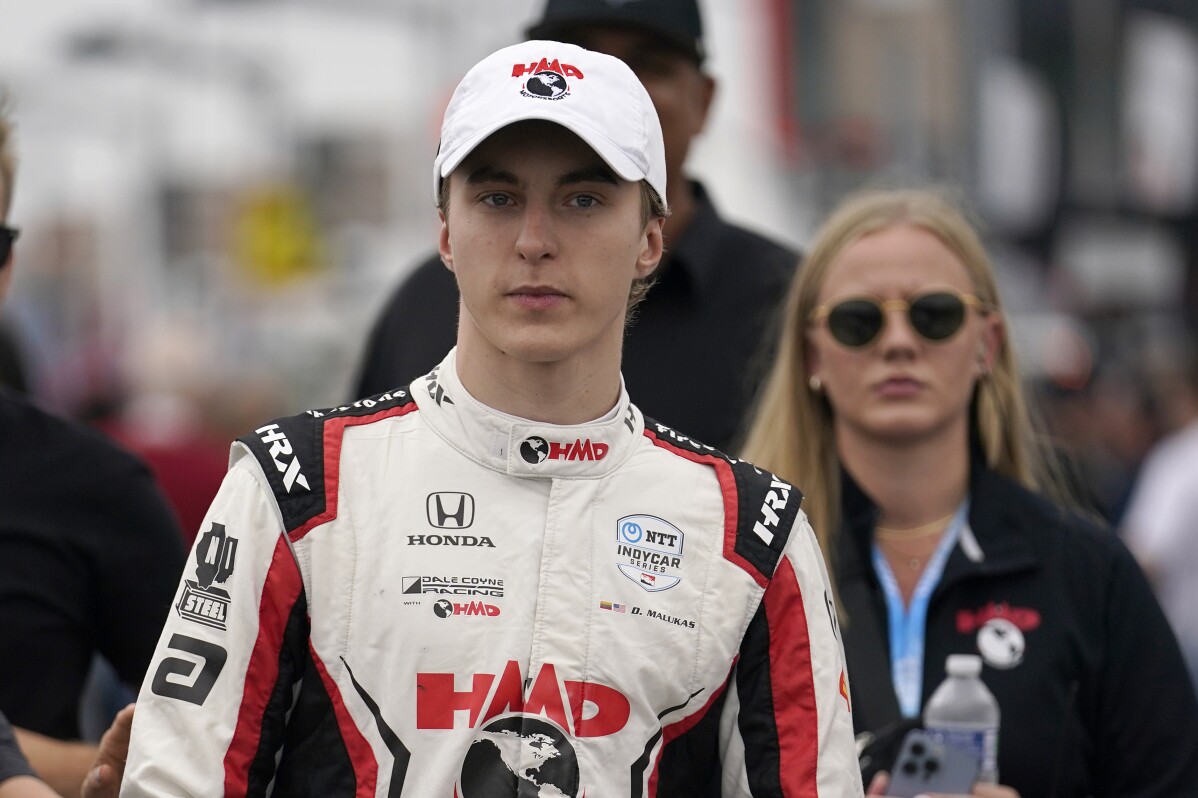 1 of 3

|
David Malukas prepares before the start of an IndyCar auto race at World Wide Technology Raceway, Sunday, Aug. 27, 2023, in Madison, Ill. (AP Photo/Jeff Roberson)
1 of 3
David Malukas prepares before the start of an IndyCar auto race at World Wide Technology Raceway, Sunday, Aug. 27, 2023, in Madison, Ill. (AP Photo/Jeff Roberson)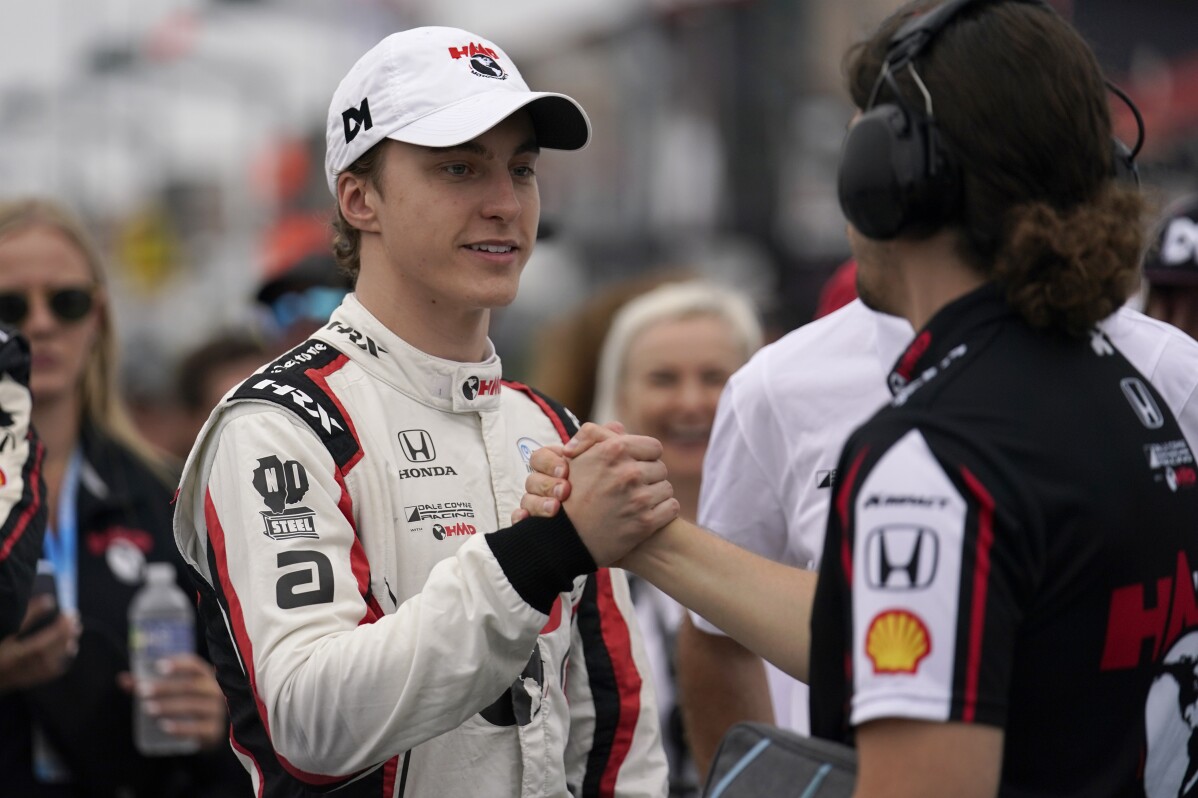 2 of 3

|
David Malukas prepares before the start of an IndyCar auto race at World Wide Technology Raceway, Sunday, Aug. 27, 2023, in Madison, Ill. (AP Photo/Jeff Roberson)
2 of 3
David Malukas prepares before the start of an IndyCar auto race at World Wide Technology Raceway, Sunday, Aug. 27, 2023, in Madison, Ill. (AP Photo/Jeff Roberson)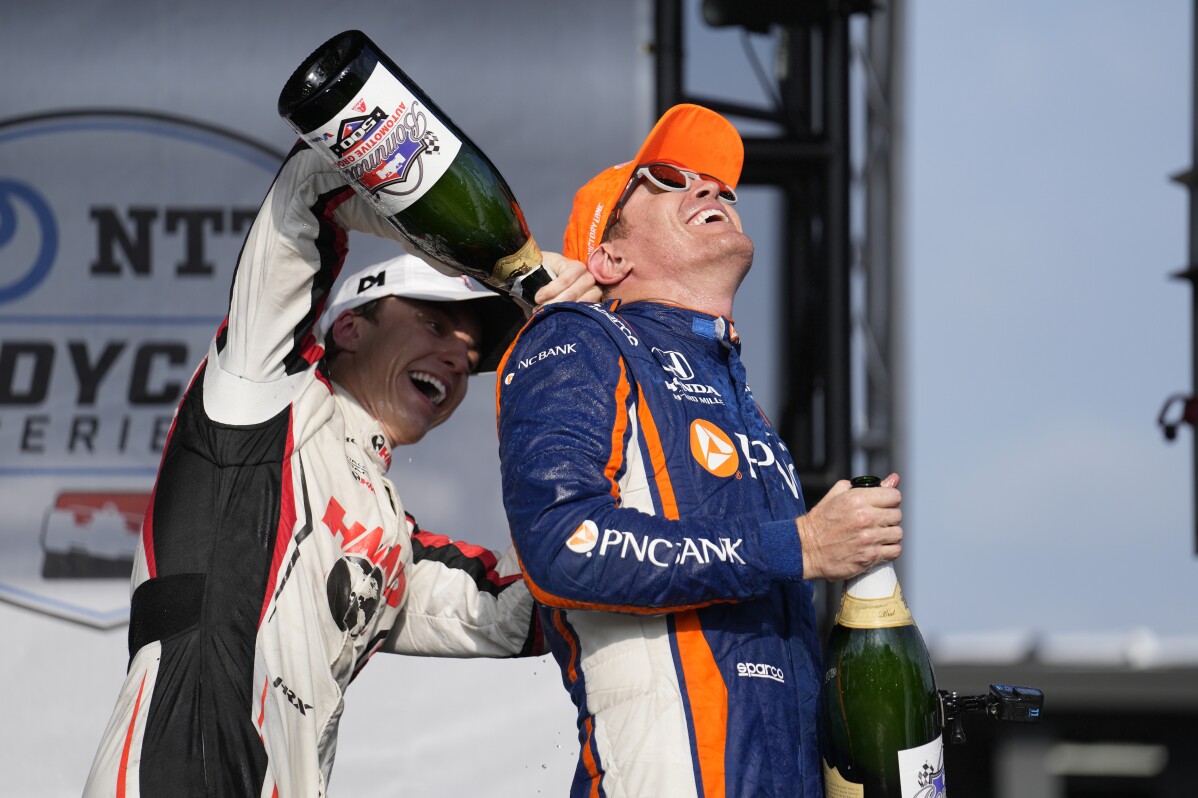 3 of 3

|
Scott Dixon, right, is congratulated by third place finisher David Malukas after winning an IndyCar auto race at World Wide Technology Raceway, Sunday, Aug. 27, 2023, in Madison, Ill. (AP Photo/Jeff Roberson)
3 of 3
Scott Dixon, right, is congratulated by third place finisher David Malukas after winning an IndyCar auto race at World Wide Technology Raceway, Sunday, Aug. 27, 2023, in Madison, Ill. (AP Photo/Jeff Roberson)
MONTEREY, Calif. (AP) — David Malukas filled one of the final pieces of IndyCar free agency on Friday when the relatively unknown Chicago native snagged one of the most coveted seats in the series.
Arrow McLaren Racing named the 21-year-old to its third car — the one that presumably was going to be filled by two-time IndyCar champion Alex Palou until the Spaniard alerted the team last month he no longer plans to join next year's lineup.
Felix Rosenqvist has driven the car the last three years — two spent in limbo awaiting Palou's movement —and finally moved on earlier this week by announcing a deal to replace Simon Pagenaud at Meyer Shank Racing.
In sudden need of a driver to fill a hole it was never expecting, McLaren tabbed Malukas, who has spent the last two years driving for Dale Coyne Racing. He's overperformed on ovals, leading him to brand himself "Lil Dave" whenever he finds himself running against the IndyCar heavyweights.
Malukas decided earlier this season he didn't want to return to Coyne in 2024 and had been shopping himself when the McLaren seat suddenly opened last month. Malukas will be teammates next year with Pato O'Ward and Alexander Rossi.
"I can't wait to race in papaya next season," said Malukas, referring to the team's signature orange color. "Arrow McLaren has been a threat to the top contenders all season long, and I'm excited join the team and see what their Chevrolets can do. Pato and Alexander both know what it takes to win, so it will be fun racing alongside them and learning from them as well."
McLaren said the deal announced ahead of Sunday's season finale is a multi-year contract. The American-Lithuanian driver is one of the youngest in the paddock and has two podium finishes the last two seasons. He finished second in an intense 2021 Indy Lights battle with Kyle Kirkwood, who won the title despite Maukas scoring a series record 16 podiums.
"David is an up-and-comer and based on what we've seen from him so far in his first two seasons, I'm confident there's a lot of talent we can extract from him through the resources we have at Arrow McLaren," said team CEO Zak Brown. "Beyond what he can do on a racetrack, he's got a great personality and we're excited to welcome him to the McLaren Racing family."
The Malukas signing leaves roughly two known seats open for the 2024 season.
Coyne has not said who will replace Malukas, although Romain Grosjean could reclaim that seat after two seasons at Andretti Global. Coyne could also potentially have a seat for Devlin DeFrancesco, a heavily-funded driver for Andretti who is not returning to the team.
Rahal Letterman Lanigan also has an open seat but closed this season with former Formula 2 driver Juri Vips getting a tryout over the final two races. Vips said Friday nobody has told him he's auditioning for the full-time ride, but Graham Rahal indicated Vips would likely be the choice assuming the No. 30 entry secures sponsorship to run next season.
Rahal said he also expects to sign an extension next week to remain with his father's race team.
Indianapolis 500 winner Marcus Ericsson is leaving Chip Ganassi Racing to join Andretti and Ganassi hired 2022 Lights champion Linus Lundqvist to replace him. Ganassi also signed rookie Marcus Armstrong to an extension; Armstrong will add ovals to his schedule after running only road and street course races this year.
Meyer Shank Racing will have an entirely new lineup with Pagenaud and Helio Castroneves replaced by Rosenqvist and sports car champion Tom Blomqvist. Castroneves is shifting into an Indy 500-only role and also will have ownership in the organization. Pagenaud has been out with concussion-like symptoms since July.
It's not clear if AJ Foyt Racing will make lineup changes but Benjamin Pedersen is believed to have a multi-year deal. Santino Ferrucci is in his first season with the team.
__
AP auto racing: https://apnews.com/hub/auto-racing