Column: IndyCar decries online abuse directed at drivers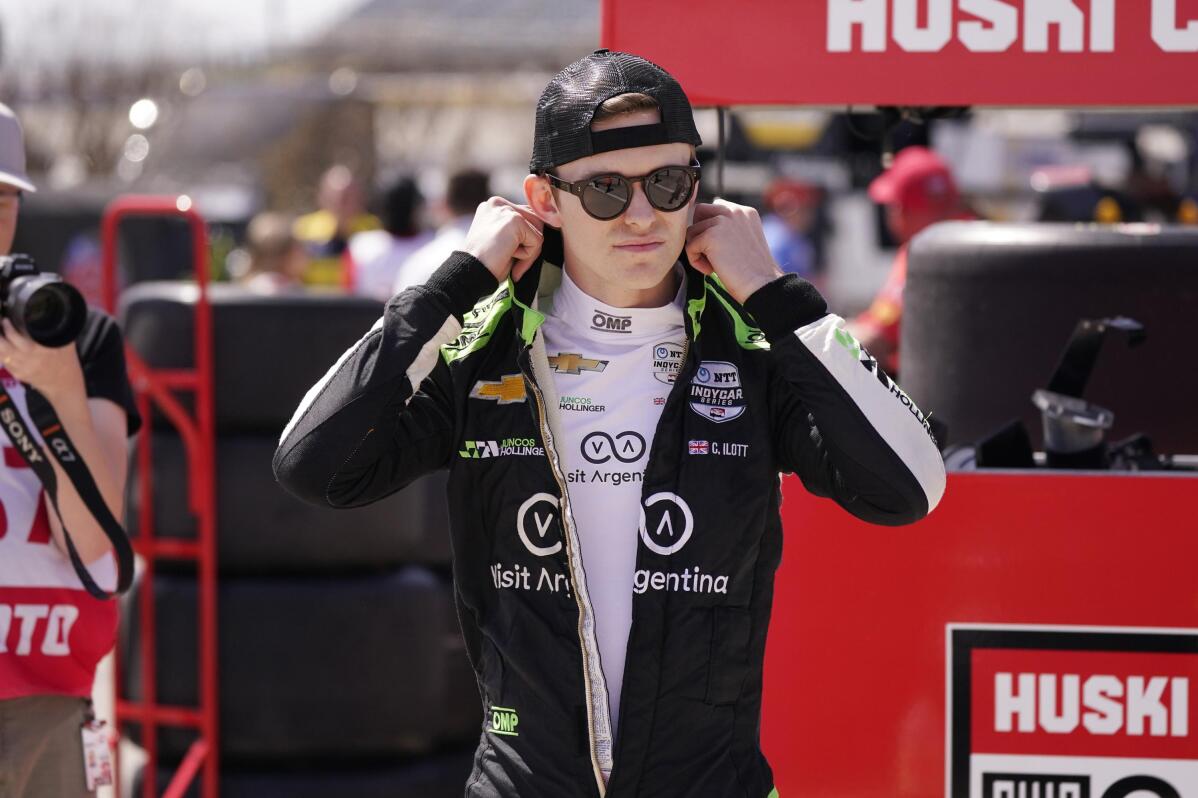 1 of 5

|
Callum Ilott, of Britain, adjusts his collar during practice for the IndyCar auto race at Texas Motor Speedway in Fort Worth, Texas, Saturday, April 1, 2023. (AP Photo/LM Otero)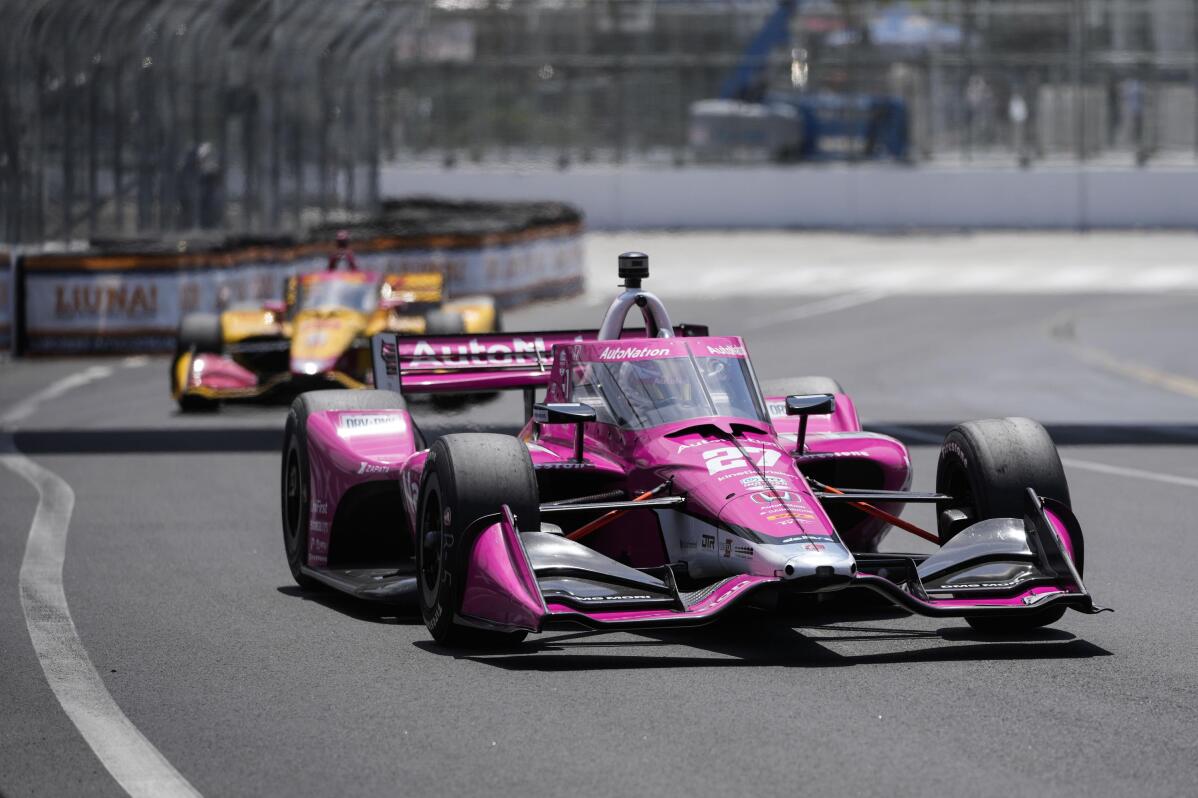 2 of 5

|
Kyle Kirkwood competes during the IndyCar Grand Prix of Long Beach auto race, Sunday, April 16, 2023, in Long Beach, Calif. Kirkwood won the race. (AP Photo/Jae C. Hong)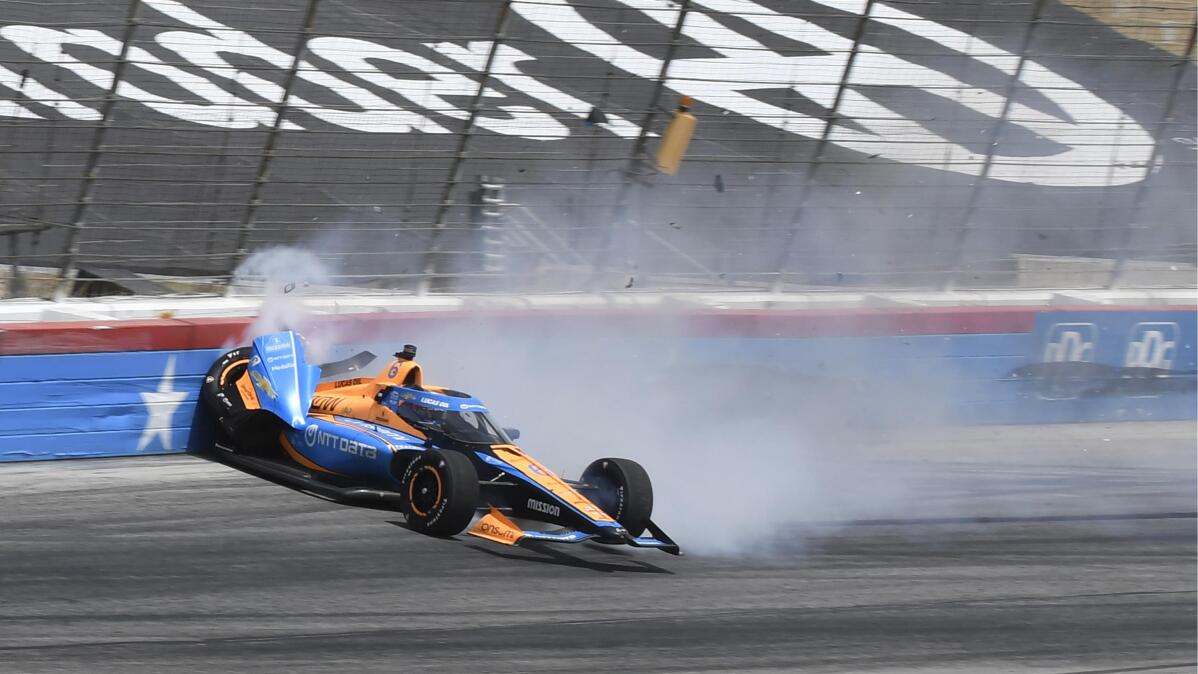 3 of 5

|
Felix Rosenqvist (6) of Sweden hits the wall during an IndyCar auto race at Texas Motor Speedway in Fort Worth, Texas, Sunday, April 2, 2023.(AP Photo/Randy Holt)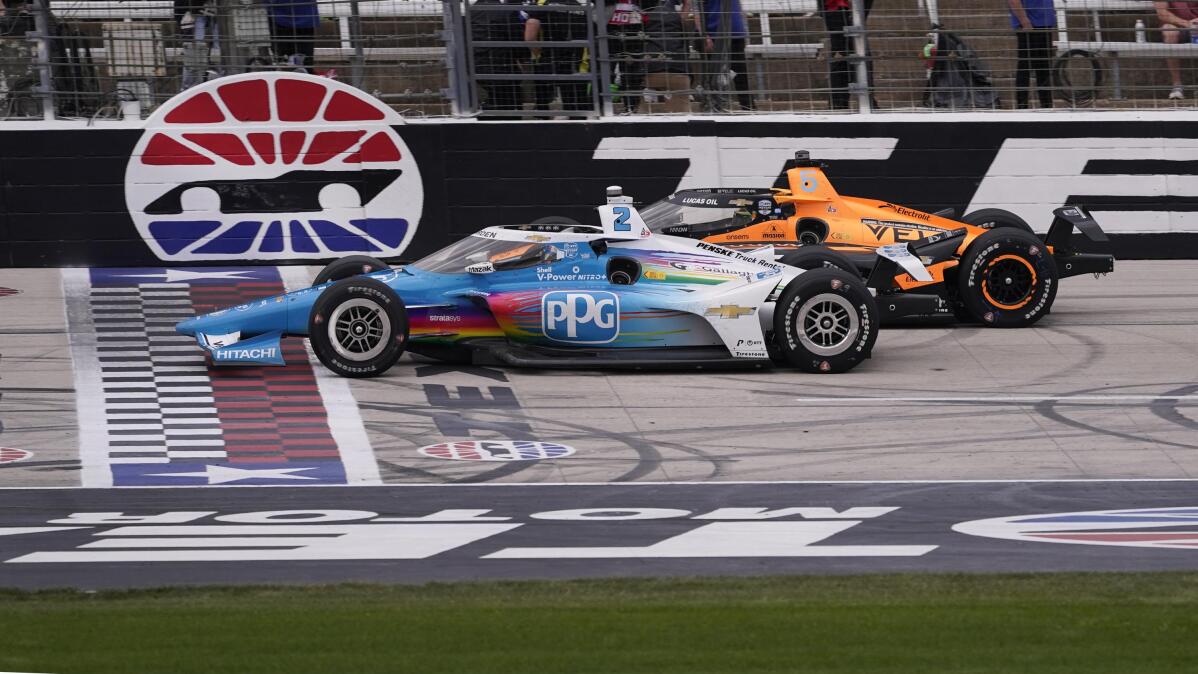 4 of 5

|
Josef Newgarden (2) pulls ahead of Pato O'Ward (5) of Mexico during the IndyCar auto race at Texas Motor Speedway in Fort Worth, Texas, Sunday, April 2, 2023. Newgarden won the race. (AP Photo/LM Otero)
5 of 5

|
Kyle Kirkwood (27) leads the pack during the IndyCar Grand Prix of Long Beach auto race, Sunday, April 16, 2023, in Long Beach, Calif. Kirkwood won the race. (AP Photo/Jae C. Hong)
Column: IndyCar decries online abuse directed at drivers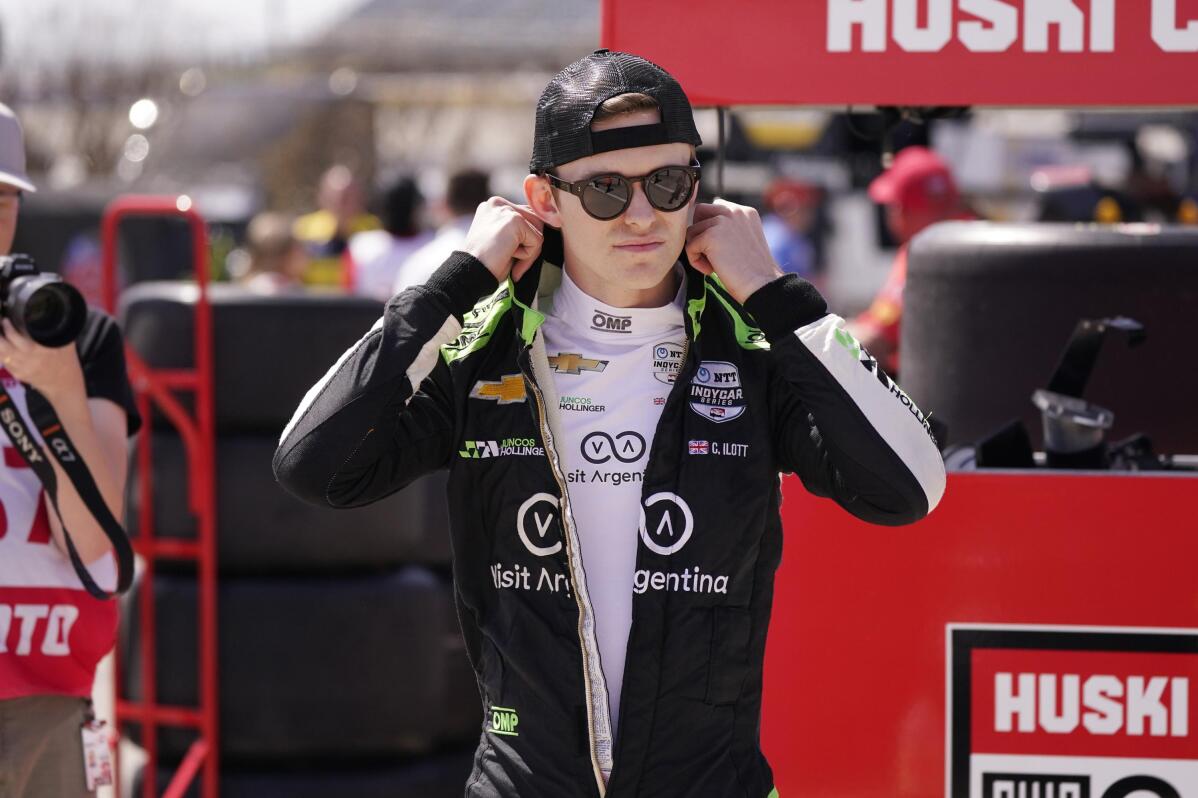 1 of 5

|
Callum Ilott, of Britain, adjusts his collar during practice for the IndyCar auto race at Texas Motor Speedway in Fort Worth, Texas, Saturday, April 1, 2023. (AP Photo/LM Otero)
1 of 5
Callum Ilott, of Britain, adjusts his collar during practice for the IndyCar auto race at Texas Motor Speedway in Fort Worth, Texas, Saturday, April 1, 2023. (AP Photo/LM Otero)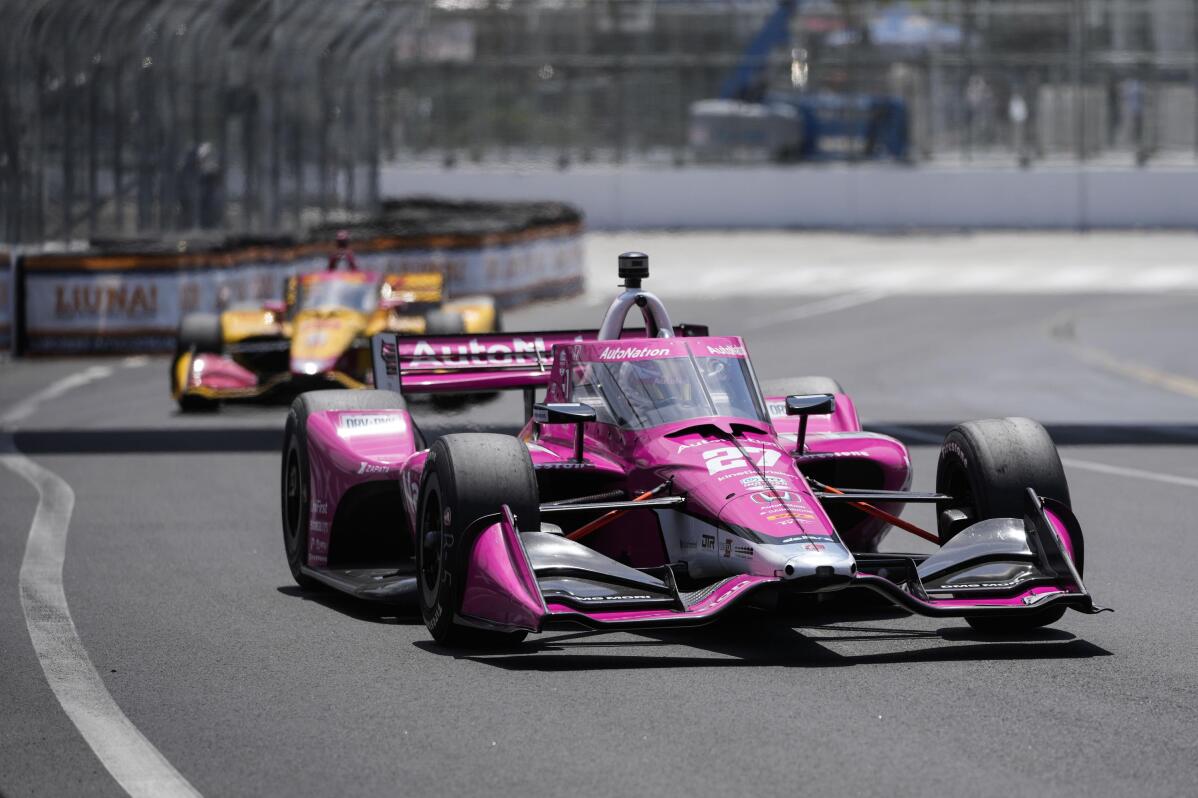 2 of 5

|
Kyle Kirkwood competes during the IndyCar Grand Prix of Long Beach auto race, Sunday, April 16, 2023, in Long Beach, Calif. Kirkwood won the race. (AP Photo/Jae C. Hong)
2 of 5
Kyle Kirkwood competes during the IndyCar Grand Prix of Long Beach auto race, Sunday, April 16, 2023, in Long Beach, Calif. Kirkwood won the race. (AP Photo/Jae C. Hong)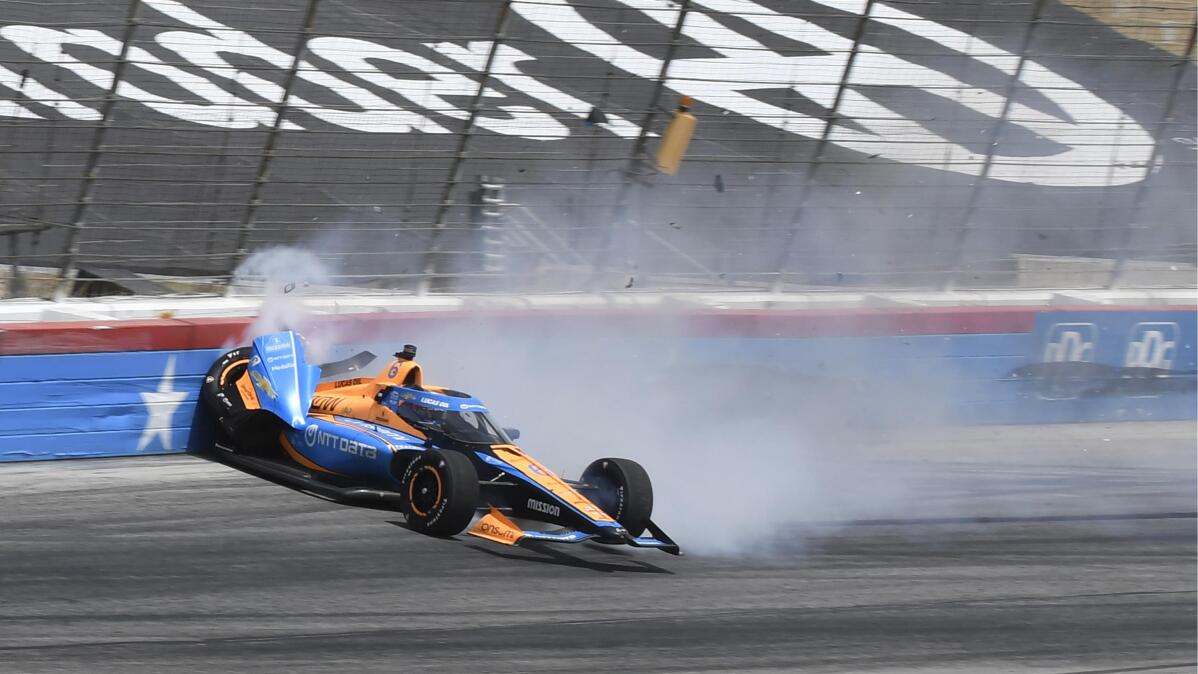 3 of 5

|
Felix Rosenqvist (6) of Sweden hits the wall during an IndyCar auto race at Texas Motor Speedway in Fort Worth, Texas, Sunday, April 2, 2023.(AP Photo/Randy Holt)
3 of 5
Felix Rosenqvist (6) of Sweden hits the wall during an IndyCar auto race at Texas Motor Speedway in Fort Worth, Texas, Sunday, April 2, 2023.(AP Photo/Randy Holt)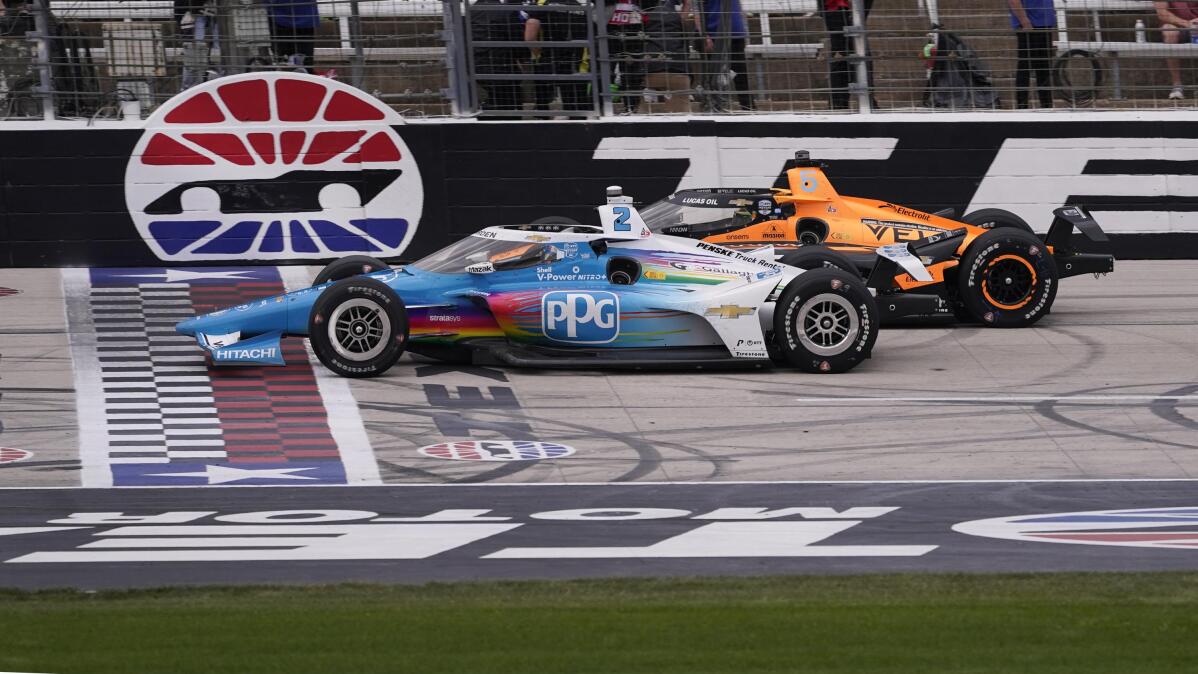 4 of 5

|
Josef Newgarden (2) pulls ahead of Pato O'Ward (5) of Mexico during the IndyCar auto race at Texas Motor Speedway in Fort Worth, Texas, Sunday, April 2, 2023. Newgarden won the race. (AP Photo/LM Otero)
4 of 5
Josef Newgarden (2) pulls ahead of Pato O'Ward (5) of Mexico during the IndyCar auto race at Texas Motor Speedway in Fort Worth, Texas, Sunday, April 2, 2023. Newgarden won the race. (AP Photo/LM Otero)
5 of 5

|
Kyle Kirkwood (27) leads the pack during the IndyCar Grand Prix of Long Beach auto race, Sunday, April 16, 2023, in Long Beach, Calif. Kirkwood won the race. (AP Photo/Jae C. Hong)
5 of 5
Kyle Kirkwood (27) leads the pack during the IndyCar Grand Prix of Long Beach auto race, Sunday, April 16, 2023, in Long Beach, Calif. Kirkwood won the race. (AP Photo/Jae C. Hong)
LONG BEACH, Calif. (AP) — Callum Ilott and Agustín Canapino are teammates. Ilott is British, Canapino is Argentine and through their first three months working together, everything seemed just fine as tiny Juncos Hollinger Racing showed decent on-track progress.
But when a sequence of ill-timed events caused Canapino to crash while the rookie was leading his first IndyCar laps, it was Ilott who was attacked on social media, with some rabid Canapino fans even making death threats against the 24-year-old.
What did Ilott do to deserve such vitriol following the Grand Prix of Long Beach on Sunday?
Well, he exited pit lane as the field was about to go green and found himself in front of Canapino as Canapino was about to take the green flag. Helio Castroneves, who was running a lap down, made an aggressive move in an attempt to get around Canapino and return to the lead lap. Instead, Castroneves and Canapino made contact, Canapino's race ended and his fans believed it was all Ilott's fault for clogging the track in front of his teammate.
Ilott addressed the hate directed his way — specifically replying to an Argentine broadcaster — in a Twitter post on Monday. But that seemed to only further fan the flames.
Since Ilott's post:
IndyCar has issued a statement decrying "disrespectful and inappropriate online abuse." The statement has been reposted by several IndyCar drivers.
Pato O'Ward turned to social media with a lengthy post to "encourage everyone to choose their words wisely, and to seriously consider the damage they are capable of inflicting." O'Ward has been criticized for aggressive driving at Long Beach that included contact with six-time IndyCar champion Scott Dixon; O'Ward insisted postrace that he would not apologize for racing hard.
And Canapino himself weighed in Tuesday morning. "Nothing allows us to transmit hate and disrespect another person," he wrote. "Not only during a competition, but also in life in general."
All this comes after Kyle Kirkwood two weeks ago decried "how much hate mail I've received" for a pit lane collision at Texas Motor Speedway with Alexander Rossi in which Rossi was penalized.
Online abuse has long been an ongoing problem met with varying defenses. Some are able to ignore the hate, some clap back and some are deeply affected. Nicholas Latifi had to take a social media break following the 2021 Formula One season finale, where fans blamed his late crash for costing Lewis Hamilton a record eighth world championship.
"What shocked me was the extreme tone of the hate, abuse and even the death threats I received," Latifi said later.
The governing body for F1 has vowed to crack down on online abuse after drivers voiced concerns to the FIA about the increasing amount of hate being directed their way. Two-time reigning F1 world champion Max Verstappen has tied the increased toxicity toward the growth of F1, which exploded in global popularity during the pandemic in part because its Netflix docuseries brought new eyes to the series.
"There are more people watching, so more people are writing. It's not great that they are allowed to write these kinds of things, so I hope we can come up with a kind of algorithm that stops people from being keyboard warriors," Verstappen said. "Because these kinds of people — they will never come up to you and say these things in front of your face."
IndyCar doesn't come close to F1 in viewership numbers, but the recent nastiness directed toward drivers shows that its fans are as rabidly passionate as any other sport or racing series.
Is that a good thing? Probably not if the increased attention is dominated by online attacks, criticism and threats.
There is an old proverb that "all press is good press" so long as it cultivates presence and visibility. Technology and social media — which gives the general public direct access to athletes, celebrities, politicians and others — has helped discredit that notion as those on the receiving end of the abuse have complained about the toll it can take on mental health.
It's wonderful that IndyCar, which has worked so hard to rebuild its fanbase and attract new and younger viewership, is eliciting raw passion from its spectators. But if the bulk of the engagement are personal attacks because so-and-so did something to their favorite driver, it ruins any excitement over a growing audience.
IndyCar now heads into its most important stretch of the season, with testing for next month's Indianapolis 500 set to begin this week. This is the period when IndyCar's viewership and appeal should peak.
The series would feel a whole lot better about the attention if it was about the actual racing — three different winners through three races, a resurgent Andretti Autosport and the growing popularity of young Mexican driver O'Ward — and not fans placing blame on drivers for on-track incidents.
___
AP auto racing: https://apnews.com/hub/auto-racing and https://twitter.com/AP_Sports