Inflation takes a March tumble at the wholesale level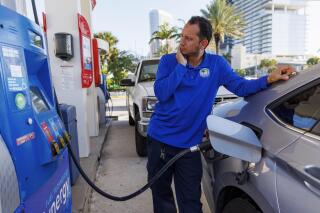 NEW YORK (AP) — Inflation's grip on businesses loosened greatly in March, raising hopes that companies and consumers will suffer less from high prices as 2023 rolls on.
The U.S. government said plunging energy prices pulled the producer price index down 0.5% in March from February. It marks the biggest decrease in producer prices in three years and follows other reports showing easing inflation on broader consumer prices.
Producer prices, also known as wholesale costs, track prices in the production process before they reach the consumer. As a result, the producer price index can provide early signs of where inflation is headed. Some producer price data is also used in the construction of the Federal Reserve's preferred measure of inflation, and so the decline in producer prices means the Fed's preferred index may also decline or come in very low when it is reported next week.
Lower prices paid by businesses on raw materials and other items means they are less likely to raise prices in the months ahead. Even when excluding the impact from volatile food and energy costs, the index still registered a drop in so-called core wholesale inflation by 0.1%.
Businesses spent much of 2022 raising prices on everything from food to clothing to restaurant meals to offset higher costs. In many cases, companies registered profit growth because of the price increases. Consumers, meanwhile, have become more cautious and cut spending in March more than economists expected.
The latest round of corporate earnings will give Wall Street a better sense of whether lower costs had an impact on profits in the previous quarter. Analysts polled by FactSet expect a 6.4% profit contraction for S&P 500 companies during the previous quarter.
Inflation may be cooling, but so is the broader economy. Some analysts predict a recession is likely in 2023.
The Federal Reserve has been raising interest rates in an effort to stifle consumer demand and tame inflation. Measured year over year, consumer prices are up 5%, down from a peak of 9.1% in 2022.
"As the economy slows, consumer prices will decelerate further and should bring inflation closer to the Fed's long-run target of 2%," said Jeffrey Roach, chief economist for LPL Financial.
The latest economic data has many on Wall Street expecting the Fed will soon pause its efforts to slow economic growth and then cut rates twice by the end of the year. The Fed itself has forecast that it will implement one more quarter-point hike at its May meeting and then keep rates unchanged for the rest of the year.