Lebanon sets new exchange rate, dramatically devalues pound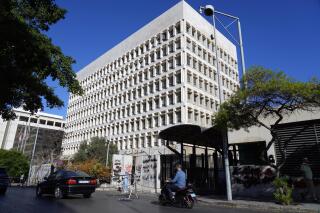 BEIRUT (AP) — Three years into a crippling financial crisis, Lebanon's Central Bank on Wednesday set a new exchange rate that effectively devalued the country's currency by 90% but did little to bridge the gap with the soaring black market rate.
The dramatic measure is meant to stabilize the free-falling Lebanese pound and eliminate the multiple exchange rates that currently exist, a key demand of the International Monetary Fund for a bailout package for Lebanon.
The new rate set Wednesday is 15,000 pounds to the dollar -- a stark contrast the previous, when the Lebanese pound was pegged at just over 1,500 pounds to the dollar. That rate was implemented in 1997, to encourage investor confidence and to stall hyperinflation after its 15-year civil war.
However, it's unclear how the new rate will be implemented or reconcile a host of different exchange rates that exist for public sector salaries, fuel prices and different services, including telecommunications.
Many fear it will lead to another surge in inflation and hike prices of food and other essential goods, as authorities have in the past failed to crack down on illicit price hikes.
Also, the new official rate is nowhere near the current black market rate of about 60,000 pounds to the dollar, used for buying and selling most goods, nor the Central Bank's Sayrafa platform — used for certain financial transactions — with 38,000 for $1. It also will apply to withdrawals from dollar accounts, where customers have been withdrawing some of their trapped savings in the local currency, at an exchange rate far lower than market value.
Lebanon's initial economic boom in the post-civil-war years was eroded by conflict, political paralysis and corruption, while financial maneuvers that kept the exchange rate artificially low for years eventually collapsed. By late 2019, the country started to spiral into an economic meltdown, an unprecedented economic crisis that plunged over three quarters of the population into poverty.
Lebanon's Central Bank and Finance Ministry first announced the decision to officially devalue the pound last September.
Currency unification is among a list of reforms the IMF has demanded to finalize a bailout package for Lebanon, tentatively approved in April 2022.
The Finance Ministry already adjusted the customs exchange rate to 15,000 pounds for the dollar in December. Tax collection, balance sheets of the struggling Lebanese banks are now to adjust their exchange rates, and eventually the 2023 state budget.
Since 2019, Lebanon's cash-strapped banks imposed informal limits on cash withdrawals in dollars, with most depositors losing access to their savings after the country's banks made risky investments by buying Lebanese treasury bills, despite widespread corruption from its political leadership.
Economist Sami Zoughaib at The Policy Initiative, a Beirut-based think tank, criticized Wednesday's decision by the Central Bank, and called the measure temporary, in the absence of crucial structural economic reforms.
"We need something that actually reflects the market value, and the only way we can do it is by building a centralized currency market in which people can openly and transparently trade Lebanese pounds and dollars," Zoughaib said.
"This is not how you unify an exchange rate," he added.