Revolution in Iran: History Begins Again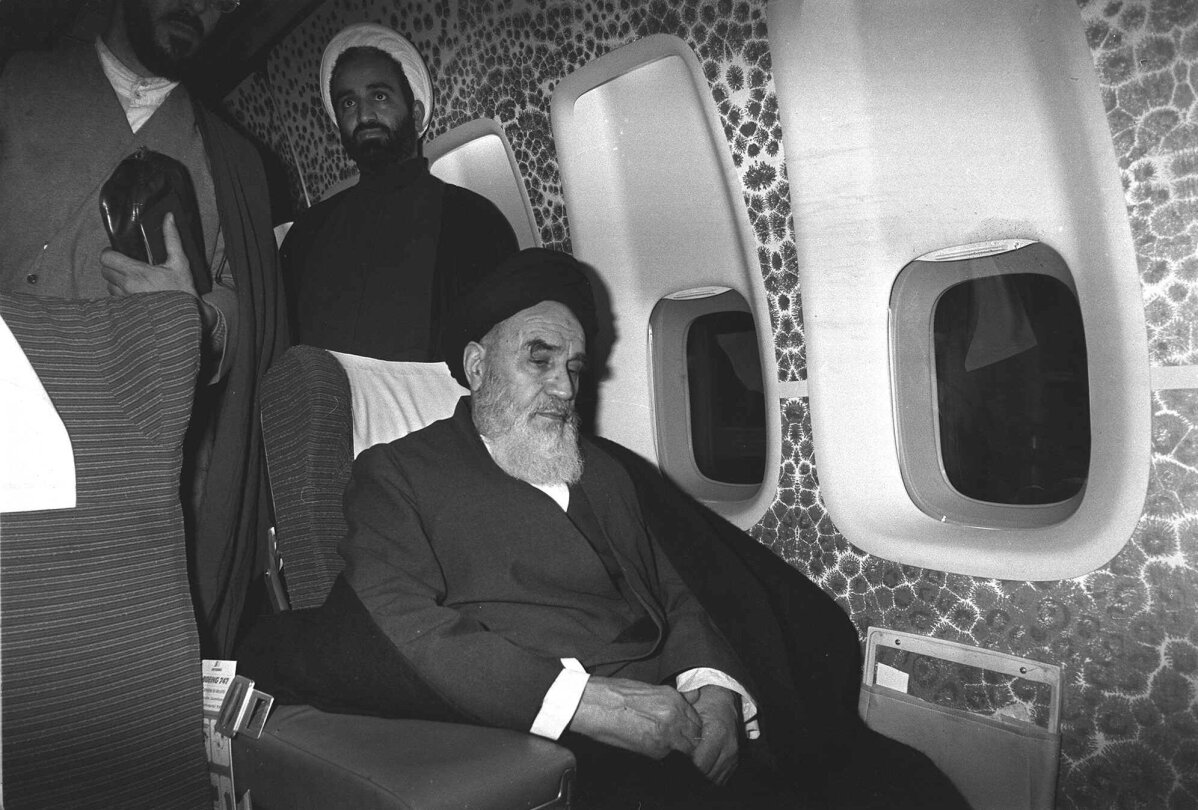 1 of 6

|
The Ayatollah Ruhollah Khomeini sits inside the chartered airplane which was to fly him back to Iran Feb. 1, 1979, after 14 years in exile. He is shown a few minutes before the plane took off from Paris, France. Millions of his followers were expected to greet him in Tehran. (AP Photo/Thierry Campion)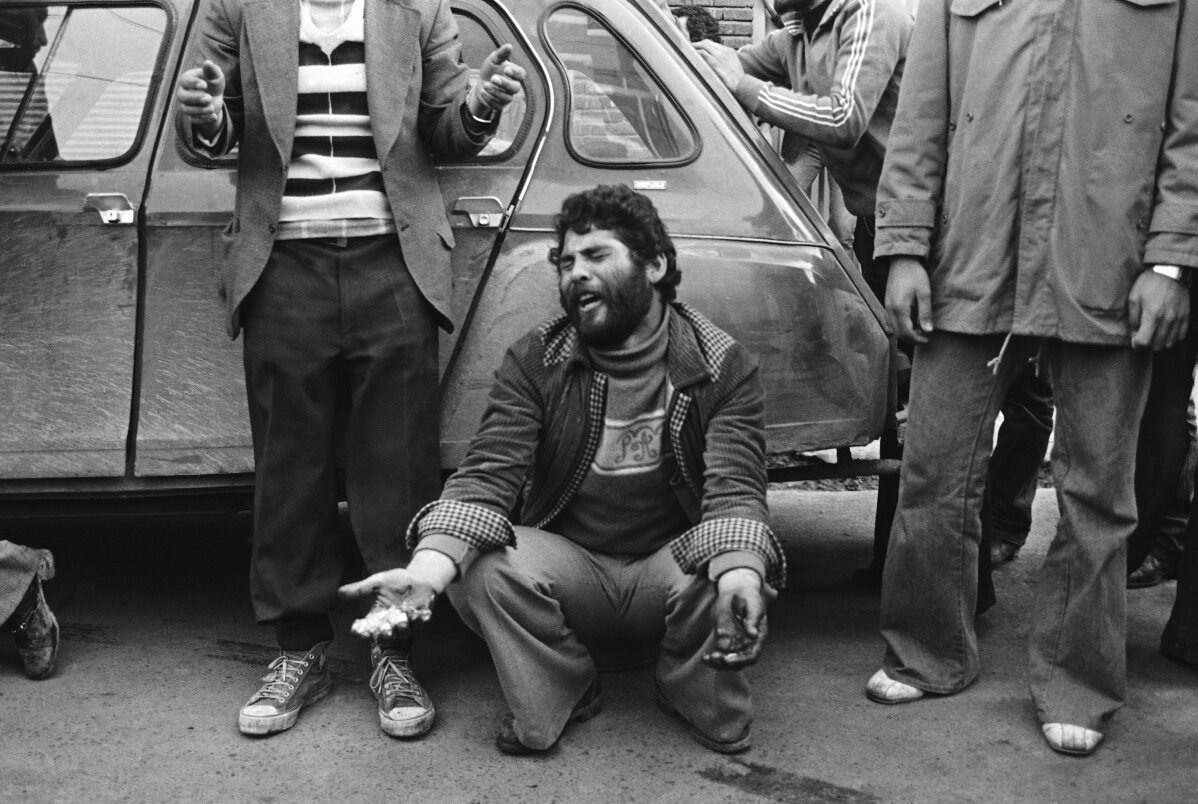 2 of 6

|
A demonstrator, his hands covered with the blood and brains of a friend killed in Sunday's bloody riots, weeps for the victim, Jan. 28, 1979. Sunday's clash was the bloodiest day since last September, with a death toll of almost 30 killed and more than 200 wounded. (AP Photo/Bob Dear)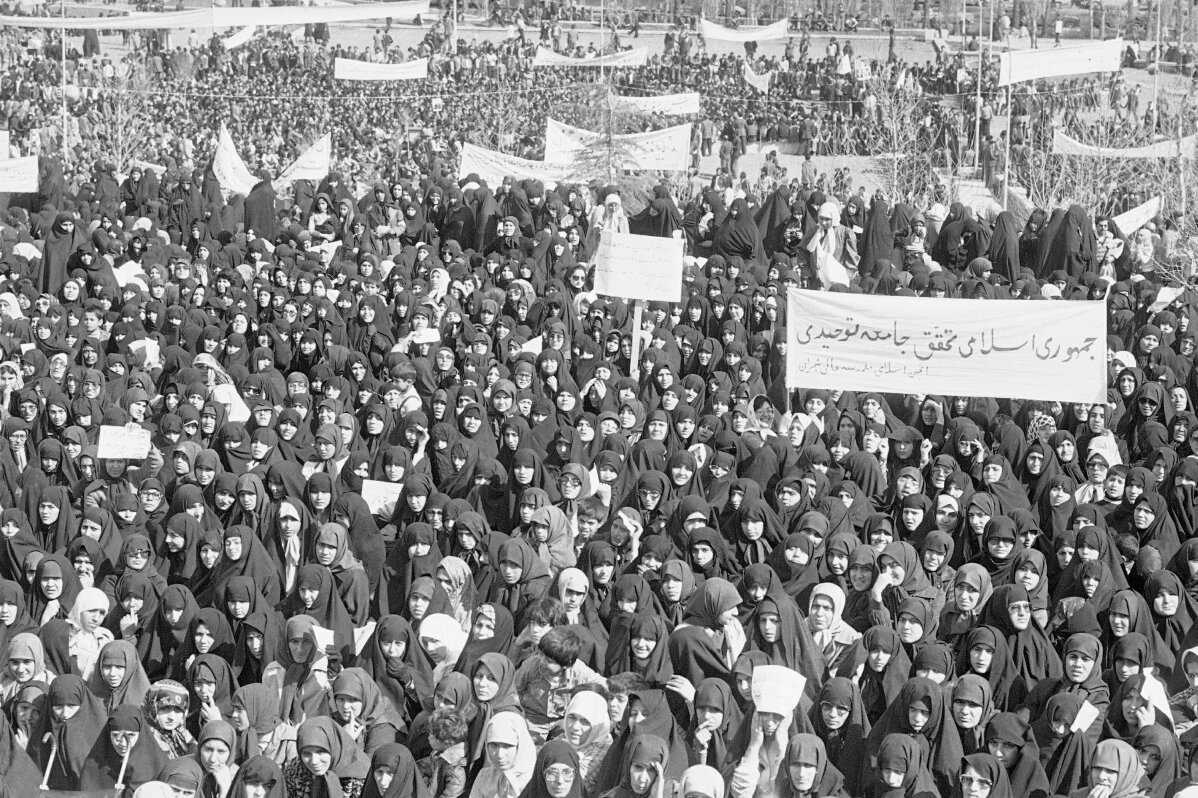 3 of 6

|
Tens of thousands of Iranian women gather in northern Tehran at a counter-demonstration called to support Ayatollah Khomeini's desire for women to wear the traditional "chador" and to adhere fully to Islamic laws. (AP Photo/Randy Taylor)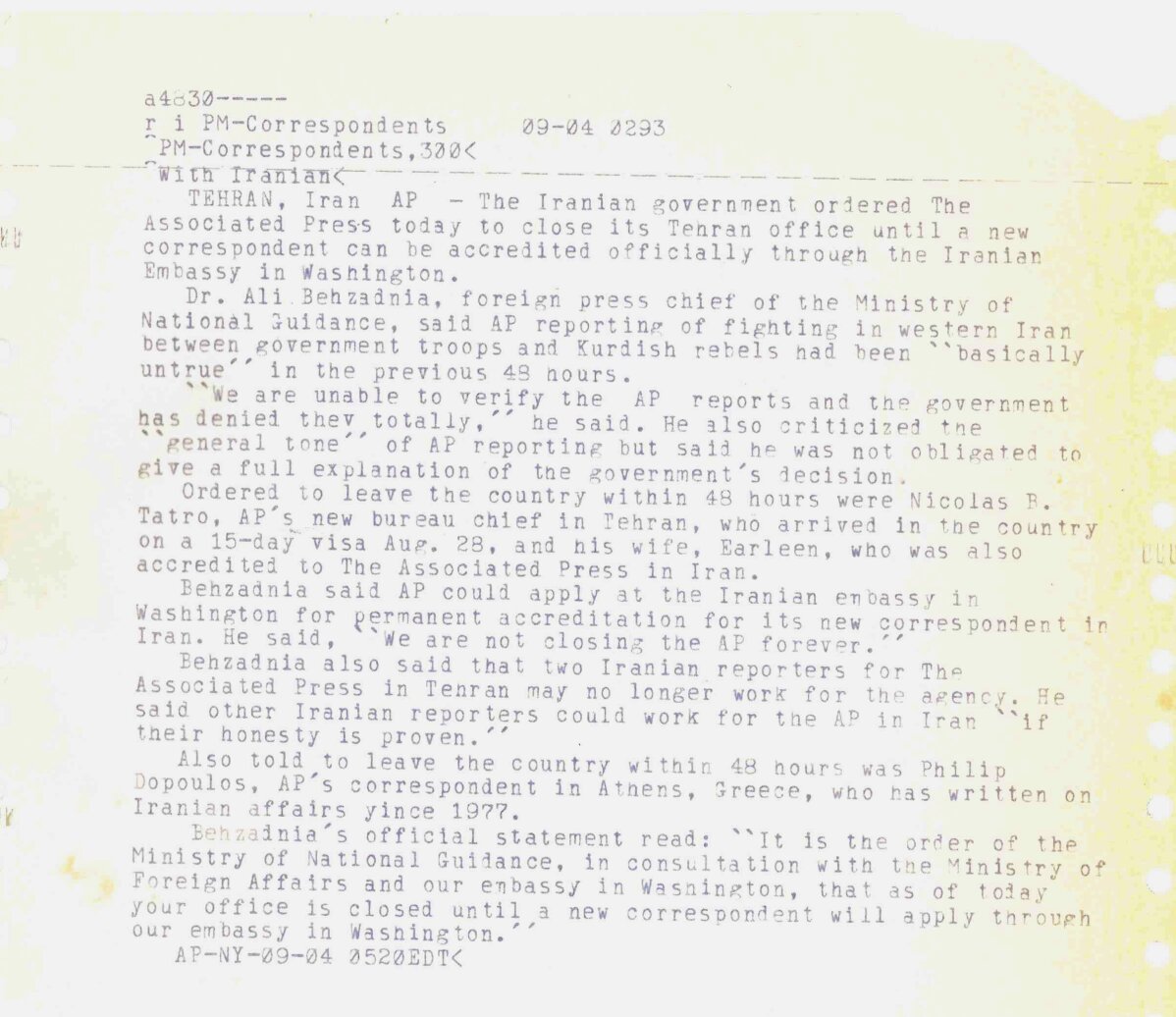 4 of 6

|
Archival account of Iranian authorities ordering AP to close its bureau in Tehran. (AP Archives)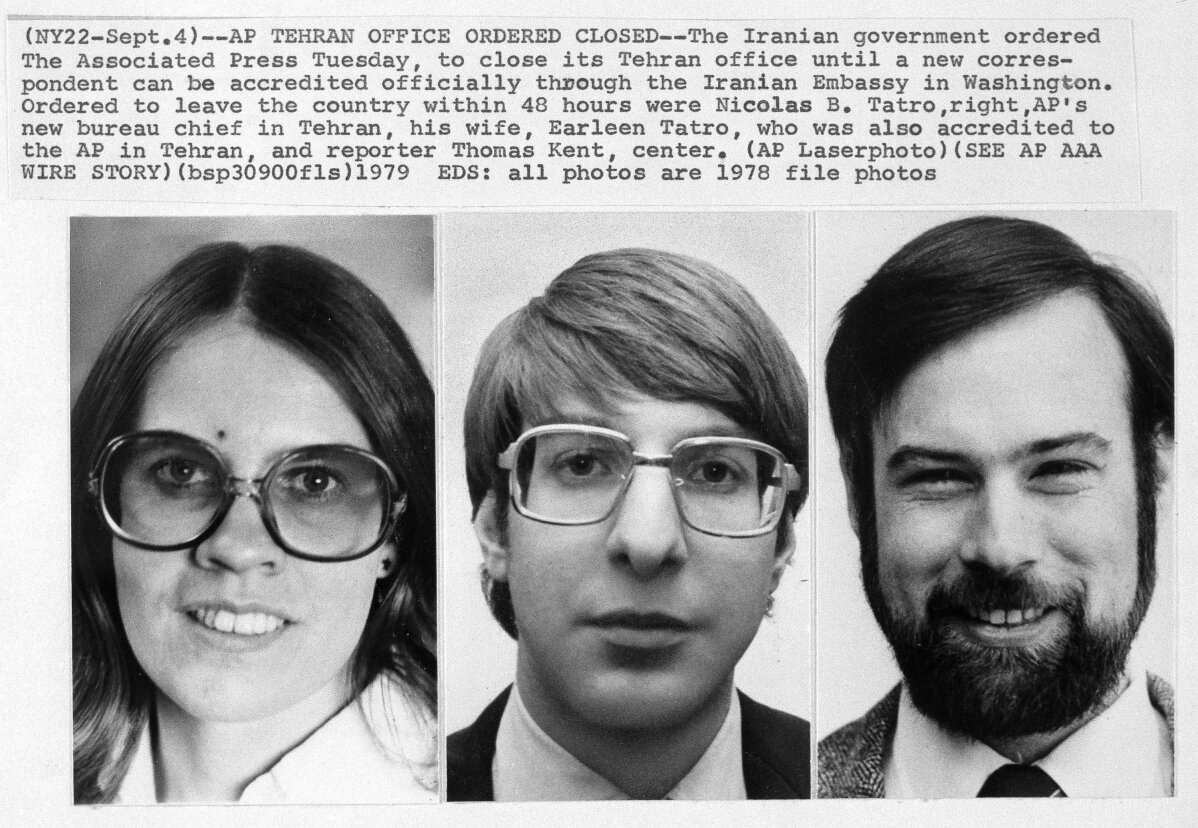 5 of 6

|
Archival account of AP journalists ordered to close Tehran bureau. (AP Archives)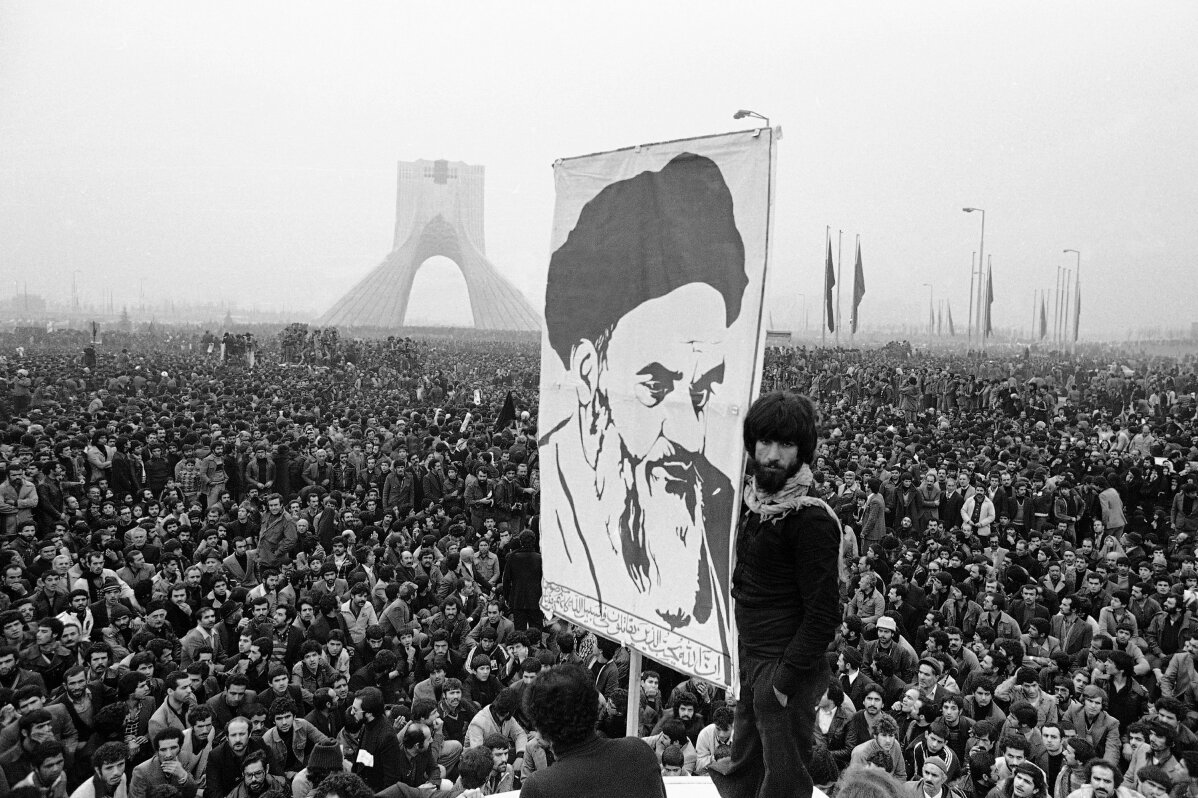 6 of 6

|
Picture of exiled Muslim leader Ayatollah Khomeini overshadows huge anti-Shah demonstration at the Shayah monument commemorating 25 years of the monarch's rule and symbol of his power, Dec. 10, 1978, in Tehran. An estimated one million people filed peacefully through the city chanting support for their spiritual leader, and calling for the end of the Shah's rule. (AP Photo/Michel Lipchitz)
Revolution in Iran: History Begins Again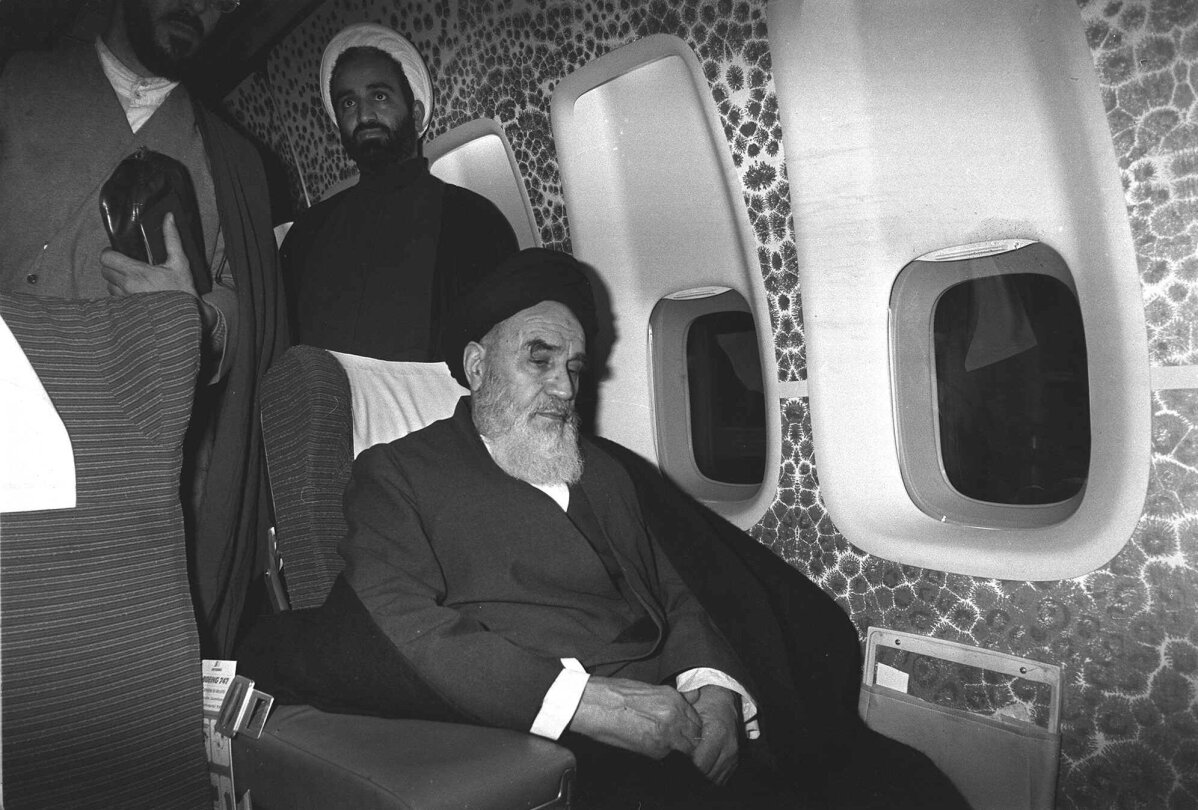 1 of 6

|
The Ayatollah Ruhollah Khomeini sits inside the chartered airplane which was to fly him back to Iran Feb. 1, 1979, after 14 years in exile. He is shown a few minutes before the plane took off from Paris, France. Millions of his followers were expected to greet him in Tehran. (AP Photo/Thierry Campion)
1 of 6
The Ayatollah Ruhollah Khomeini sits inside the chartered airplane which was to fly him back to Iran Feb. 1, 1979, after 14 years in exile. He is shown a few minutes before the plane took off from Paris, France. Millions of his followers were expected to greet him in Tehran. (AP Photo/Thierry Campion)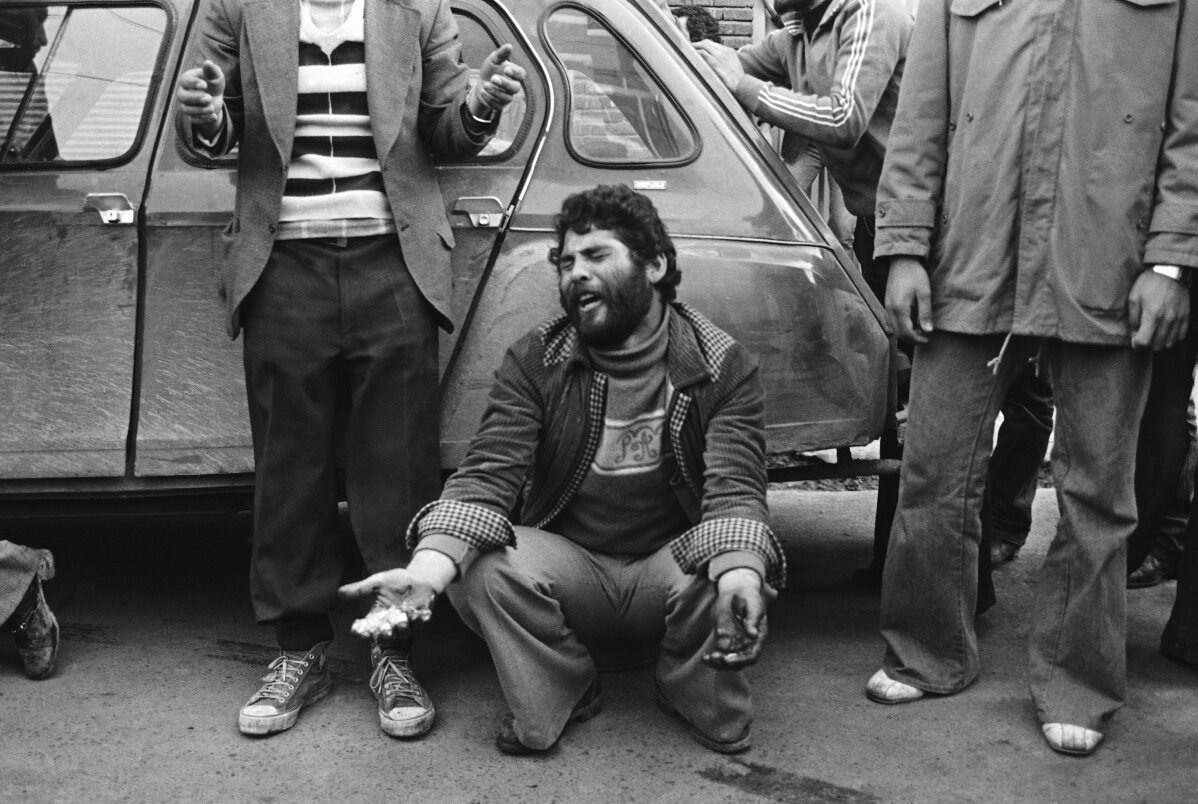 2 of 6

|
A demonstrator, his hands covered with the blood and brains of a friend killed in Sunday's bloody riots, weeps for the victim, Jan. 28, 1979. Sunday's clash was the bloodiest day since last September, with a death toll of almost 30 killed and more than 200 wounded. (AP Photo/Bob Dear)
2 of 6
A demonstrator, his hands covered with the blood and brains of a friend killed in Sunday's bloody riots, weeps for the victim, Jan. 28, 1979. Sunday's clash was the bloodiest day since last September, with a death toll of almost 30 killed and more than 200 wounded. (AP Photo/Bob Dear)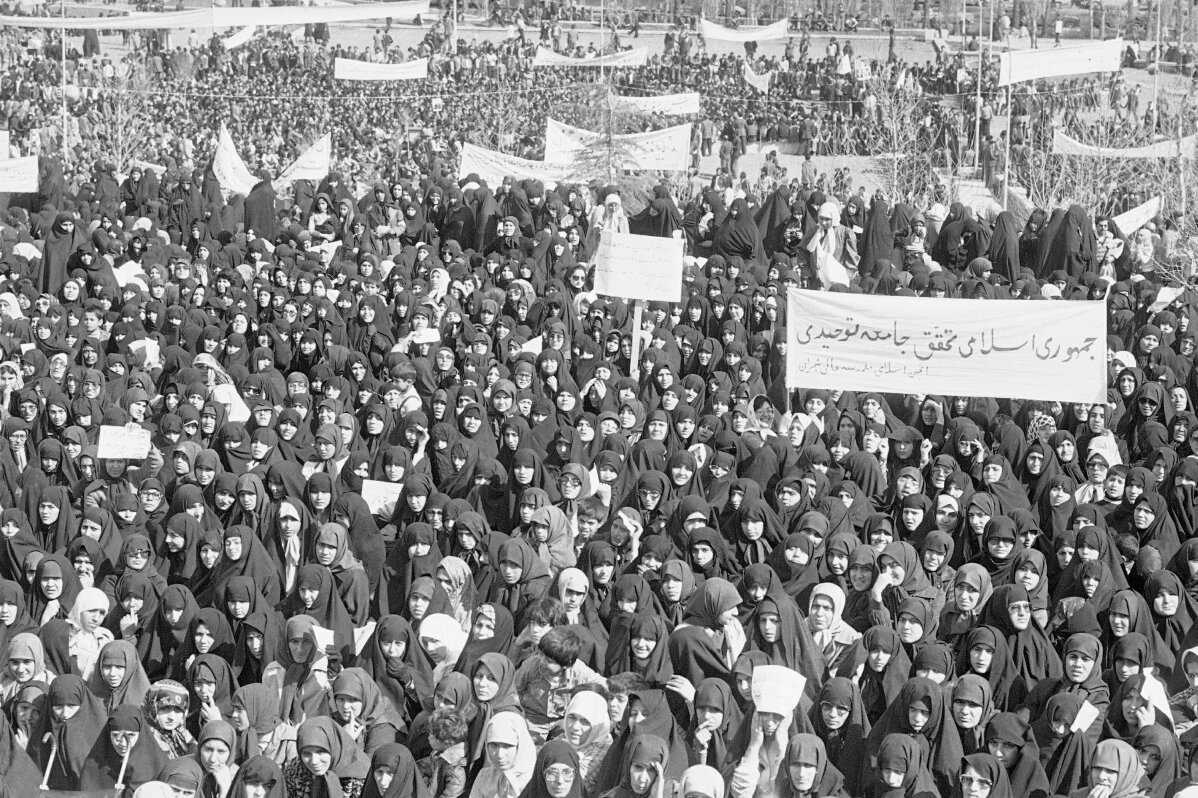 3 of 6

|
Tens of thousands of Iranian women gather in northern Tehran at a counter-demonstration called to support Ayatollah Khomeini's desire for women to wear the traditional "chador" and to adhere fully to Islamic laws. (AP Photo/Randy Taylor)
3 of 6
Tens of thousands of Iranian women gather in northern Tehran at a counter-demonstration called to support Ayatollah Khomeini's desire for women to wear the traditional "chador" and to adhere fully to Islamic laws. (AP Photo/Randy Taylor)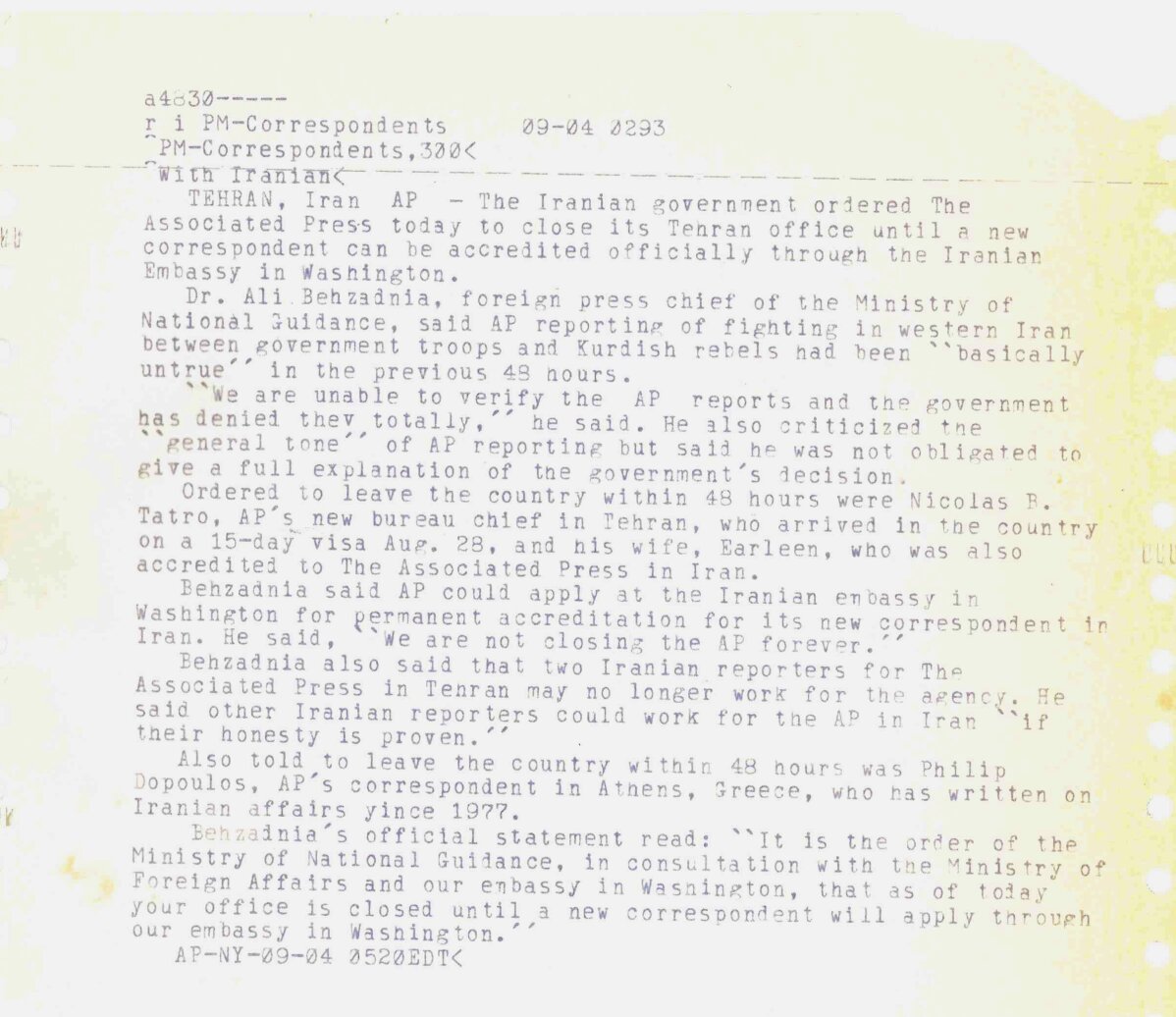 4 of 6

|
Archival account of Iranian authorities ordering AP to close its bureau in Tehran. (AP Archives)
4 of 6
Archival account of Iranian authorities ordering AP to close its bureau in Tehran. (AP Archives)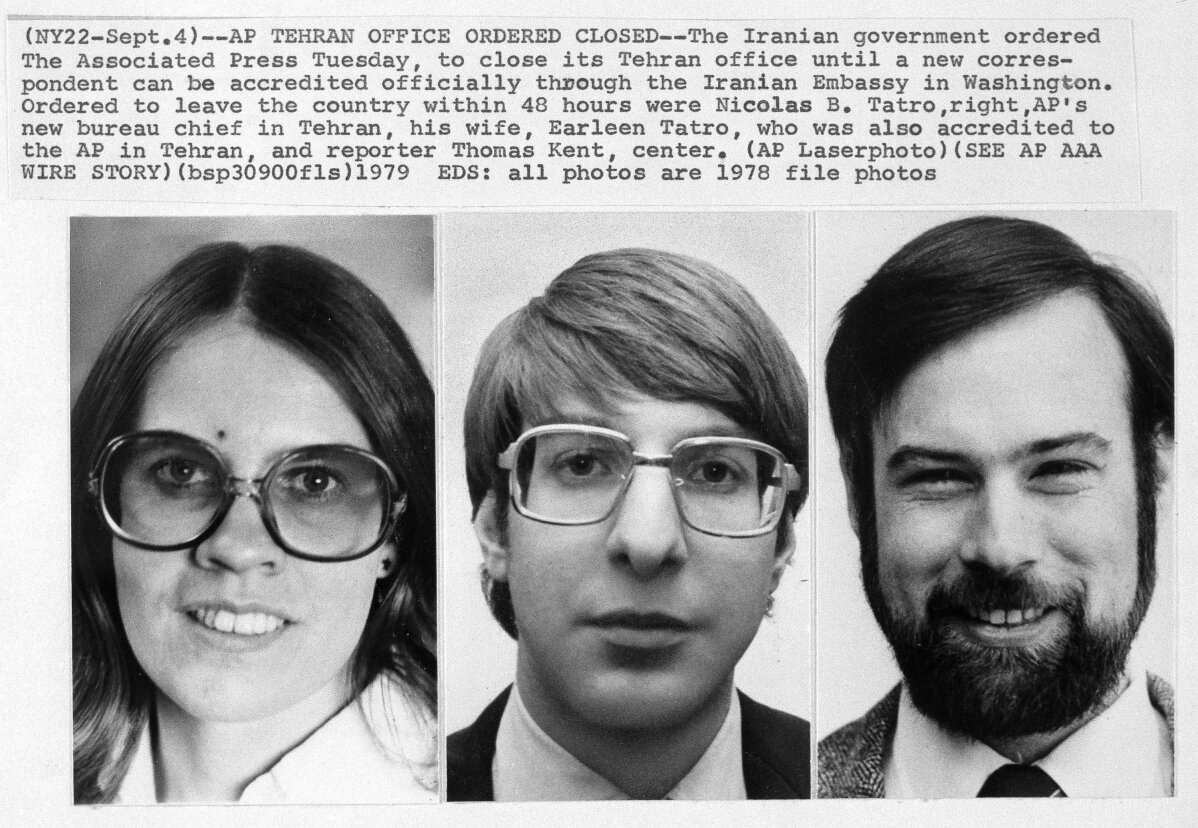 5 of 6

|
Archival account of AP journalists ordered to close Tehran bureau. (AP Archives)
5 of 6
Archival account of AP journalists ordered to close Tehran bureau. (AP Archives)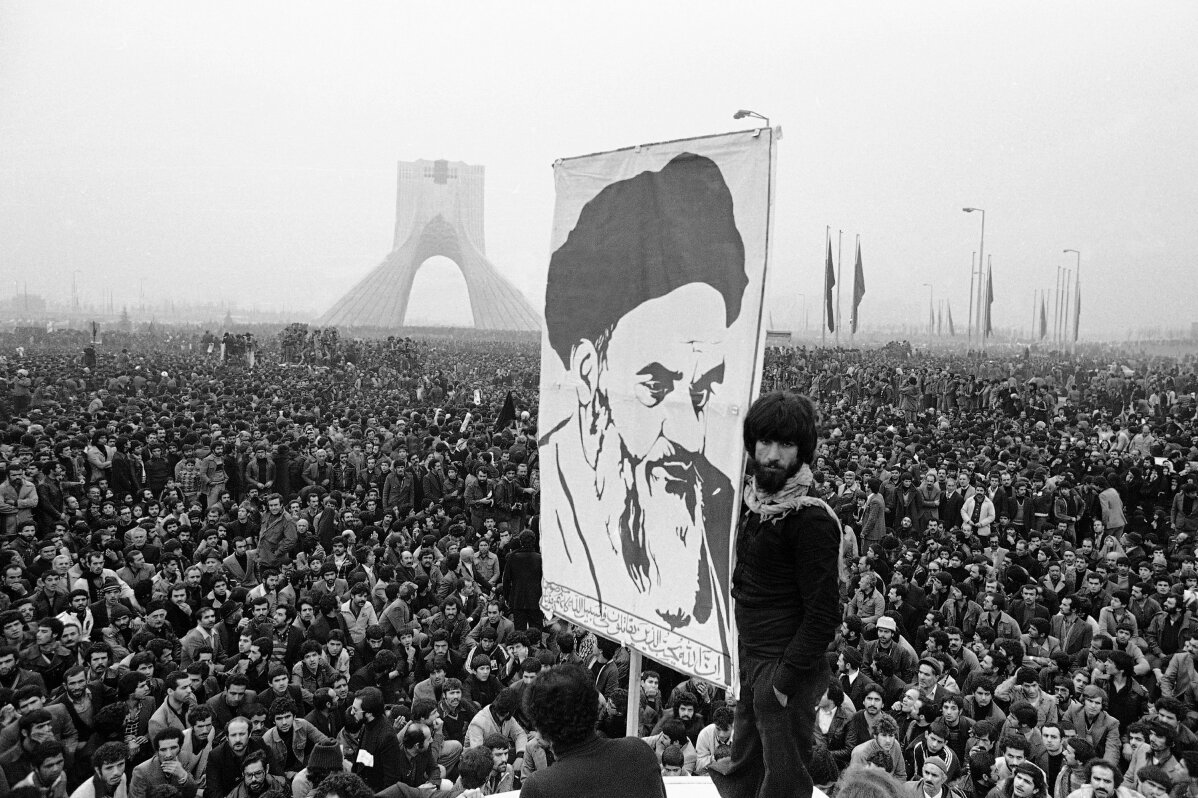 6 of 6

|
Picture of exiled Muslim leader Ayatollah Khomeini overshadows huge anti-Shah demonstration at the Shayah monument commemorating 25 years of the monarch's rule and symbol of his power, Dec. 10, 1978, in Tehran. An estimated one million people filed peacefully through the city chanting support for their spiritual leader, and calling for the end of the Shah's rule. (AP Photo/Michel Lipchitz)
6 of 6
Picture of exiled Muslim leader Ayatollah Khomeini overshadows huge anti-Shah demonstration at the Shayah monument commemorating 25 years of the monarch's rule and symbol of his power, Dec. 10, 1978, in Tehran. An estimated one million people filed peacefully through the city chanting support for their spiritual leader, and calling for the end of the Shah's rule. (AP Photo/Michel Lipchitz)
When journalists ventured out into the streets in Tehran, amid the protests engulfing Iran, they routinely encountered fiery barricades, gun battles and Molotov cocktails. Some reporters had their cameras destroyed by revolutionaries and film seized. Expulsion soon became the norm.
Reporters also found themselves wrestling with frequent power outages, spotty telephone lines, crippling few shortages and curfews.
These are just a few of the challenges AP journalists encountered 40 years ago as they covered the Iranian Revolution that swept the country and toppled a U.S.-backed monarchy that had survived for 2,500 years and gave way to an Islamic Republic that holds today.
In "Revolution in Iran: History Begins Again," a four-part minidocumentary series, AP journalists who were on the ground in Iran at that volatile time 40 years ago recount their experiences, from the violent demonstrators that pushed out the shah to the hostage crisis that has colored relations between the U.S. and Iran and shaped the Middle East we see today.
In the early days of covering the countrywide protests that preceded the revolution, AP had an 11-person team of reporters and photographers, according to an AP newsletter from that time.
The team, and the rest of Western press corps then, was seen as something of a reluctant ally. At the very least, journalists were politically useful.
While Ayatollah Ruhollah Khomeini was in exile in France, the AP bureau in Paris went out of its way to get to know Iranian officials who were visiting from Tehran. Those visits would become more frequent.
The work paid off after the shah fled Iran on Jan. 16, 1979, and Khomeini was about to head back home a couple of weeks later. When 270 reporters were scrambling for 150 seats on Khomeini's chartered flight home, four AP journalists managed to secure seats on the plane. Among them was photographer Thierry Campion, who snapped the image of a downcast Khomeini in his window seat. "We will prefer those who have been with us from the start," aide Sadegh Ghotbzadeh told AP.
Khomeini returned to Iran on Feb. 1, 1979, when several million people showed up to greet him. His arrival was a turning point In the Iranian Revolution. But the jubilation that accompanied Khomeini's return would soon morph into something else.
Former AP journalist Tom Kent recalled how revolutionary authorities showed up at the AP bureau in Tehran with photos of the shah's supporters, tortured and executed, hoping AP would transmit them around the world.
"They thought that this would bring a lot of sympathy, that people around the world would be very impressed that the new revolutionary regime was getting rid of all these bad people," Kent said earlier this year. "Unfortunately for them, the photos did not have that effect. They made the regime look quite brutal and bloodthirsty -- not the kind of humanistic, anti-corruption government that they hoped to be viewed as."
Relations with the regime would soon sour. Foreign journalists were seen as "colonists," supporters of the shah -- no different than the other foreigners who were ordered to leave. Eventually, the new regime began to kick out foreign correspondents, including AP, as part of a broader clampdown.
Among other measures, the new regime was enforcing a strict interpretation of Islam. Revolutionary forces stormed bars, smashing bottles of alcohol in the streets. Khomeini ordered women to wear veils, which continues to this day.
Around that time, on Sept. 1, AP's new Tehran bureau chief, Nicolas Tatro, and AP journalist Earleen Fisher arrived at the Ministry of National Guidance to pick up their credentials. The press chief told them that the authorities "might have to lift" the press cards of two local reporters. Three days later, Tatro and Fisher were called back in -- and told they had 48 hours to leave the country, with no safety guarantees.
It was a harrowing exit for Tatro, Fisher, Tom Kent and a fourth AP journalist, Philip Dopoulos; two
Iranian reporters were also barred from working for AP at all. In the end all four journalists made it out safely. Behind them, they left a country increasingly hidden from the eyes of the larger world.
Still Iran was one of the biggest stories in the world. It preoccupied U.S. President Jimmy Carter, who had been a strong supporter of the shah despite his problematic human rights record. Months later after the shah fled Iran, he was seeking cancer treatment. Facing pressure to admit him to the United States, Carter was reluctant but eventually caved. Concerned about how the regime might react, he asked his aides, "What are you guys going to advise me to do if they overrrun our embassy and take our people hostage?"
On Nov. 4, 1979, that's just what happened. A band of students sought to protest Carter's decision to admit the shah for medical attention and seized the U.S. Embassy in Tehran, taking dozens of Americans hostage. This would become one of the worst diplomatic crises in American history.
Curiously, the AP bureau was authorized to reopen in January 1980, with a new team of journalists, only to be forced to close a few months later. Foreign journalists were required to do all their reporting remotely.
The hostages were released on Jan. 20, 1981, 444 days after the initial takeover, following extensive negotiations. It was the last day of the Carter presidency and the day of Ronald Reagan's inauguration.
The shah received his treatment in the United States and then went to Egypt, still fighting cancer. He died at age 60 on July 27, 1980, and his death was a final confirmation that a monarchical tradition had given way to an Islamic Republic.