Israeli army kills Palestinian in West Bank; 3 arrested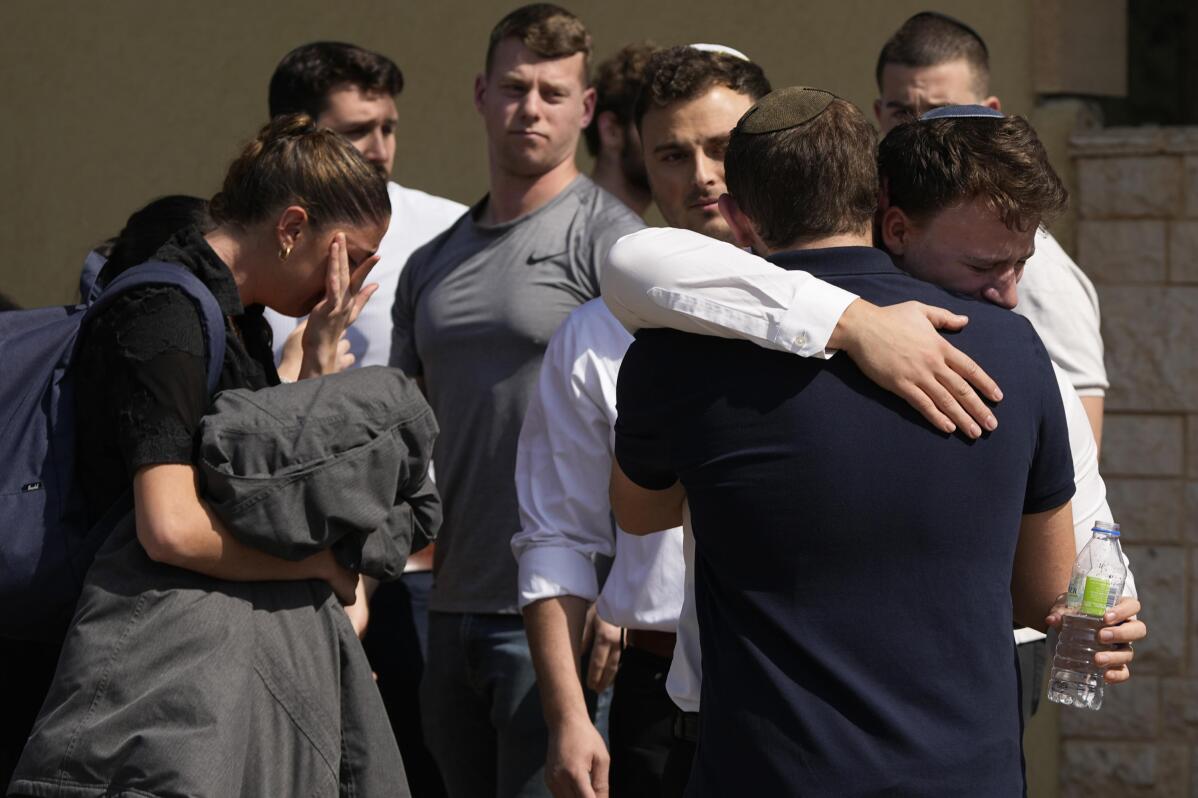 1 of 4

|
Mourners comfort each other at the funeral of Elan Ganeles, 27, a dual U.S.-Israeli citizen from West Hartford, Connecticut, in Raanana, Israel, Wednesday, March 1, 2023. The Israeli army said a suspected Palestinian gunman opened fire on Tuesday at an Israeli car near the Palestinian city of Jericho, hitting killing Ganeles. A friend told local media he had been visiting Israel for a wedding and driving on a highway near the Dead Sea when he was shot. (AP Photo/Tsafrir Abayov)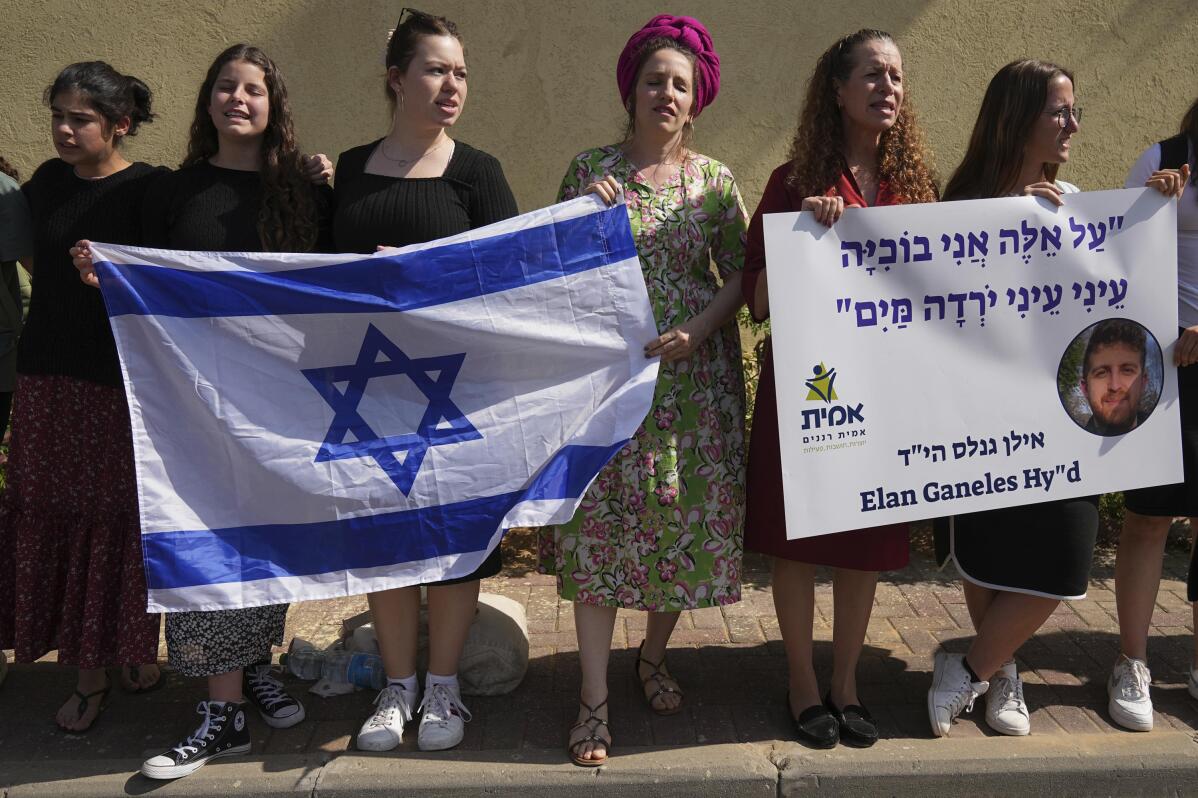 2 of 4

|
People line the street outside of the funeral of Elan Ganeles, 27, a dual U.S.-Israeli citizen from West Hartford, Connecticut, in Raanana, Israel, Wednesday, March 1, 2023. The Israeli army said a suspected Palestinian gunman opened fire on Tuesday at an Israeli car near the Palestinian city of Jericho, hitting Ganeles. A friend told local media he had been visiting Israel for a wedding and driving on a highway near the Dead Sea when he was shot. Hebrew reads: I Cry for these - my eyes, my eyes, the water came down." (AP Photo/Tsafrir Abayov)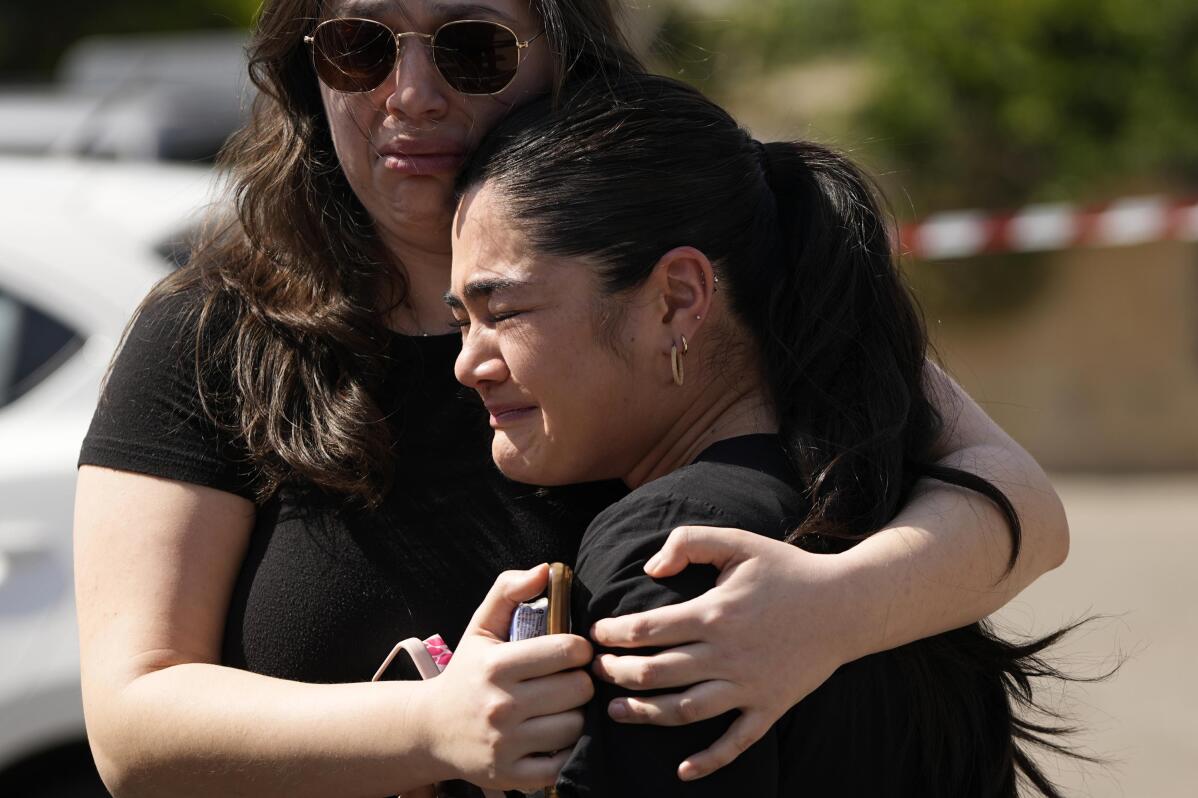 3 of 4

|
Mourners comfort each other at the funeral of Elan Ganeles, 27, a dual U.S.-Israeli citizen from West Hartford, Connecticut, in Raanana, Israel, Wednesday, March 1, 2023. The Israeli army said a suspected Palestinian gunman opened fire on Tuesday at an Israeli car near the Palestinian city of Jericho, hitting killing Ganeles. A friend told local media he had been visiting Israel for a wedding and driving on a highway near the Dead Sea when he was shot. (AP Photo/Tsafrir Abayov)
4 of 4

|
People line the street outside of the funeral of Elan Ganeles, 27, a dual U.S.-Israeli citizen from West Hartford, Connecticut, in Raanana, Israel, Wednesday, March 1, 2023. The Israeli army said a suspected Palestinian gunman opened fire on Tuesday at an Israeli car near the Palestinian city of Jericho, hitting Ganeles. A friend told local media he had been visiting Israel for a wedding and driving on a highway near the Dead Sea when he was shot. Hebrew reads: "The eternal people do not fear the long road." (AP Photo/Tsafrir Abayov)
Israeli army kills Palestinian in West Bank; 3 arrested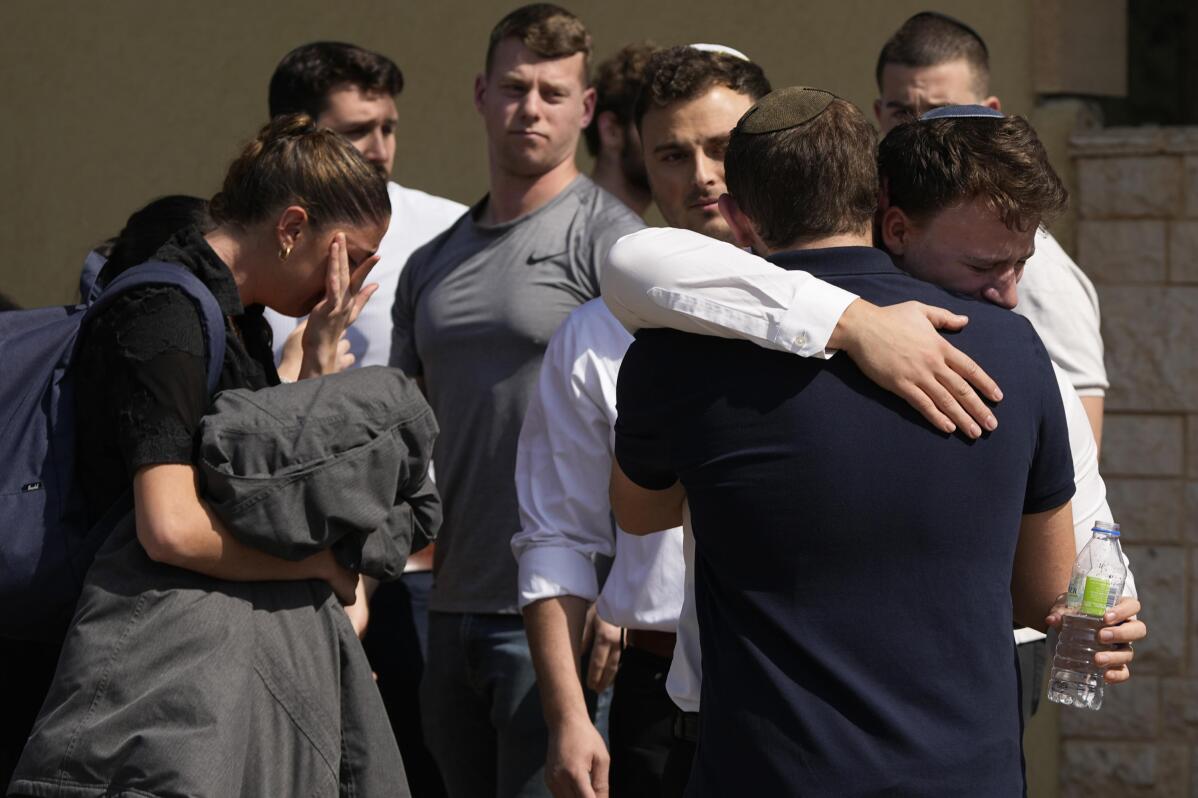 1 of 4

|
Mourners comfort each other at the funeral of Elan Ganeles, 27, a dual U.S.-Israeli citizen from West Hartford, Connecticut, in Raanana, Israel, Wednesday, March 1, 2023. The Israeli army said a suspected Palestinian gunman opened fire on Tuesday at an Israeli car near the Palestinian city of Jericho, hitting killing Ganeles. A friend told local media he had been visiting Israel for a wedding and driving on a highway near the Dead Sea when he was shot. (AP Photo/Tsafrir Abayov)
1 of 4
Mourners comfort each other at the funeral of Elan Ganeles, 27, a dual U.S.-Israeli citizen from West Hartford, Connecticut, in Raanana, Israel, Wednesday, March 1, 2023. The Israeli army said a suspected Palestinian gunman opened fire on Tuesday at an Israeli car near the Palestinian city of Jericho, hitting killing Ganeles. A friend told local media he had been visiting Israel for a wedding and driving on a highway near the Dead Sea when he was shot. (AP Photo/Tsafrir Abayov)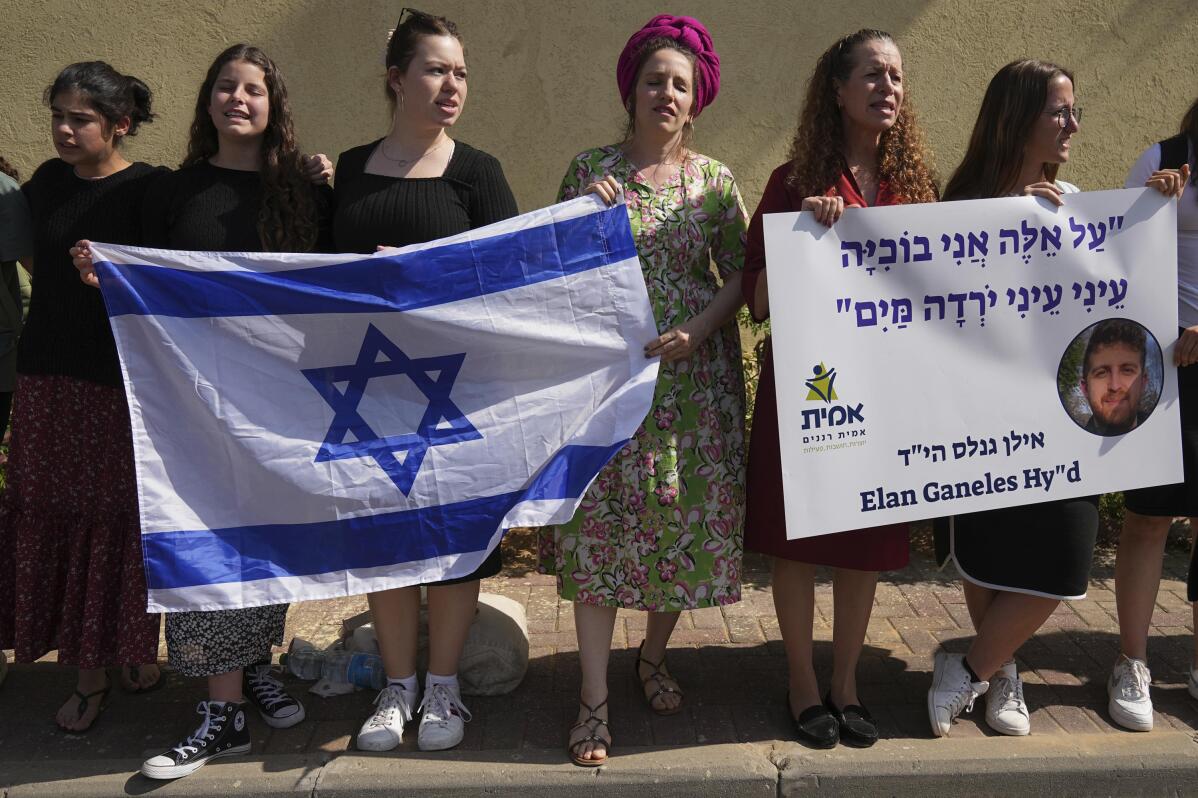 2 of 4

|
People line the street outside of the funeral of Elan Ganeles, 27, a dual U.S.-Israeli citizen from West Hartford, Connecticut, in Raanana, Israel, Wednesday, March 1, 2023. The Israeli army said a suspected Palestinian gunman opened fire on Tuesday at an Israeli car near the Palestinian city of Jericho, hitting Ganeles. A friend told local media he had been visiting Israel for a wedding and driving on a highway near the Dead Sea when he was shot. Hebrew reads: I Cry for these - my eyes, my eyes, the water came down." (AP Photo/Tsafrir Abayov)
2 of 4
People line the street outside of the funeral of Elan Ganeles, 27, a dual U.S.-Israeli citizen from West Hartford, Connecticut, in Raanana, Israel, Wednesday, March 1, 2023. The Israeli army said a suspected Palestinian gunman opened fire on Tuesday at an Israeli car near the Palestinian city of Jericho, hitting Ganeles. A friend told local media he had been visiting Israel for a wedding and driving on a highway near the Dead Sea when he was shot. Hebrew reads: I Cry for these - my eyes, my eyes, the water came down." (AP Photo/Tsafrir Abayov)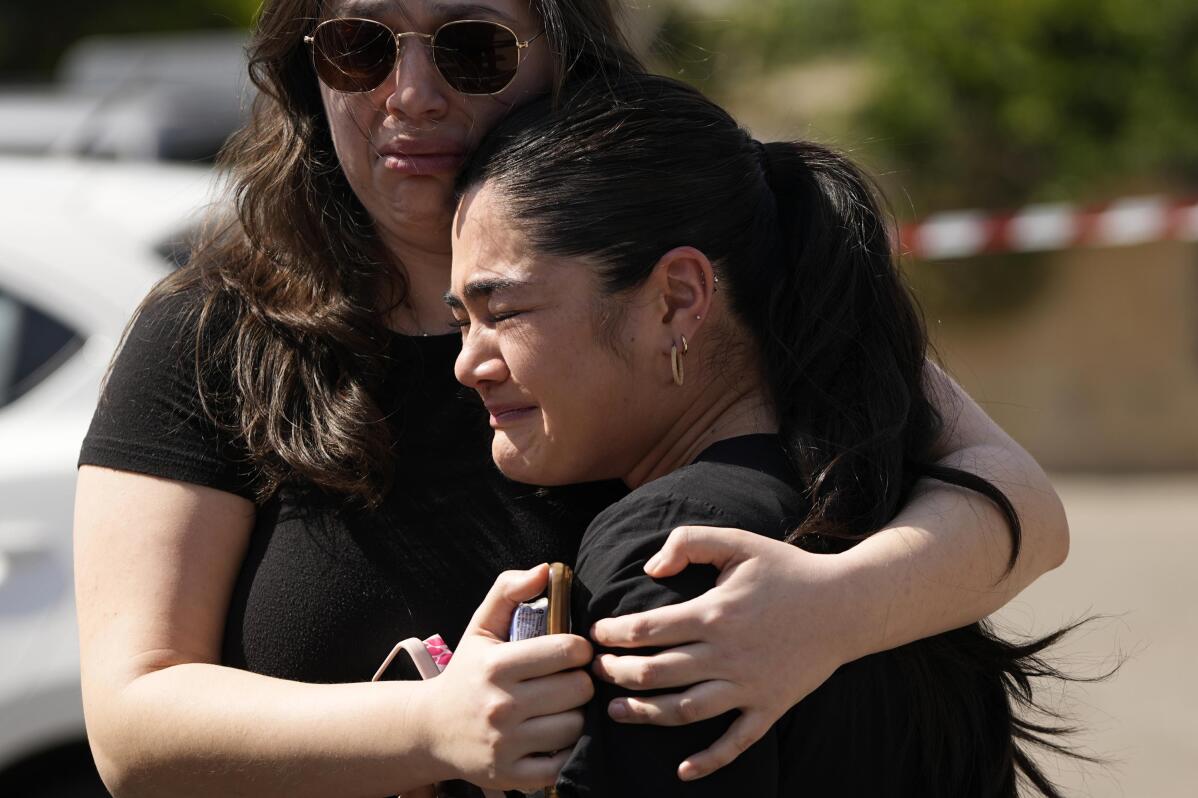 3 of 4

|
Mourners comfort each other at the funeral of Elan Ganeles, 27, a dual U.S.-Israeli citizen from West Hartford, Connecticut, in Raanana, Israel, Wednesday, March 1, 2023. The Israeli army said a suspected Palestinian gunman opened fire on Tuesday at an Israeli car near the Palestinian city of Jericho, hitting killing Ganeles. A friend told local media he had been visiting Israel for a wedding and driving on a highway near the Dead Sea when he was shot. (AP Photo/Tsafrir Abayov)
3 of 4
Mourners comfort each other at the funeral of Elan Ganeles, 27, a dual U.S.-Israeli citizen from West Hartford, Connecticut, in Raanana, Israel, Wednesday, March 1, 2023. The Israeli army said a suspected Palestinian gunman opened fire on Tuesday at an Israeli car near the Palestinian city of Jericho, hitting killing Ganeles. A friend told local media he had been visiting Israel for a wedding and driving on a highway near the Dead Sea when he was shot. (AP Photo/Tsafrir Abayov)
4 of 4

|
People line the street outside of the funeral of Elan Ganeles, 27, a dual U.S.-Israeli citizen from West Hartford, Connecticut, in Raanana, Israel, Wednesday, March 1, 2023. The Israeli army said a suspected Palestinian gunman opened fire on Tuesday at an Israeli car near the Palestinian city of Jericho, hitting Ganeles. A friend told local media he had been visiting Israel for a wedding and driving on a highway near the Dead Sea when he was shot. Hebrew reads: "The eternal people do not fear the long road." (AP Photo/Tsafrir Abayov)
4 of 4
People line the street outside of the funeral of Elan Ganeles, 27, a dual U.S.-Israeli citizen from West Hartford, Connecticut, in Raanana, Israel, Wednesday, March 1, 2023. The Israeli army said a suspected Palestinian gunman opened fire on Tuesday at an Israeli car near the Palestinian city of Jericho, hitting Ganeles. A friend told local media he had been visiting Israel for a wedding and driving on a highway near the Dead Sea when he was shot. Hebrew reads: "The eternal people do not fear the long road." (AP Photo/Tsafrir Abayov)
JERUSALEM (AP) — Israeli troops arrested three Palestinians on Wednesday suspected of involvement in the killing earlier this week of an American-Israeli while a fourth was shot and killed fleeing the scene of a daylight raid in a West Bank refugee camp, the military said.
The arrest raid in the Aqabat Jaber refugee camp near Jericho came as Israel's parliament gave initial approval to a proposal to impose the death penalty on Palestinians convicted in deadly attacks. A top minister in Israel's far-right government, meanwhile, called for "erasing" a Palestinian town in the occupied West Bank where radical Jewish settlers went on a rampage earlier this week.
The official Palestinian news agency Wafa reported that three Palestinians were also wounded in the raid in the Aqabat Jaber camp.
Israeli leaders said the men arrested were suspected in the killing of Elan Ganeles, a 27-year-old Israeli-American who was fatally shot while driving on a West Bank highway near the refugee camp on Monday. Ganeles, of West Hartford, Connecticut, lived in the United States and was visiting Israel for a wedding, friends said.
The Israeli military said it received intelligence about the whereabouts of the suspects and encircled the house. Security camera footage shared on Twitter by an Israeli lawmaker appeared to show a squad of Israeli special forces exiting an unmarked white van ahead of the arrests.
The raid coincided with Ganeles's funeral in the central Israeli city of Raanana.
The military said that one suspect was shot fleeing the scene and died on the way to the hospital, and three others were arrested. The Palestinian Health Ministry identified the man as 22-year-old Mahmoud Hamdan.
Prime Minister Benjamin Netanyahu praised the arrests. "Whoever tries to harm us will pay," he said.
Wednesday's raid came during one of the worst rounds of Israeli-Palestinian violence in years, with more than 60 Palestinians and 14 Israelis killed this year. Earlier this week, after two Israelis were killed in the West Bank, an Israeli settler mob set homes and cars ablaze in a Palestinian town, burning dozens of cars and homes and leaving one man dead.
A top military official said forces were not prepared for the violence and a senior Israeli Cabinet minister said Wednesday the town "must be erased."
The bloodshed is part of a year of escalating violence triggered by Israeli raids on Palestinian areas of the West Bank which were prompted by a spate of Palestinian attacks against Israelis.
Tensions have surged in the West Bank, especially after the settler attack on the Palestinian town of Hawara, which sparked international condemnation as well as rebuke from Israel's political opposition. But the country's right-wing government, made up of ultranationalist, pro-settler parties, has not condemned the violence, only appealing to settlers not to take the law into their own hands.
On Wednesday, Finance Minister Bezalel Smotrich — who was given sweeping powers over the occupied West Bank under the new government — went even further, saying he thought Hawara, which has several thousand residents, should be wiped out.
Speaking at a conference hosted by Israeli business paper The Marker, Smotrich said that "Hawara needs to be erased. I think the state of Israel needs to do it and not private citizens."
He added that there was "no such thing" as Jewish terrorism, and called this week's attack by settlers on Hawara "a criminal act."
The settler attack was the worst such violence in decades and on Tuesday, Maj. Gen. Yehuda Fuchs, head of the military's Central Command in charge of the West Bank, told Israel's Channel 12 that the military was not prepared for what he called "a pogrom done by outlaws."
"We were not prepared for a pogrom of this magnitude, with many dozens of people," he said, using a term that usually refers to mob attacks against Jews in eastern Europe in the 19th and early 20th centuries.
Also Wednesday, Israel's parliament passed a preliminary vote on a bill to allow the death penalty for Palestinians convicted of killing Israelis.
Public Security Minister Itamar Ben-Gvir's ultranationalist Jewish Power faction has promoted the death sentence bill as a means of deterring would-be Palestinian attackers after a more than year-long surge in violence.
Critics say the death penalty is immoral, antithetical to Jewish principles, and will not serve as a deterrent.
The proposed law would allow the death penalty for a person who killed an Israeli "as an act motivated by racism or hostility toward the public" and "with the aim of harming the state of Israel and the revival of the Jewish people in its land."
Limor Son Har-Melech, the ultranationalist settler lawmaker proposing the bill, told Kan public radio that "it is just and most moral that someone who murders Jews, and just because they're Jews" is sentenced to death.
The bill passed by a vote of 55-9 in a preliminary reading. Most of the opposition, along with some of Netanyahu's ultra-Orthodox allies, were not present for the vote. It is not clear whether the bill will win enough support to pass in the coming months since some of Netanyahu's religious allies have expressed opposition.
So far this year, 62 Palestinians, about half of them affiliated with armed groups, have been killed by Israeli troops and civilians. In the same period, 14 Israelis, all but one of them civilians, have been killed in Palestinian attacks.
Israel says its raids are meant to dismantle militant networks and prevent future attacks, but there has been little evidence that they are slowing the violence. The Palestinians view them as further entrenchment of Israel's 55-year open-ended occupation.
Israel captured the West Bank, east Jerusalem and the Gaza Strip in the 1967 Mideast war, territories the Palestinians claim for their hoped-for state.