Tens of thousands join Tel Aviv Pride parade, celebrating gains and wary of Israeli government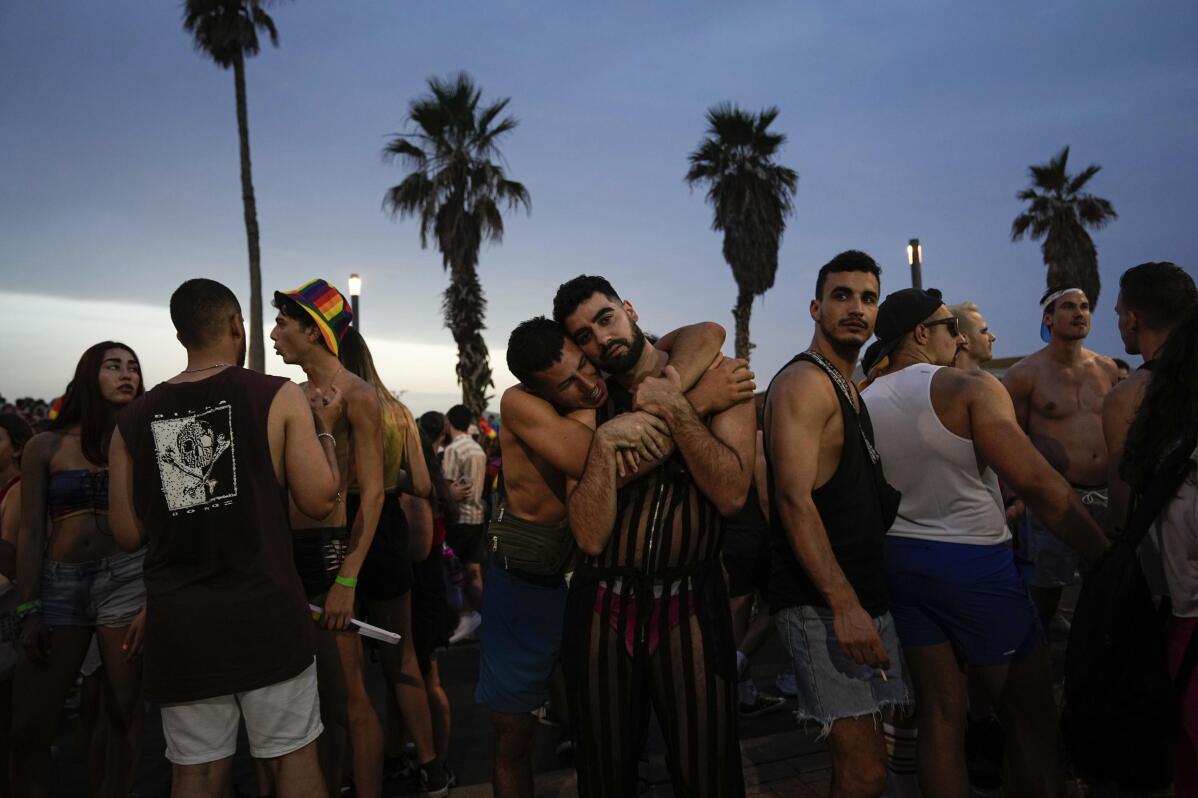 1 of 15

|
People participate in the annual Pride Parade in Tel Aviv, Israel, Thursday, June 8, 2023. (AP Photo/Ohad Zwigenberg)
2 of 15

|
People participate in the annual Pride Parade in Tel Aviv, Israel, Thursday, June 8, 2023. (AP Photo/Ohad Zwigenberg)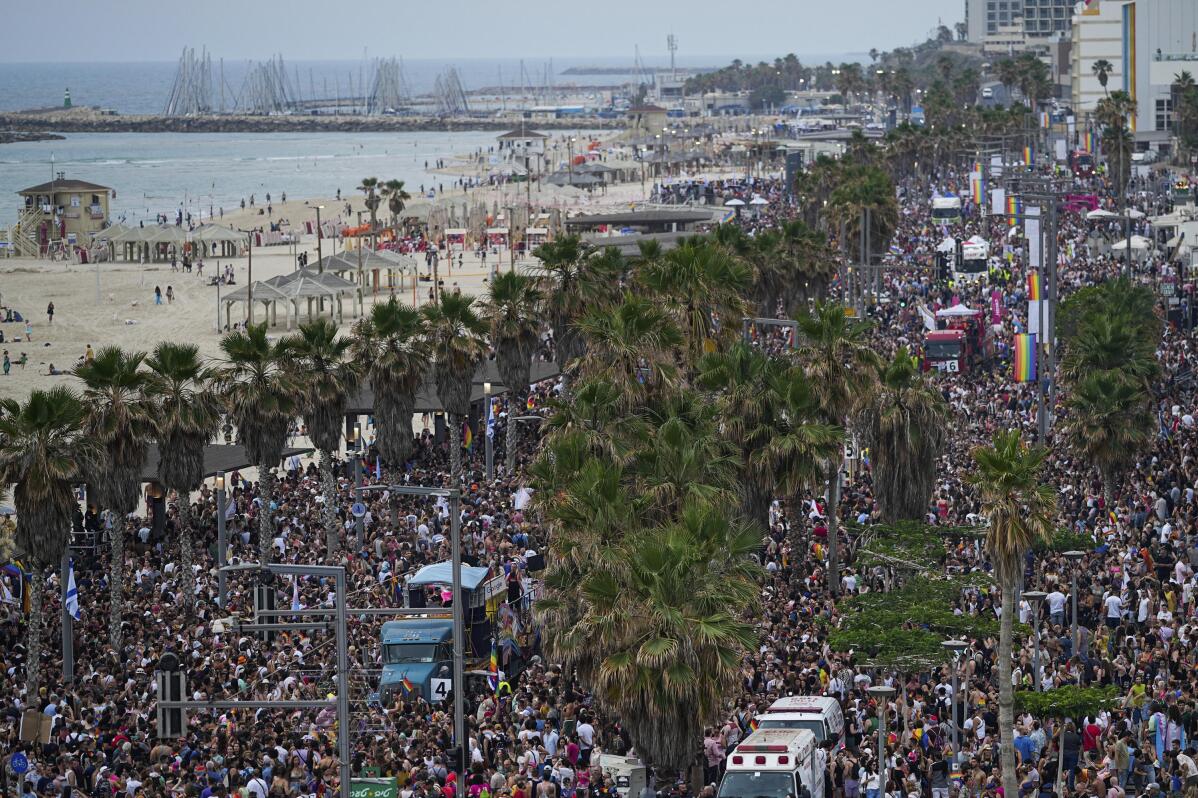 3 of 15

|
People participate in the annual Pride Parade in Tel Aviv, Israel, Thursday, June 8, 2023. (AP Photo/Ohad Zwigenberg)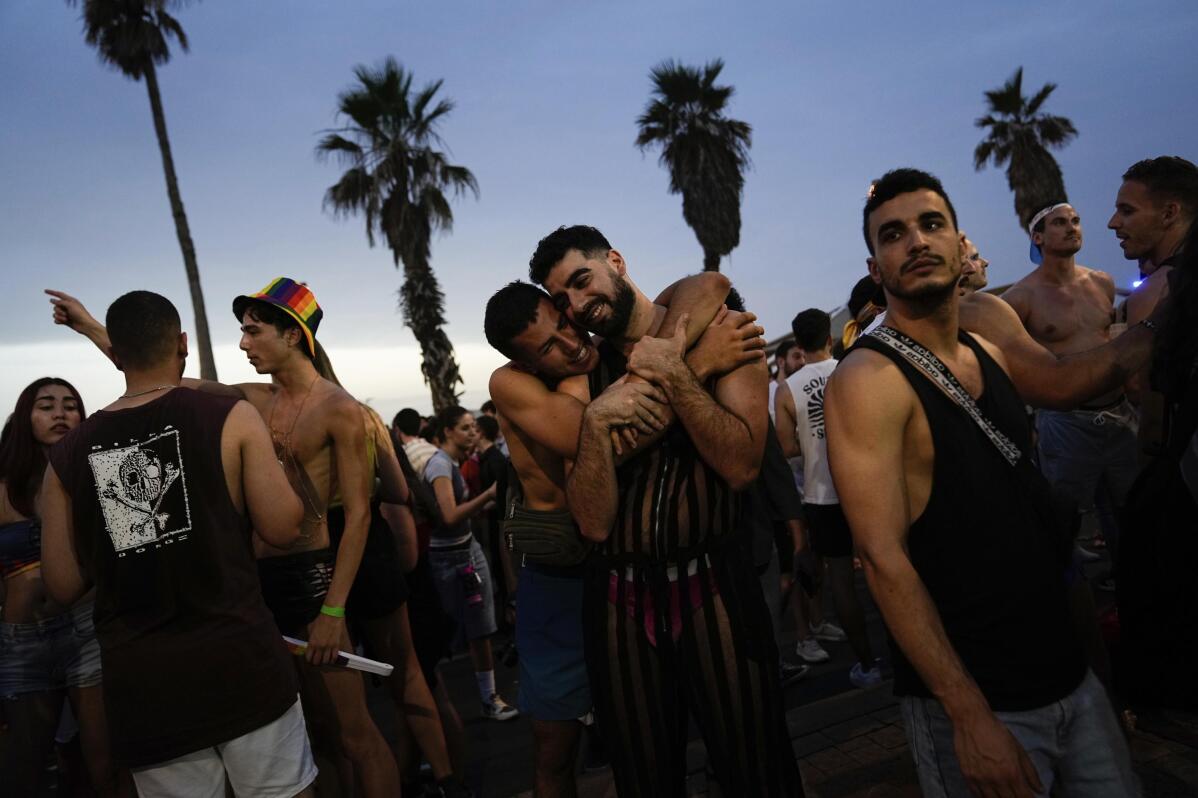 4 of 15

|
People participate in the annual Pride Parade in Tel Aviv, Israel, Thursday, June 8, 2023. (AP Photo/Ohad Zwigenberg)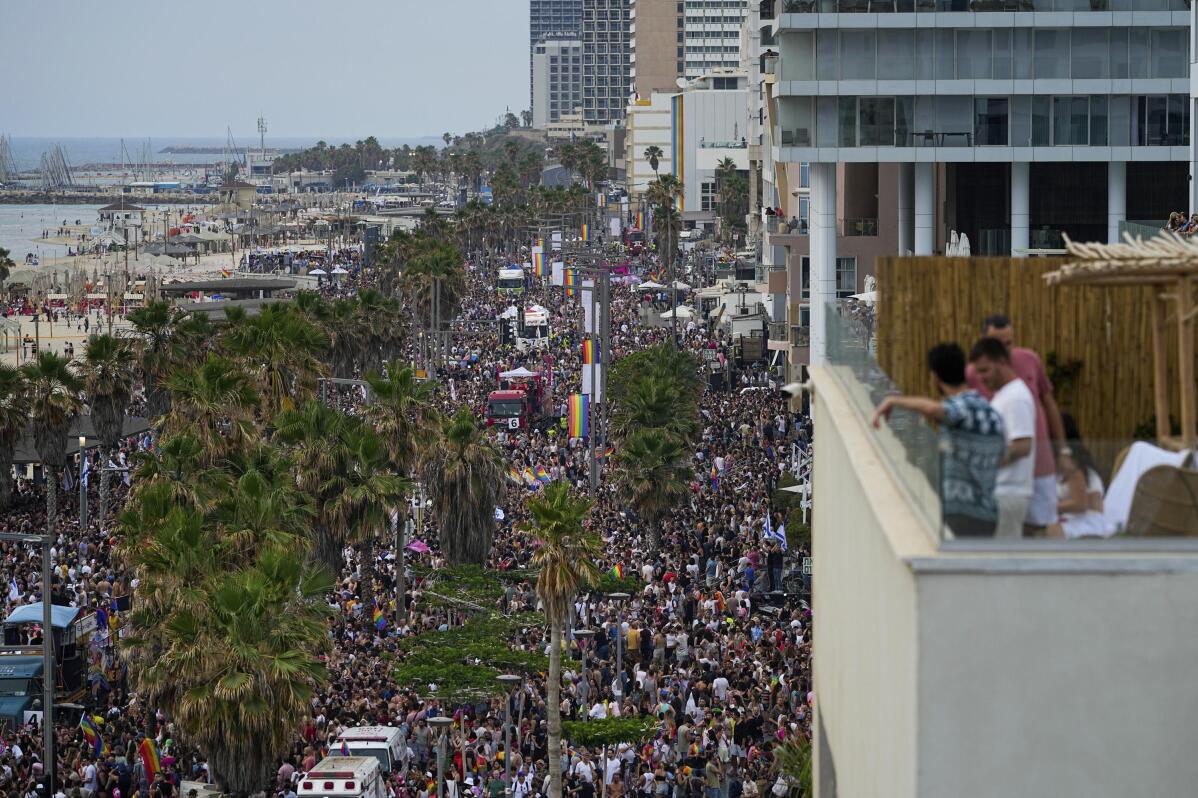 5 of 15

|
People participate in the annual Pride Parade in Tel Aviv, Israel, Thursday, June 8, 2023. (AP Photo/Ohad Zwigenberg)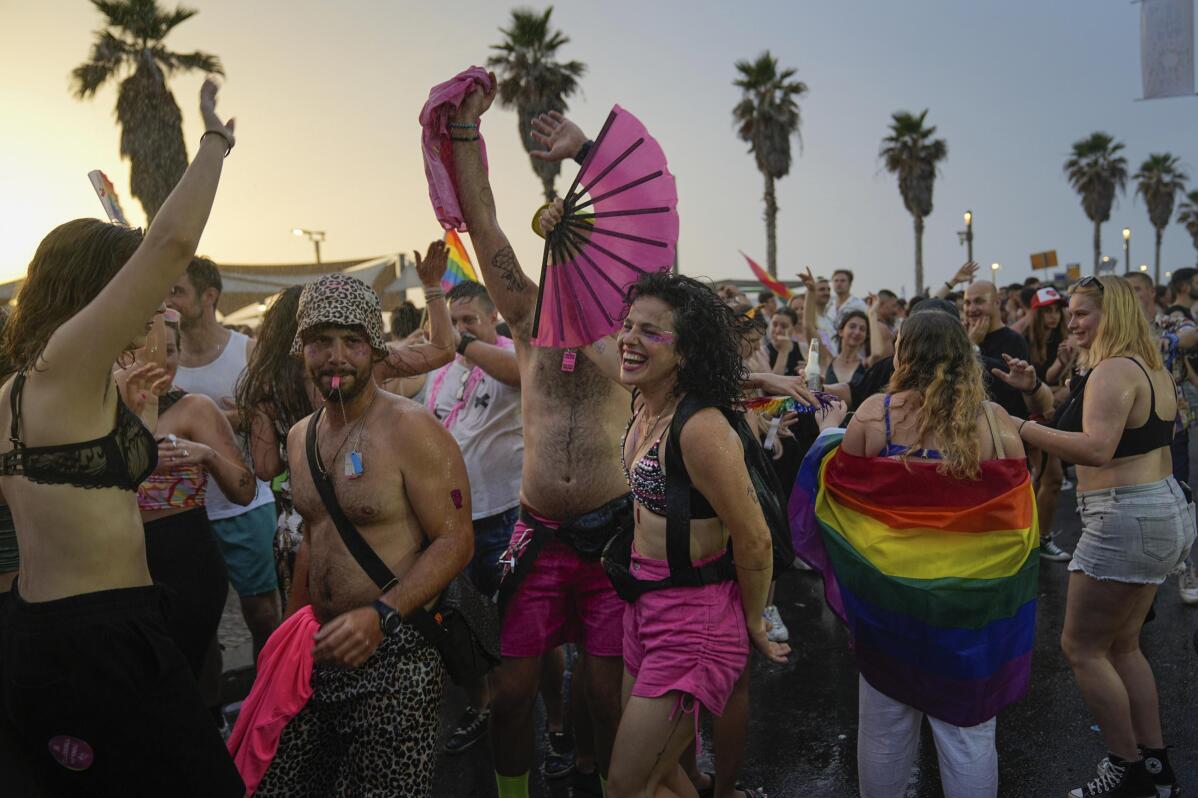 6 of 15

|
People dance during the annual Pride Parade in Tel Aviv, Israel, Thursday, June 8, 2023. (AP Photo/Ohad Zwigenberg)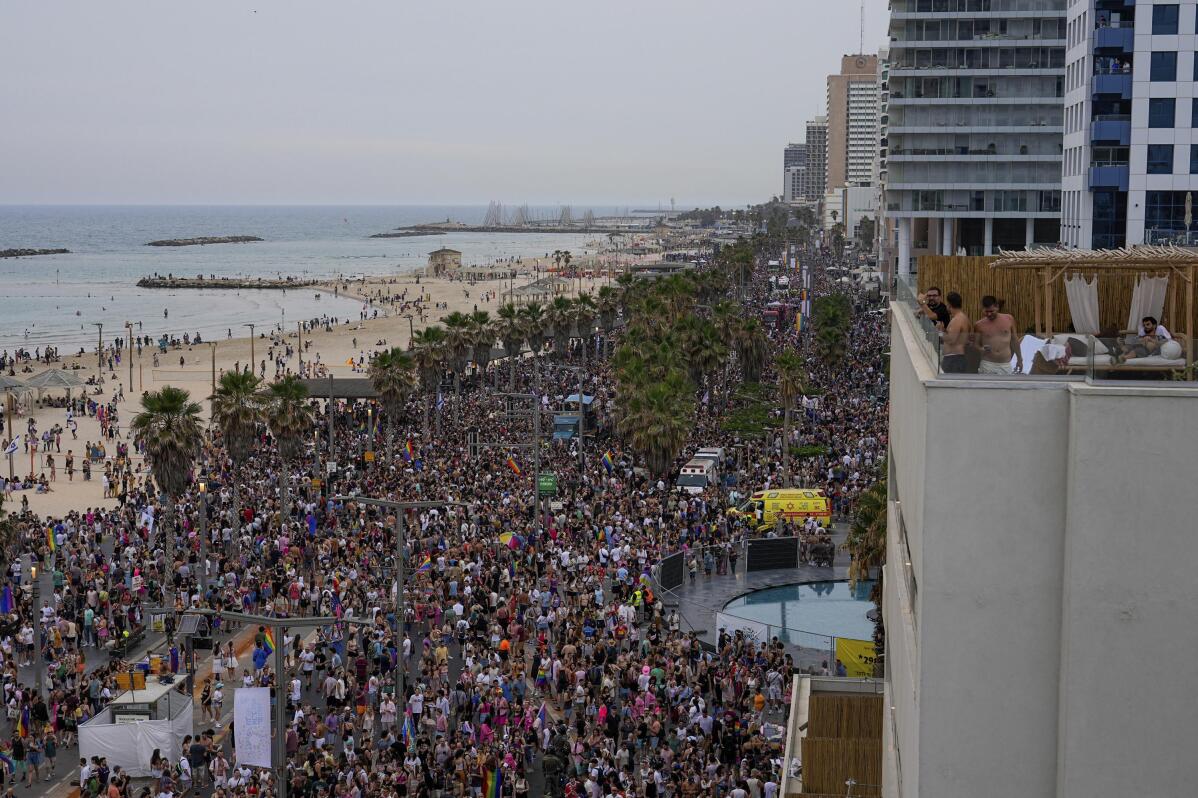 7 of 15

|
People participate in the annual Pride Parade in Tel Aviv, Israel, Thursday, June 8, 2023. (AP Photo/Ohad Zwigenberg)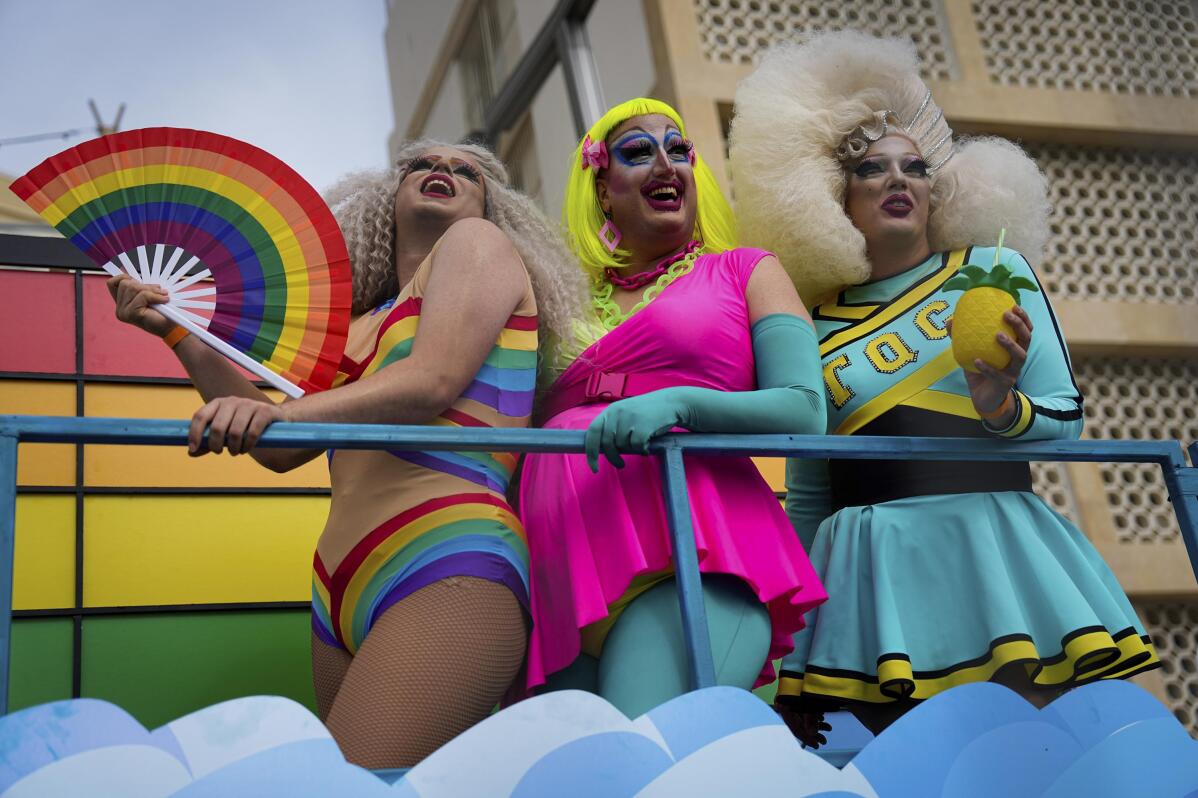 8 of 15

|
Drag queens perform during the annual Pride Parade in Tel Aviv, Israel, Thursday, June 8, 2023. (AP Photo/Ariel Schalit)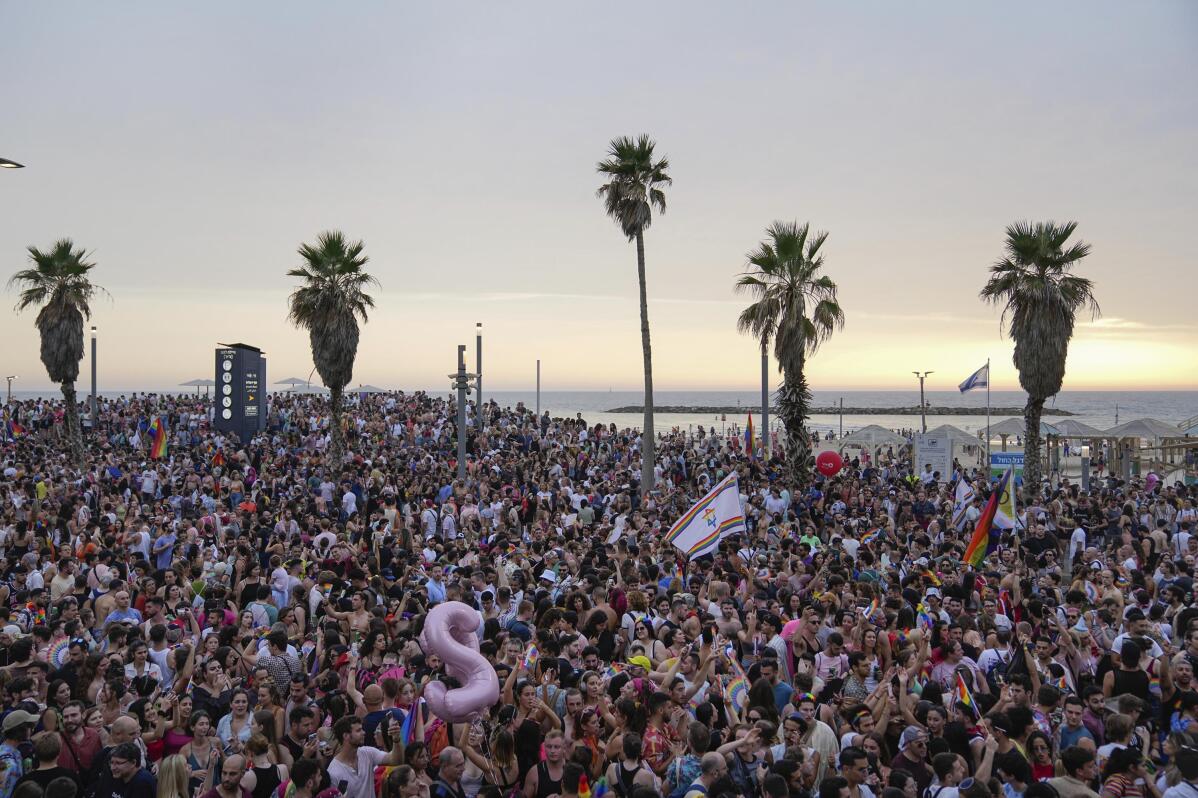 9 of 15

|
People participate in the annual Pride Parade in Tel Aviv, Israel, Thursday, June 8, 2023. (AP Photo/Ohad Zwigenberg)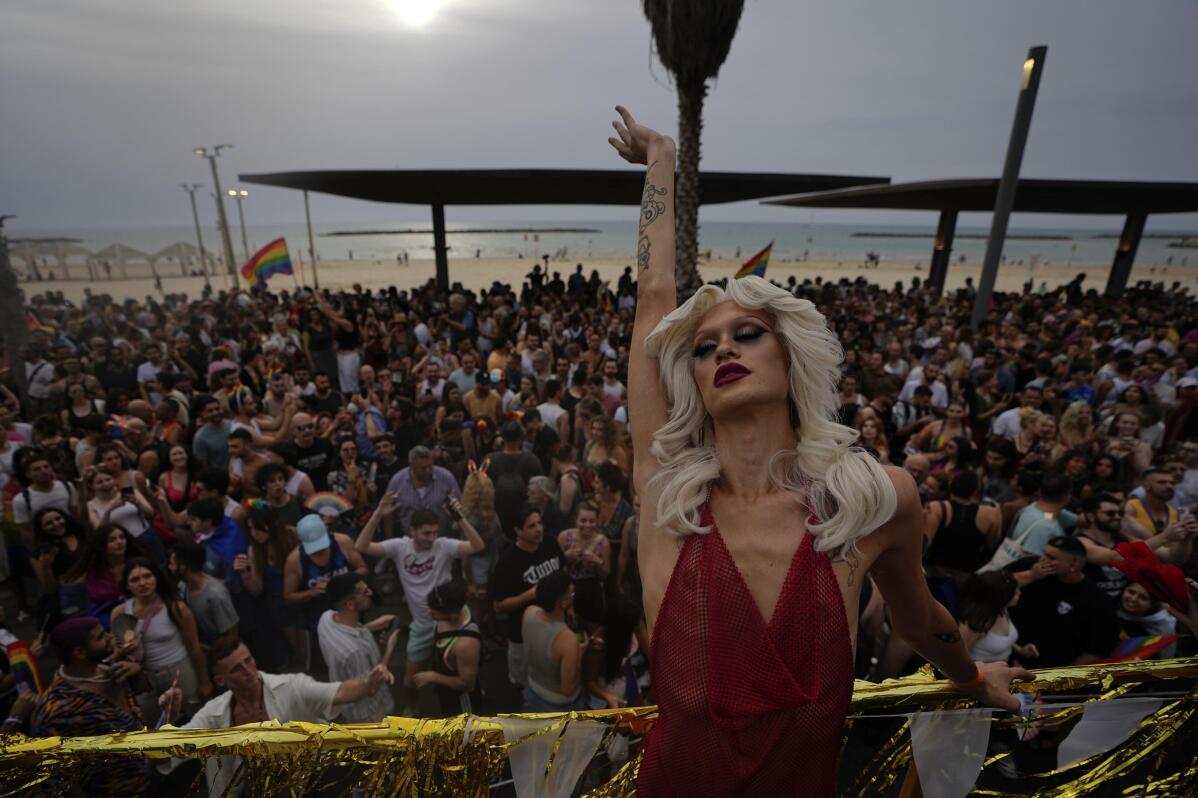 10 of 15

|
A dancer performs during the annual Pride Parade Tel Aviv, Israel, Thursday, June 8, 2023. (AP Photo/Ariel Schalit)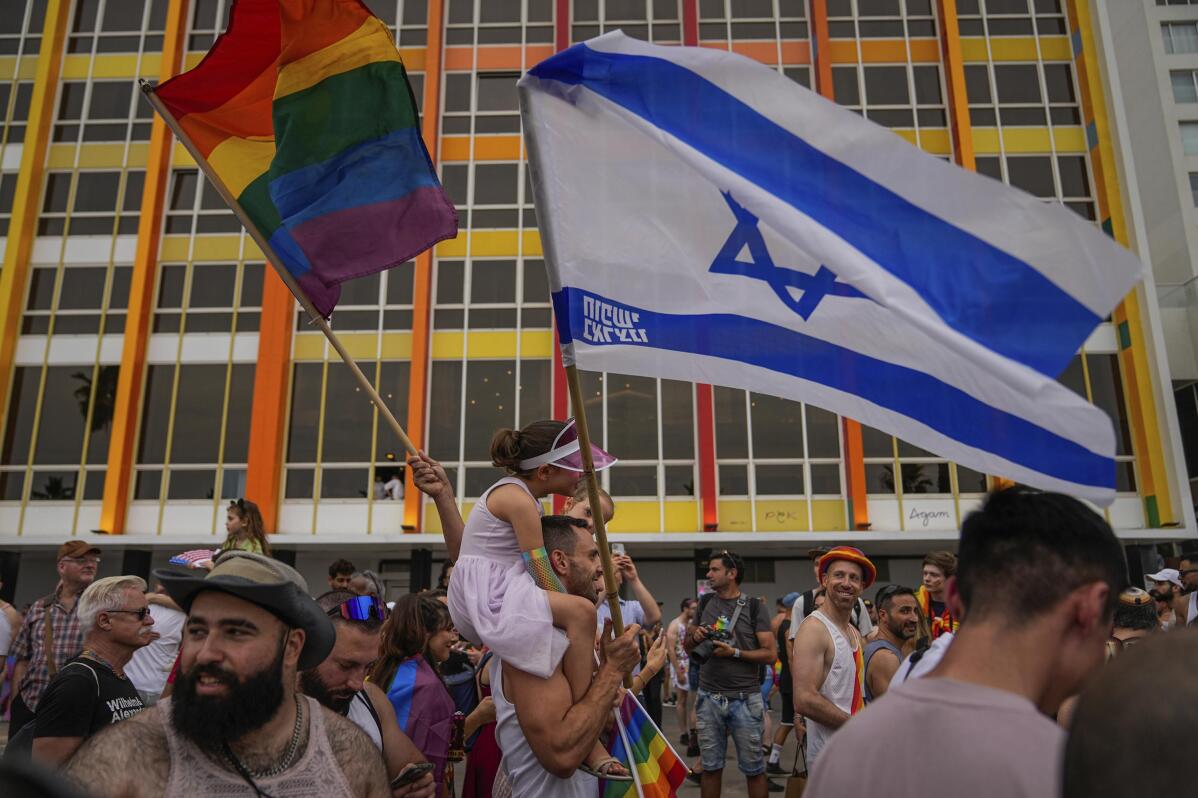 11 of 15

|
People participate in the annual Pride Parade in Tel Aviv, Israel, Thursday, June 8, 2023. (AP Photo/Ohad Zwigenberg)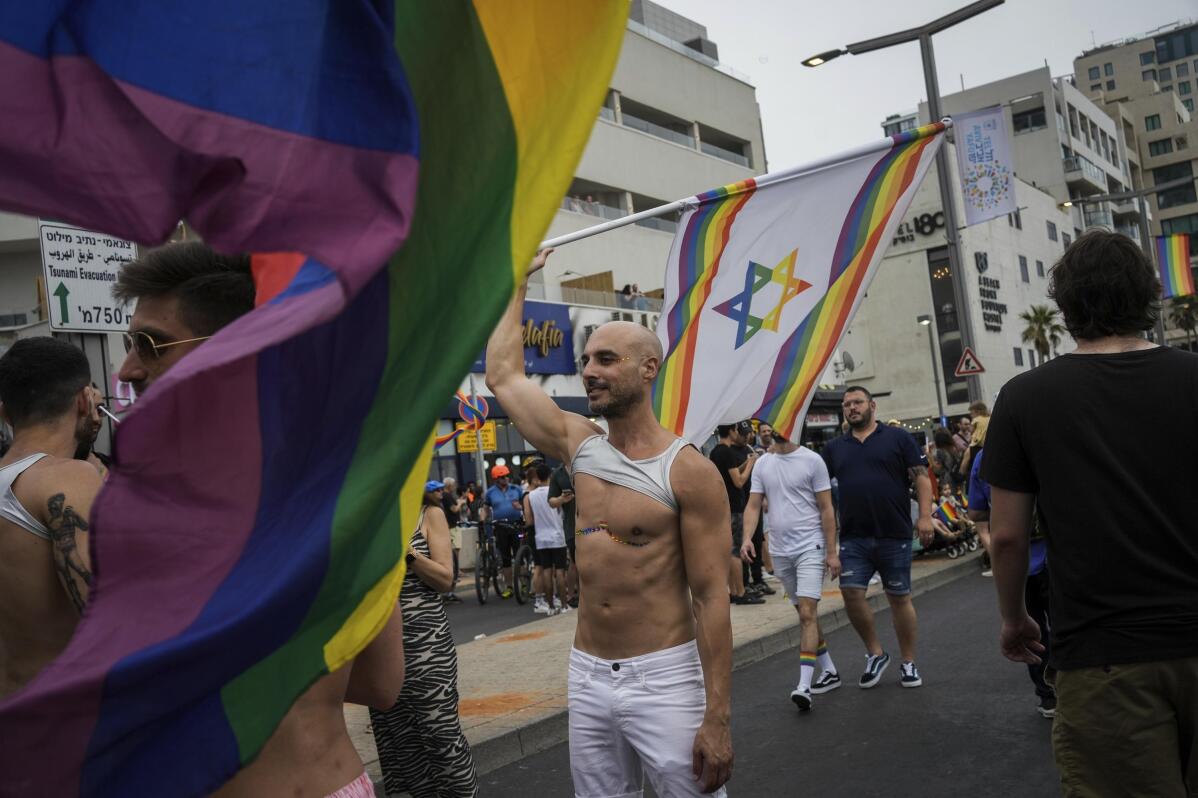 12 of 15

|
People participate in the annual Pride Parade in Tel Aviv, Israel, Thursday, June 8, 2023. (AP Photo/Maya Alleruzzo)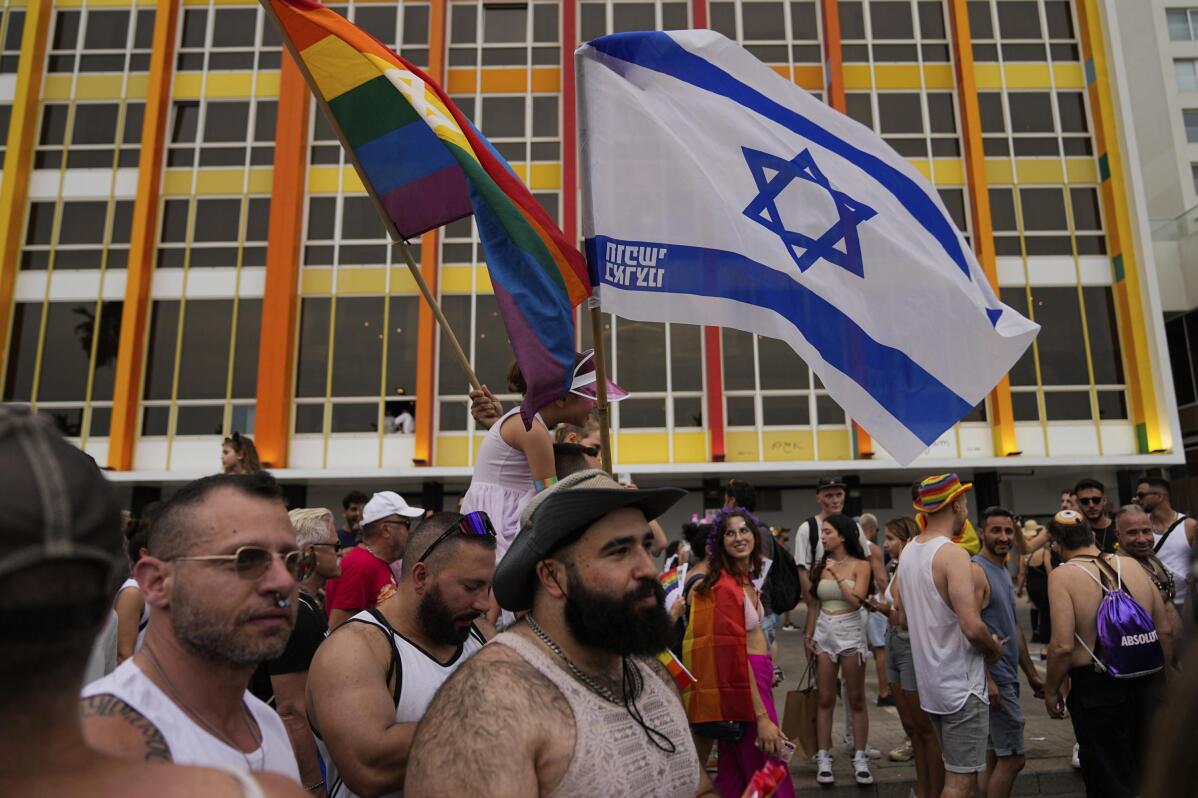 13 of 15

|
People participate in the annual Pride Parade in Tel Aviv, Israel, Thursday, June 8, 2023. (AP Photo/Ohad Zwigenberg)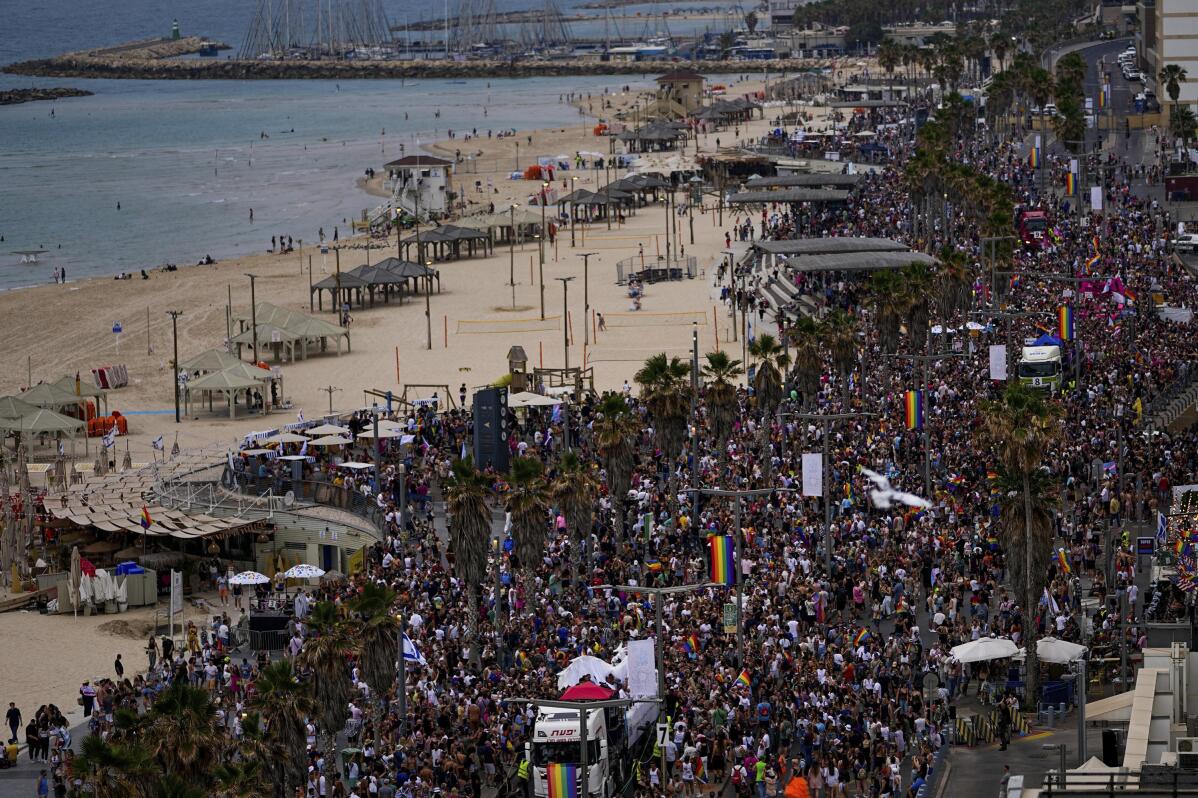 14 of 15

|
People participate in the annual Pride Parade in Tel Aviv, Israel, Thursday, June 8, 2023. (AP Photo/Ariel Schalit)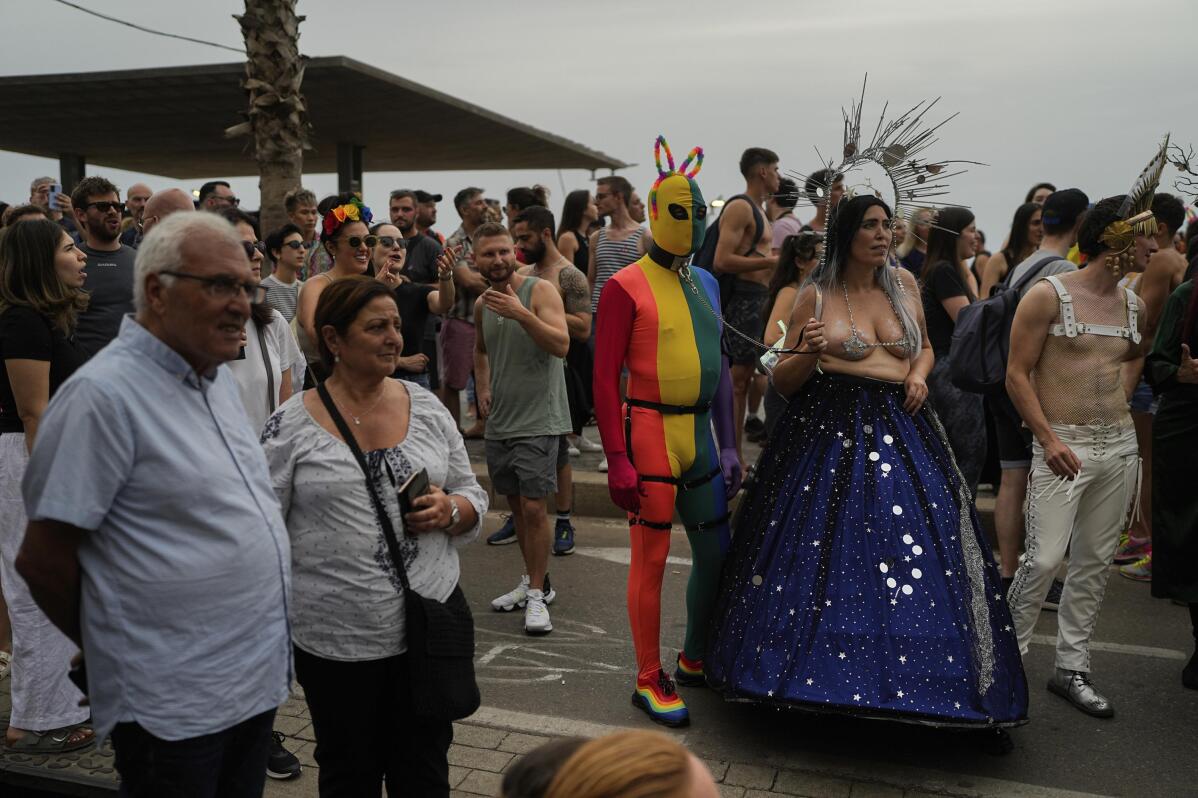 15 of 15

|
People participate in the annual Pride Parade in Tel Aviv, Israel, Thursday, June 8, 2023. (AP Photo/Ohad Zwigenberg)
Tens of thousands join Tel Aviv Pride parade, celebrating gains and wary of Israeli government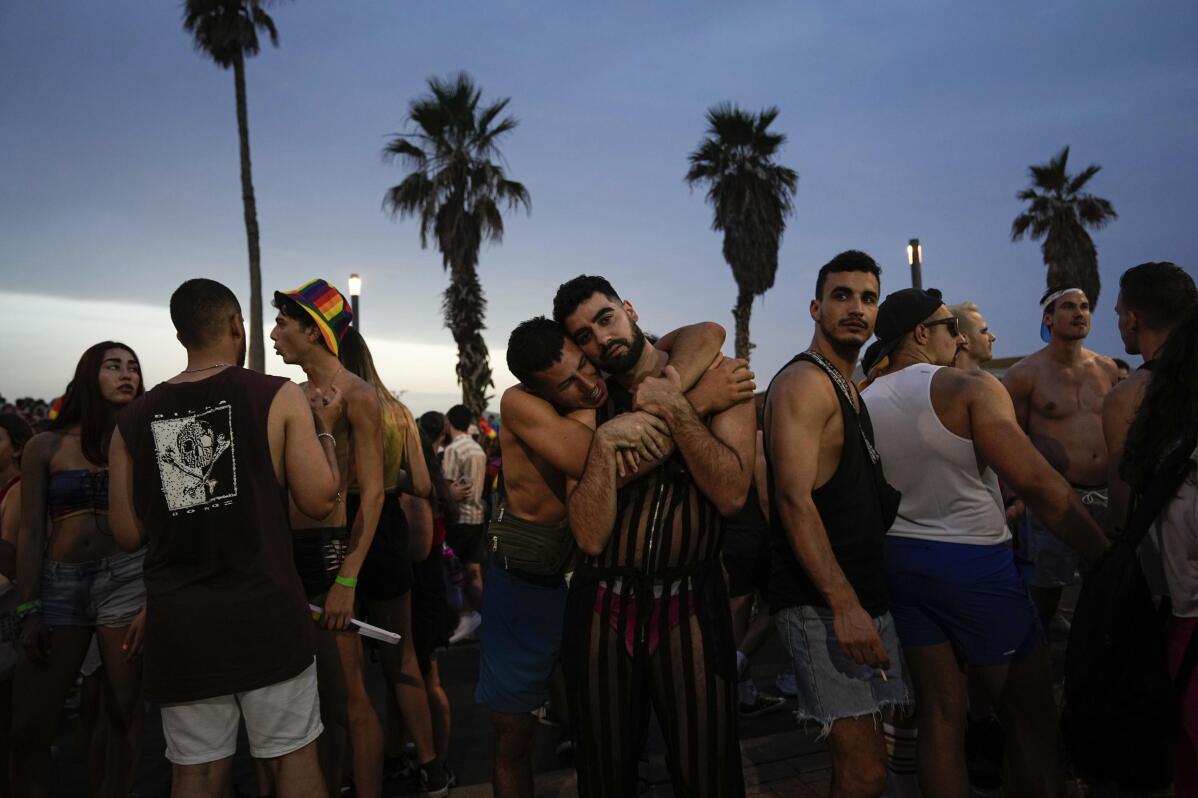 1 of 15

|
People participate in the annual Pride Parade in Tel Aviv, Israel, Thursday, June 8, 2023. (AP Photo/Ohad Zwigenberg)
1 of 15
People participate in the annual Pride Parade in Tel Aviv, Israel, Thursday, June 8, 2023. (AP Photo/Ohad Zwigenberg)
2 of 15

|
People participate in the annual Pride Parade in Tel Aviv, Israel, Thursday, June 8, 2023. (AP Photo/Ohad Zwigenberg)
2 of 15
People participate in the annual Pride Parade in Tel Aviv, Israel, Thursday, June 8, 2023. (AP Photo/Ohad Zwigenberg)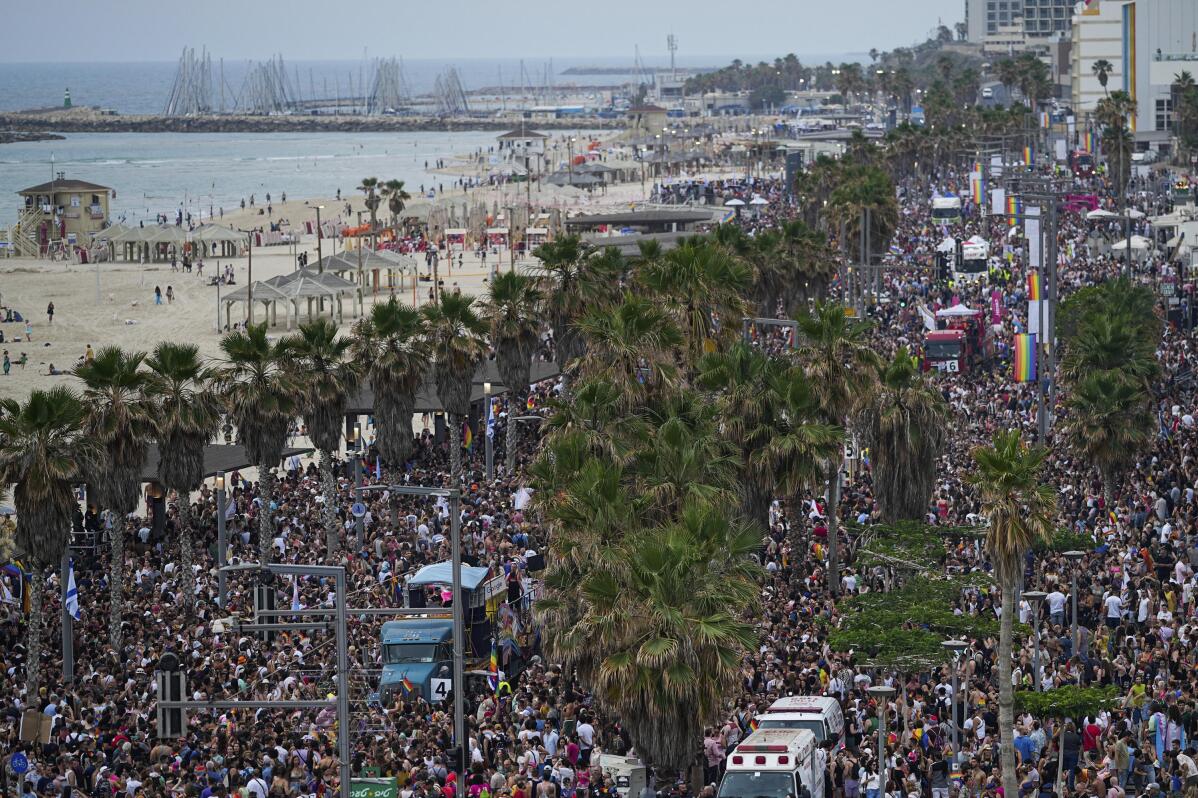 3 of 15

|
People participate in the annual Pride Parade in Tel Aviv, Israel, Thursday, June 8, 2023. (AP Photo/Ohad Zwigenberg)
3 of 15
People participate in the annual Pride Parade in Tel Aviv, Israel, Thursday, June 8, 2023. (AP Photo/Ohad Zwigenberg)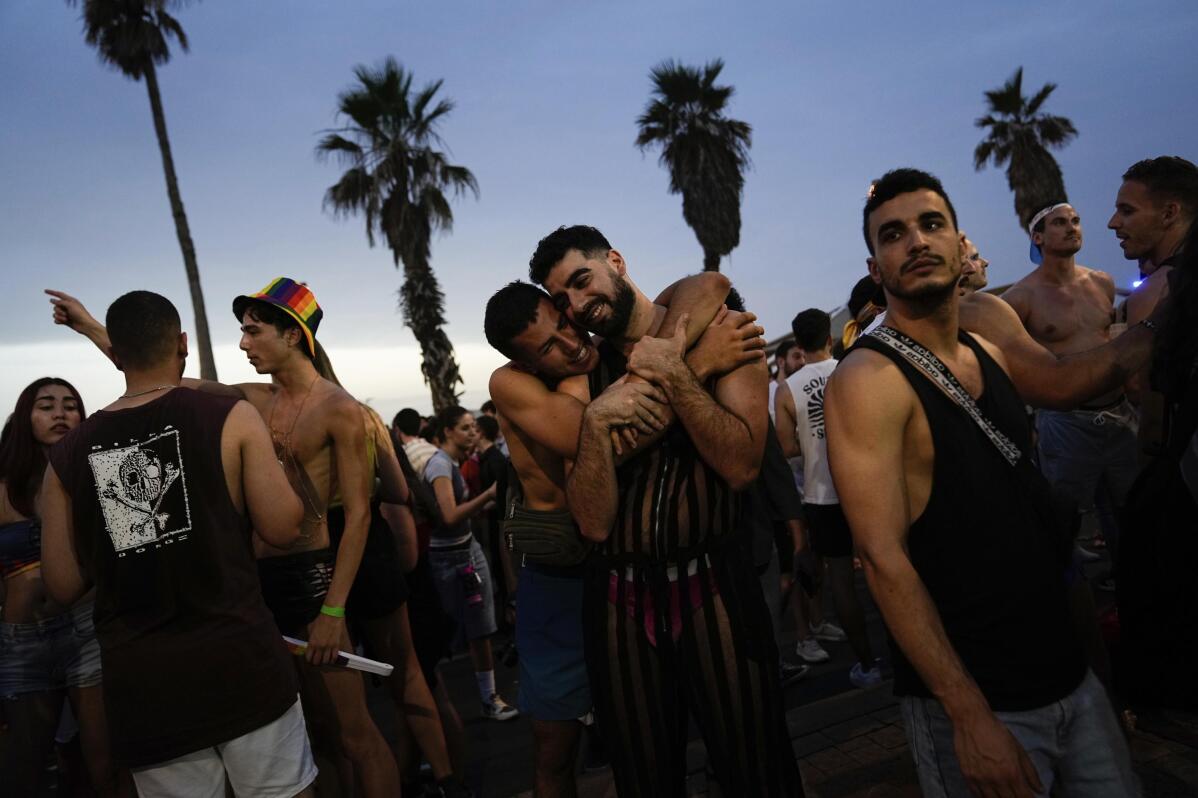 4 of 15

|
People participate in the annual Pride Parade in Tel Aviv, Israel, Thursday, June 8, 2023. (AP Photo/Ohad Zwigenberg)
4 of 15
People participate in the annual Pride Parade in Tel Aviv, Israel, Thursday, June 8, 2023. (AP Photo/Ohad Zwigenberg)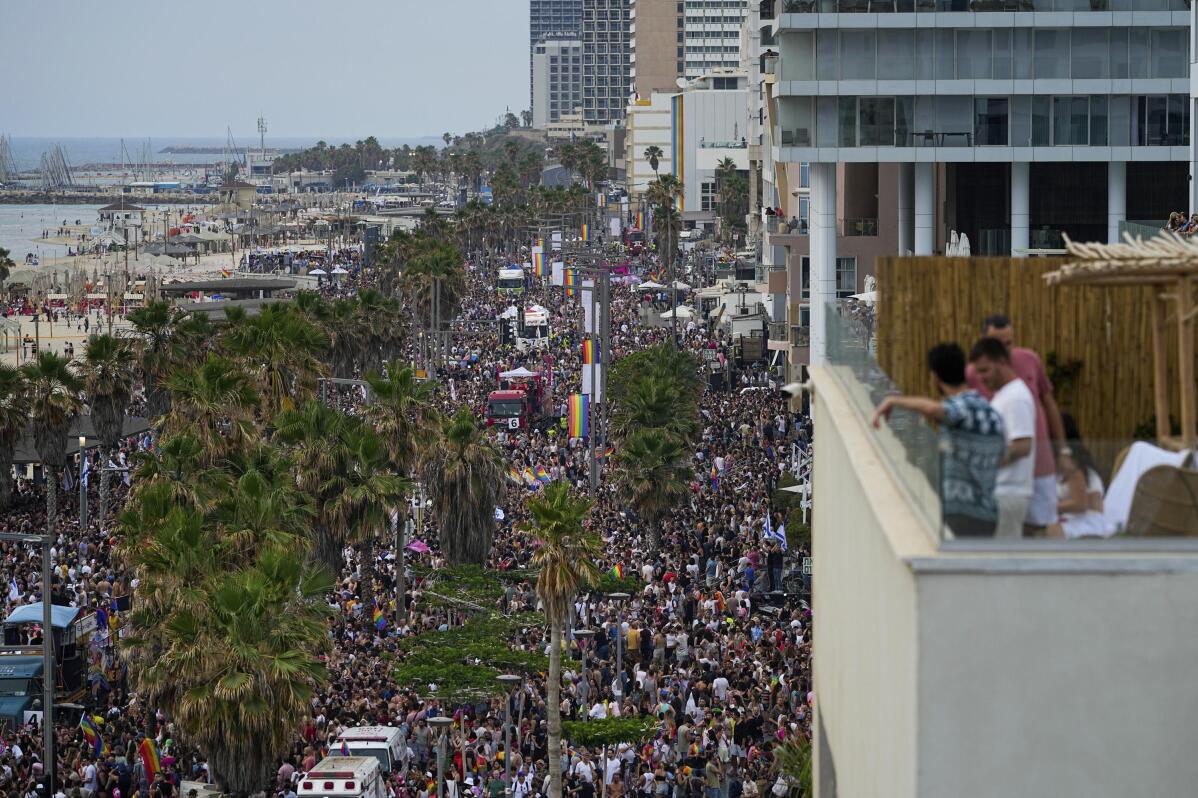 5 of 15

|
People participate in the annual Pride Parade in Tel Aviv, Israel, Thursday, June 8, 2023. (AP Photo/Ohad Zwigenberg)
5 of 15
People participate in the annual Pride Parade in Tel Aviv, Israel, Thursday, June 8, 2023. (AP Photo/Ohad Zwigenberg)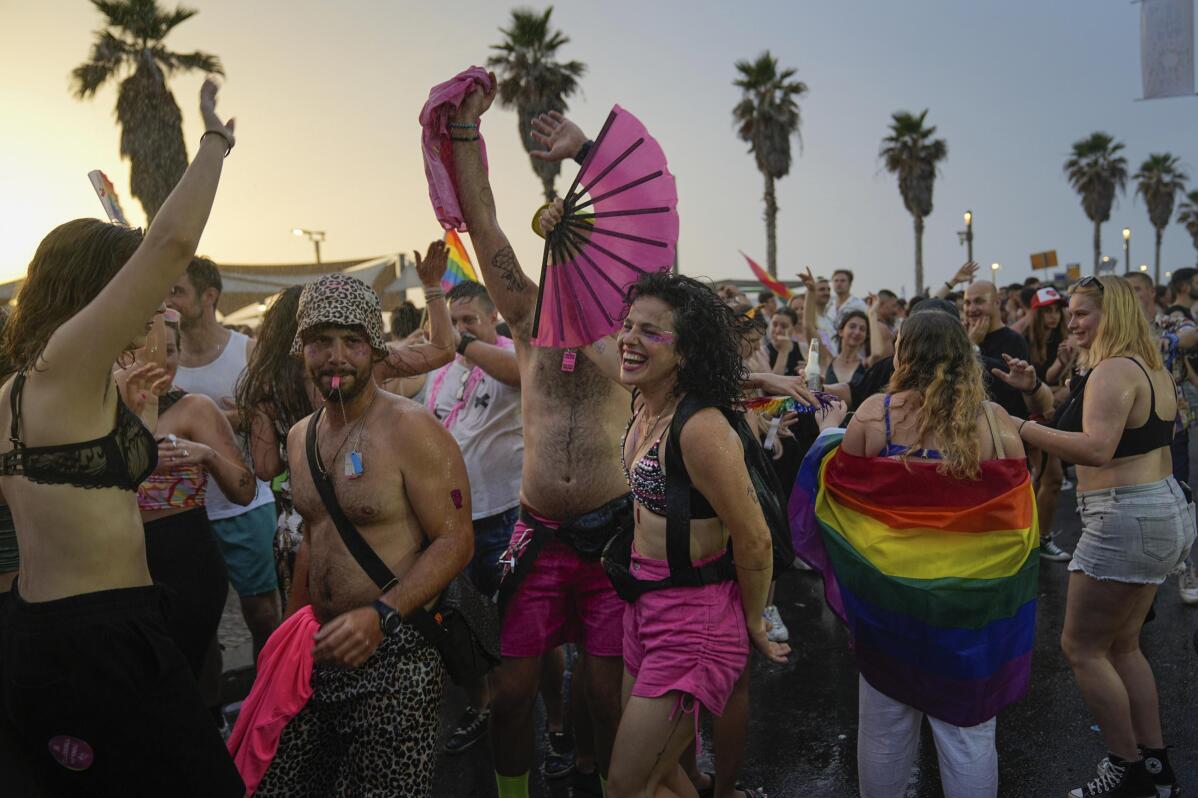 6 of 15

|
People dance during the annual Pride Parade in Tel Aviv, Israel, Thursday, June 8, 2023. (AP Photo/Ohad Zwigenberg)
6 of 15
People dance during the annual Pride Parade in Tel Aviv, Israel, Thursday, June 8, 2023. (AP Photo/Ohad Zwigenberg)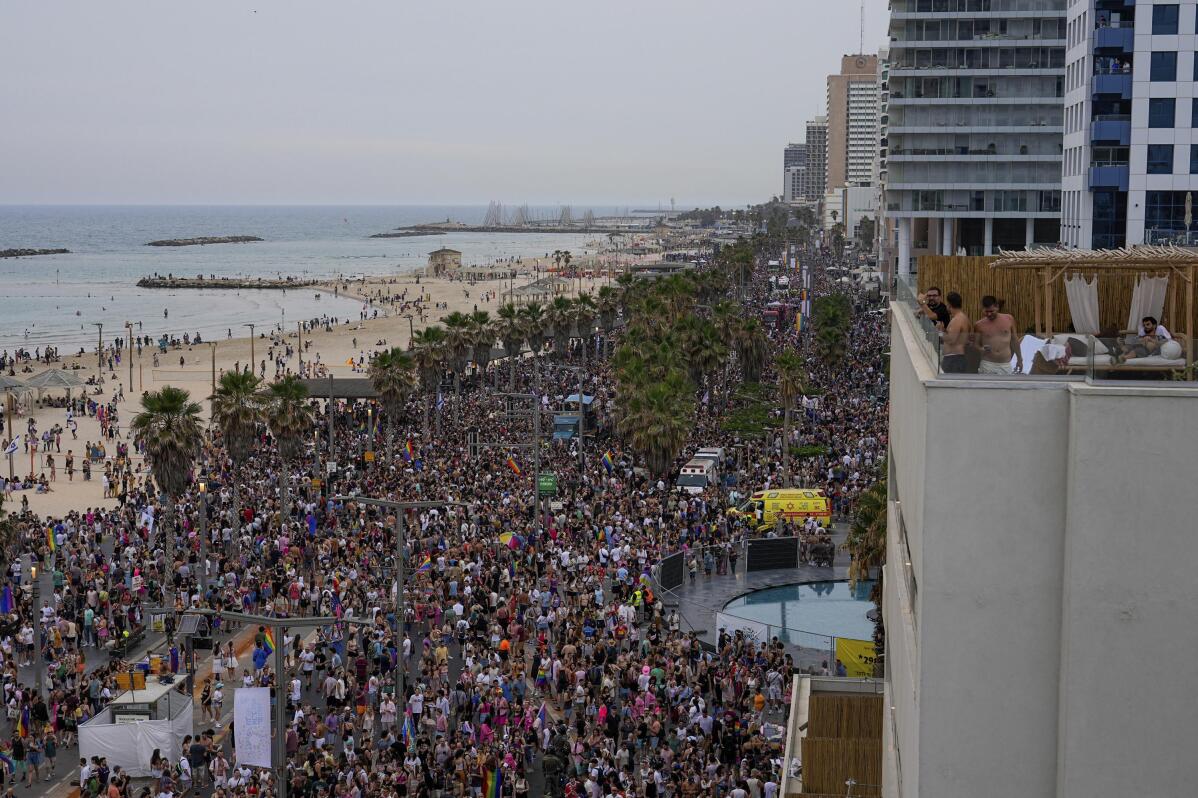 7 of 15

|
People participate in the annual Pride Parade in Tel Aviv, Israel, Thursday, June 8, 2023. (AP Photo/Ohad Zwigenberg)
7 of 15
People participate in the annual Pride Parade in Tel Aviv, Israel, Thursday, June 8, 2023. (AP Photo/Ohad Zwigenberg)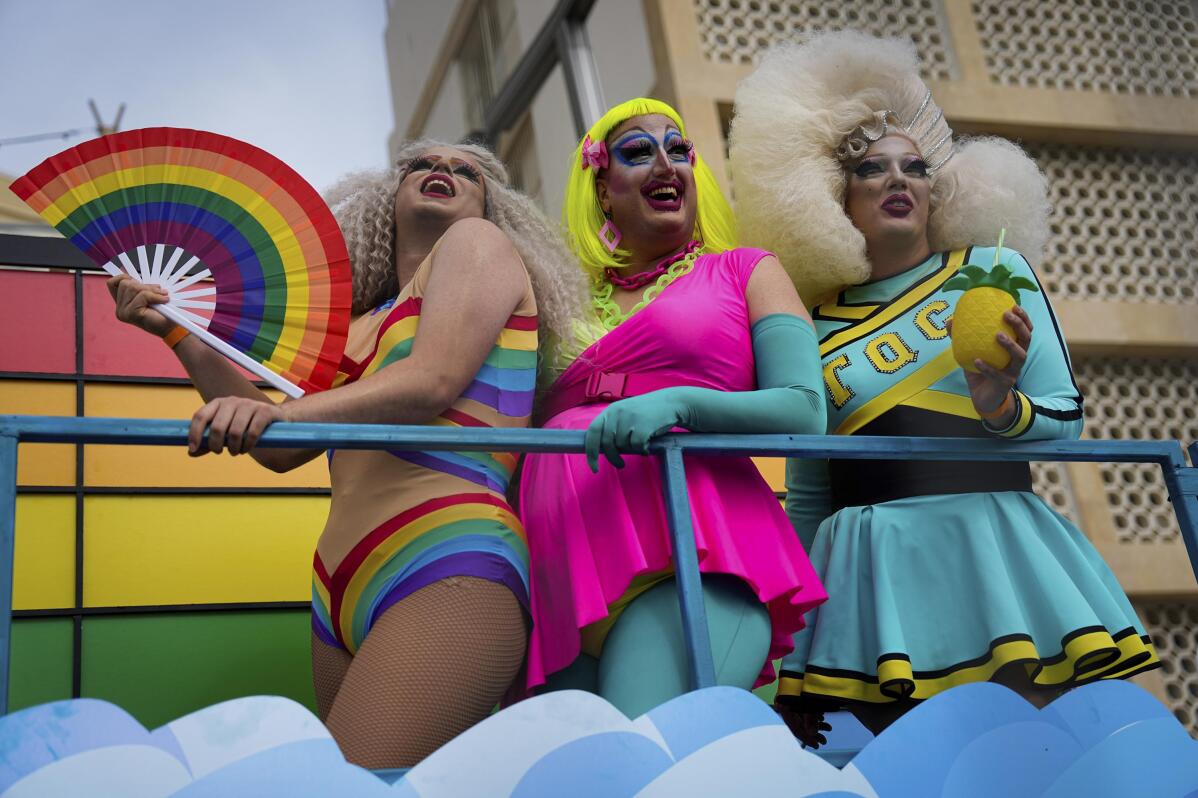 8 of 15

|
Drag queens perform during the annual Pride Parade in Tel Aviv, Israel, Thursday, June 8, 2023. (AP Photo/Ariel Schalit)
8 of 15
Drag queens perform during the annual Pride Parade in Tel Aviv, Israel, Thursday, June 8, 2023. (AP Photo/Ariel Schalit)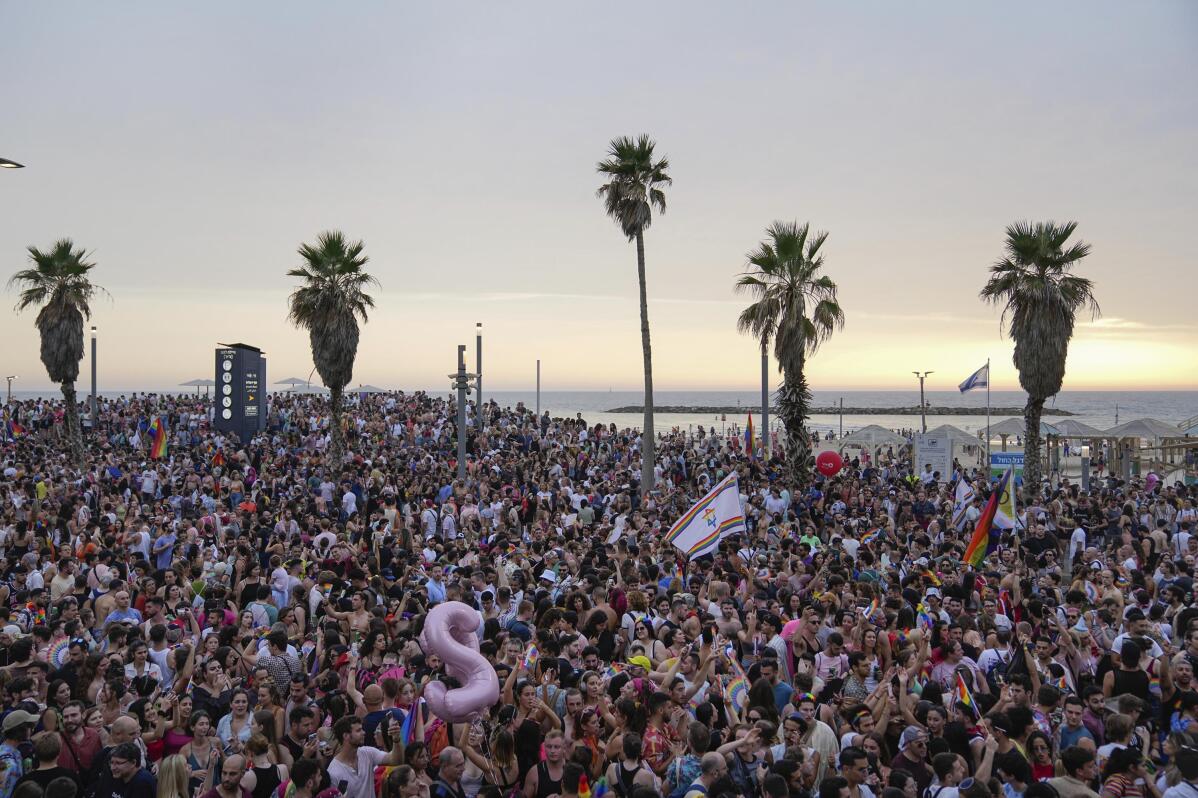 9 of 15

|
People participate in the annual Pride Parade in Tel Aviv, Israel, Thursday, June 8, 2023. (AP Photo/Ohad Zwigenberg)
9 of 15
People participate in the annual Pride Parade in Tel Aviv, Israel, Thursday, June 8, 2023. (AP Photo/Ohad Zwigenberg)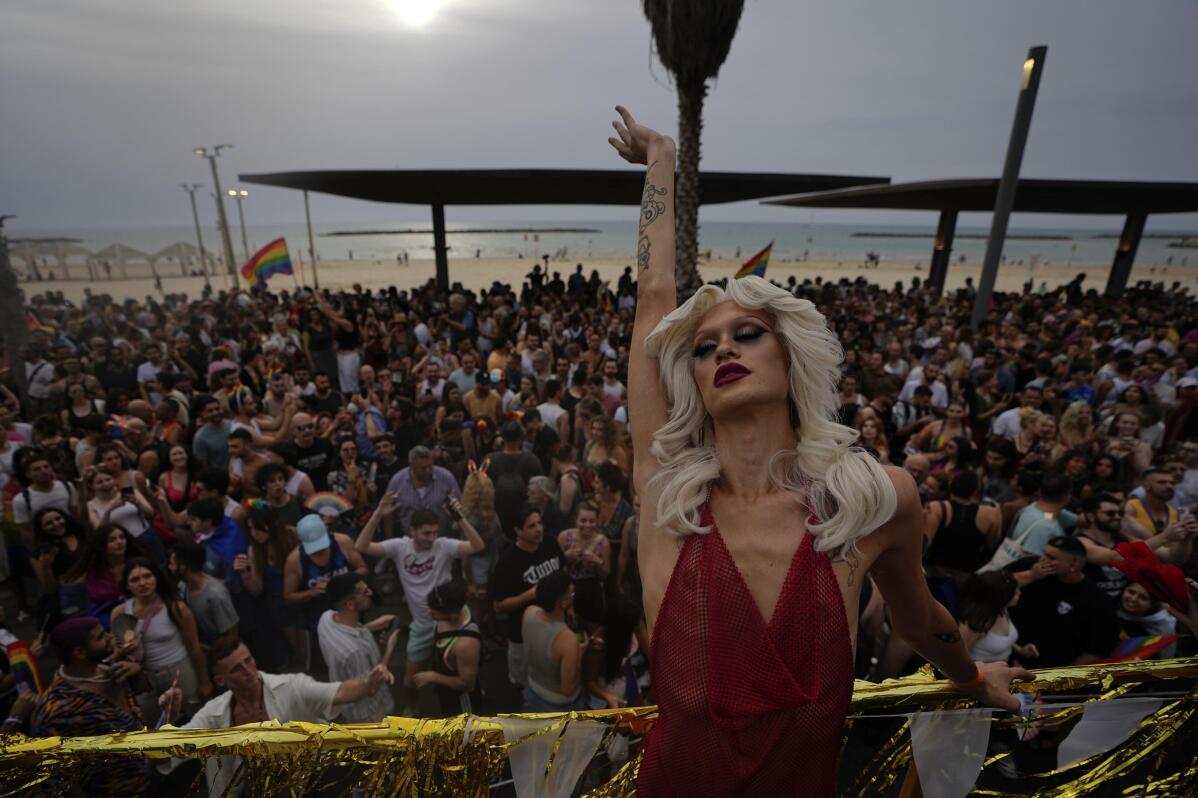 10 of 15

|
A dancer performs during the annual Pride Parade Tel Aviv, Israel, Thursday, June 8, 2023. (AP Photo/Ariel Schalit)
10 of 15
A dancer performs during the annual Pride Parade Tel Aviv, Israel, Thursday, June 8, 2023. (AP Photo/Ariel Schalit)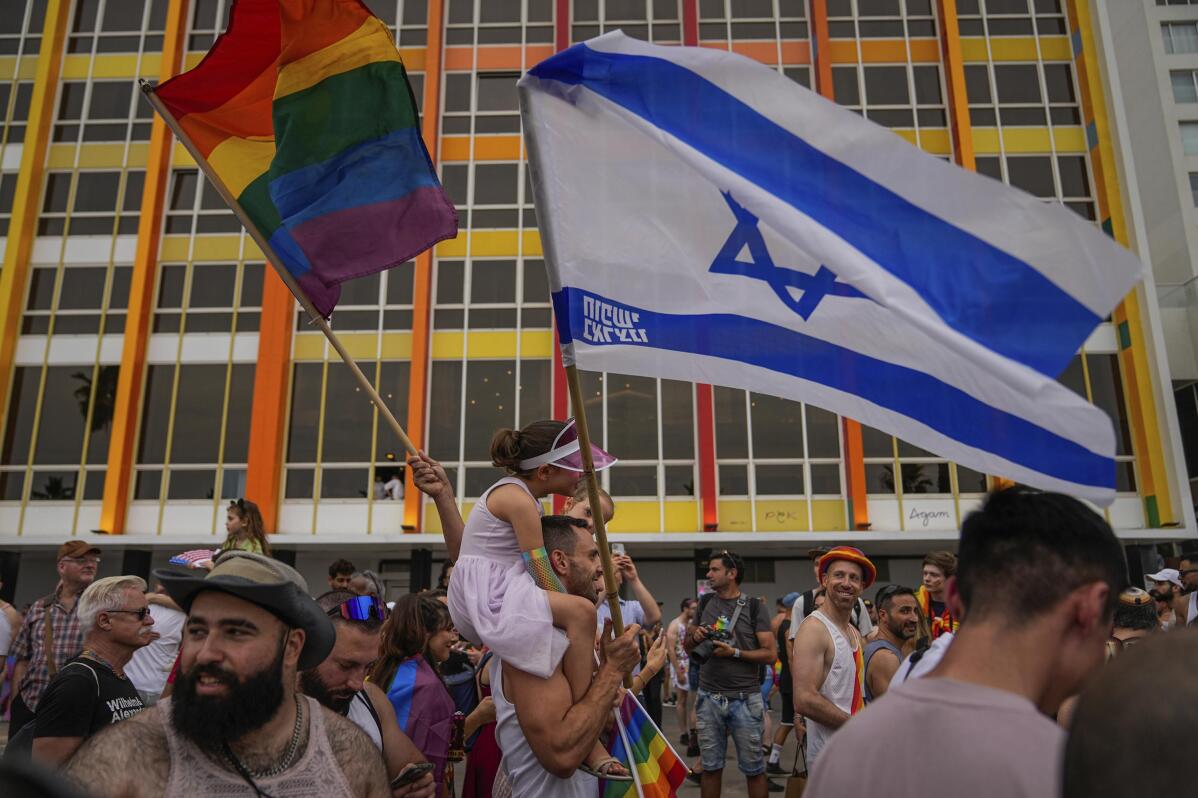 11 of 15

|
People participate in the annual Pride Parade in Tel Aviv, Israel, Thursday, June 8, 2023. (AP Photo/Ohad Zwigenberg)
11 of 15
People participate in the annual Pride Parade in Tel Aviv, Israel, Thursday, June 8, 2023. (AP Photo/Ohad Zwigenberg)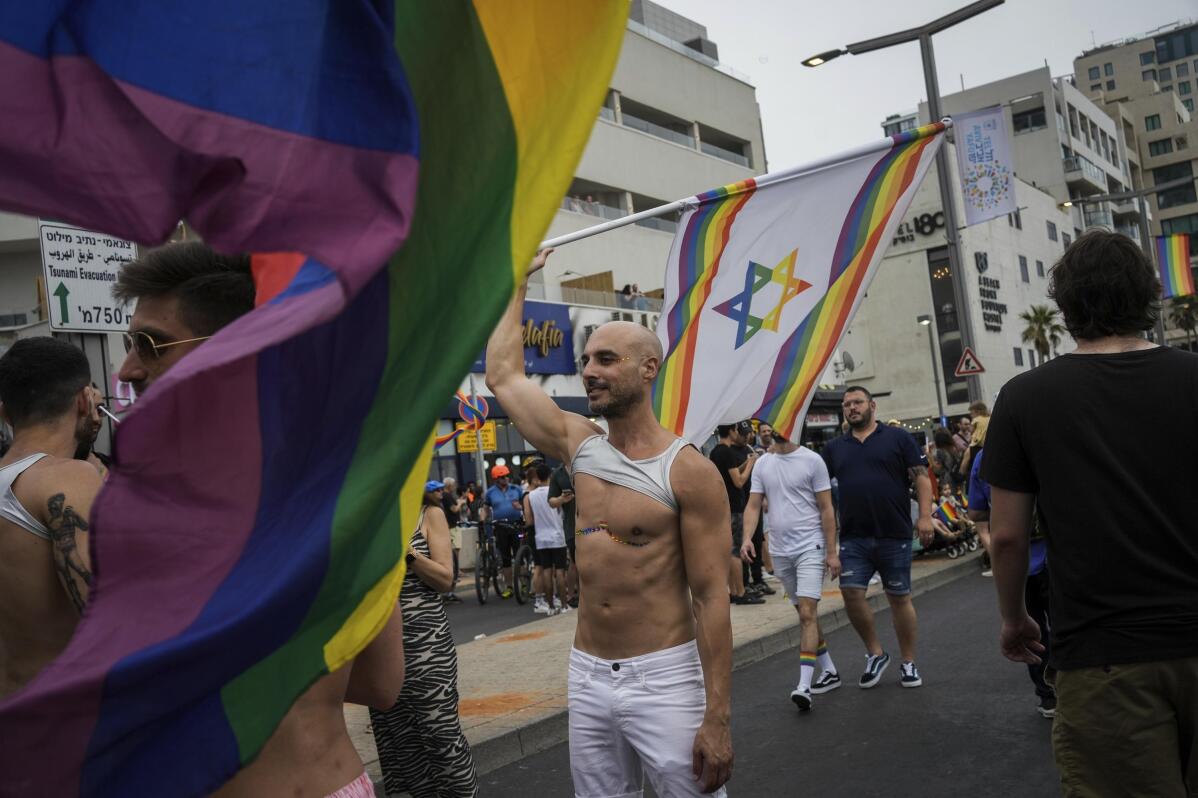 12 of 15

|
People participate in the annual Pride Parade in Tel Aviv, Israel, Thursday, June 8, 2023. (AP Photo/Maya Alleruzzo)
12 of 15
People participate in the annual Pride Parade in Tel Aviv, Israel, Thursday, June 8, 2023. (AP Photo/Maya Alleruzzo)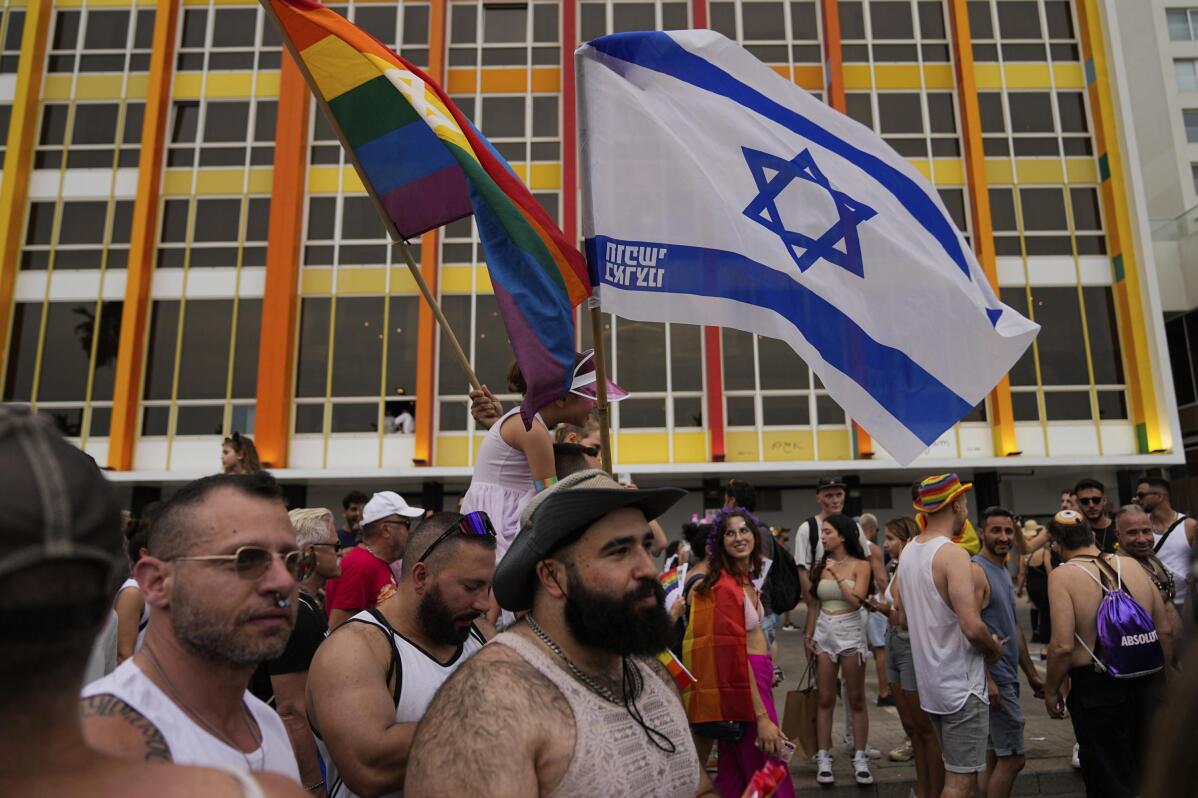 13 of 15

|
People participate in the annual Pride Parade in Tel Aviv, Israel, Thursday, June 8, 2023. (AP Photo/Ohad Zwigenberg)
13 of 15
People participate in the annual Pride Parade in Tel Aviv, Israel, Thursday, June 8, 2023. (AP Photo/Ohad Zwigenberg)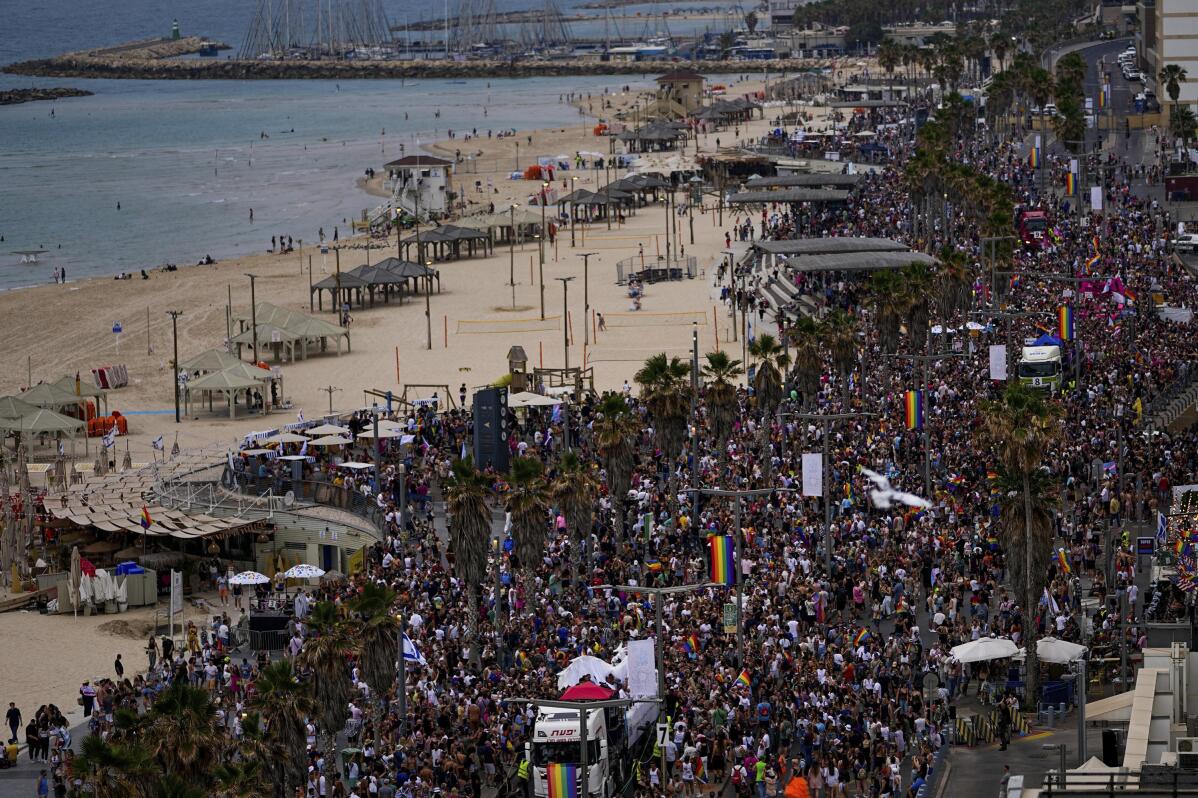 14 of 15

|
People participate in the annual Pride Parade in Tel Aviv, Israel, Thursday, June 8, 2023. (AP Photo/Ariel Schalit)
14 of 15
People participate in the annual Pride Parade in Tel Aviv, Israel, Thursday, June 8, 2023. (AP Photo/Ariel Schalit)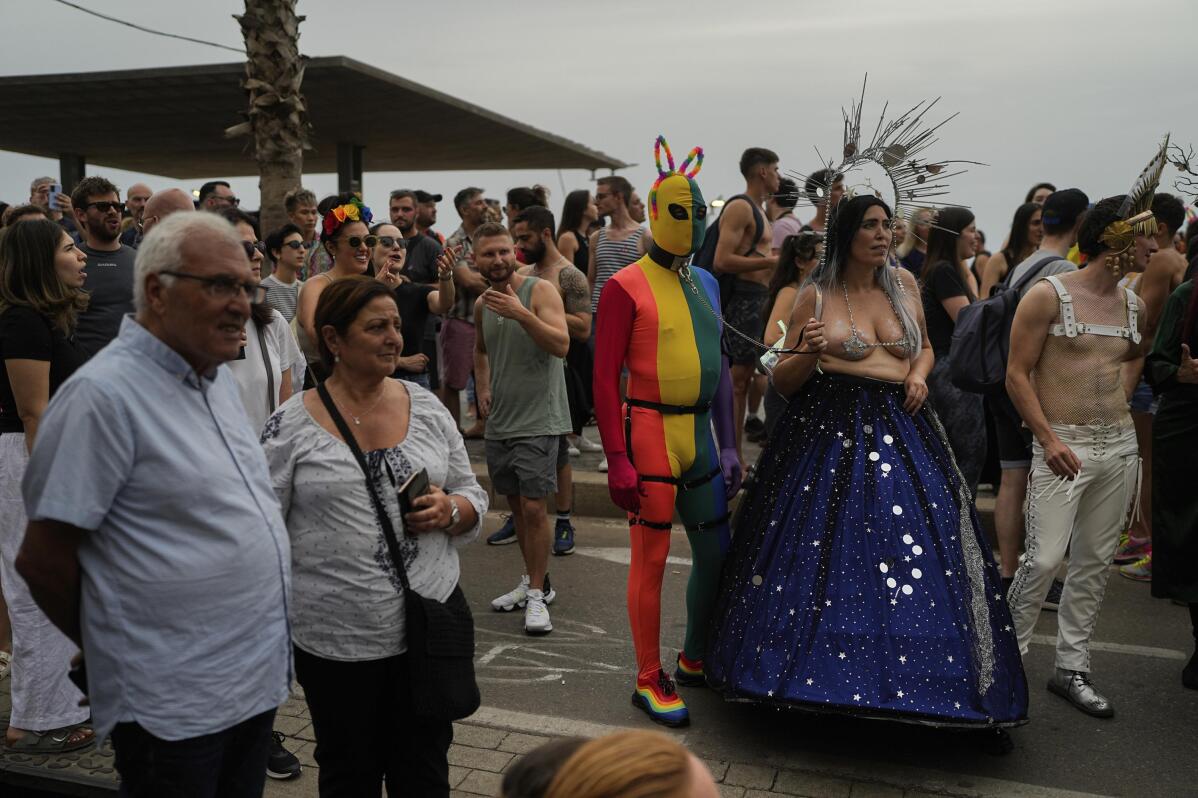 15 of 15

|
People participate in the annual Pride Parade in Tel Aviv, Israel, Thursday, June 8, 2023. (AP Photo/Ohad Zwigenberg)
15 of 15
People participate in the annual Pride Parade in Tel Aviv, Israel, Thursday, June 8, 2023. (AP Photo/Ohad Zwigenberg)
TEL AVIV, Israel (AP) — Tens of thousands of people on Thursday marched in Tel Aviv's Pride parade — an annual celebration that turns the city's seaside promenade into a boisterous festival of rainbow flags, pounding music and colorful costumes.
It was the first time that Tel Aviv has held the parade since Israel's new far-right government, which is stacked with openly anti-LGBTQ+ members, took office.
Drag queens and shirtless men danced on floats, as excited crowds of onlookers danced and snapped photos. Many of the rainbow flags were emblazoned with the Jewish Star of David.
The festive scenes were a contrast to the tense and tightly secured pride parade held last week in Jerusalem, a conservative city just one hour away.
"I'm a minority. I want to save my rights. I want to fight for the rights of other minorities. I want equality. That's about it," said Ohad Huri, an Israeli man who died his long beard in the colors of the rainbow flag.
Israel this year finds itself deeply divided over a contentious government plan to overhaul the country's judiciary. The plan has torn open longstanding societal divisions between those who want to preserve Israel's liberal values and those who seek to shift it toward more religious conservatism.
Prime Minister Benjamin Netanyahu's government is made up of ultranationalist and ultra-religious parties whose leaders openly oppose homosexuality. Netanyahu himself has vowed to protect LGBTQ+ rights, and Parliament Speaker Amir Ohana, a member of his party, is openly gay.
Tel Aviv has branded itself a gay-friendly destination, and thousands of tourists flew in for Thursday's parade.
Mike Quidort, of Chicago, said he had come in for an entire week of Pride-related activities. "With everything happening in the world right now, I think that it's really important that we celebrate Pride," he said. "We still have a lot of work to do and I think it's important to get together as a community and defend our rights."
Israel is generally tolerant toward the LGBTQ+ community, a rarity in the conservative Middle East, where homosexuality is widely considered taboo and is outlawed in some places. Members of the LGBTQ+ community serve openly in Israel's military and parliament, and many popular artists and entertainers are openly gay.
Some critics have accused the country of "pink washing," or using its tolerance for liberal LGBTQ+ culture as a branding tool to conceal its violations of Palestinian rights.
Yet activists say there is a long road toward full equality. Jewish ultra-Orthodox parties, which wield significant influence over matters of religion and state, oppose homosexuality as a violation of religious law, as do other religious groups in Israel.
The conservative make-up of Netanyahu's government sparked new fears in the LGBTQ+ community that the judicial overhaul could threaten the rights of minorities and marginalized groups.
The government says the judicial plan is meant to rein in what it says is an overly interventionist Supreme Court. Critics say it will grant the government unrestrained power and upend the country's system of checks and balances.