AP PHOTOS: The protests in Israel -- in 19 striking photos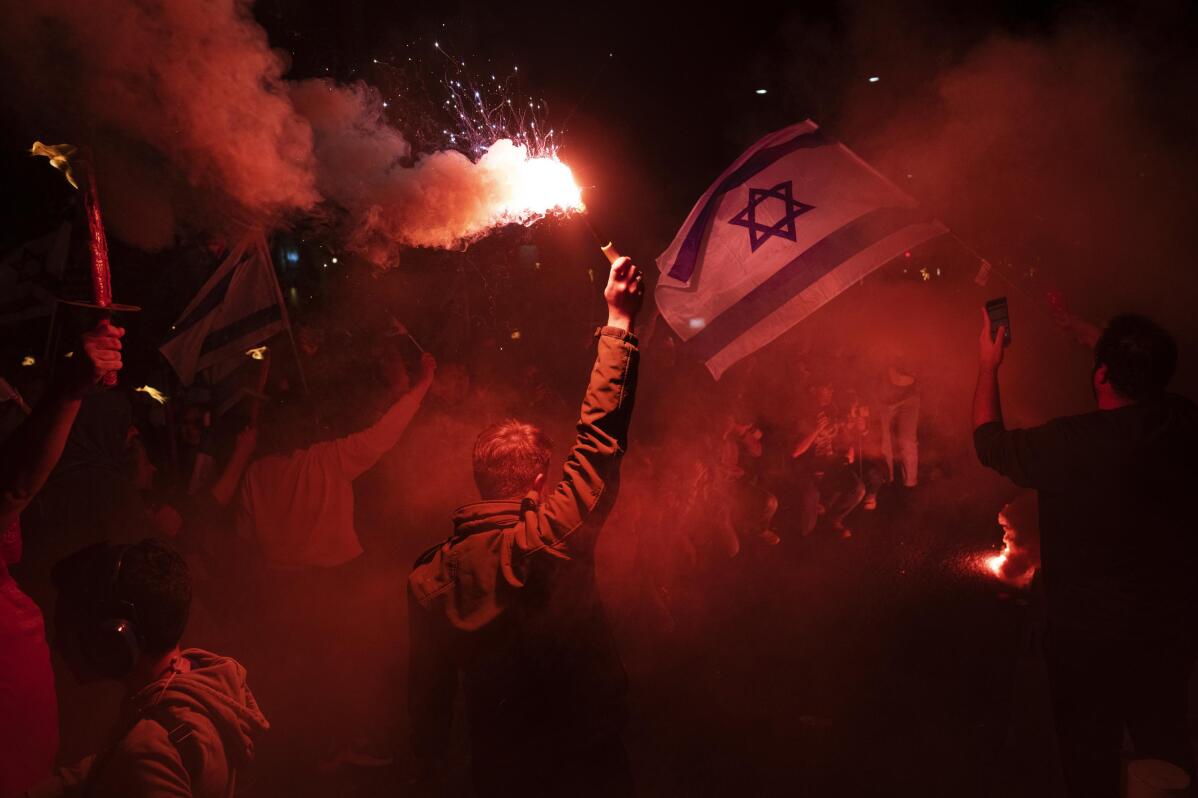 1 of 19

|
Israelis protest against plans by Prime Minister Benjamin Netanyahu's government to overhaul the judicial system, in Tel Aviv, Israel, Thursday, March 9, 2023. (AP Photo/Oded Balilty)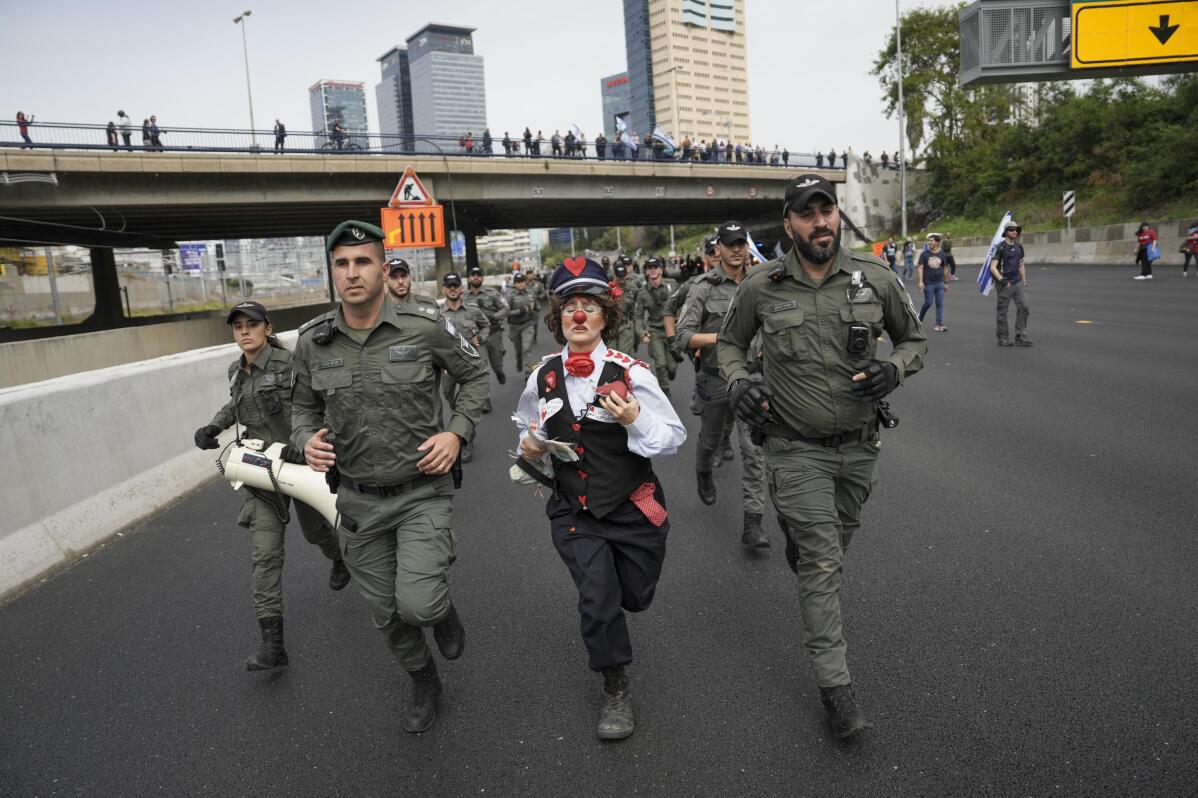 2 of 19

|
An Israeli activist dressed as a clown runs with border police as Israelis protest against plans by Prime Minister Benjamin Netanyahu's government to overhaul the judicial system block a free way in Tel Aviv, Israel, Thursday, March 23, 2023. (AP Photo/Oded Balilty)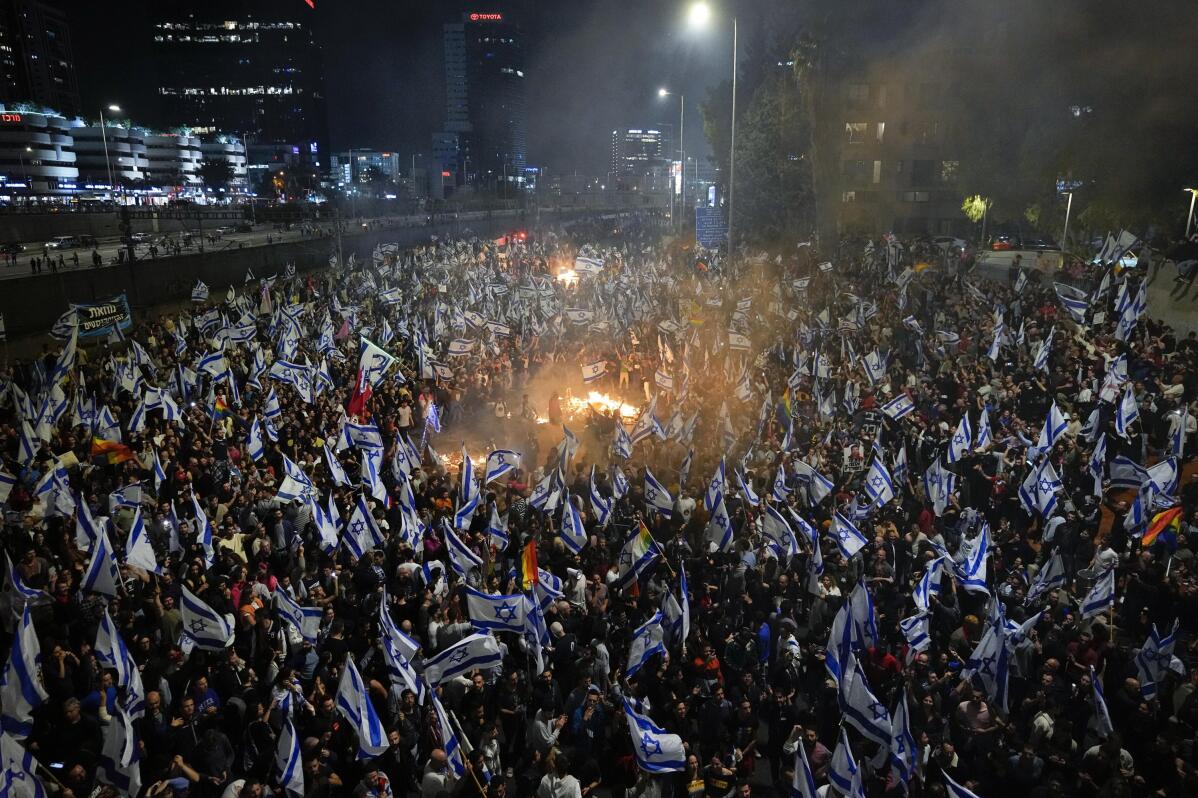 3 of 19

|
Israelis opposed to Prime Minister Benjamin Netanyahu's judicial overhaul plan set up bonfires and block a highway during a protest moments after the Israeli leader fired his defense minister, in Tel Aviv, Israel, Sunday, March 26, 2023. Defense Minister Yoav Gallant had called on Netanyahu to freeze the plan, citing deep divisions in the country and turmoil in the military. (AP Photo/Ohad Zwigenberg)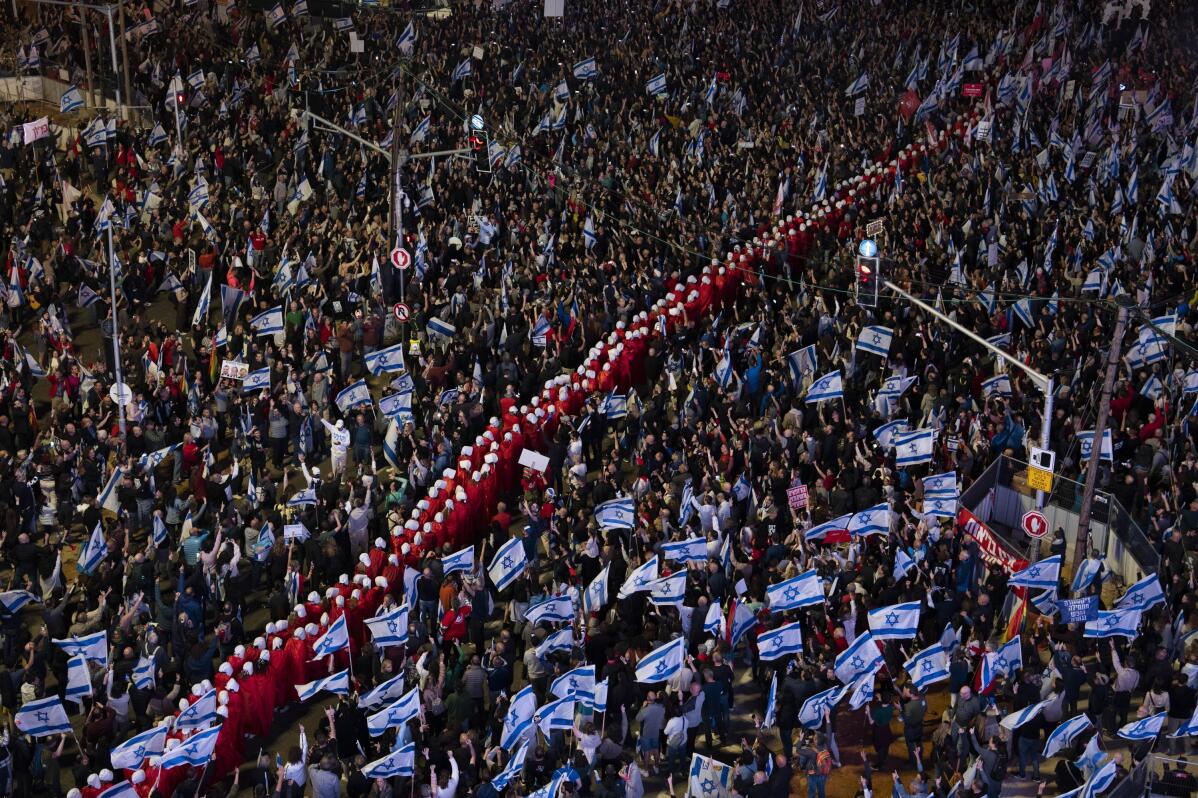 4 of 19

|
A line of protesters supporting women's rights, dressed as characters from The Handmaid's Tale television series, and other Israelis protest against plans by Prime Minister Benjamin Netanyahu's government to overhaul the judicial system in Tel Aviv, Israel, Saturday, March 25, 2023. (AP Photo/Oded Balilty)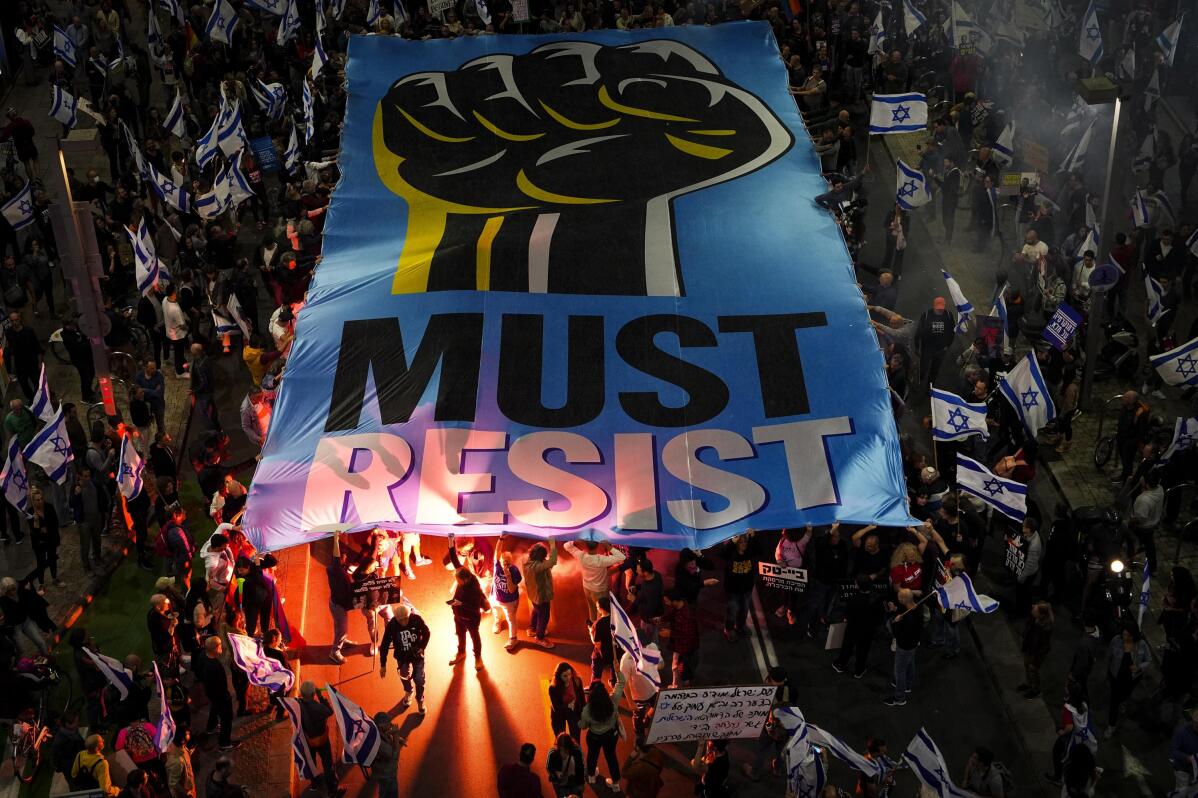 5 of 19

|
Israelis protest against plans by Prime Minister Benjamin Netanyahu's new government to overhaul the judicial system, in Tel Aviv, Israel, Saturday, March 4, 2023. (AP Photo/Tsafrir Abayov)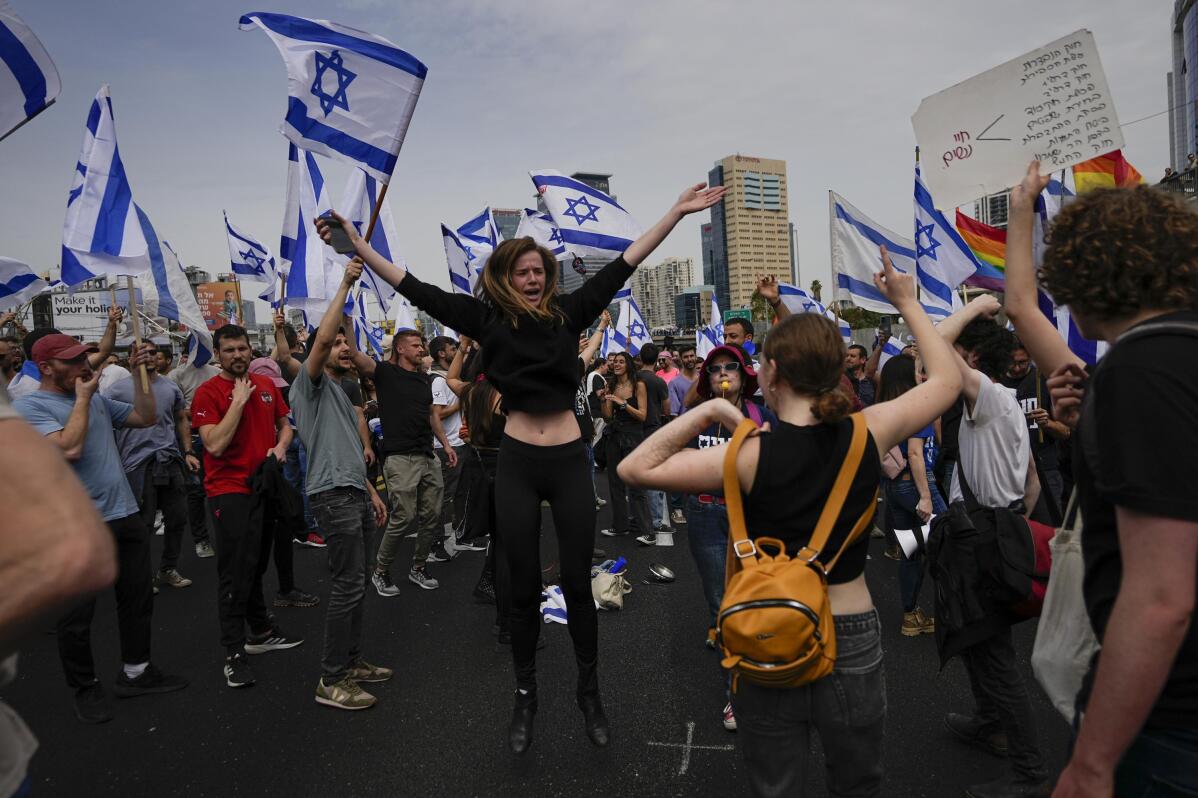 6 of 19

|
Demonstrators block a highway during protest against plans by Prime Minister Benjamin Netanyahu's government to overhaul the judicial system in Tel Aviv, Israel, Thursday, March 23, 2023. (AP Photo/Ohad Zwigenberg)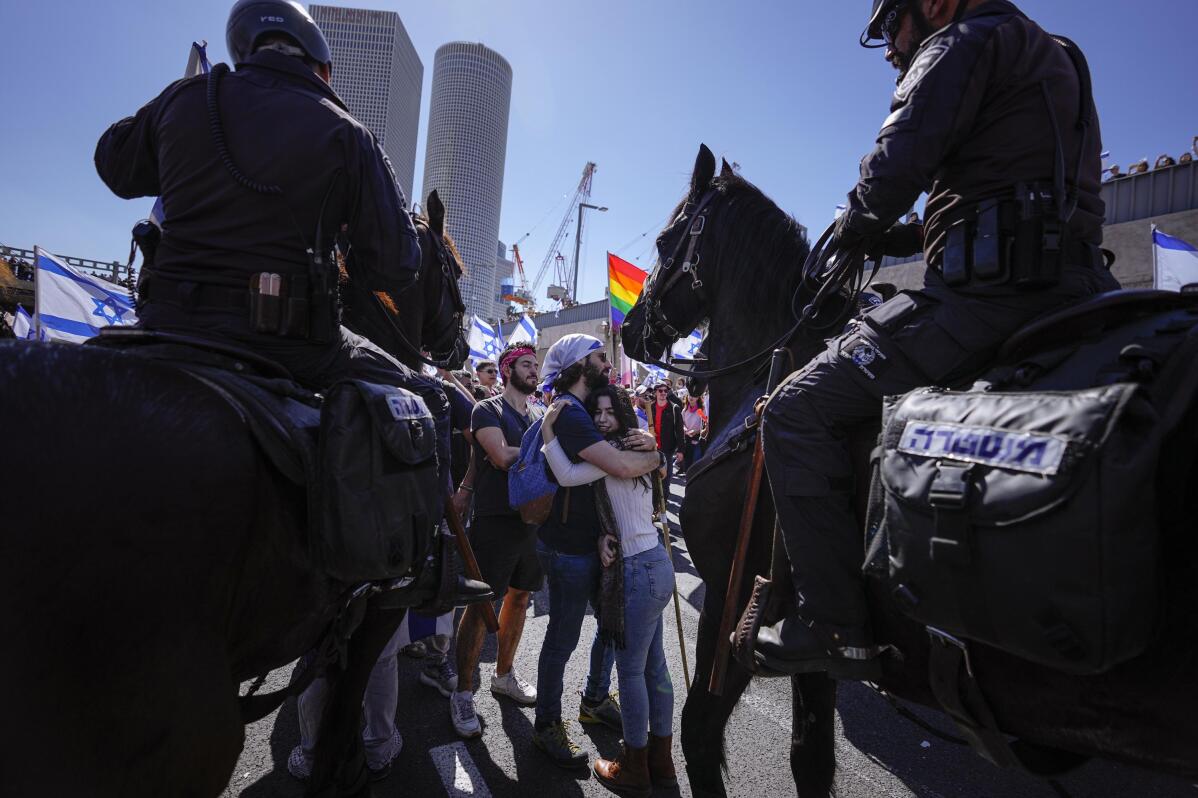 7 of 19

|
Two demonstrators hug as mounted police officers disperse people blocking a highway during a protest against plans by Prime Minister Benjamin Netanyahu's government to overhaul the Israel's judicial system in Tel Aviv, Israel, Thursday, March 16, 2023. (AP Photo/Ohad Zwigenberg)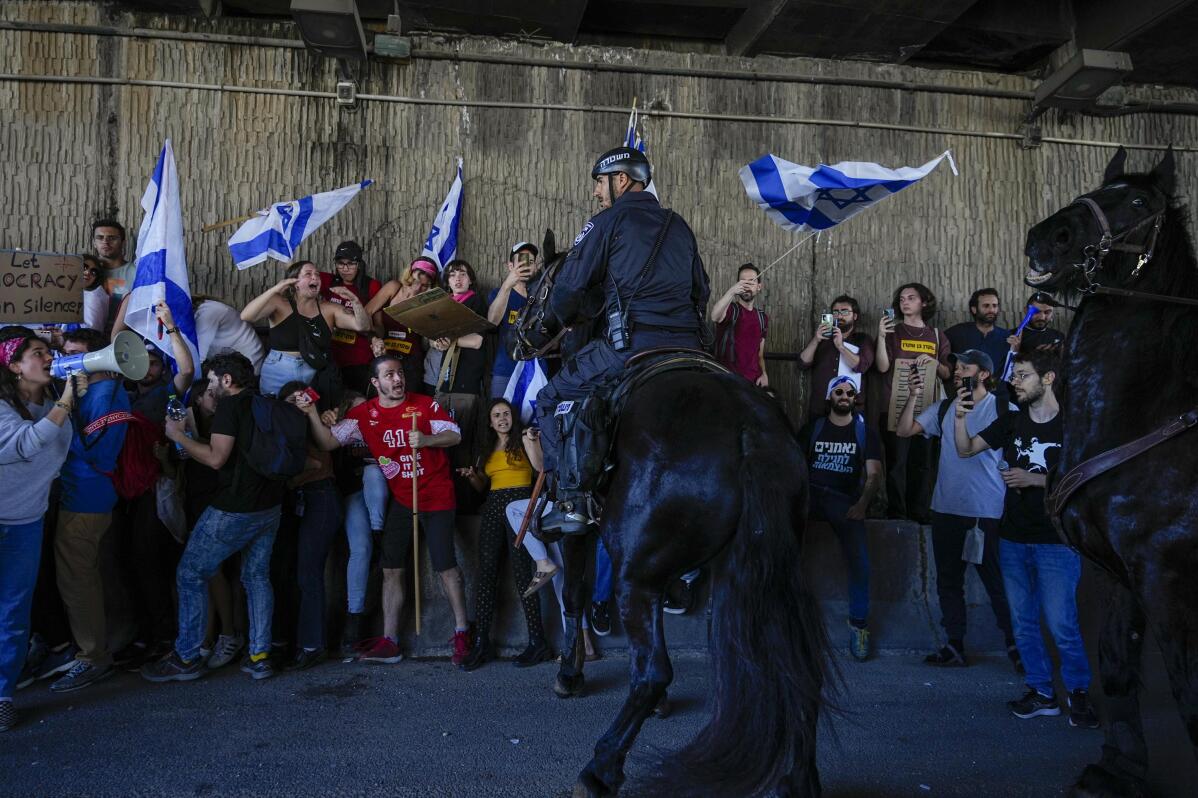 8 of 19

|
Israeli mounted police officers disperse demonstrators blocking a highway during a protest against plans by Prime Minister Benjamin Netanyahu's government to overhaul the judicial system in Tel Aviv, Israel, Thursday, March 16, 2023. (AP Photo/Ohad Zwigenberg)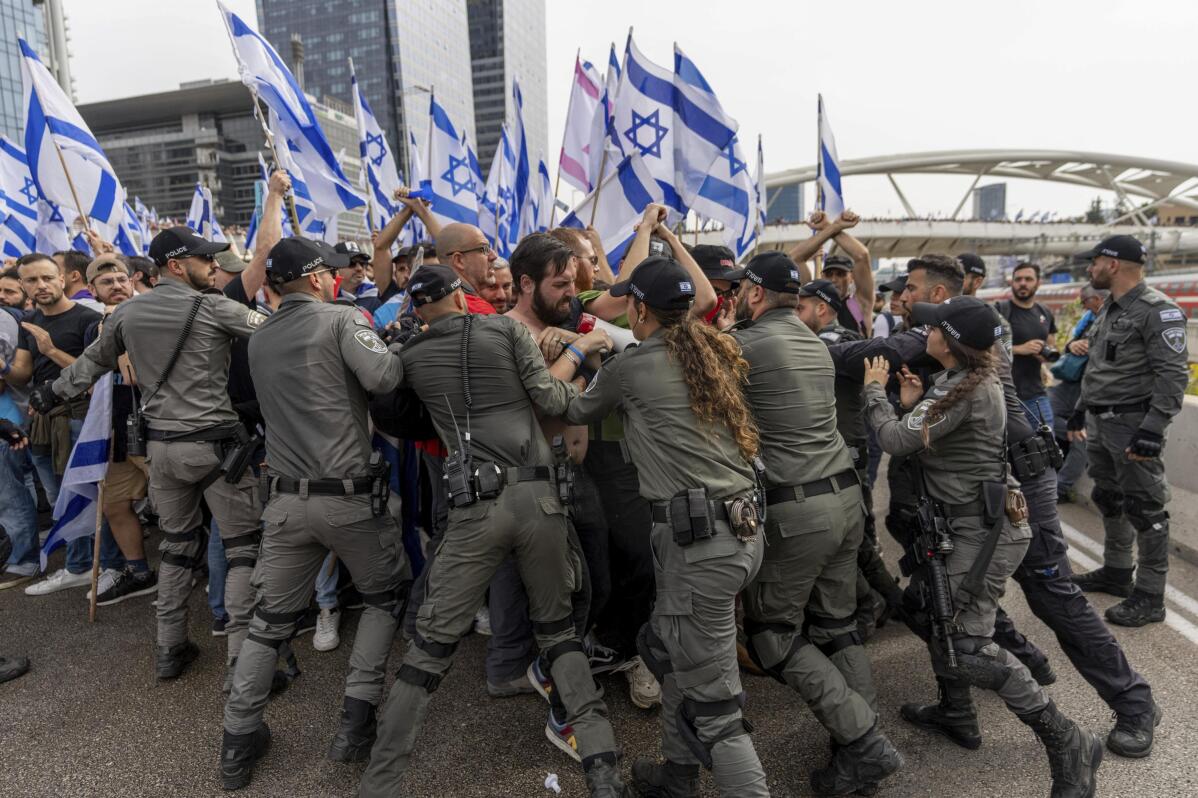 9 of 19

|
Israeli police scuffle with demonstrators blocking a road during a protest against plans by Prime Minister Benjamin Netanyahu's government to overhaul the judicial system in Tel Aviv, Israel, Thursday, March 23, 2023. (AP Photo/Ohad Zwigenberg)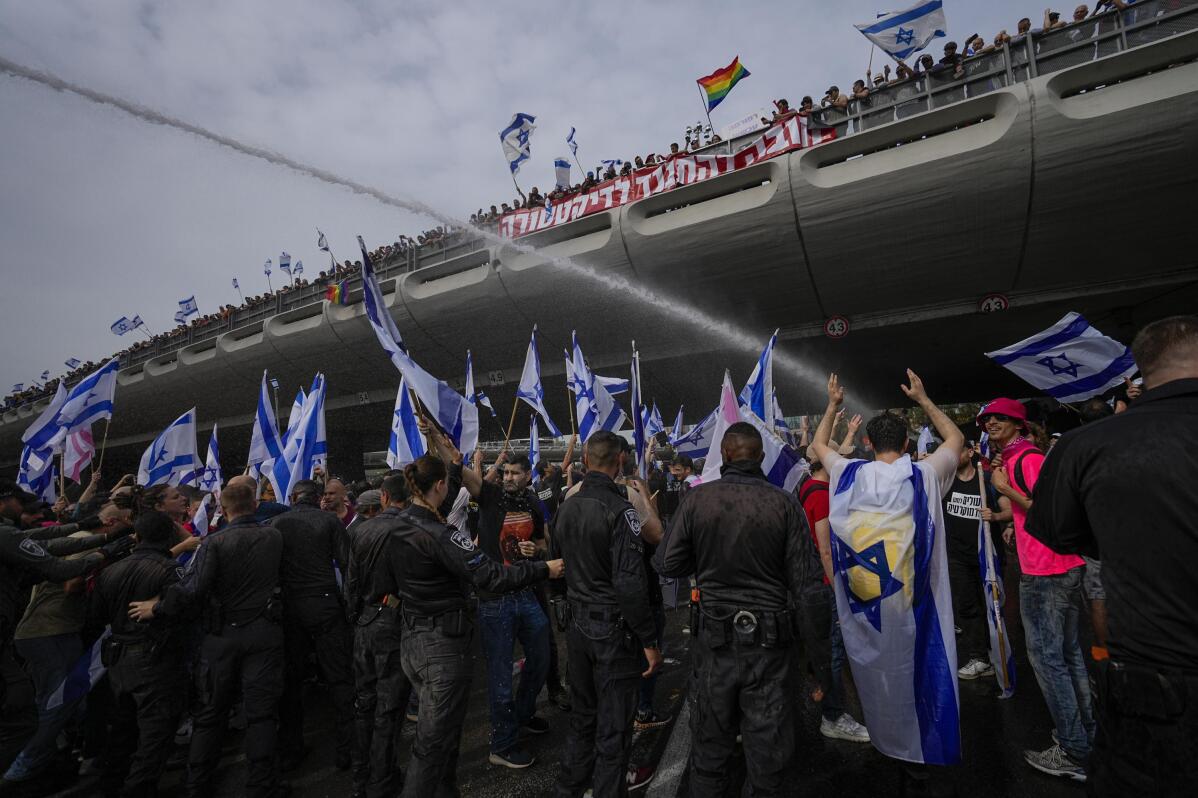 10 of 19

|
Israeli police use water cannon to disperse Israelis protest against plans by Prime Minister Benjamin Netanyahu's government to overhaul the judicial system in Tel Aviv, Israel, Thursday, March 23, 2023. (AP Photo/Ohad Zwigenberg)
11 of 19

|
An Israeli protester against plans by Prime Minister Benjamin Netanyahu's government to overhaul the judicial system lies on the road covered in a fake blood-splattered sheet with signs reading "I am the first to be murdered" in a display against threats of political violence in Tel Aviv, Israel, Thursday, March 23, 2023. (AP Photo/Oded Balilty)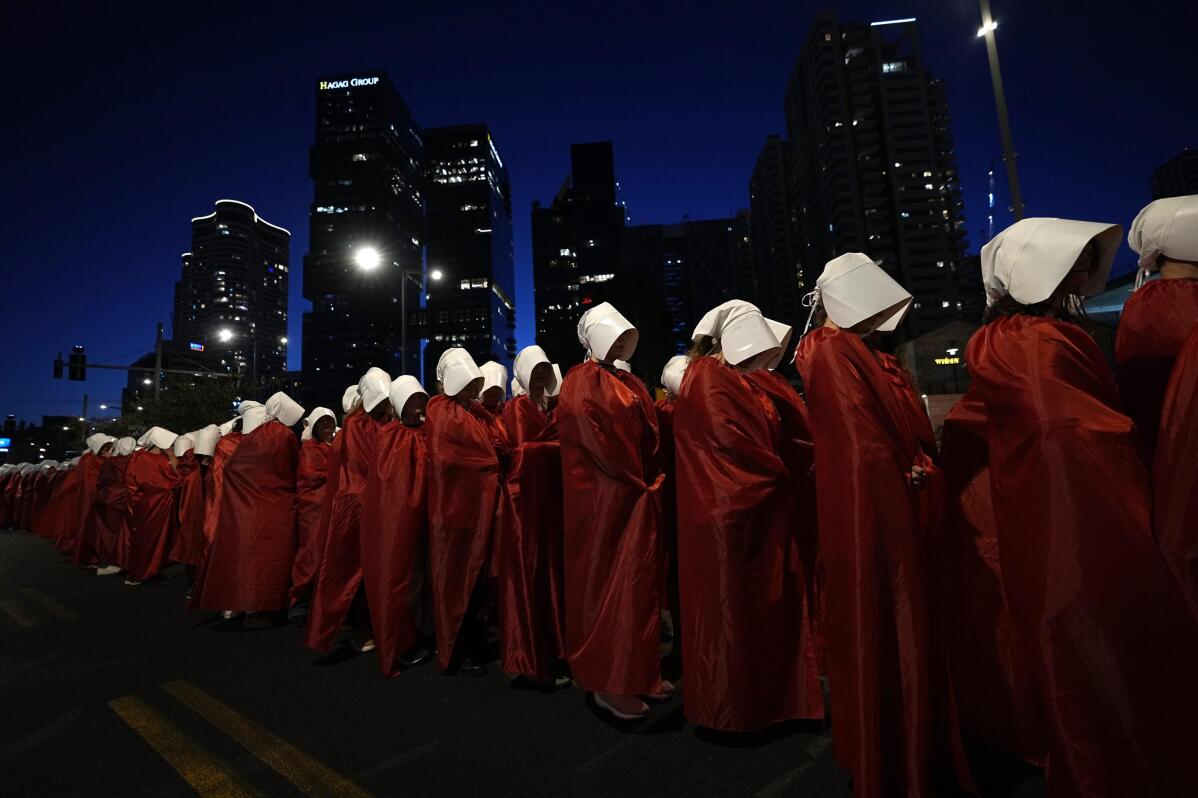 12 of 19

|
Israeli women's rights activists dressed as characters in the popular television series, "The Handmaid's Tale," protest plans by Prime Minister Benjamin Netanyahu's government to overhaul the judicial system, in Tel Aviv, Israel, Saturday, March 11, 2023. (AP Photo/Ohad Zwigenberg)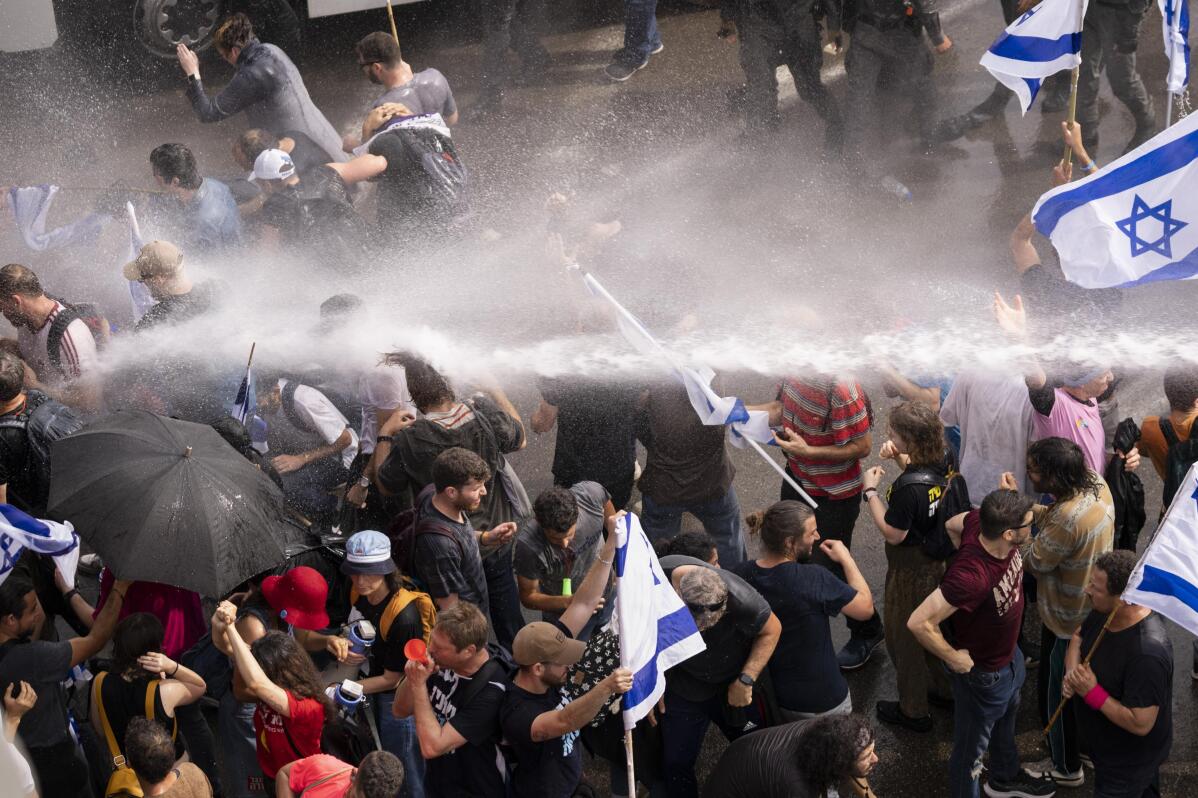 13 of 19

|
Israeli police use a water cannon to disperse Israelis blocking the freeway during a protest against plans by Prime Minister Benjamin Netanyahu's government to overhaul the judicial system in Tel Aviv, Israel, Thursday, March 23, 2023. (AP Photo/Oded Balilty)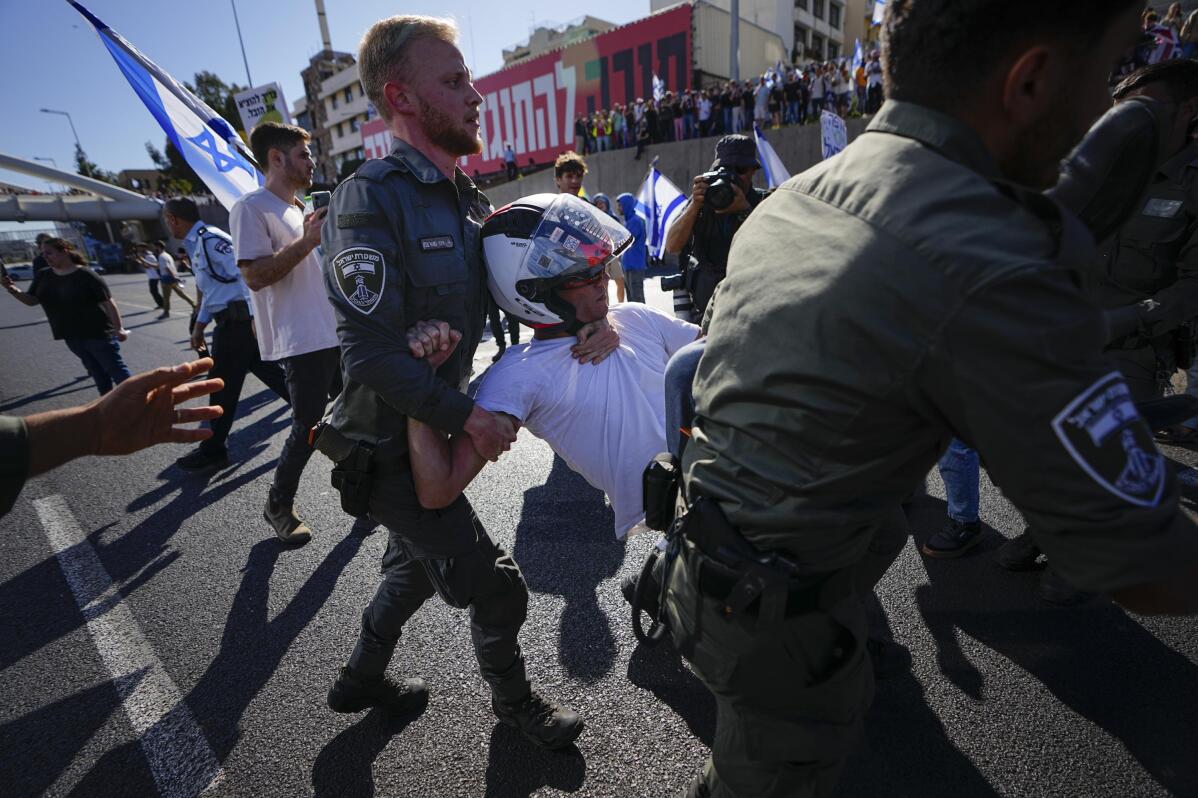 14 of 19

|
Israeli border police officers disperse demonstrators blocking a highway during a protest against plans by Prime Minister Benjamin Netanyahu's government to overhaul the judicial system, in Tel Aviv, Israel, Thursday, March 9, 2023. (AP Photo/Ariel Schalit)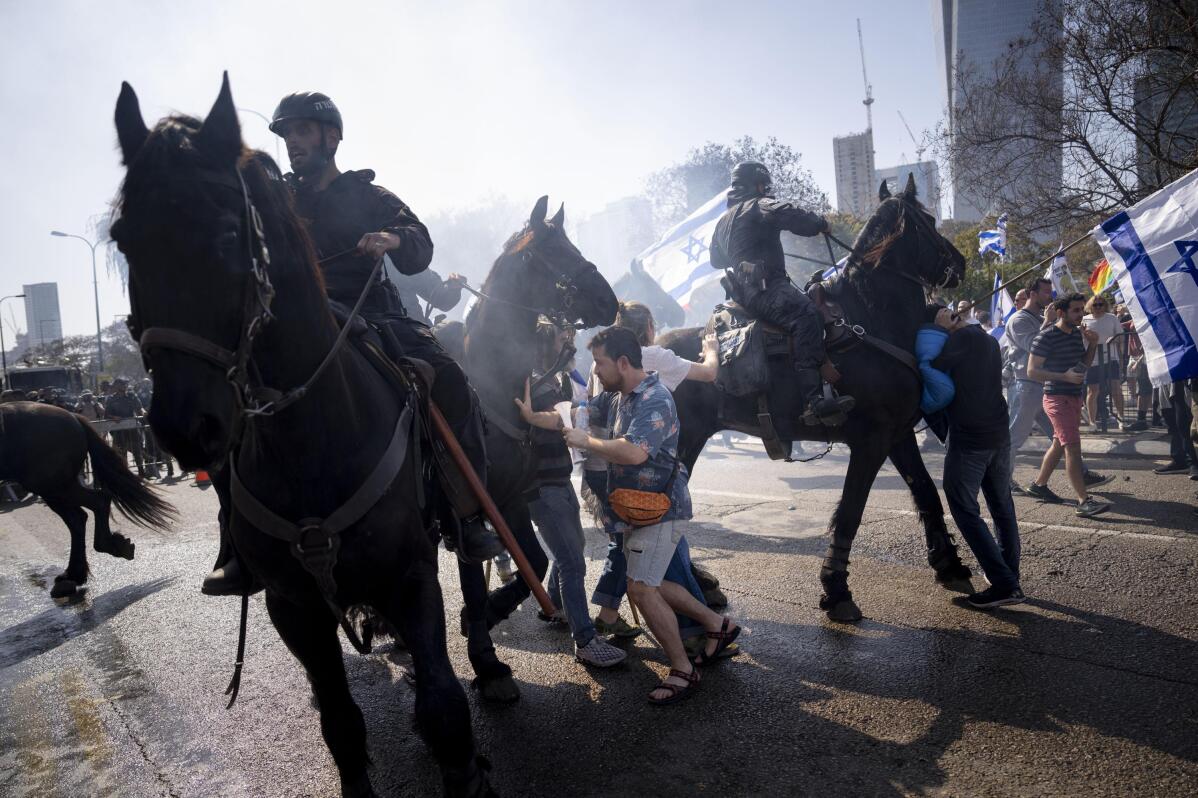 15 of 19

|
Israeli police deploy horses and stun grenades to disperse Israelis blocking a main road during a protest against plans by Prime Minister Benjamin Netanyahu's new government to overhaul the judicial system, in Tel Aviv, Israel, Wednesday, March 1, 2023. (AP Photo/Oded Balilty)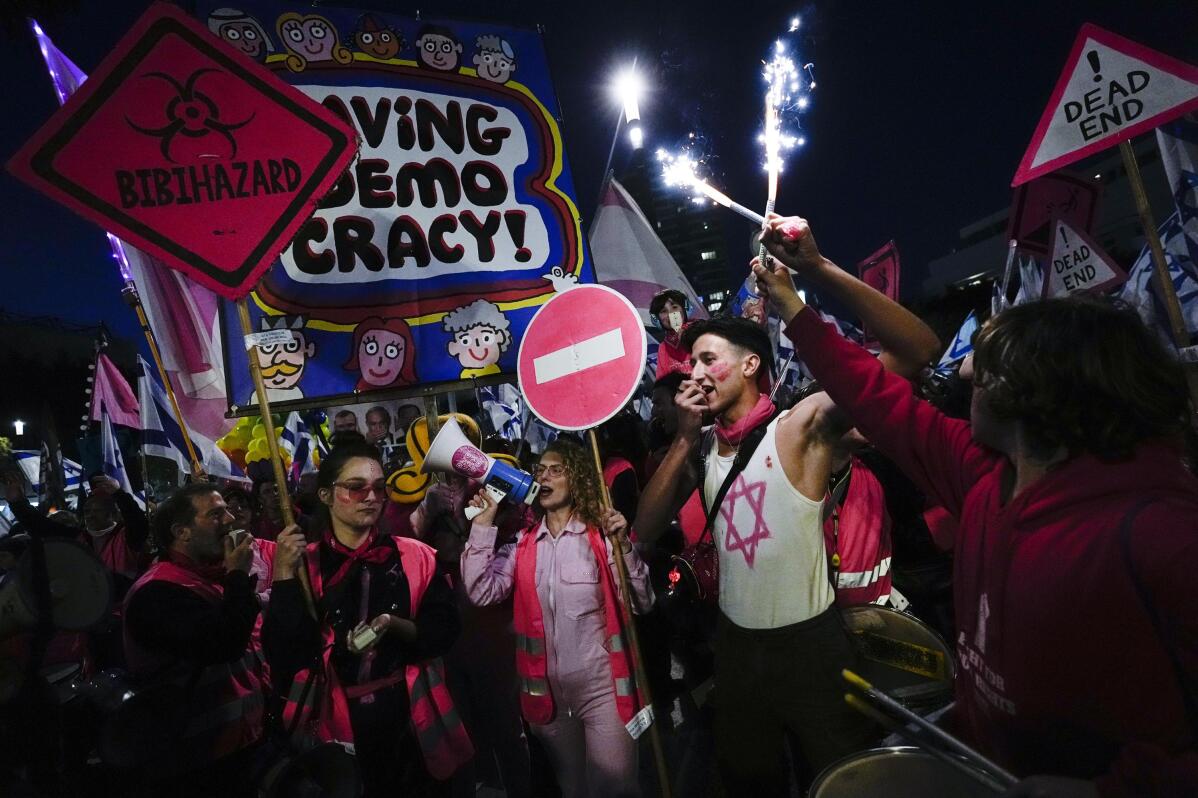 16 of 19

|
Israelis protest against plans by Prime Minister Benjamin Netanyahu's government to overhaul the judicial system, in Tel Aviv, Israel, Saturday, March 18, 2023. (AP Photo/Ohad Zwigenberg)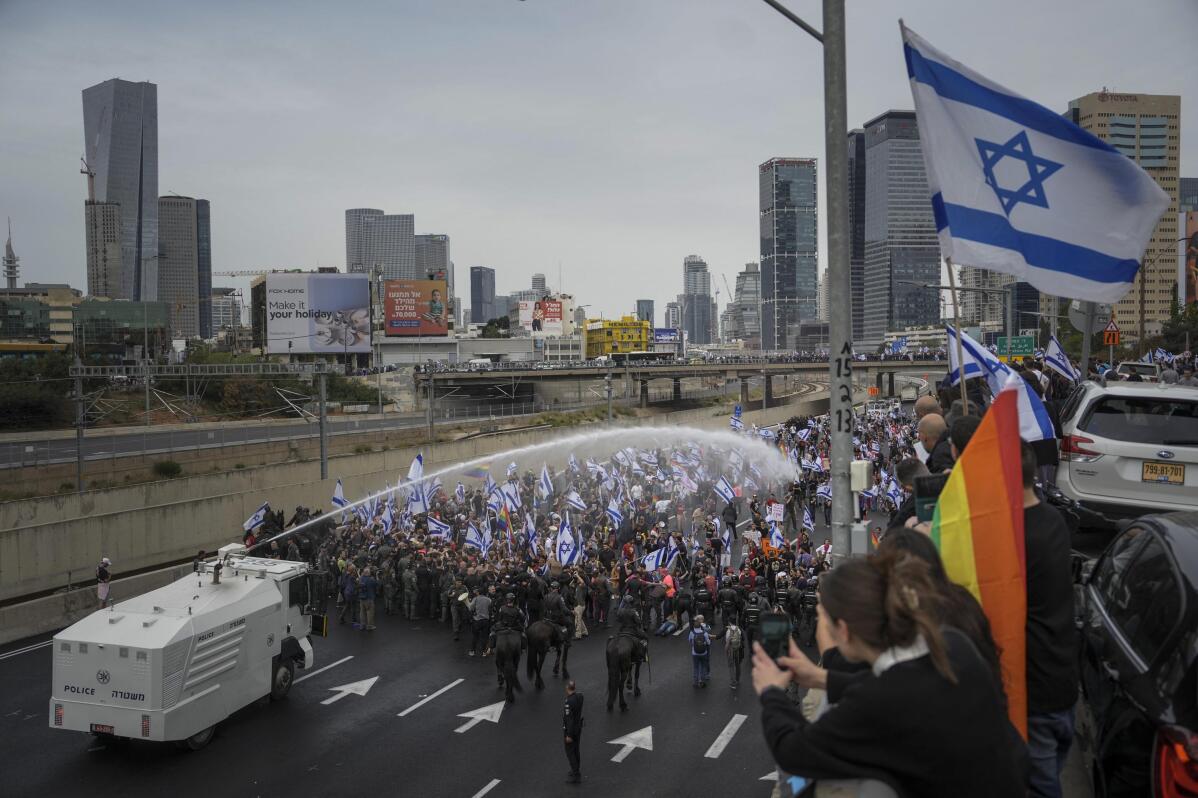 17 of 19

|
Israeli police use a water cannon to disperse Israelis blocking the freeway during a protest against plans by Prime Minister Benjamin Netanyahu's government to overhaul the judicial system in Tel Aviv, Israel, Thursday, March 23, 2023. (AP Photo/Oded Balilty)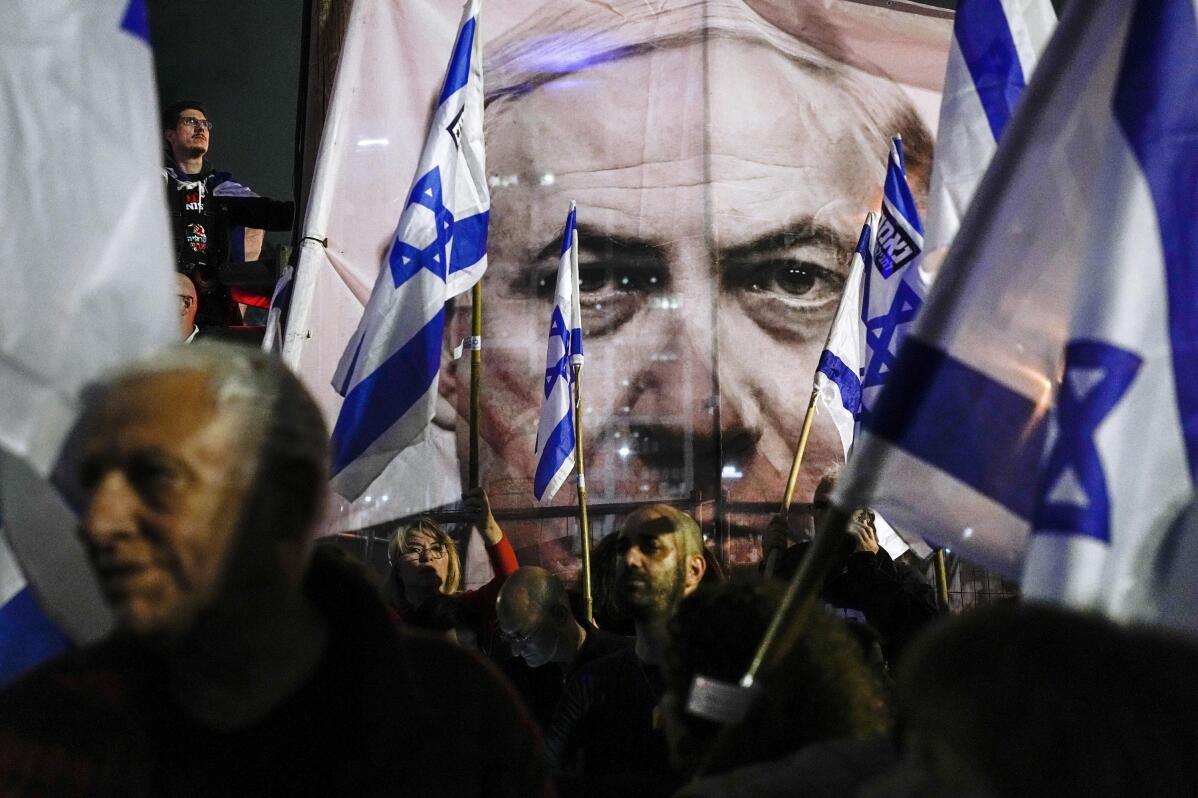 18 of 19

|
Israelis protest against plans by Prime Minister Benjamin Netanyahu's government to overhaul the Israel's judicial system, in Tel Aviv, Israel, Saturday, March 18, 2023. (AP Photo/Ohad Zwigenberg)
19 of 19

|
Mounted police are deployed as Israelis block a main road to protest against plans by Prime Minister Benjamin Netanyahu's new government to overhaul the judicial system, in Tel Aviv, Israel, Wednesday, March 1, 2023. (AP Photo/Oded Balilty)
AP PHOTOS: The protests in Israel -- in 19 striking photos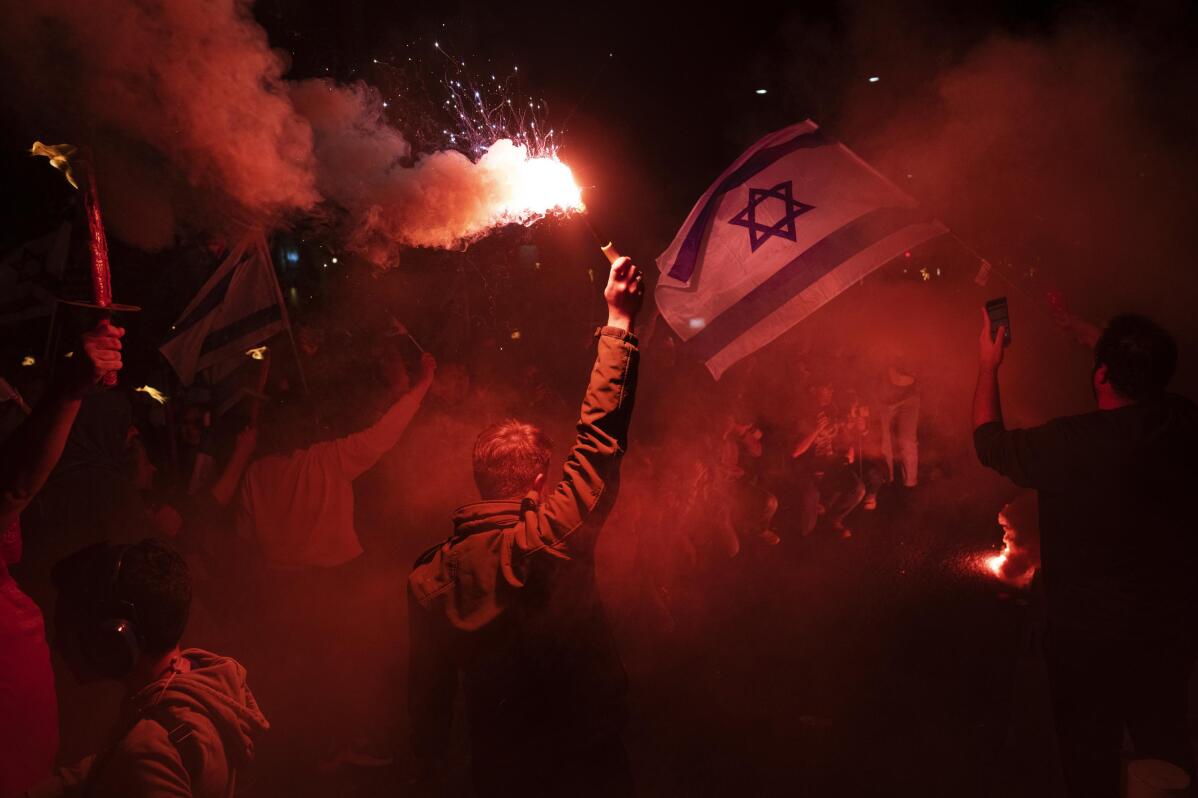 1 of 19

|
Israelis protest against plans by Prime Minister Benjamin Netanyahu's government to overhaul the judicial system, in Tel Aviv, Israel, Thursday, March 9, 2023. (AP Photo/Oded Balilty)
1 of 19
Israelis protest against plans by Prime Minister Benjamin Netanyahu's government to overhaul the judicial system, in Tel Aviv, Israel, Thursday, March 9, 2023. (AP Photo/Oded Balilty)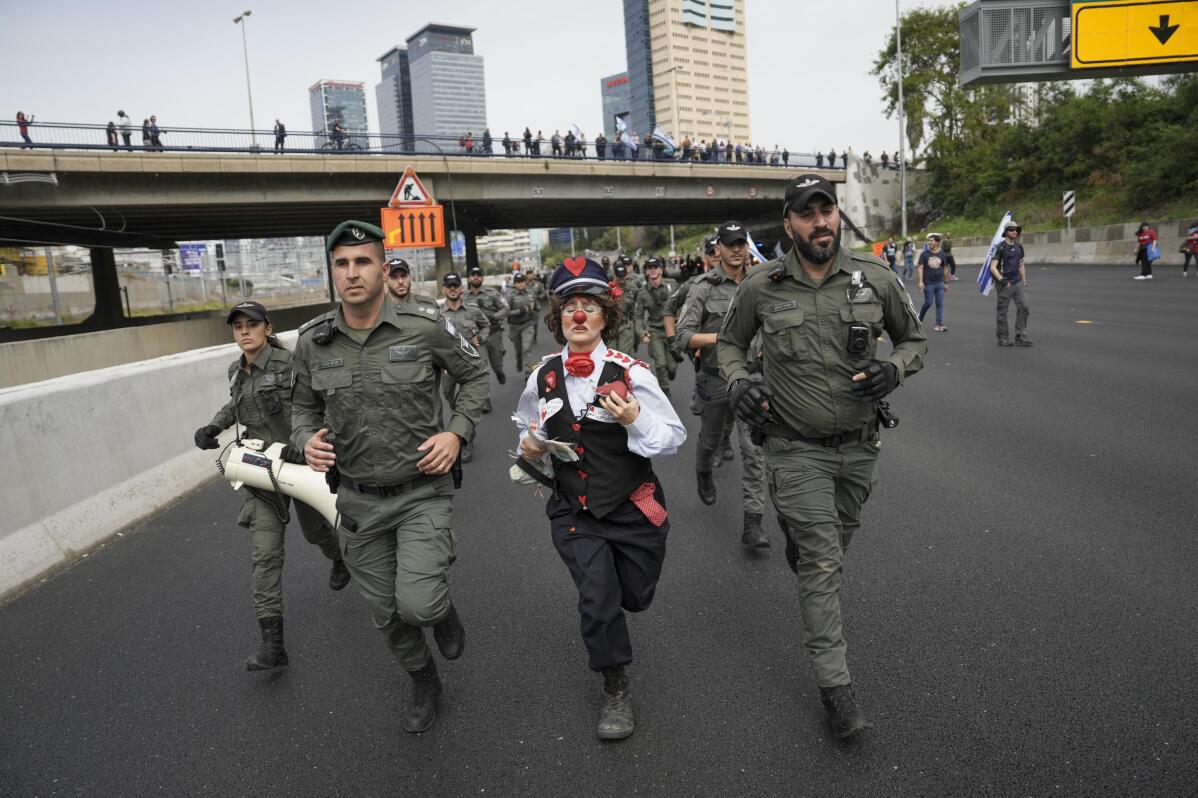 2 of 19

|
An Israeli activist dressed as a clown runs with border police as Israelis protest against plans by Prime Minister Benjamin Netanyahu's government to overhaul the judicial system block a free way in Tel Aviv, Israel, Thursday, March 23, 2023. (AP Photo/Oded Balilty)
2 of 19
An Israeli activist dressed as a clown runs with border police as Israelis protest against plans by Prime Minister Benjamin Netanyahu's government to overhaul the judicial system block a free way in Tel Aviv, Israel, Thursday, March 23, 2023. (AP Photo/Oded Balilty)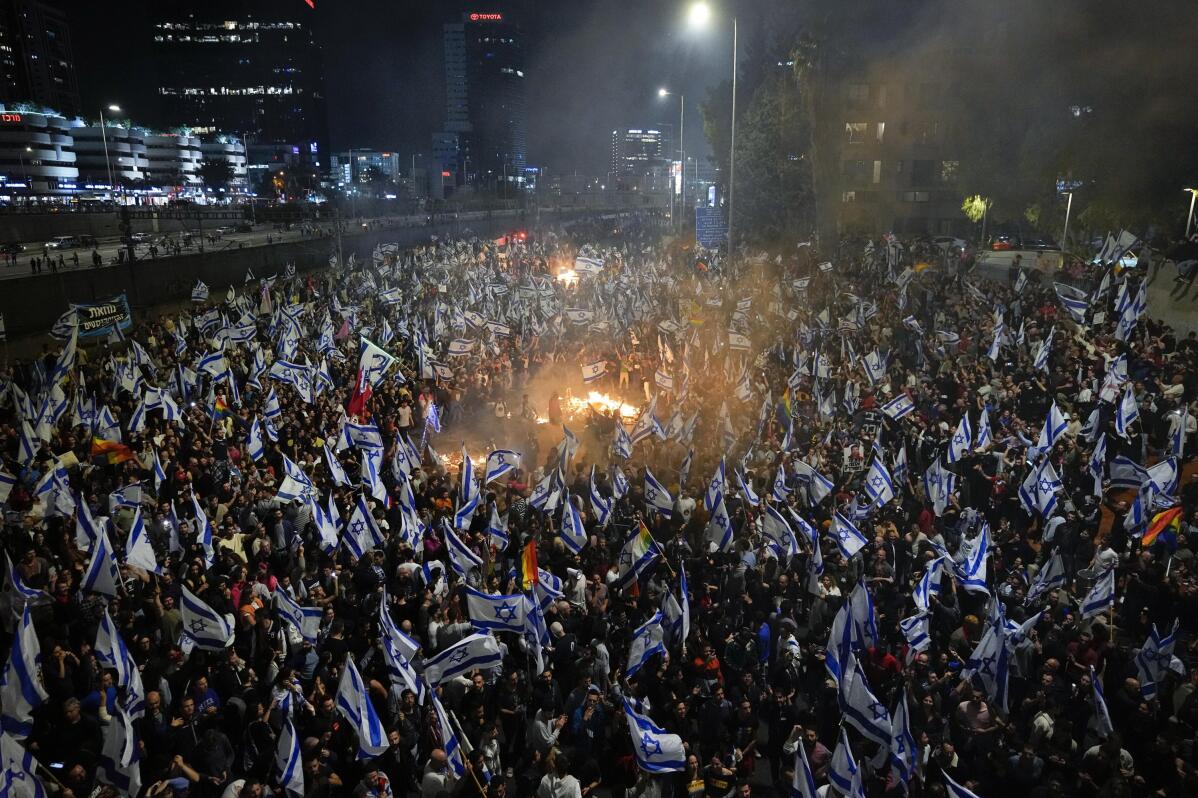 3 of 19

|
Israelis opposed to Prime Minister Benjamin Netanyahu's judicial overhaul plan set up bonfires and block a highway during a protest moments after the Israeli leader fired his defense minister, in Tel Aviv, Israel, Sunday, March 26, 2023. Defense Minister Yoav Gallant had called on Netanyahu to freeze the plan, citing deep divisions in the country and turmoil in the military. (AP Photo/Ohad Zwigenberg)
3 of 19
Israelis opposed to Prime Minister Benjamin Netanyahu's judicial overhaul plan set up bonfires and block a highway during a protest moments after the Israeli leader fired his defense minister, in Tel Aviv, Israel, Sunday, March 26, 2023. Defense Minister Yoav Gallant had called on Netanyahu to freeze the plan, citing deep divisions in the country and turmoil in the military. (AP Photo/Ohad Zwigenberg)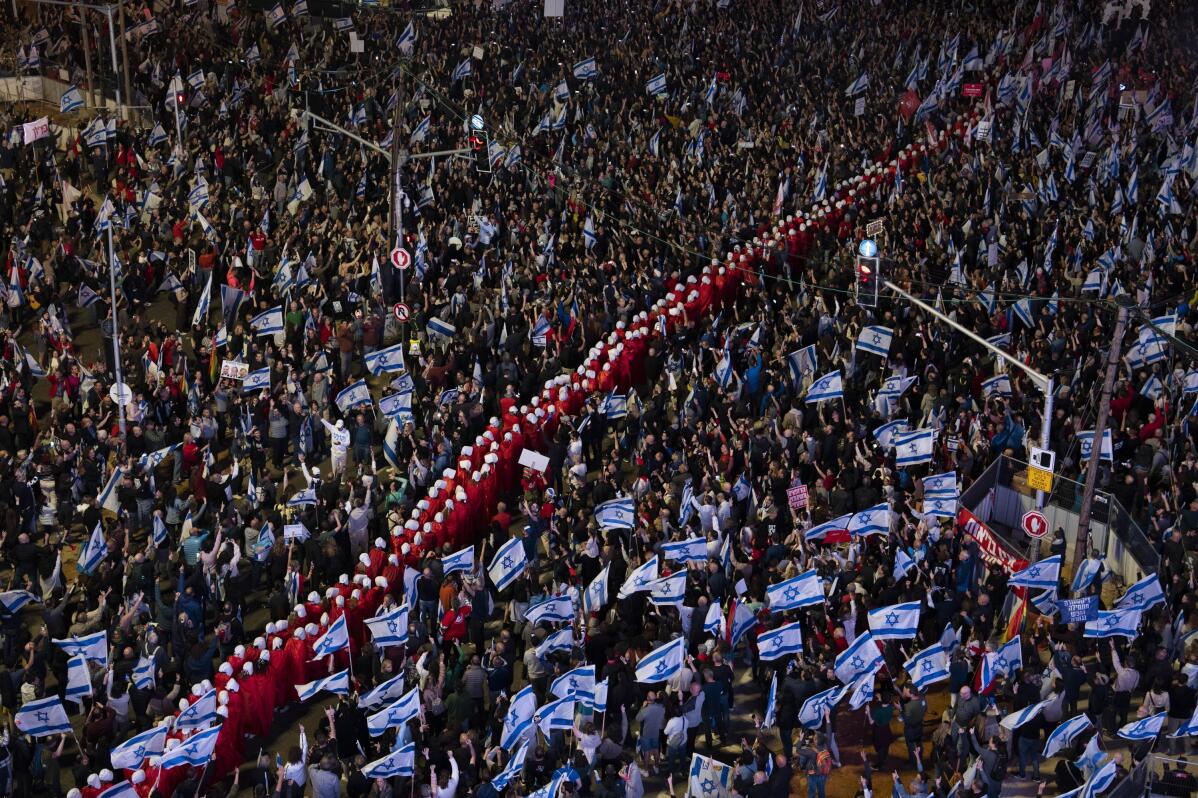 4 of 19

|
A line of protesters supporting women's rights, dressed as characters from The Handmaid's Tale television series, and other Israelis protest against plans by Prime Minister Benjamin Netanyahu's government to overhaul the judicial system in Tel Aviv, Israel, Saturday, March 25, 2023. (AP Photo/Oded Balilty)
4 of 19
A line of protesters supporting women's rights, dressed as characters from The Handmaid's Tale television series, and other Israelis protest against plans by Prime Minister Benjamin Netanyahu's government to overhaul the judicial system in Tel Aviv, Israel, Saturday, March 25, 2023. (AP Photo/Oded Balilty)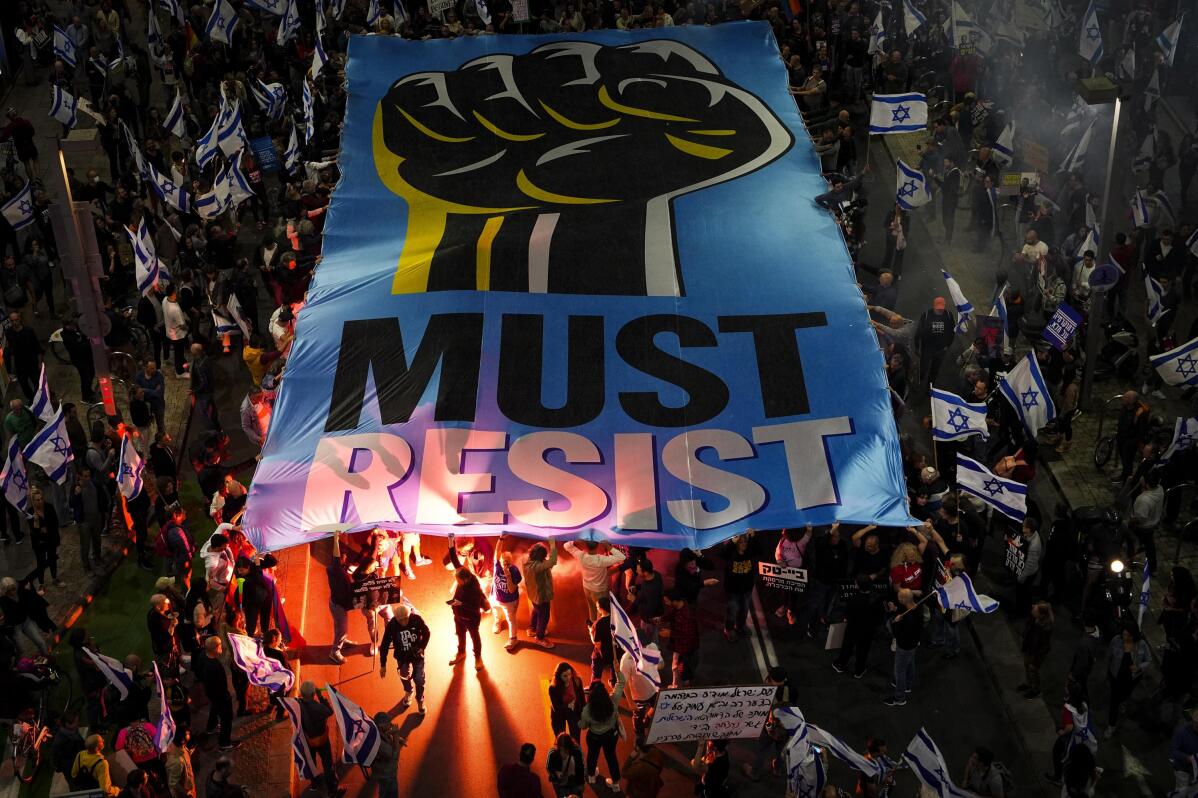 5 of 19

|
Israelis protest against plans by Prime Minister Benjamin Netanyahu's new government to overhaul the judicial system, in Tel Aviv, Israel, Saturday, March 4, 2023. (AP Photo/Tsafrir Abayov)
5 of 19
Israelis protest against plans by Prime Minister Benjamin Netanyahu's new government to overhaul the judicial system, in Tel Aviv, Israel, Saturday, March 4, 2023. (AP Photo/Tsafrir Abayov)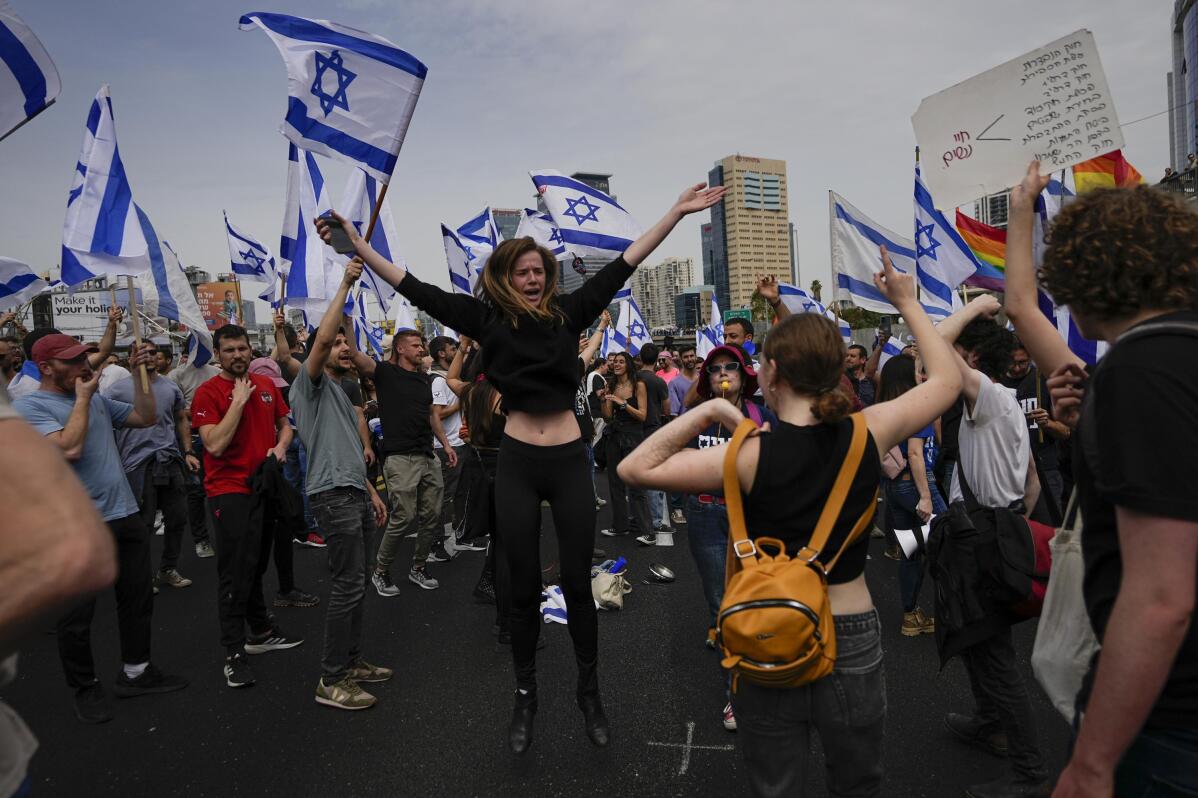 6 of 19

|
Demonstrators block a highway during protest against plans by Prime Minister Benjamin Netanyahu's government to overhaul the judicial system in Tel Aviv, Israel, Thursday, March 23, 2023. (AP Photo/Ohad Zwigenberg)
6 of 19
Demonstrators block a highway during protest against plans by Prime Minister Benjamin Netanyahu's government to overhaul the judicial system in Tel Aviv, Israel, Thursday, March 23, 2023. (AP Photo/Ohad Zwigenberg)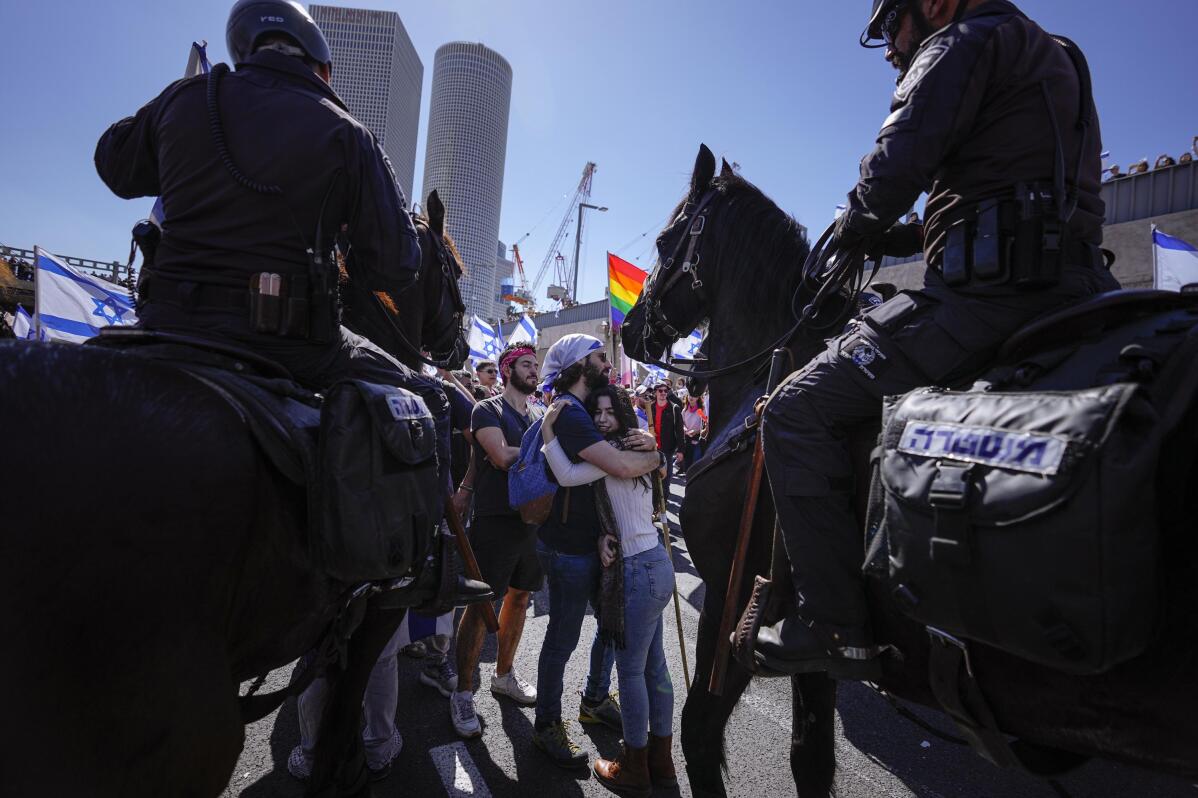 7 of 19

|
Two demonstrators hug as mounted police officers disperse people blocking a highway during a protest against plans by Prime Minister Benjamin Netanyahu's government to overhaul the Israel's judicial system in Tel Aviv, Israel, Thursday, March 16, 2023. (AP Photo/Ohad Zwigenberg)
7 of 19
Two demonstrators hug as mounted police officers disperse people blocking a highway during a protest against plans by Prime Minister Benjamin Netanyahu's government to overhaul the Israel's judicial system in Tel Aviv, Israel, Thursday, March 16, 2023. (AP Photo/Ohad Zwigenberg)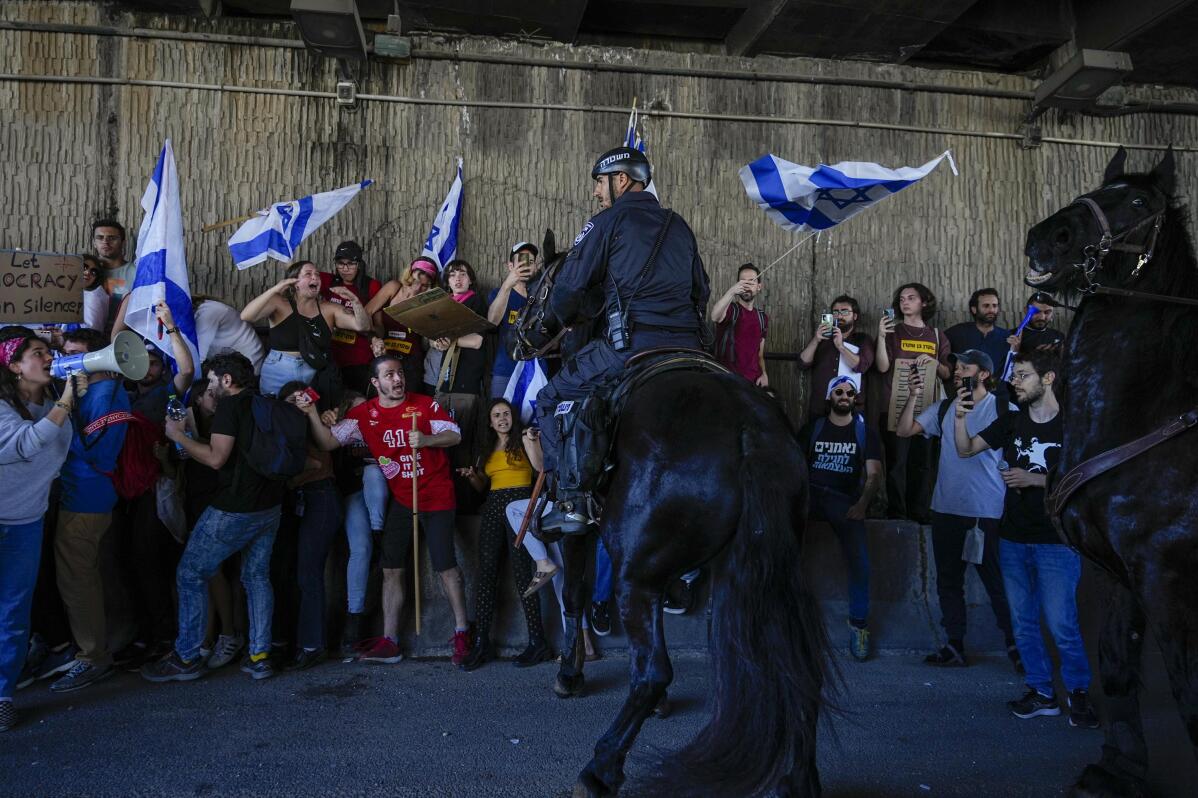 8 of 19

|
Israeli mounted police officers disperse demonstrators blocking a highway during a protest against plans by Prime Minister Benjamin Netanyahu's government to overhaul the judicial system in Tel Aviv, Israel, Thursday, March 16, 2023. (AP Photo/Ohad Zwigenberg)
8 of 19
Israeli mounted police officers disperse demonstrators blocking a highway during a protest against plans by Prime Minister Benjamin Netanyahu's government to overhaul the judicial system in Tel Aviv, Israel, Thursday, March 16, 2023. (AP Photo/Ohad Zwigenberg)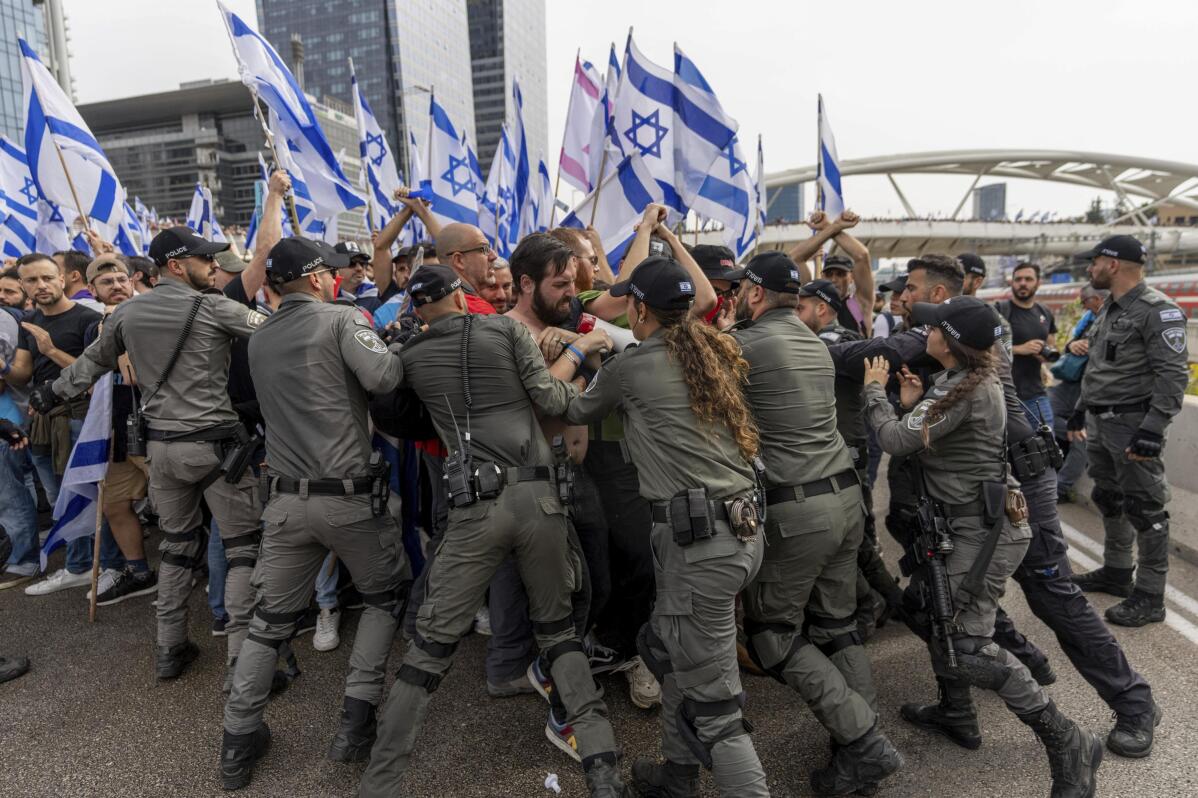 9 of 19

|
Israeli police scuffle with demonstrators blocking a road during a protest against plans by Prime Minister Benjamin Netanyahu's government to overhaul the judicial system in Tel Aviv, Israel, Thursday, March 23, 2023. (AP Photo/Ohad Zwigenberg)
9 of 19
Israeli police scuffle with demonstrators blocking a road during a protest against plans by Prime Minister Benjamin Netanyahu's government to overhaul the judicial system in Tel Aviv, Israel, Thursday, March 23, 2023. (AP Photo/Ohad Zwigenberg)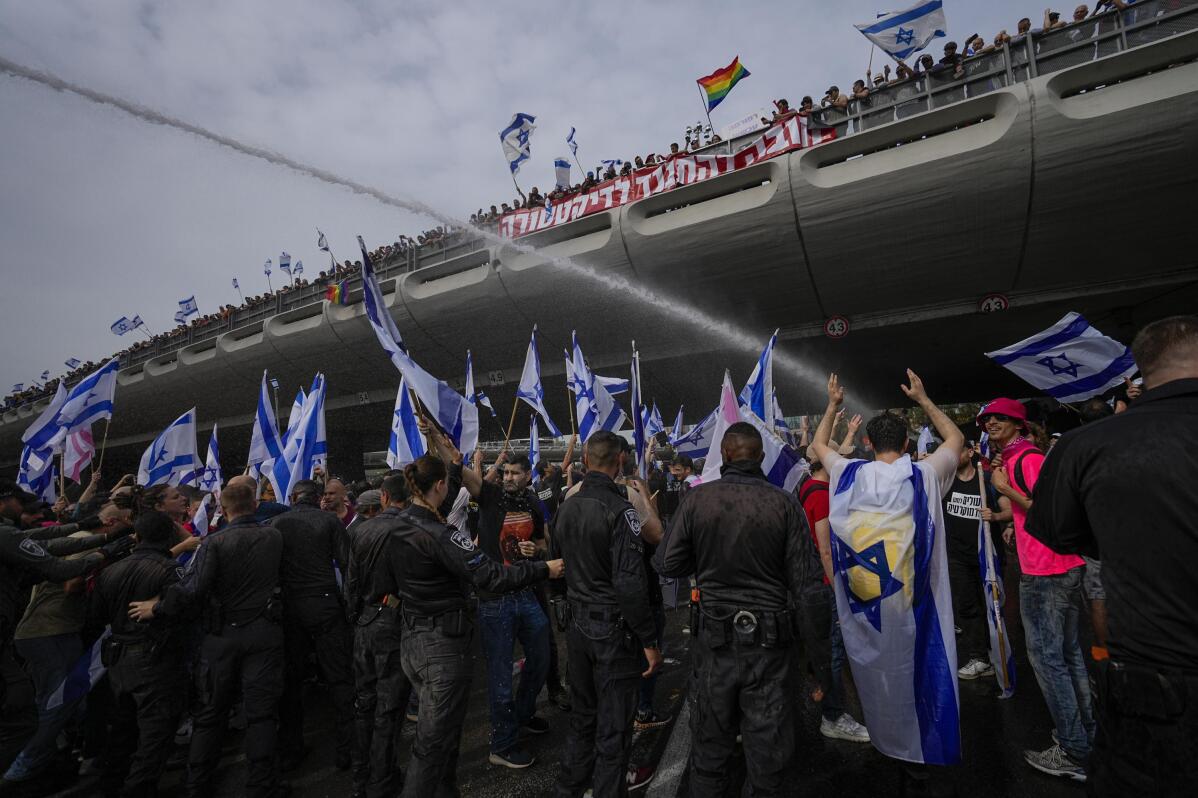 10 of 19

|
Israeli police use water cannon to disperse Israelis protest against plans by Prime Minister Benjamin Netanyahu's government to overhaul the judicial system in Tel Aviv, Israel, Thursday, March 23, 2023. (AP Photo/Ohad Zwigenberg)
10 of 19
Israeli police use water cannon to disperse Israelis protest against plans by Prime Minister Benjamin Netanyahu's government to overhaul the judicial system in Tel Aviv, Israel, Thursday, March 23, 2023. (AP Photo/Ohad Zwigenberg)
11 of 19

|
An Israeli protester against plans by Prime Minister Benjamin Netanyahu's government to overhaul the judicial system lies on the road covered in a fake blood-splattered sheet with signs reading "I am the first to be murdered" in a display against threats of political violence in Tel Aviv, Israel, Thursday, March 23, 2023. (AP Photo/Oded Balilty)
11 of 19
An Israeli protester against plans by Prime Minister Benjamin Netanyahu's government to overhaul the judicial system lies on the road covered in a fake blood-splattered sheet with signs reading "I am the first to be murdered" in a display against threats of political violence in Tel Aviv, Israel, Thursday, March 23, 2023. (AP Photo/Oded Balilty)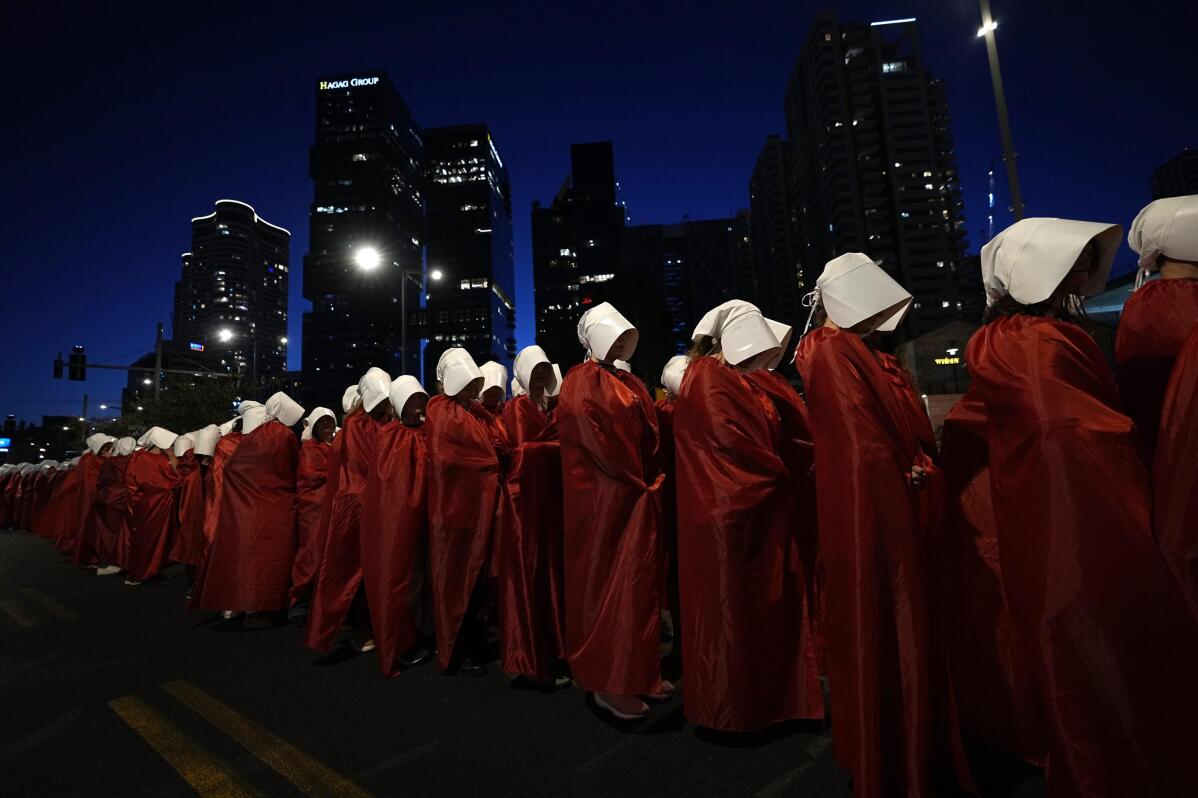 12 of 19

|
Israeli women's rights activists dressed as characters in the popular television series, "The Handmaid's Tale," protest plans by Prime Minister Benjamin Netanyahu's government to overhaul the judicial system, in Tel Aviv, Israel, Saturday, March 11, 2023. (AP Photo/Ohad Zwigenberg)
12 of 19
Israeli women's rights activists dressed as characters in the popular television series, "The Handmaid's Tale," protest plans by Prime Minister Benjamin Netanyahu's government to overhaul the judicial system, in Tel Aviv, Israel, Saturday, March 11, 2023. (AP Photo/Ohad Zwigenberg)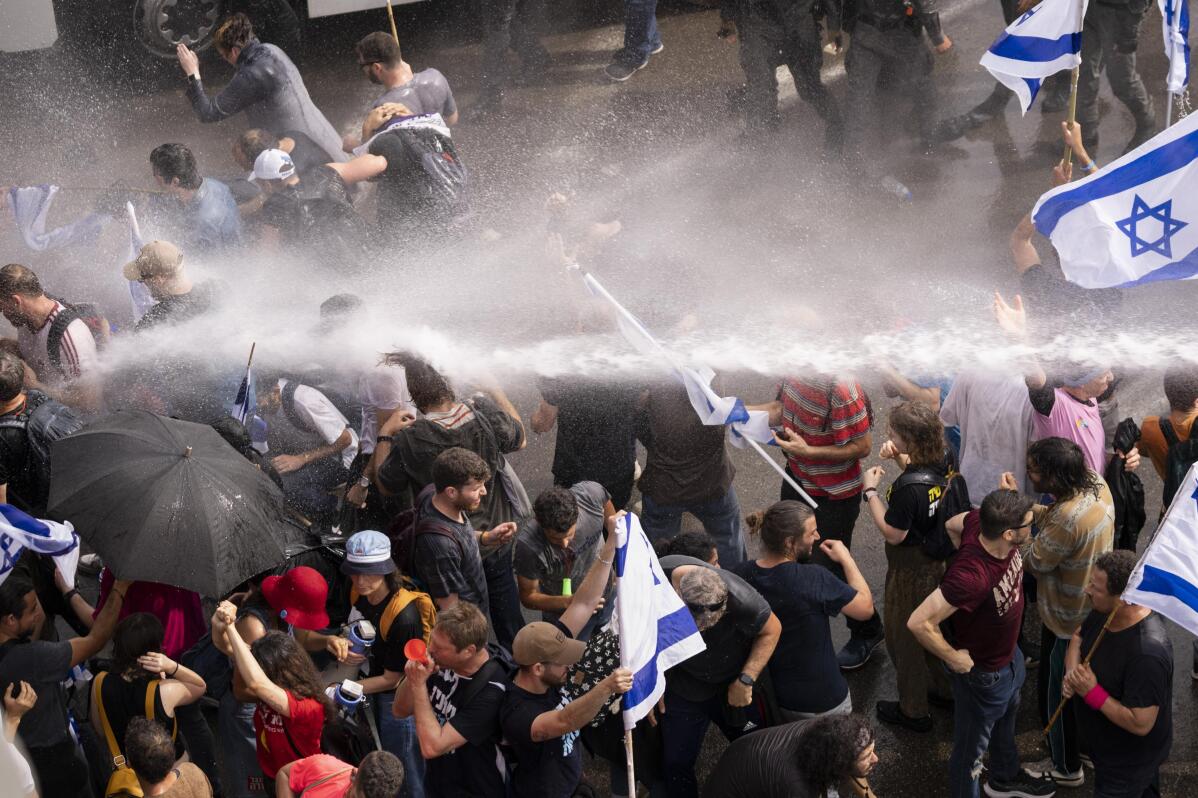 13 of 19

|
Israeli police use a water cannon to disperse Israelis blocking the freeway during a protest against plans by Prime Minister Benjamin Netanyahu's government to overhaul the judicial system in Tel Aviv, Israel, Thursday, March 23, 2023. (AP Photo/Oded Balilty)
13 of 19
Israeli police use a water cannon to disperse Israelis blocking the freeway during a protest against plans by Prime Minister Benjamin Netanyahu's government to overhaul the judicial system in Tel Aviv, Israel, Thursday, March 23, 2023. (AP Photo/Oded Balilty)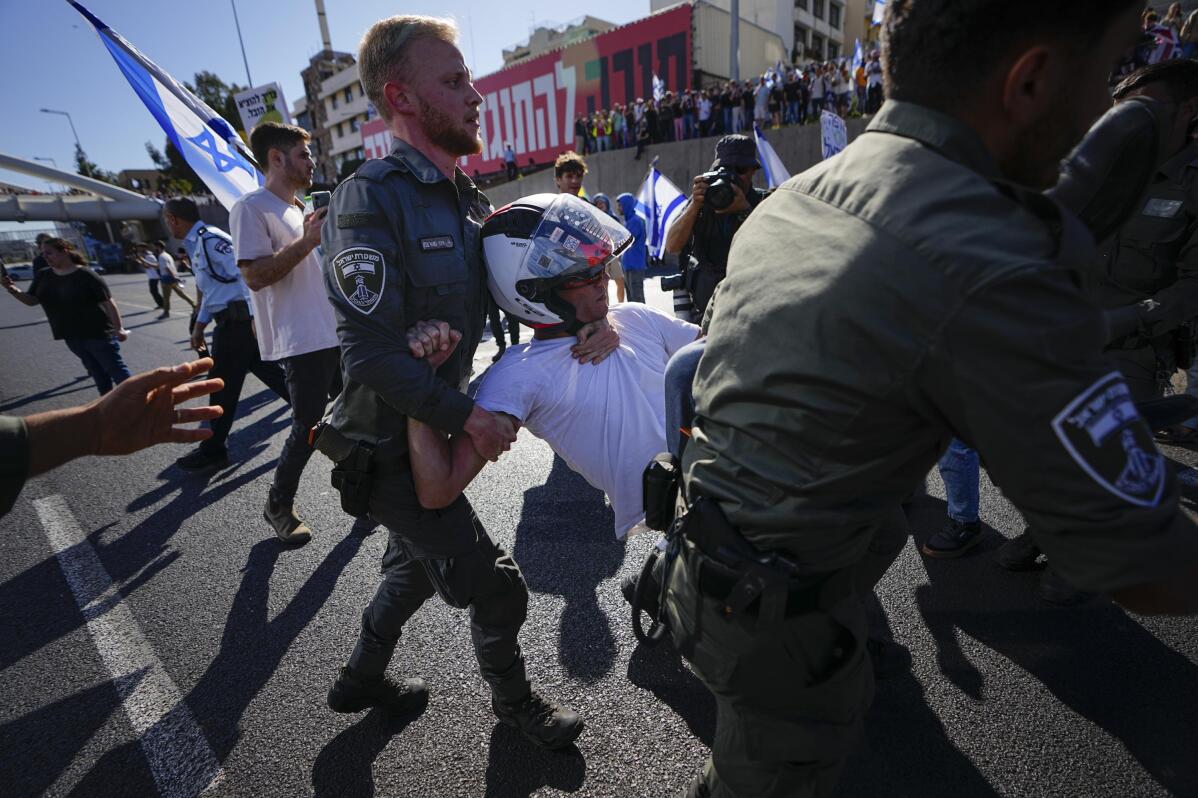 14 of 19

|
Israeli border police officers disperse demonstrators blocking a highway during a protest against plans by Prime Minister Benjamin Netanyahu's government to overhaul the judicial system, in Tel Aviv, Israel, Thursday, March 9, 2023. (AP Photo/Ariel Schalit)
14 of 19
Israeli border police officers disperse demonstrators blocking a highway during a protest against plans by Prime Minister Benjamin Netanyahu's government to overhaul the judicial system, in Tel Aviv, Israel, Thursday, March 9, 2023. (AP Photo/Ariel Schalit)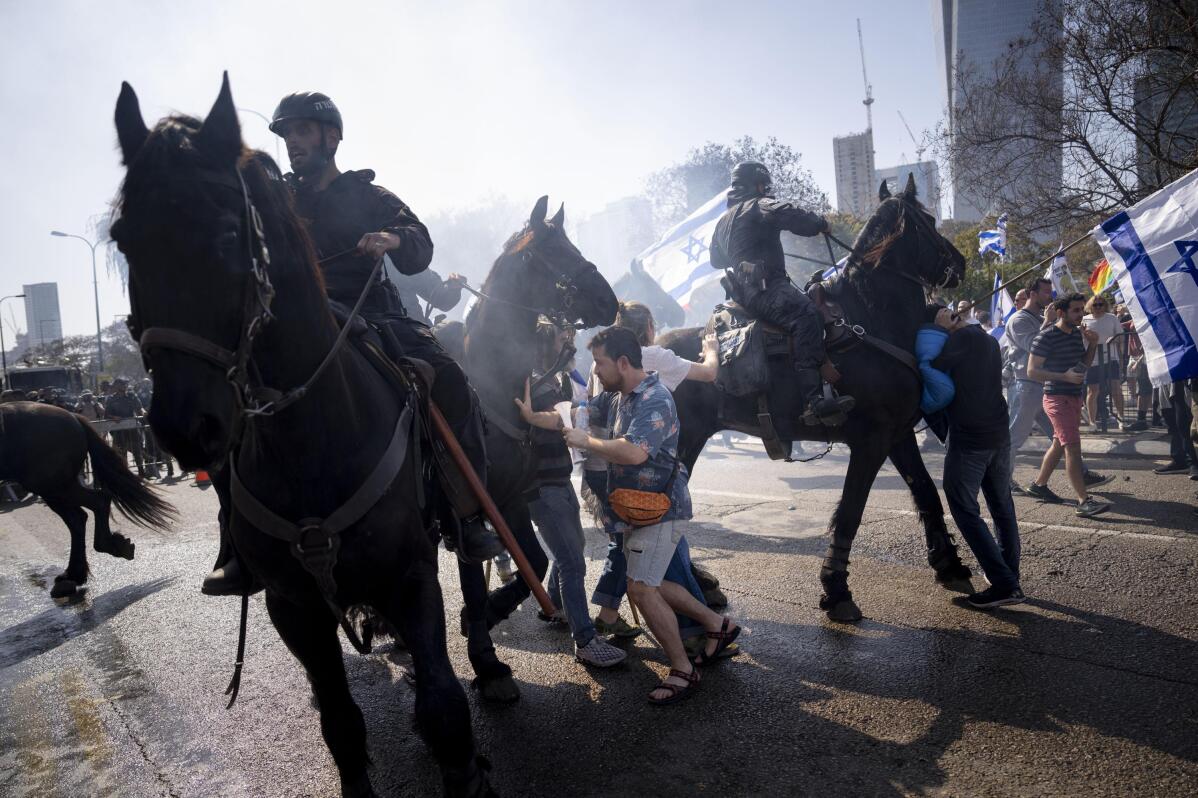 15 of 19

|
Israeli police deploy horses and stun grenades to disperse Israelis blocking a main road during a protest against plans by Prime Minister Benjamin Netanyahu's new government to overhaul the judicial system, in Tel Aviv, Israel, Wednesday, March 1, 2023. (AP Photo/Oded Balilty)
15 of 19
Israeli police deploy horses and stun grenades to disperse Israelis blocking a main road during a protest against plans by Prime Minister Benjamin Netanyahu's new government to overhaul the judicial system, in Tel Aviv, Israel, Wednesday, March 1, 2023. (AP Photo/Oded Balilty)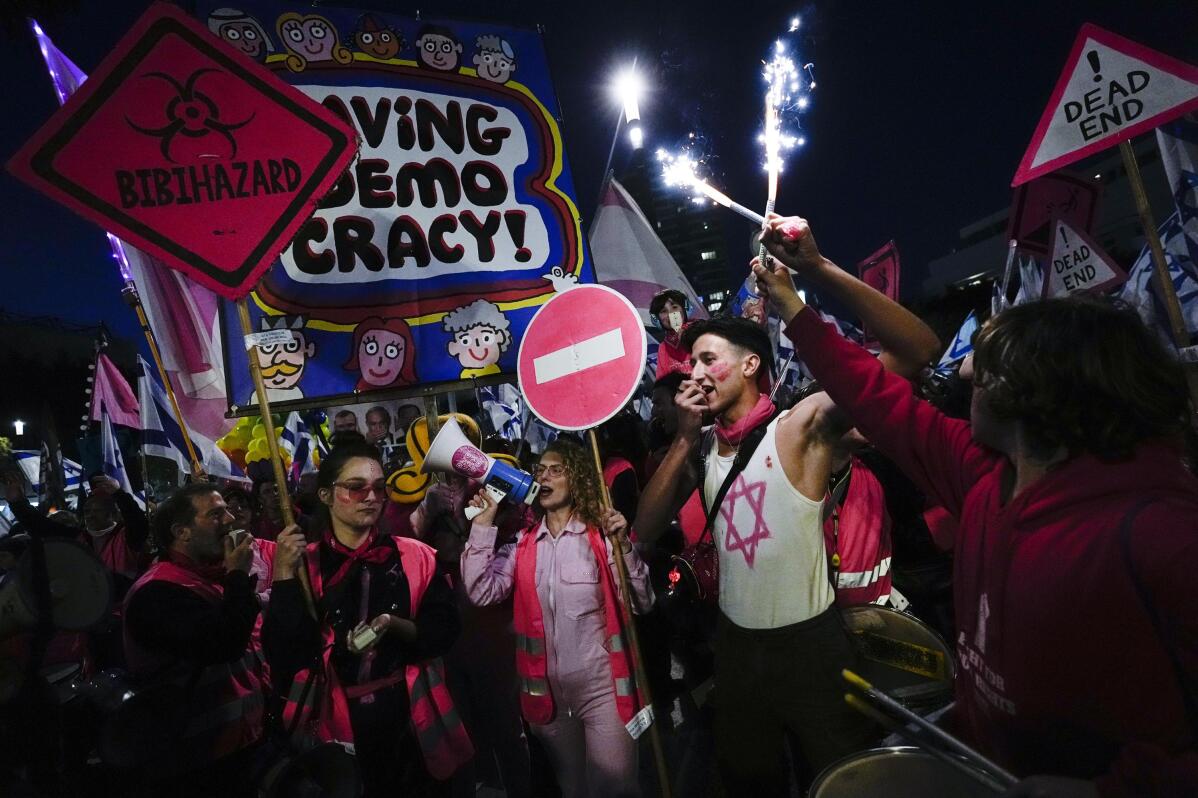 16 of 19

|
Israelis protest against plans by Prime Minister Benjamin Netanyahu's government to overhaul the judicial system, in Tel Aviv, Israel, Saturday, March 18, 2023. (AP Photo/Ohad Zwigenberg)
16 of 19
Israelis protest against plans by Prime Minister Benjamin Netanyahu's government to overhaul the judicial system, in Tel Aviv, Israel, Saturday, March 18, 2023. (AP Photo/Ohad Zwigenberg)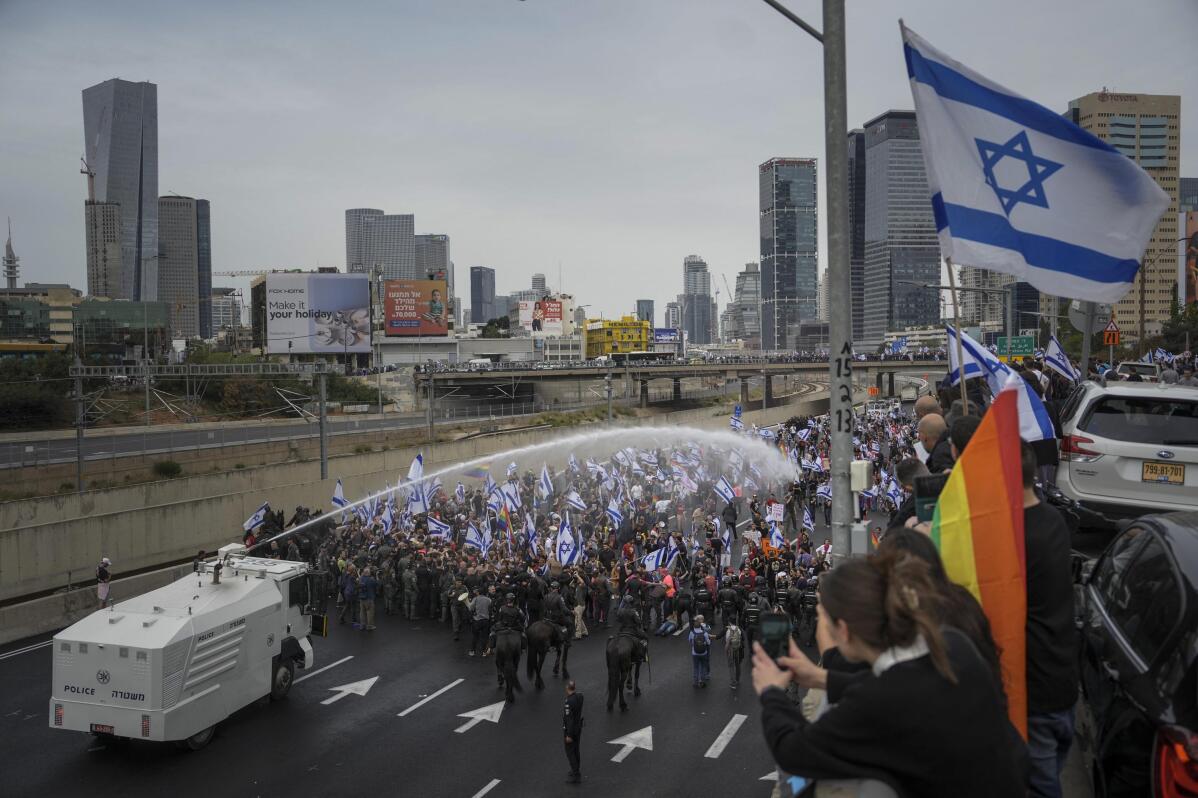 17 of 19

|
Israeli police use a water cannon to disperse Israelis blocking the freeway during a protest against plans by Prime Minister Benjamin Netanyahu's government to overhaul the judicial system in Tel Aviv, Israel, Thursday, March 23, 2023. (AP Photo/Oded Balilty)
17 of 19
Israeli police use a water cannon to disperse Israelis blocking the freeway during a protest against plans by Prime Minister Benjamin Netanyahu's government to overhaul the judicial system in Tel Aviv, Israel, Thursday, March 23, 2023. (AP Photo/Oded Balilty)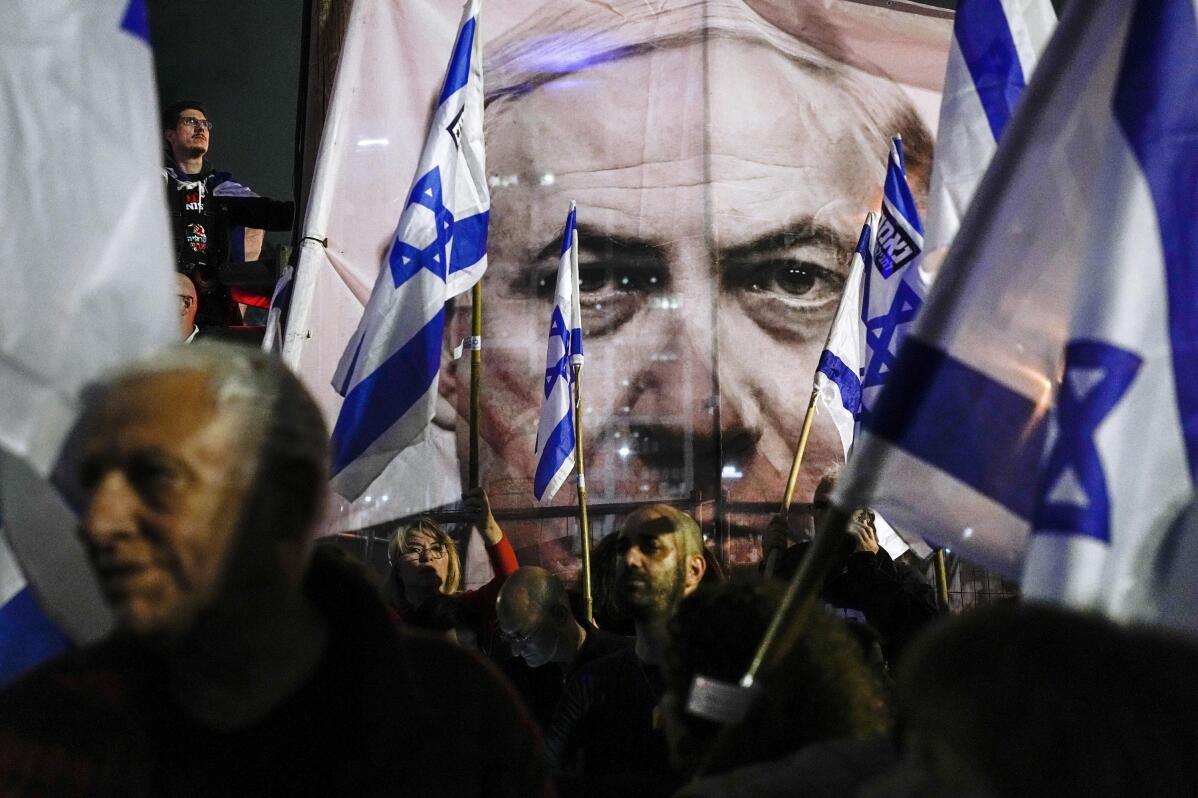 18 of 19

|
Israelis protest against plans by Prime Minister Benjamin Netanyahu's government to overhaul the Israel's judicial system, in Tel Aviv, Israel, Saturday, March 18, 2023. (AP Photo/Ohad Zwigenberg)
18 of 19
Israelis protest against plans by Prime Minister Benjamin Netanyahu's government to overhaul the Israel's judicial system, in Tel Aviv, Israel, Saturday, March 18, 2023. (AP Photo/Ohad Zwigenberg)
19 of 19

|
Mounted police are deployed as Israelis block a main road to protest against plans by Prime Minister Benjamin Netanyahu's new government to overhaul the judicial system, in Tel Aviv, Israel, Wednesday, March 1, 2023. (AP Photo/Oded Balilty)
19 of 19
Mounted police are deployed as Israelis block a main road to protest against plans by Prime Minister Benjamin Netanyahu's new government to overhaul the judicial system, in Tel Aviv, Israel, Wednesday, March 1, 2023. (AP Photo/Oded Balilty)
Hundreds of thousands of people have taken to the streets in Israel over the past three months to protest Prime Minister Benjamin Netanyahu's plan to overhaul the country's judiciary.
The protests have drawn from a broad swath of Israeli society: young and old, religious and secular, residents of Tel Aviv, Jerusalem and beyond.
Wearing "Handmaid's Tale" costumes, carrying sharp-witted signs and flying the ubiquitous blue-and-white national flag, protesters have blocked main highways and disrupted daily life in their effort to fight Netanyahu's ultranationalist and ultra-Orthodox government.
On Monday, Netanyahu bowed to the discontent by announcing a delay in the plan and saying that he wanted "to avoid civil war" by seeking a compromise with political opponents during the next several weeks.
If passed, the series of laws would limit the Supreme Court's powers and give politicians greater control over judicial appointments.
The proposal has plunged Israel into its worst domestic crisis in decades by dividing an already polarized country and galvanizing a fractured opposition that was still reeling from defeat late last year. The November election was Israel's fifth in less than four years.