Israeli PM, Biden exchange frosty words over legal overhaul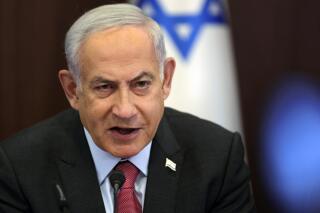 JERUSALEM (AP) — Israel's prime minister on Wednesday brushed aside criticism of his judicial overhaul plan from President Joe Biden, saying the matter was an internal Israeli issue and would not be influenced by outside pressure.
While both sides tried to play down their differences, it was a rare bout of public disagreement between the two close allies, and reflected what has been a lukewarm relationship between the Biden administration and Prime Minister Benjamin Netanyahu's new government. It also marked the latest sign of cooling ties between Israel and the Democratic Party.
The disagreement came after months of unrest in Israel over Netanyahu's proposed overhaul of the country's judicial system. Netanyahu, who is on trial for corruption charges, says the plan is needed to rein in the powers of an interventionist judiciary. Critics say it will push the country toward authoritarianism by weakening an independent court system.
Following especially heavy protests, Netanyahu this week froze the plan and launched negotiations on a compromise with his political opponents. The timeout prompted Biden's ambassador, Tom Nides, to tell Israeli media that he expected Netanyahu to soon be invited to the White House.
Asked about the legislation on Tuesday, Biden told reporters, "I hope he walks away from it." He said Netanyahu's government "cannot continue down this road" and called for a compromise. He also said there were no immediate plans for a White House visit, saying: "No, not in the near term."
Netanyahu responded with a statement expressing appreciation for Biden's years of support for Israel and vowing to seek a "broad consensus" over the legal program. But he also dismissed the outside pressure.
"Israel is a sovereign country which makes its decisions by the will of its people and not based on pressures from abroad, including from the best of friends," Netanyahu said.
Members of his coalition reacted even more harshly, saying Biden had no business interfering in an internal Israeli matter.
Israel "is not another star in the American flag," said National Security Minister Itamar Ben-Gvir, leader of the ultranationalist Jewish Power party. "I expect the U.S. president to understand this point."
Netanyahu later tried to soothe tensions in a speech to the U.S. "Summit for Democracy," a virtual gathering of global leaders, saying that while the United States and Israel have "occasional differences," the ties between them are "unshakeable."
A senior Israeli official, speaking to reporters, described the spat as a "tempest in a teacup" and said there have not been any discussions with the Americans about a Netanyahu visit to Washington. He spoke on condition of anonymity because to discuss behind-the-scenes diplomacy.
White House National Security Council spokesman John Kirby also tried to play down the disagreements, saying Biden's comments about the judicial overhaul plan have remained "completely consistent." He also dismissed suggestions they caused tensions in an "unshakeable" relationship.
"The great thing about a deep friendship is you can be that candid with one another," Kirby said.
While they may get through this latest dispute, it will not erase the deeper differences between them.
After five Israeli elections in under four years, Netanyahu managed to cobble together a coalition government with a group of ultra-Orthodox and ultranationalist partners late last year.
These include far-right partners who oppose Palestinian statehood and have strong ties to the West Bank settler movement — putting them at odds with U.S. support for a two-state solution to the Israeli-Palestinian conflict.
Since taking office, there have been repeated run-ins with the Americans over Israeli settlement construction on occupied lands and comments by Finance Minister Bezalel Smotrich, who called for a Palestinian town to be "erased" and later said the Palestinian people don't exist. Washington has called his comments "repugnant" and snubbed Smotrich during a recent U.S. visit.
Israeli opposition leader Yair Lapid, who enjoyed good ties with Biden during a brief period as caretaker prime minister last year, accused Netanyahu of harming Israel's most important relationship.
"For decades, Israel was the USA's closest ally," Lapid wrote on Twitter. "The most radical government in the country's history ruined that in three months."
That relationship, however, has been repeatedly tested in recent years by a growing partisan divide in the U.S. over support for Israel.
Netanyahu has long been seen as favoring the Republicans over the Democrats. During his 2009-2021 term as prime minister, he cultivated close ties with U.S. evangelical Christian groups.
Netanyahu had several public spats with the Obama administration — in which Biden served as vice president — over Israel's policies toward the Palestinians and the Iranian nuclear issue. In 2015, he infuriated the White House by addressing Congress to rail against a U.S.-led nuclear deal between world powers and Iran.
His close relationship with former President Donald Trump further alienated U.S. Democrats.
Democratic lawmakers, particularly in the party's progressive wing, have grown increasingly outspoken in their criticism of Israel.
A Pew poll published last May found Republicans expressing far more favorable views of the Israeli government than Democrats. The poll found that Democrats — especially young voters — have increasingly expressed favorable views about the Palestinians.
This gap has spread to the American Jewish community, a key base of support for Israel, which tends to lean heavily toward the Democrats.
A separate Pew poll published in 2021 found that Jewish Democrats, especially the younger generation, have lower levels of support and connection to Israel.
The Netanyahu government's attempts to reshape the judiciary now risk accelerating these trends. Business leaders, top economists and former security chiefs have all come out against the plan, saying it is pushing the country toward dictatorship.
It has also drawn criticism from Israel's supporters in the U.S., including American Jewish organizations, as well as Democratic members of Congress.
The plan would give Netanyahu, who is on trial on corruption charges, and his allies the final say in appointing the nation's judges. It would also give parliament, which is controlled by his allies, authority to overturn Supreme Court decisions and limit the court's ability to review laws.
Critics say the legislation would concentrate power in the hands of the coalition in parliament and upset the balance of checks and balances between branches of government. They also say that Netanyahu has a conflict of interest while on trial.
After this week's freeze of the overhaul, the rival sides have several months to find a compromise.
But Alon Pinkas, a former Israeli consul-general in New York who is now a columnist for the liberal daily Haaretz, said the damage has already been done.
"This is not about an invitation to the White House," he wrote Wednesday. "This is about a fundamental crisis of trust. Worse, it is about asking whether a dependable U.S. ally is becoming unstable, unreliable and untrustworthy."
___
Associated Press writer Aamer Madhani in Washington contributed reporting.