Jacinda Ardern to begin new role combating online extremism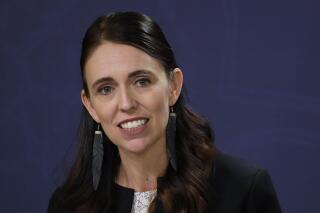 WELLINGTON, New Zealand (AP) — Jacinda Ardern, who stepped down as New Zealand's prime minister in January, will begin an unpaid role this month combating online extremism.
New Zealand Prime Minister Chris Hipkins, who took over as leader from Ardern, announced Tuesday he'd appointed Ardern as Special Envoy for the Christchurch Call. Hipkins said Ardern would begin the part-time role this month, right after she leaves Parliament and that she'd declined to accept any pay. He said the role would be reviewed at the end of the year.
Ardern launched the Christchurch Call with French President Emmanuel Macron in 2019, two months after a white supremacist gunman killed 51 people at two mosques in the New Zealand city of Christchurch. The gunman livestreamed the slaughter for 17 minutes on Facebook before the video was taken down.
Christchurch Call's goal is to eliminate terrorist and violent extremist content online. More than 50 countries have since signed up to the Christchurch Call, including the United States, Britain, Germany and South Korea. Tech companies to sign up include Facebook parent company Meta, Amazon, Google, Microsoft, YouTube, Zoom and Twitter.
The group says it has had success developing new online safety systems and is studying the implications of fast-rising technologies such as artificial intelligence.
"The Christchurch Call is a foreign policy priority for the government and Jacinda Ardern is uniquely placed to keep pushing forward with the goal of eliminating violent extremist content online," Hipkins said.
He said Ardern would report directly to him.
Although she stepped down as prime minister in January, Ardern remained a lawmaker until April to avoid triggering a special election ahead of the nation's general elections in October. She is due to deliver her final valedictory speech to Parliament on Wednesday.
Ardern also announced she was joining the board of trustees for The Earthshot Prize, an environmental charity started by Britain's Prince William in 2020. Each year, the charity gives five winners 1 million pounds ($1.24 million) each to help them scale-up environmental solutions.
Prince William said it was an honor to have Ardern join the team.
"Four years ago, before The Earthshot Prize even had a name, Jacinda was one of the first people I spoke to, and her encouragement and advice was crucial to the Prize's early success," William said in a statement. "I am hugely grateful to her for joining us as she takes the next steps in her career."
Ardern said in a statement she believed Earthshot had the power to "encourage and spread not only the innovation we desperately need, but also optimism."