Jacksonville elects first female mayor, giving Florida Democrats a rare win in GOP-dominated state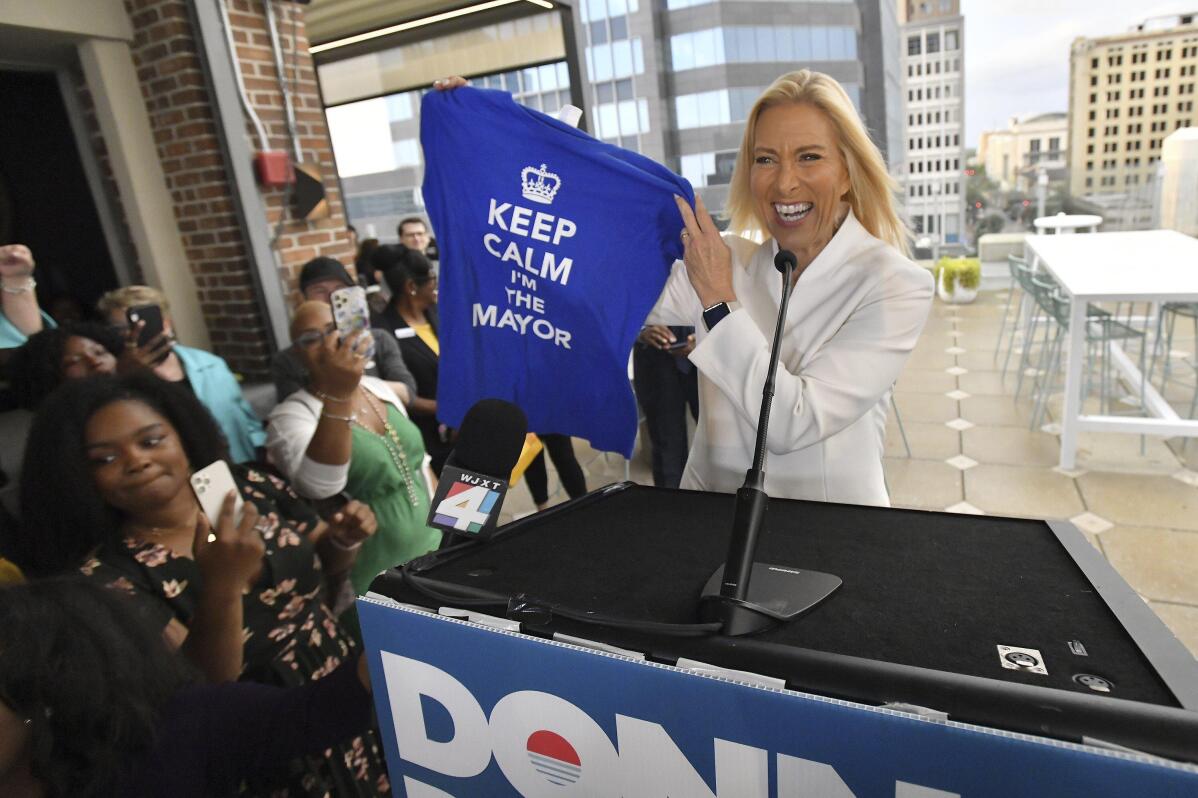 1 of 8

|
Donna Deegan holds up a T-shirt her daughter bought for her on a trip to London, while speaking with supporters in her run for mayor of Jacksonville, Fla., Tuesday, May 16, 2023. Deegan defeated Republican Daniel Davis, becoming the first female to be elected as the city's mayor. (Bob Self/The Florida Times-Union via AP)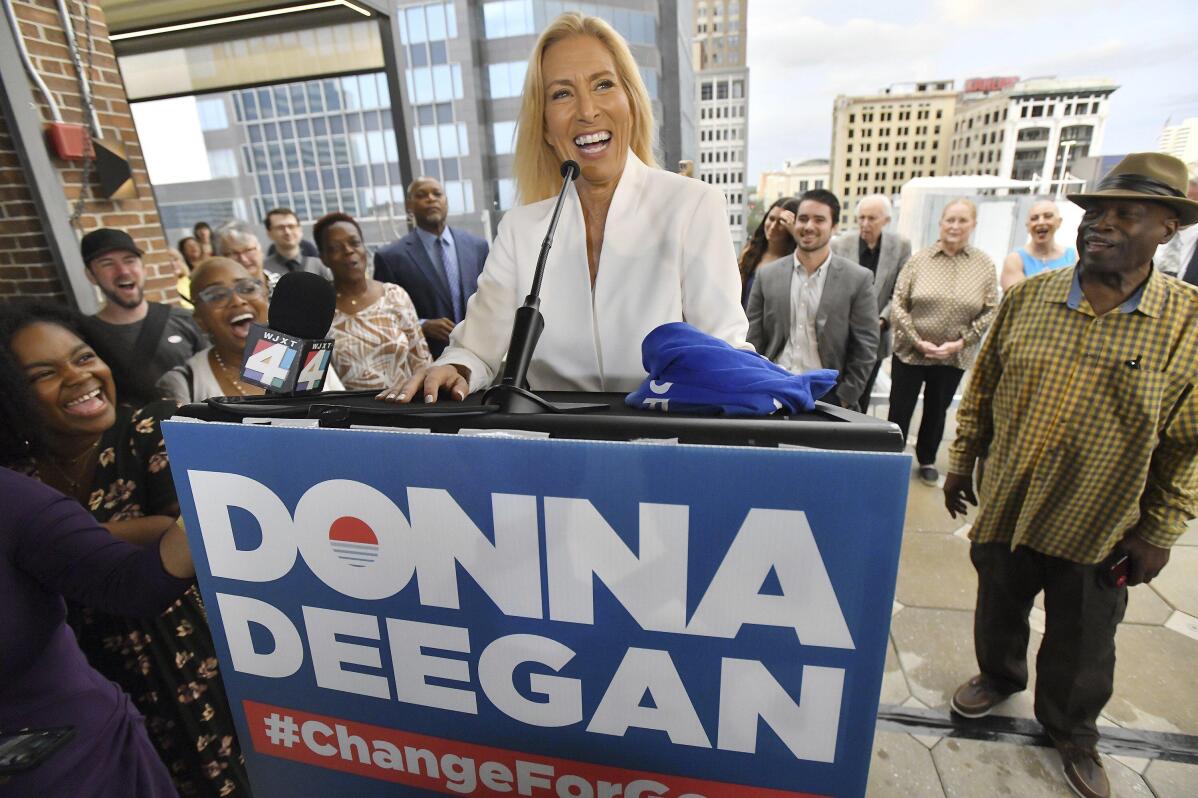 2 of 8

|
Donna Deegan smiles while speaking with supporters in her run for mayor of Jacksonville, Fla., Tuesday, May 16, 2023. Deegan defeated Republican Daniel Davis, becoming the first female to be elected as the city's mayor. (Bob Self/The Florida Times-Union via AP)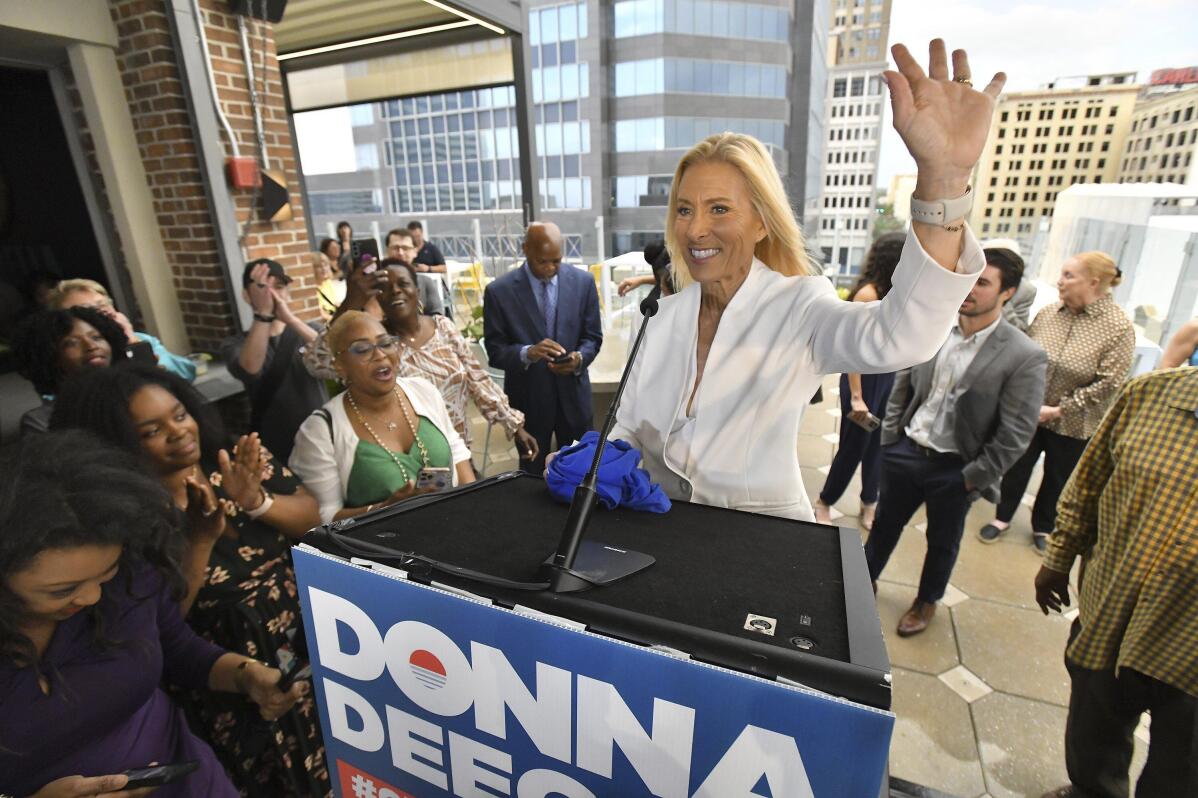 3 of 8

|
Donna Deegan waves after speaking to supporters in her run for mayor of Jacksonville, Fla., Tuesday, May 16, 2023. Deegan defeated Republican Daniel Davis, becoming the first female to be elected as the city's mayor. (Bob Self/The Florida Times-Union via AP)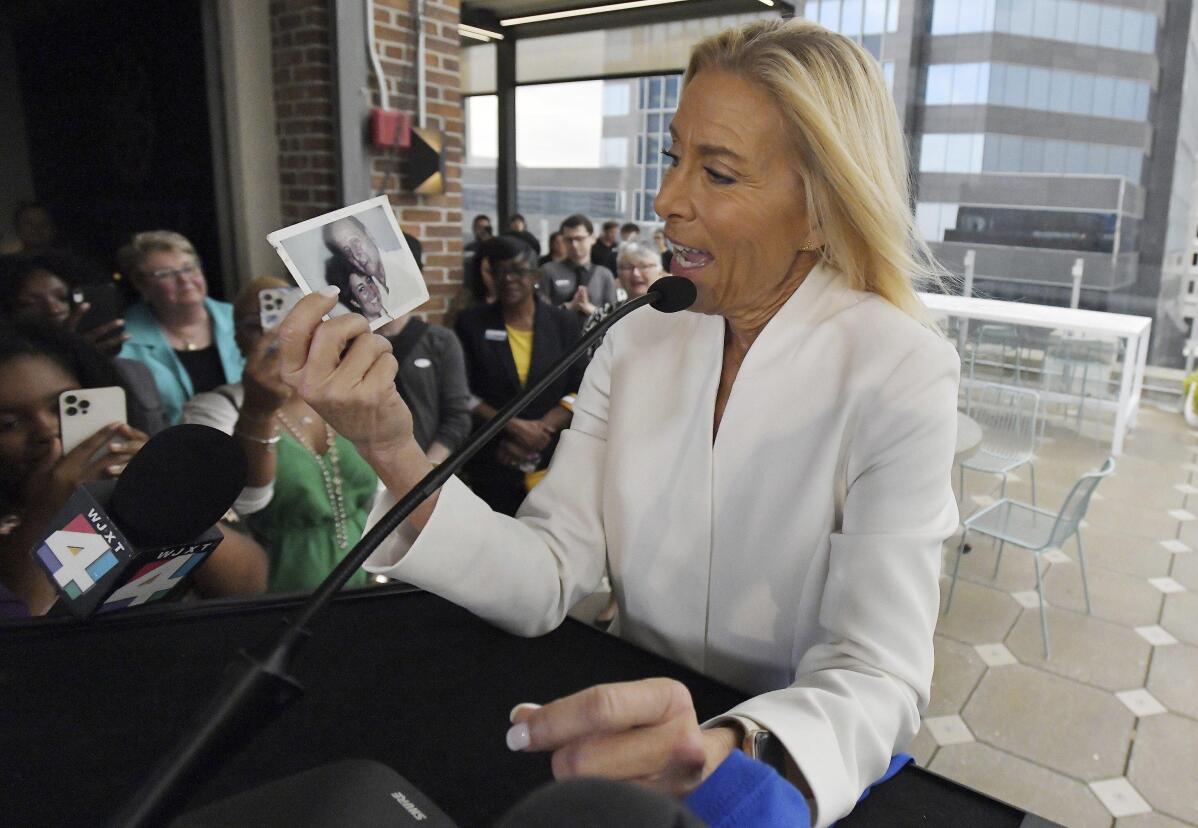 4 of 8

|
Donna Deegan holds a photo of her with her grandfather, while speaking with supporters in her run for mayor of Jacksonville, Fla., Tuesday, May 16, 2023. Deegan defeated Republican Daniel Davis, becoming the first female to be elected as the city's mayor. (Bob Self/The Florida Times-Union via AP)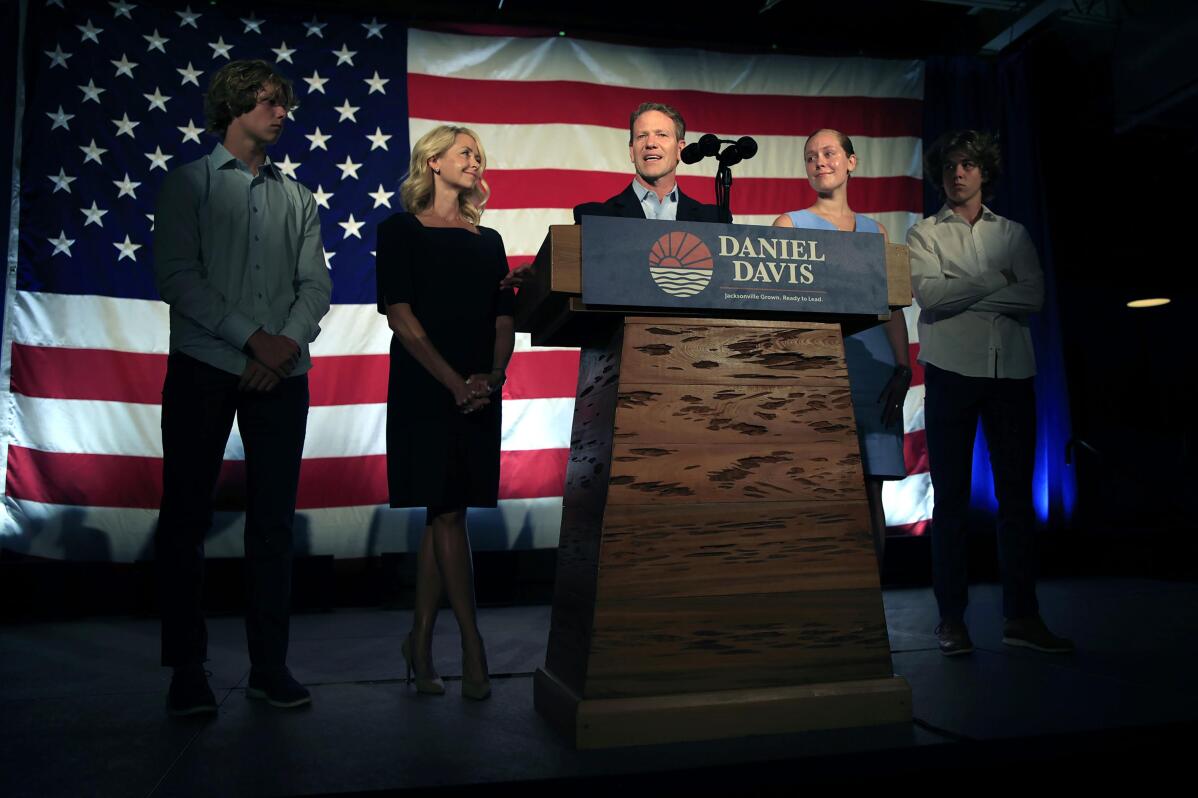 5 of 8

|
Daniel Davis, center, Republican candidate for mayor of Jacksonville, Fla., delivers his concession speech as family, son, Christian, 18, wife, Rebekah, daughter, Caroline, 20, and son, Gabe, 15, look on during an election night watch party Tuesday, May 16, 2023, at The Glass Factory in Jacksonville, Fla. Democrat Donna Deegan defeated Davis. (Corey Perrine/The Florida Times-Union via AP)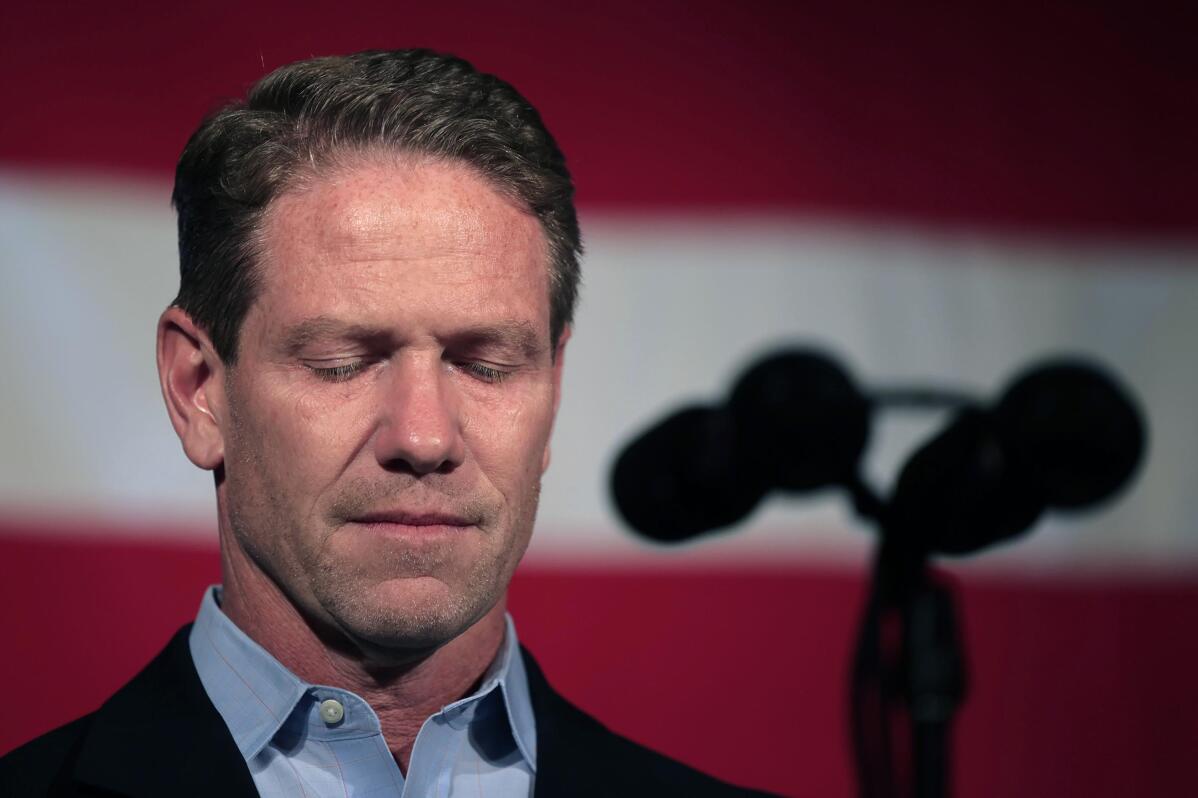 6 of 8

|
Daniel Davis, Republican candidate for mayor of Jacksonville, Fla., delivers his concession speech during an election night watch party Tuesday, May 16, 2023, in Jacksonville. Democrat Donna Deegan defeated Davis. (Corey Perrine/The Florida Times-Union via AP)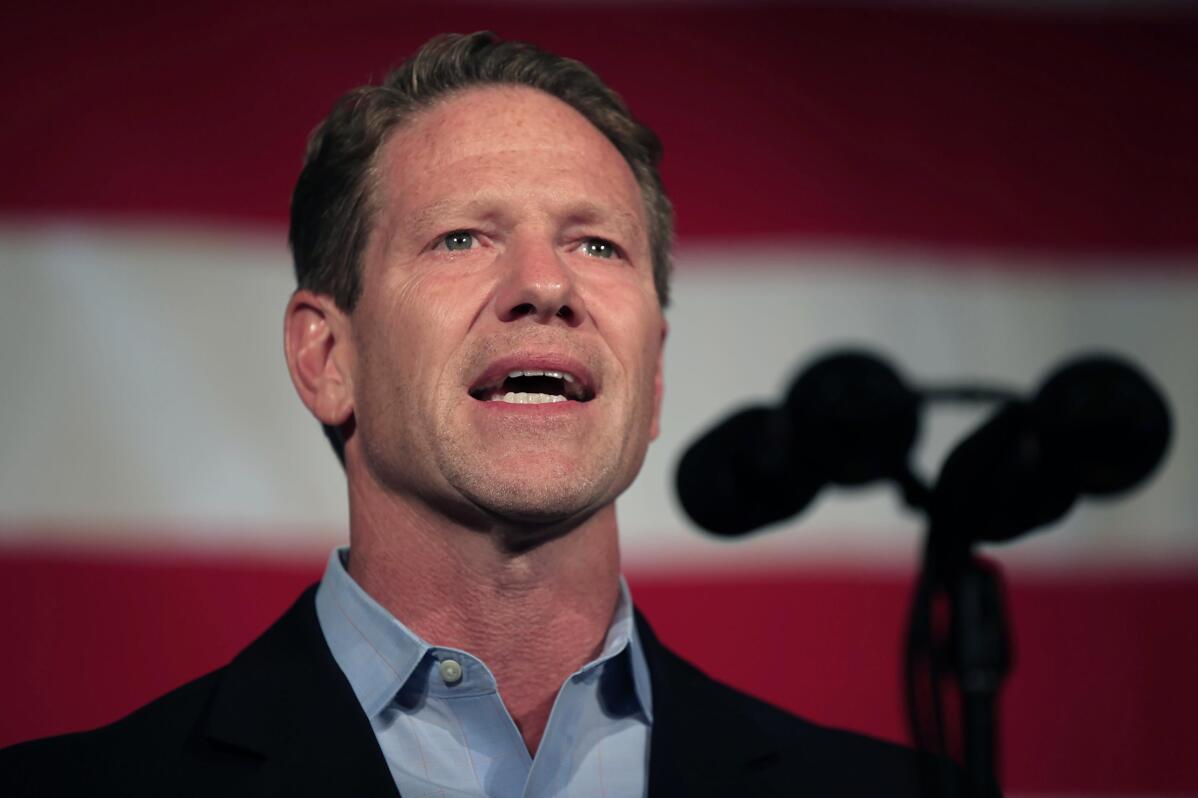 7 of 8

|
Daniel Davis, Republican candidate for mayor of Jacksonville, Fla., delivers his concession speech during an election night watch party Tuesday, May 16, 2023, in Jacksonville. Democrat Donna Deegan earned 52 percent of vote, defeating Davis, according to unofficial results. (Corey Perrine/The Florida Times-Union via AP)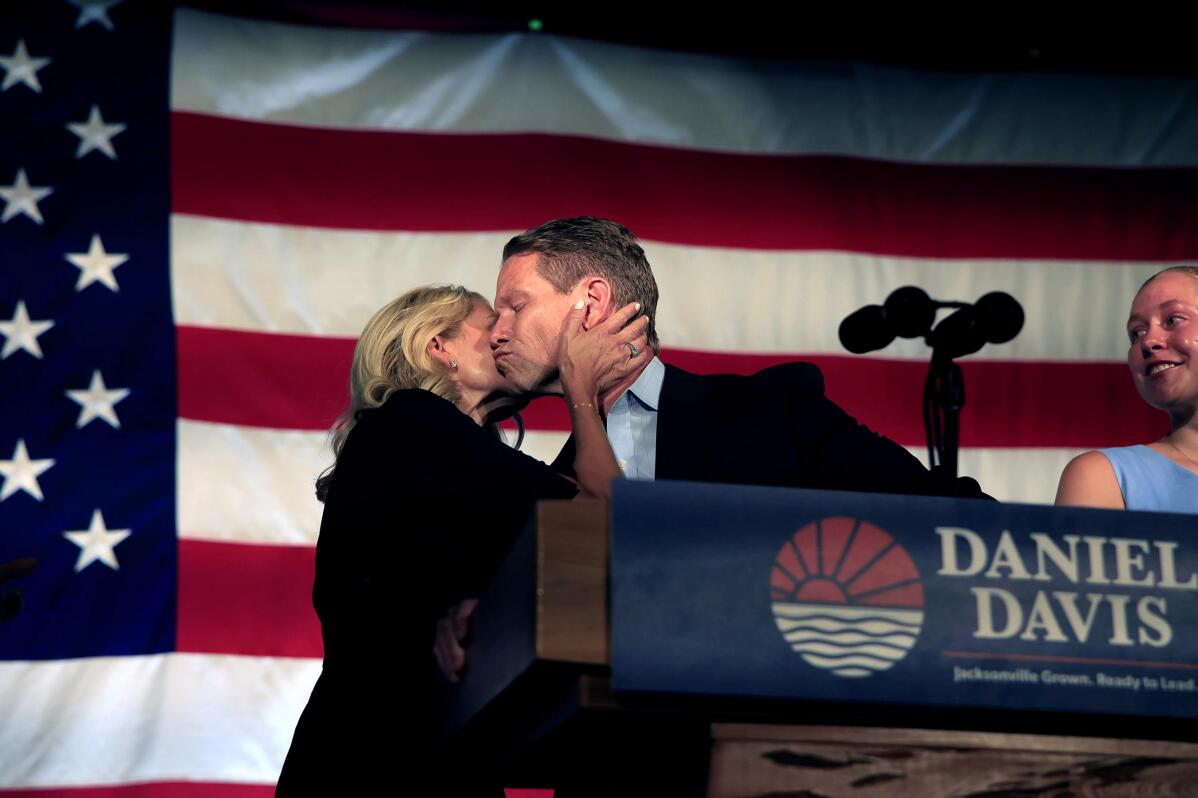 8 of 8

|
Daniel Davis, Republican candidate for mayor of Jacksonville, Fla., kisses wife, Rebekah, as daughter, Caroline, 20, looks on after delivering his concession speech during an election night watch party Tuesday, May 16, 2023, at The Glass Factory in Jacksonville, Fla. Democrat Donna Deegan defeated Davis. (Corey Perrine/The Florida Times-Union via AP)
Jacksonville elects first female mayor, giving Florida Democrats a rare win in GOP-dominated state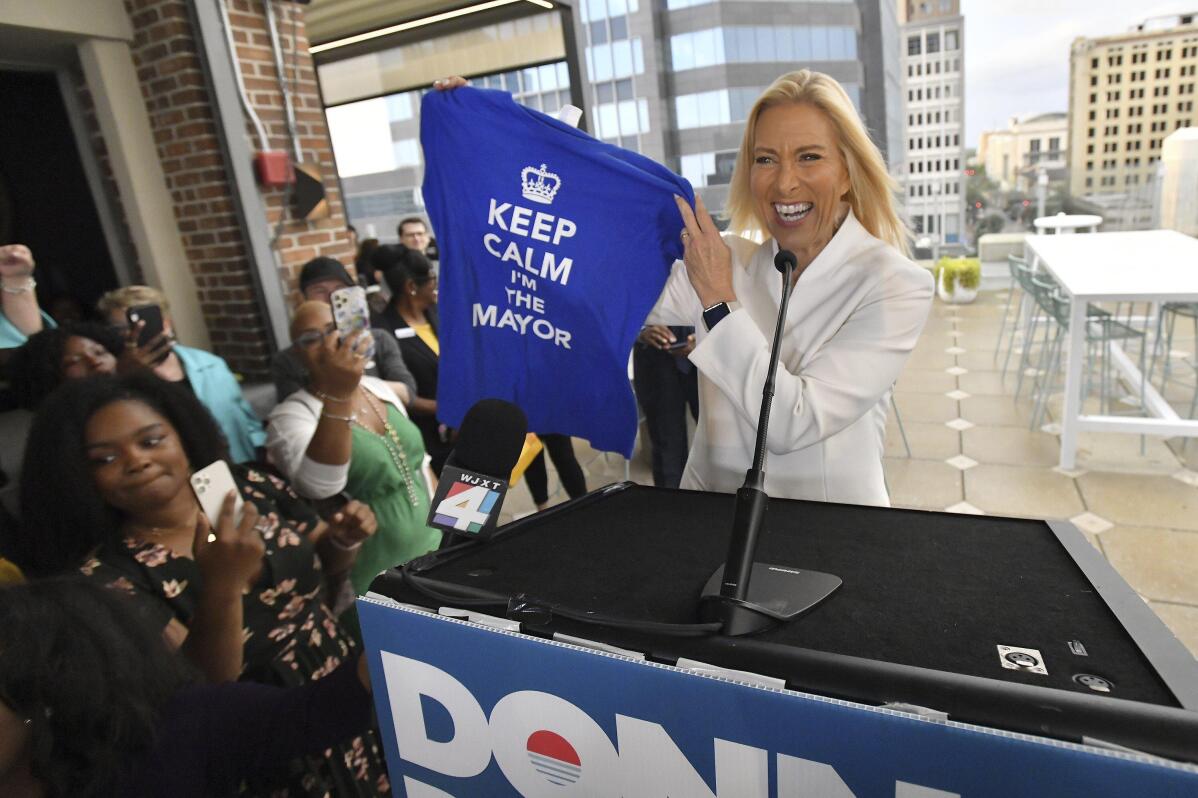 1 of 8

|
Donna Deegan holds up a T-shirt her daughter bought for her on a trip to London, while speaking with supporters in her run for mayor of Jacksonville, Fla., Tuesday, May 16, 2023. Deegan defeated Republican Daniel Davis, becoming the first female to be elected as the city's mayor. (Bob Self/The Florida Times-Union via AP)
1 of 8
Donna Deegan holds up a T-shirt her daughter bought for her on a trip to London, while speaking with supporters in her run for mayor of Jacksonville, Fla., Tuesday, May 16, 2023. Deegan defeated Republican Daniel Davis, becoming the first female to be elected as the city's mayor. (Bob Self/The Florida Times-Union via AP)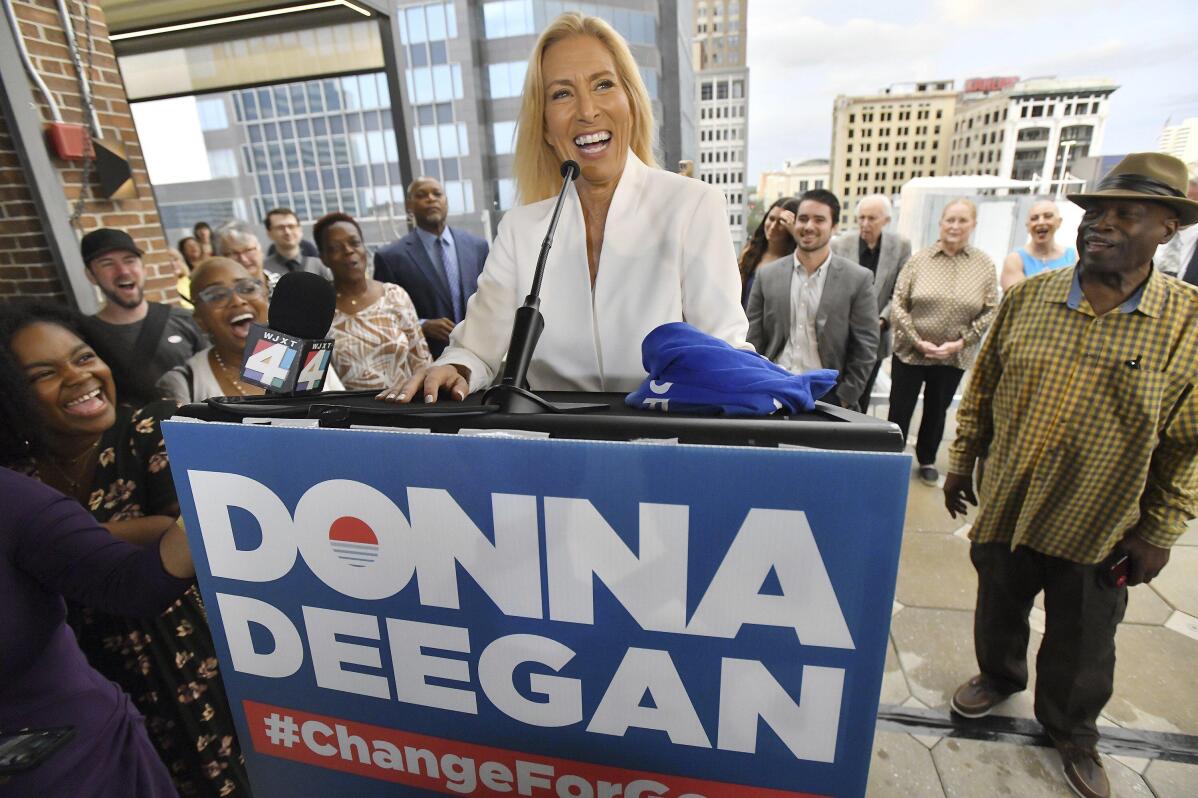 2 of 8

|
Donna Deegan smiles while speaking with supporters in her run for mayor of Jacksonville, Fla., Tuesday, May 16, 2023. Deegan defeated Republican Daniel Davis, becoming the first female to be elected as the city's mayor. (Bob Self/The Florida Times-Union via AP)
2 of 8
Donna Deegan smiles while speaking with supporters in her run for mayor of Jacksonville, Fla., Tuesday, May 16, 2023. Deegan defeated Republican Daniel Davis, becoming the first female to be elected as the city's mayor. (Bob Self/The Florida Times-Union via AP)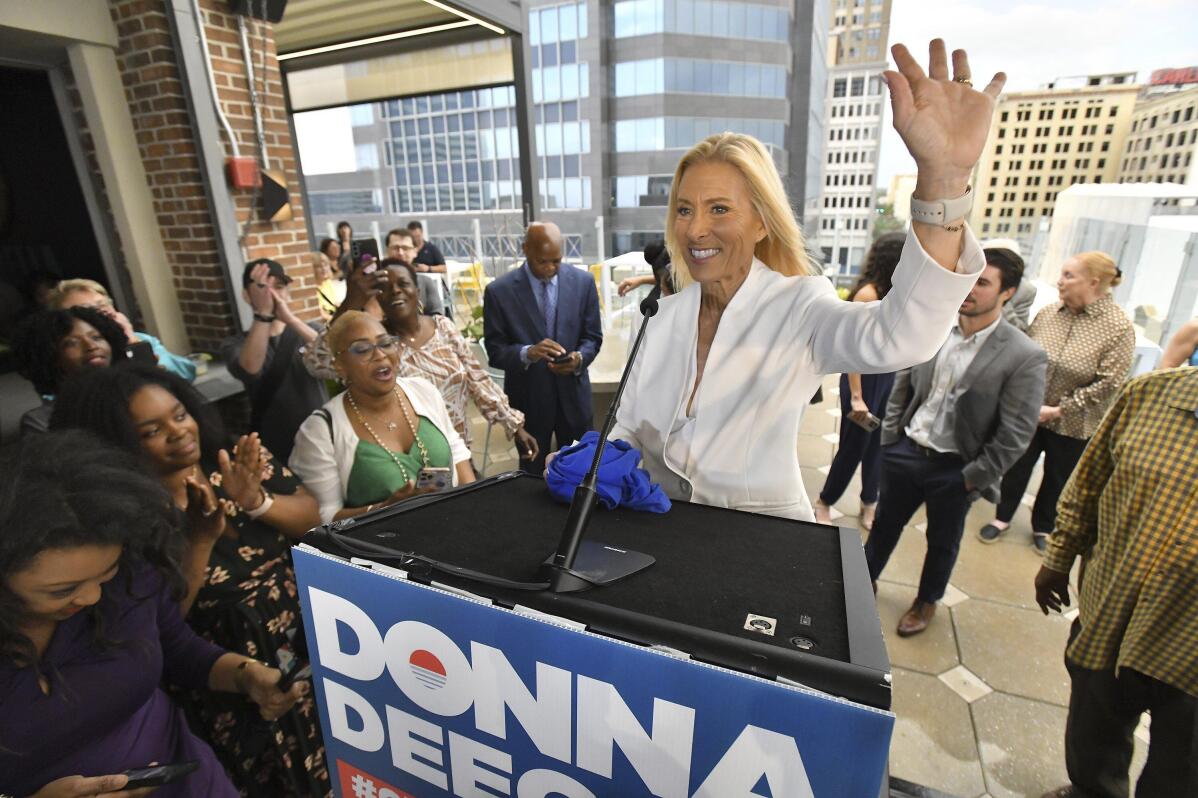 3 of 8

|
Donna Deegan waves after speaking to supporters in her run for mayor of Jacksonville, Fla., Tuesday, May 16, 2023. Deegan defeated Republican Daniel Davis, becoming the first female to be elected as the city's mayor. (Bob Self/The Florida Times-Union via AP)
3 of 8
Donna Deegan waves after speaking to supporters in her run for mayor of Jacksonville, Fla., Tuesday, May 16, 2023. Deegan defeated Republican Daniel Davis, becoming the first female to be elected as the city's mayor. (Bob Self/The Florida Times-Union via AP)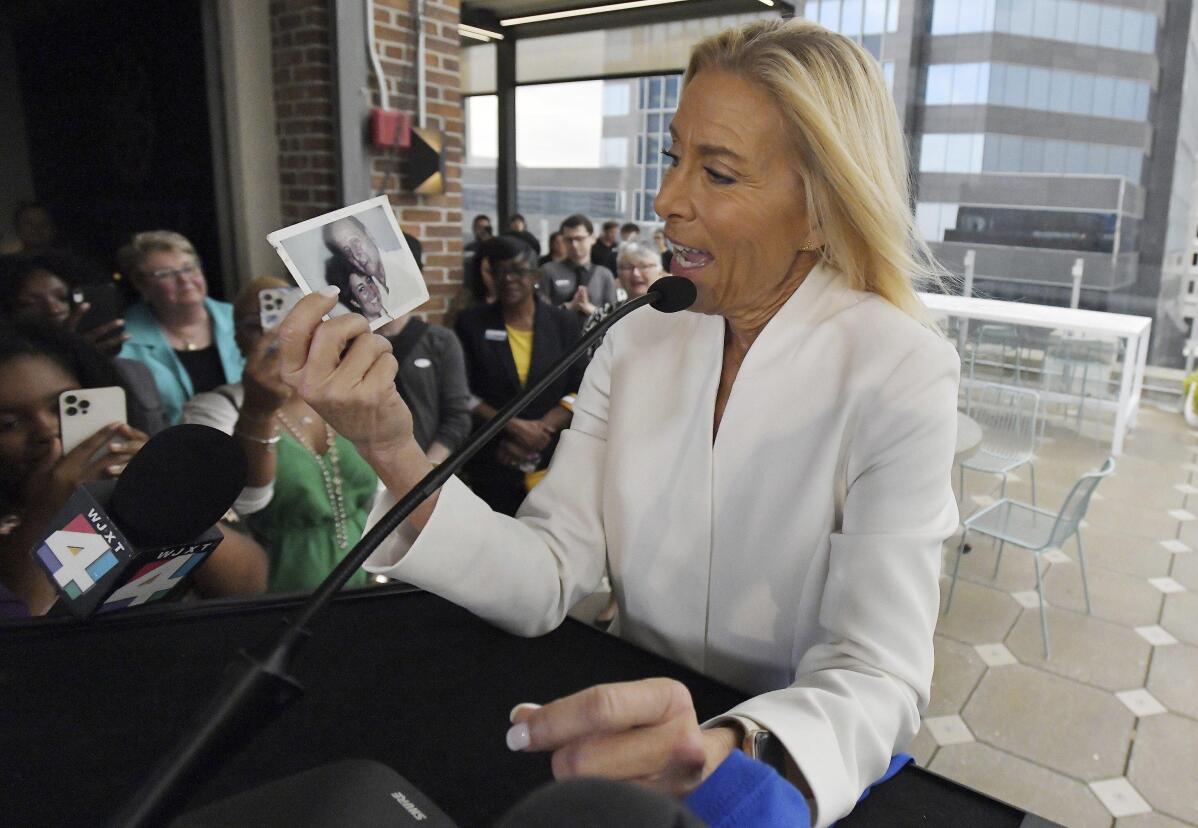 4 of 8

|
Donna Deegan holds a photo of her with her grandfather, while speaking with supporters in her run for mayor of Jacksonville, Fla., Tuesday, May 16, 2023. Deegan defeated Republican Daniel Davis, becoming the first female to be elected as the city's mayor. (Bob Self/The Florida Times-Union via AP)
4 of 8
Donna Deegan holds a photo of her with her grandfather, while speaking with supporters in her run for mayor of Jacksonville, Fla., Tuesday, May 16, 2023. Deegan defeated Republican Daniel Davis, becoming the first female to be elected as the city's mayor. (Bob Self/The Florida Times-Union via AP)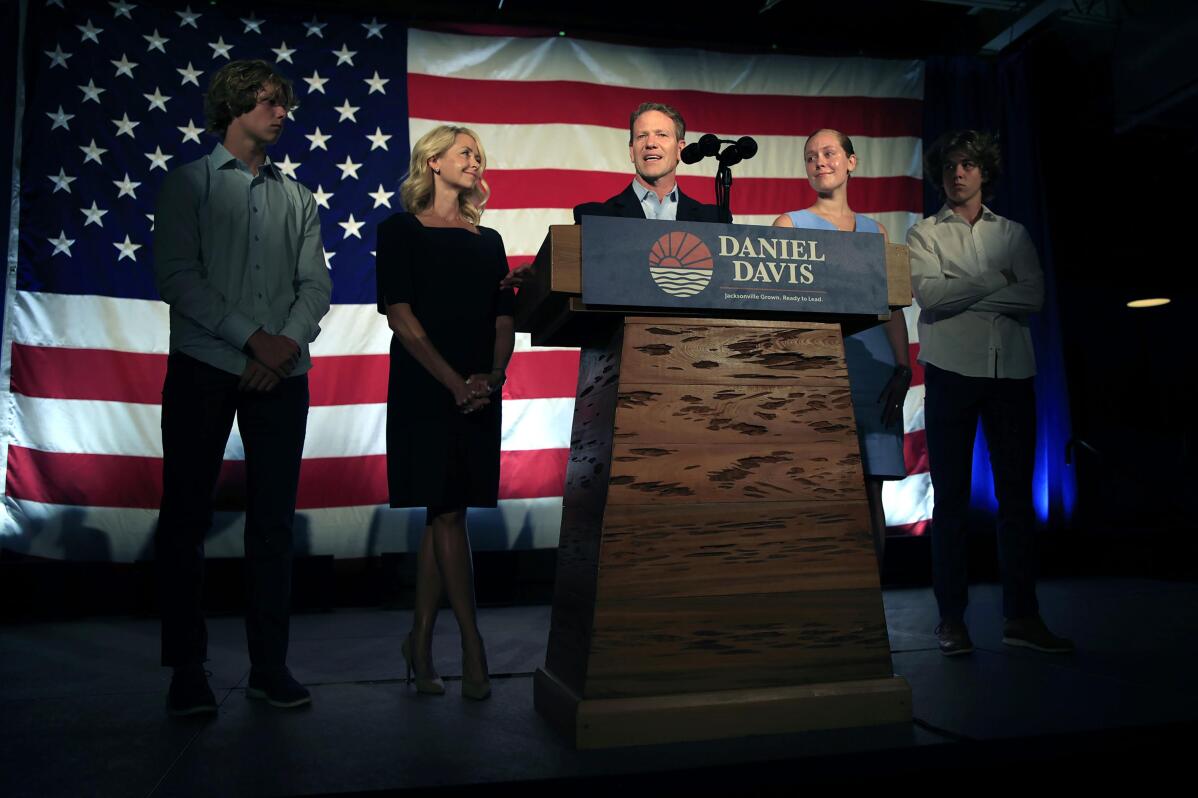 5 of 8

|
Daniel Davis, center, Republican candidate for mayor of Jacksonville, Fla., delivers his concession speech as family, son, Christian, 18, wife, Rebekah, daughter, Caroline, 20, and son, Gabe, 15, look on during an election night watch party Tuesday, May 16, 2023, at The Glass Factory in Jacksonville, Fla. Democrat Donna Deegan defeated Davis. (Corey Perrine/The Florida Times-Union via AP)
5 of 8
Daniel Davis, center, Republican candidate for mayor of Jacksonville, Fla., delivers his concession speech as family, son, Christian, 18, wife, Rebekah, daughter, Caroline, 20, and son, Gabe, 15, look on during an election night watch party Tuesday, May 16, 2023, at The Glass Factory in Jacksonville, Fla. Democrat Donna Deegan defeated Davis. (Corey Perrine/The Florida Times-Union via AP)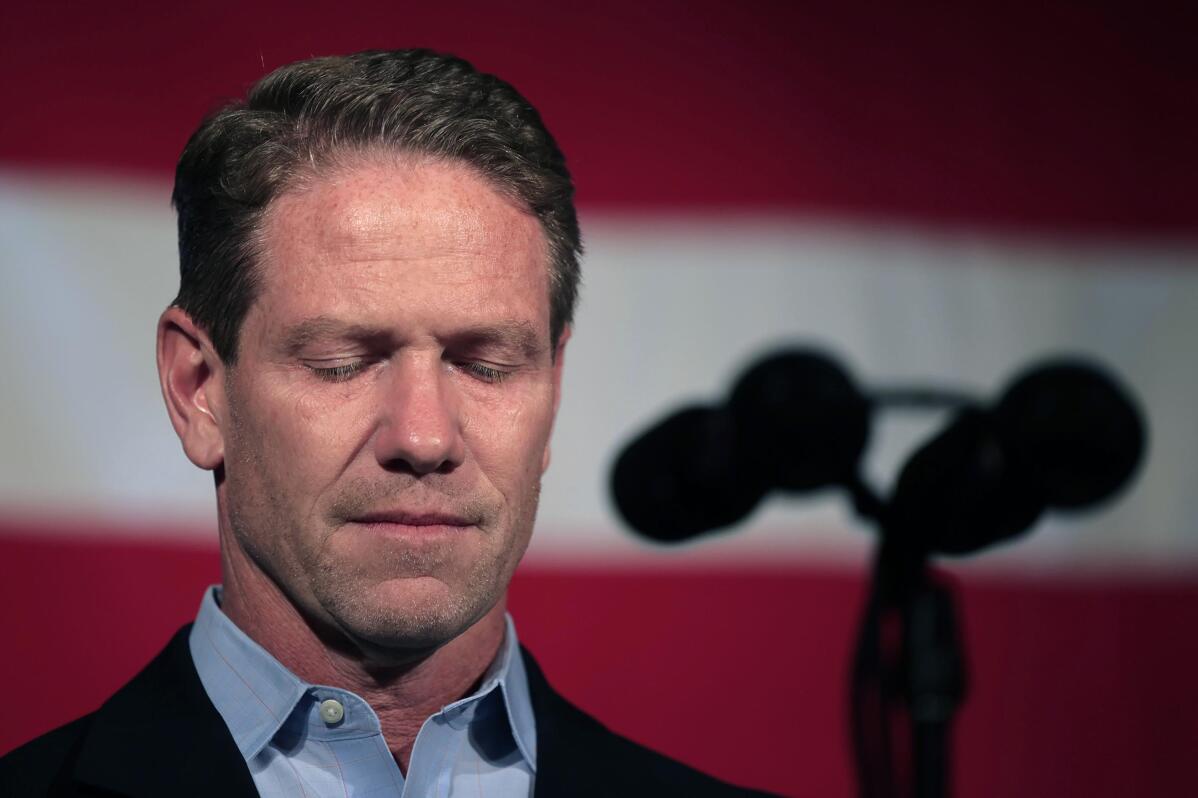 6 of 8

|
Daniel Davis, Republican candidate for mayor of Jacksonville, Fla., delivers his concession speech during an election night watch party Tuesday, May 16, 2023, in Jacksonville. Democrat Donna Deegan defeated Davis. (Corey Perrine/The Florida Times-Union via AP)
6 of 8
Daniel Davis, Republican candidate for mayor of Jacksonville, Fla., delivers his concession speech during an election night watch party Tuesday, May 16, 2023, in Jacksonville. Democrat Donna Deegan defeated Davis. (Corey Perrine/The Florida Times-Union via AP)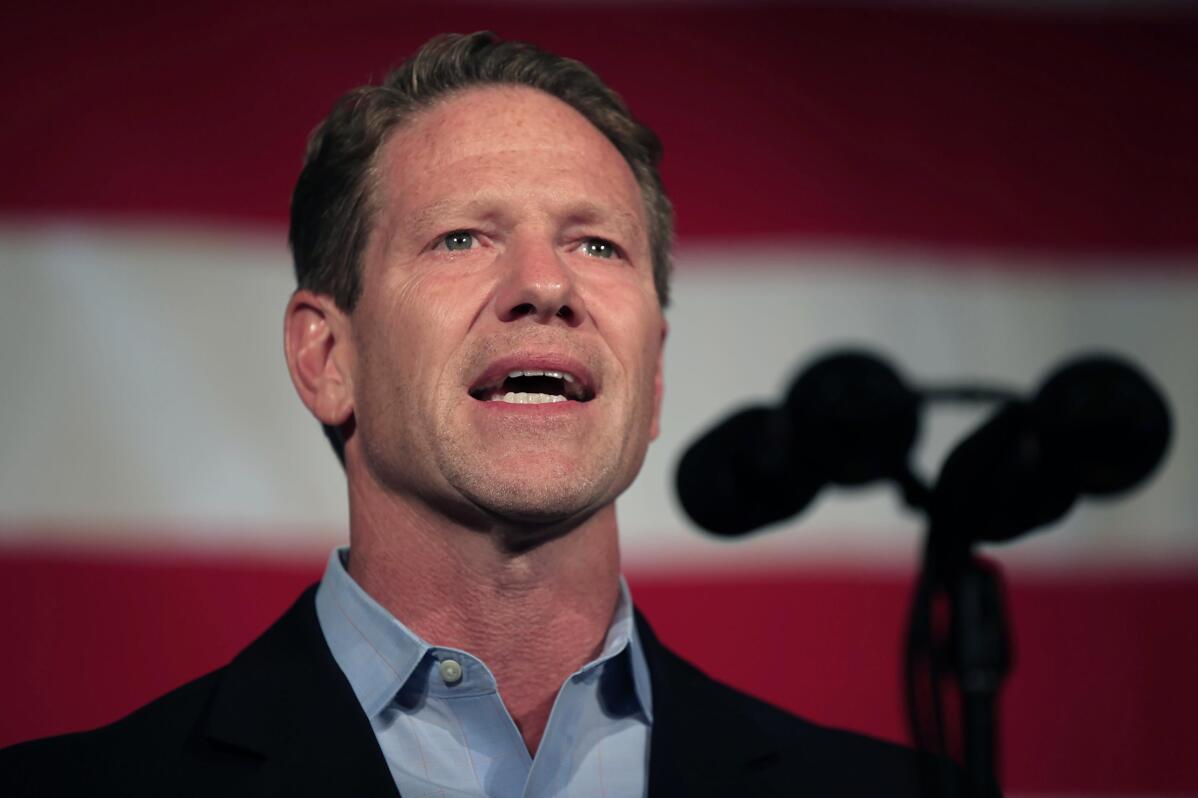 7 of 8

|
Daniel Davis, Republican candidate for mayor of Jacksonville, Fla., delivers his concession speech during an election night watch party Tuesday, May 16, 2023, in Jacksonville. Democrat Donna Deegan earned 52 percent of vote, defeating Davis, according to unofficial results. (Corey Perrine/The Florida Times-Union via AP)
7 of 8
Daniel Davis, Republican candidate for mayor of Jacksonville, Fla., delivers his concession speech during an election night watch party Tuesday, May 16, 2023, in Jacksonville. Democrat Donna Deegan earned 52 percent of vote, defeating Davis, according to unofficial results. (Corey Perrine/The Florida Times-Union via AP)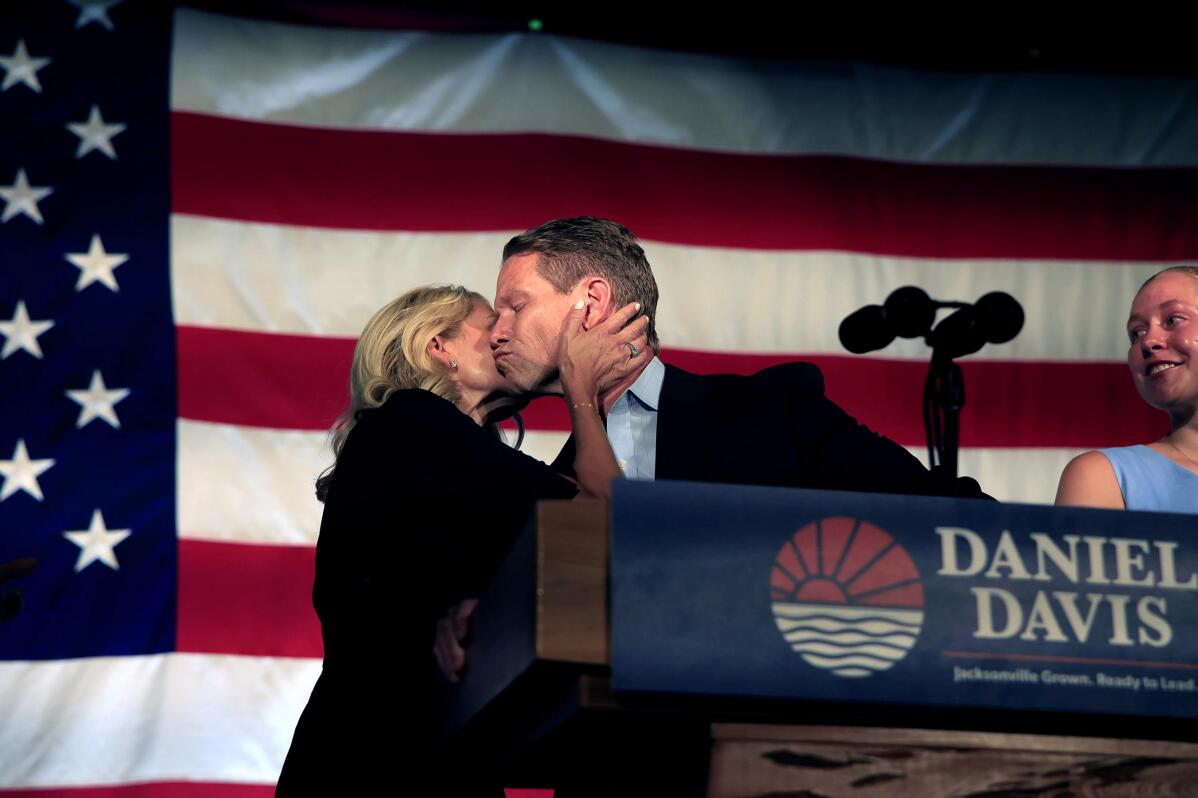 8 of 8

|
Daniel Davis, Republican candidate for mayor of Jacksonville, Fla., kisses wife, Rebekah, as daughter, Caroline, 20, looks on after delivering his concession speech during an election night watch party Tuesday, May 16, 2023, at The Glass Factory in Jacksonville, Fla. Democrat Donna Deegan defeated Davis. (Corey Perrine/The Florida Times-Union via AP)
8 of 8
Daniel Davis, Republican candidate for mayor of Jacksonville, Fla., kisses wife, Rebekah, as daughter, Caroline, 20, looks on after delivering his concession speech during an election night watch party Tuesday, May 16, 2023, at The Glass Factory in Jacksonville, Fla. Democrat Donna Deegan defeated Davis. (Corey Perrine/The Florida Times-Union via AP)
Democrat Donna Deegan's decisive win over a Republican in the open Jacksonville mayor's race will make her the first woman to hold the job in the Florida city's history, sparking a flicker of hope for a besieged Democratic Party that has few levers of power in a state dominated by the GOP.
Deegan, 62, a former television anchor who runs a breast cancer support nonprofit, earned 52% of the vote in Tuesday's election to defeat Republican Daniel Davis, CEO of the JAX Chamber business group, according to unofficial results. About 217,000 people voted in the race, for a turnout of 33%.
Alvin Brown's victory in 2011 was the last time a Democrat won the mayor's race, and he was defeated in 2015 by Republican Lenny Curry. Brown was the only Democratic mayor in the past 30 years. Curry could not run again this year because of term limits, and Deegan will take over July 1.
"We have made history tonight, folks. It's a brand new day for Jacksonville, Florida," Deegan told cheering supporters Tuesday night. "I am so excited about creating a city that sees everybody. That brings everybody in. That gives everybody a voice."
For Florida Democrats, the victory provides something to build on in a state where Republicans hold every statewide elected office, have supermajorities in the Legislature and recently surpassed Democrats in voter registration. Republican Gov. Ron DeSantis, expected soon to announce his run for president, won re-election last year by nearly 20 percentage points.
In April, DeSantis called the Democratic Party "a hollow shell. It's like a dead carcass on the side of the road" after a decisive GOP win in 2022 that including flipping traditionally blue Miami-Dade County to the Republican side.
Democrats know they have a steep hill to climb to return to relevance. While Jacksonville was firmly Republican two decades ago, shifting demographics have made it more of a swing city. And the way Jacksonville votes isn't necessarily a harbinger for next year's election. Jacksonville makes up almost all of Duval County, which has supported the eventual loser in three of the last four presidential elections.
Still, any victory is enough to excite the party faithful.
"There haven't been many good days lately, so @FlaDems have every right to cheer tonight's big victory in the Jacksonville mayor's race," Palm Beach County State Attorney Dave Aronberg, a former Democratic state legislator, said Tuesday on Twitter.
Others were even more effusive: "Florida is a bright purple state!" tweeted former U.S. Rep. Debbie Mucarsel-Powell.
Republican Party of Florida Chairman Christian Ziegler said there were several factors that helped Democrats, including a voter registration advantage and a brutal primary between Republicans seeking the job. And he noted Deegan is a well-known face in the region from her television days.
"Deegan spent her entire career in the living rooms of Jacksonville families," he said.
But Ziegler said it's silly for Democrats to relate this to future success statewide and that Republicans are in good shape for 2024.
"Using some municipal race with super-low turnout in an off-year in a Democrat area and trying to use that for some sort of momentum for an on-year race statewide is pretty ridiculous. But obviously they're going to try to celebrate their win any way they can," he said. "We're going to use this as motivation that you can't get complacent in the state of Florida."
Still, former President Donald Trump tried to spin the election as a failure for DeSantis, who endorsed Davis along with Sen. Rick Scott and other Republicans.
"Wow! In a big upset, the DeSanctimonious backed Republican candidate for Mayor of Jacksonville, Florida, LOST. This is a shocker. If they would have asked me to Endorse, he would have won, easily. Too proud to do so. Fools! This is a BIG LOSS for the Republican Party," Trump said on his Truth Social media platform.
Trump has had his share of endorsement losers as well, such as 2022 failures Herschel Walker in the Georgia Senate race and Kari Lake for Arizona governor.
Deegan, who unsuccessfully ran for Congress in 2020, said she plans to focus on upgrading infrastructure, providing affordable housing, building an economy that works for everyone and improving access to healthcare. More than that, she said in her victory speech that she would "not to go with division. We would go with unity."
"I wanted love to win," Deegan added.
Jacksonville has swung between Republicans and Democrats over the years; President Joe Biden carried the city in 2020, while DeSantis easily won in 2022.
Also notable about Deegan's win is that three of Florida's largest jurisdictions — Jacksonville, Tampa and Miami-Dade County — will now be run by Democratic women.
"Everybody said it could not be done in Jacksonville, Florida," Deegan said. "We did it because we brought the people inside."
In Colorado Springs, Colorado, an independent candidate defeated a longtime Republican office holder on Tuesday to become the first elected Black mayor. Colorado Springs is the state's second-largest city and has a history of being a conservative stronghold.
The victory of Yemi Mobolade, a Nigerian immigrant and entrepreneur who has never held elected office before, is the latest political setback for Republicans in a state that was once a battleground state. But that doesn't mean a shift to the left.
Mobolade, who picked up the endorsements of some prominent Republicans, focused on issues like hiring more police officers, creating affordable housing, conserving water and cutting red tape for businesses.
He said people he met while campaigning are interested in solutions to everyday problems that respond to their needs, not partisanship.
_____
Anderson reported from St. Petersburg and Farrington from Tallahassee.