No decision for deGrom in rough Rangers debut vs Phillies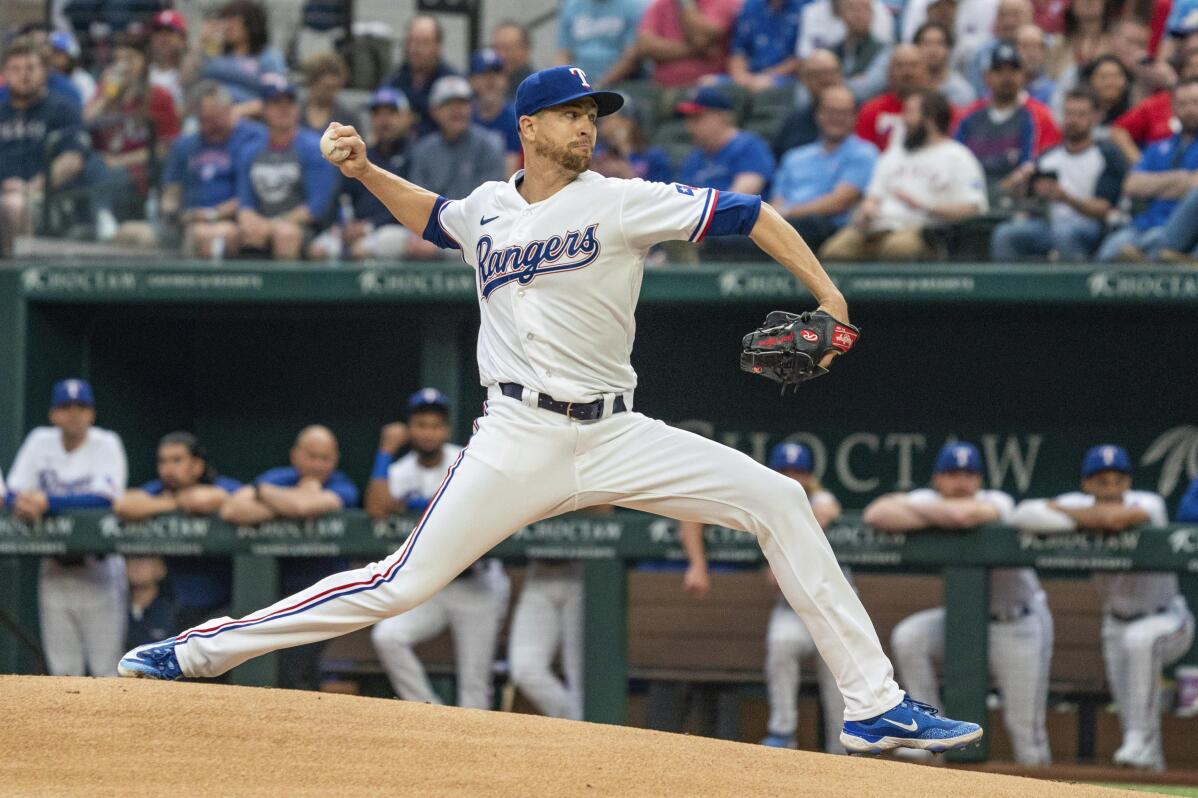 1 of 2

|
Texas Rangers starting pitcher Jacob deGrom throws against the Philadelphia Phillies during the first inning of an opening day baseball game, Thursday, March 30, 2023, in Arlington, Texas. (AP Photo/Jeffrey McWhorter)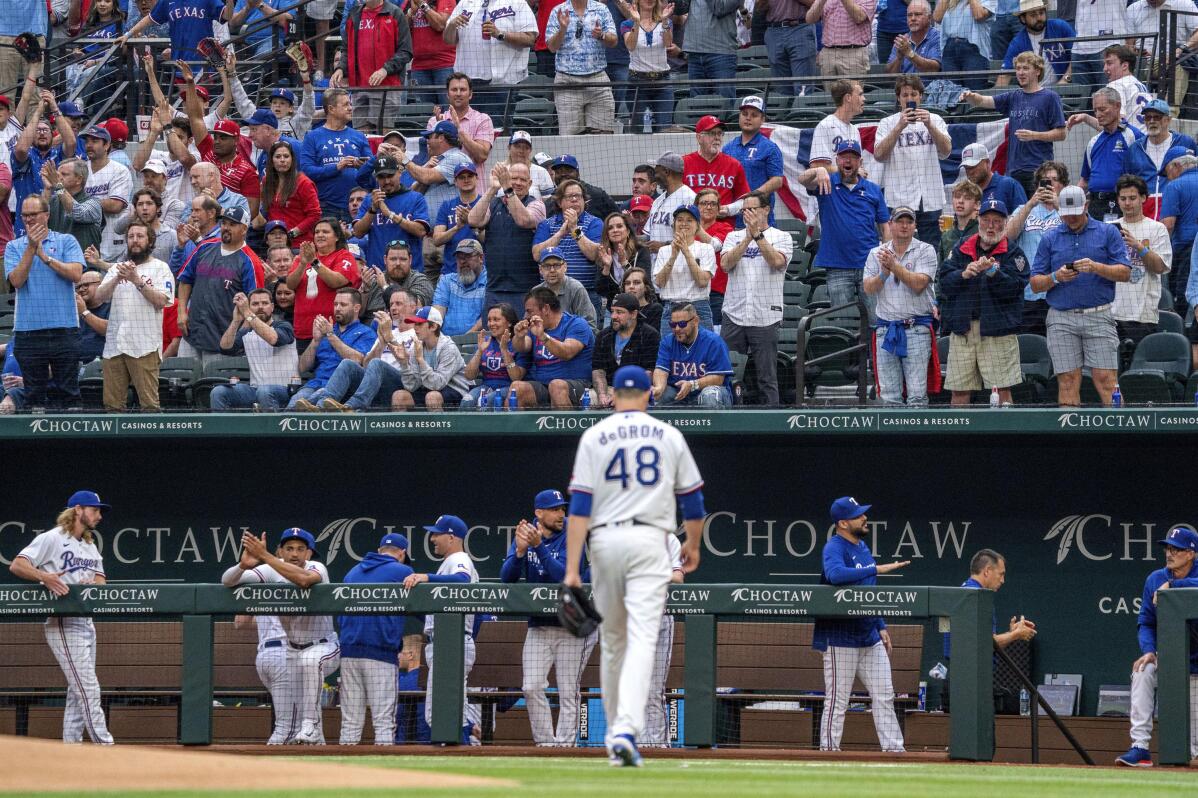 2 of 2

|
Texas Rangers fans cheer for starting pitcher Jacob deGrom (48) after he put out the Philadelphia Phillies in the first inning of an opening day baseball game, Thursday, March 30, 2023, in Arlington, Texas. (AP Photo/Jeffrey McWhorter)
No decision for deGrom in rough Rangers debut vs Phillies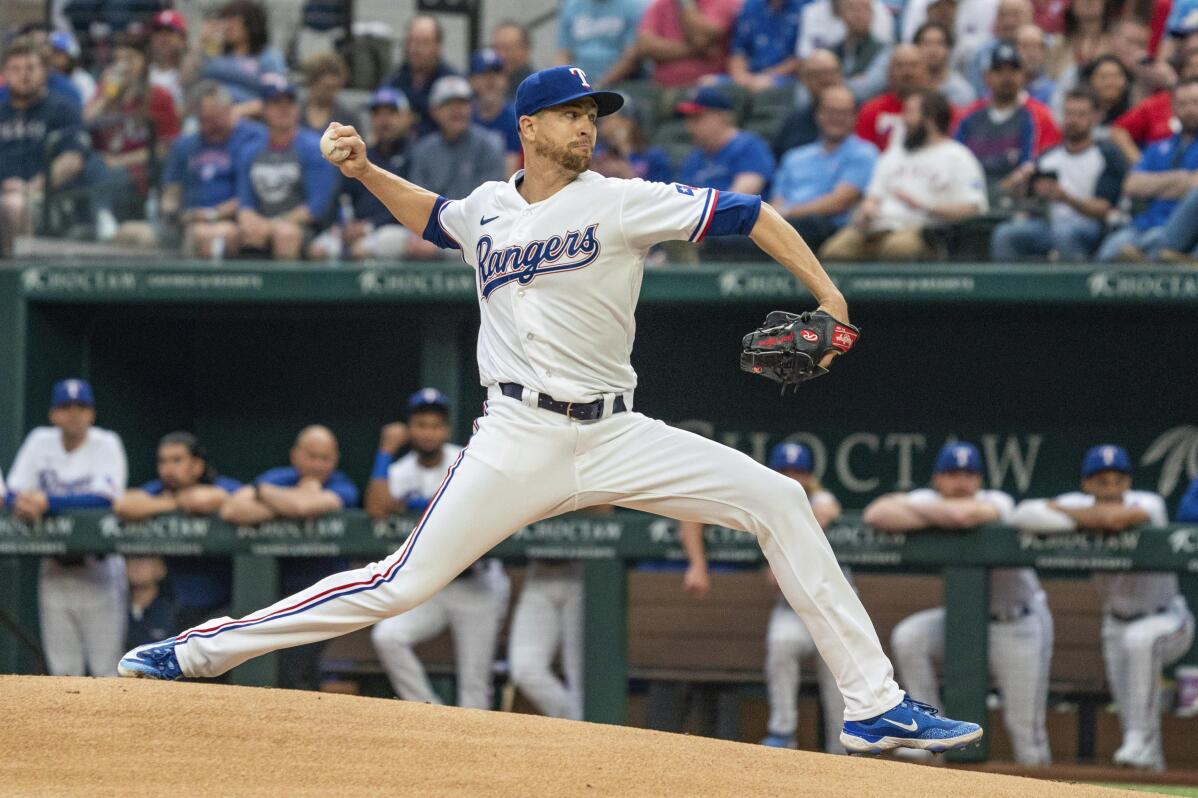 1 of 2

|
Texas Rangers starting pitcher Jacob deGrom throws against the Philadelphia Phillies during the first inning of an opening day baseball game, Thursday, March 30, 2023, in Arlington, Texas. (AP Photo/Jeffrey McWhorter)
1 of 2
Texas Rangers starting pitcher Jacob deGrom throws against the Philadelphia Phillies during the first inning of an opening day baseball game, Thursday, March 30, 2023, in Arlington, Texas. (AP Photo/Jeffrey McWhorter)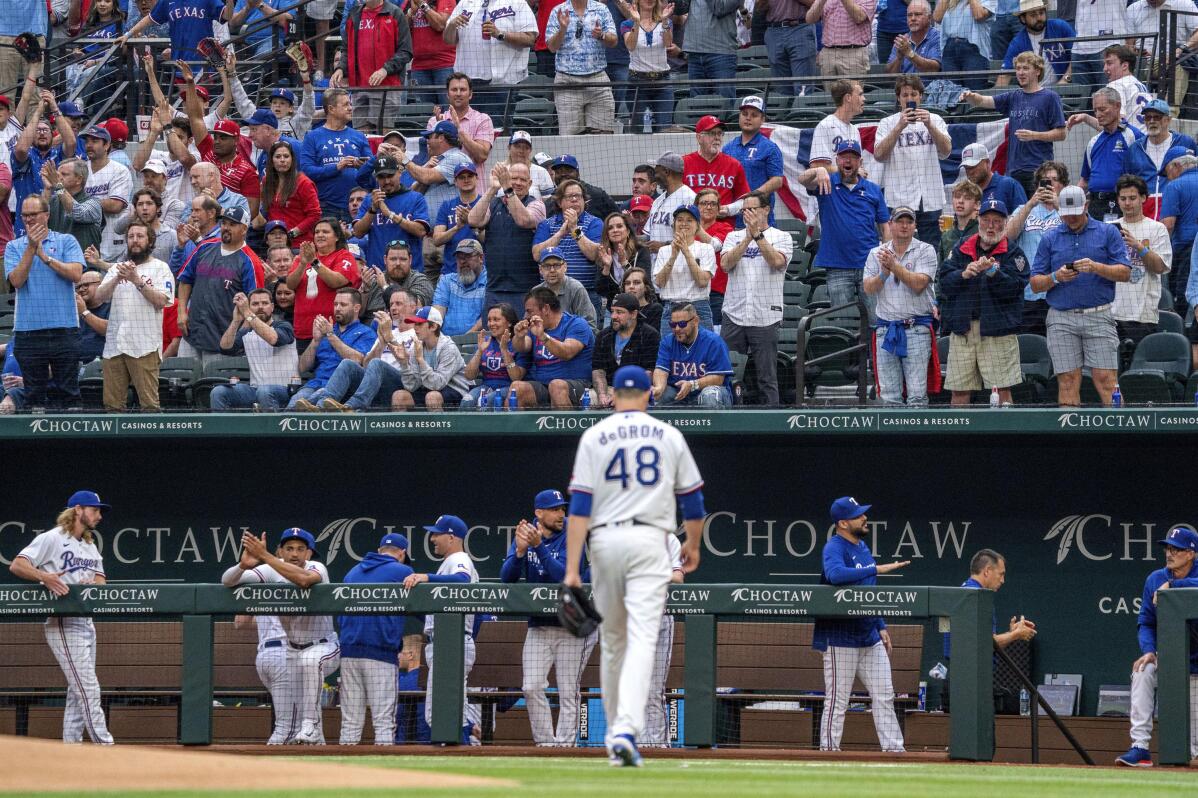 2 of 2

|
Texas Rangers fans cheer for starting pitcher Jacob deGrom (48) after he put out the Philadelphia Phillies in the first inning of an opening day baseball game, Thursday, March 30, 2023, in Arlington, Texas. (AP Photo/Jeffrey McWhorter)
2 of 2
Texas Rangers fans cheer for starting pitcher Jacob deGrom (48) after he put out the Philadelphia Phillies in the first inning of an opening day baseball game, Thursday, March 30, 2023, in Arlington, Texas. (AP Photo/Jeffrey McWhorter)
ARLINGTON, Texas (AP) — Jacob deGrom had a rough debut for the Texas Rangers, who bailed out their prized acquisition with a big comeback.
The two-time National League Cy Young Award winner, who signed a $185 million, five-year contract in December, struck out the first batter he faced on three pitches Thursday and finished with seven strikeouts.
But while he was throwing plenty of strikes, as he did during nine outstanding seasons with the New York Mets, the right-hander gave up five runs and six extra-base hits over 3 2/3 innings against the NL champion Philadelphia Phillies in the season opener before the Rangers rallied for an 11-7 victory.
"I didn't make some pitches when I needed to. Obviously, I'm not thrilled with how I threw the ball, but, you know, the guys did a good job there in the bottom of the fourth," deGrom said. "My outing, I'm not thrilled with, didn't make pitches when I needed to. But the most important thing is we got to win."
After deGrom allowed six extra-base hits for the first time in his career, and not long after he exited the game, the Rangers responded with a nine-run fourth — matching their highest-scoring inning in a season opener.
Robbie Grossman, whose three-run homer in the middle of that rally tied the game at 5, was asked afterward how many times it would be deGrom picking up the Rangers.
"A lot. A lot," said Grossman, also a newcomer to Texas.
DeGrom threw seven of his 10 pitches for strikes in a 1-2-3 first inning that had the sellout crowd in a frenzy. Trea Turner, hitting leadoff in his Phillies debut, started the game by fouling off a 99.6 mph fastball from deGrom, then swung and missed at the next two pitches.
But the Phillies went ahead when Alec Bohm hit a two-run homer on a 99 mph fastball in the second inning. Brandon Marsh and Turner, starting a $300 million, 11-year contract, had back-to-back triples in the third before J.T. Realmuto's RBI double made it 4-0.
Marsh's triple came on a grounder down the right-field line that ricocheted off the netting in foul territory. Turner then hit a grounder just inside first base that rolled into the corner, and Realmuto hit a slider that was off the plate.
"He had some bad luck," new Rangers manager Bruce Bochy said of deGrom, who had been expected to go about 65 pitches.
He threw 49 of his 73 pitches for strikes and didn't walk a batter.
"I felt good. I honestly felt like I could have kept going," deGrom said. "I think it's pretty close to being full go."
It was deGrom's fourth career start on opening day, and the first one in which he allowed a run. He had tossed 17 scoreless innings with 25 strikeouts in his three openers for the Mets, the last one two years ago against the Phillies.
While deGrom is now pitching in the American League, the opening opponent was familiar to him, having started 20 previous games against the Phillies. He entered 9-1 with a 2.18 ERA and 136 strikeouts over 120 innings against them.
The Rangers were very cautious with deGrom after he reported tightness in his left side just before the team's first official spring training workout on Feb. 15. He struck out 10 over 6 2/3 scoreless innings in his only two exhibition games in Arizona, which came after throwing batting practice and in a minor league game.
DeGrom didn't make his first big league start last year until Aug. 2, and he was 5-4 with a 3.08 ERA in 11 regular-season games before winning a wild-card game for the Mets. He had a career-low 1.08 ERA over 92 innings in 2021 before missing the final three months with right forearm tightness and a sprained elbow, then was shut down late in spring training last year because of a stress reaction in his right scapula.
___
AP MLB: https://apnews.com/hub/mlb and https://twitter.com/AP_Sports