Charismatic Betis captain Joaquín Sánchez set to retire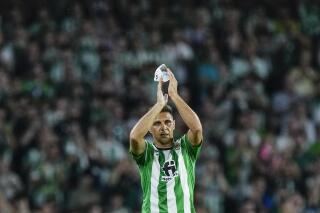 MADRID (AP) — Charismatic Real Betis captain Joaquín Sánchez announced Wednesday he will retire at the end of the season.
The 41-year-old midfielder, known just as much for his comic vein as for his well-rounded game, announced his decision through a video posted on social media.
He said it was finally time to "hang up my boots, my art."
Carrying a playful demeanor throughout his career, Joaquín will retire after 23 seasons, most of them with boyhood club Betis. He also played for Málaga, Valencia and Fiorentina in Italy.
Joaquín needs to play in eight of Betis' final nine Spanish league matches to break the record of most league appearances, a mark currently held by former Spain and Barcelona goalkeeper Andoni Zubizarreta, who played 622 league games. Joaquín sits on 615.
Joaquín had contemplated retiring last season but eventually returned for a final year after Betis won the Copa del Rey.
He also helped Betis win the Copa title in 2005 and was with Valencia when it won the Copa in 2008.
Joaquín debuted with Betis' main squad in 2000, when the team was in the second division.
Joaquín made more than 50 appearances with Spain's national team, but none since 2007. In 2018, he posted a joke Instagram video asking then Spain coach Luis Enrique why he had not been included in the national squad.
"I have two missed calls here and I don't know if they are from you or not?" Joaquín asked. "Please call me. I'm worried."
___
More AP soccer: https://apnews.com/hub/Soccer and https://twitter.com/AP_Sports