Biden, Harris get virtual tour of Arizona vaccination site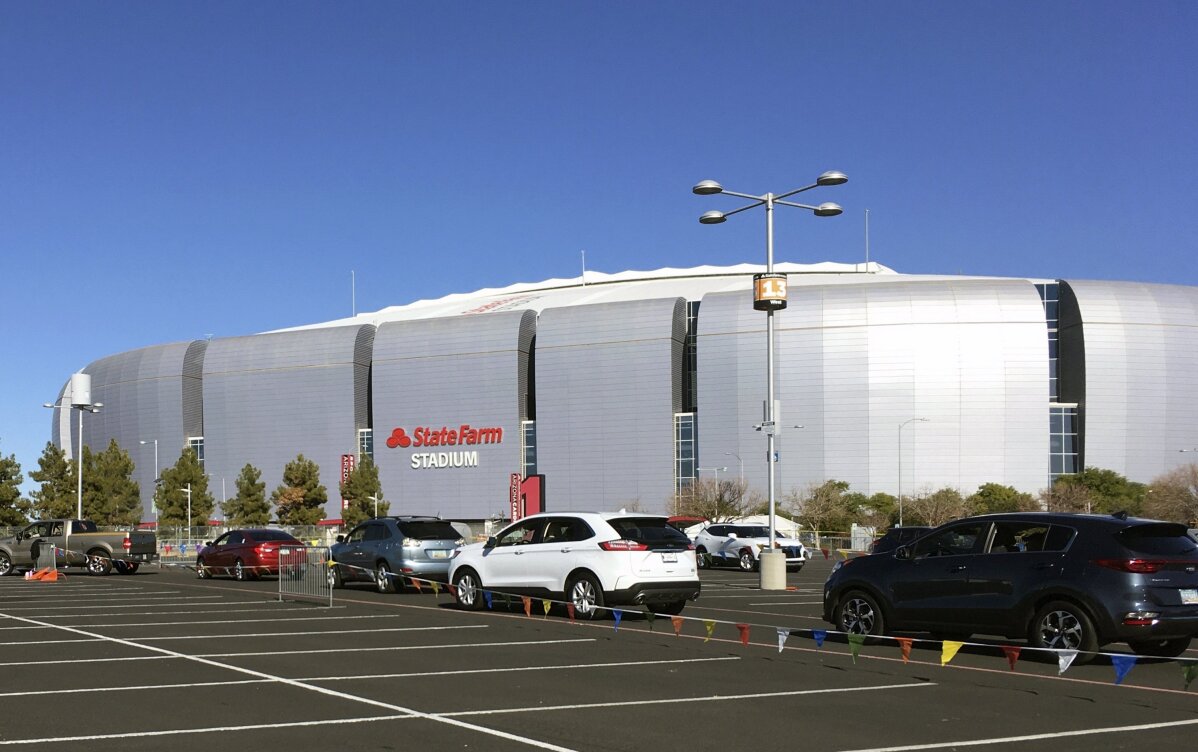 1 of 2

|
FILE - In this Jan. 11, 2021 file photo drivers wait in line to get the COVID-19 vaccine in the parking lot of the State Farm Stadium in Glendale, Ariz. Arizona officials, who have pressed for more COVID-19 vaccines, got a chance to show the White House how quickly they could put them to use. President Joe Biden and Vice President Kamala Harris heaped praise Monday, Feb. 8, 2021, during a virtual tour of the state's first mass COVID-19 vaccination site at State Farm Stadium in Glendale. (AP Photo/Terry Tang, File)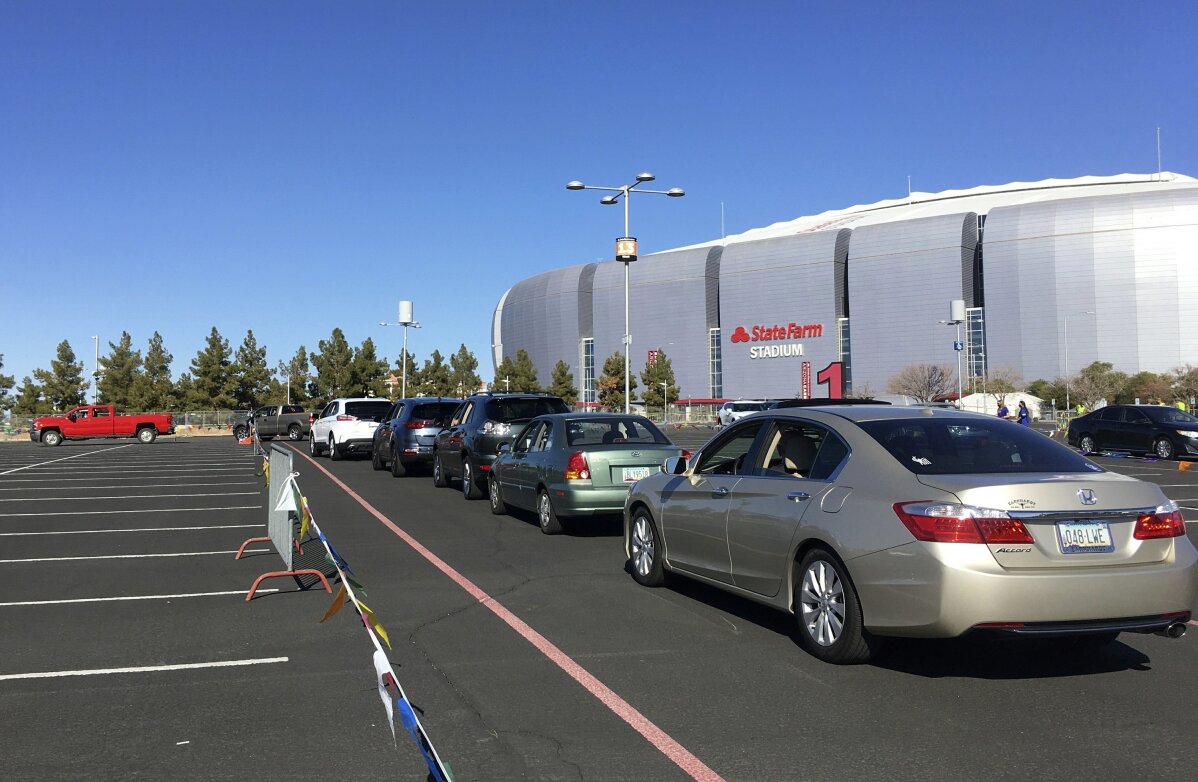 2 of 2

|
FILE - In this Jan. 11, 2021 fie photo drivers wait in line to get the COVID-19 vaccine in the parking lot of the State Farm Stadium in Glendale, Ariz. Arizona officials, who have pressed for more COVID-19 vaccines, got a chance to show the White House how quickly they could put them to use. President Joe Biden and Vice President Kamala Harris heaped praise Monday, Feb. 8, 2021, during a virtual tour of the state's first mass COVID-19 vaccination site at State Farm Stadium in Glendale. (AP Photo/Terry Tang, File)
Biden, Harris get virtual tour of Arizona vaccination site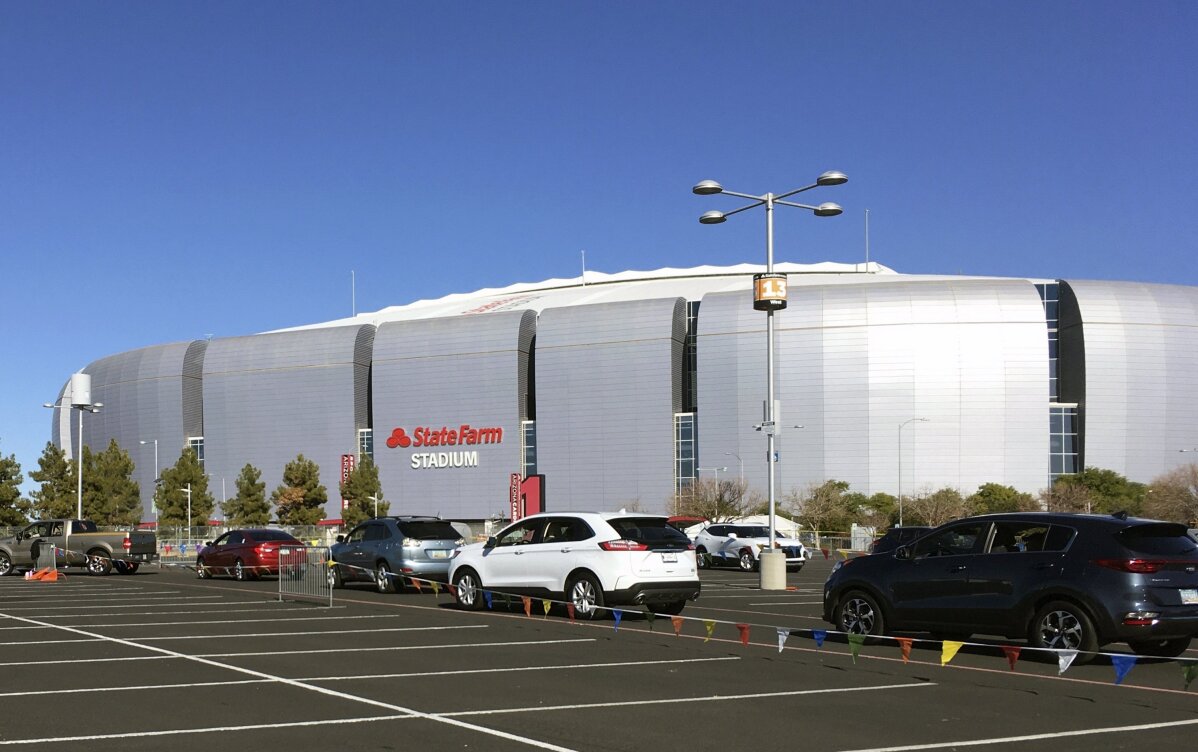 1 of 2

|
FILE - In this Jan. 11, 2021 file photo drivers wait in line to get the COVID-19 vaccine in the parking lot of the State Farm Stadium in Glendale, Ariz. Arizona officials, who have pressed for more COVID-19 vaccines, got a chance to show the White House how quickly they could put them to use. President Joe Biden and Vice President Kamala Harris heaped praise Monday, Feb. 8, 2021, during a virtual tour of the state's first mass COVID-19 vaccination site at State Farm Stadium in Glendale. (AP Photo/Terry Tang, File)
1 of 2
FILE - In this Jan. 11, 2021 file photo drivers wait in line to get the COVID-19 vaccine in the parking lot of the State Farm Stadium in Glendale, Ariz. Arizona officials, who have pressed for more COVID-19 vaccines, got a chance to show the White House how quickly they could put them to use. President Joe Biden and Vice President Kamala Harris heaped praise Monday, Feb. 8, 2021, during a virtual tour of the state's first mass COVID-19 vaccination site at State Farm Stadium in Glendale. (AP Photo/Terry Tang, File)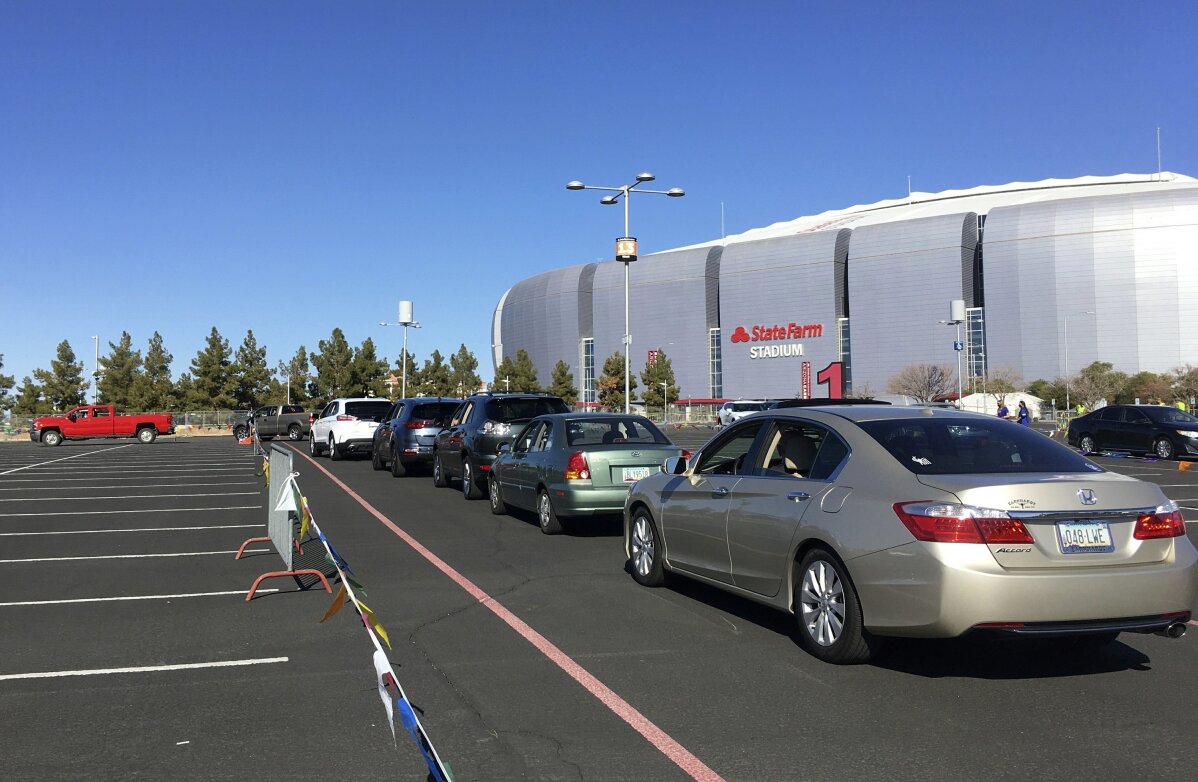 2 of 2

|
FILE - In this Jan. 11, 2021 fie photo drivers wait in line to get the COVID-19 vaccine in the parking lot of the State Farm Stadium in Glendale, Ariz. Arizona officials, who have pressed for more COVID-19 vaccines, got a chance to show the White House how quickly they could put them to use. President Joe Biden and Vice President Kamala Harris heaped praise Monday, Feb. 8, 2021, during a virtual tour of the state's first mass COVID-19 vaccination site at State Farm Stadium in Glendale. (AP Photo/Terry Tang, File)
2 of 2
FILE - In this Jan. 11, 2021 fie photo drivers wait in line to get the COVID-19 vaccine in the parking lot of the State Farm Stadium in Glendale, Ariz. Arizona officials, who have pressed for more COVID-19 vaccines, got a chance to show the White House how quickly they could put them to use. President Joe Biden and Vice President Kamala Harris heaped praise Monday, Feb. 8, 2021, during a virtual tour of the state's first mass COVID-19 vaccination site at State Farm Stadium in Glendale. (AP Photo/Terry Tang, File)
PHOENIX (AP) — President Joe Biden and Vice President Kamala Harris got a virtual tour Monday of a federally funded, mass vaccination site in Arizona, but they did not address the governor's request for more doses of the vaccine.
Dr. Cara Christ, state Department of Health Services director, guided Biden and Harris through the outdoor command center at State Farm Stadium in Glendale that operates around the clock.
Nearly 170,000 doses have been administered there since it opened on Jan. 11. As many as 9,000 doses are given daily — even though it's capable of 12,000, Christ said.
"I got a call during the Super Bowl from the commissioner of football offering us the 30 major stadiums," Biden said during the virtual tour. "I think they're going to be coming to you looking at how you did it because you're doing such a great job."
The president did not address Republican Gov. Doug Ducey's request to increase Arizona's weekly allotment of vaccine by 300,000 doses, which had previously been denied. Biden did say he hoped to exceed his goal of 100 million vaccine doses in 100 days.
"We're optimistic that we'll have enough of the vaccine in the pipeline to be able to provide shots, including double shots, for 300 million people before we get through the summer," Biden said.
Ducey, who did not attend, asked the Arizona congressional delegation in a letter last week to push for more vaccine doses.
"The single biggest limiting factor for opening more appointments at existing sites and creating new mass vaccination sites around the state is the number of vaccine doses allocated to Arizona by our federal partners," Ducey wrote.
Ducey has called the stadium operation a model public-private partnership that can quickly get vaccine into arms. Christ said it could not have been done without aid from the Federal Emergency Management Agency.
The Biden administration's remote tour occurred as Arizona officials reported an additional 2,250 new virus cases and seven more deaths. The state has now seen 782,887 cases and 4,055 deaths since the pandemic began.
Meanwhile, the number of COVID-19 patients requiring hospitalization is continuing to slide. Officials say 2,853 people with the virus are occupying 33% of hospital beds statewide. There are currently 828 virus patients taking up 46% of ICU beds.
The number of infections is thought to be far higher than reported because many people have not been tested, and studies suggest people can be infected with the virus without feeling sick.
Arizona had the worst COVID-19 infection rate among all states during much of January.