AP PHOTOS: Biden takes oath, inherits confluence of crises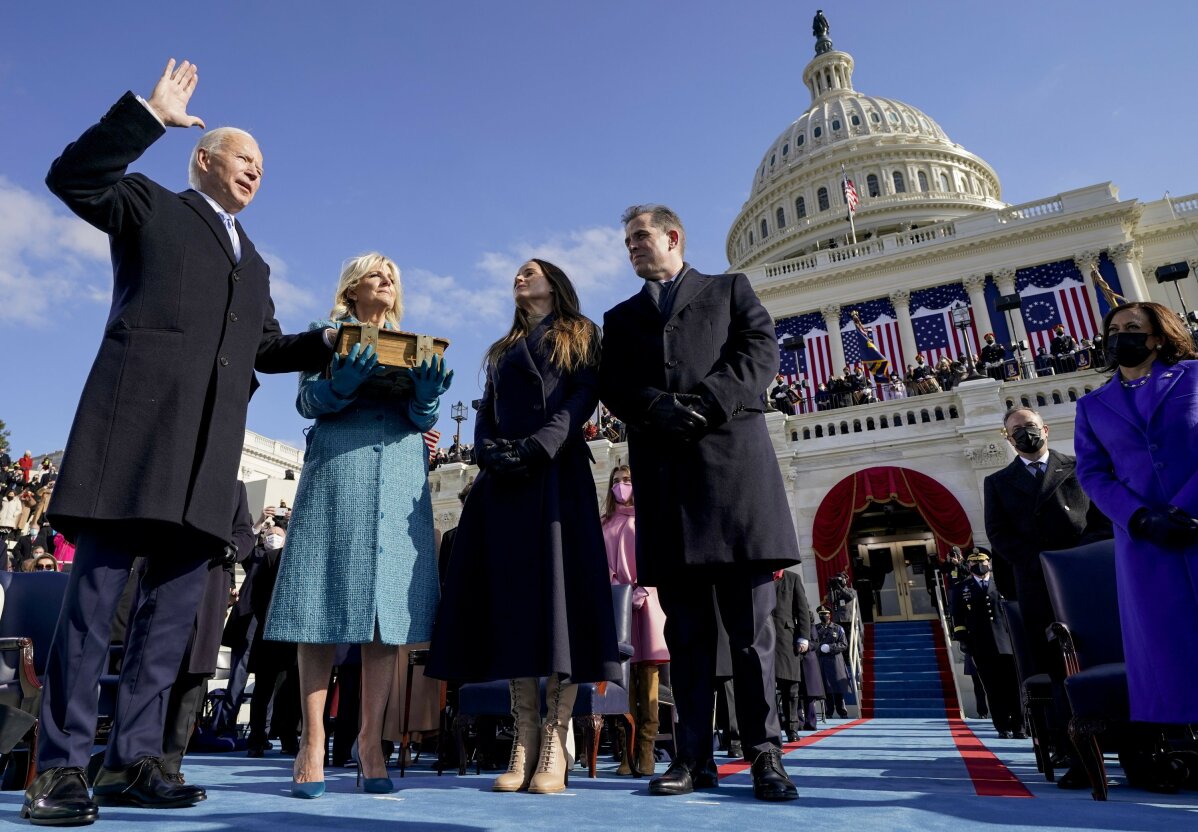 1 of 27

|
Joe Biden is sworn in as the 46th president of the United States by Chief Justice John Roberts as Jill Biden holds the Bible during the 59th Presidential Inauguration at the U.S. Capitol in Washington, Wednesday, Jan. 20, 2021, as their children Ashley and Hunter watch.(AP Photo/Andrew Harnik, Pool)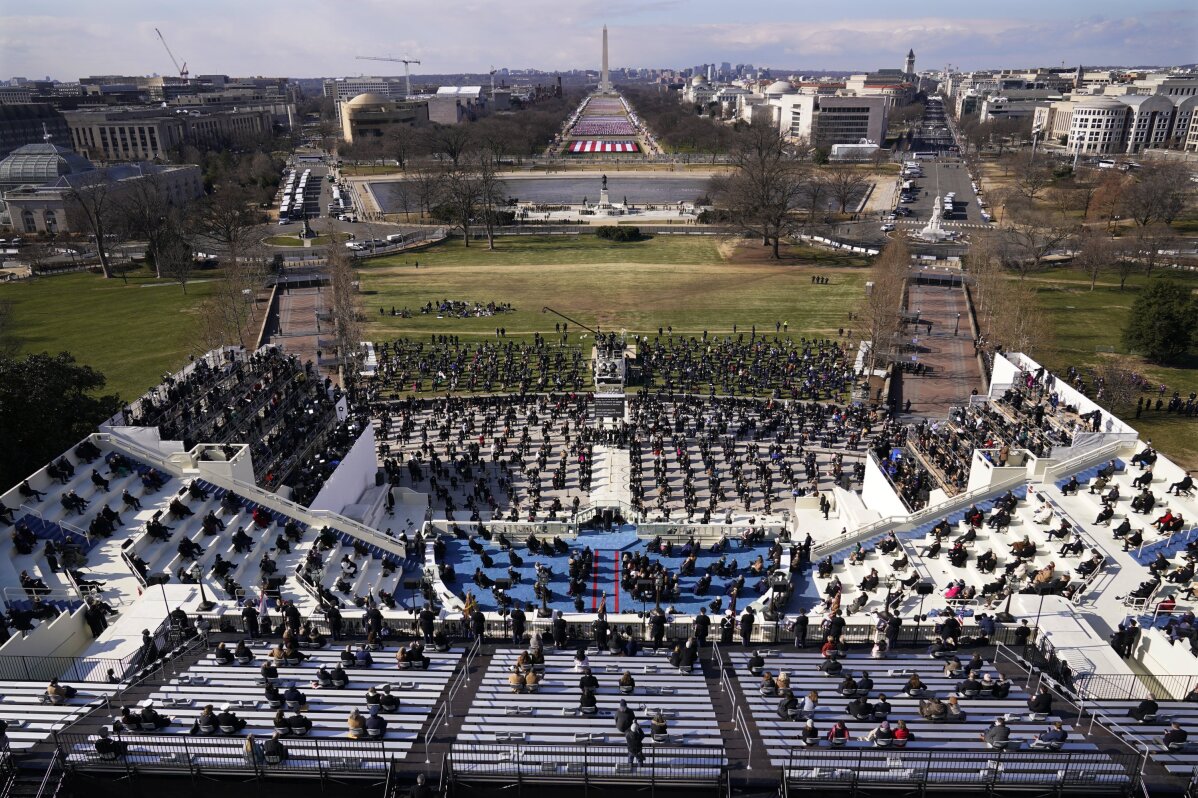 2 of 27

|
Guests and spectators attend the 59th Presidential Inauguration for President Joe Biden at the U.S. Capitol in Washington, Wednesday, Jan. 20, 2021. (AP Photo/Susan Walsh, Pool)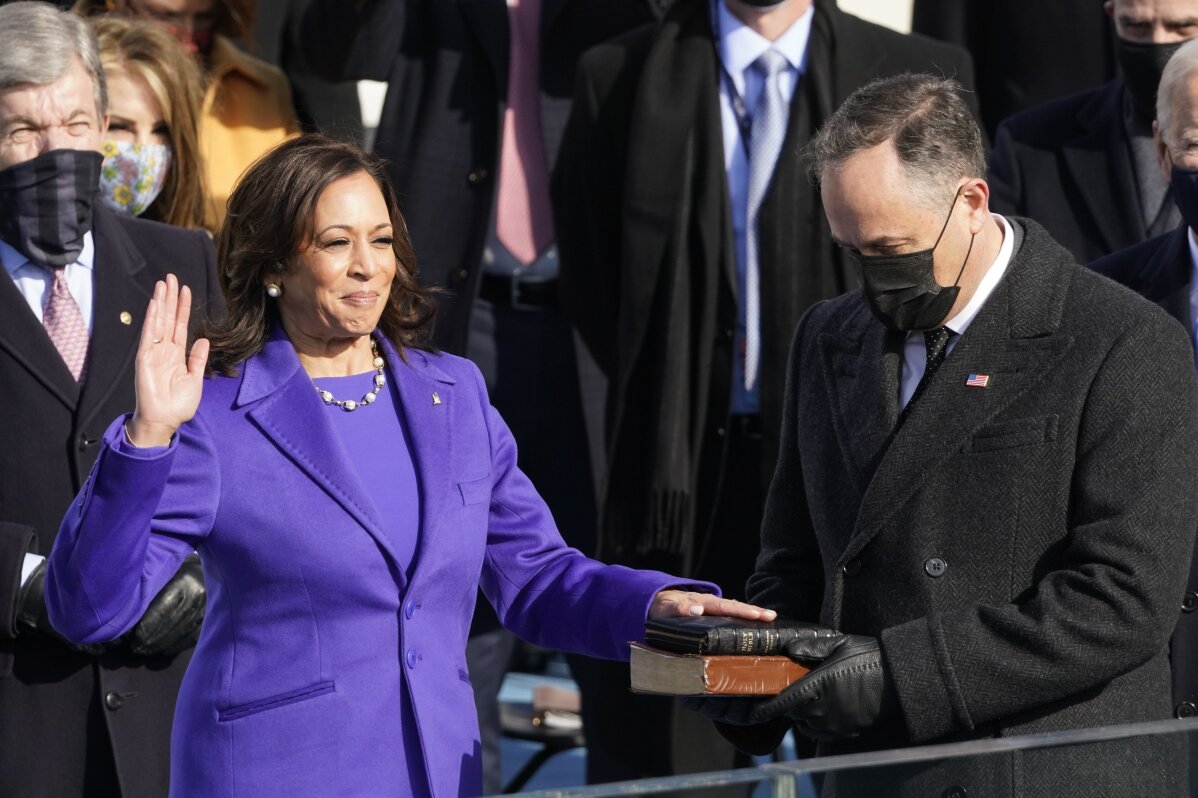 3 of 27

|
Kamala Harris is sworn in as vice president by Supreme Court Justice Sonia Sotomayor as her husband Doug Emhoff holds the Bible during the 59th Presidential Inauguration at the U.S. Capitol in Washington, Wednesday, Jan. 20, 2021. (AP Photo/Andrew Harnik)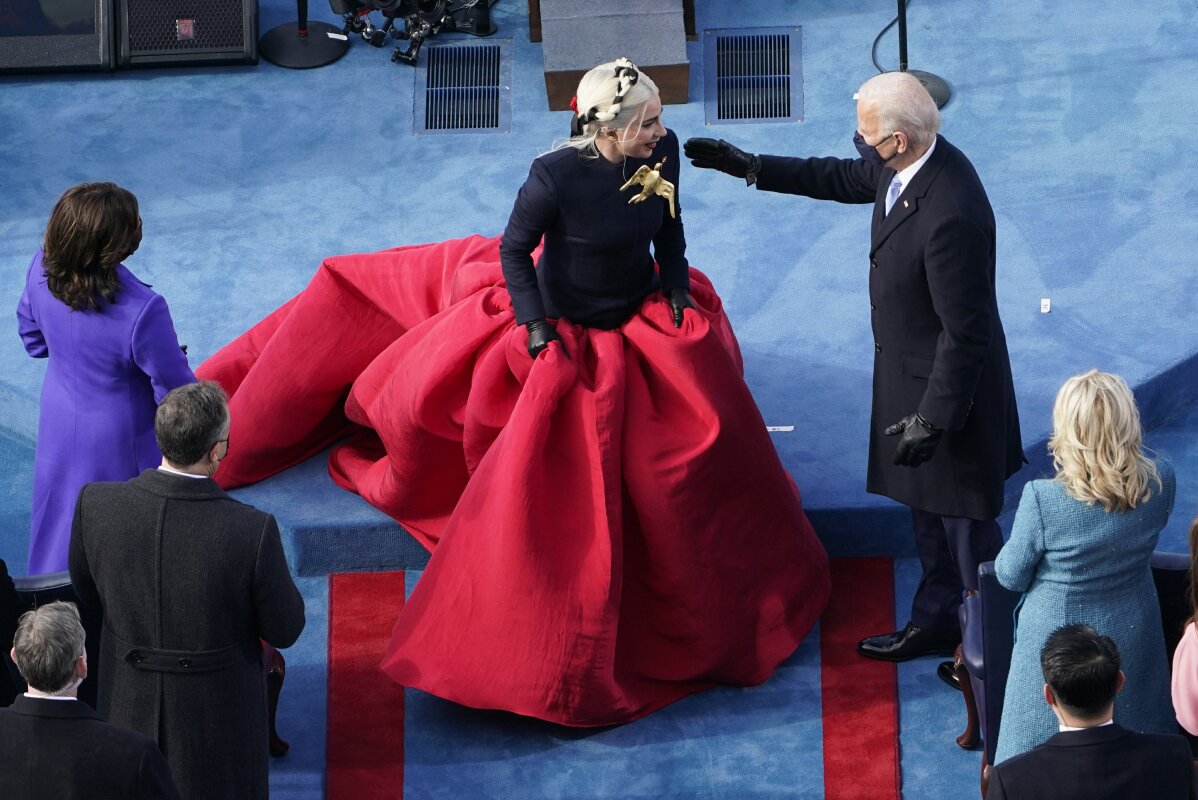 4 of 27

|
President-elect Joe Biden greets Lady Gaga during the 59th Presidential Inauguration at the U.S. Capitol in Washington, Wednesday, Jan. 20, 2021. (AP Photo/Susan Walsh, Pool)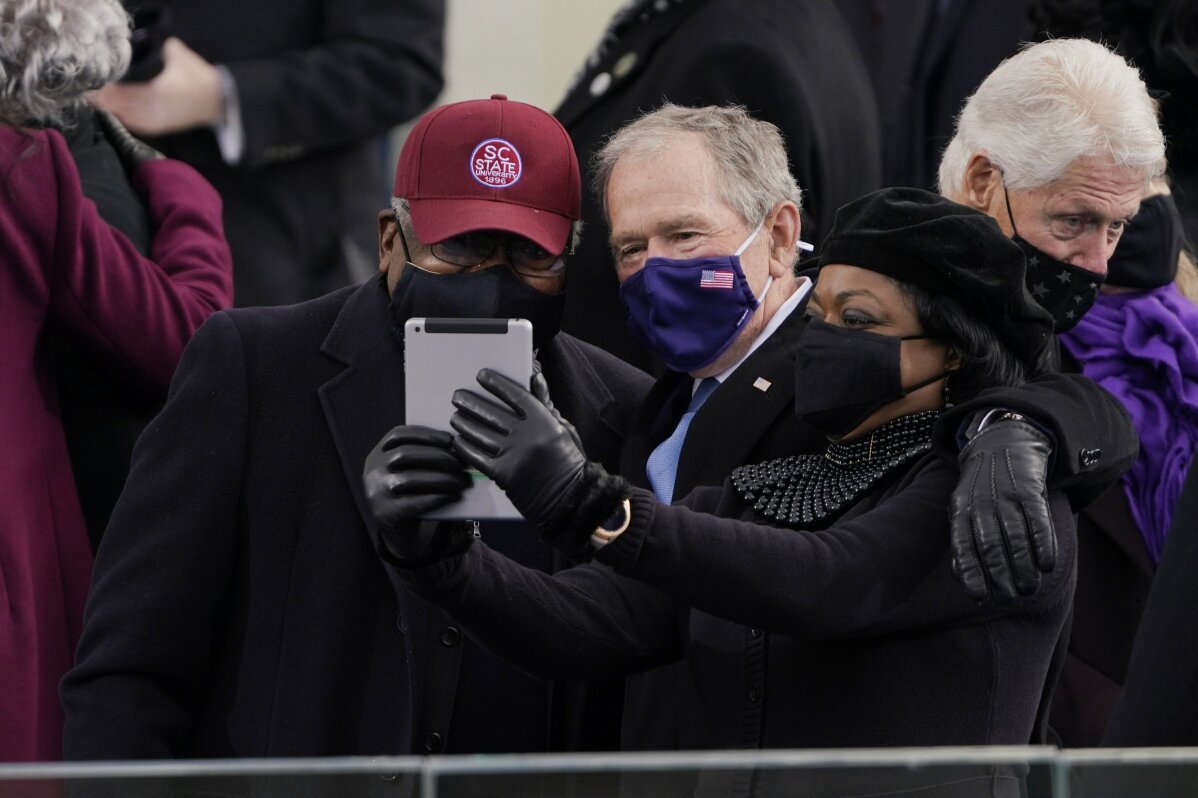 5 of 27

|
House Majority Whip James Clyburn of South Carolina, and former President George Bush, take a selfie before the 59th Presidential Inauguration at the U.S. Capitol in Washington, Wednesday, Jan. 20, 2021. (AP Photo/Patrick Semansky, Pool)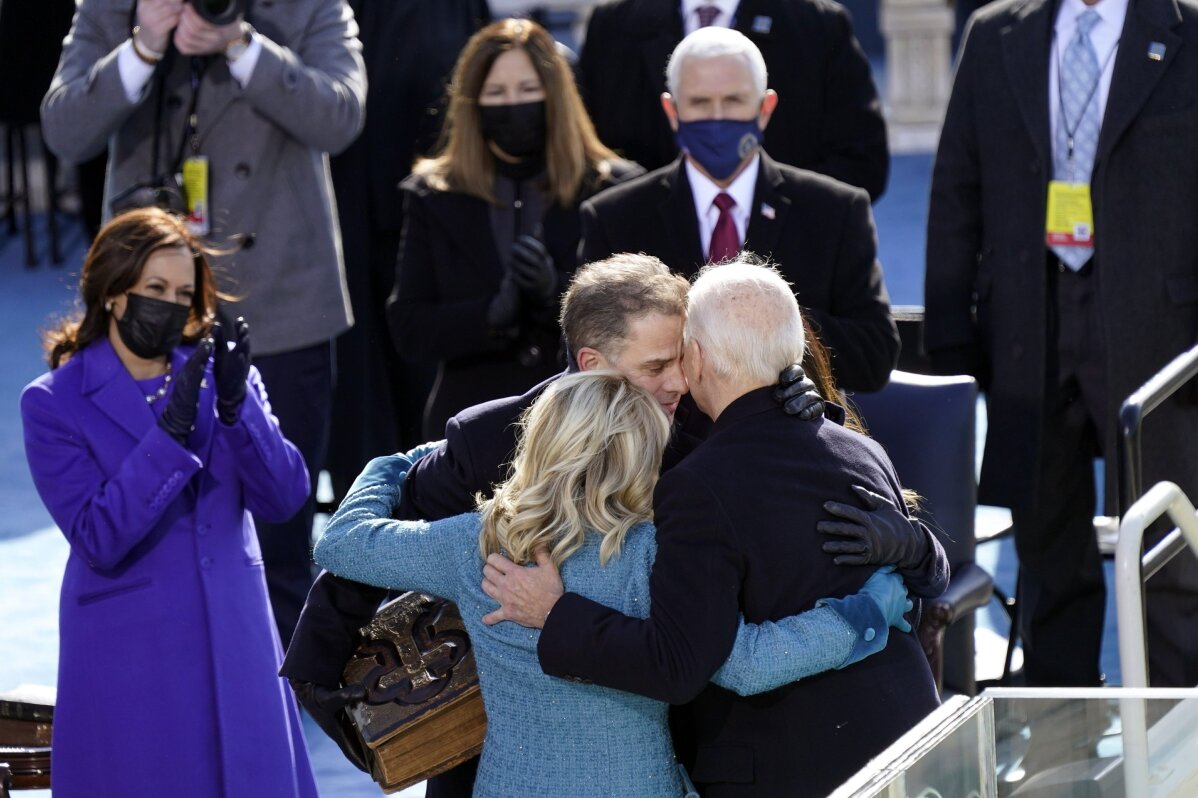 6 of 27

|
President Joe Biden hugs first lady Jill Biden, his son Hunter Biden and daughter Ashley Biden after being sworn-in during the 59th Presidential Inauguration at the U.S. Capitol in Washington, Wednesday, Jan. 20, 2021. Vice President Kamala Harris applauds at left. (AP Photo/Carolyn Kaster)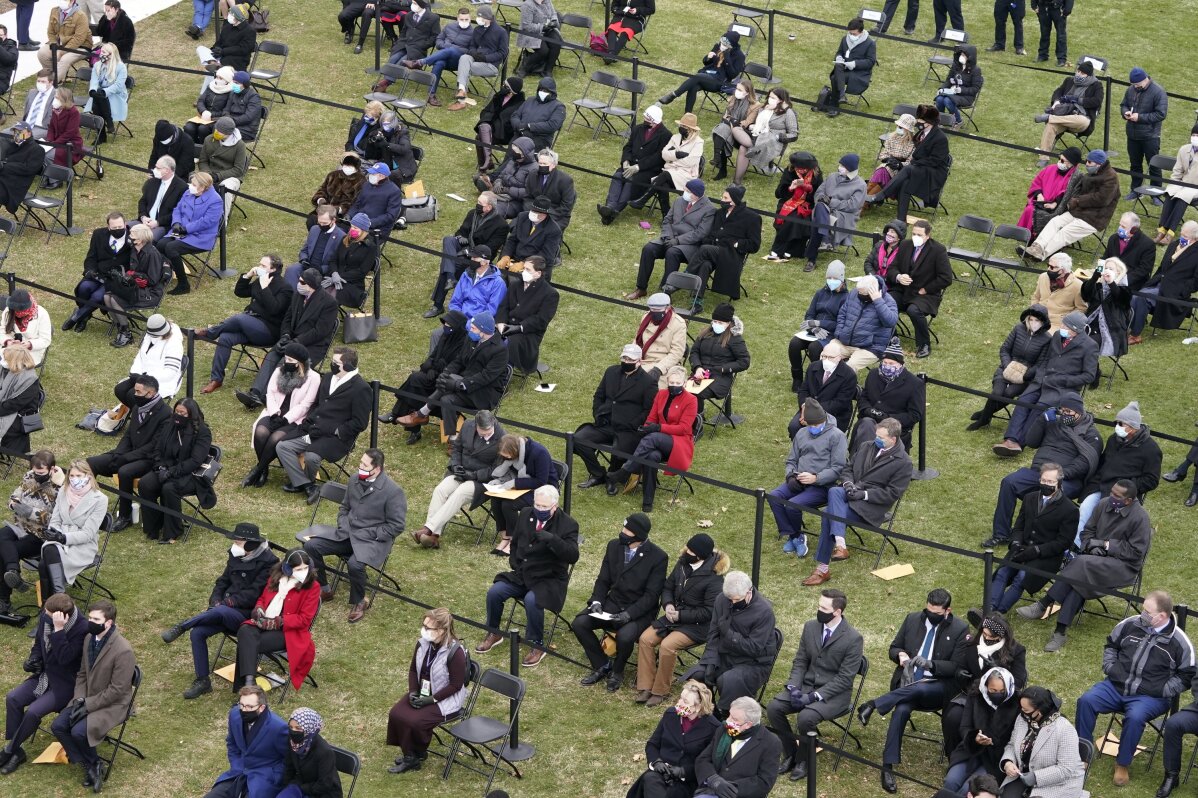 7 of 27

|
A social distanced crowd, looks on for the 59th Presidential Inauguration at the U.S. Capitol in Washington, Wednesday, Jan. 20, 2021. (AP Photo/Patrick Semansky, Pool)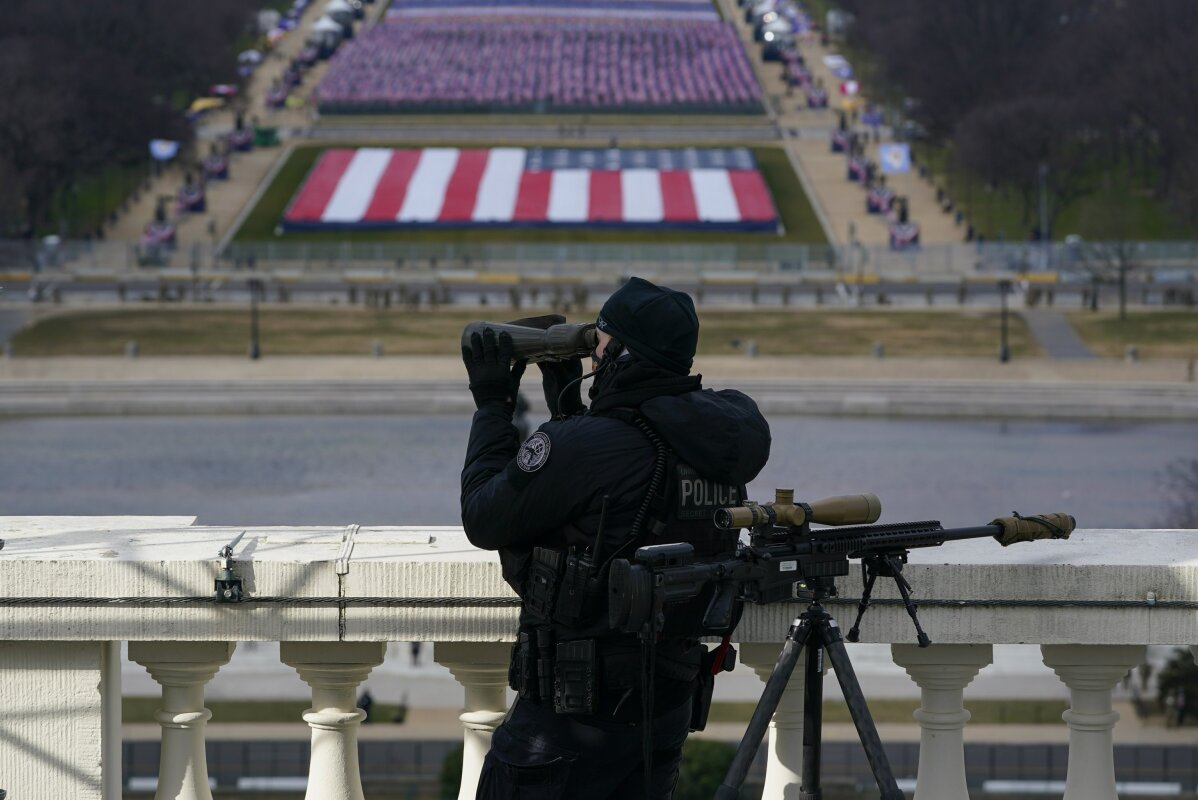 8 of 27

|
A law enforcement personnel monitors the area during the 59th Presidential Inauguration at the U.S. Capitol in Washington, Wednesday, Jan. 20, 2021. (AP Photo/Susan Walsh, Pool)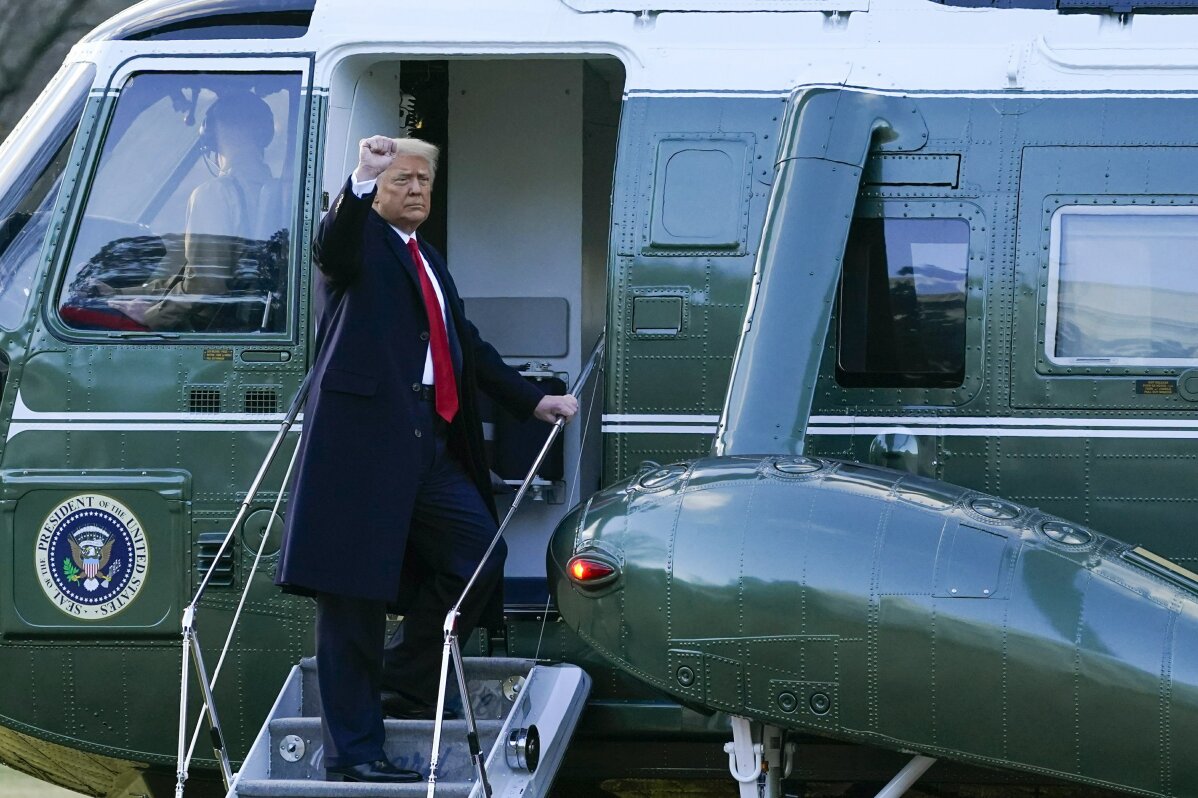 9 of 27

|
President Donald Trump gestures as he boards Marine One on the South Lawn of the White House, Wednesday, Jan. 20, 2021, in Washington. Trump is en route to his Mar-a-Lago Florida Resort. (AP Photo/Alex Brandon)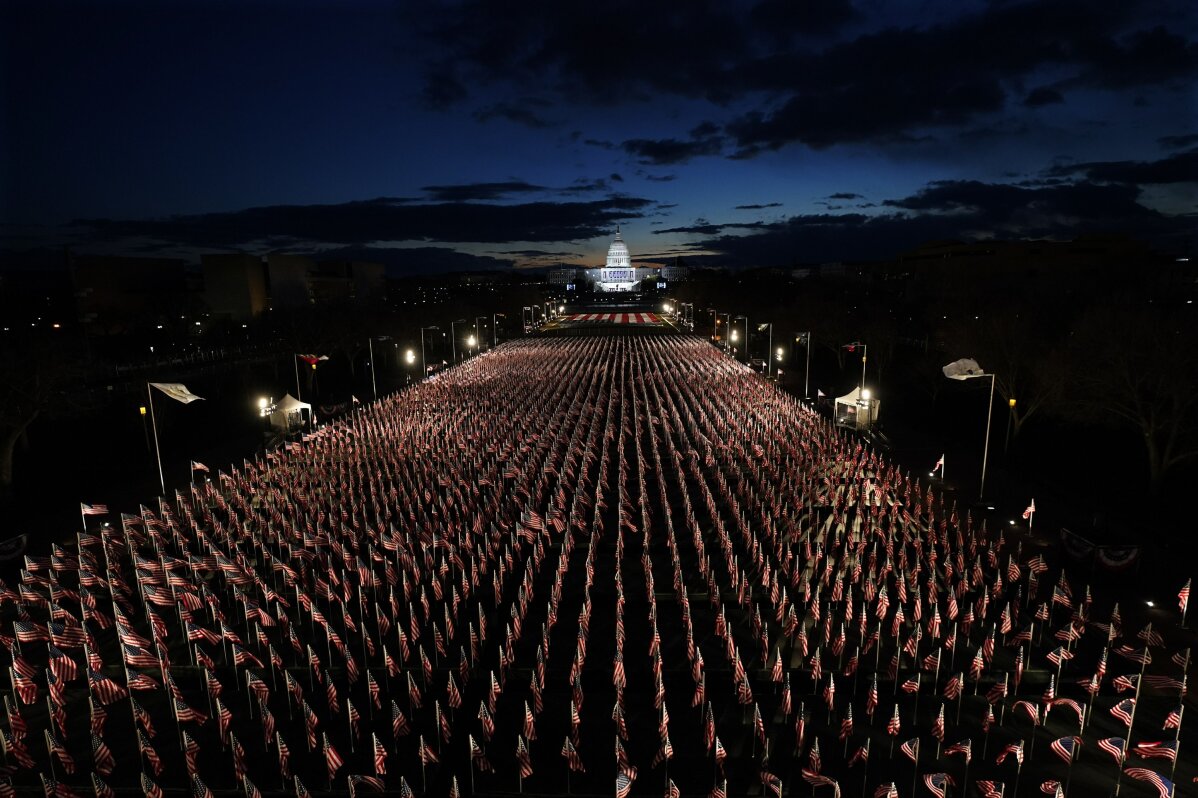 10 of 27

|
Flags line the National Mall towards the Capitol Building as events get underway for President-elect Joe Biden's inauguration ceremony, Wednesday, Jan. 20, 2021, in Washington. (AP Photo/Julio Cortez)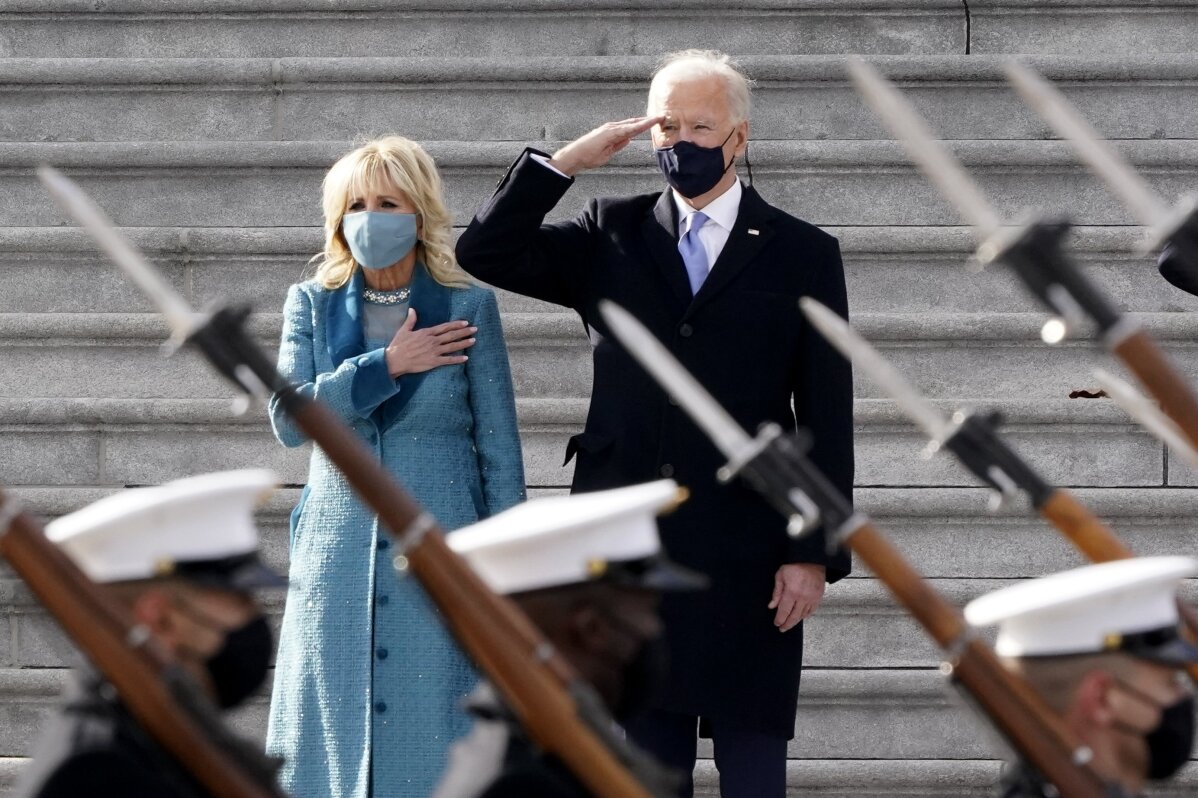 11 of 27

|
President Joe Biden and his wife Jill Biden watch a military pass in review ceremony on the East Front of the Capitol at the conclusion of the inauguration ceremonies, in Washington, Wednesday, Jan. 20, 2021. (AP Photo/J. Scott Applewhite)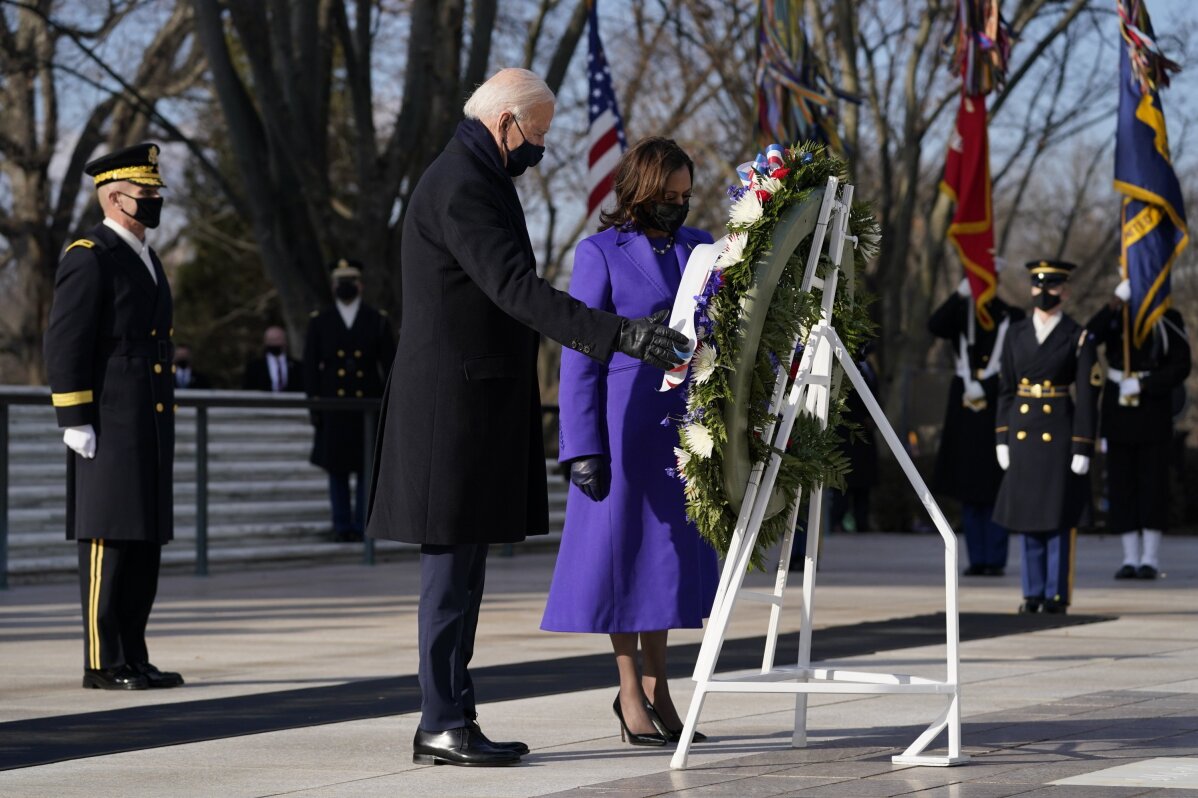 12 of 27

|
President Joe Biden and Vice President Kamala Harris participate in a wreath laying ceremony at the Tomb of the Unknown Soldier at Arlington National Cemetery in Arlington, Va. (AP Photo/Evan Vucci)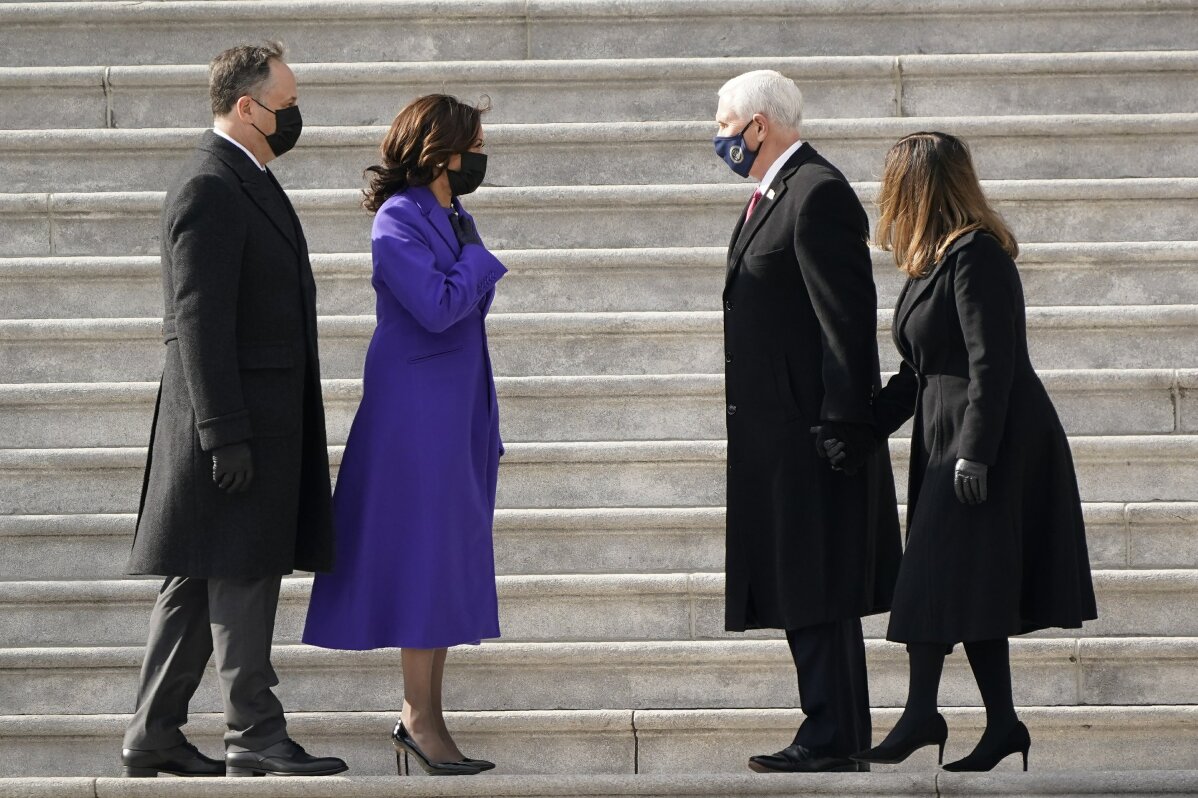 13 of 27

|
Vice President Kamala Harris and her husband Doug Emhoffl left, and former Vice President Mike Pence and his wife Karen Pence speak before the Pence's depart the Capitol after the Inauguration of President Joe Biden ceremony on the East Front of the Capitol at the conclusion of the inauguration ceremonies, in Washington, Wednesday, Jan. 20, 2021. (AP Photo/J. Scott Applewhite)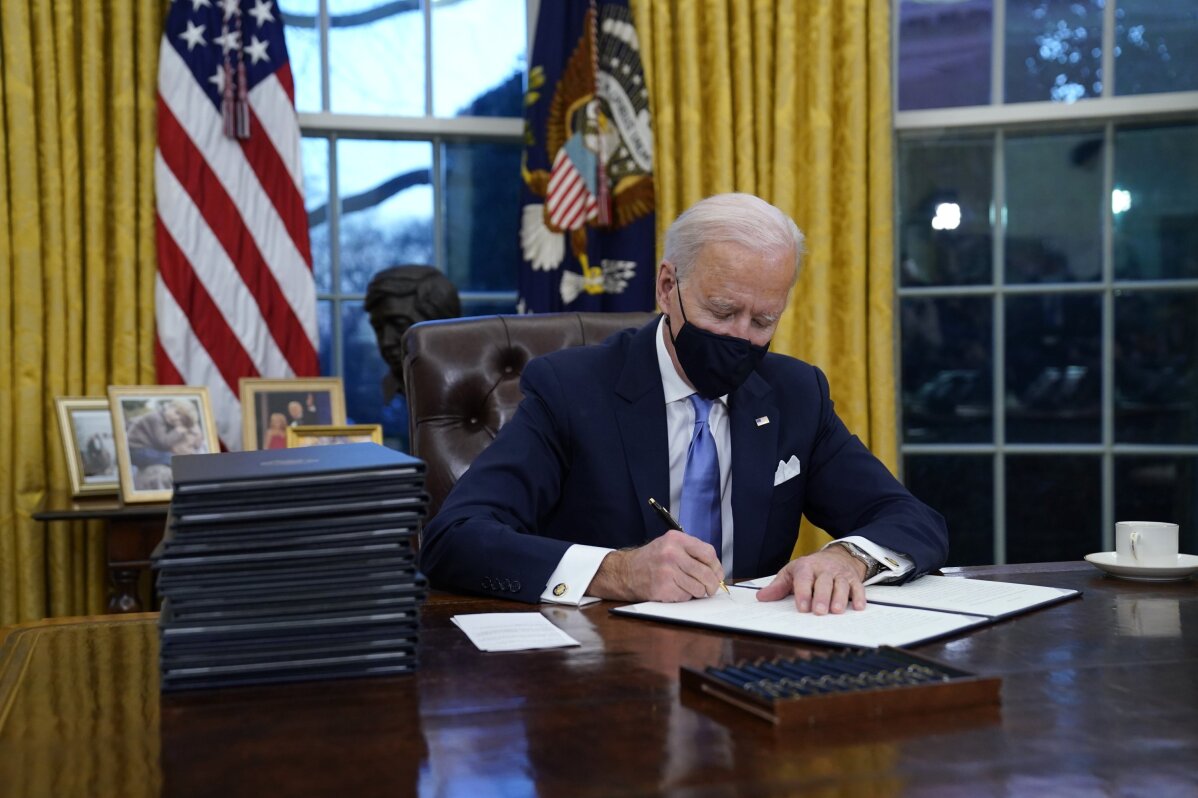 14 of 27

|
President Joe Biden signs his first executive order in the Oval Office of the White House on Wednesday, Jan. 20, 2021, in Washington. (AP Photo/Evan Vucci)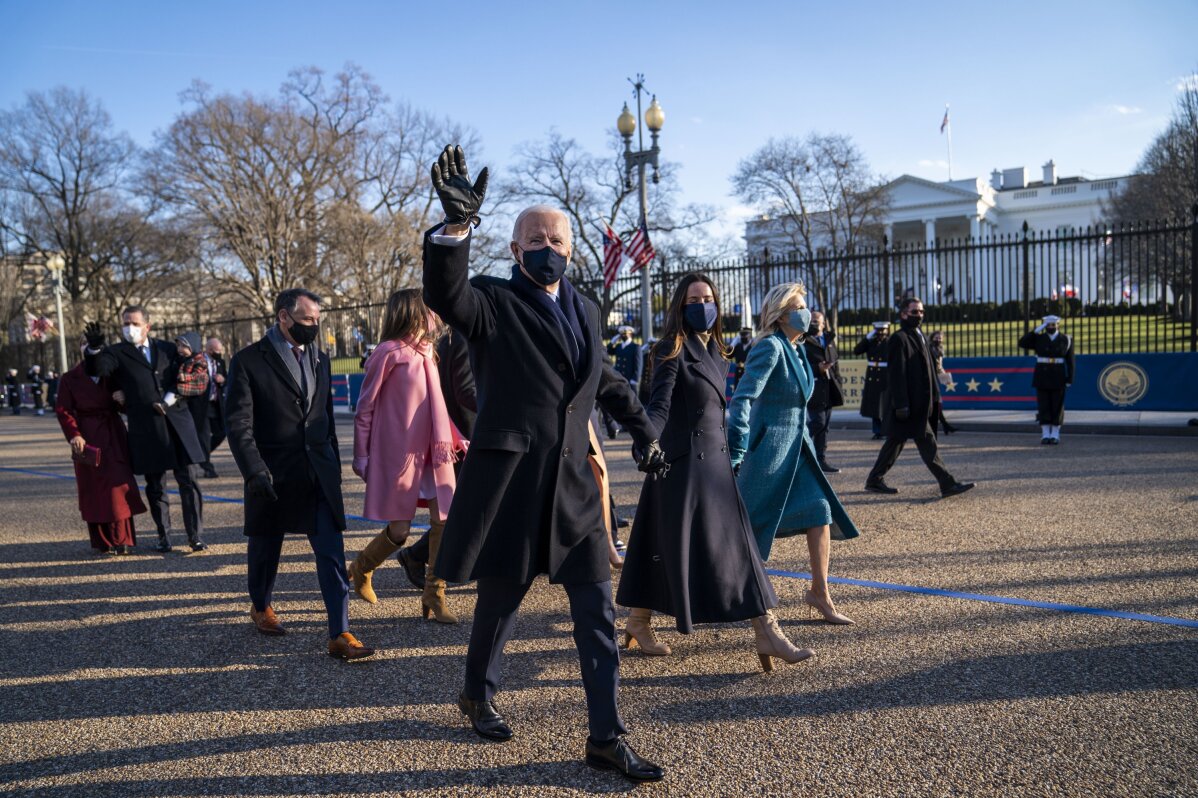 15 of 27

|
President Joe Biden, First Lady Jill Biden and family, walk in front of the White House during a Presidential Escort to the White House, Wednesday, Jan. 20, 2021 in Washington. (Doug Mills/The New York Times via AP, Pool)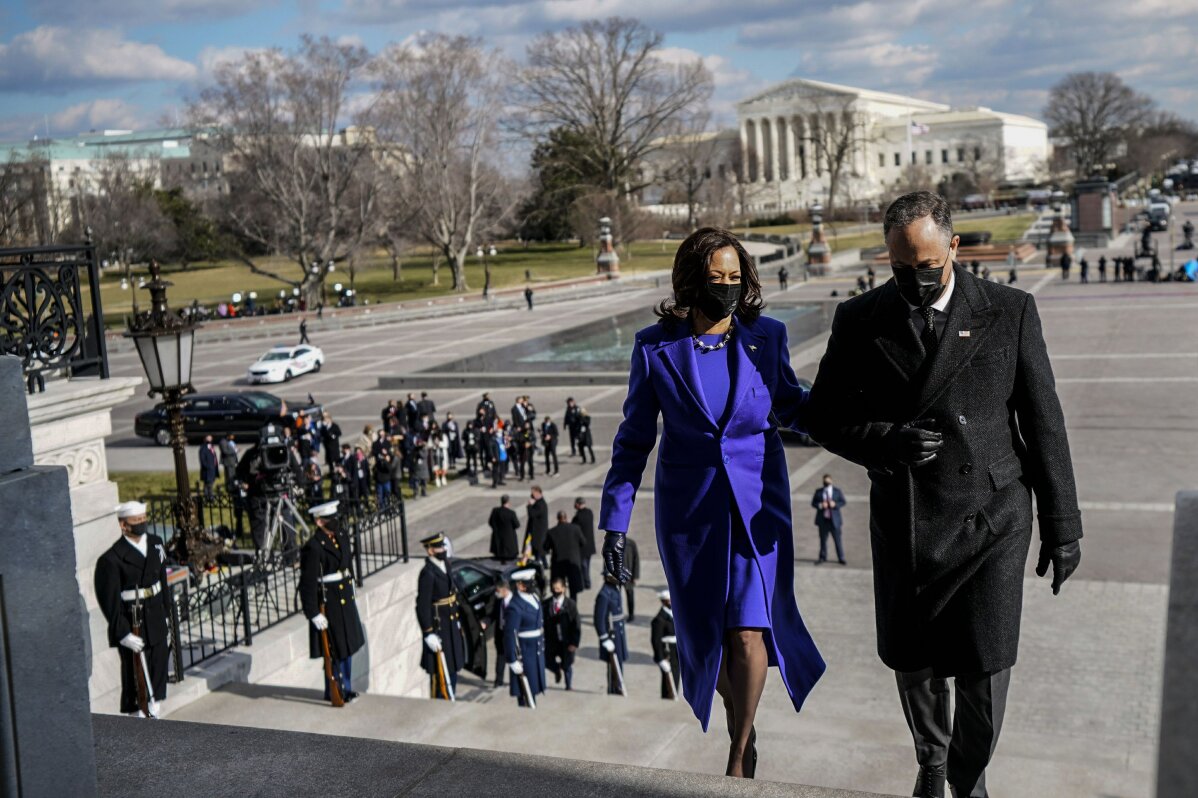 16 of 27

|
Vice President Kamala Harris and her husband, second gentleman Doug Emhoff, ascend the Capitol steps following the 59th Presidential Inauguration in Washington, Wednesday, Jan. 20, 2021. Joe Biden was sworn in as the 46th president of the U.S. and Harris became the first woman vice president. (Photo by Melina Mara/The Washington Post via AP Pool)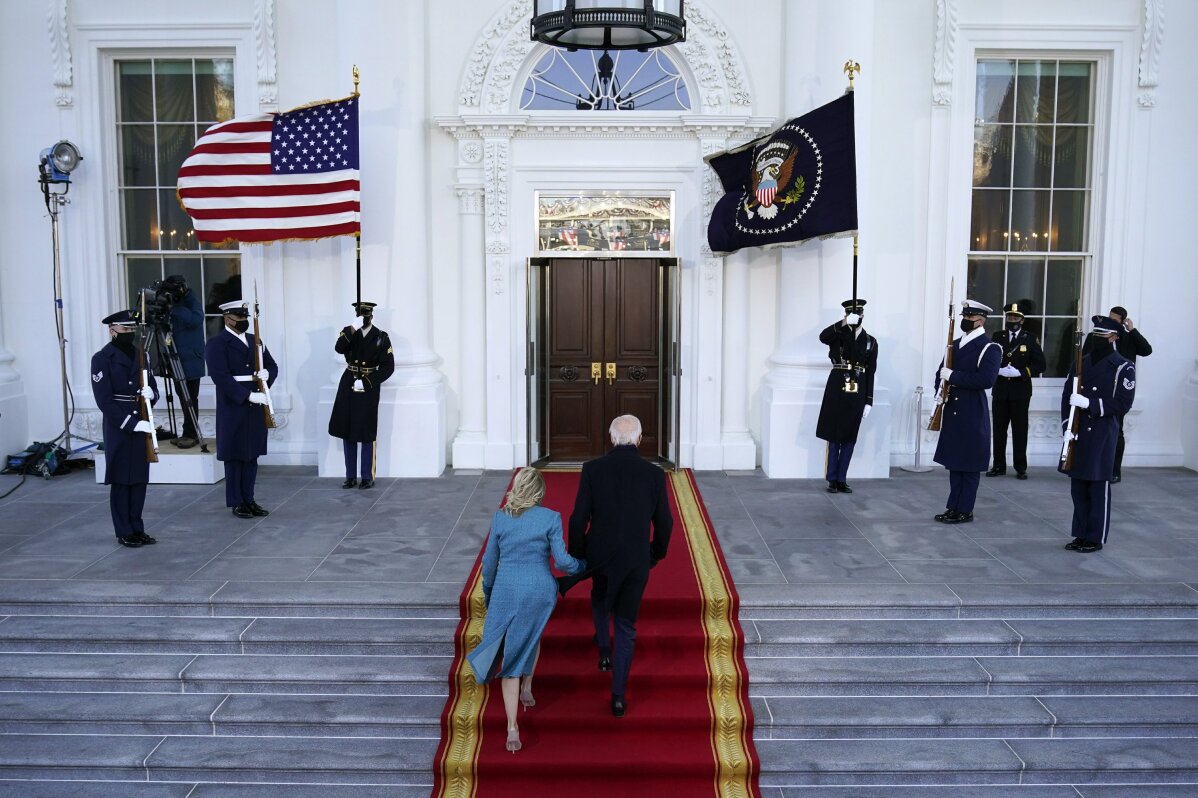 17 of 27

|
President Joe Biden and first lady Jill Biden walk up the stairs as they arrive at the North Portico of the White House, Wednesday, Jan. 20, 2021, in Washington. (AP Photo/Alex Brandon, Pool)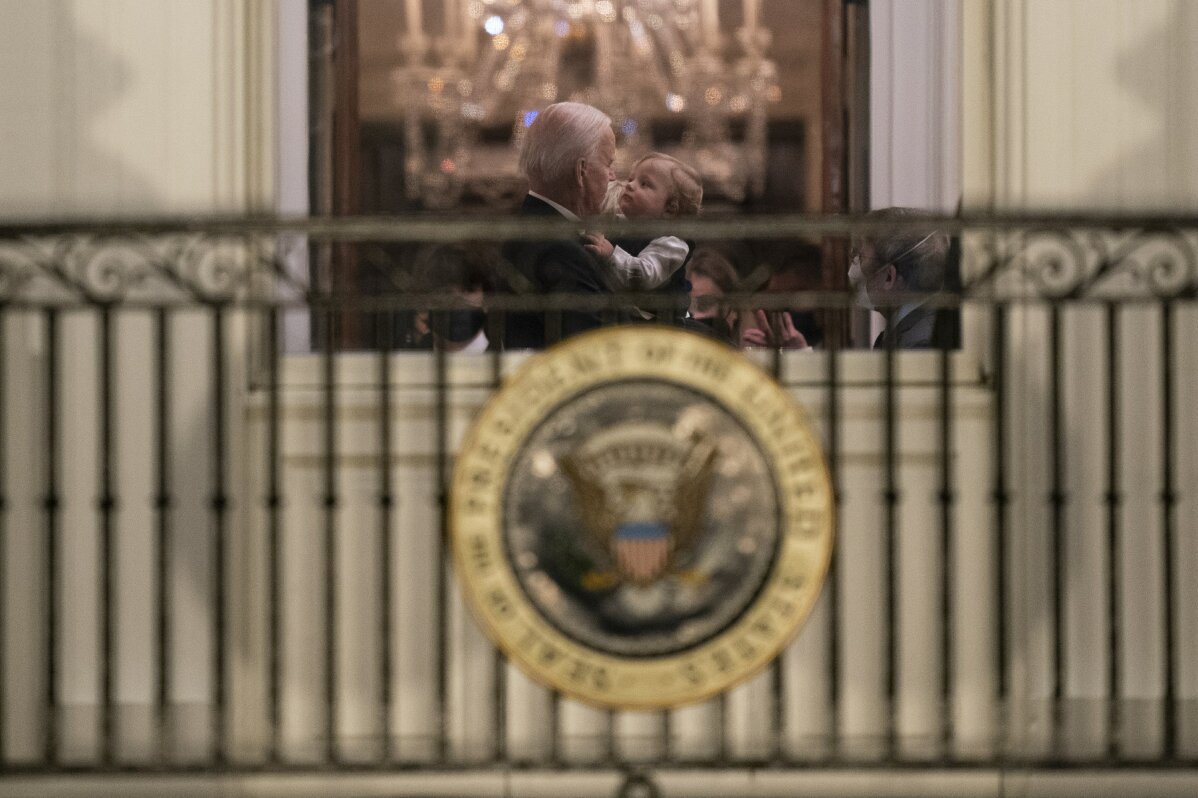 18 of 27

|
President Joe Biden holds his grandson Beau Biden at the White House, Wednesday, Jan. 20, 2021, in Washington. (AP Photo/Evan Vucci)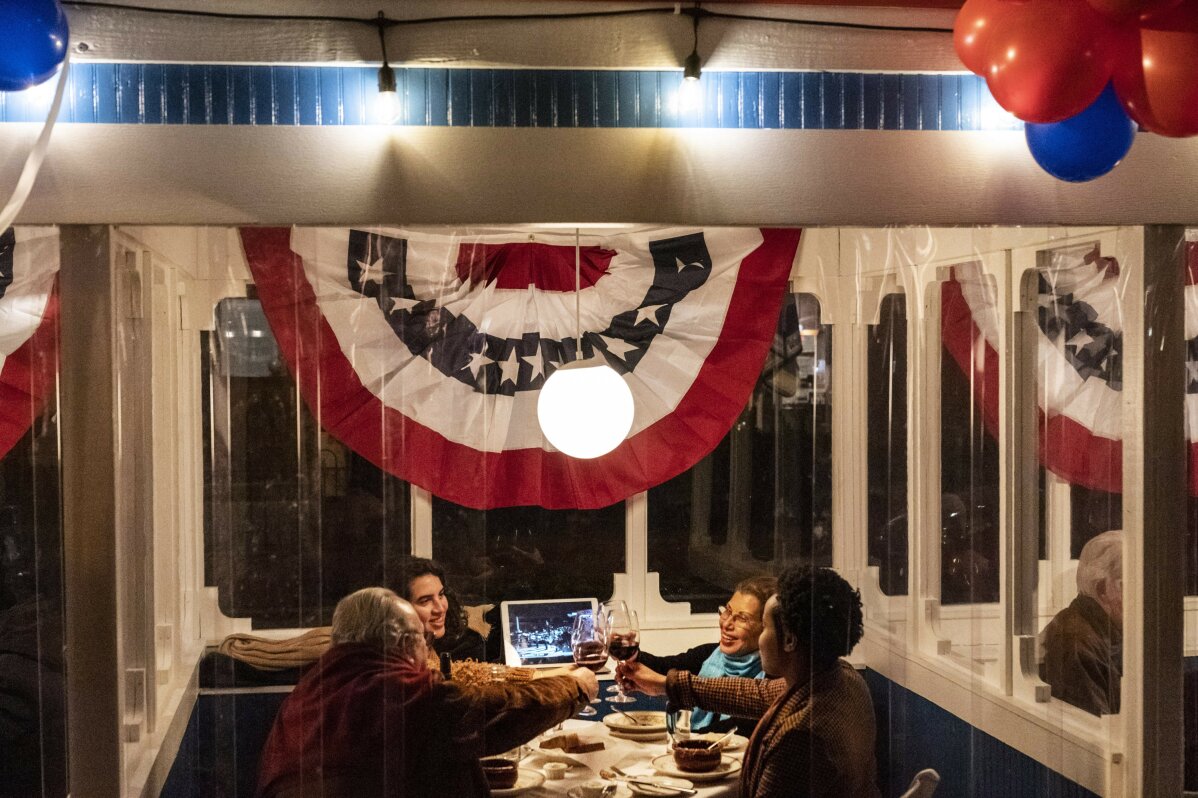 19 of 27

|
Diners Marcelo Politi, from left, Yasmine El Dessouky, May Hobrok and Linda Mang'era toast while celebrating President Joe Biden's inauguration as they watch the evening festivities on a laptop at Le Diplomate restaurant in Washington, late Wednesday, Jan. 20, 2021. (AP Photo/David Goldman)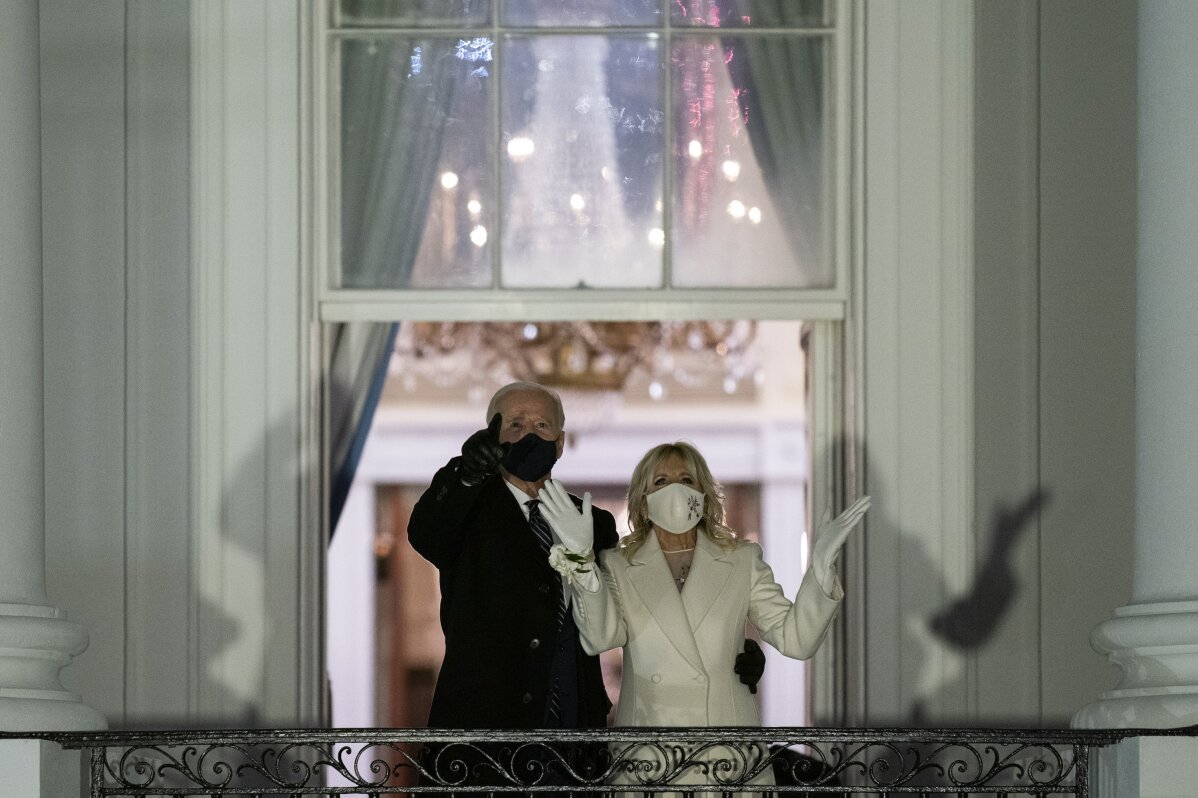 20 of 27

|
President Joe Biden and first lady Jill Biden watch fireworks from the White House, Wednesday, Jan. 20, 2021, in Washington. (AP Photo/Evan Vucci)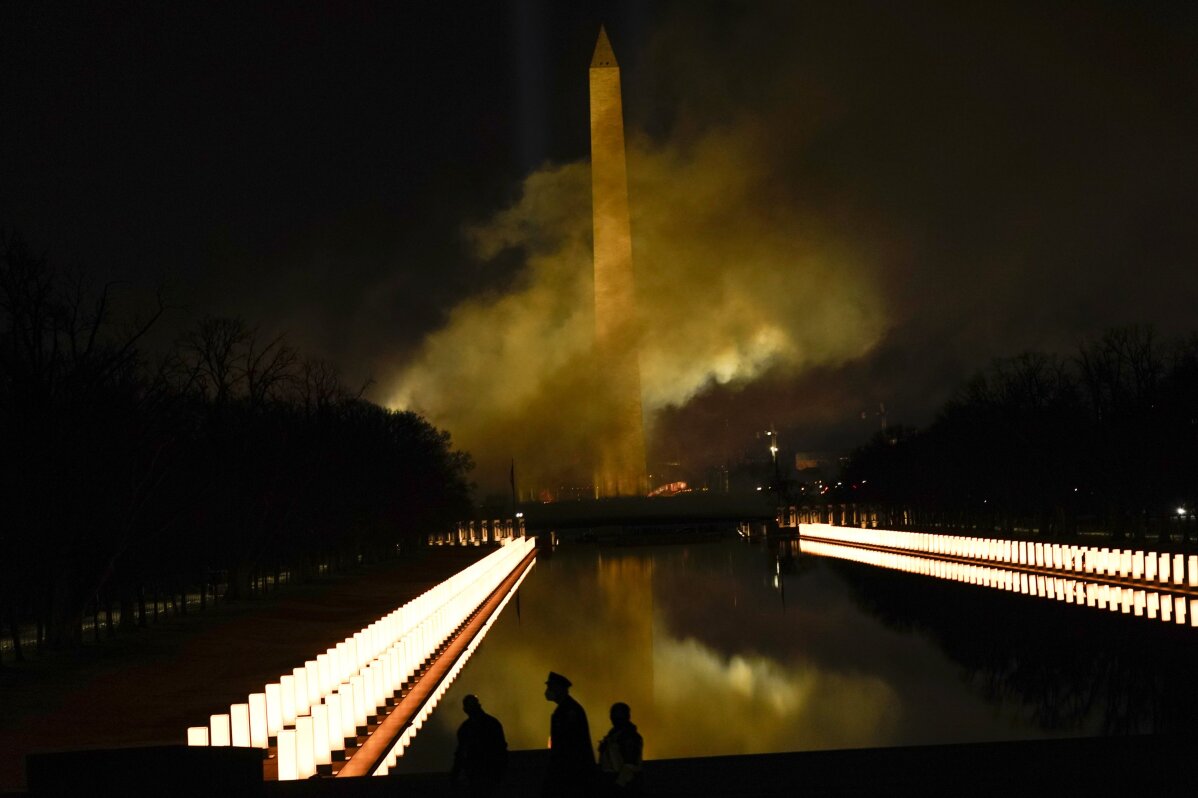 21 of 27

|
People leave after fireworks were set off over the Lincoln Memorial and the Washington Monument in Washington, Wednesday, Jan. 20, 2021, as part of the festivities after President Joe Biden was inaugurated as the 46th President of the United States. (AP Photo/Jacquelyn Martin)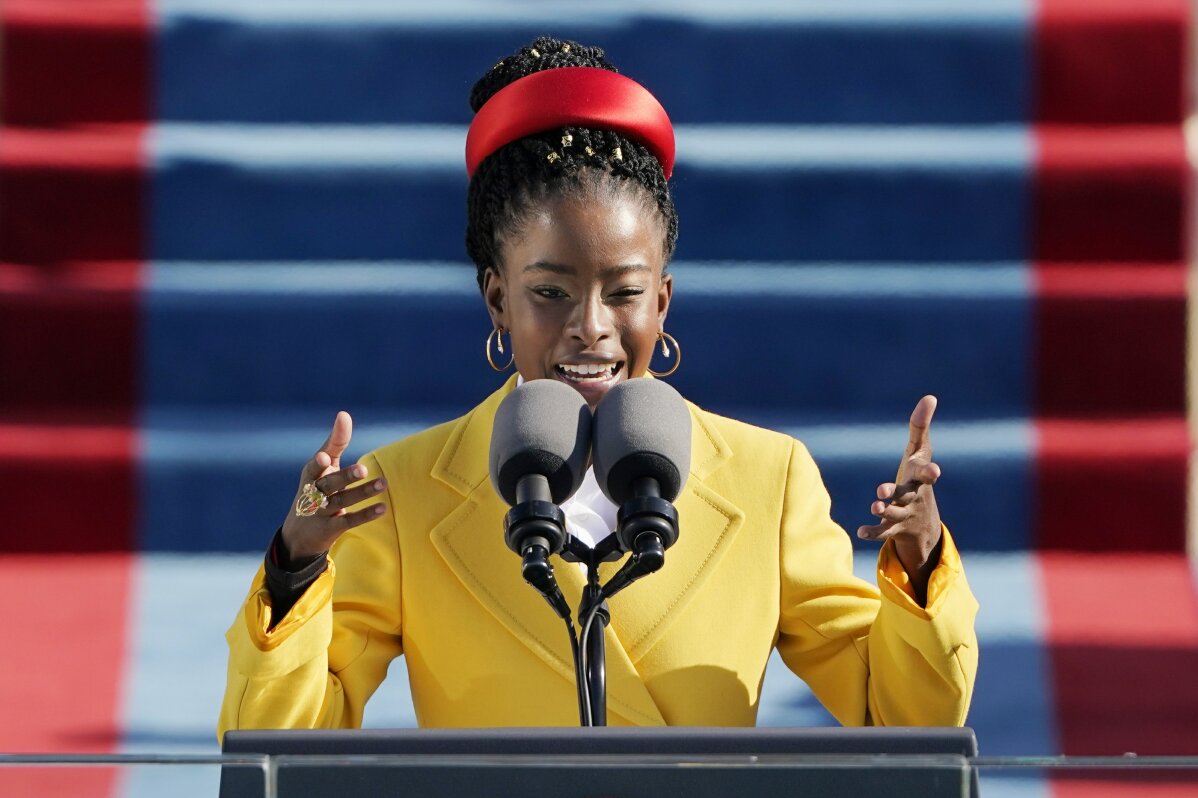 22 of 27

|
American poet Amanda Gorman reads a poem during the 59th Presidential Inauguration at the U.S. Capitol in Washington, Wednesday, Jan. 20, 2021. (AP Photo/Patrick Semansky, Pool)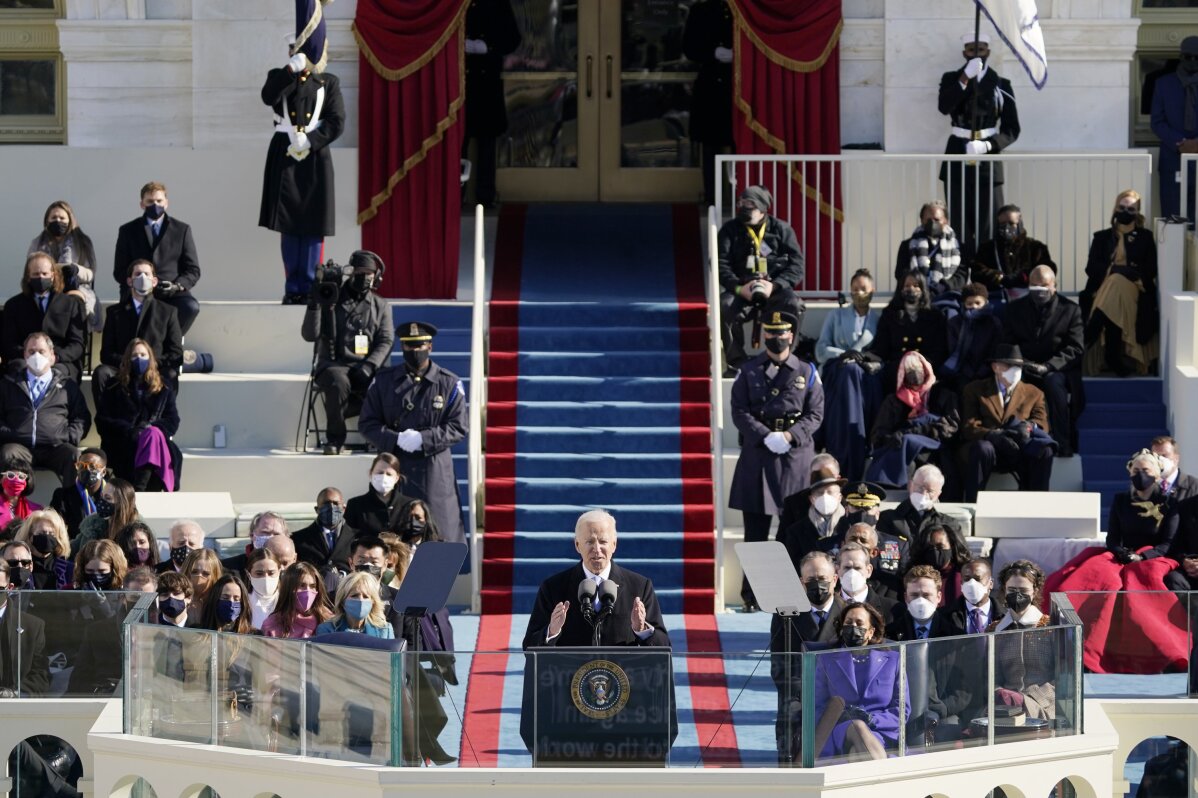 23 of 27

|
President Joe Biden speaks during the 59th Presidential Inauguration at the U.S. Capitol in Washington, Wednesday, Jan. 20, 2021.(AP Photo/Patrick Semansky, Pool)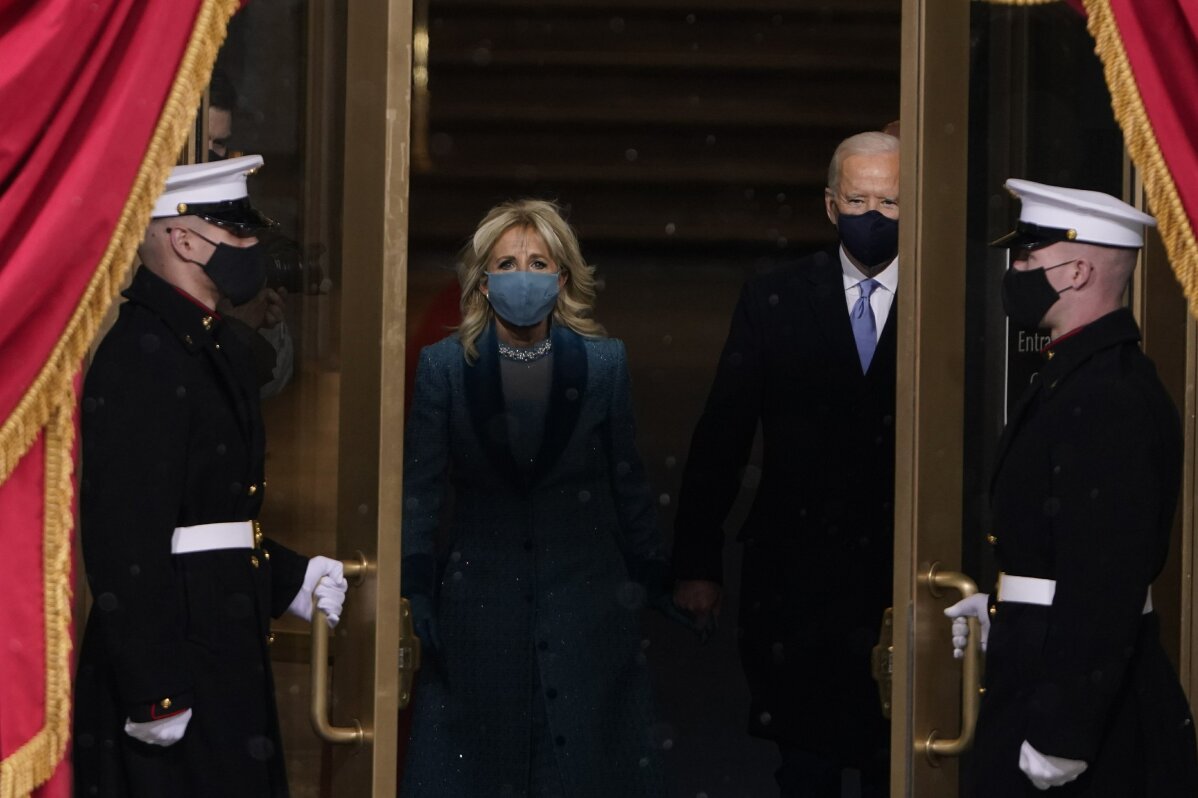 24 of 27

|
President-elect Joe Biden and his wife Jill, walk out for the 59th Presidential Inauguration at the U.S. Capitol in Washington, Wednesday, Jan. 20, 2021.(AP Photo/Patrick Semansky, Pool)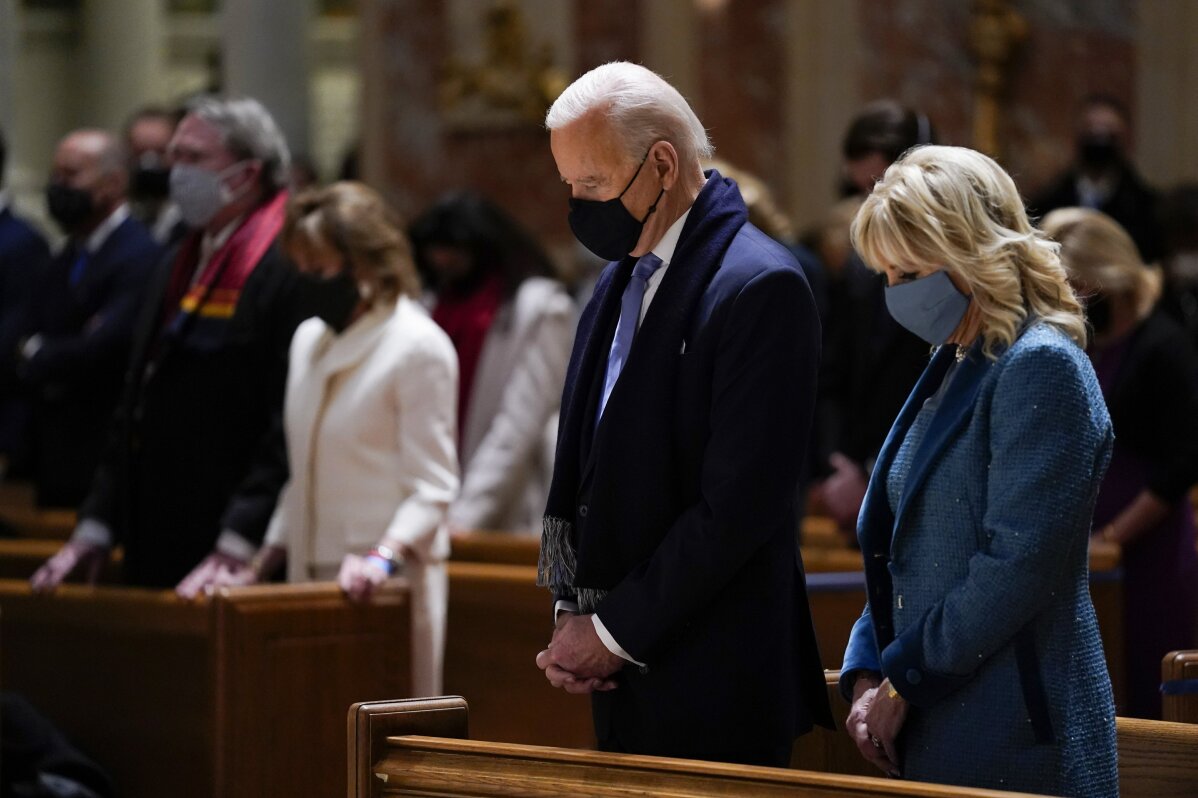 25 of 27

|
President-elect Joe Biden and his wife Jill Biden as they attend Mass at the Cathedral of St. Matthew the Apostle during Inauguration Day ceremonies Wednesday, Jan. 20, 2021, in Washington. (AP Photo/Evan Vucci)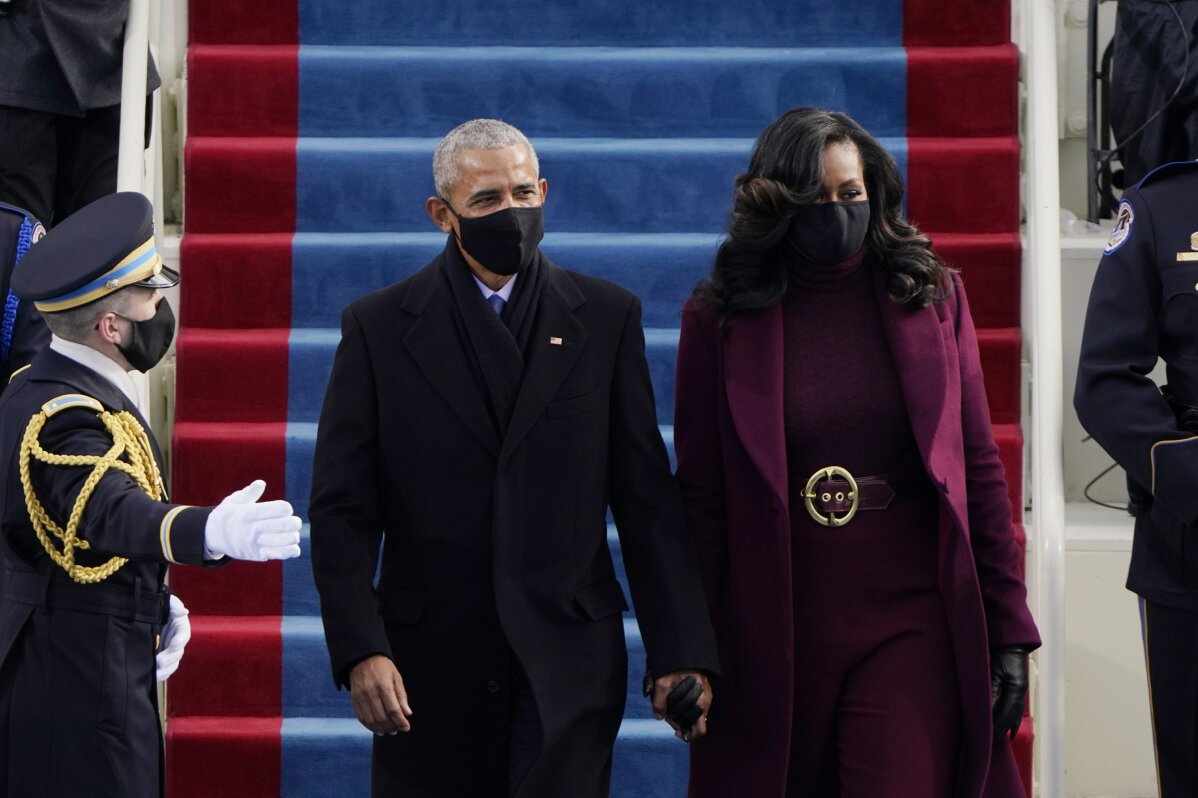 26 of 27

|
Former President Barack Obama and his wife Michelle arrive for the 59th Presidential Inauguration at the U.S. Capitol for President-elect Joe Biden in Washington, Wednesday, Jan. 20, 2021. (AP Photo/Patrick Semansky, Pool)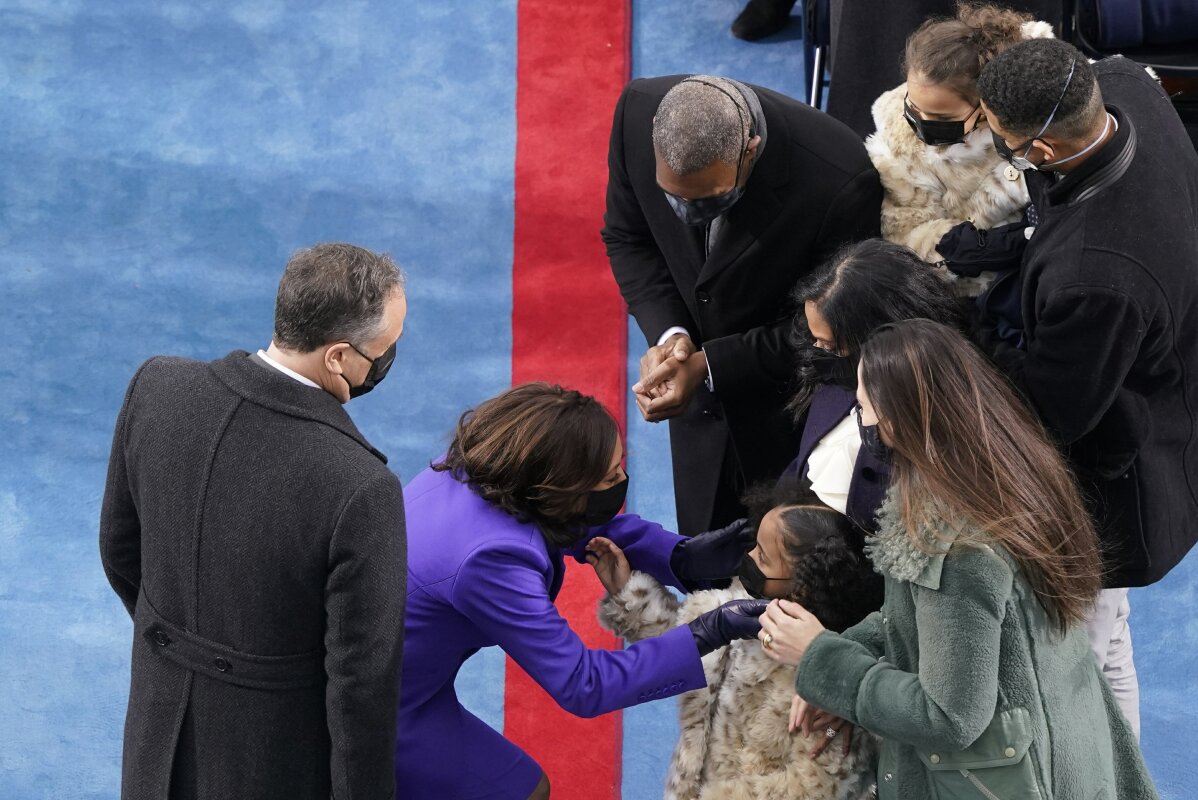 27 of 27

|
Vice President-elect Kamala Harris and her husband Doug Emhoff, stop to greet a young guest during the 59th Presidential Inauguration at the U.S. Capitol in Washington, Wednesday, Jan. 20, 2021. (AP Photo/Susan Walsh, Pool)
AP PHOTOS: Biden takes oath, inherits confluence of crises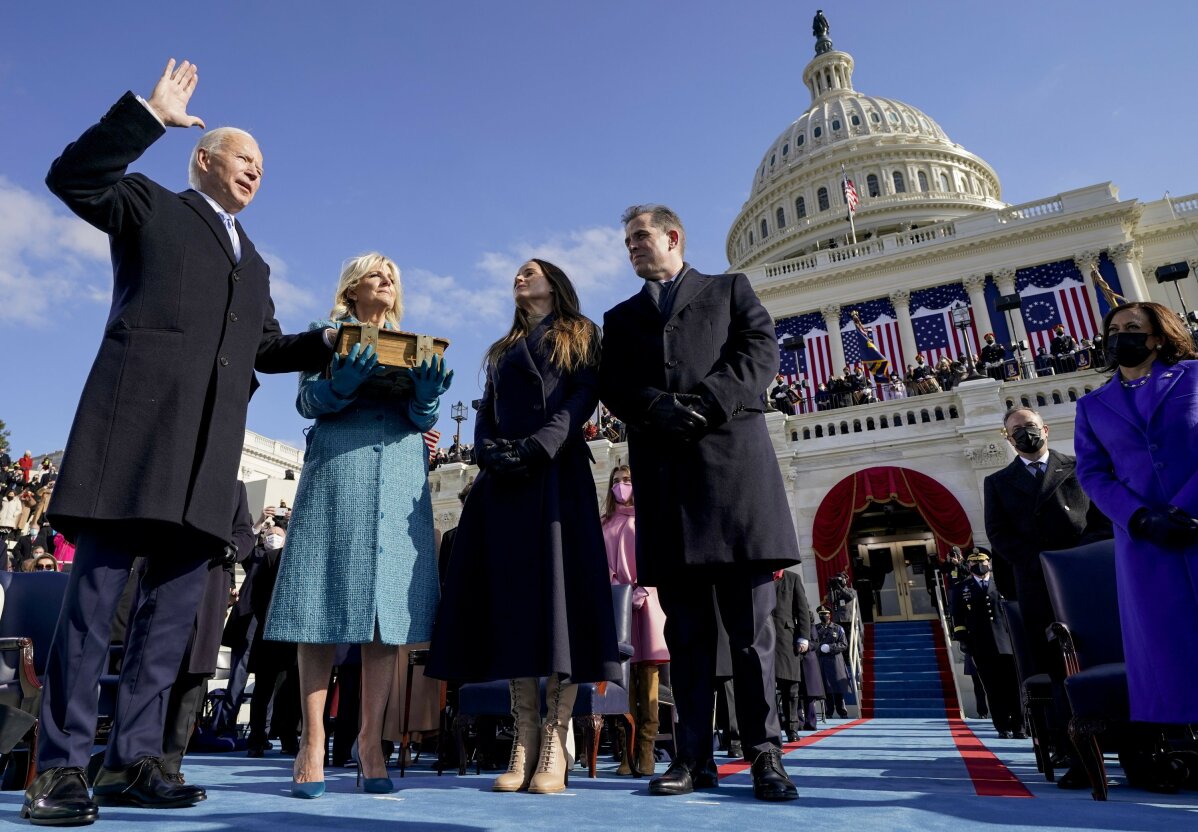 1 of 27

|
Joe Biden is sworn in as the 46th president of the United States by Chief Justice John Roberts as Jill Biden holds the Bible during the 59th Presidential Inauguration at the U.S. Capitol in Washington, Wednesday, Jan. 20, 2021, as their children Ashley and Hunter watch.(AP Photo/Andrew Harnik, Pool)
1 of 27
Joe Biden is sworn in as the 46th president of the United States by Chief Justice John Roberts as Jill Biden holds the Bible during the 59th Presidential Inauguration at the U.S. Capitol in Washington, Wednesday, Jan. 20, 2021, as their children Ashley and Hunter watch.(AP Photo/Andrew Harnik, Pool)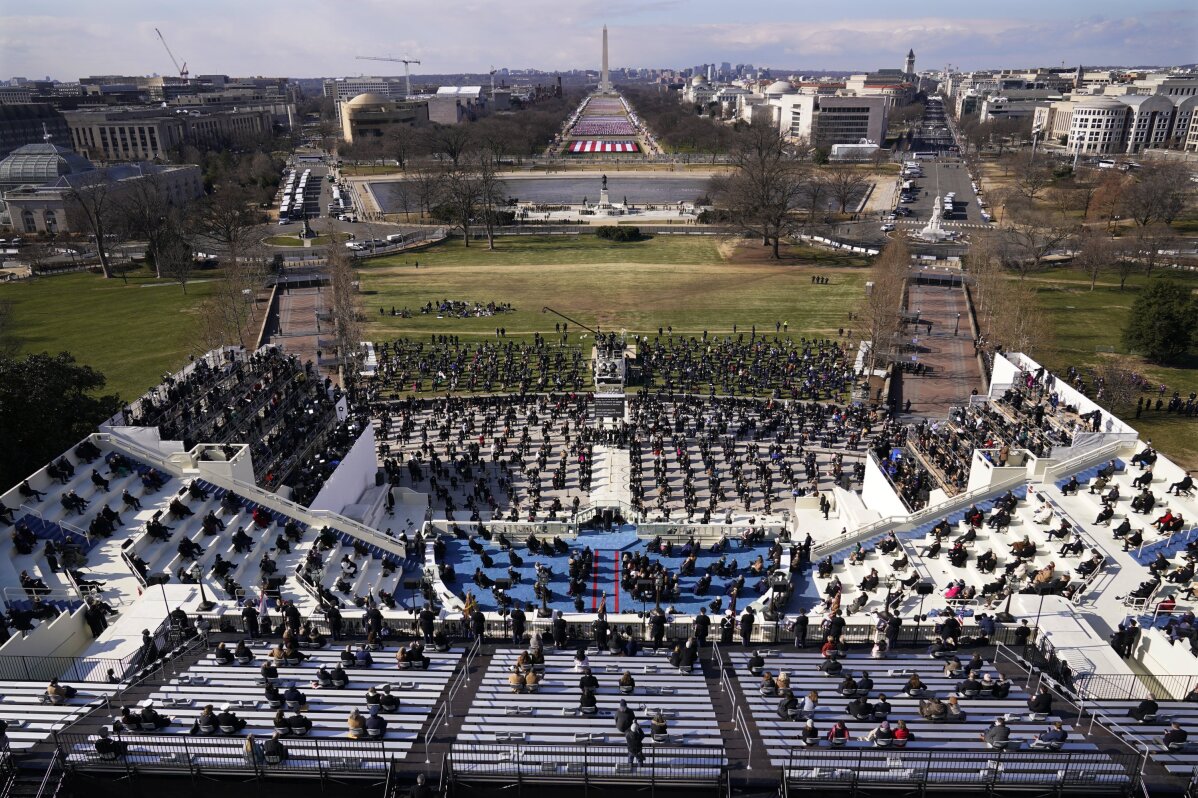 2 of 27

|
Guests and spectators attend the 59th Presidential Inauguration for President Joe Biden at the U.S. Capitol in Washington, Wednesday, Jan. 20, 2021. (AP Photo/Susan Walsh, Pool)
2 of 27
Guests and spectators attend the 59th Presidential Inauguration for President Joe Biden at the U.S. Capitol in Washington, Wednesday, Jan. 20, 2021. (AP Photo/Susan Walsh, Pool)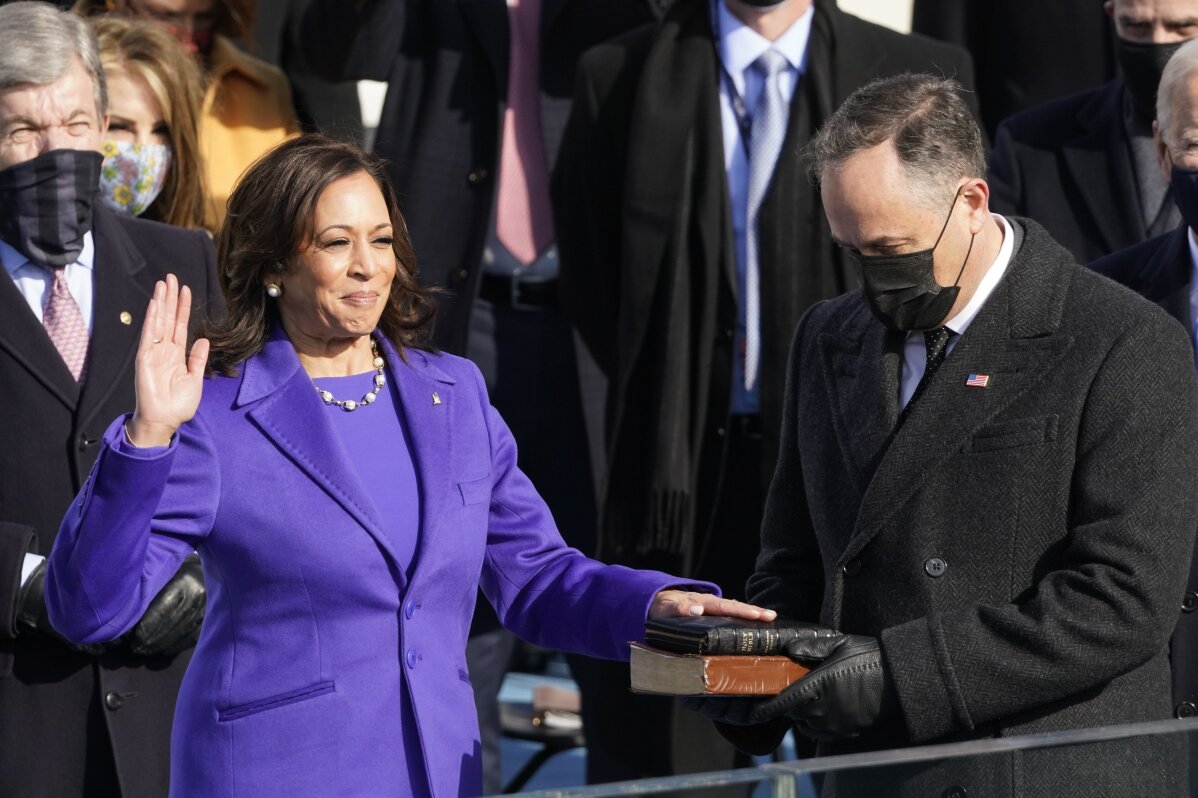 3 of 27

|
Kamala Harris is sworn in as vice president by Supreme Court Justice Sonia Sotomayor as her husband Doug Emhoff holds the Bible during the 59th Presidential Inauguration at the U.S. Capitol in Washington, Wednesday, Jan. 20, 2021. (AP Photo/Andrew Harnik)
3 of 27
Kamala Harris is sworn in as vice president by Supreme Court Justice Sonia Sotomayor as her husband Doug Emhoff holds the Bible during the 59th Presidential Inauguration at the U.S. Capitol in Washington, Wednesday, Jan. 20, 2021. (AP Photo/Andrew Harnik)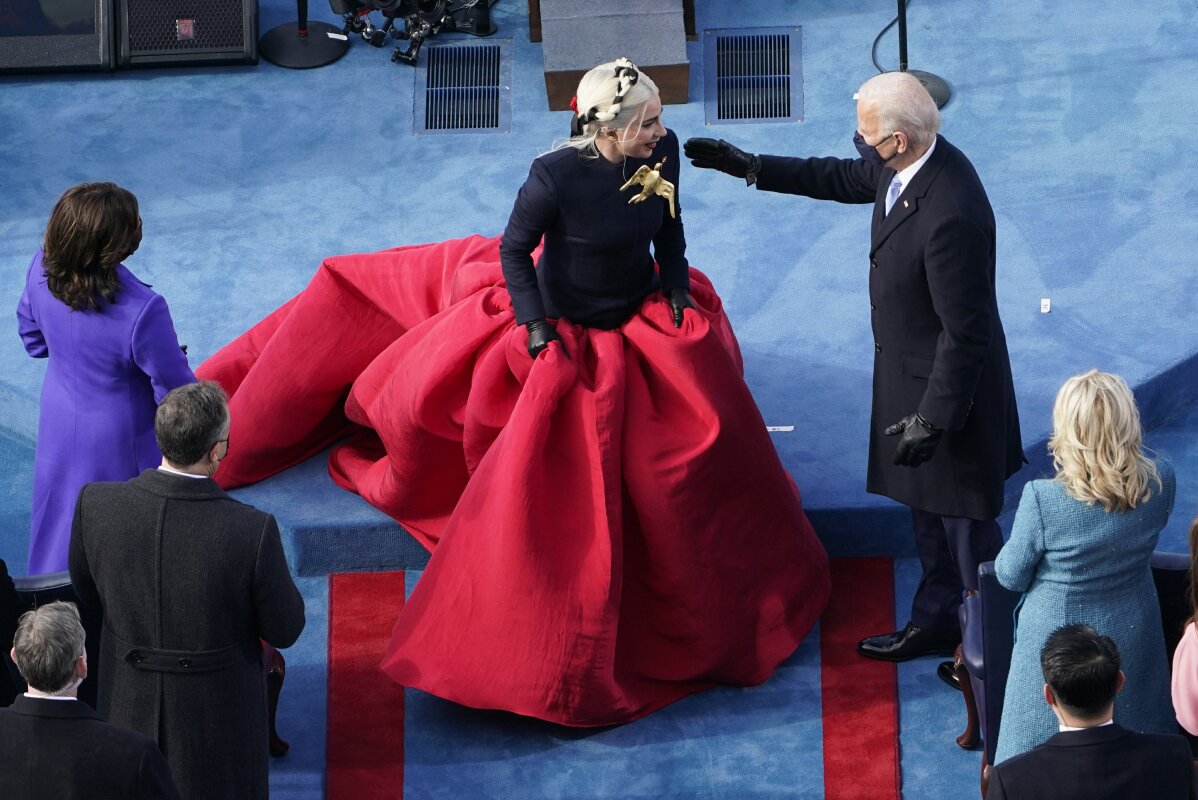 4 of 27

|
President-elect Joe Biden greets Lady Gaga during the 59th Presidential Inauguration at the U.S. Capitol in Washington, Wednesday, Jan. 20, 2021. (AP Photo/Susan Walsh, Pool)
4 of 27
President-elect Joe Biden greets Lady Gaga during the 59th Presidential Inauguration at the U.S. Capitol in Washington, Wednesday, Jan. 20, 2021. (AP Photo/Susan Walsh, Pool)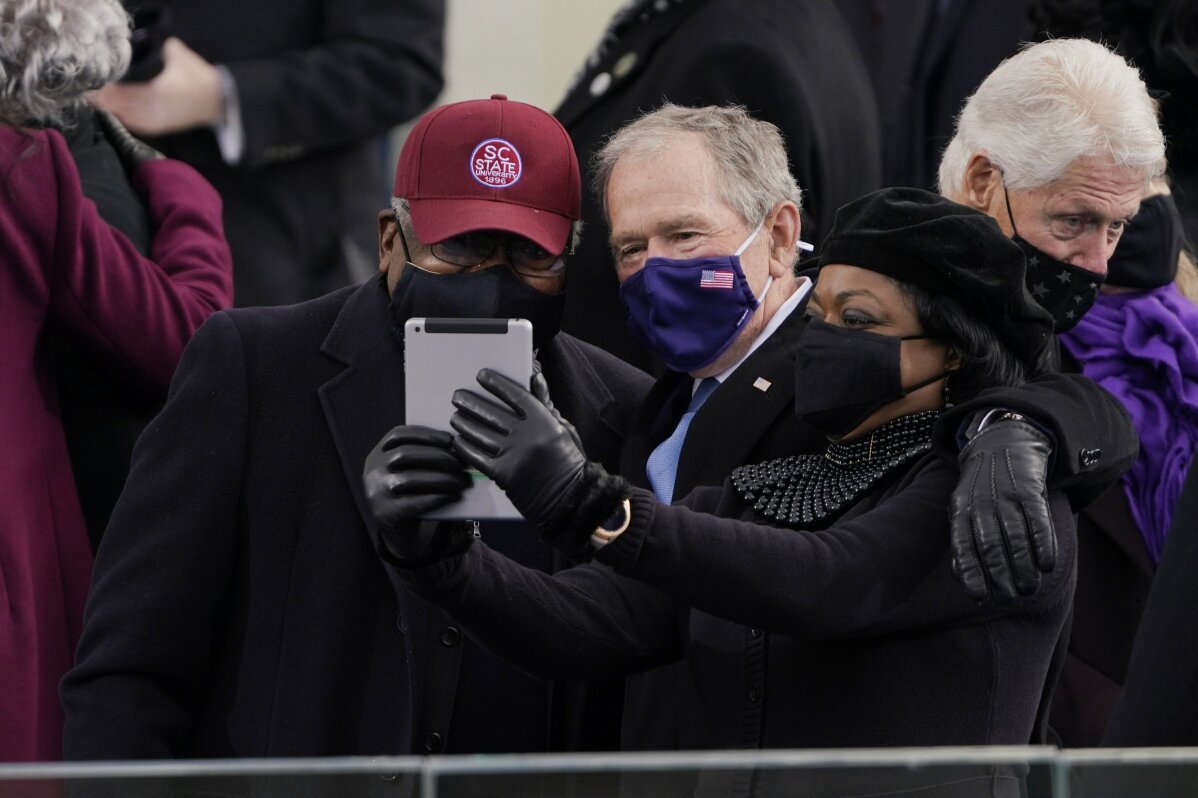 5 of 27

|
House Majority Whip James Clyburn of South Carolina, and former President George Bush, take a selfie before the 59th Presidential Inauguration at the U.S. Capitol in Washington, Wednesday, Jan. 20, 2021. (AP Photo/Patrick Semansky, Pool)
5 of 27
House Majority Whip James Clyburn of South Carolina, and former President George Bush, take a selfie before the 59th Presidential Inauguration at the U.S. Capitol in Washington, Wednesday, Jan. 20, 2021. (AP Photo/Patrick Semansky, Pool)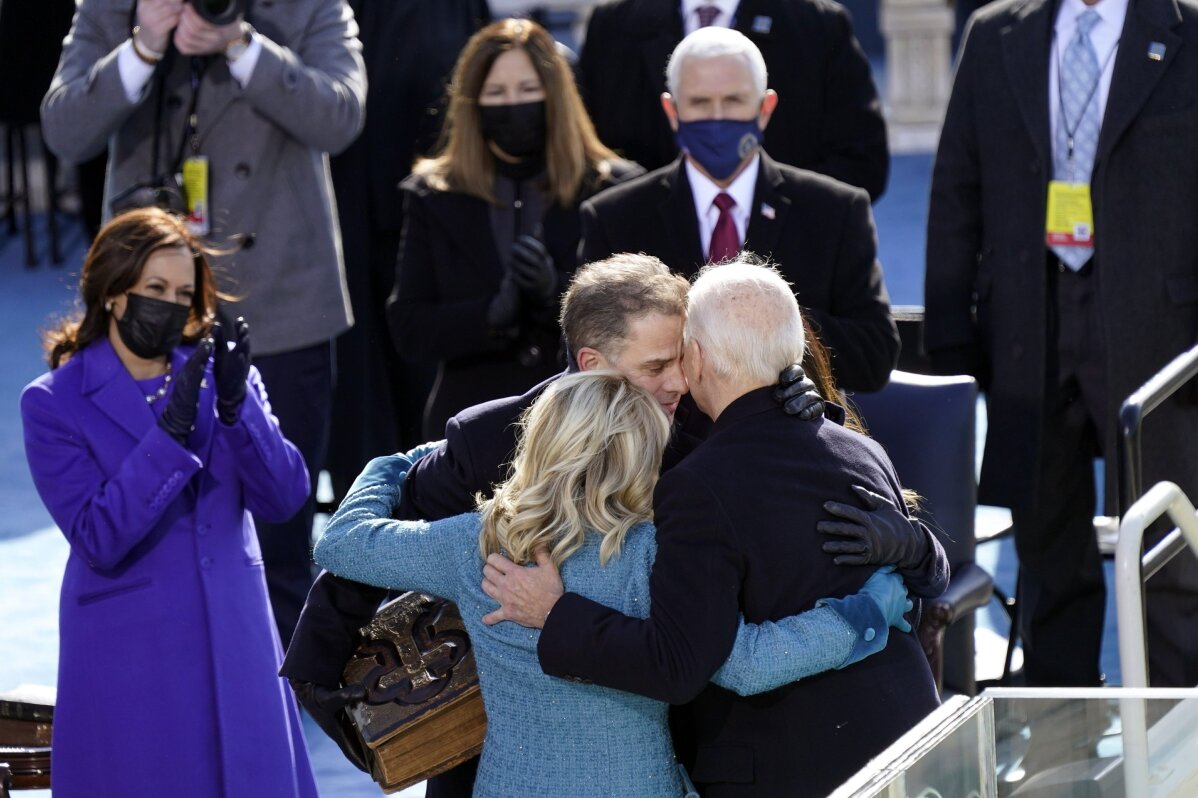 6 of 27

|
President Joe Biden hugs first lady Jill Biden, his son Hunter Biden and daughter Ashley Biden after being sworn-in during the 59th Presidential Inauguration at the U.S. Capitol in Washington, Wednesday, Jan. 20, 2021. Vice President Kamala Harris applauds at left. (AP Photo/Carolyn Kaster)
6 of 27
President Joe Biden hugs first lady Jill Biden, his son Hunter Biden and daughter Ashley Biden after being sworn-in during the 59th Presidential Inauguration at the U.S. Capitol in Washington, Wednesday, Jan. 20, 2021. Vice President Kamala Harris applauds at left. (AP Photo/Carolyn Kaster)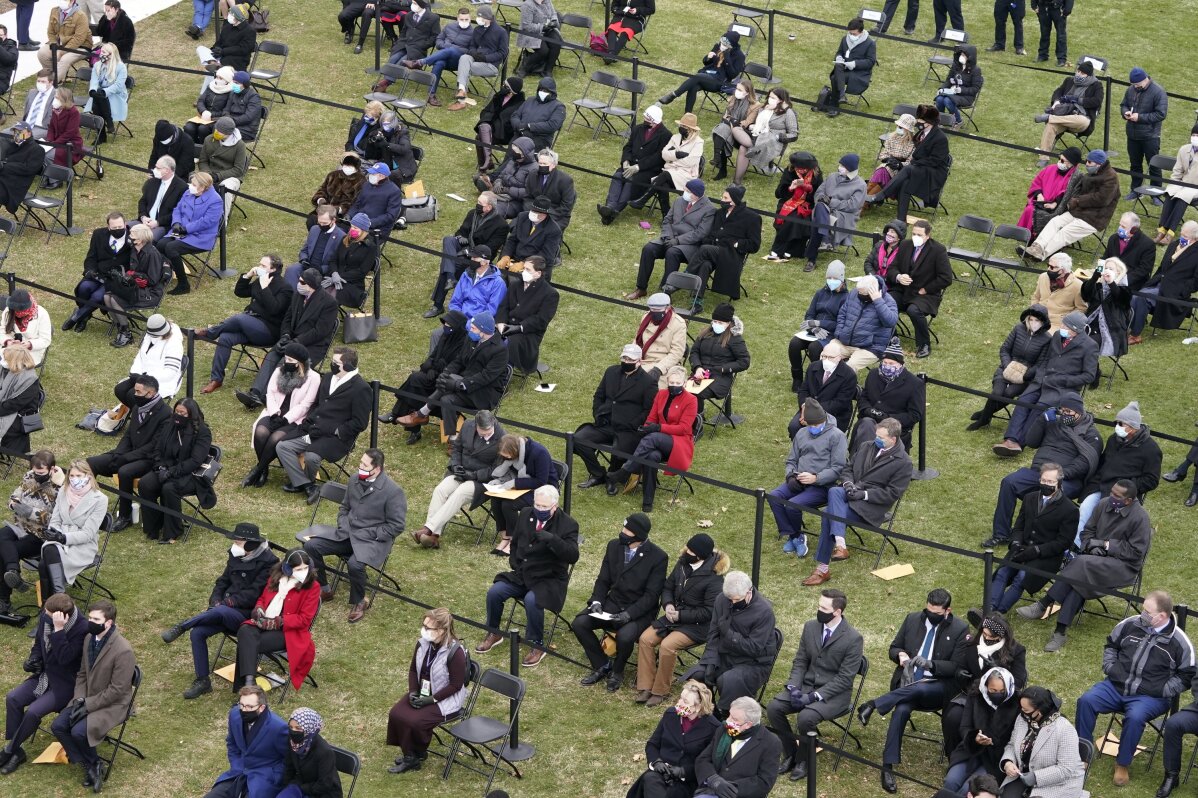 7 of 27

|
A social distanced crowd, looks on for the 59th Presidential Inauguration at the U.S. Capitol in Washington, Wednesday, Jan. 20, 2021. (AP Photo/Patrick Semansky, Pool)
7 of 27
A social distanced crowd, looks on for the 59th Presidential Inauguration at the U.S. Capitol in Washington, Wednesday, Jan. 20, 2021. (AP Photo/Patrick Semansky, Pool)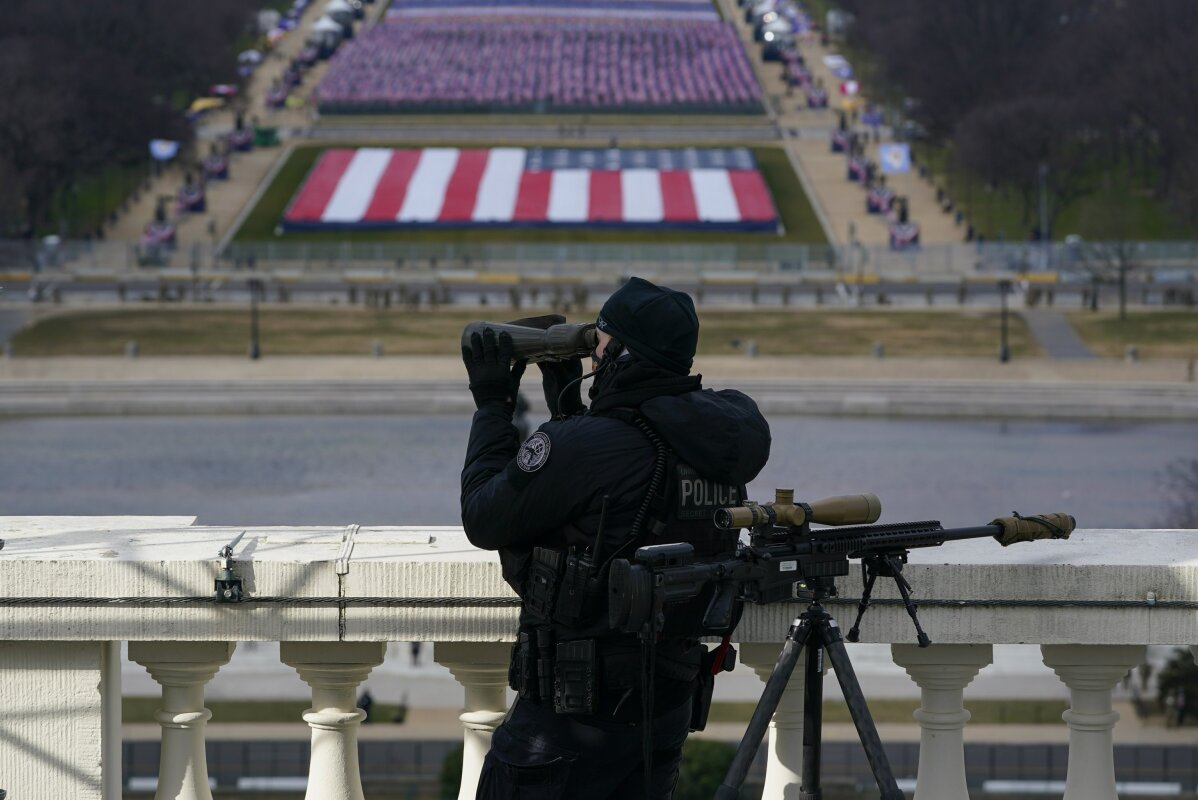 8 of 27

|
A law enforcement personnel monitors the area during the 59th Presidential Inauguration at the U.S. Capitol in Washington, Wednesday, Jan. 20, 2021. (AP Photo/Susan Walsh, Pool)
8 of 27
A law enforcement personnel monitors the area during the 59th Presidential Inauguration at the U.S. Capitol in Washington, Wednesday, Jan. 20, 2021. (AP Photo/Susan Walsh, Pool)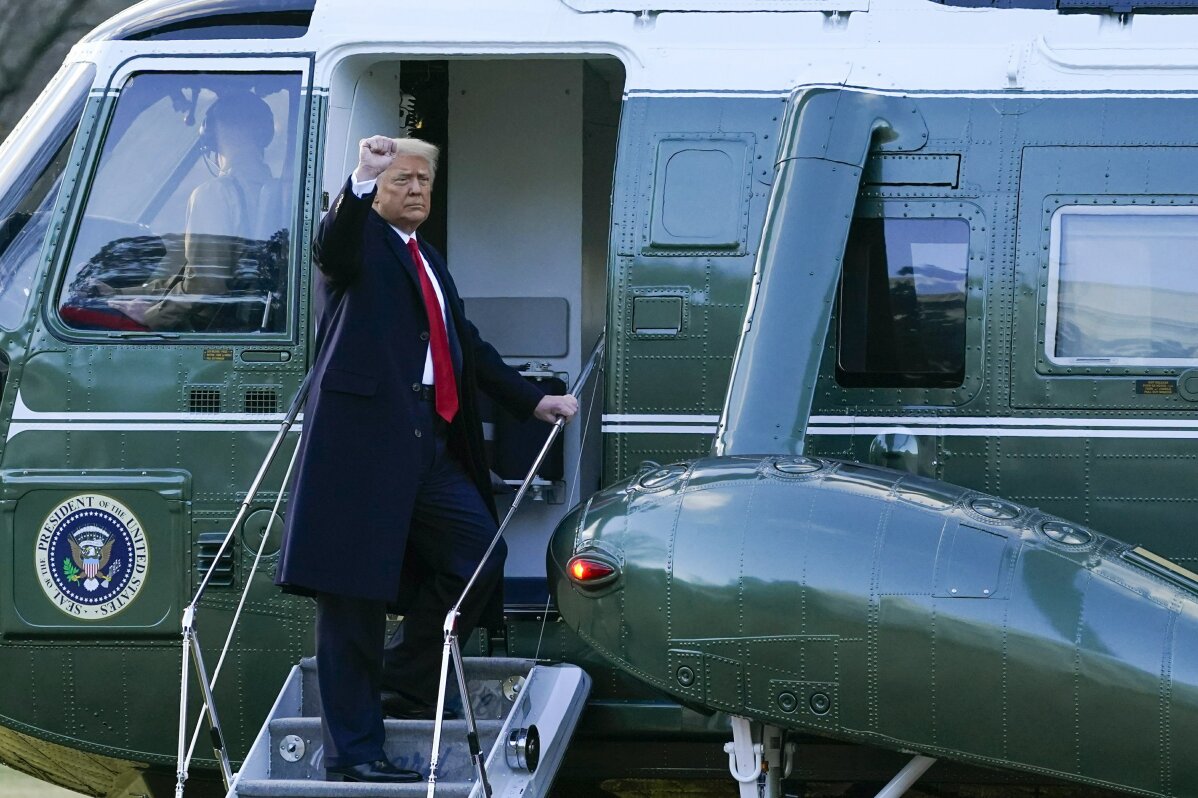 9 of 27

|
President Donald Trump gestures as he boards Marine One on the South Lawn of the White House, Wednesday, Jan. 20, 2021, in Washington. Trump is en route to his Mar-a-Lago Florida Resort. (AP Photo/Alex Brandon)
9 of 27
President Donald Trump gestures as he boards Marine One on the South Lawn of the White House, Wednesday, Jan. 20, 2021, in Washington. Trump is en route to his Mar-a-Lago Florida Resort. (AP Photo/Alex Brandon)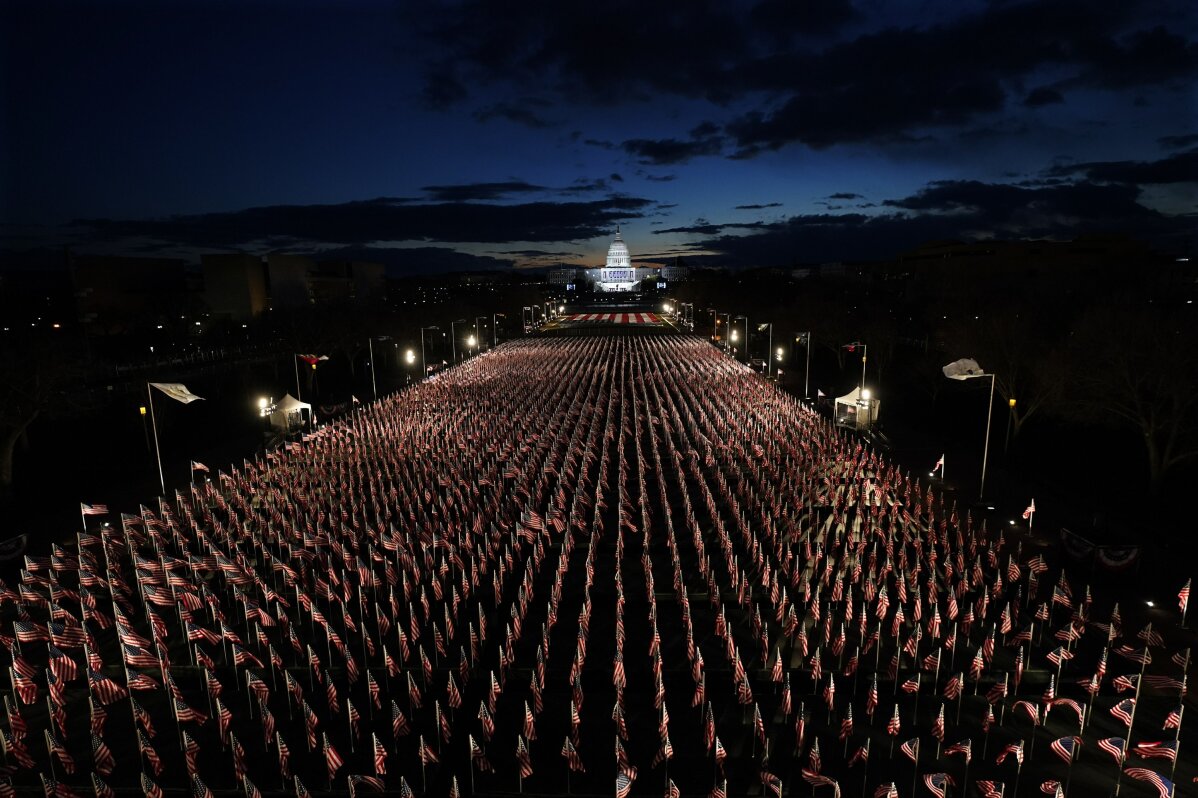 10 of 27

|
Flags line the National Mall towards the Capitol Building as events get underway for President-elect Joe Biden's inauguration ceremony, Wednesday, Jan. 20, 2021, in Washington. (AP Photo/Julio Cortez)
10 of 27
Flags line the National Mall towards the Capitol Building as events get underway for President-elect Joe Biden's inauguration ceremony, Wednesday, Jan. 20, 2021, in Washington. (AP Photo/Julio Cortez)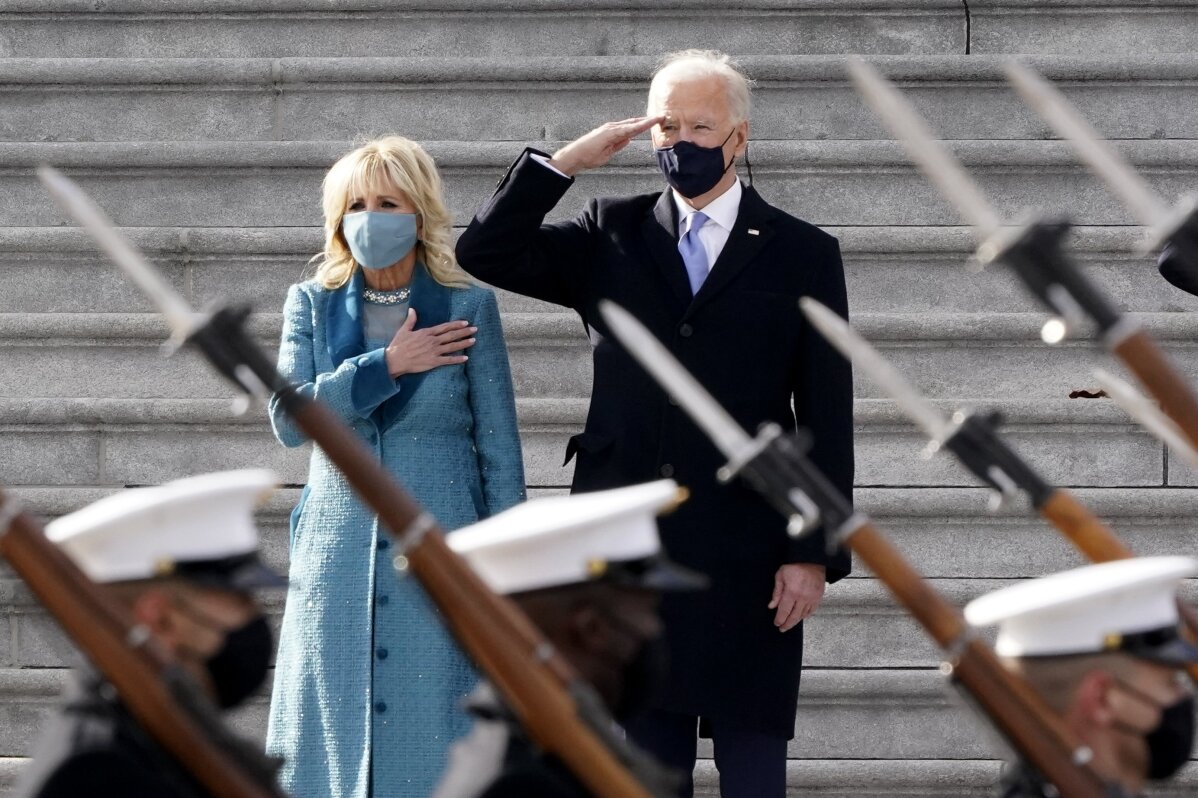 11 of 27

|
President Joe Biden and his wife Jill Biden watch a military pass in review ceremony on the East Front of the Capitol at the conclusion of the inauguration ceremonies, in Washington, Wednesday, Jan. 20, 2021. (AP Photo/J. Scott Applewhite)
11 of 27
President Joe Biden and his wife Jill Biden watch a military pass in review ceremony on the East Front of the Capitol at the conclusion of the inauguration ceremonies, in Washington, Wednesday, Jan. 20, 2021. (AP Photo/J. Scott Applewhite)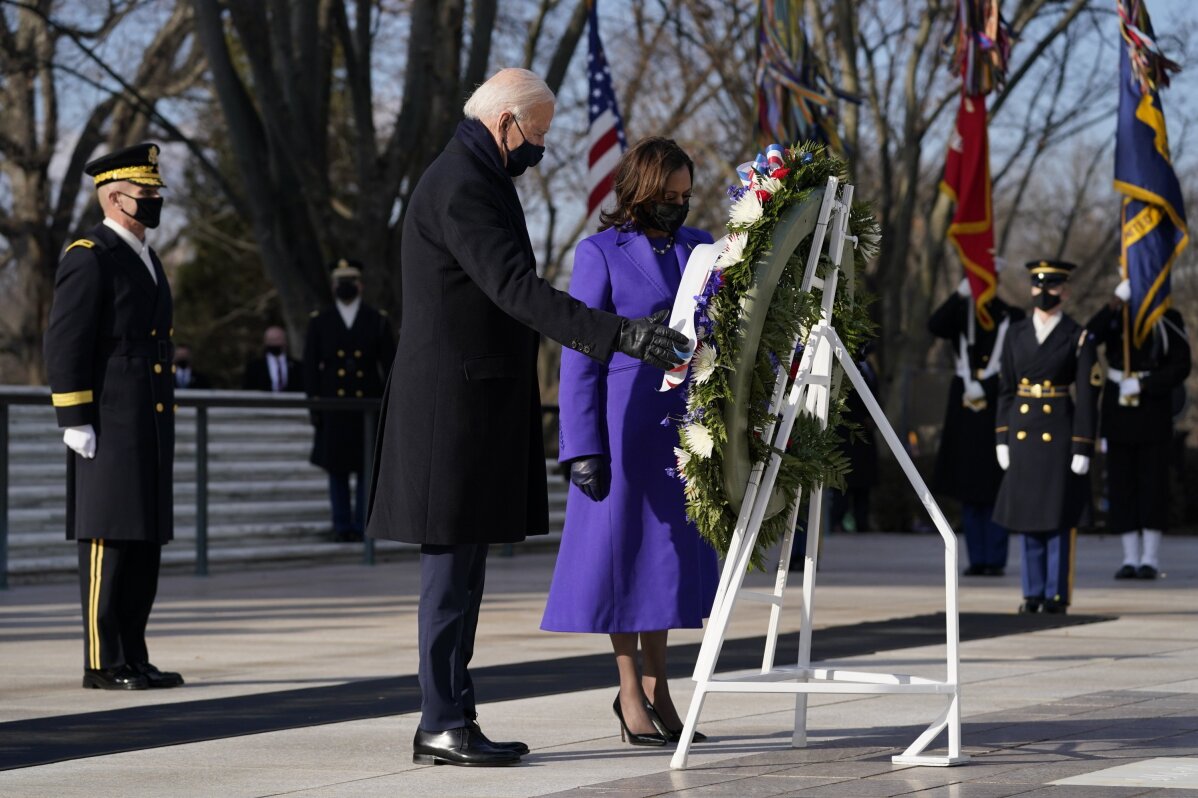 12 of 27

|
President Joe Biden and Vice President Kamala Harris participate in a wreath laying ceremony at the Tomb of the Unknown Soldier at Arlington National Cemetery in Arlington, Va. (AP Photo/Evan Vucci)
12 of 27
President Joe Biden and Vice President Kamala Harris participate in a wreath laying ceremony at the Tomb of the Unknown Soldier at Arlington National Cemetery in Arlington, Va. (AP Photo/Evan Vucci)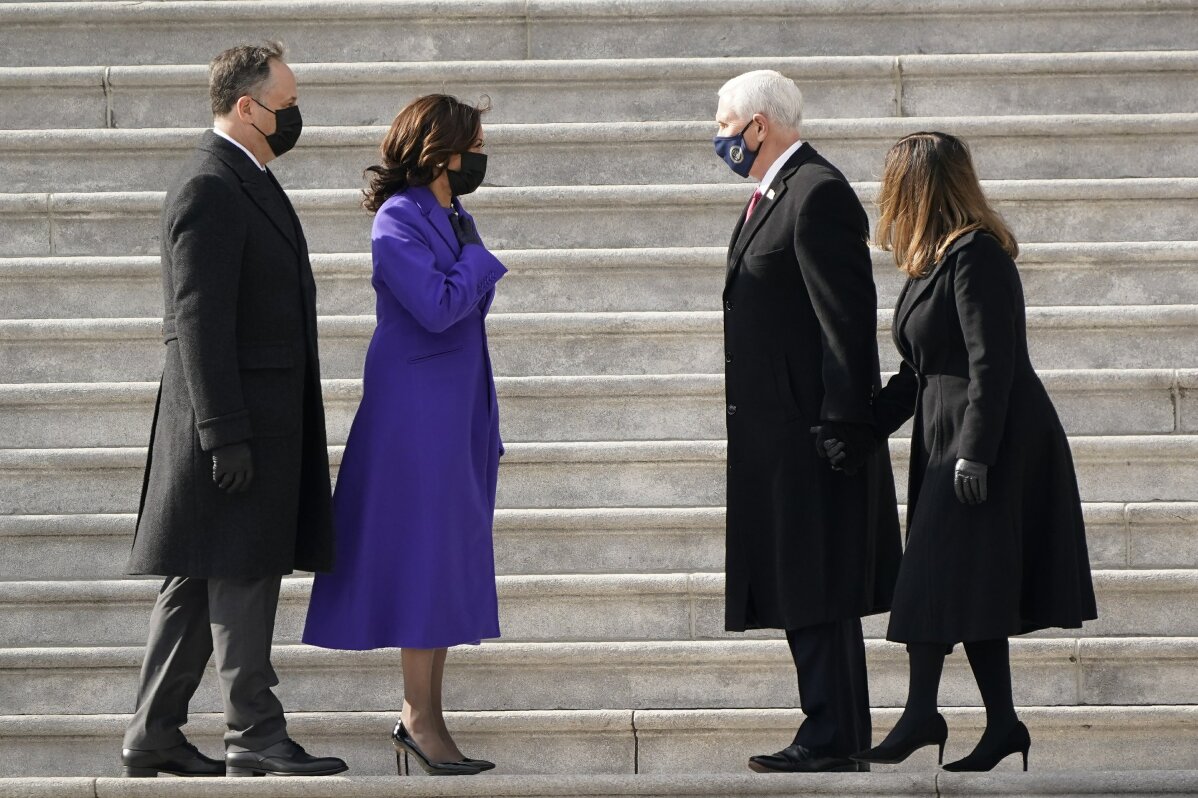 13 of 27

|
Vice President Kamala Harris and her husband Doug Emhoffl left, and former Vice President Mike Pence and his wife Karen Pence speak before the Pence's depart the Capitol after the Inauguration of President Joe Biden ceremony on the East Front of the Capitol at the conclusion of the inauguration ceremonies, in Washington, Wednesday, Jan. 20, 2021. (AP Photo/J. Scott Applewhite)
13 of 27
Vice President Kamala Harris and her husband Doug Emhoffl left, and former Vice President Mike Pence and his wife Karen Pence speak before the Pence's depart the Capitol after the Inauguration of President Joe Biden ceremony on the East Front of the Capitol at the conclusion of the inauguration ceremonies, in Washington, Wednesday, Jan. 20, 2021. (AP Photo/J. Scott Applewhite)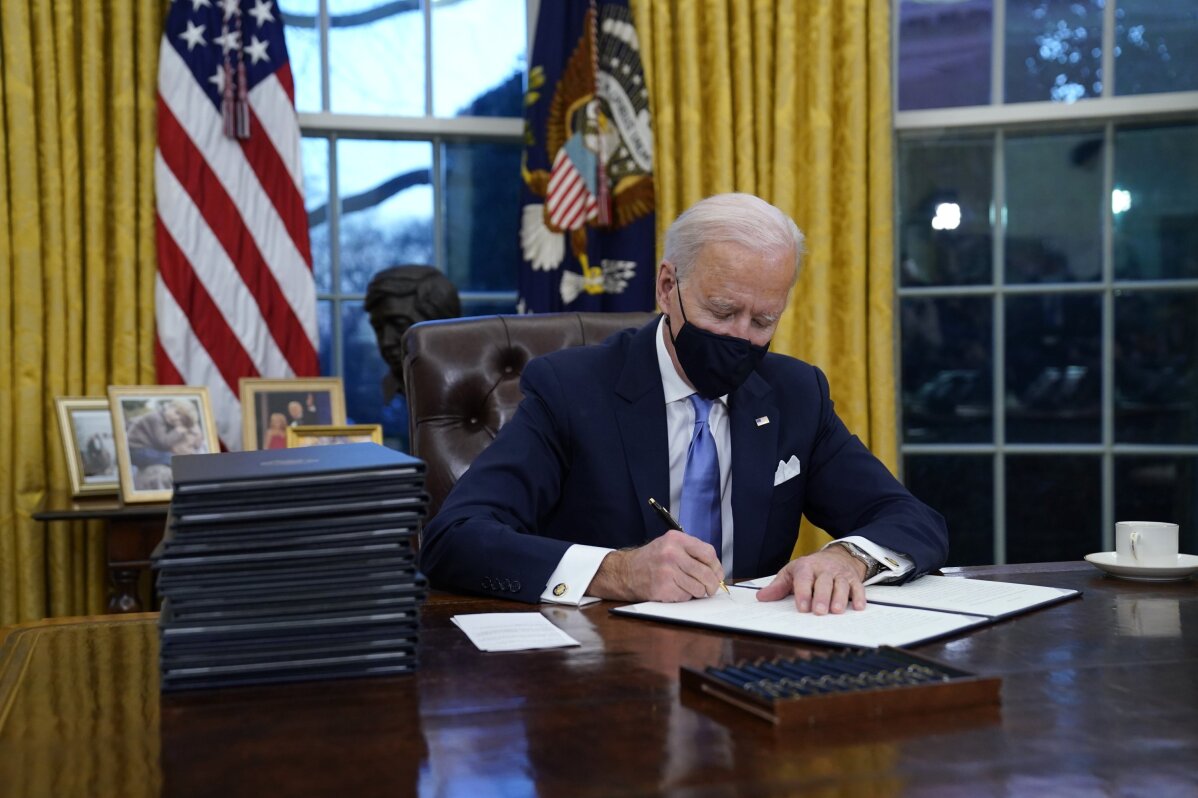 14 of 27

|
President Joe Biden signs his first executive order in the Oval Office of the White House on Wednesday, Jan. 20, 2021, in Washington. (AP Photo/Evan Vucci)
14 of 27
President Joe Biden signs his first executive order in the Oval Office of the White House on Wednesday, Jan. 20, 2021, in Washington. (AP Photo/Evan Vucci)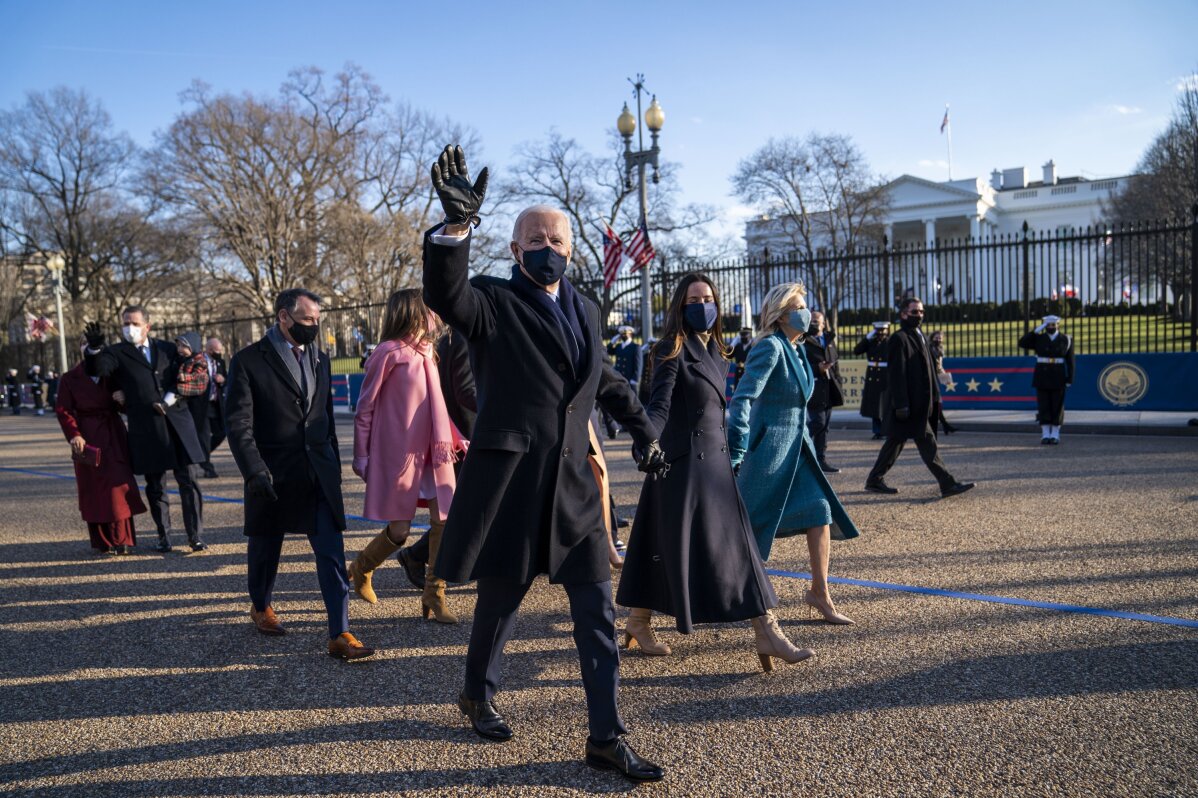 15 of 27

|
President Joe Biden, First Lady Jill Biden and family, walk in front of the White House during a Presidential Escort to the White House, Wednesday, Jan. 20, 2021 in Washington. (Doug Mills/The New York Times via AP, Pool)
15 of 27
President Joe Biden, First Lady Jill Biden and family, walk in front of the White House during a Presidential Escort to the White House, Wednesday, Jan. 20, 2021 in Washington. (Doug Mills/The New York Times via AP, Pool)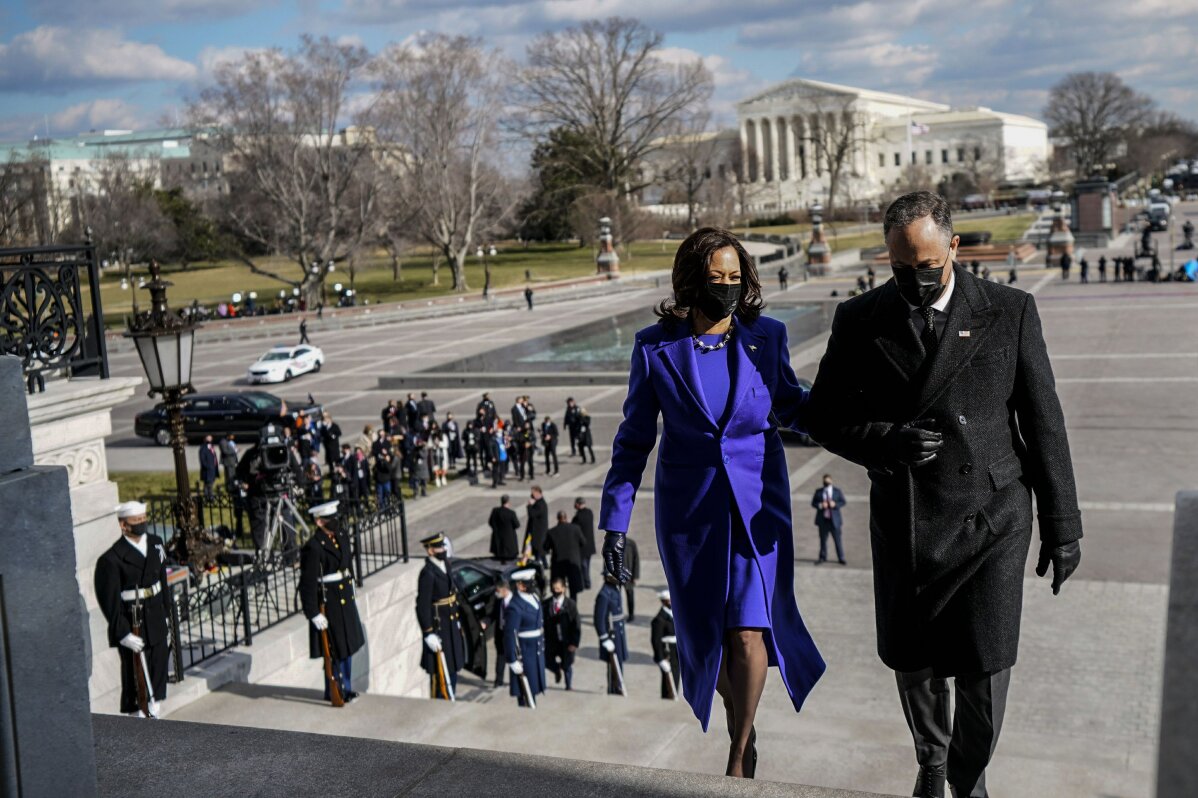 16 of 27

|
Vice President Kamala Harris and her husband, second gentleman Doug Emhoff, ascend the Capitol steps following the 59th Presidential Inauguration in Washington, Wednesday, Jan. 20, 2021. Joe Biden was sworn in as the 46th president of the U.S. and Harris became the first woman vice president. (Photo by Melina Mara/The Washington Post via AP Pool)
16 of 27
Vice President Kamala Harris and her husband, second gentleman Doug Emhoff, ascend the Capitol steps following the 59th Presidential Inauguration in Washington, Wednesday, Jan. 20, 2021. Joe Biden was sworn in as the 46th president of the U.S. and Harris became the first woman vice president. (Photo by Melina Mara/The Washington Post via AP Pool)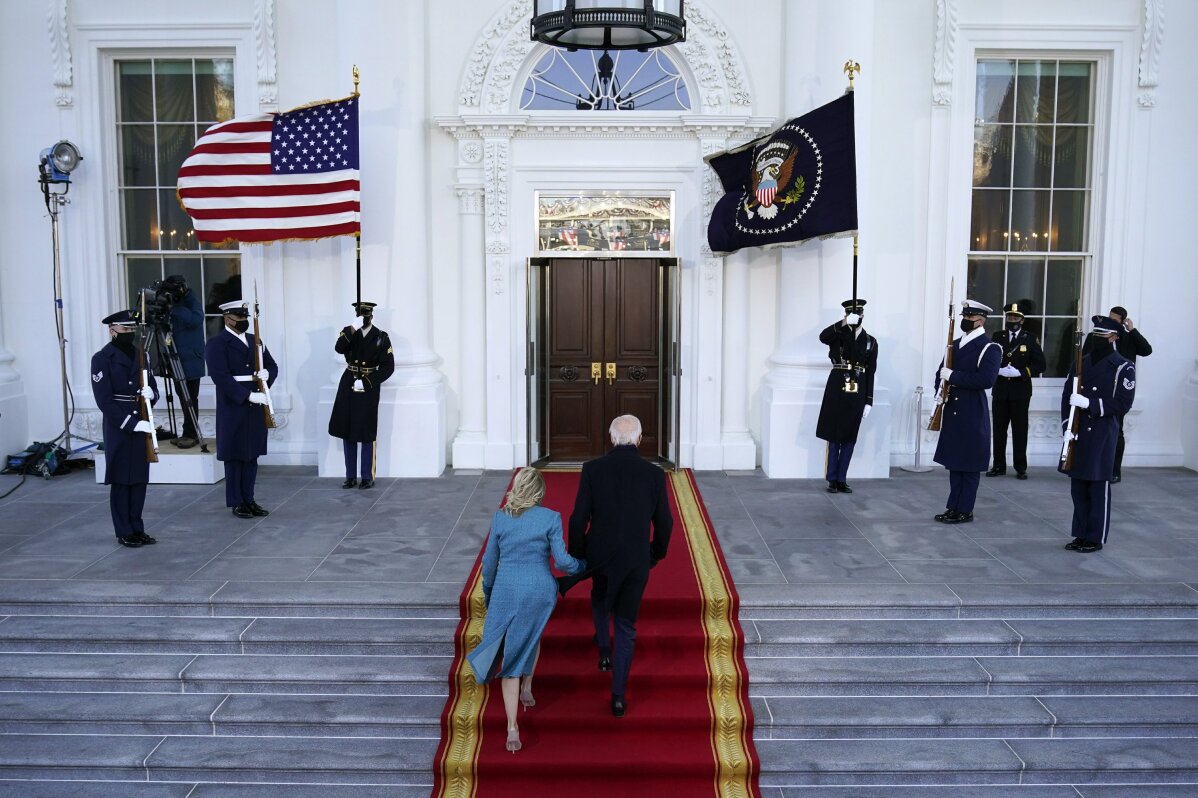 17 of 27

|
President Joe Biden and first lady Jill Biden walk up the stairs as they arrive at the North Portico of the White House, Wednesday, Jan. 20, 2021, in Washington. (AP Photo/Alex Brandon, Pool)
17 of 27
President Joe Biden and first lady Jill Biden walk up the stairs as they arrive at the North Portico of the White House, Wednesday, Jan. 20, 2021, in Washington. (AP Photo/Alex Brandon, Pool)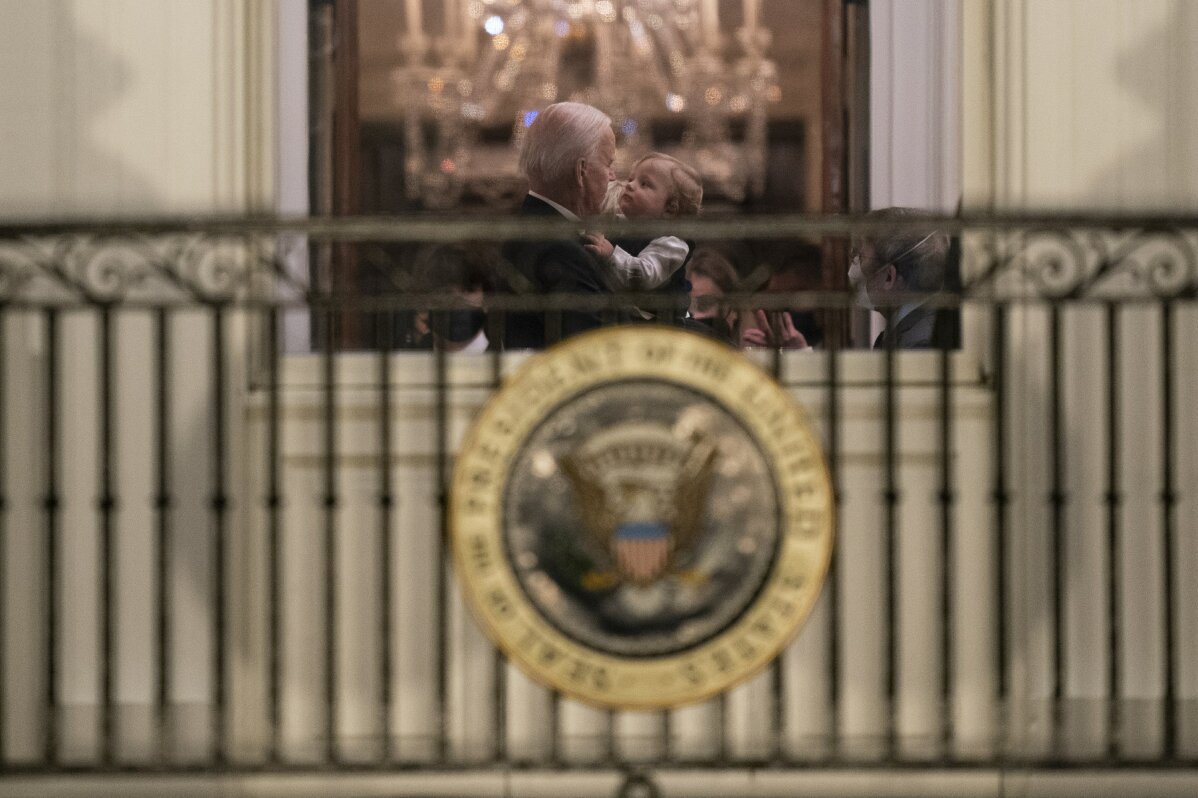 18 of 27

|
President Joe Biden holds his grandson Beau Biden at the White House, Wednesday, Jan. 20, 2021, in Washington. (AP Photo/Evan Vucci)
18 of 27
President Joe Biden holds his grandson Beau Biden at the White House, Wednesday, Jan. 20, 2021, in Washington. (AP Photo/Evan Vucci)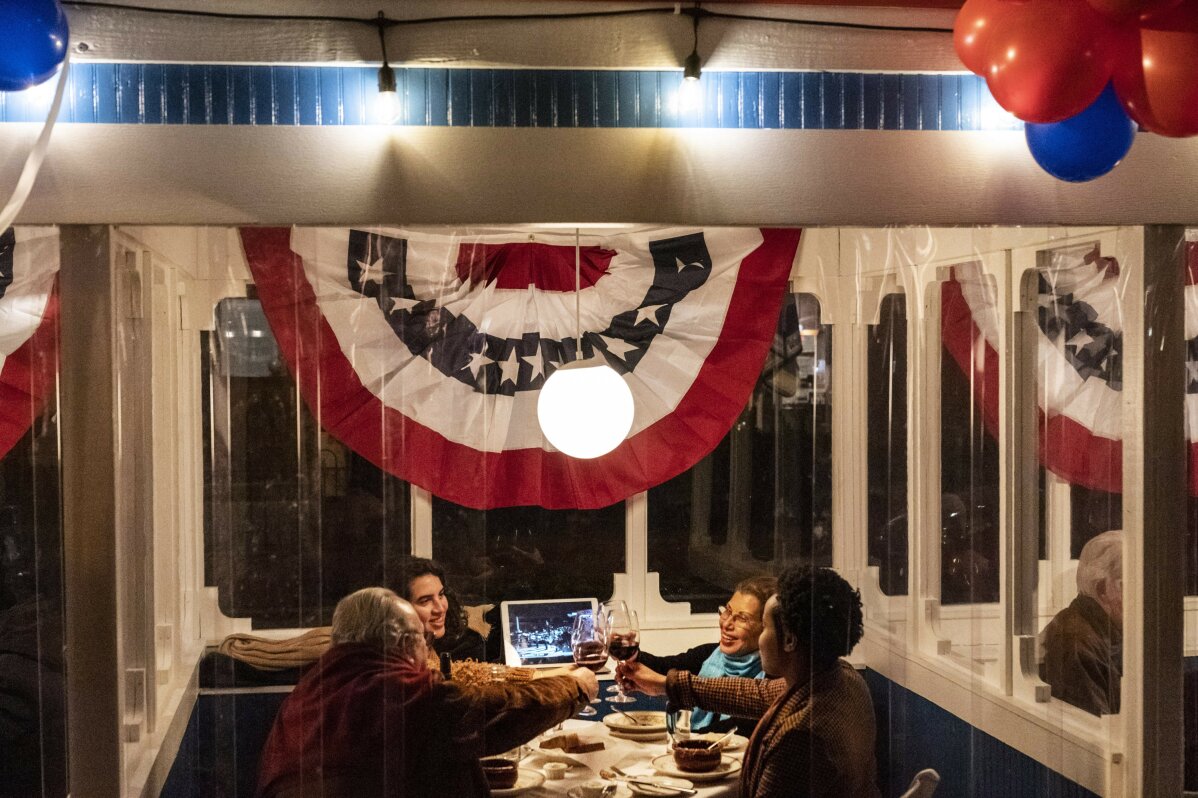 19 of 27

|
Diners Marcelo Politi, from left, Yasmine El Dessouky, May Hobrok and Linda Mang'era toast while celebrating President Joe Biden's inauguration as they watch the evening festivities on a laptop at Le Diplomate restaurant in Washington, late Wednesday, Jan. 20, 2021. (AP Photo/David Goldman)
19 of 27
Diners Marcelo Politi, from left, Yasmine El Dessouky, May Hobrok and Linda Mang'era toast while celebrating President Joe Biden's inauguration as they watch the evening festivities on a laptop at Le Diplomate restaurant in Washington, late Wednesday, Jan. 20, 2021. (AP Photo/David Goldman)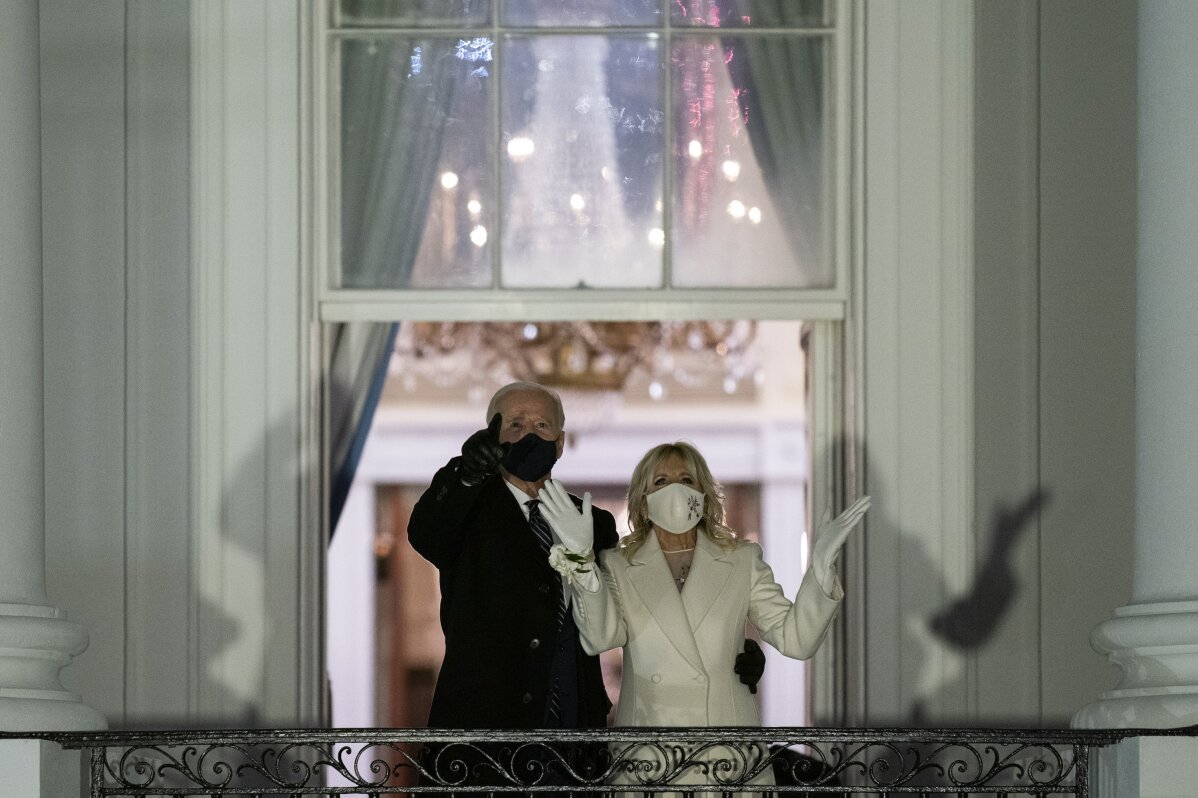 20 of 27

|
President Joe Biden and first lady Jill Biden watch fireworks from the White House, Wednesday, Jan. 20, 2021, in Washington. (AP Photo/Evan Vucci)
20 of 27
President Joe Biden and first lady Jill Biden watch fireworks from the White House, Wednesday, Jan. 20, 2021, in Washington. (AP Photo/Evan Vucci)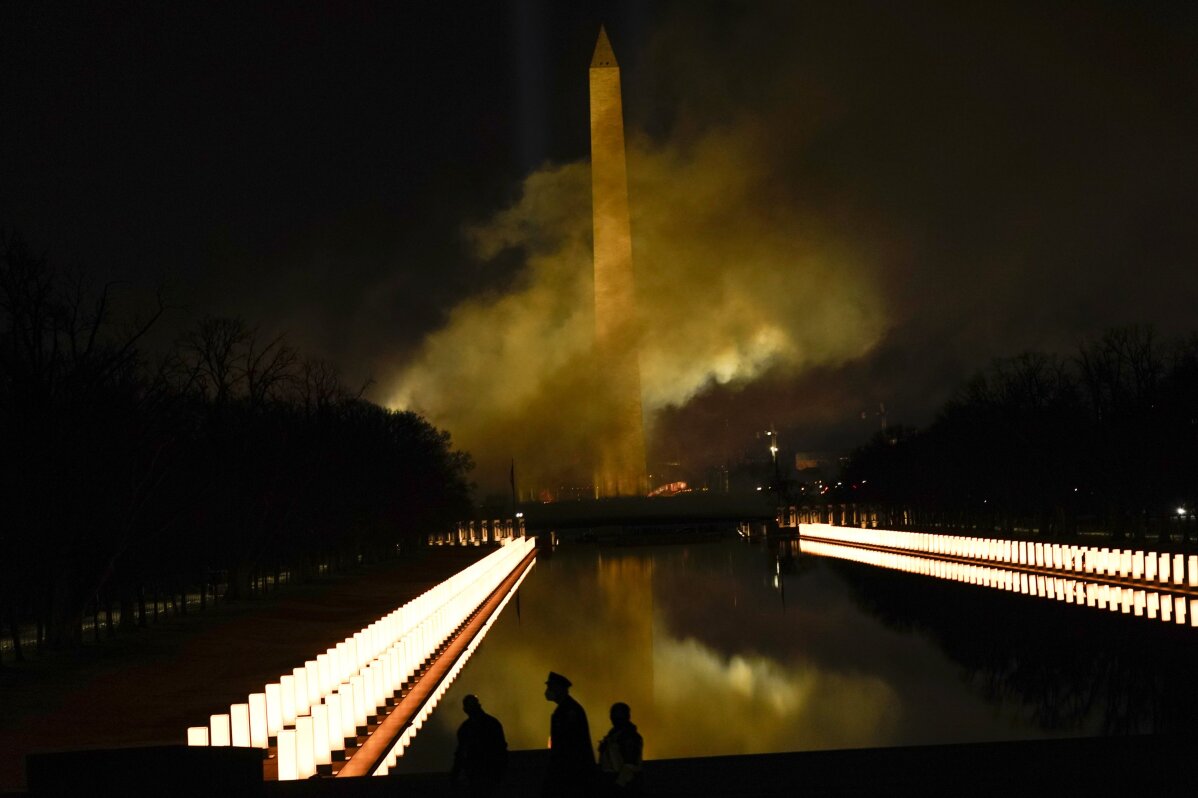 21 of 27

|
People leave after fireworks were set off over the Lincoln Memorial and the Washington Monument in Washington, Wednesday, Jan. 20, 2021, as part of the festivities after President Joe Biden was inaugurated as the 46th President of the United States. (AP Photo/Jacquelyn Martin)
21 of 27
People leave after fireworks were set off over the Lincoln Memorial and the Washington Monument in Washington, Wednesday, Jan. 20, 2021, as part of the festivities after President Joe Biden was inaugurated as the 46th President of the United States. (AP Photo/Jacquelyn Martin)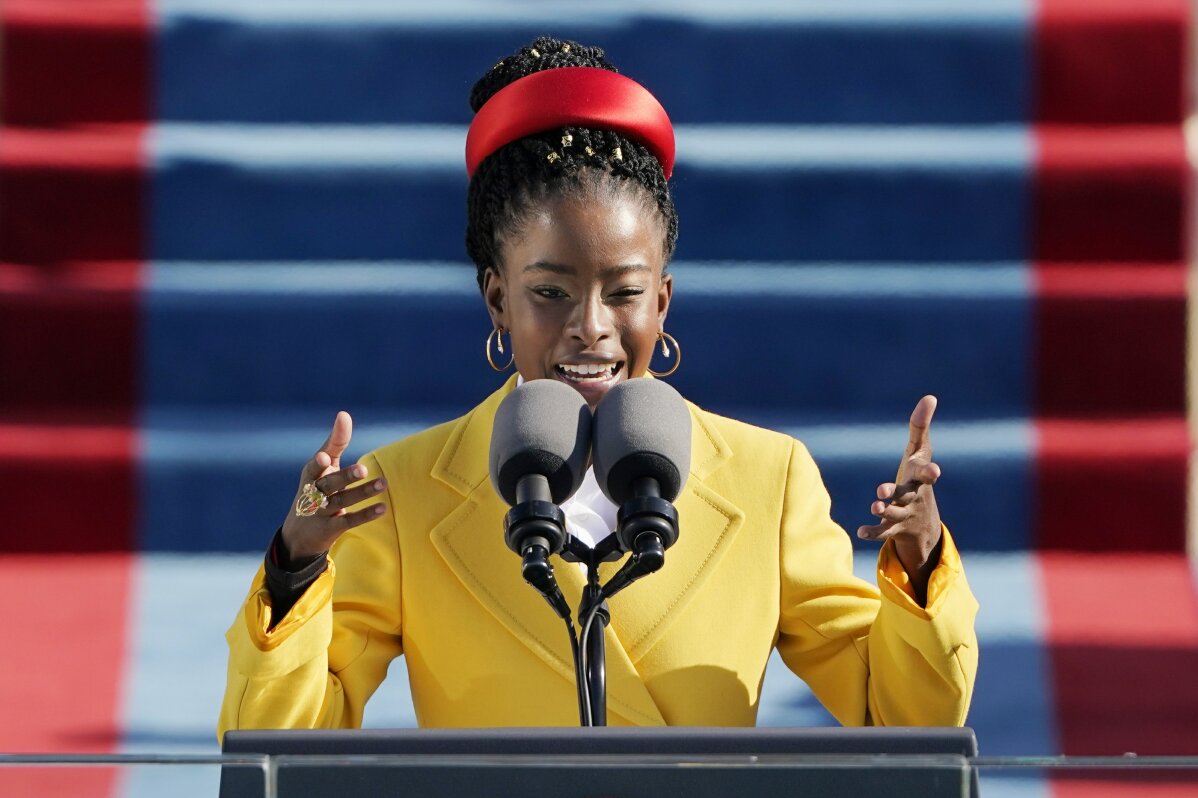 22 of 27

|
American poet Amanda Gorman reads a poem during the 59th Presidential Inauguration at the U.S. Capitol in Washington, Wednesday, Jan. 20, 2021. (AP Photo/Patrick Semansky, Pool)
22 of 27
American poet Amanda Gorman reads a poem during the 59th Presidential Inauguration at the U.S. Capitol in Washington, Wednesday, Jan. 20, 2021. (AP Photo/Patrick Semansky, Pool)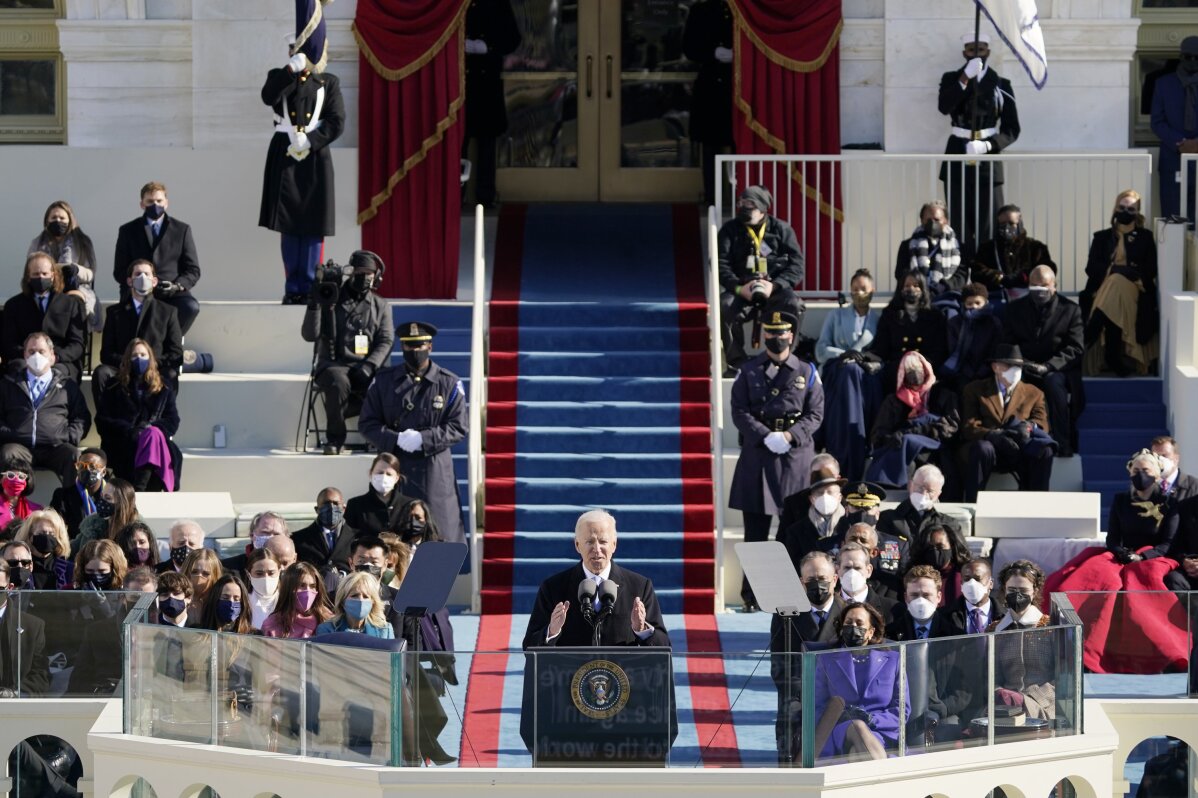 23 of 27

|
President Joe Biden speaks during the 59th Presidential Inauguration at the U.S. Capitol in Washington, Wednesday, Jan. 20, 2021.(AP Photo/Patrick Semansky, Pool)
23 of 27
President Joe Biden speaks during the 59th Presidential Inauguration at the U.S. Capitol in Washington, Wednesday, Jan. 20, 2021.(AP Photo/Patrick Semansky, Pool)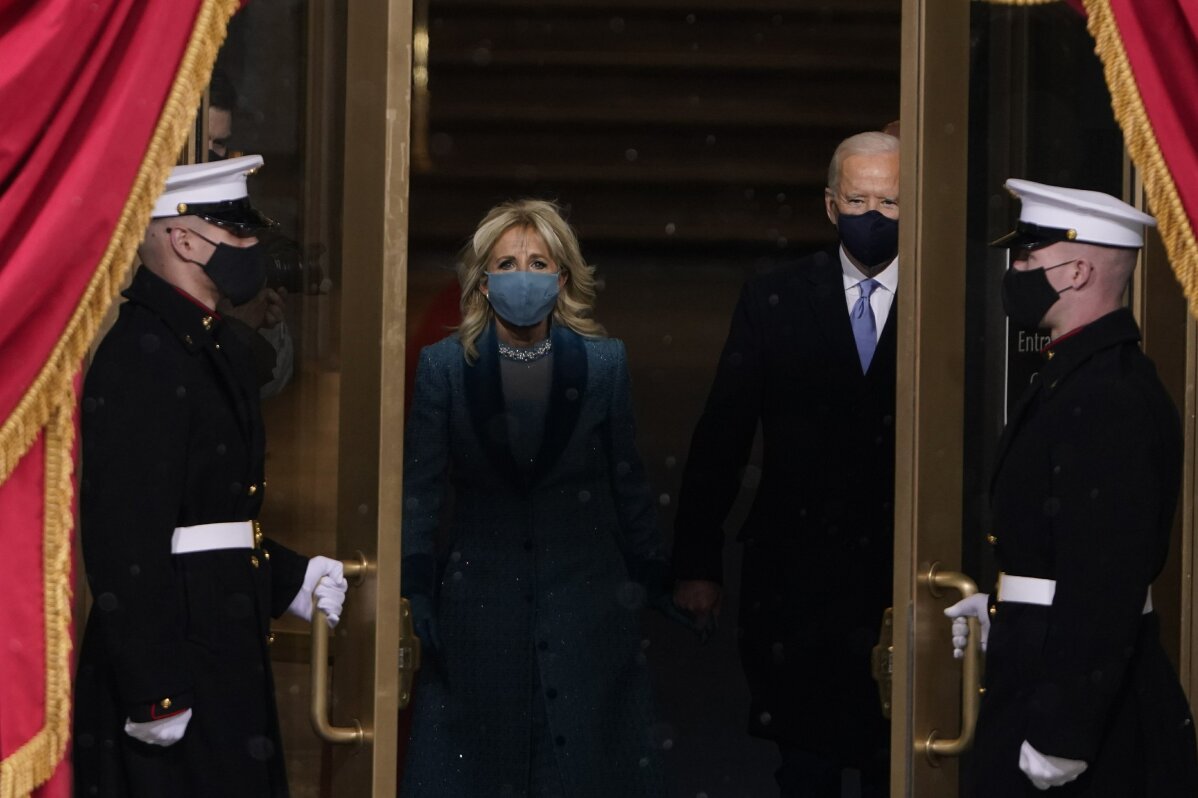 24 of 27

|
President-elect Joe Biden and his wife Jill, walk out for the 59th Presidential Inauguration at the U.S. Capitol in Washington, Wednesday, Jan. 20, 2021.(AP Photo/Patrick Semansky, Pool)
24 of 27
President-elect Joe Biden and his wife Jill, walk out for the 59th Presidential Inauguration at the U.S. Capitol in Washington, Wednesday, Jan. 20, 2021.(AP Photo/Patrick Semansky, Pool)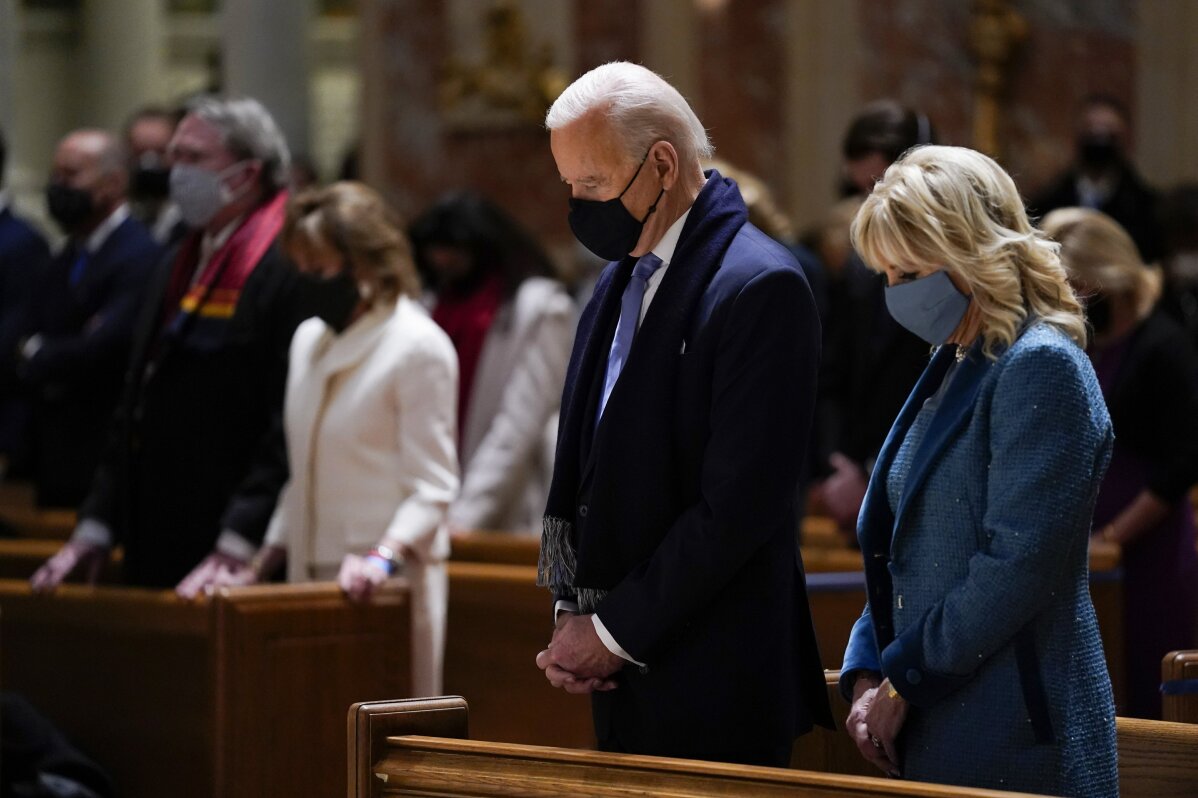 25 of 27

|
President-elect Joe Biden and his wife Jill Biden as they attend Mass at the Cathedral of St. Matthew the Apostle during Inauguration Day ceremonies Wednesday, Jan. 20, 2021, in Washington. (AP Photo/Evan Vucci)
25 of 27
President-elect Joe Biden and his wife Jill Biden as they attend Mass at the Cathedral of St. Matthew the Apostle during Inauguration Day ceremonies Wednesday, Jan. 20, 2021, in Washington. (AP Photo/Evan Vucci)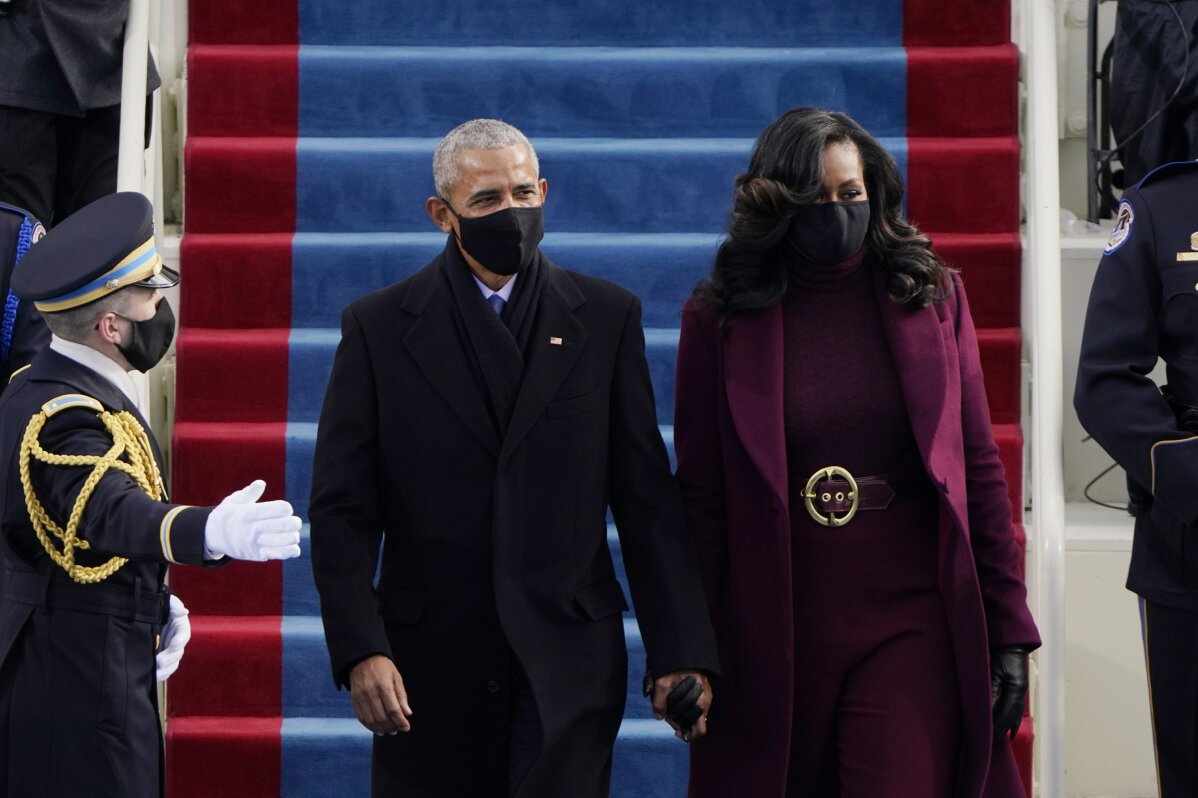 26 of 27

|
Former President Barack Obama and his wife Michelle arrive for the 59th Presidential Inauguration at the U.S. Capitol for President-elect Joe Biden in Washington, Wednesday, Jan. 20, 2021. (AP Photo/Patrick Semansky, Pool)
26 of 27
Former President Barack Obama and his wife Michelle arrive for the 59th Presidential Inauguration at the U.S. Capitol for President-elect Joe Biden in Washington, Wednesday, Jan. 20, 2021. (AP Photo/Patrick Semansky, Pool)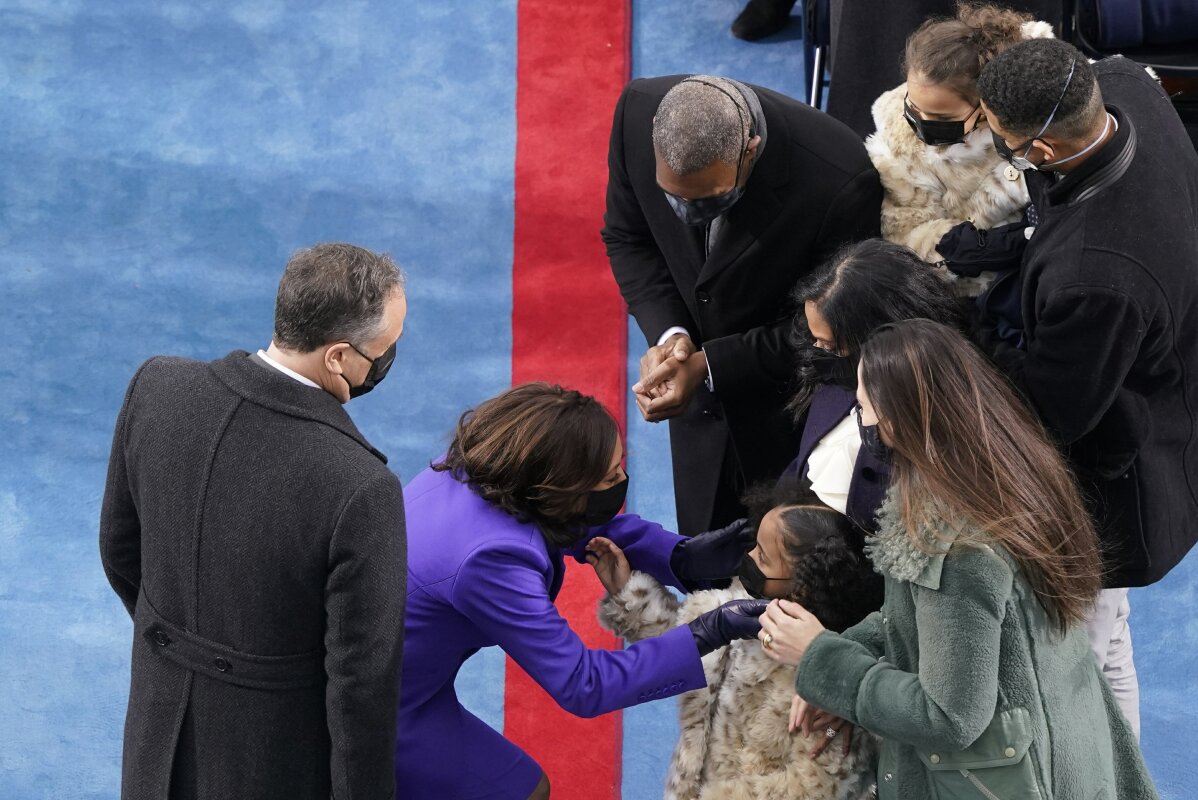 27 of 27

|
Vice President-elect Kamala Harris and her husband Doug Emhoff, stop to greet a young guest during the 59th Presidential Inauguration at the U.S. Capitol in Washington, Wednesday, Jan. 20, 2021. (AP Photo/Susan Walsh, Pool)
27 of 27
Vice President-elect Kamala Harris and her husband Doug Emhoff, stop to greet a young guest during the 59th Presidential Inauguration at the U.S. Capitol in Washington, Wednesday, Jan. 20, 2021. (AP Photo/Susan Walsh, Pool)
Joe Biden took the oath of office to become the 46th president of the United States, declaring that "democracy has prevailed."
He takes the helm of a deeply divided nation and inherits a confluence of crises arguably greater than any faced by his predecessors. But there were comforting signs of tradition in the hallowed American rite that unfolded at the U.S. Capitol, which was battered by an insurrectionist siege just two weeks ago.
The day began with a reach across the aisle after four years of bitter partisan battles under Trump. At Biden's invitation, congressional leaders from both parties bowed their heads in prayer in a socially distanced church service just a few blocks from the White House.
Biden was sworn in by Supreme Court Chief Justice John Roberts. Harris was sworn in by Justice Sonia Sotomayor, the court's first Latina member. Vice President Mike Pence, standing in for Trump, sat nearby as Lady Gaga, holding a gold microphone, sang the national anthem accompanied by the U.S. Marine Corps band.