LEADING OFF: Cubs face Dodgers' Kershaw trailing 3-1 in NLCS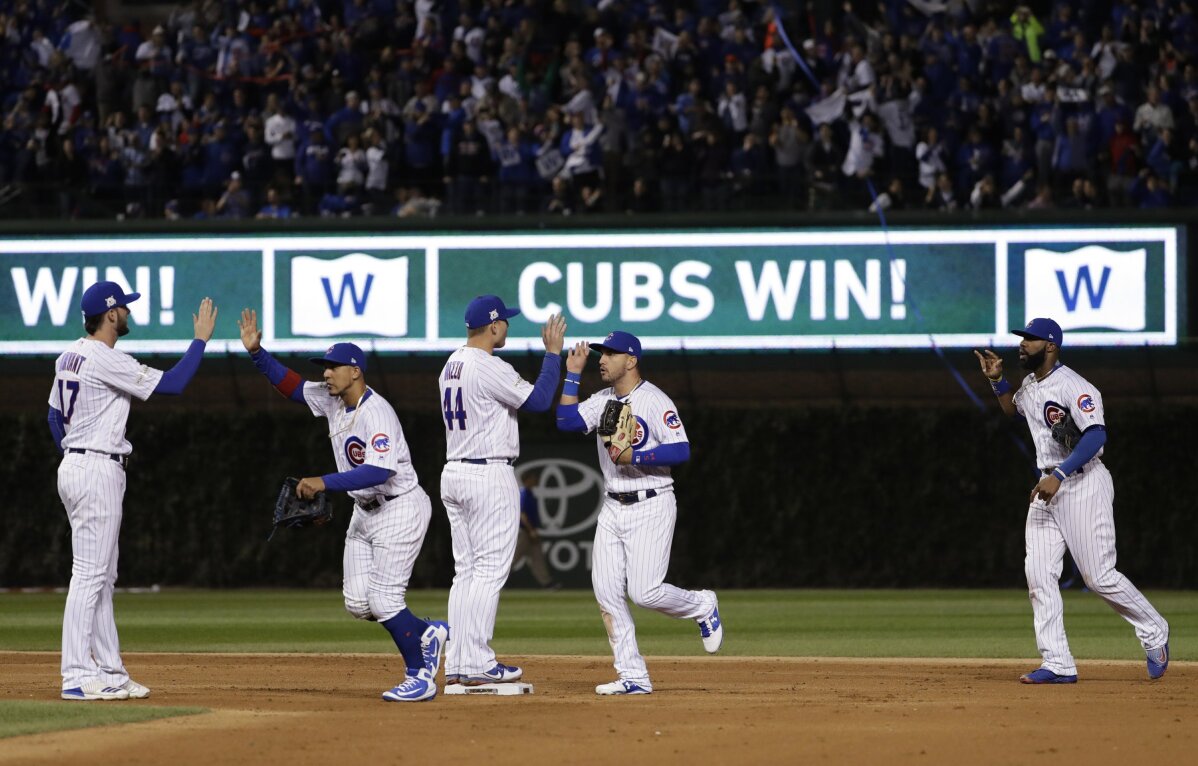 1 of 5

|
Chicago Cubs' Kris Bryant (17), Jon Jay (30), Anthony Rizzo (44), Ian Happ (8) and Jason Heyward (22) celebrate after Game 4 of baseball's National League Championship Series against the Los Angeles Dodgers, Wednesday, Oct. 18, 2017, in Chicago. The Cubs won 3-2. (AP Photo/Matt Slocum)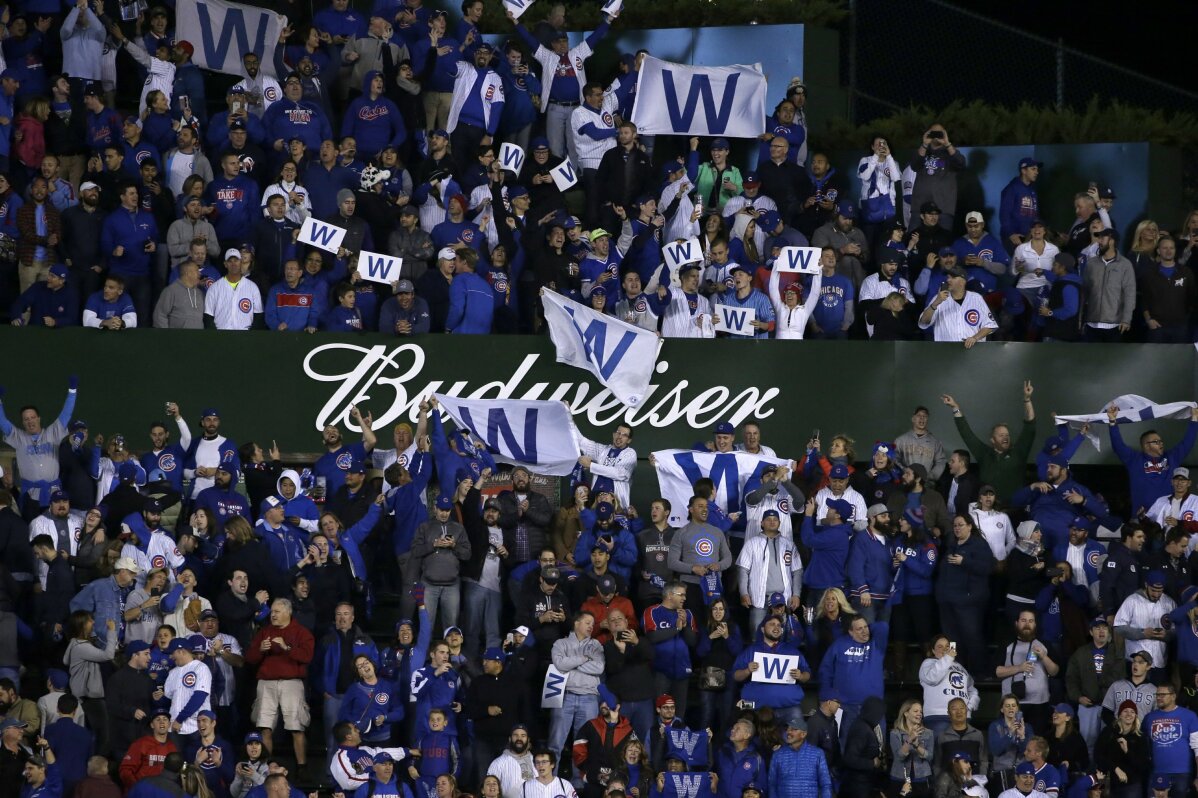 2 of 5

|
Fans celebrates after Game 4 of baseball's National League Championship Series between the Chicago Cubs and the Los Angeles Dodgers, Wednesday, Oct. 18, 2017, in Chicago. The Cubs won 3-2. (AP Photo/Nam Y. Huh)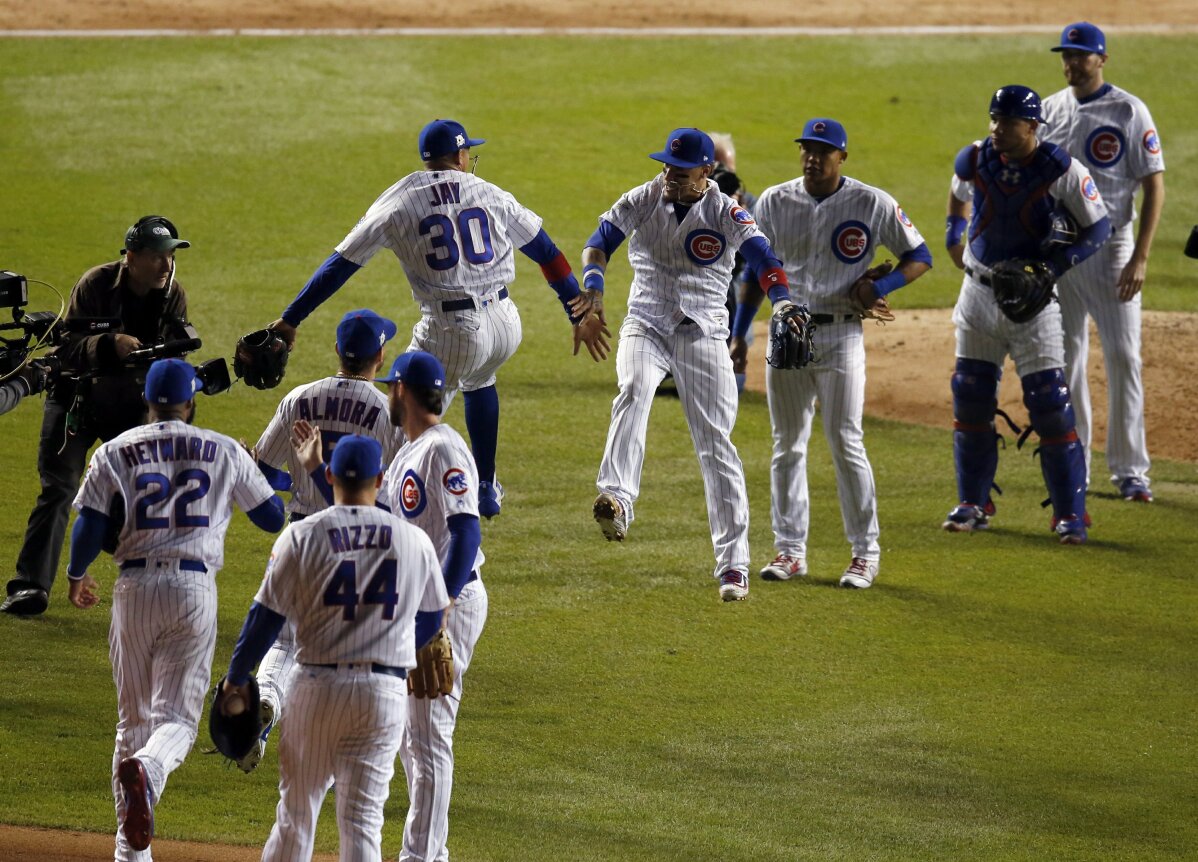 3 of 5

|
Chicago Cubs' Jon Jay (30) and Javier Baez celebrate after Game 4 of baseball's National League Championship Series against the Los Angeles Dodgers, Wednesday, Oct. 18, 2017, in Chicago. The Cubs won 3-2. (AP Photo/Charles Rex Arbogast)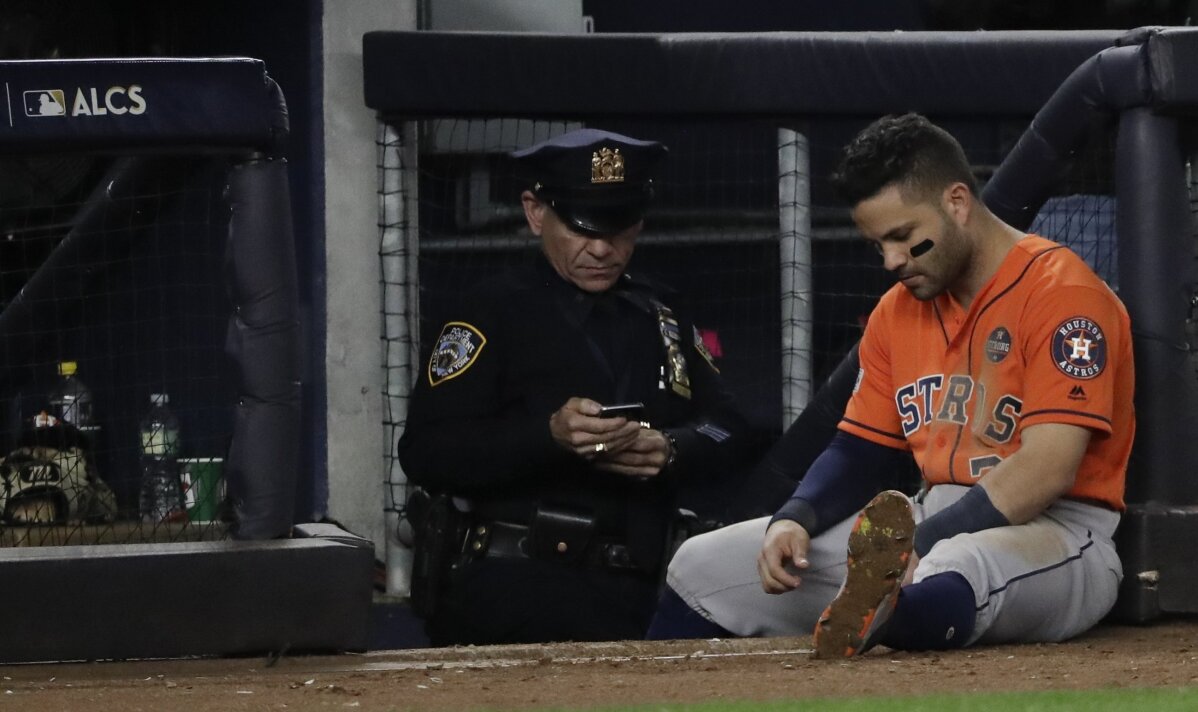 4 of 5

|
Houston Astros' Jose Altuve sits near the dugout during the ninth inning of Game 5 of baseball's American League Championship Series against the New York Yankees Wednesday, Oct. 18, 2017, in New York. (AP Photo/David J. Phillip)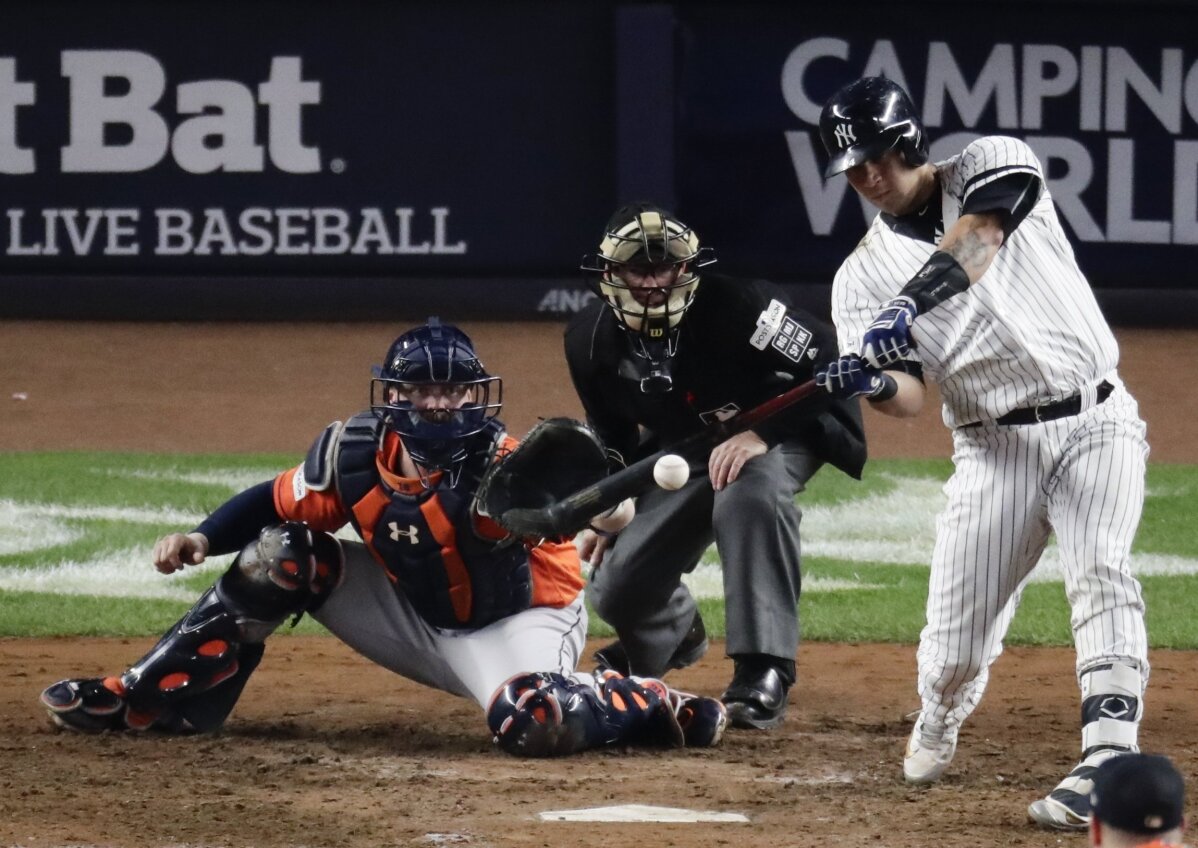 5 of 5

|
New York Yankees' Gary Sanchez hits a home run during the seventh inning of Game 5 of baseball's American League Championship Series against the Houston Astros Wednesday, Oct. 18, 2017, in New York. (AP Photo/Frank Franklin II)
LEADING OFF: Cubs face Dodgers' Kershaw trailing 3-1 in NLCS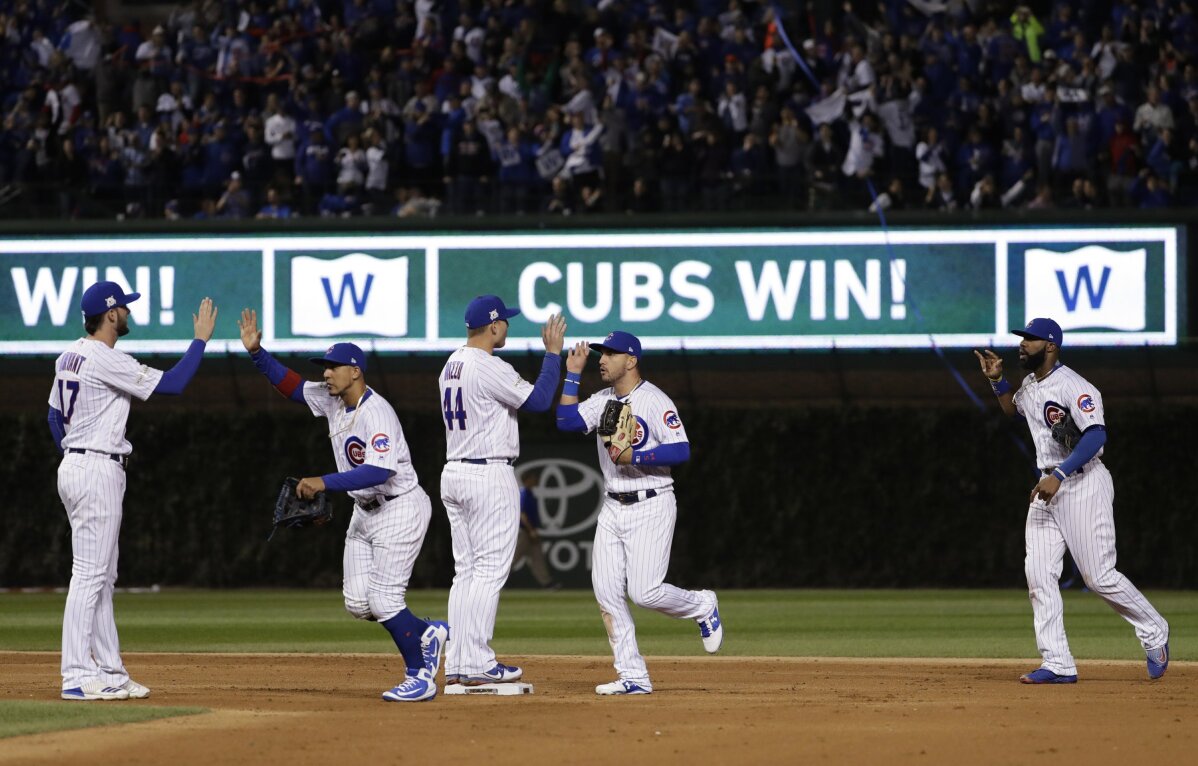 1 of 5

|
Chicago Cubs' Kris Bryant (17), Jon Jay (30), Anthony Rizzo (44), Ian Happ (8) and Jason Heyward (22) celebrate after Game 4 of baseball's National League Championship Series against the Los Angeles Dodgers, Wednesday, Oct. 18, 2017, in Chicago. The Cubs won 3-2. (AP Photo/Matt Slocum)
1 of 5
Chicago Cubs' Kris Bryant (17), Jon Jay (30), Anthony Rizzo (44), Ian Happ (8) and Jason Heyward (22) celebrate after Game 4 of baseball's National League Championship Series against the Los Angeles Dodgers, Wednesday, Oct. 18, 2017, in Chicago. The Cubs won 3-2. (AP Photo/Matt Slocum)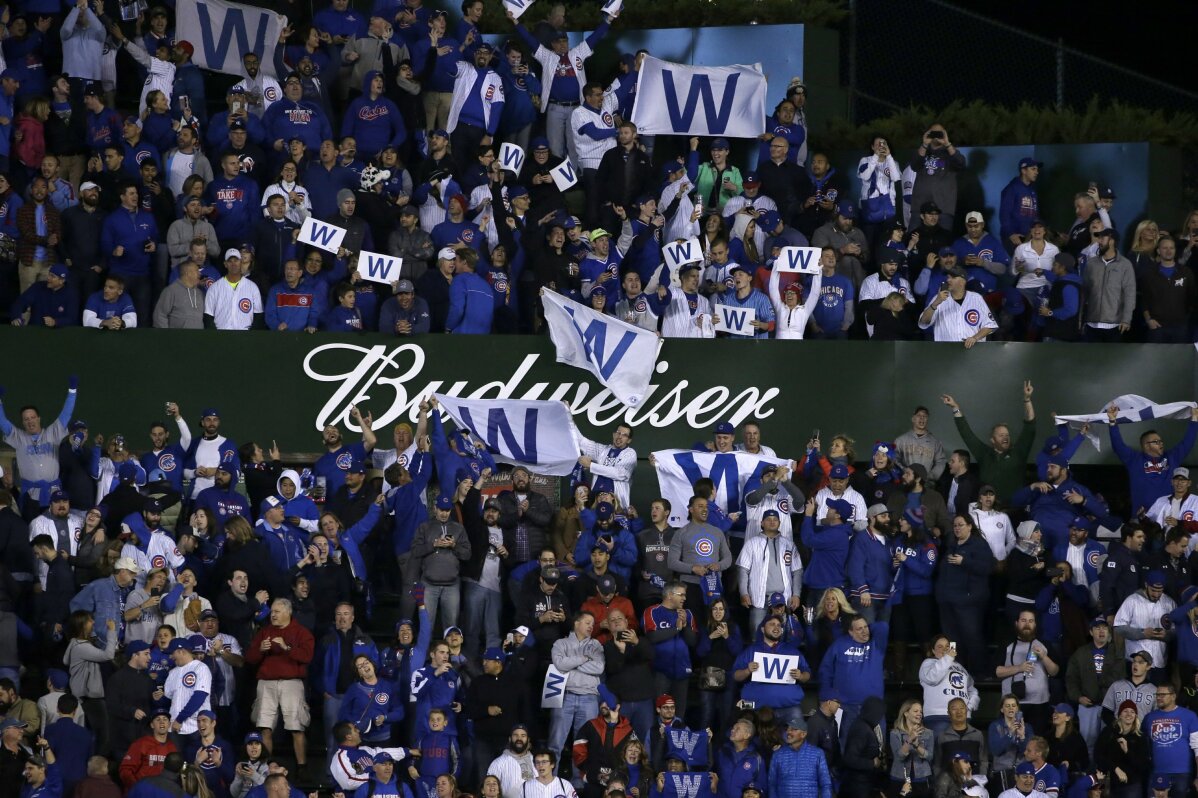 2 of 5

|
Fans celebrates after Game 4 of baseball's National League Championship Series between the Chicago Cubs and the Los Angeles Dodgers, Wednesday, Oct. 18, 2017, in Chicago. The Cubs won 3-2. (AP Photo/Nam Y. Huh)
2 of 5
Fans celebrates after Game 4 of baseball's National League Championship Series between the Chicago Cubs and the Los Angeles Dodgers, Wednesday, Oct. 18, 2017, in Chicago. The Cubs won 3-2. (AP Photo/Nam Y. Huh)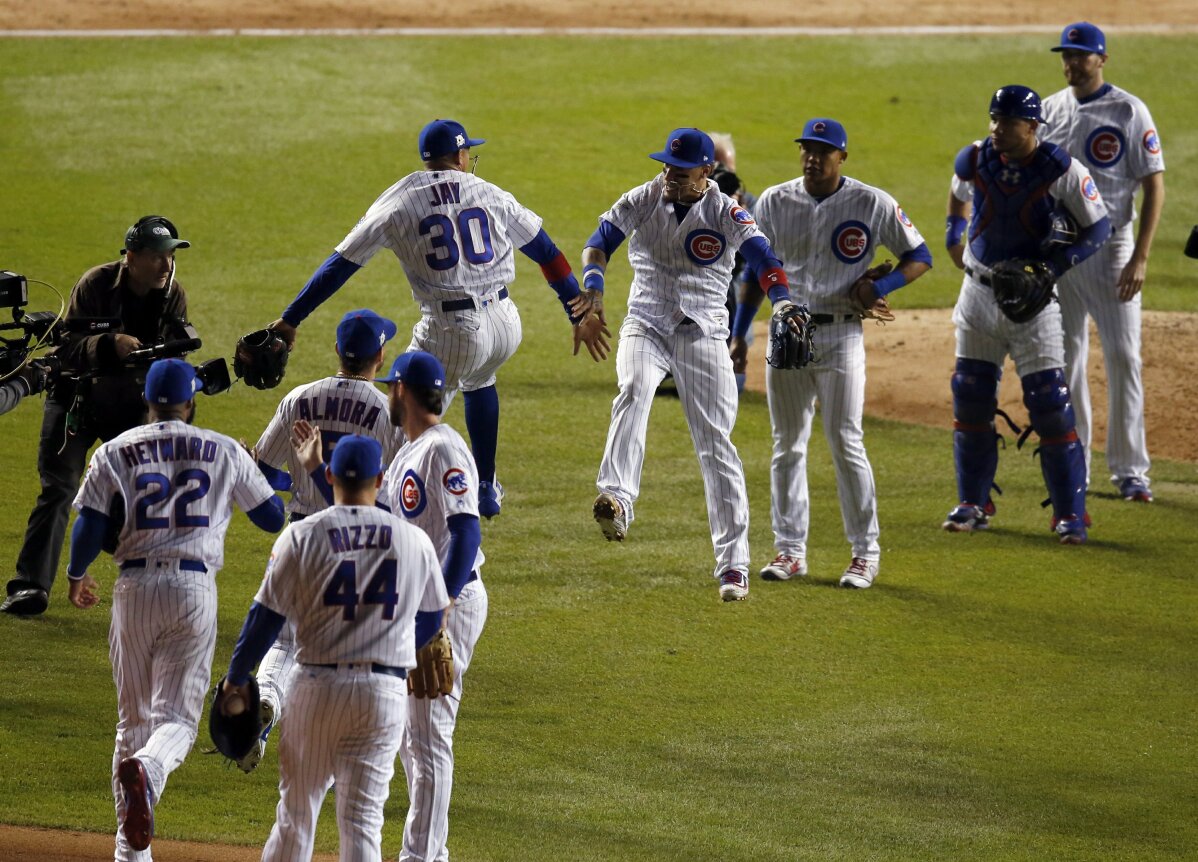 3 of 5

|
Chicago Cubs' Jon Jay (30) and Javier Baez celebrate after Game 4 of baseball's National League Championship Series against the Los Angeles Dodgers, Wednesday, Oct. 18, 2017, in Chicago. The Cubs won 3-2. (AP Photo/Charles Rex Arbogast)
3 of 5
Chicago Cubs' Jon Jay (30) and Javier Baez celebrate after Game 4 of baseball's National League Championship Series against the Los Angeles Dodgers, Wednesday, Oct. 18, 2017, in Chicago. The Cubs won 3-2. (AP Photo/Charles Rex Arbogast)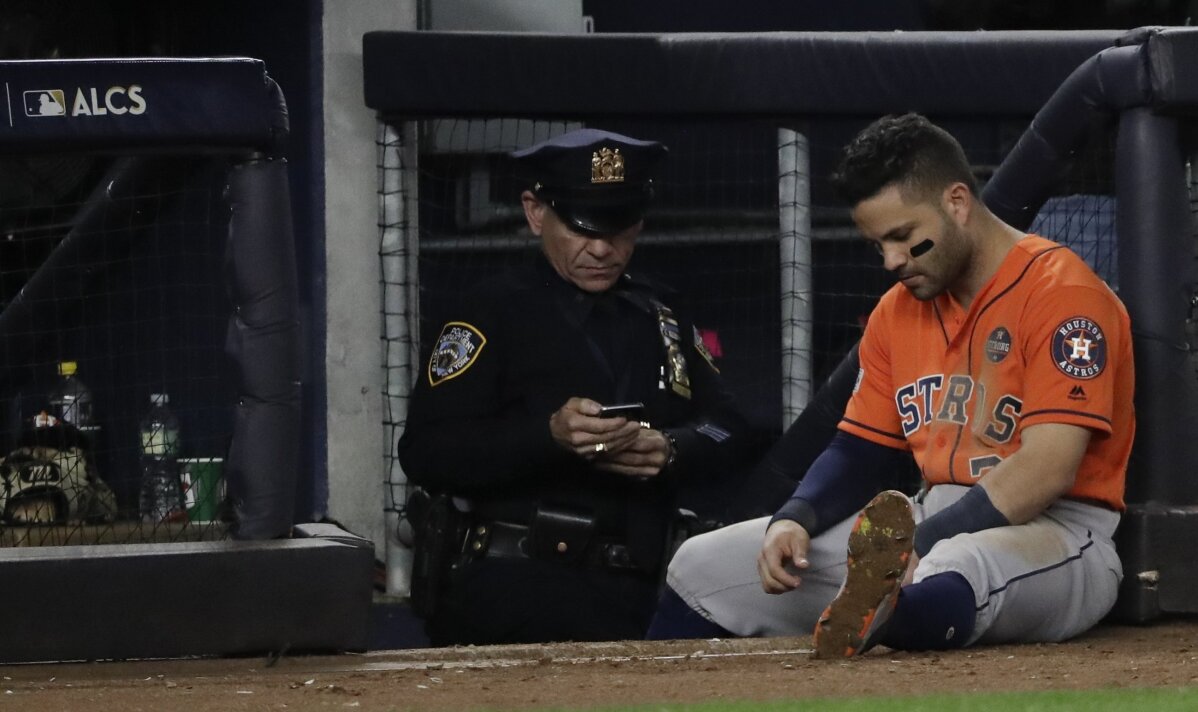 4 of 5

|
Houston Astros' Jose Altuve sits near the dugout during the ninth inning of Game 5 of baseball's American League Championship Series against the New York Yankees Wednesday, Oct. 18, 2017, in New York. (AP Photo/David J. Phillip)
4 of 5
Houston Astros' Jose Altuve sits near the dugout during the ninth inning of Game 5 of baseball's American League Championship Series against the New York Yankees Wednesday, Oct. 18, 2017, in New York. (AP Photo/David J. Phillip)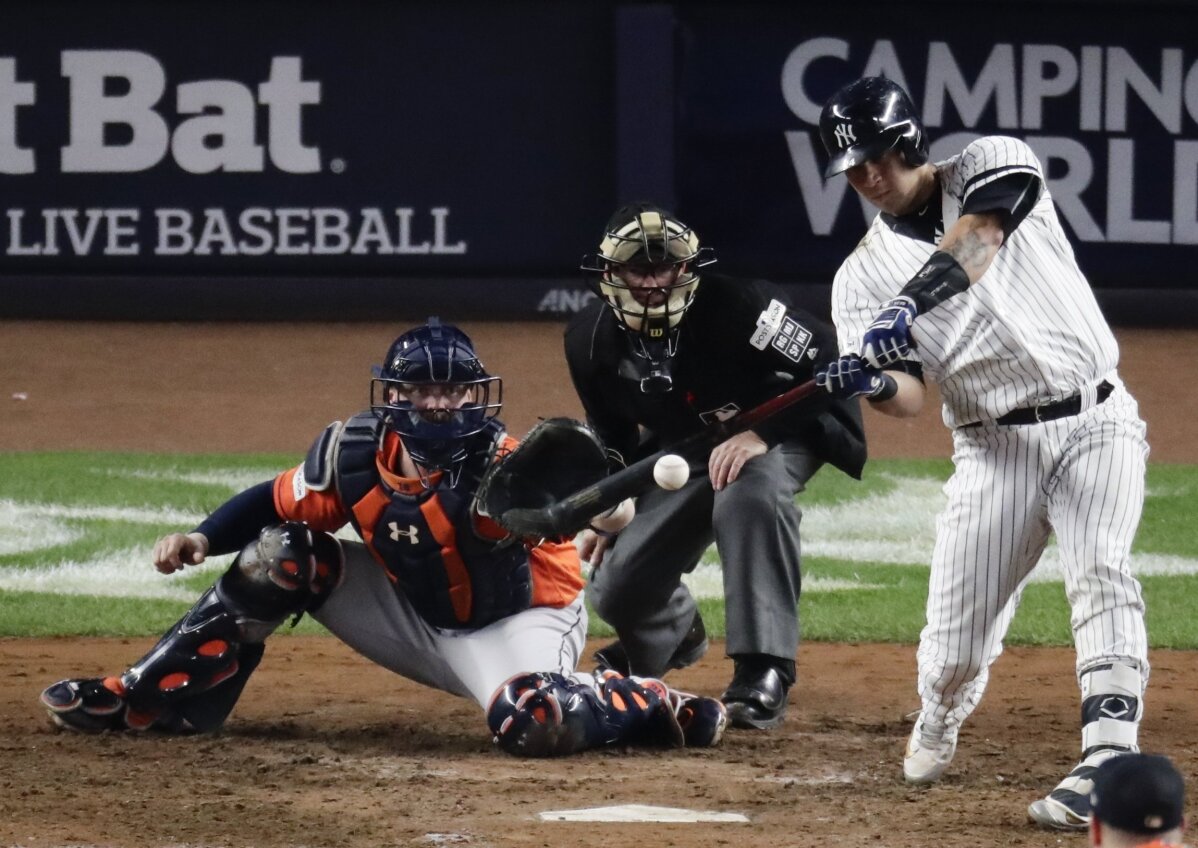 5 of 5

|
New York Yankees' Gary Sanchez hits a home run during the seventh inning of Game 5 of baseball's American League Championship Series against the Houston Astros Wednesday, Oct. 18, 2017, in New York. (AP Photo/Frank Franklin II)
5 of 5
New York Yankees' Gary Sanchez hits a home run during the seventh inning of Game 5 of baseball's American League Championship Series against the Houston Astros Wednesday, Oct. 18, 2017, in New York. (AP Photo/Frank Franklin II)
A look at what's happening all around the majors today:
___
ANOTHER DAY
The Cubs finally broke through for a win against the Dodgers in their NL Championship Series, but now they have to contend with ace Clayton Kershaw in Game 5. Kershaw limited Chicago to two runs over five innings in Game 1, a 5-2 win for Los Angeles. It's a tough matchup for the Cubs, who are averaging 2.7 runs over nine postseason games — including a 9-8 win over Washington in NLDS Game 5.
Manager Joe Maddon will have work to do managing Chicago's bullpen. Closer Wade Davis held on for a six-out save in Game 4, but that means the Cubs will have to look elsewhere for the late innings in Game 5. That's problematic, since Chicago's other relievers allowed eight runs over the first three games. Of course, Maddon will have to stay in the game long enough to make those calls — he was ejected Wednesday for the second time in the series.
TAKE A BREAK
Jose Altuve, Carlos Correa and the slumping Astros get a day off, trailing the Yankees 3-2 in the AL Championship Series. Neither team is planning a workout at Minute Maid Park.
Houston led the majors in batting and scoring this season, but is hitting just .147 overall and has totaled only nine runs in the ALCS. George Springer and Josh Reddick, the 1-2 hitters in the Astros' lineup, are a combined 2 for 35.
Veterans Carlos Beltran and Brian McCann both spoke to the Astros after a 5-0 loss Tuesday at Yankee Stadium. "Everything is OK. ... We have the home-field advantage," Altuve said. "They did what they have to do, win their home games. Now it's our turn."
FOR HIRE
Hall of Fame manager Tony La Russa has left the Diamondbacks' organization, less than two weeks after Arizona lost the NL wild-card game to Colorado. He served as chief baseball officer in 2015-16 and became chief baseball analyst when the new regime of general manager Mike Hazen and manager Torey Lovullo arrived last spring.
The 73-year-old La Russa won three World Series championships as a manager — two with St. Louis, one with Oakland — worked as an Major League Baseball executive and played in the bigs as an infielder.
___
More AP baseball: https://apnews.com/tag/MLBbaseball