Virginia's female Democratic senators rebuke Joe Morrissey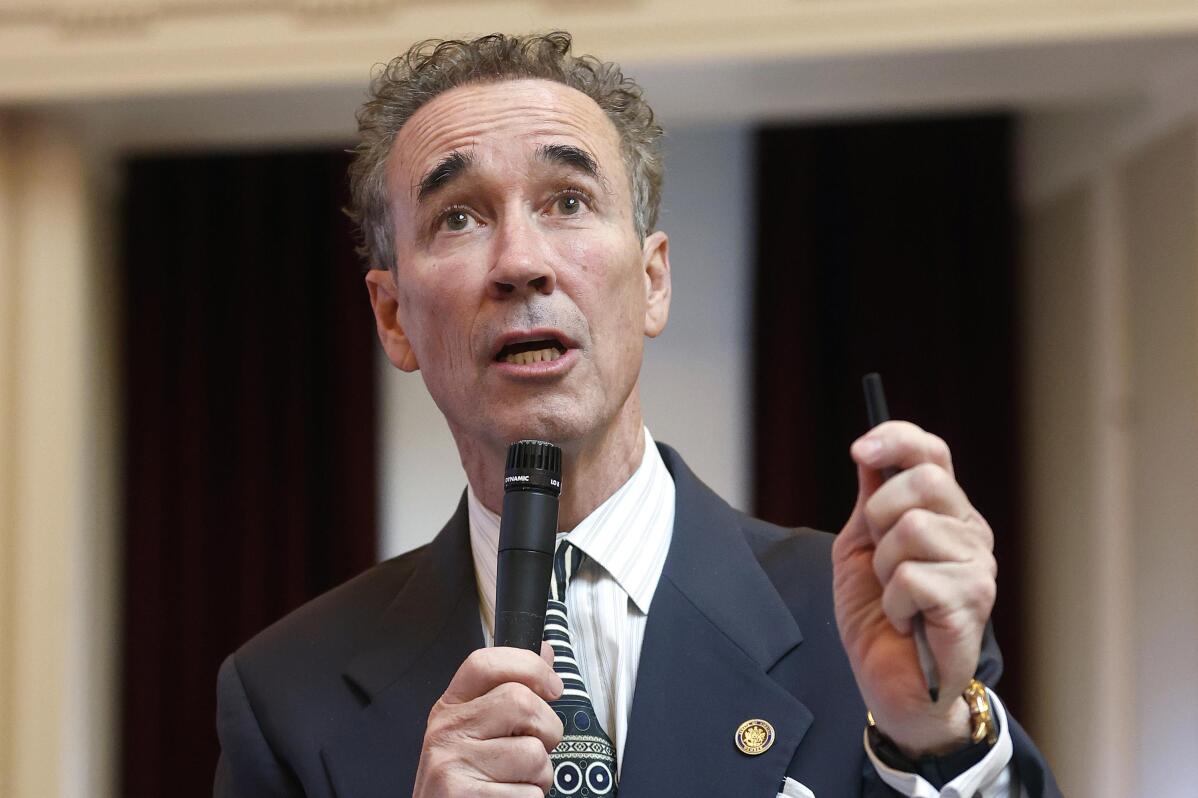 1 of 2

|
State Sen. Joe Morrissey, D-Richmond, speaks to Senate Bill 888 on imprisonment and consecutive terms during a session of the Virginia Senate inside the State Capitol in Richmond, Va., Jan. 23, 2023. The six Democratic women serving in the Virginia Senate sharply rebuked Sen. Joe Morrissey, one of their male colleagues whose decades in public office have been repeatedly marked by controversy, as they endorsed his opponent in the June primary election this week. (Alexa Welch Edlund/Richmond Times-Dispatch via AP, File)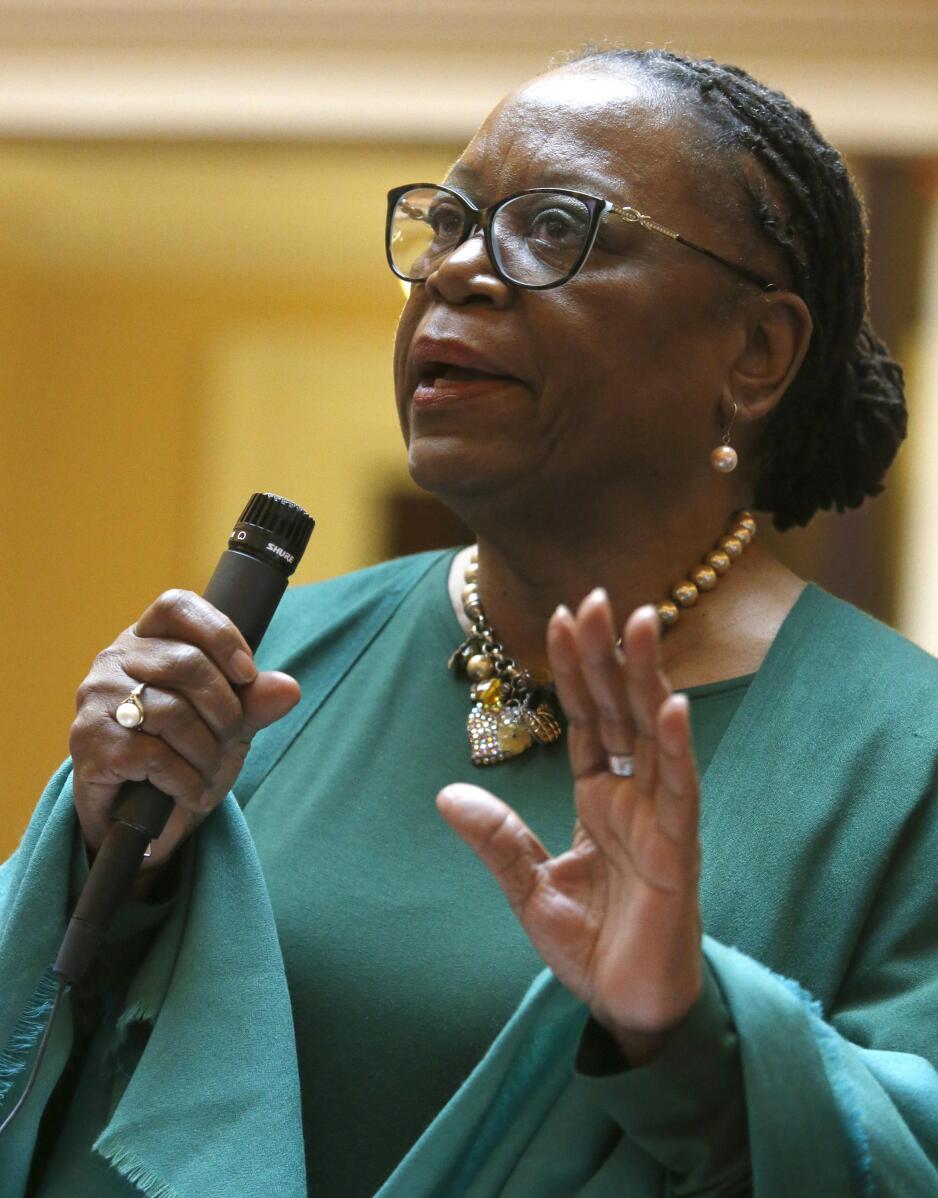 2 of 2

|
FILE - Virginia state Sen. Mamie Locke, D-Hampton, speaks during the Senate session at the state Capitol in Richmond, Va., Feb. 4 2020. The six Democratic women serving in the Virginia Senate sharply rebuked Sen. Joe Morrissey, one of their male colleagues whose decades in public office have been repeatedly marked by controversy, as they endorsed his opponent in the June primary election this week. (Bob Brown/Richmond Times-Dispatch via AP, File)
Virginia's female Democratic senators rebuke Joe Morrissey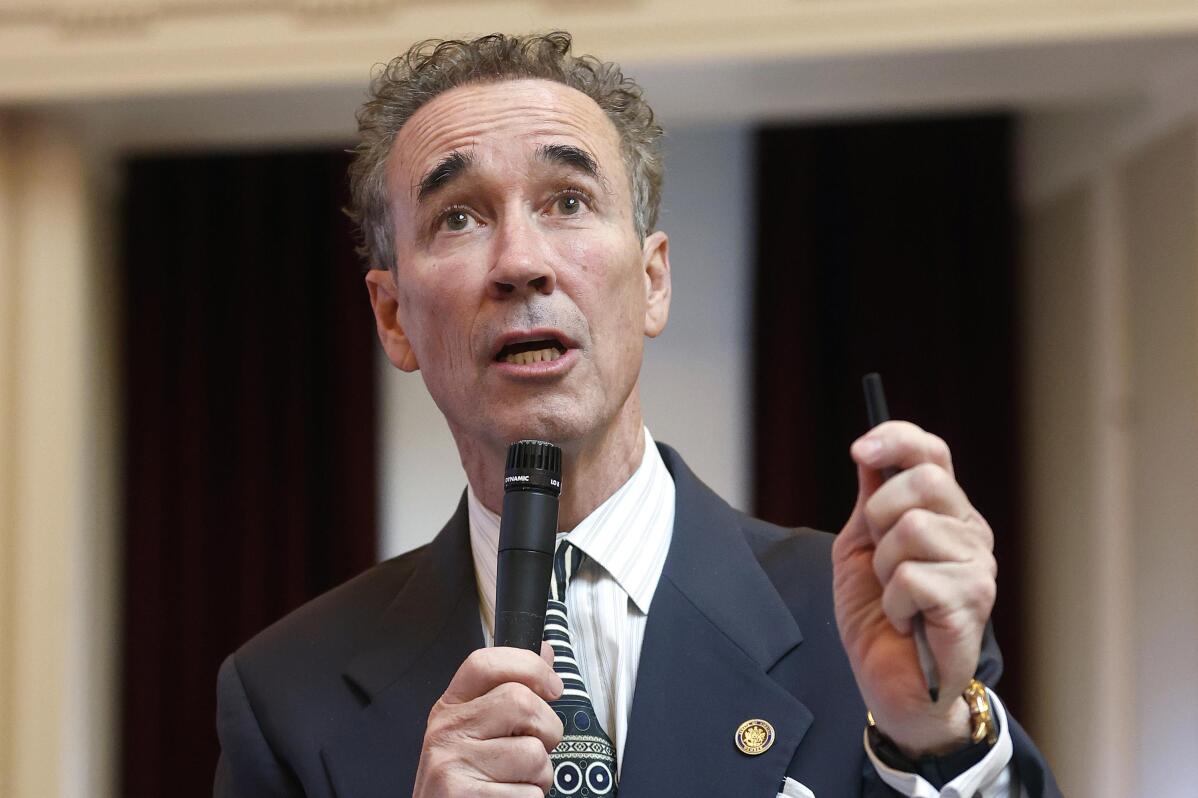 1 of 2

|
State Sen. Joe Morrissey, D-Richmond, speaks to Senate Bill 888 on imprisonment and consecutive terms during a session of the Virginia Senate inside the State Capitol in Richmond, Va., Jan. 23, 2023. The six Democratic women serving in the Virginia Senate sharply rebuked Sen. Joe Morrissey, one of their male colleagues whose decades in public office have been repeatedly marked by controversy, as they endorsed his opponent in the June primary election this week. (Alexa Welch Edlund/Richmond Times-Dispatch via AP, File)
1 of 2
State Sen. Joe Morrissey, D-Richmond, speaks to Senate Bill 888 on imprisonment and consecutive terms during a session of the Virginia Senate inside the State Capitol in Richmond, Va., Jan. 23, 2023. The six Democratic women serving in the Virginia Senate sharply rebuked Sen. Joe Morrissey, one of their male colleagues whose decades in public office have been repeatedly marked by controversy, as they endorsed his opponent in the June primary election this week. (Alexa Welch Edlund/Richmond Times-Dispatch via AP, File)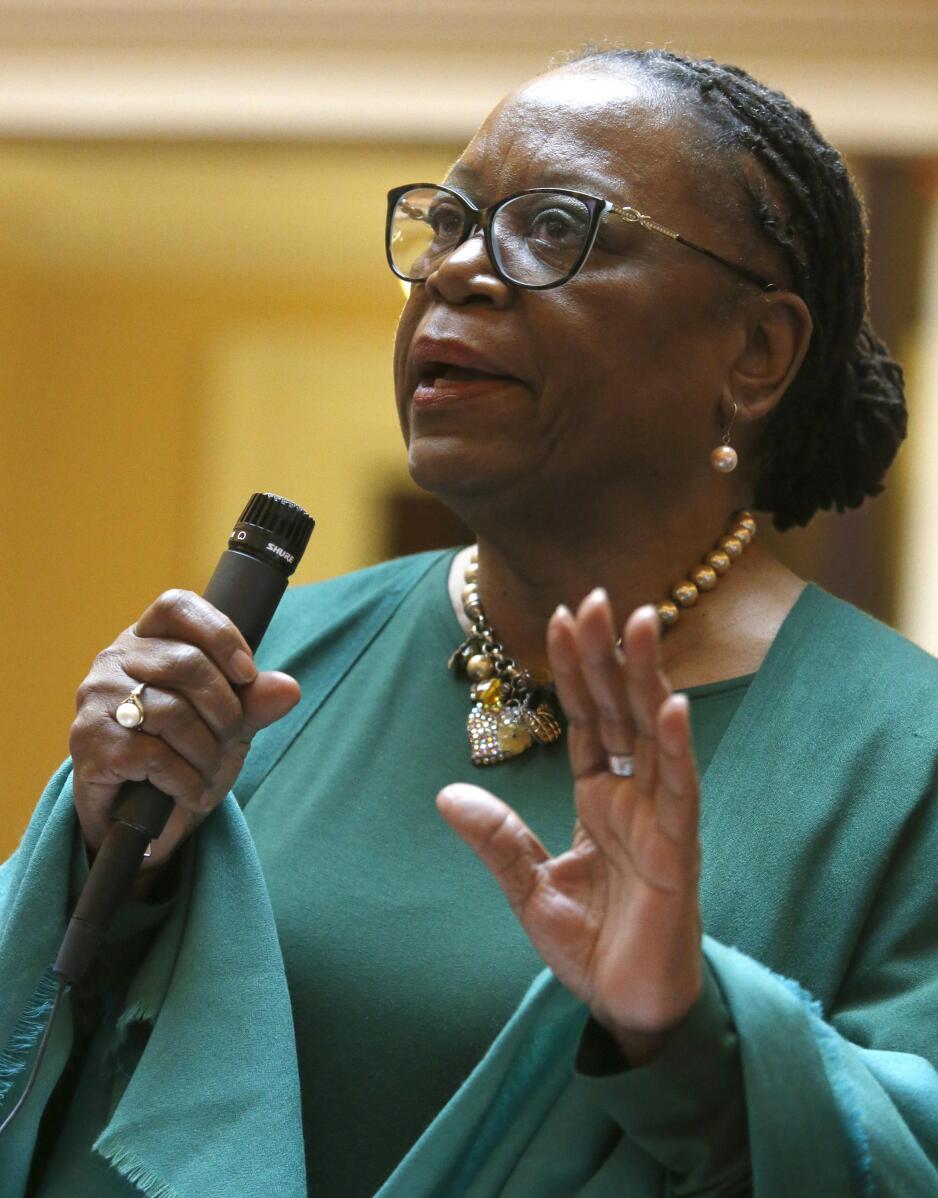 2 of 2

|
FILE - Virginia state Sen. Mamie Locke, D-Hampton, speaks during the Senate session at the state Capitol in Richmond, Va., Feb. 4 2020. The six Democratic women serving in the Virginia Senate sharply rebuked Sen. Joe Morrissey, one of their male colleagues whose decades in public office have been repeatedly marked by controversy, as they endorsed his opponent in the June primary election this week. (Bob Brown/Richmond Times-Dispatch via AP, File)
2 of 2
FILE - Virginia state Sen. Mamie Locke, D-Hampton, speaks during the Senate session at the state Capitol in Richmond, Va., Feb. 4 2020. The six Democratic women serving in the Virginia Senate sharply rebuked Sen. Joe Morrissey, one of their male colleagues whose decades in public office have been repeatedly marked by controversy, as they endorsed his opponent in the June primary election this week. (Bob Brown/Richmond Times-Dispatch via AP, File)
RICHMOND, Va. (AP) — The six Democratic women serving in the Virginia Senate sharply rebuked Sen. Joe Morrissey, one of their male colleagues whose decades in public office have been repeatedly marked by controversy, as they endorsed his opponent in the June primary election this week.
Morrissey's challenger, former Del. Lashrecse Aird, is best suited to represent the blue-leaning 13th District south of Richmond, the Virginia Senate Democratic Women's Caucus said in a joint statement Wednesday, as they criticized Morrissey's position on abortion and what they called his history of "divisive and destructive actions."
"Morrissey has a long history of being on the wrong side of the values that matter to Virginia's Democratic voters. His public behavior has, for years, drawn attention to himself rather than to the needs of his constituents," the senators said.
Their public reprimand marked an unusual departure from the typical practice of legislators backing incumbents in primaries and avoiding public disputes among caucus members. It also seemed to set off the flurry of subsequent Aird endorsements that followed, from U.S. Rep. Abigail Spanberger, three male state senators and several members of the House of Delegates.
Morrissey initially responded by saying his female colleagues were attempting to make abortion "the only issue" in the race.
"It is not. It's about criminal justice reform, the environment, affordable housing and economic growth in the 13th Senate District," he said in a statement.
Morrissey, who is Catholic, has said he personally opposes abortion but supports some degree of access. Since Republican Gov. Glenn Youngkin's election, he has provoked the ire of Virginia Democrats for suggesting he was open to voting with Republicans in the narrowly divided Senate to advance legislation that would enact greater restrictions on the procedure.
The female senators accused him of having "leveraged his votes" on the issue as a cudgel against fellow caucus members.
Caucus Chair Mamie Locke of Hampton said in an interview that the statement wasn't prompted by a single incident or by the abortion issue alone. Rather, she said, it grew out of long-running concerns about Morrissey's voting record, what she said were continual threats by Morrissey to work with Republicans and what she characterized as a lack of decency from Morrissey toward colleagues, women especially.
"He particularly does not respect Black women. And I've seen it, and I've felt it, and I have been the object of it," she said, emphasizing that she was speaking only for herself as an African American woman.
In an interview, Morrissey called all of Locke's allegations "outrageous" and false. Responding to her claim that he does not respect Black women, he said he has six young African American children, three of them girls, all of whom he adores. He called the comment "insulting and extremely condescending."
According to Morrissey, Locke previously indicated she would support him in his race, given that he's a fellow office-holder. More recently, he said, they were involved in a dispute about a photo of his family with Youngkin that Morrissey included on a calendar.
Locke said she only told Morrissey it was the position of the caucus to not oppose incumbents.
A twice-disbarred former prosecutor turned defense attorney with a history of fistfights and contempt of court citations over a tumultuous career, Morrissey overcame his litany of past personal and professional controversies to win election to the state Senate after defeating a Democratic incumbent in the 2019 primary.
Among them was his resignation from the House of Delegates after entering an Alford plea in 2014 to a misdemeanor count of contributing to the delinquency of a minor, his 17-year-old receptionist at his law firm. Morrissey and Myrna Morrissey later married and had several children together before separating. The two are currently in the midst of legal disputes, in which Morrissey has recently sought unsuccessfully to subpoena a journalist, something news organizations view as an intrusion on reporters' privilege.
In addition to Spanberger, others who joined in endorsing Aird after the female senators issued their statement were: Sens. Dave Marsden, George Barker and Jeremy McPike, and Elizabeth Guzman, Mike Mullin and Dan Helmer, members of the House of Delegates, where Aird served from 2016 to 2022.
In a news release that called the women's caucus endorsement "unprecedented," Aird said the voters of the 13th District "deserve a real Democrat and I vow to be a Senator they can be proud of."
Bob Holsworth, a veteran political analyst, agreed the caucus action was unprecedented. Democrats may see an opening to oust Morrissey, he said, after he was handily defeated by Jennifer McClellan in a December primary for a congressional special election, a contest Morrissey said was rigged against him by the party establishment.
"We'll see whether or not they are correct," Holsworth said. "Because Morrissey ... has been an enormously effective grassroots politician in his career. And so the stakes are very, very high I think for the Democratic party here," he said.
Every General Assembly seat is on the ballot this year. Candidates are running under new lines draw during the redistricting process. Democrats are looking to hold their Senate majority and flip control of the House of Delegates.
Joining Locke in issuing the statement Wednesday were Sens. L. Louise Lucas, Janet Howell, Barbara Favola, Jennifer Boysko and Ghazala Hashmi.
Reached by phone, Senate Majority Leader Dick Saslaw declined to comment.