Case of accused White House shooter is rare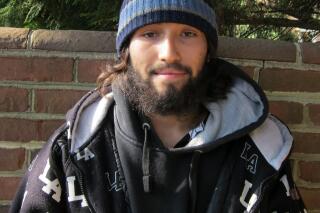 WASHINGTON (AP) — A man who shot an assault rifle at the White House is one of only a handful of people ever accused of trying to assassinate the president, and if the past is any guide he could spend many years in prison or a mental hospital if convicted.
Oscar Ramiro Ortega-Hernandez, 21, of Idaho Falls, Idaho, is accused of firing from a car at the White House on Nov. 11. Ortega was arrested last week in Pennsylvania after a four-day search and appeared in court in Washington for the first time Monday.
Since President John F. Kennedy was assassinated in 1963, however, only a small group of people has been accused of attempting to kill the president. There's Charles Manson follower Lynette "Squeaky" Fromme, who pointed a gun at President Gerald Ford in 1975 as he shook hands in a crowd. Then John Hinckley, who shot Ronald Reagan in 1981 in an attempt to impress actress Jodie Foster. More recent is the case of Vladimir Arutyunian, who in 2005 threw a hand grenade at President George W. Bush while he was speaking at a rally in the country of Georgia. The grenade malfunctioned and didn't go off.
Fromme served 34 years in prison. Hinckley has spent the past three decades confined to a psychiatric hospital in Washington. Arutyunian is currently serving a life sentence overseas.
But Ortega's case may have more in common with that of Francisco Martin Duran, who is serving a 40-year prison sentence after being convicted of trying to assassinate President Bill Clinton and nine other charges.
Nearly two decades ago, the 26-year-old Colorado man stood on a sidewalk outside the White House and unloaded at least 29 rounds from an assault rifle, firing at a man who was standing in front of the White House and resembled Clinton. Like Ortega, Duran had told acquaintances that the president should die, and there were questions about Duran's mental health.
Now 43, he is serving his sentence at a Colorado prison with a projected release date of 2029.
Ortega's future is less clear. During a hearing Monday, he shook his head when the judge read the charge against him, which carries a possible sentence of up to life in prison. He was appointed a public defender and ordered held without bond. A judge set the next court hearing for Nov. 28, following a psychological evaluation.
Some similarities between the two cases are striking. Both men were reported missing by family before allegedly turning up in Washington. Ortega's acquaintances and family have said he told them he was headed to Utah for business but never returned. In Duran's case, his wife reported him missing.
Acquaintances in both cases also said both men were upset with the government. Duran's coworkers later testified at trial they had heard him say he would "kill Clinton if he had the chance." In Ortega's case, court documents filed last week allege he told acquaintances that President Barack Obama was the Antichrist and said he "needed to kill him."
A mental health defense played a role in Duran's case and could again in Ortega's. Duran's attorneys put on an insanity defense, arguing he suffered from paranoid schizophrenia and believed an "evil mist" was hovering over the White House, a claim the jury rejected. Ortega's acquaintances say he began acting strangely in recent months, suggesting he believed he was Jesus, according to a court document. His mother, however, told an Idaho newspaper last week that her son has no history of mental illness.
Some observers cite a key difference between the cases, however. Authorities say Ortega was driving when he stopped on a street south of the White House and fired from more than 700 yards away. Duran fired at relatively close range at a man who resembled Clinton.
"It was a much different situation. There was a guy who walked outside who looked very much physically like Clinton: same height, same hair color," said A.J. Kramer, the head of the Washington federal public defender's office who represented Duran.
The fact Ortega may not have fired at anyone in particular could make a significant difference, said Eric A. Dubelier, a Washington lawyer who helped prosecute Duran.
"It's basically a drive-by shooting at the White House," he said of Ortega's case, adding that it could be hard to convince a jury that Ortega intended to kill the president.